What It's Like to Ride a Hot Air Balloon in Cappadocia, Turkey with Butterfly Balloons
Cappadocia, Turkey is famous for many things…However, its hot air balloon rides are perhaps its most distinguishing feature. Roughly 100 balloons take to the skies every morning (weather permitting). It's one of the most beautiful things I've ever seen…and it happens every morning at sunrise! (This area has the perfect weather for ballooning, and it also has some spectacular landscapes.)
Needless to say, taking a hot air balloon ride while you're here is a must! I was fortunate to be able to ride with an incredible boutique balloon company for this adventure – Butterfly Balloons. Even Rick Steves recommends flying with Butterfly Balloons! I'll explain why they're highly rated in this post + what to expect on your journey.
*For this experience, we took their "Butterfly Flight." This takes just over an hour. Another option is the BUTTERFLY Beyond Flight. This flight takes 1 1/2 – 2 hours and allows less people on the balloon. *Note: The BEYOND flight is NOT available from November to March, due to unsuitable weather conditions.
What It's Like to Ride a Hot Air Balloon in Cappadocia, Turkey with Butterfly Balloons
Before Dawn Pick Up
The ideal time of day for a balloon ride is just after sunrise. This is because there is hardly any wind at this time of day. After 10 a.m. it's generally too windy to safely fly a balloon. Your pick up time from your hotel will vary depending on when sunrise is. We went in early November, so we were able to sleep in a little more and didn't get picked up until 6 am.
Our hotel, the Sultan Cave Suites, also works with Butterfly Balloons. So, everything went incredibly smooth for pickup. Our names and pick up time were even written on a little chalkboard in the lobby before we went to bed.
Breakfast
Given you'll be taking off well before your hotel serves breakfast, Butterfly Balloons will provide you with a buffet style breakfast feast when you arrive at their office in Göreme. You won't get too much time to eat, though. So, don't dilly dally! Haha.
After you eat your breakfast, you'll then be shuttled a little ways to the launch field. This is SO cool, in my opinion. All the partially inflated balloons look like sleeping giants in the fields. (I'm so sorry! I didn't have time to get a photo of them all! The photos above are the best I got.)
…And We're Off with Butterfly Balloons!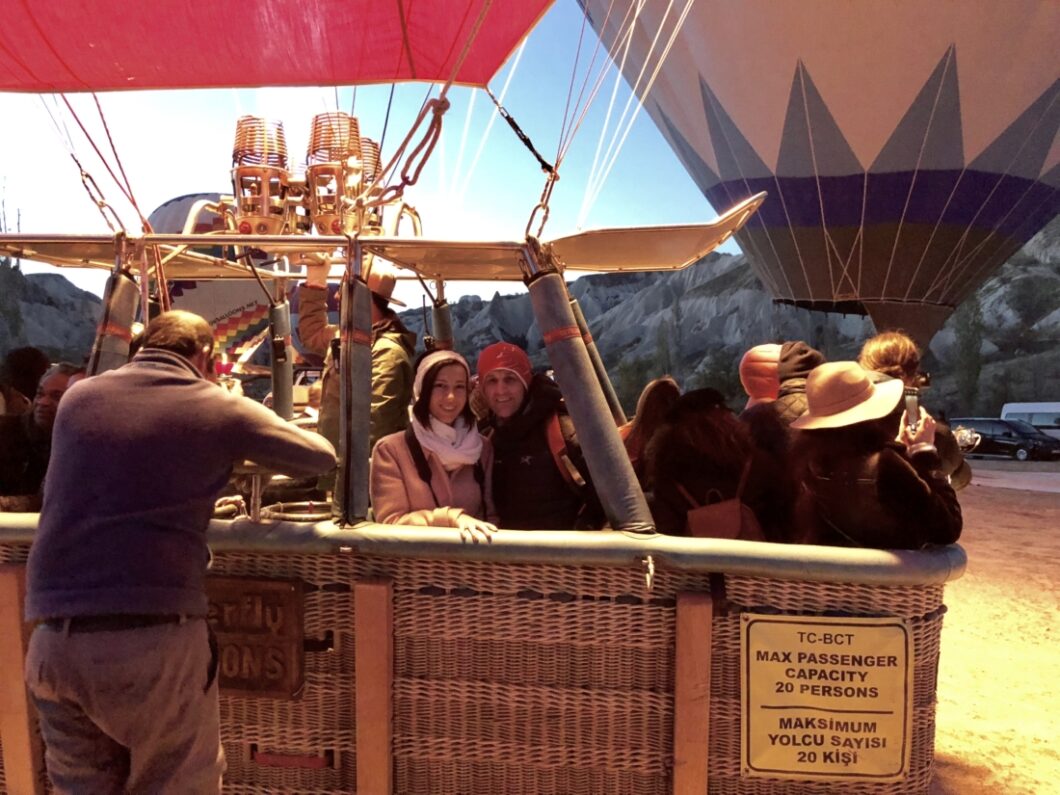 You'll then climb into the basket, listen to a safety briefing…and poof! You're floating!
Aren't You Afraid of Heights?
And yes, I'm terrified of heights! However, given how smooth the ride is and how safe I felt in the basket… I didn't have any issues with my fear of heights. This is also due to the fact I was able to feel quite stable wedged in a corner of the basket.
Butterfly Balloons Double-T Baskets
Speaking of which, Butterfly Balloons has some baskets that you don't see on many of the other balloons. They're called "double-T baskets." They're partitioned off to allow only a max of 5 people per partition, so a group of 20+ people isn't all vying for the same photograph. I REALLY liked this.
Balloon Basket Etiquette
4 people is really the ideal amount for these baskets. Our basket had 5 people, though. This wouldn't have been an issue. However, I was the first one to jump on the balloon (not one to dilly dally!)…so I was wedged in the back of the basket by the pilot. This wasn't always ideal for photographs, and my fellow passengers in my partition did not really feel the need to share the view.
I did witness all the other partitions sharing and switching back and forth, so everyone would get a shot and a sufficient amount of time in each spot. BE like these people. SHARE your view. Everyone will have a much better experience!
(This is just something to consider for your flight. I'm not complaining about the people in my basket – I honestly don't think they were trying to be rude, they were just wrapped up in the moment and the view…which is very easy to do!)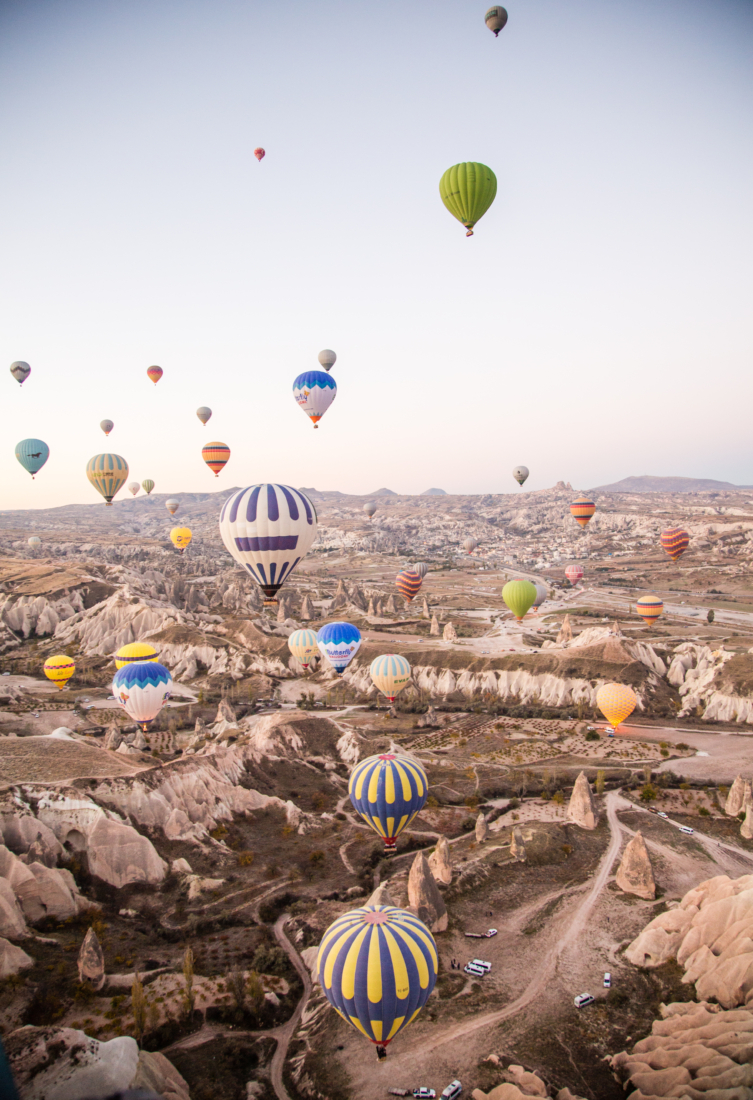 Those VIEWS
Regardless of where you are in the basket, though…your jaw will drop at the views! You're guaranteed at least ONE good photo with these views…so, be sure to enjoy the moment and don't get too caught up in the photos!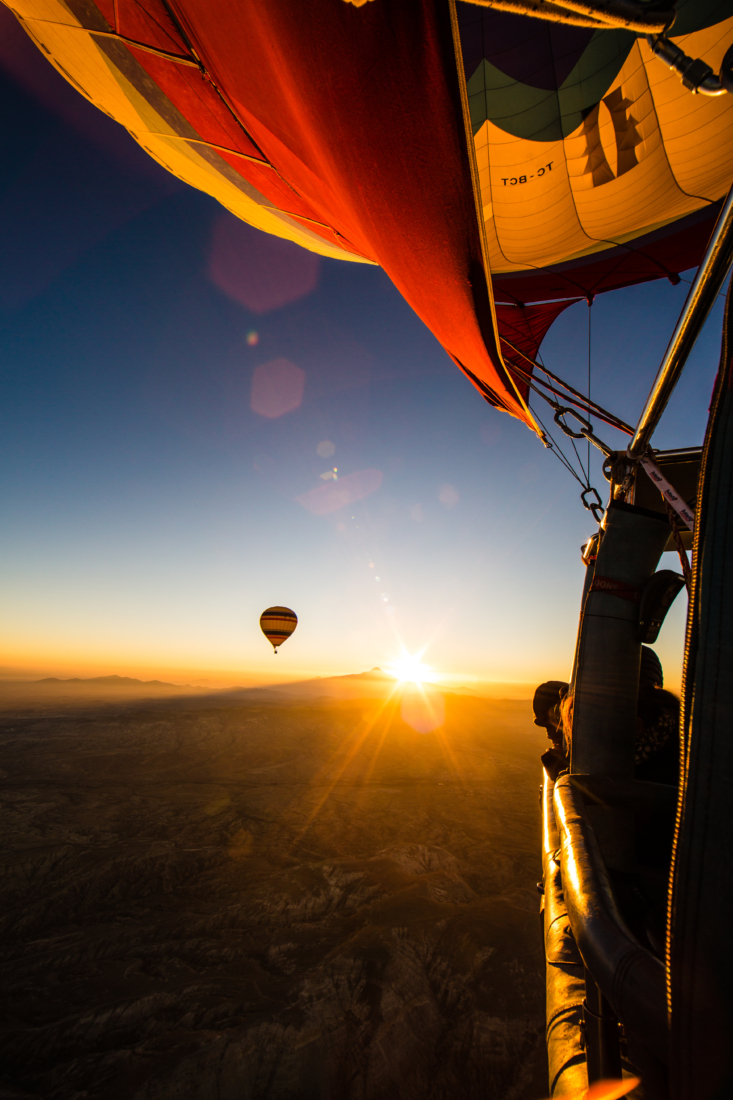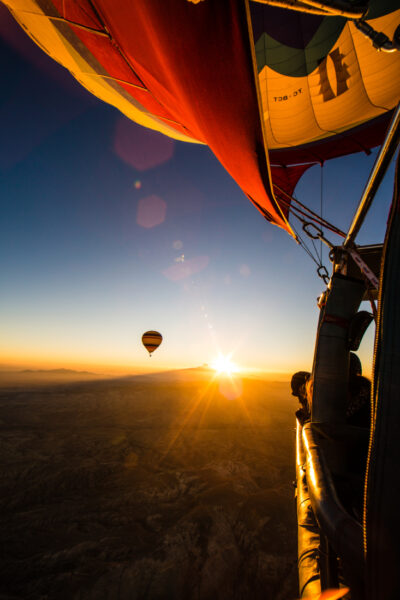 Landing
I was super impressed with how our pilot, Gökhan, and his crew, managed to land the balloon directly onto the trailer! That's incredible! I don't believe this happens every single time, though. We were very fortunate to have such a calm day.
Once you're on the ground you can also help get the air out of the balloon by walking on it. And jumping in it…like my husband did, below!
Landing Ceremony
Wahoo! You just experienced an incredible hot air balloon ride in Cappadocia, Turkey! Now…of course, it's time for champagne and cake! You will also receive a flight certificate and a medal to commemorate your flight.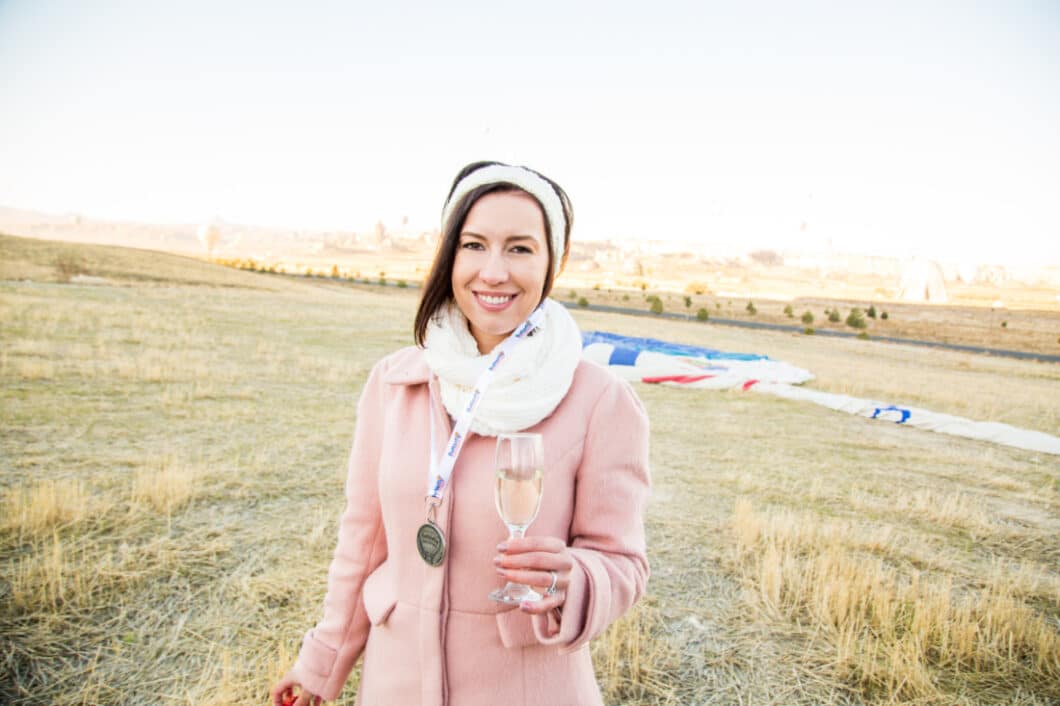 Honest Thoughts on the Experience
This was my first time in a hot air balloon, so I really have nothing to compare it too! However, watching the sunrise with 100 other hot air balloons floating around you is a really surreal experience.
I also really liked our pilot, Gökhan, he was cracking jokes left and right to put everyone at ease. He also clearly is experienced with how well he could maneuver the balloon! The whole experience was very efficient. We were back at our hotel for second breakfast (the Hobbits would be so proud) well before the tour I had planned for the day.
And like I had mentioned, I did like the partitioned baskets…more because of my fear of heights. Just looking at the other big open baskets with a crowd of people gave me anxiety!
It's also worth noting, that your views will likely be different than mine, even if you take this exact flight with this exact pilot. This is because your route for the day is completely determined by what direction the wind is blowing that morning. There is no steering the hot air balloon into a designated path! On the days after this ride, I woke up at dawn to watch the balloons from our hotel's famous terrace. And one morning the balloons were incredibly close to our hotel…and the next day they were barely even in the city. It really all comes down to the wind!
What I Wore for This November Flight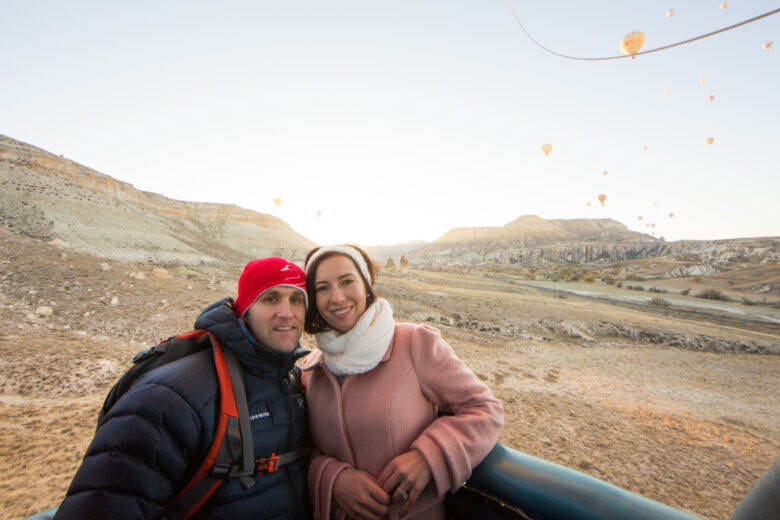 It gets cold in Cappadocia in the month of November! All those photos you see of girls in cute sundresses and barefoot were likely taken during summer…or these ladies were freezing to death! I do admit, though, that I did not notice the cold as I was so wrapped up in the view and taking photos. However, my husband assures me it was cold. Haha. So dress warm!
I wore a T-shirt, chunky knit cardigan, winter coat, scarf, jeans, hiking boots, headband and gloves. (I did end up taking my gloves off, though to use my camera better.) This kept me warm. The biggest thing for me was to keep my ears warm and wear a warm coat to keep any wind out. (All linked in the widget, below.)

A big thank you to Butterfly Balloons for such a wonderful day! Please enjoy more photos of the flight in the gallery below (feel free to click on them to make them full-sized). And I'm curious, has anyone else ever flown in a hot air balloon? And if not, would you? Let me know in the comments!
Travel Insurance
It's a good idea, no matter where your adventure takes you, to have travel insurance. You never know what might happen! Whether you get sick before your trip and can't go, or you become sick or injured while on your adventure – being covered with travel insurance is a must. Some credit card companies do provide this service (check with yours), or you can get a quote from companies such as Squaremouth to find the best plan for you and your adventure. (This is the company I, personally, use. They are even recommended by Forbes!) To get a free quote, click here.
Visa Requirements
To check if your country requires a Visa for traveling to Turkey, click here.
*Disclosure: some of these links are affiliate links. Meaning, if you click a link and make a purchase, Have Clothes, Will Travel gets a very small commission at no extra cost to you. Thank you for supporting the brands that make this blog possible! I am also a participant in the Amazon Services LLC Associates Program, an affiliate advertising program designed to provide a means for us to earn fees by linking to Amazon.com and affiliated sites.
*Thank you to Butterfly Balloons for partnering with me for this post. As always, all opinion are my own, and I am never compensated for a positive review.