What I Wore for the Sultan Cave Suites Famous Terrace (for Viewing Hot Air Balloons)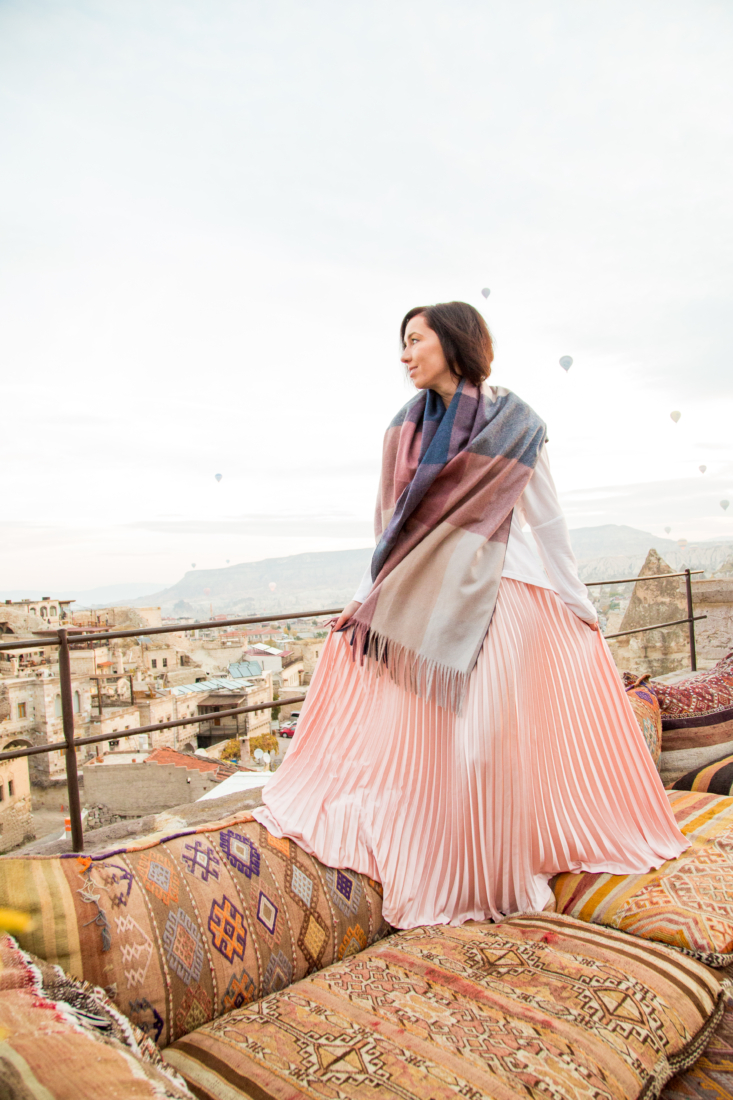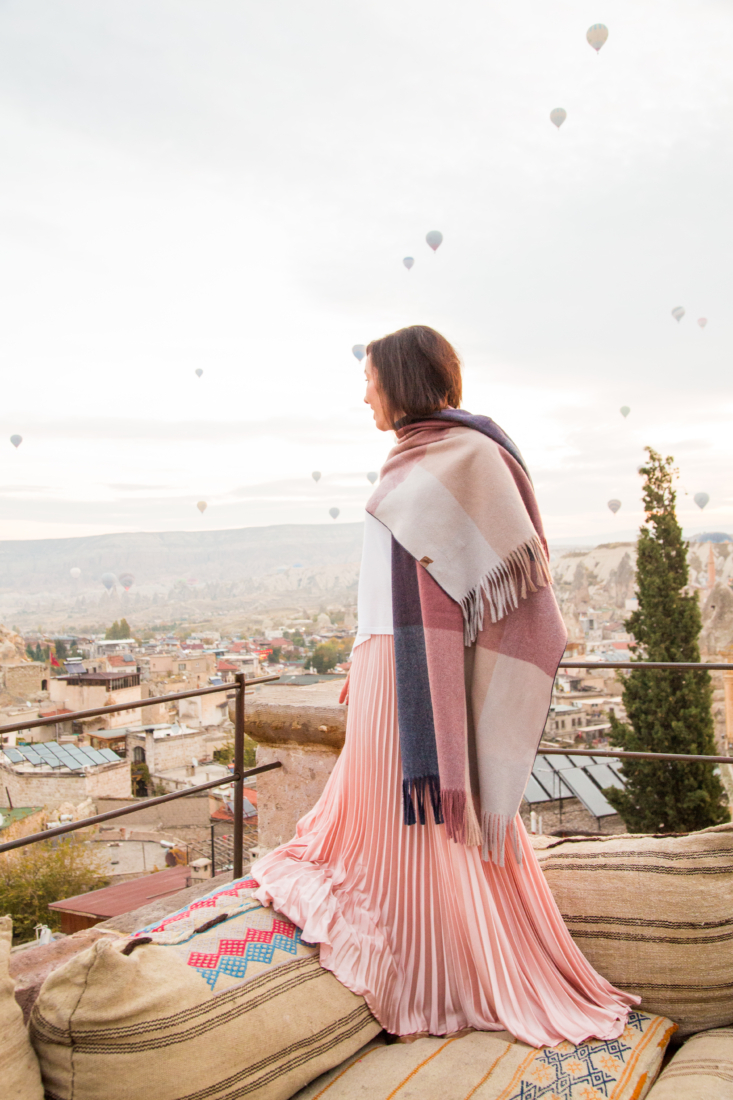 Scarf c/o* | Skirt c/o* | Sweater c/o* (Similar here) | Heels
Anyone with an Instagram account has likely seen the iconic images of someone posing in a cute outfit as the hot air balloons rise beautifully at sunrise behind them. This is in the Cappadocia region of Turkey, and the majority of these images are coming from the terrace of the Sultan Cave Suites in the town of Göreme. (FYI – You can only use the terrace if you're staying here.) I'll be doing a couple posts on Sultan Cave Suites and also a post on actually taking a hot air balloon ride for my next post! But first I want to share the outfit I selected for such a pretty backdrop, and how these photos came to be.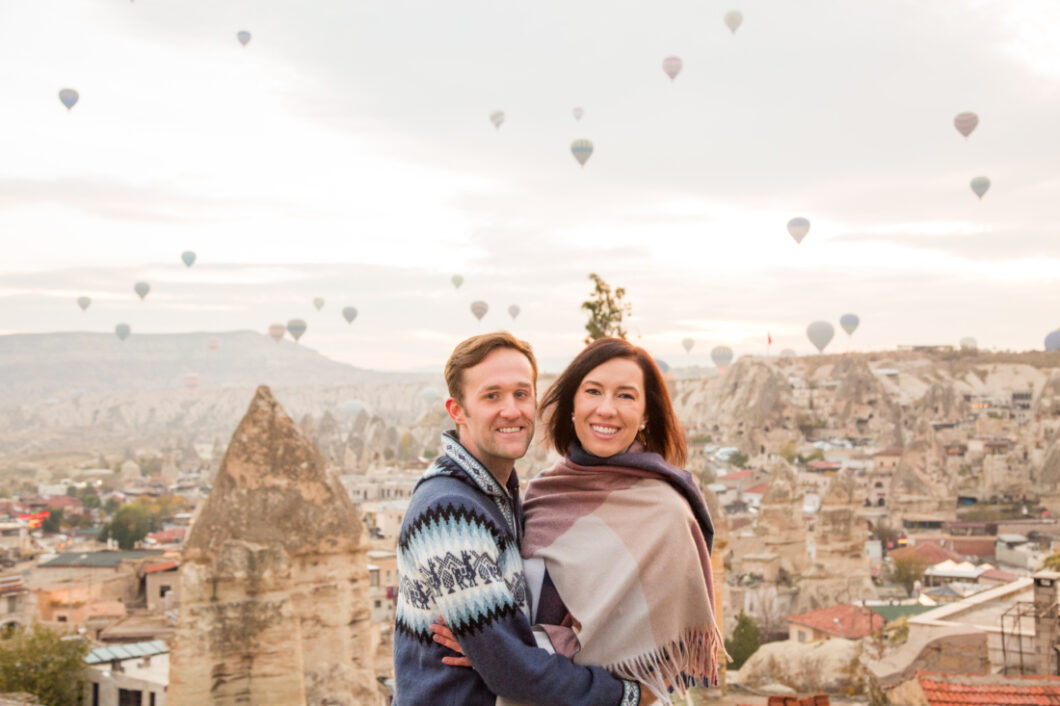 This was actually our last day in Turkey. I had gone the morning before to get photos, but it was an absolute disaster! (More on that another day, though.) However, the morning of these photos was lovely. We were able to enjoy the balloons rising with our fellow early bird photographers and pose for photos unabashedly.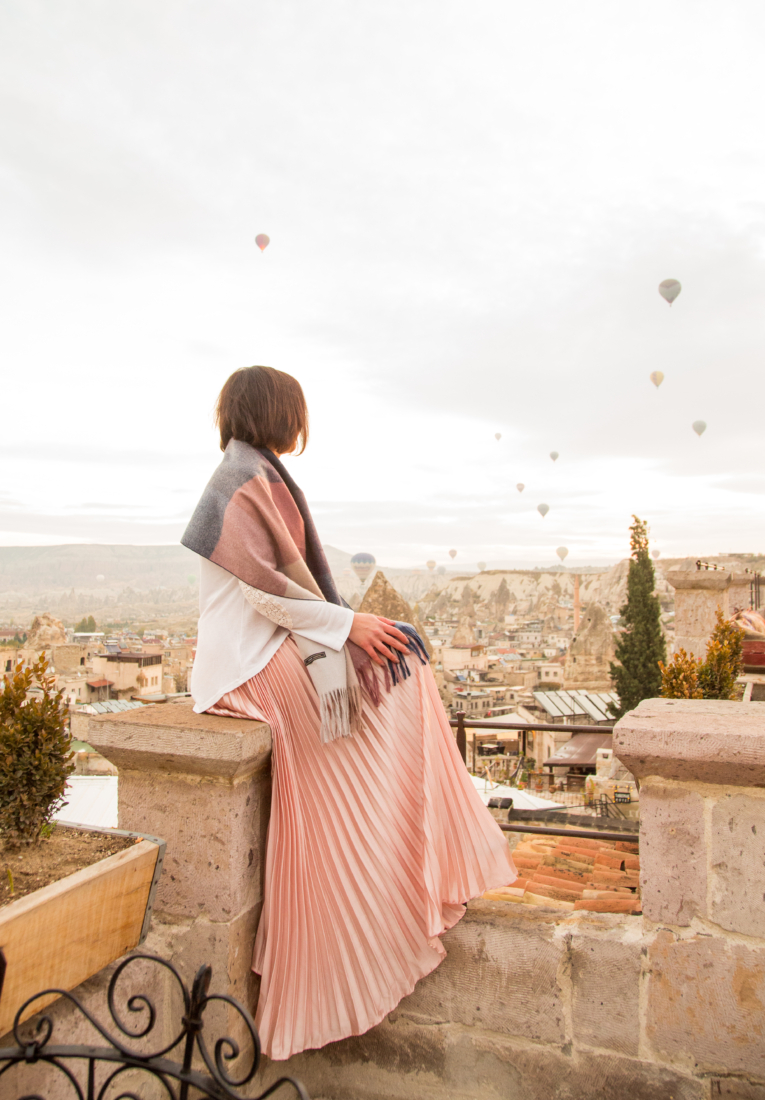 The owner of the hotel was even there to point me to a quieter area of the terrace (pictured above) where I could get photos away from the crowd. He noticed I was pretty uncomfortable posing in front of the crowd of people, and thought it would look nice to sit down with this skirt. (He was right, haha.)
This skirt was the first piece in my wardrobe that came to mind when I was trying to decide what to wear for these photos. The flowy material and length perfectly compliment the beautiful backdrop, in my opinion. I do apologize too, due to the affordable price tag on this skirt, it's already selling out in some sizes, but all sizes are still available in the green and black and a few left in the silver color.
My normal size medium fits me perfectly through the waist. However, it is SUPER long. I'm 5 feet 5 inches and have an "average" length for my legs, and this is what the skirt looks like I after I rolled the waist a few times and pinned it! (You might need to get it hemmed is what I'm trying to say, unless you're quite tall.)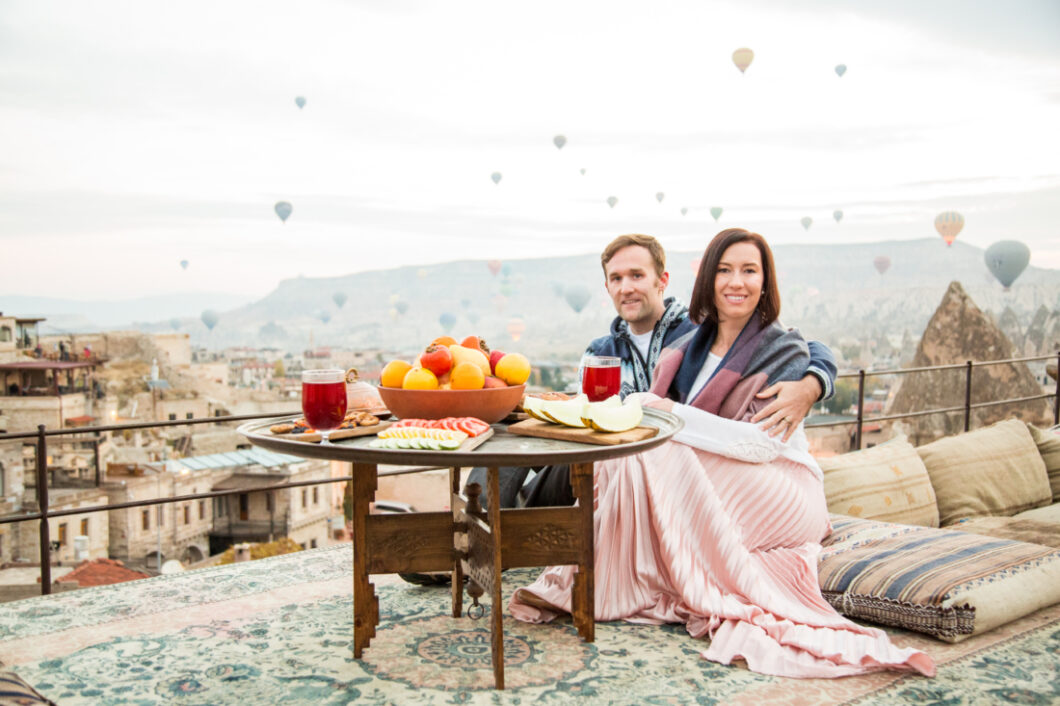 It was just above freezing temperature wise that morning (it gets cold in Cappadocia in November!), so I bundled up with my new favorite blanket scarf and my hubby broke out his alpaca sweater again! This scarf was perfect for this trip! It kept me nice and toasty, plus it's really soft and went with almost every outfit I had packed. And after wearing it for 4 days straight, I was able to throw it in the washing machine (on gentle cycle), and it washed up nicely! No need for dry cleaning.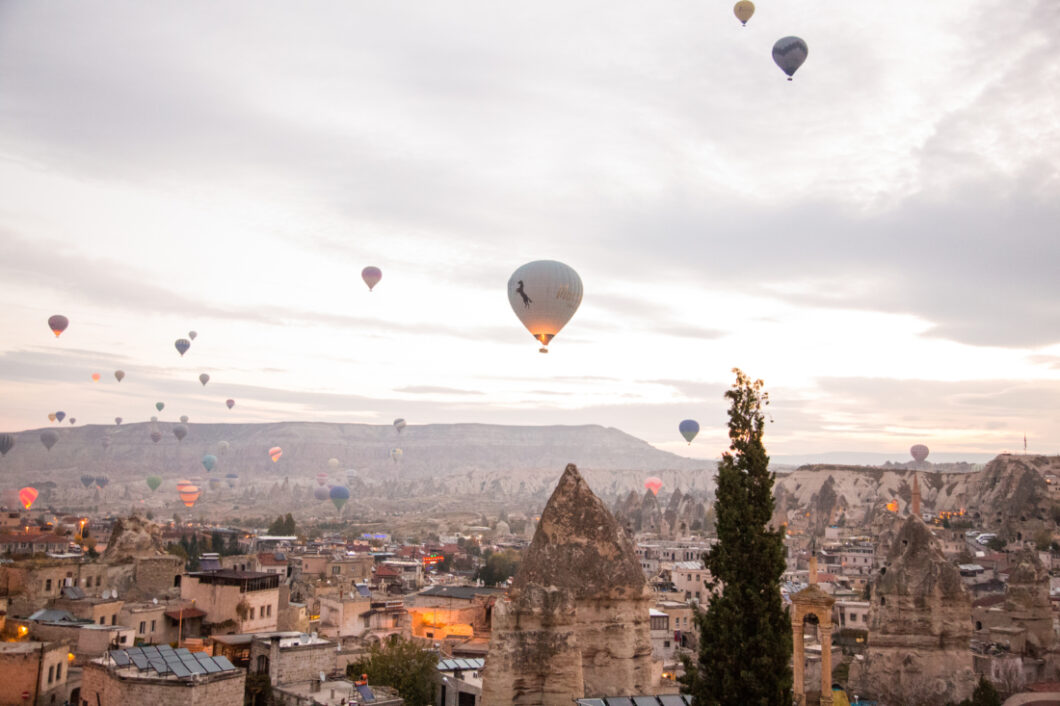 Also, full disclosure, this breakfast area is just for photography purposes…that's not actually what we ate for breakfast. But it does look nice, doesn't it?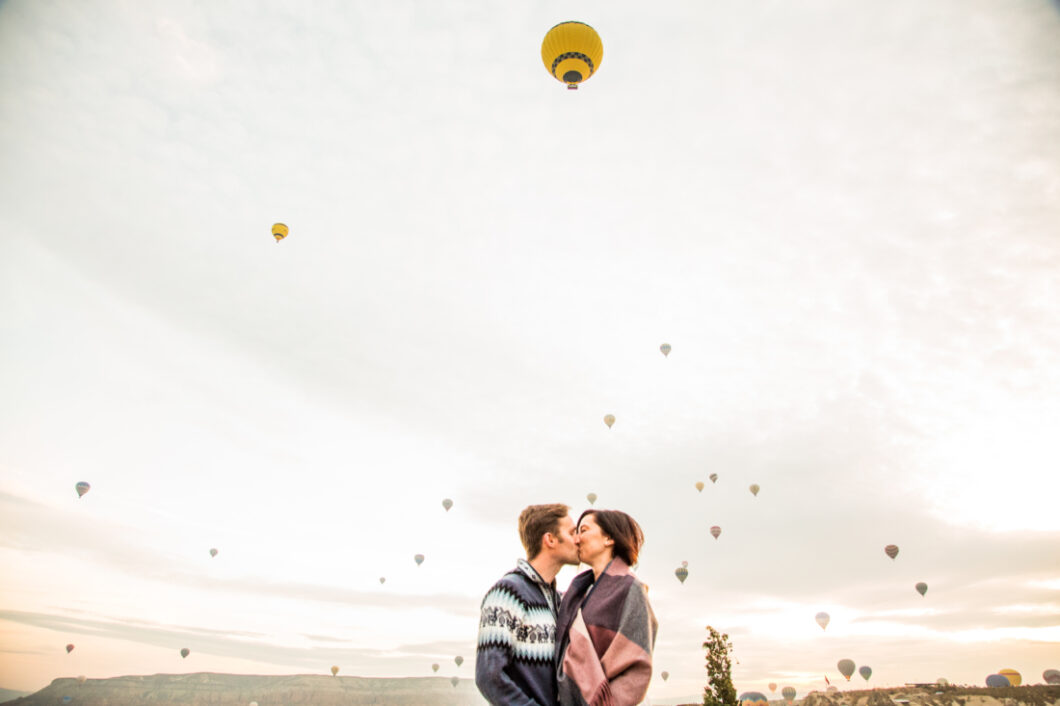 The photo above is my favorite photo of the day, though! A nice couple from Russia took it for us with my camera. My husband and I don't get photos together very often on our adventures, so it was exciting to have a good one of us together! We look like we're on our honeymoon, haha.
Also, full disclosure…this outfit was just for photography purposes. I wore the top half of it but changed into jeans and hiking boots for the remainder of the day. This skirt is beautiful, but it's not quite practical for a day of exploring and traveling. 😉
Had you ever seen this view while scrolling through your Instagram? And does anyone else love hot air balloons? Let me know in the comments!
Where to find it:
Scarf: c/o* ModCloth
Skirt: c/o* Shein (Similar here)
Sweater: c/o* Eleanora Grace (Similar here)
Heels: Chelsea Crew
Zac's sweater: Bought in Cusco (Similar here)
Zac's hiking pants: Eddie Bauer
Zac's sneakers: Under Armour


*Disclosure: some of these links are affiliate links. Meaning, if you click a link and make a purchase, Have Clothes, Will Travel gets a very small commission at no extra cost to you. Thank you for supporting the brands that make this blog possible! I am also a participant in the Amazon Services LLC Associates Program, an affiliate advertising program designed to provide a means for us to earn fees by linking to Amazon.com and affiliated sites.
*c/o = courtesy of, meaning the company gave me the product to be used on my blog, and I did not pay for it. All opinions are my own, and I am not being compensated for a positive review.