What NOT to Wear to Gobustan National Park & Mud Volcanoes in Azerbaijan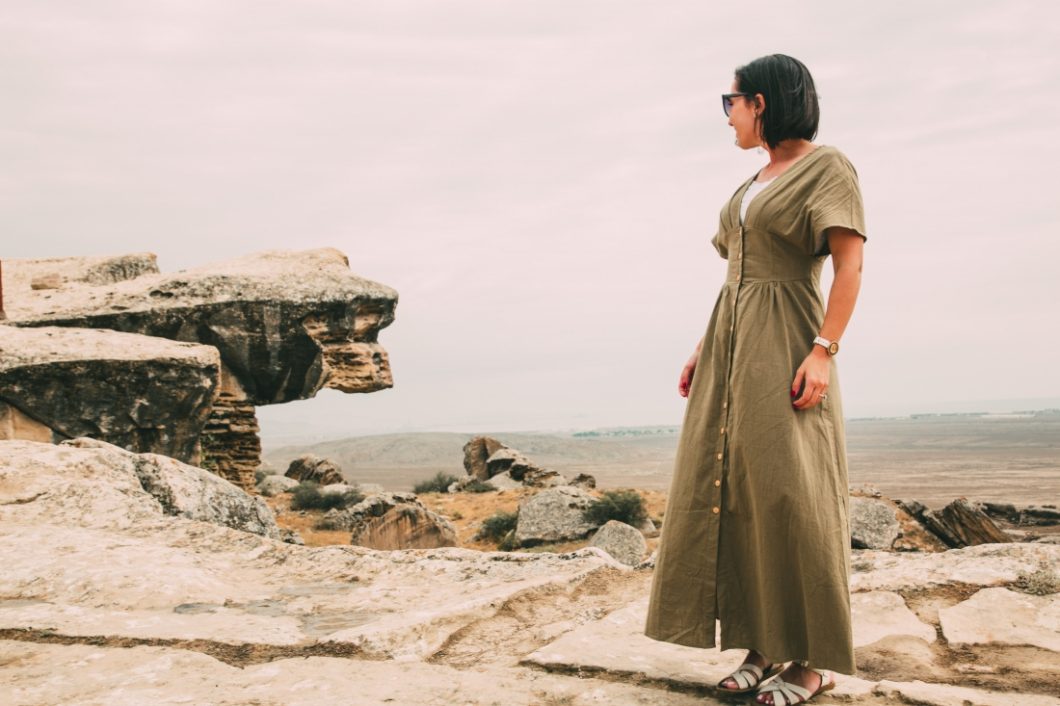 Ok, so what I am wearing in this post was NOT an ideal outfit for visiting the Gobustan National Park and Mud Volcanoes outside of Baku, Azerbaijan. In theory, this outfit should have been OK. It's comfortable. My dress is 100% cotton and breathes very well. And I've worn these sandals on countless adventures because they're so easy to walk in. However, in practice, this outfit just wasn't the greatest! Here's why…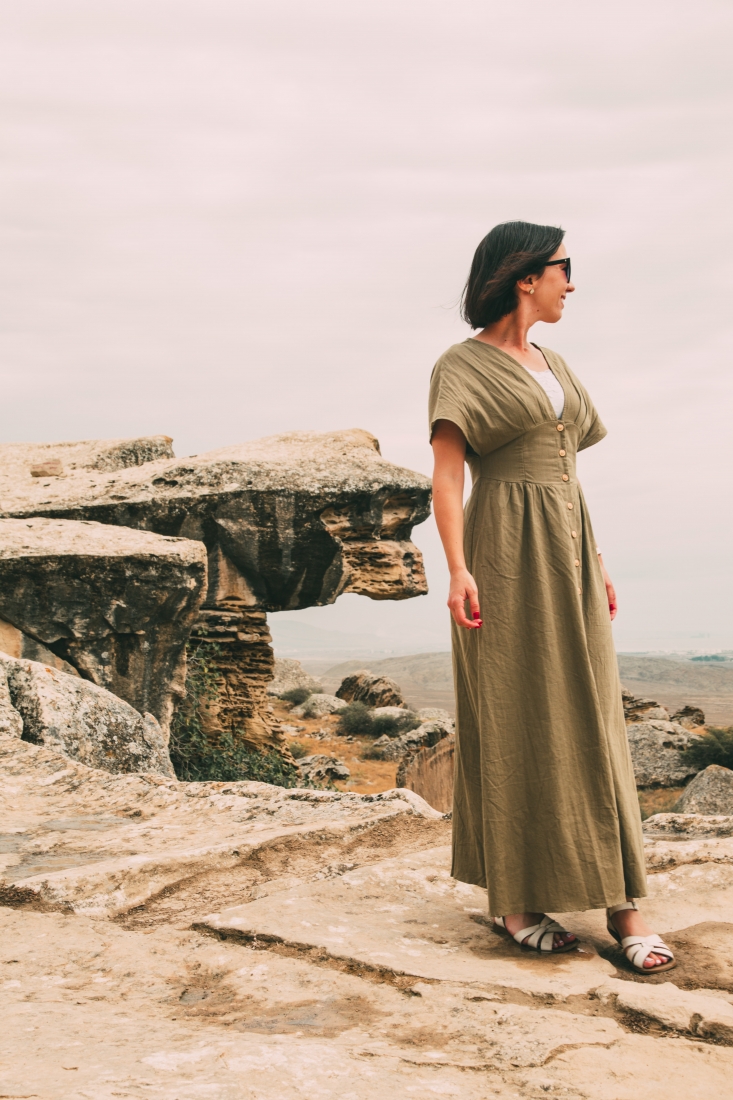 My Sandals
While my Salt Water Sandals are very comfortable and I can walk in them for days…they weren't an ideal choice for this day. This is because they don't have much traction on the bottom of them. In daily life (for walking on concrete sidewalks and whatnot), they're fantastic.
Walking in Gobustan National Park to see the Petroglyphs isn't anything too crazy. However, it does require you to go up some rather steep inclines to see the Petroglyphs, though. And the stone you are walking on is quite slippery!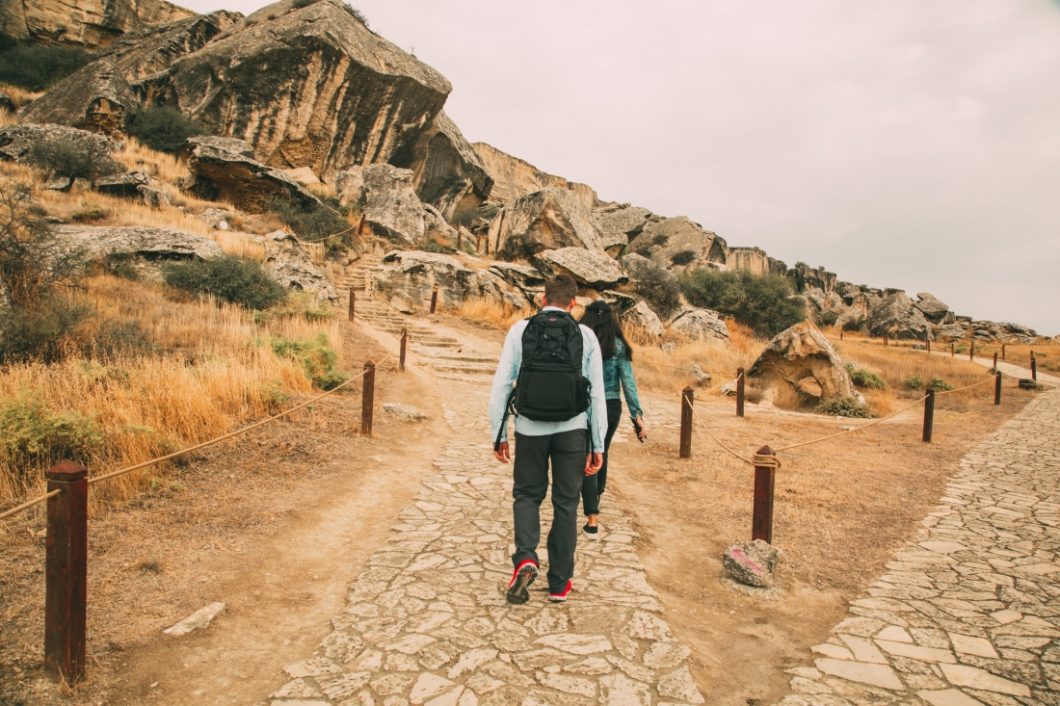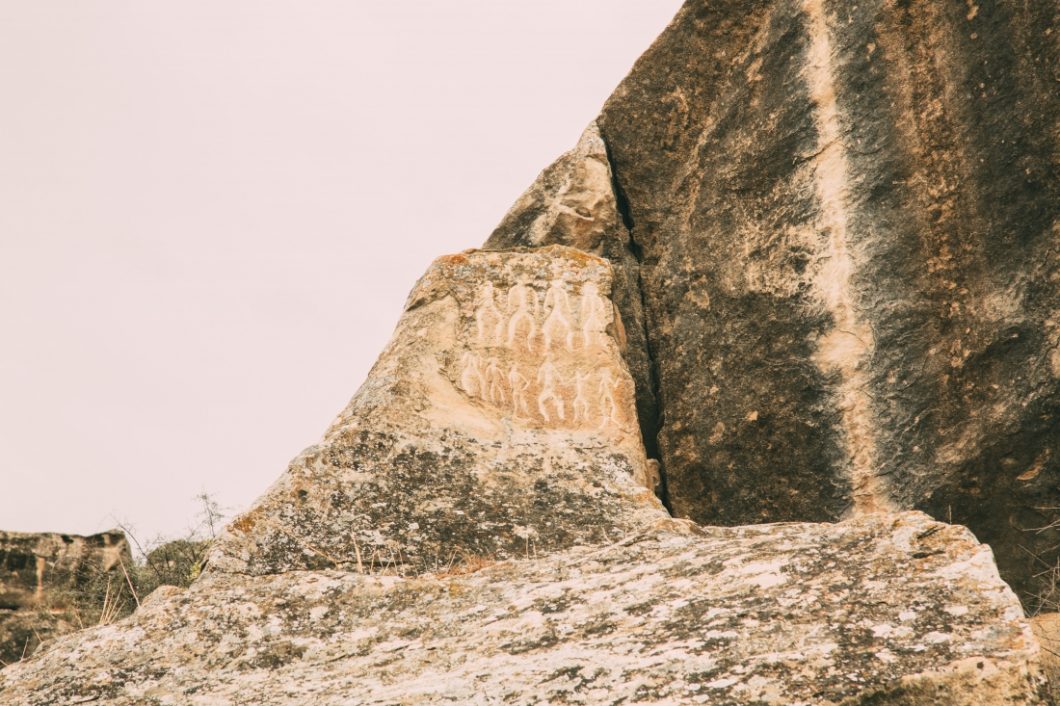 Wearing sneakers or sandals with some decent traction would be a far better idea! I survived with wearing these sandals, haha. But I had to be extra careful when I was going up and down the inclines to see the Petroglyphs.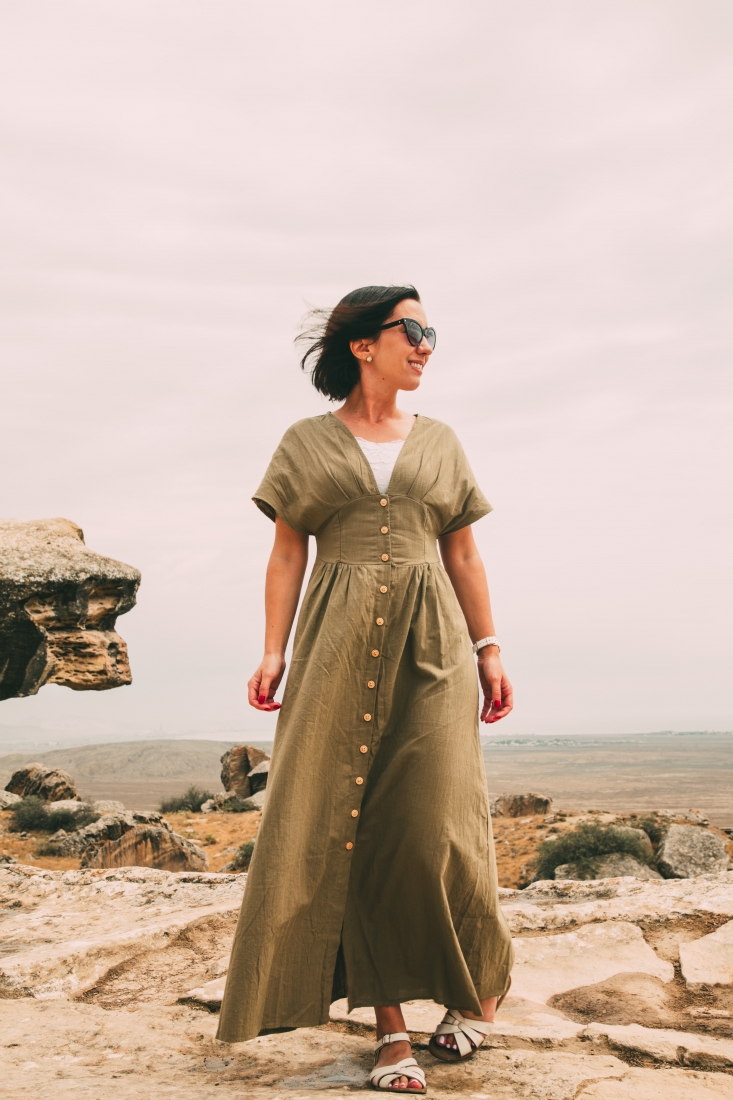 My Dress
This dress is 100% cotton and breathes very well. So, I thought it would be great for a day of exploring in the hot and humid weather of Baku at the end of summer. I also wasn't entirely sure how to dress in Azerbaijan.
I knew Azerbaijan is a mostly Muslim country, but I also knew it was a Post-Soviet country, and would likely be similar to Russia. I decided to err on the side of caution and dress more modestly, though. And I had felt comfortable wearing dresses like this one when I was in Egypt and Jordan.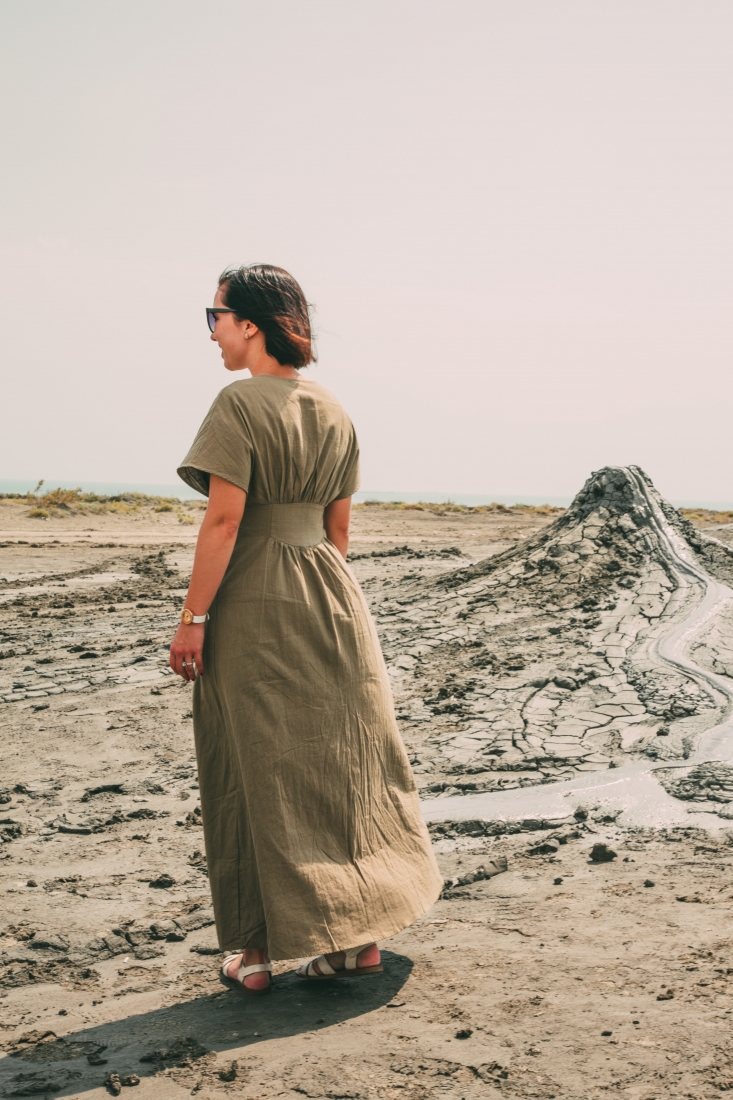 At least in Baku and the surrounding area, I wouldn't say you need to dress any specific way as a woman. I didn't see women wearing headscarves, and most people were wearing Western clothing in Baku. I would say to err on the side of conservative dress, so perhaps no tube tops and Daisy Duke shorts. (But I would say that for any new country you visit – that revealing of clothing isn't overly common in Moscow either.) Beyond that, though, I would say to just wear what you are comfortable in.
So, if I was comfortable in this dress…why was it so bad to wear? Well, it wasn't great to wear this dress because I like actually like it. This dress is not one that stains come out of easily either.
Let me explain…do you see all of those mud volcanoes around me? Well, they like to erupt whenever they feel like it. And some of them can have some serious distance!
After I filmed that little snippet above, I backed away from the volcano a few more feet to take a look at my photos and videos. While I was doing that, the volcano let out a huge belch and threw up on me! My guide explained that particular volcano is rather temperamental…and it recently covered half a tourist's body in mud. So, I got off pretty easy! (If you missed my previous blog post, these volcanoes are erupting cold mud. So, you don't have to worry about getting burned or anything.)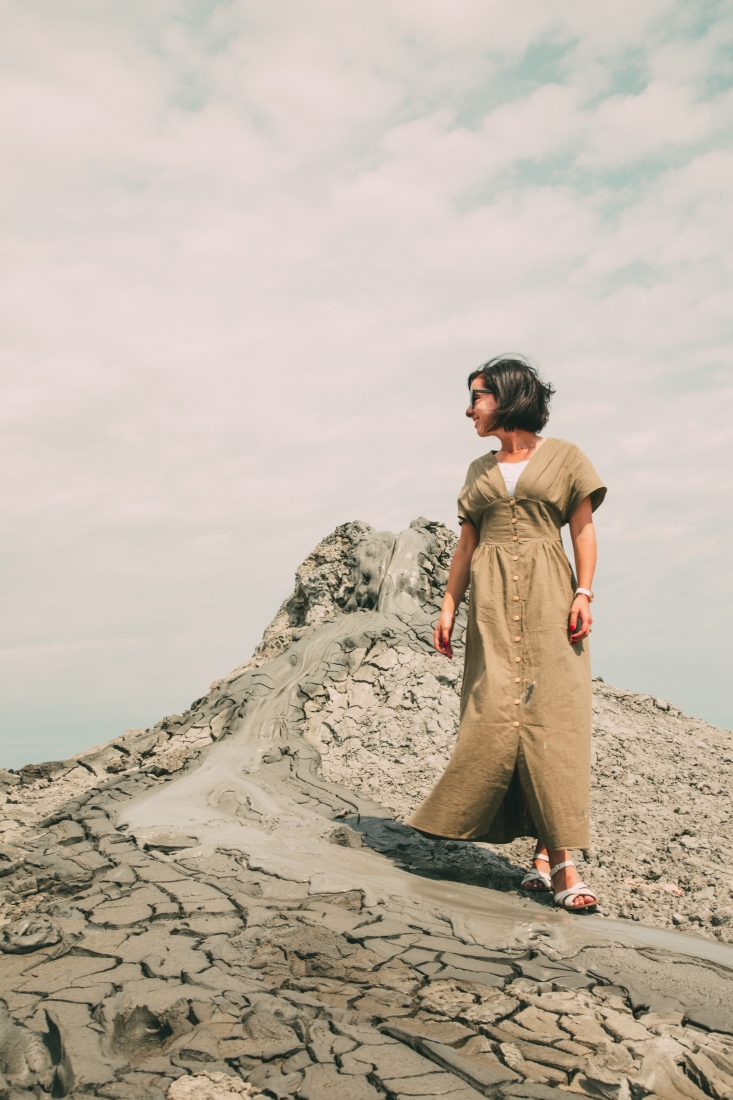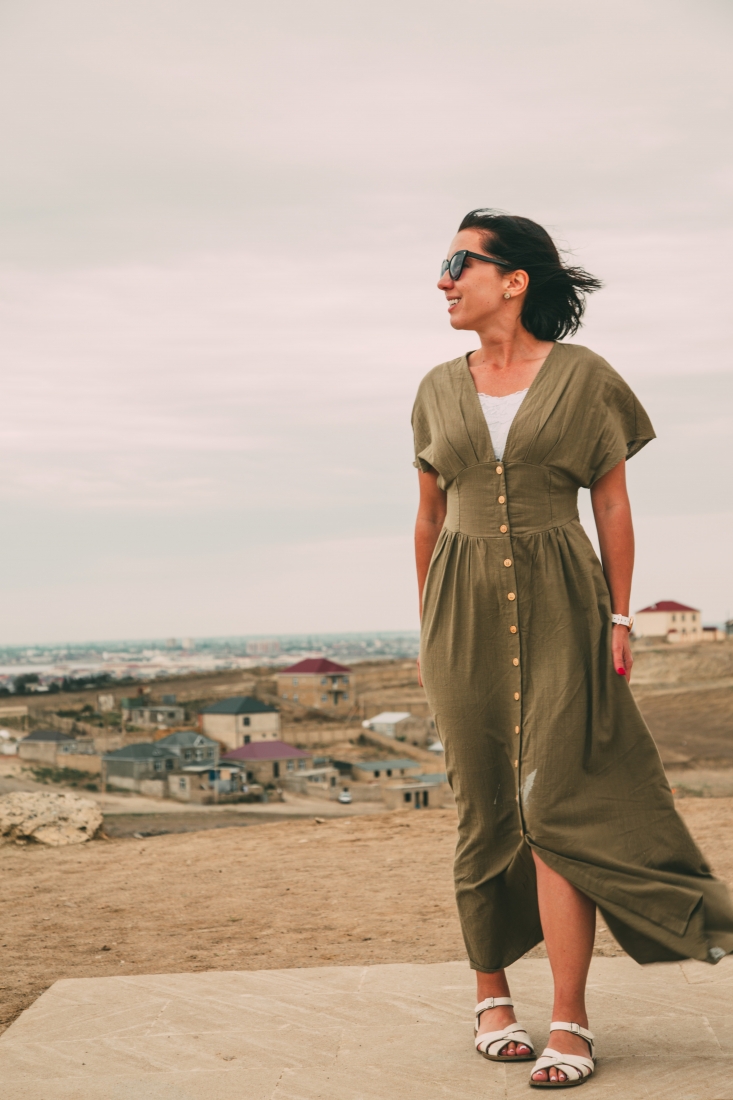 Fortunately, most of the mud got on my feet and ankles. So, it was easy to wipe up! But a few smatterings did get on my dress. You can kind of see it in the photos above.
Wearing a darker color was a lifesaver! If this was a light-colored dress it wouldn't have been good. That being said, this grey mud has been A BEAST to get out of this dress. I've washed it 3 times now and still don't quite have the stain removed. (It's literally in the washing machine again as I'm writing this post. So, fingers crossed this last time will get it all out.)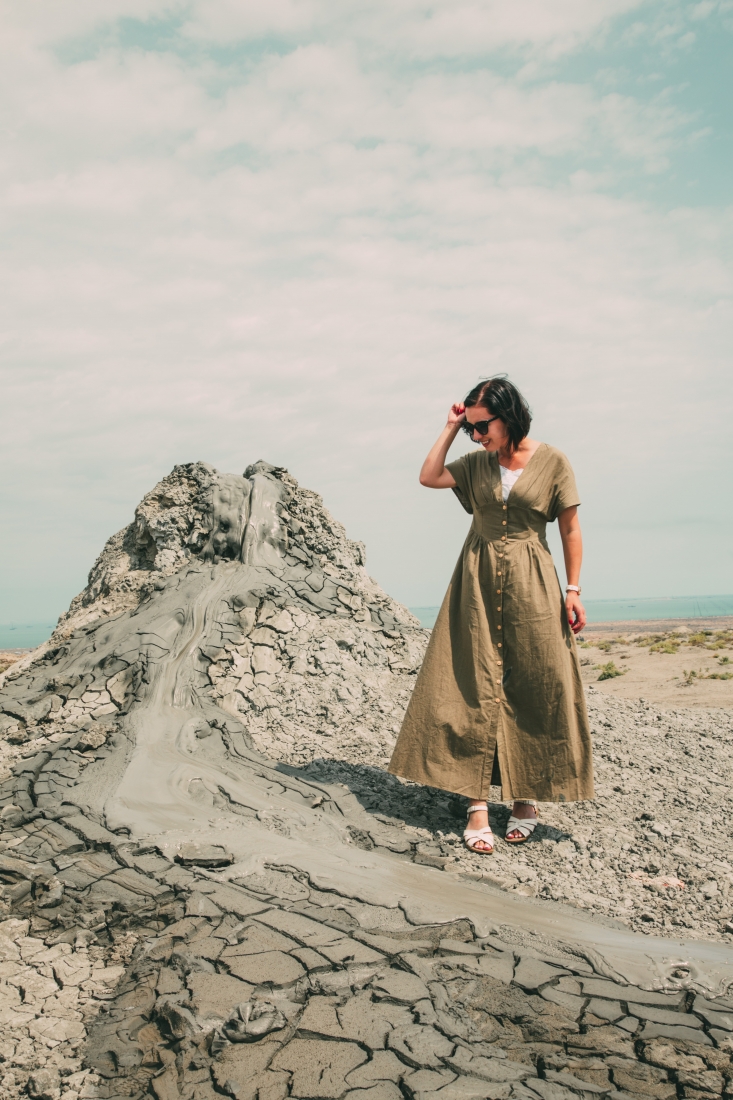 So, moral of this story. Wear grey colored clothing or clothing that washes easily or clothing you don't care if it gets stained! There's a pretty good chance you're going to get some mud on you when you visit Azerbaijan's Mud Volcanoes. (Even if you think you're keeping a good distance from them.) But, hey, the mud is supposed to be good for your skin at least!
*Click here for my full blog post about visiting these places in Azerbaijan.
*Click here for my full review of the tour company I had booked this day through.
If you have any questions about how to dress for this day of exploring in Azerbaijan, let me know in the comments section at the end of this post!
Where to find it:
Dress: c/o* Shein (Similar here, here & here)
Sandals: Salt Water
Watch: c/o* Timex
Sunglasses: Similar here
Cami: Maurices
Earrings: Etsy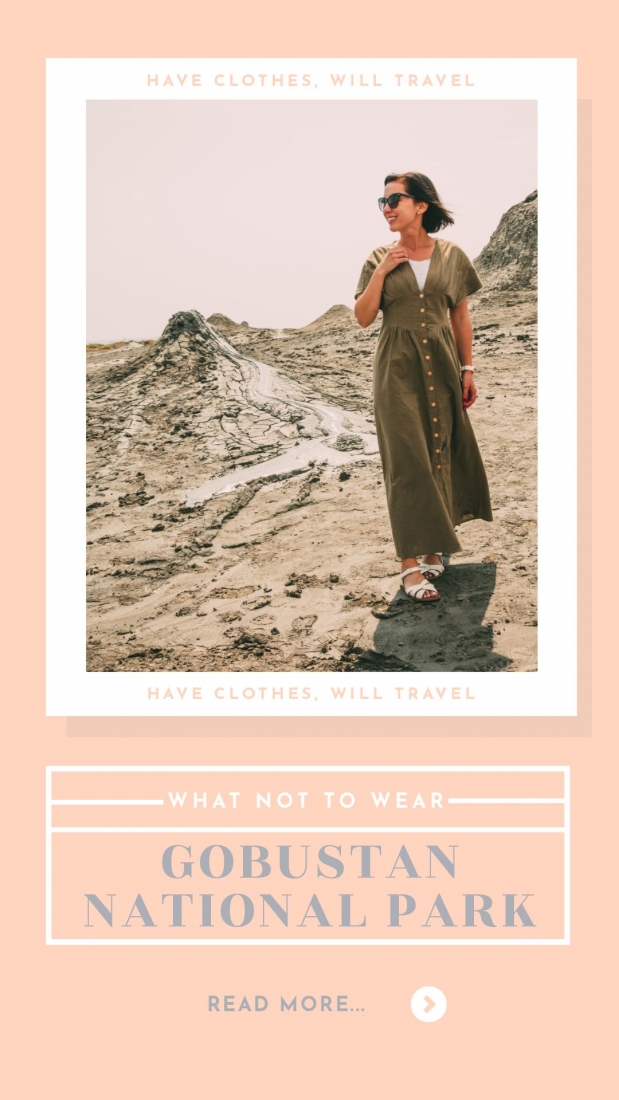 *Disclosure: some of these links are affiliate links. Meaning, if you click a link and make a purchase, Have Clothes, Will Travel gets a very small commission at no extra cost to you. Thank you for supporting the brands that make this blog possible! I am also a participant in the Amazon Services LLC Associates Program, an affiliate advertising program designed to provide a means for us to earn fees by linking to Amazon.com and affiliated sites.
*c/o = courtesy of, meaning the company gave me the product to be used on my blog, and I did not pay for it. All opinions are my own, and I am not being compensated for a positive review.