Bag Baku Tour Services Review
If you've been following my blog for a bit, you'll know I enjoy taking at least one guided tour while visiting a new area…especially if I'm not terribly familiar with its history. And Azerbaijan is a country I only recently started to learn about, so I wanted a little more in-depth, local knowledge of the area when I visited Baku.
When researching tour companies, Bag Baku Tour came up as one of the highest-rated tour agencies in Baku. I thought their "Gobustan, Mud Volcanoes, Fire Temple, Fire Mountain, Private Tour" sounded especially appealing – as most of these places aren't terribly easy to get to without a tour.
My husband and I ended up booking this private tour with Bag Baku Tour to see Gobustan National Park (Mud Volcanoes and Petroglyphs), Fire Mountain and Fire Temple. We were able to see all these places in one day thanks to taking this tour. This post will be my review of my experience with Bag Baku Tour.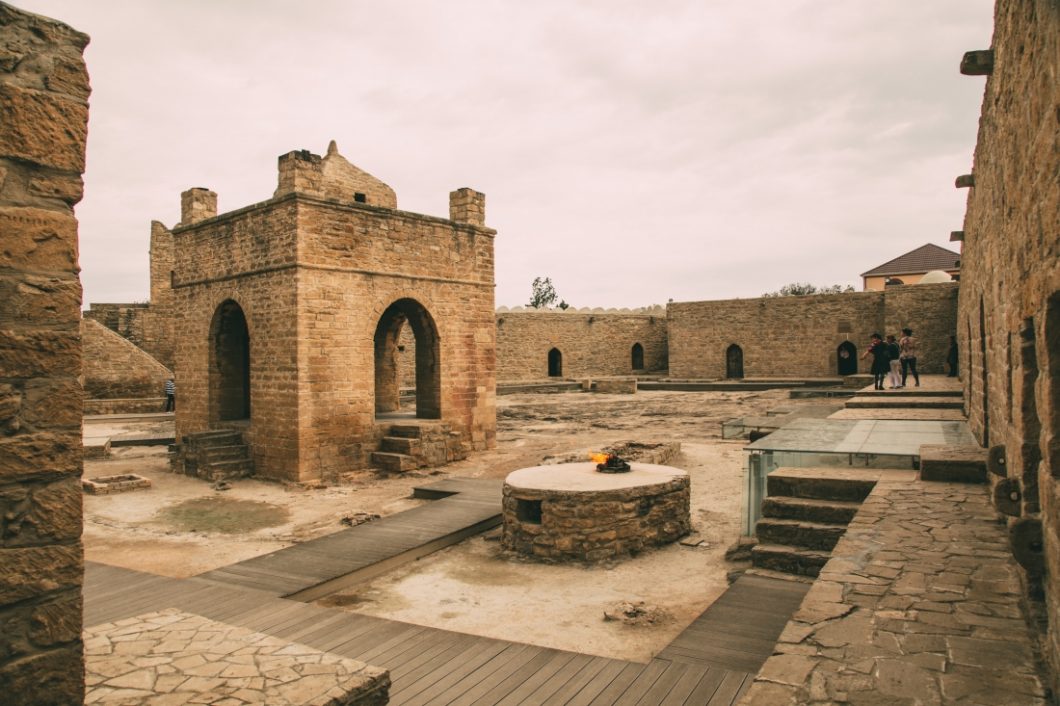 My Honest Review of Bag Baku Tour
Hotel Pickup
I loved that this tour option had a hotel pickup. It's nice to not have to run around in the morning and find your tour group!
Our guide and driver were around 5 minutes late as they had thought we were staying at a hotel just up the road from ours. They called, emailed and texted me to let me know they were on their way and were running a little behind.
The owner even called to apologize for the inconvenience – which it honestly wasn't an inconvenience at all! They were only about 5 minutes late and we realized we had left our sunglasses in our room anyway and ran back to get them. So, we were running later than the tour guide!
I did appreciate how attentive they were to our time, though.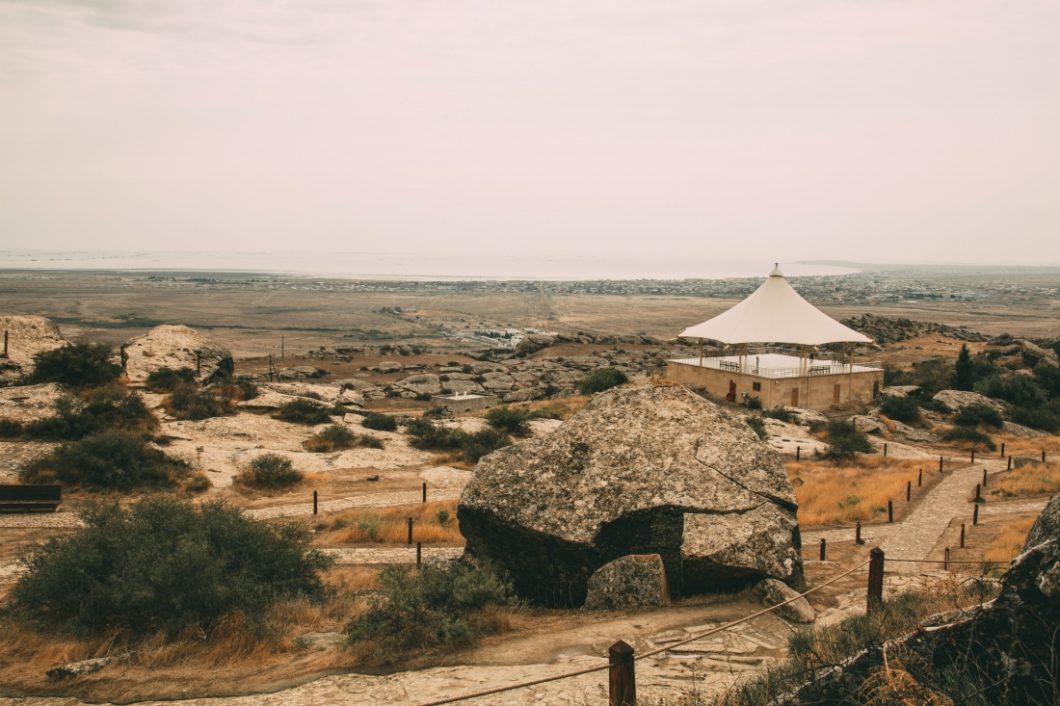 Tour Guide
Our guide's name was Jale and she was fantastic! She was very knowledgable and enthusiastic about the area. She was also very friendly and made us both feel comfortable. I always appreciate this as it can make for a long day if you don't feel at ease with your tour guide and are afraid to ask them any questions! (And she was always happy to answer our questions.)
Jale is demonstrating the musical stones for us at Gobustan National Park in the video below.
Jale also speaks English very well. I appreciated her efforts to help translate for us in certain situations (such as when buying entrance tickets, food, etc.).
I also thought it was nice that Jale was always making sure we were comfortable and enjoying the tour (and always pointing out where the restrooms were when we went anywhere – I always appreciated that!).
She also gave me ample time to take photos and videos of the spots we stopped at and offered to take photos of my husband and me together. I know that sounds silly to mention – but I can't tell you how many tours I've taken where I'm rushed through them without getting hardly a single photo of the place we visited (which is frustrating if I'm planning to write a blog post about it, and even more frustrating if it's a private tour). So, needless to say, this made me very happy!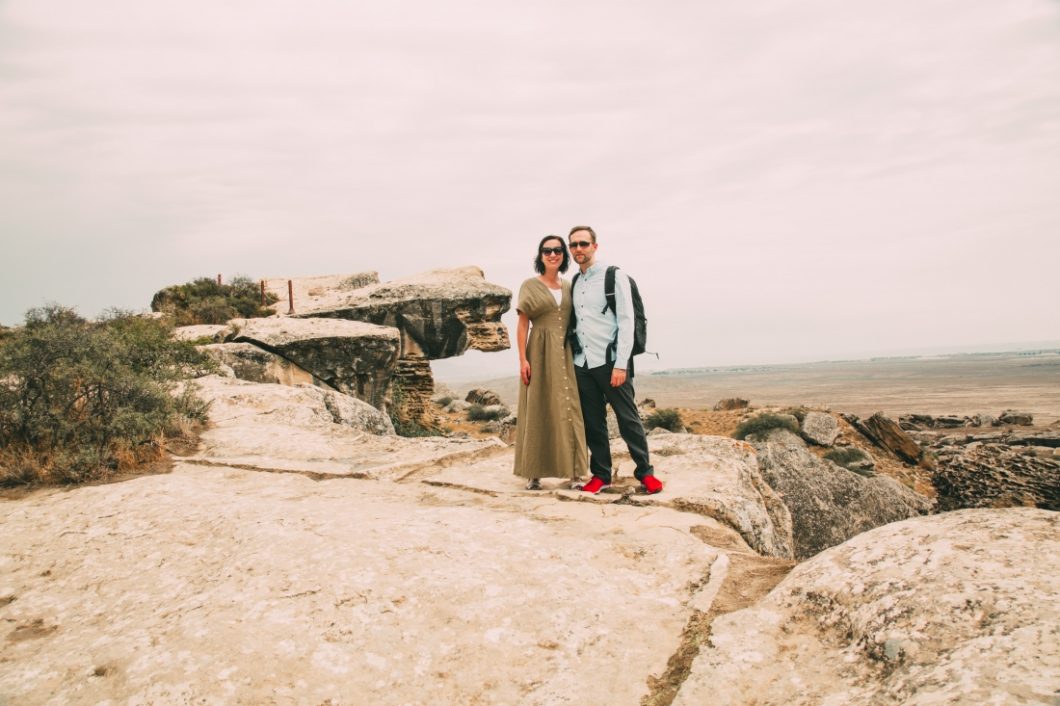 She was also able to accommodate our request to have a quick lunch instead of going back into the city to eat. We had wanted to get back to our hotel a little early for a dinner reservation we had that night, and she made sure that we arrived back to the hotel with plenty of time to spare. (Just note – if you have a quick lunch at the market as we did, this is just the equivalent of gas station food and isn't the fanciest/most-filling lunch on the planet.)
Jale really made this tour fantastic. I appreciated how organized and accommodating she was for this entire tour. We crammed a lot of places into one day, and all of it went very smoothly with zero snafus.
Driver
I apologize, as I do not remember our driver's name. He did not speak English, but he made sure to get us everywhere safely. This is no small feat either, as the driving to get to the Mud Volcanoes is not easy! You're going to want a good driver to get you back there.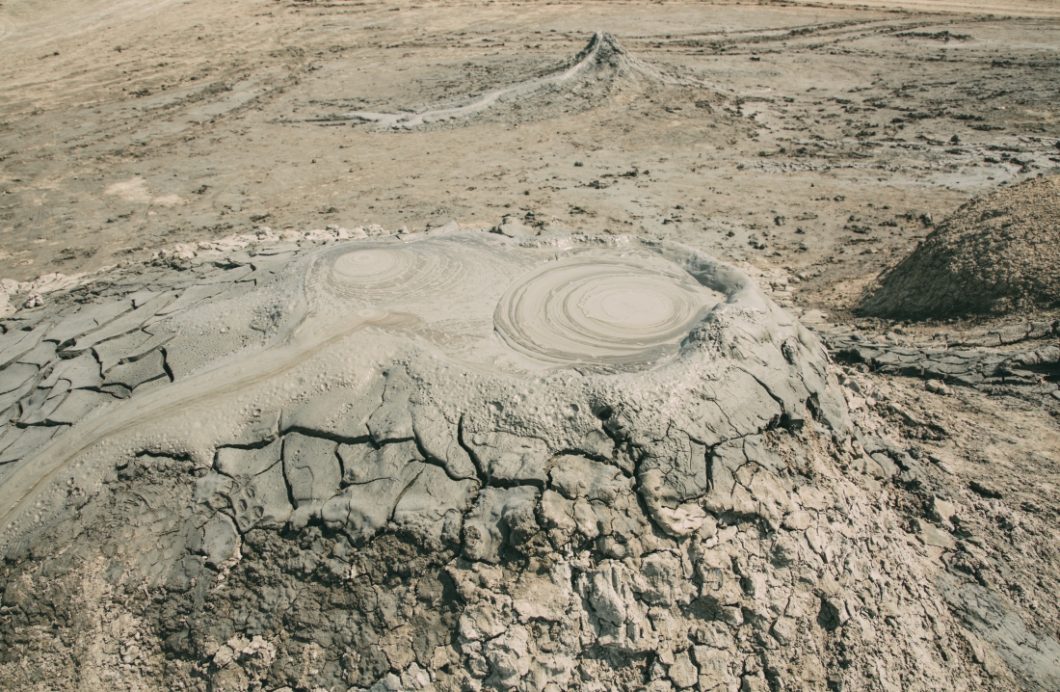 The Places We Visited On This Tour
I won't get too in-depth about each place we visited, as I did an entire post on these places, here.
But here is a quick run-through of each spot you would see if you take this tour too.
*Gobustan Rock Art Cultural Landscape Reserve
Here you'll find more than 6,000 petroglyphs (rock carvings). Many of these carvings are between 5,000 and 20,000 years old!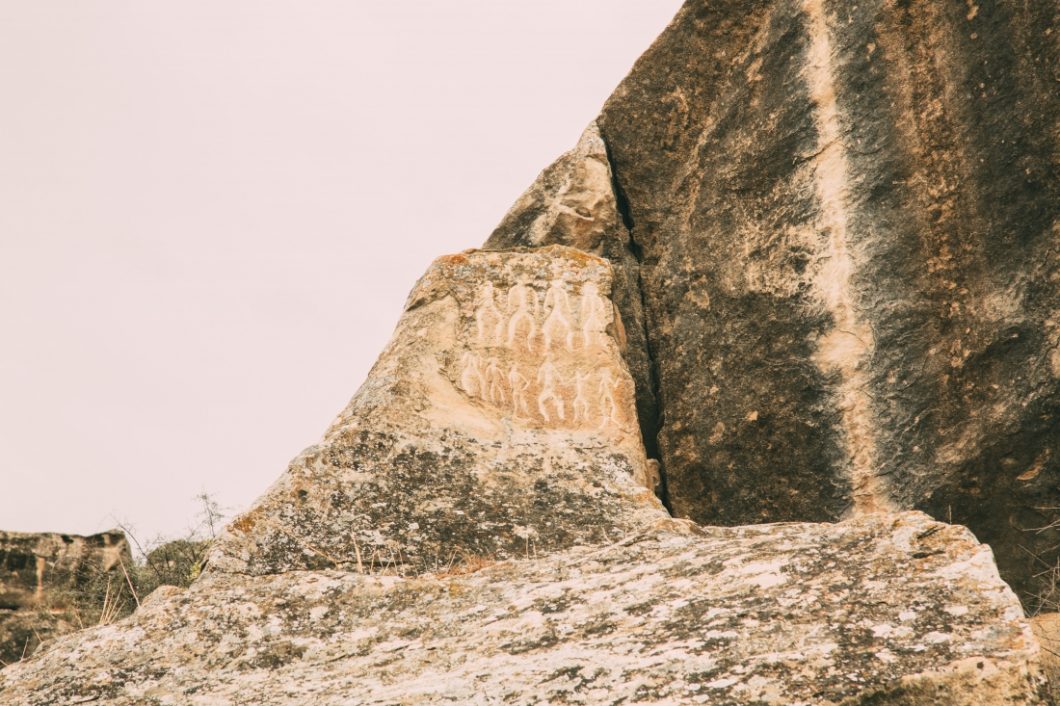 *Mud Volcanoes!
Azerbaijan is home to more than 400 mud volcanoes! That's more than any other country in the world. You can watch the volcanoes bubble and spit for a bit, and also slather some of the mud on yourself if you want. (The mud is said to have great health benefits.)
*Ateshgah of Baku (Fire Temple)
The Ateshgah of Baku is often referred to as "Fire Temple." It's a temple that was used as a place of worship for Hindus, Sikhs and Zoroastrians. Fire is the primary symbol of Zoroastrianism, and Zoroastrians usually pray in the presence of some form of fire.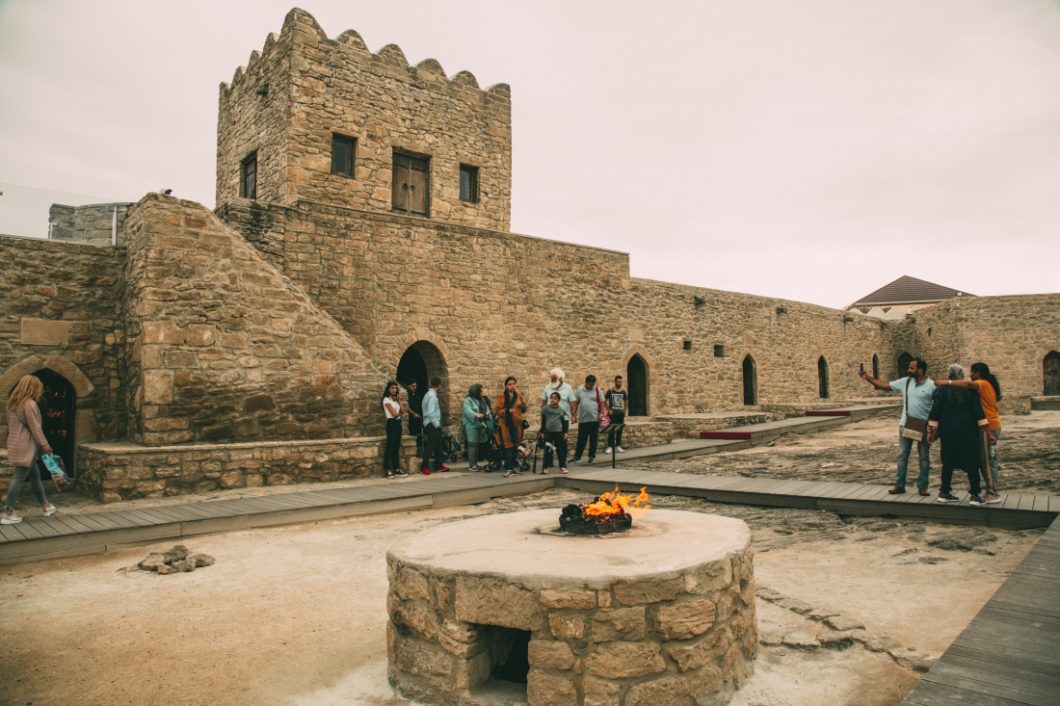 *Yanar Dag (Fire Mountain)
Yanar Dag means "burning mountain." This hillside has been continually burning since the 1950s and is fed by natural gas. (Note: many people are disappointed by how small this fire is – as it doesn't quite live up to the name of "burning mountain." However, I think as long as you are aware of that going into it, it's still a neat thing to see!)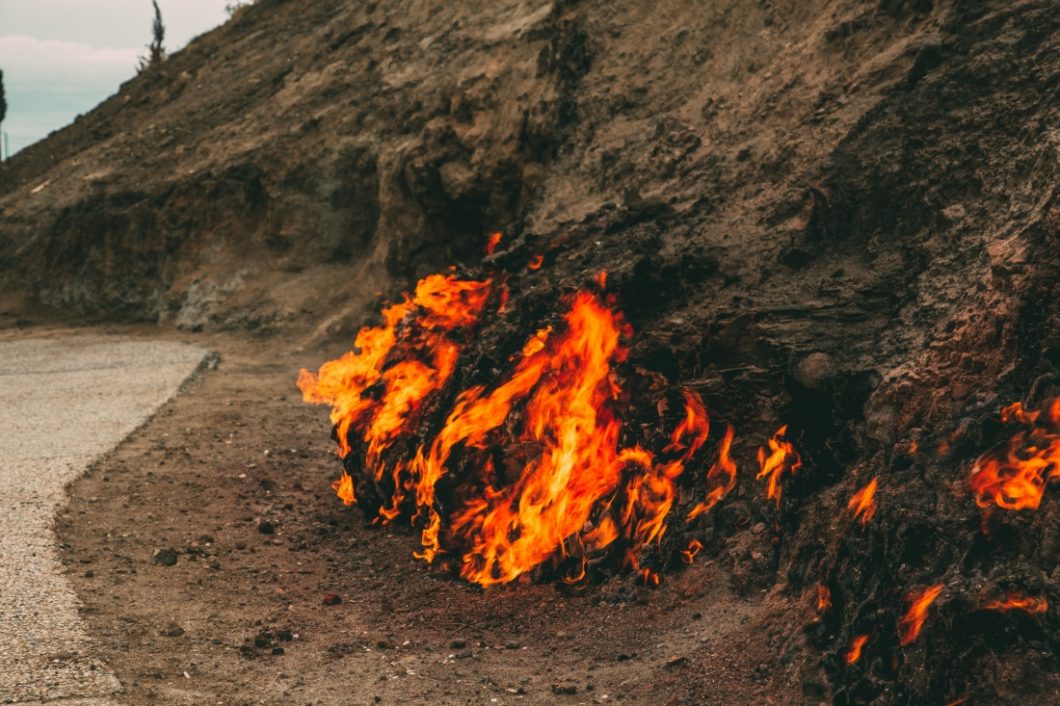 Our tour ended at about 5 p.m. We did, however, take only a very short lunch break. I believe this tour normally concludes after 6 p.m.
Click here for a more in-depth look at all of the places mentioned in this post.
Bottom Line – Would I Recommend Bag Baku Tour?
Yes! This company is very professional, organized and accommodating every step of the way. I can absolutely see why they have such high reviews! (Click here to check them out on Tripadvisor.)
If you're new to my blog and are worried that perhaps every review of mine is this positive, I invite you to read this recent tour review post and this one to put your mind at ease. I only recommend companies I truly believe in, and I will state if I do not think they did a good job.
I'm happy to answer any questions you have about booking with Bag Baku Tour in the comments section!
*Click here for all of my posts from Baku.
*Click here for what I wore for this day trip with Bag Baku Tour (and why I wouldn't recommend wearing it)!
*Thank you to Bag Baku Tour for partnering with me for this post. As always, all opinions are my own, and I am never compensated for a positive review.
*Disclosure: some of these links are affiliate links. Meaning, if you click a link and make a purchase, Have Clothes, Will Travel gets a very small commission at no extra cost to you. Thank you for supporting the brands that make this blog possible! I am also a participant in the Amazon Services LLC Associates Program, an affiliate advertising program designed to provide a means for us to earn fees by linking to Amazon.com and affiliated sites.