Baku, Azerbaijan – Cool Day Trip to Take to Gobustan, Fire Mountain & Fire Temple
When planning your trip to Baku, Azerbaijan, be sure to take (at least) one day trip and venture to some of the fascinating places just outside the city. You can easily visit Gobustan National Park's mud volcanoes and petroglyphs, as well as "Fire Mountain" (Yanar Dag) and "Fire Temple" (Ateshgah of Baku) all in one day. This post will explain, in my opinion, the best way to go about getting to these places and what in the world these places even are!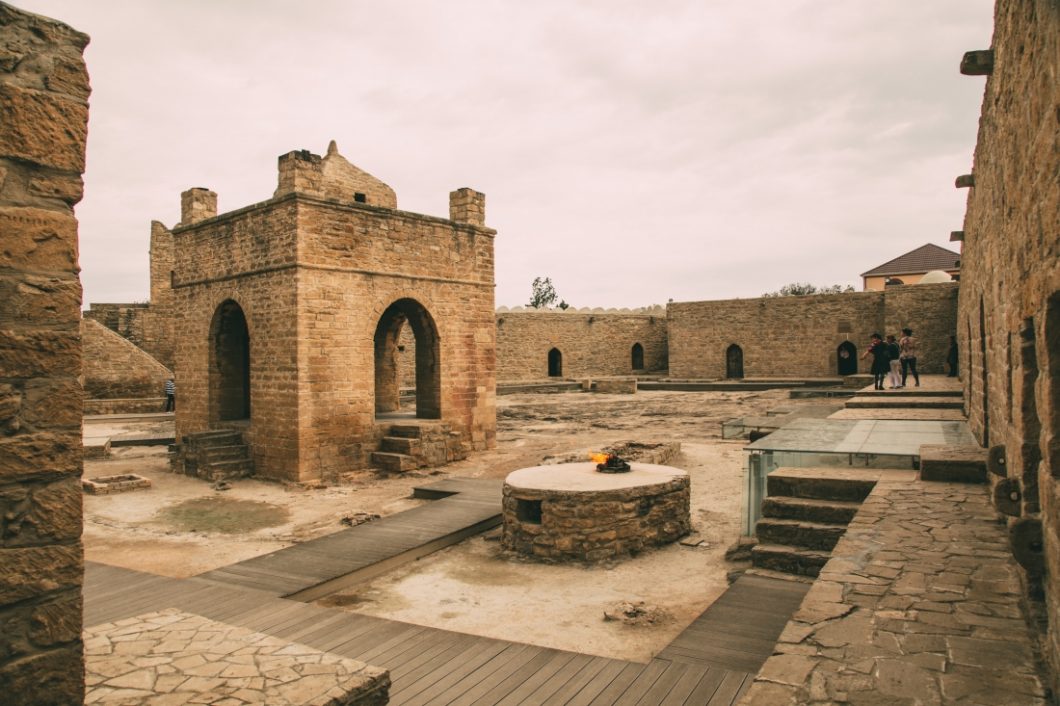 How to Get to Gobustan National Park, Fire Mountain & Fire Temple from Baku
Take a guided tour – I know most people cringe at the thought of tours, but in this case, I do think it's worth it. (We had worked with Bag Baku Tours for this adventure and took a private tour. Click here for more info on the tour we took.) You aren't going to be able to drive yourself to some of the places mentioned here, and unless you speak Azerbaijani (or Russian), it's going to be super difficult to do this day trip using public transport (and you're still going to have to arrange transport to the mud volcanoes).
Hire a driver – If you would rather not go the tour route, I would ask your hotel's front desk to arrange a driver to take you to the spots mentioned in this post. HOWEVER, make sure you get a price before going. Many cab drivers will try to rip tourists off, so be sure you agree to a reasonable price before you go. (Ask your hotel for an estimate. Click here for a full list of hotels and hostels in Baku.)
Day Trip from Baku – Gobustan National Park, Fire Mountain and Fire Temple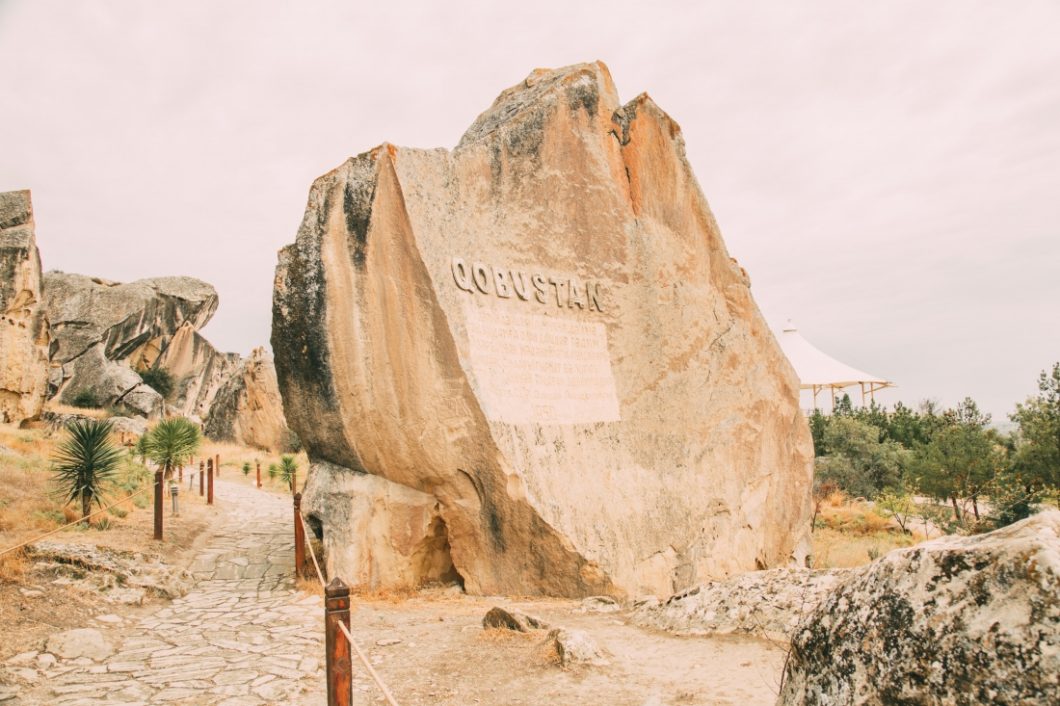 *Gobustan National Park – Gobustan Rock Art Cultural Landscape Reserve (Ancient Carvings & Petroglyphs)
Just under a 1-hour drive from Baku is the Gobustan State Reserve – which is home to more than 6,000 petroglyphs (rock carvings). Many of these carvings are between 5,000 and 20,000 years old – how crazy is that?! They depict hunters, dancing, people traveling by reed boats, bulls and more.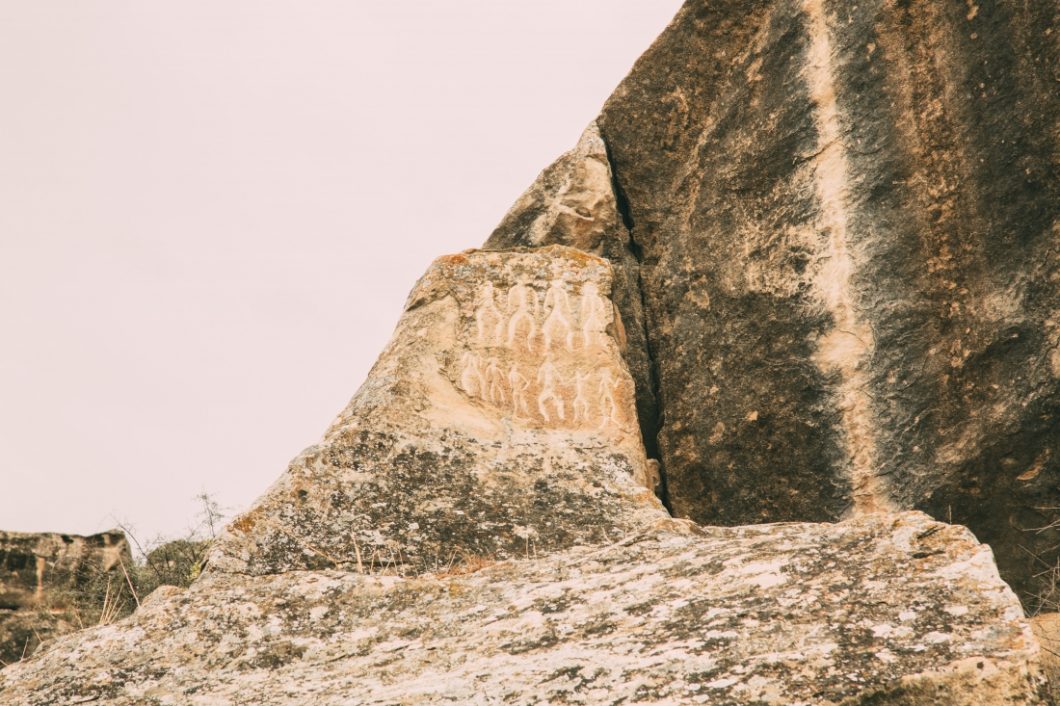 We spent just over an hour wandering through with our guide looking at the various petroglyphs while she explained them to us. This was another reason I was glad to have been part of a guided tour – as I don't believe I would have spotted half of the petroglyphs without her pointing them out!
She also demonstrated how some of the rocks are rather musical too! Check out "the musical rocks" of Gobustan in the little video below.
Be on the lookout for snakes while you're here too! Eek. They can be poisonous – so avoid them!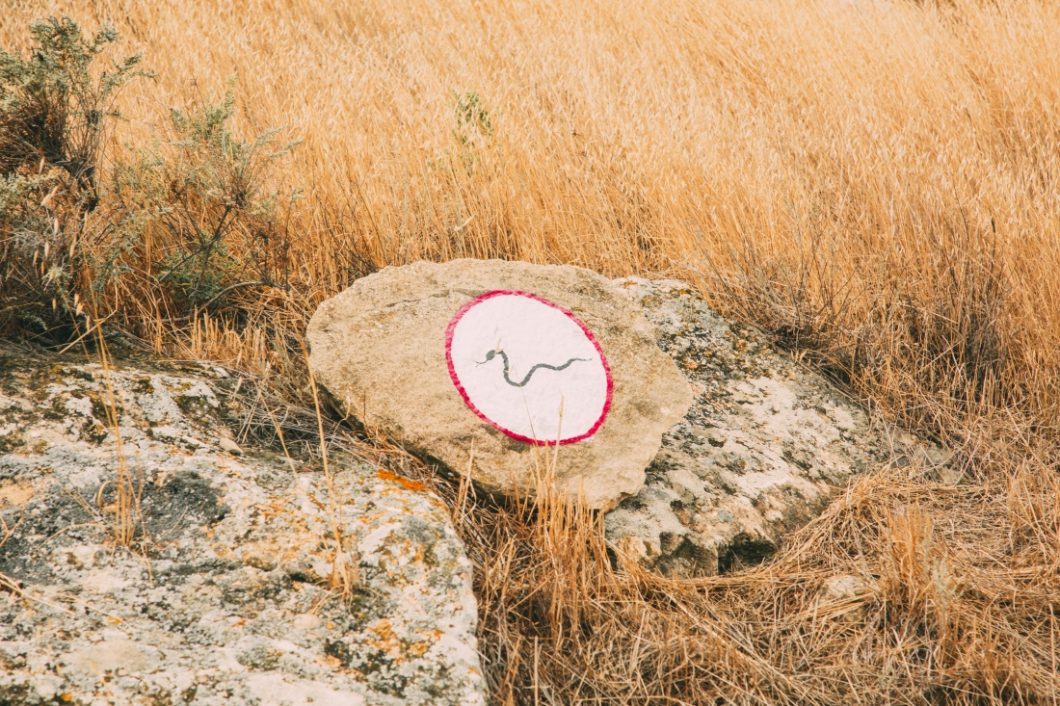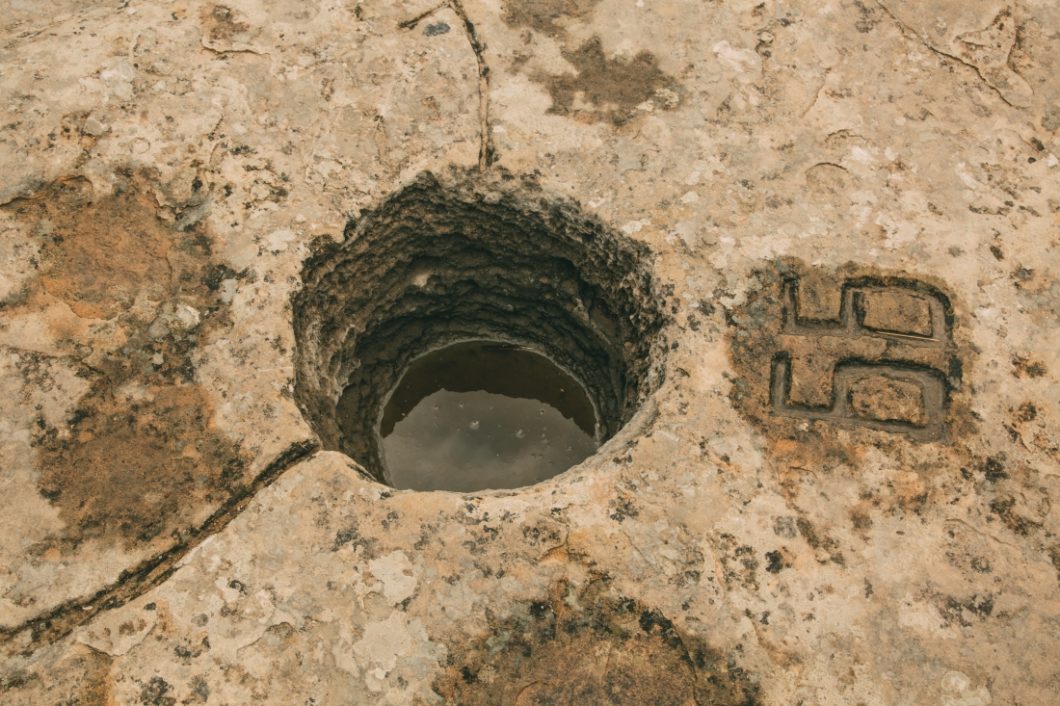 There is also a nice museum you can walk through just by the entrance of the reserve. There are many interactive displays, as well as various things that were found in the reserve (I liked the jewelry!), as well as dioramas depicting scenes from the area. (We spent around a half-hour in here – it was nice to get in the air conditioning for a bit too!)
*Gobustan Mud Volcanoes
Azerbaijan is home to more than 400 mud volcanoes! That's more than anywhere else on the planet. These mud volcanoes are thought to have health benefits as well, so don't be surprised to see people slathering the mud on themselves while they're here. (If you do this, have a plan for how you're going to rinse it off, though. There aren't any sinks or bathrooms are around here!)
Oh yeah, and these volcanoes are not hot – they're actually quite cold. So, you don't have to worry about scalding yourself if you get too close to them.
I was standing nearly 5 feet away from a volcano taking the video above when it decided to throw up on me! My legs and dress ended up getting a good smattering of mud on them, so be sure to wear clothing that either washes up easily, is grey or you don't mind getting stained! (Click here for more tips for what to wear for this day trip!)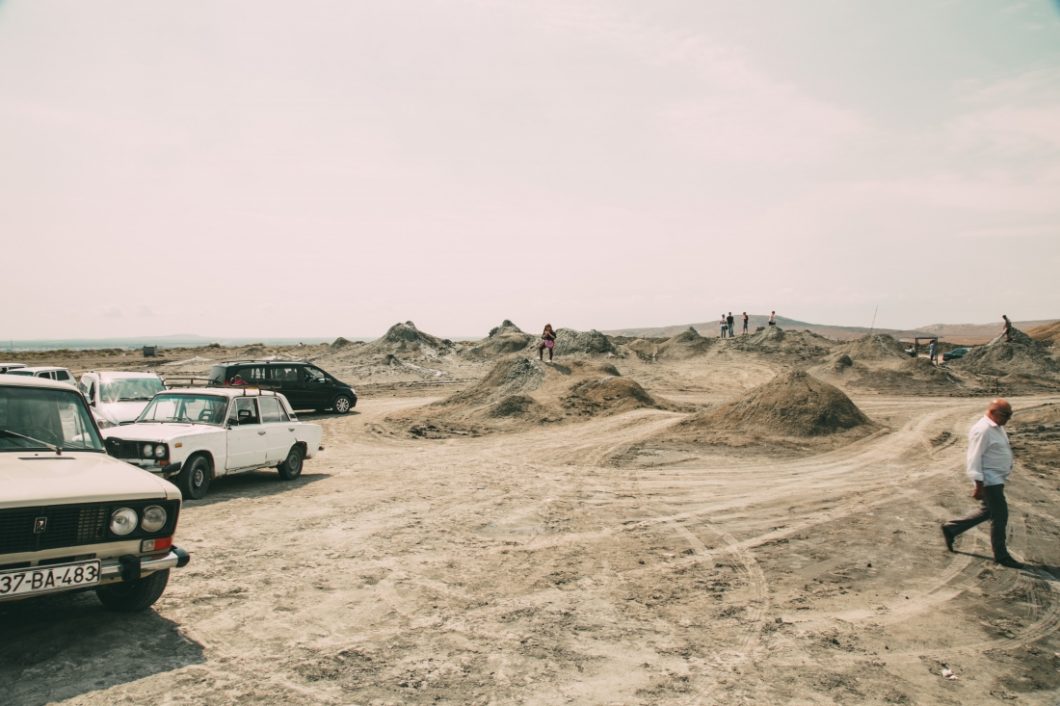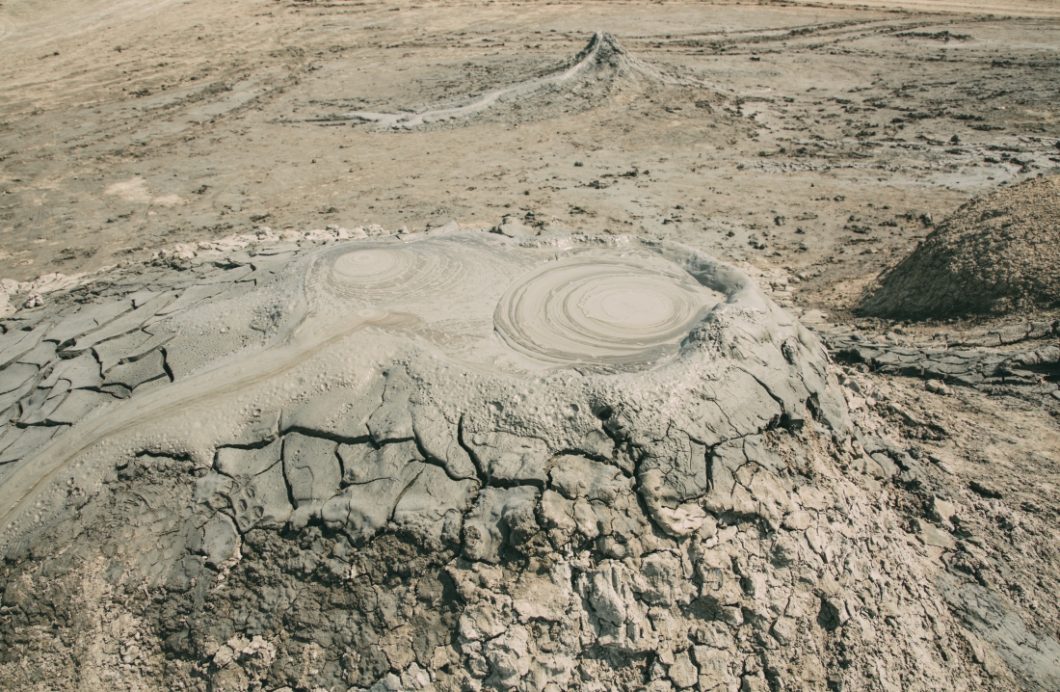 Getting to the mud volcanoes also requires you to take a vehicle that can handle the bumpy dirt roads to get to the volcanoes. These roads will also be SUPER slippery if it rained out recently. (There also aren't any signs pointing you in the correct direction – so, I would not advise driving yourself down these dirt roads.) There are quite a few taxis (like the one pictured below), just outside the entrance of these dirt roads that you can hire to take you down them – but again, the drivers will likely not speak English, so keep that in mind.
I would say we spent around a half-hour here. It's not a huge area, and most of the time I spent waiting for the large tour groups to clear out (which really only took about 10 minutes).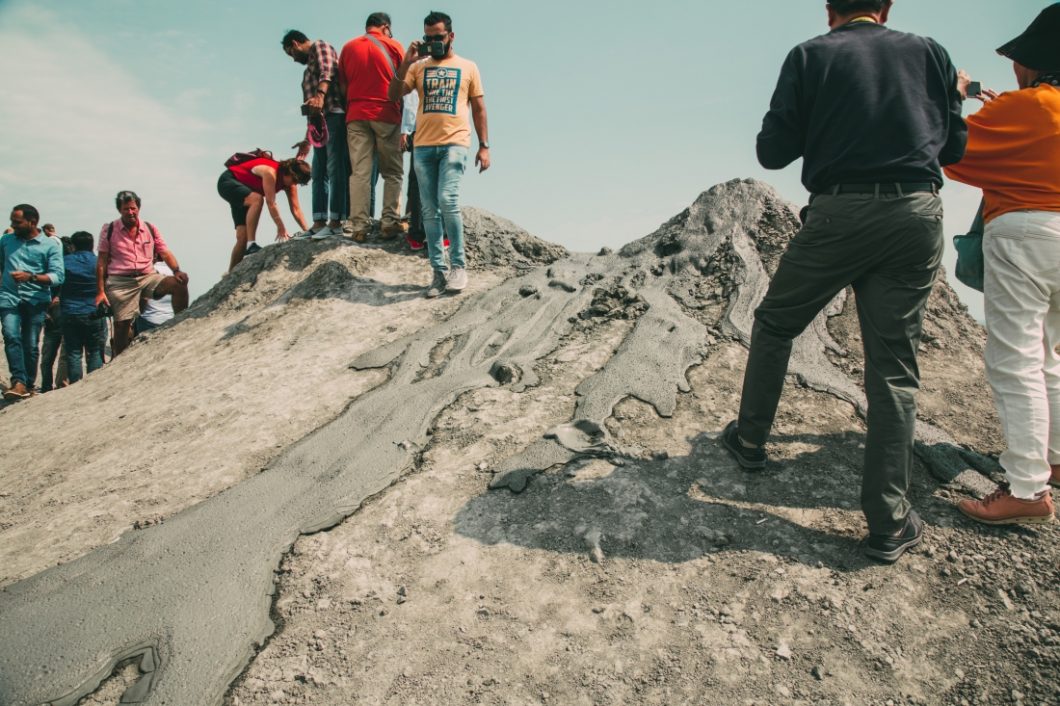 *Ateshgah of Baku (Fire Temple)
The Ateshgah of Baku is often referred to as "Fire Temple." It's a temple that was used as a place of worship for Hindus, Sikhs and Zoroastrians. Zoroastrianism is a religion I knew next to nothing about before visiting here…and it's actually one of the world's oldest continuously practiced religions. Fire is the primary symbol of the religion, and Zoroastrians usually pray in the presence of some form of fire.
Zoroastrianism is also the religion which inspired "the Lord of Light" in the Game of Thrones series.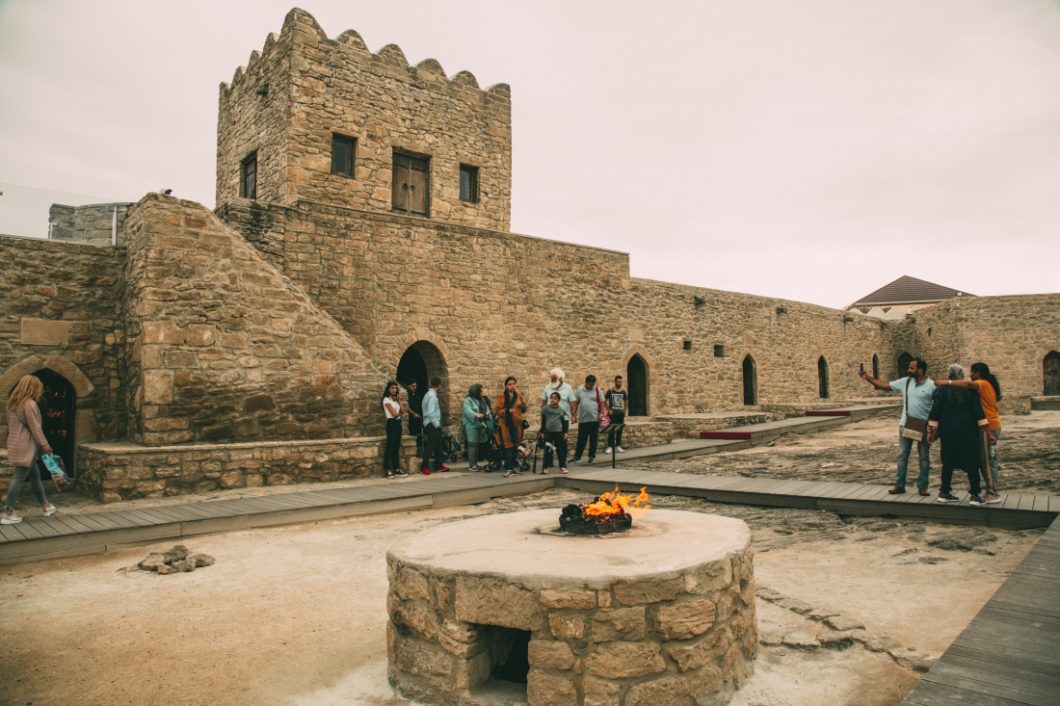 As of 1975, the temple complex is now a museum with many of the rooms containing displays and dioramas.
The fires that are lit throughout the complex are artificial now (the gas is pumped in from Baku). However, the flames used to be fueled by a natural gas field located just under the temple.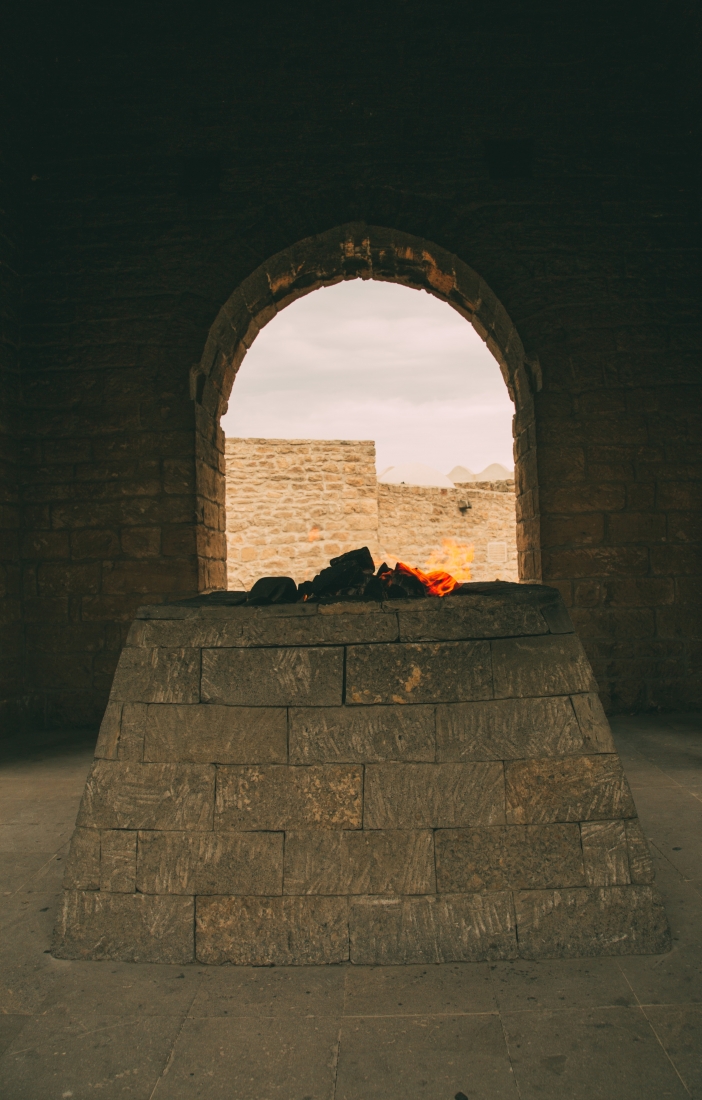 We spent around an hour here.
*Yanar Dag (Fire Mountain)
Yanar Dag means "burning mountain." This hillside has been continually burning since the 1950s. It is fed by natural gas. Our guide had said the cause of the initial fire is disputed, although I had read that a goat farmer had accidentally lit it on fire in the 50s with a cigarette. (But not sure how reliable that info is!)
Visiting Yanar Dag at night would be a bit more impressive. When you hear the name "Fire Mountain" you'll likely think an entire mountain is on fire…which is not the case at all. It's a rather small fire, which can vary in size depending on the day. Sometimes the flames are much higher than my photos and sometimes they are even shorter. (Below is a quick video from the day we were there.)
While its name makes it sound a bit more exciting than it is, going into Yanar Dag with realistic expectations can still make for an interesting way to end your day trip outside of Baku!
Again, we had booked this day trip through Bag Baku Tours and had a wonderful time with them for the day. Click here for my full review of their services.
If you have any questions about this day trip feel free to ask in the comments section! And had you heard of any of these spots before this post? Let me know in the comments too!
Click here for the outfit I wore for this adventure and why I would recommend wearing something else!
Click here for a full review of our accommodation while in Baku.
*Thank you to Bag Baku Tours for partnering with me for this adventure. As always, all opinions are my own, and I am never compensated for a positive review.
*Disclosure: some of these links are affiliate links. Meaning, if you click a link and make a purchase, Have Clothes, Will Travel gets a very small commission at no extra cost to you. Thank you for supporting the brands that make this blog possible! I am also a participant in the Amazon Services LLC Associates Program, an affiliate advertising program designed to provide a means for us to earn fees by linking to Amazon.com and affiliated sites.