JW Marriott Absheron Baku Review (Hotel in Baku, Azerbaijan)
While traveling in Baku, Azerbaijan we had booked our hotel stay at the JW Marriott Absheron Baku. My husband and I always try to stay at Marriotts anytime we travel to continue building our status and points.
JW Marriotts are some of the most luxurious hotels in the Marriott chain. When given a choice, we don't normally stay at this high of a category hotel (due to the matching high price tag). Fortunately, though, the conversion rate from AZN to USD at the moment is VERY favorable – making this stay at the JW Marriott Absheron relatively affordable (at least compared to other JW Marriott hotels).
Click here to see current rates for the JW Marriott Absheron Baku.
However, as we found out when in Tel Aviv and Cairo – just because a hotel is of a "high category" and in a nice location, it doesn't always make it a good experience or without some snafus. So, this post will break down our honest thoughts on our stay at JW Marriott Absheron Baku.
JW Marriott Absheron Baku Key Features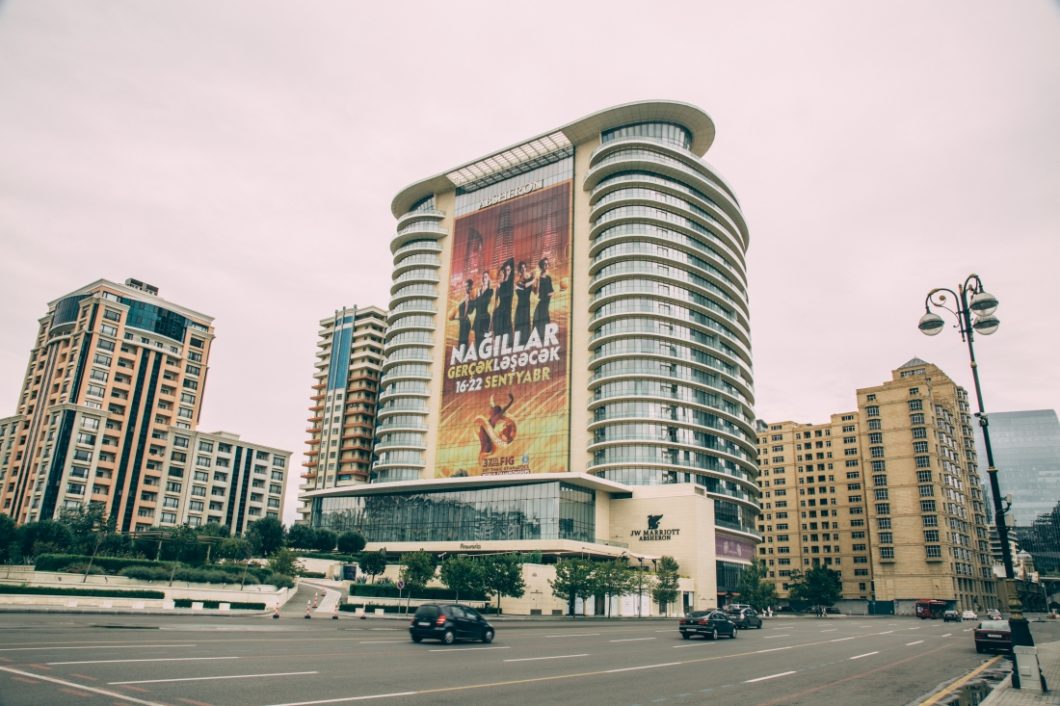 Centrally located and within walking distance of bars, restaurants, high-end shops and the sea.
Only a 20-30 minute drive to the airport.
Onsite gym and spa.
Free WiFi on site.
Lounge.
Indoor pool.
Complimentary valet & on-site parking.
230 rooms, 7 suites and 13 meeting rooms.
24-hour room service.
5 onsite restaurants/bars.
Right across the road from Abershon Grandstand and Formula 1 Paddock Club (if you're in town for the Formula 1 race.)
Giftshop in the lobby.
My Experience Staying at the JW Marriott Absheron Baku
When we arrived at the hotel we were greeted by a very friendly bellboy who helped us with our bag. (I mention this because the last few hotels we stayed at hadn't offered to help with our baggage – not that it's a big deal, but it's always a nice gesture.)
The front desk was also very nice and immediately recognized our Platinum Elite status. (Again, this is not always a given, and it didn't happen at our "luxury" stay in Tel Aviv or in St. Petersburg without throwing a little hissy fit.)
The lobby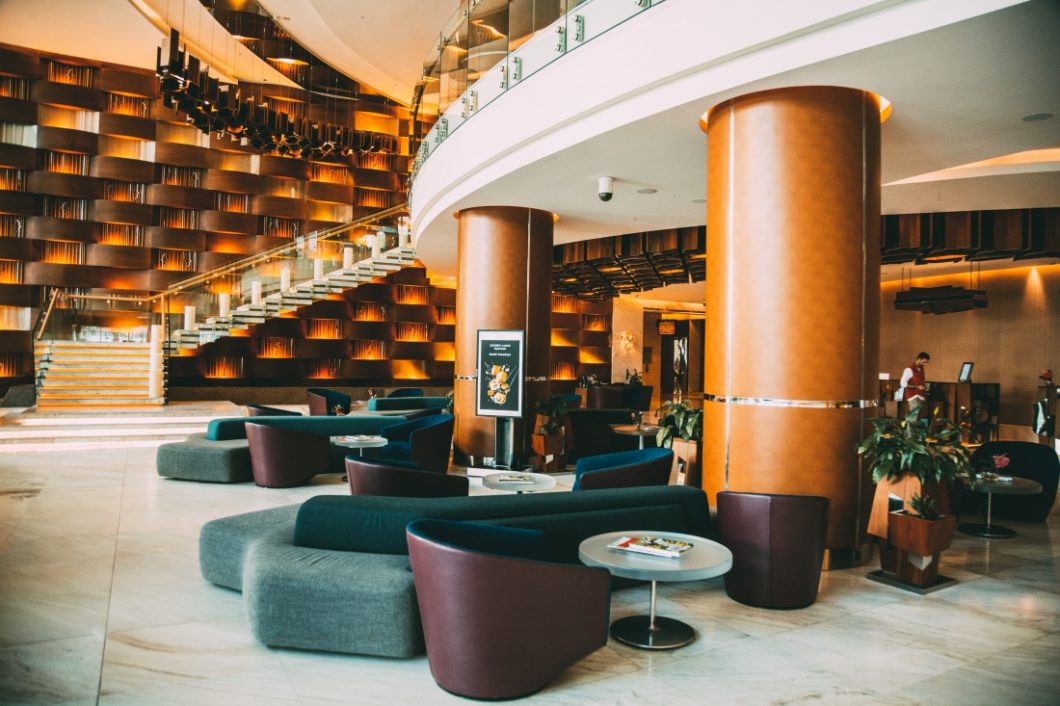 We also received a complimentary upgrade due to our status. Our room ended up being the "Executive corner, large guest room with city view." I loved the view (which I did not get the greatest photos of – sorry.) Needless to say, though, it was pretty impressive!
Our room
I loved the bathroom especially! The bathtub is huge and had a towel warming rack. The shower was also nice. (However, I wasn't a fan of the water not draining very well – but that seems to be a common problem with these types of showers? Pictured below.) And there is a separate room for the toilet.
It was also well-stocked with bathroom amenities and beverages. Unfortunately, our little coffee maker didn't work, though.
The room was also very quiet and comfortable. We both slept very well here!
Restaurants
There is a Mediterranean cafe, a steakhouse, a cocktail bar & lounge, an Italian restaurant and a Tea House. We only ended up trying the cafe for some tea and then we had grabbed a light lunch at the Tea House before our flight.
The Tea House has some fantastic food and, of course, tea. We were both very happy with the meals and the service!
The Mediterranean cafe we only stopped at for a tea – and it was pretty expensive and the service was kind of "meh."
The lounge was also very nice and had a very nice breakfast spread in the morning – we thought it was pretty cool and amusing that they also had a "make your own Bloody Mary bar" setup too. Then at night, they had snacks, desserts and alcoholic beverages.
Location
Again, we were very happy with the location! It was a nice walk along the sea to get to Old City and you are also very close to high-end shopping malls, restaurants and bars.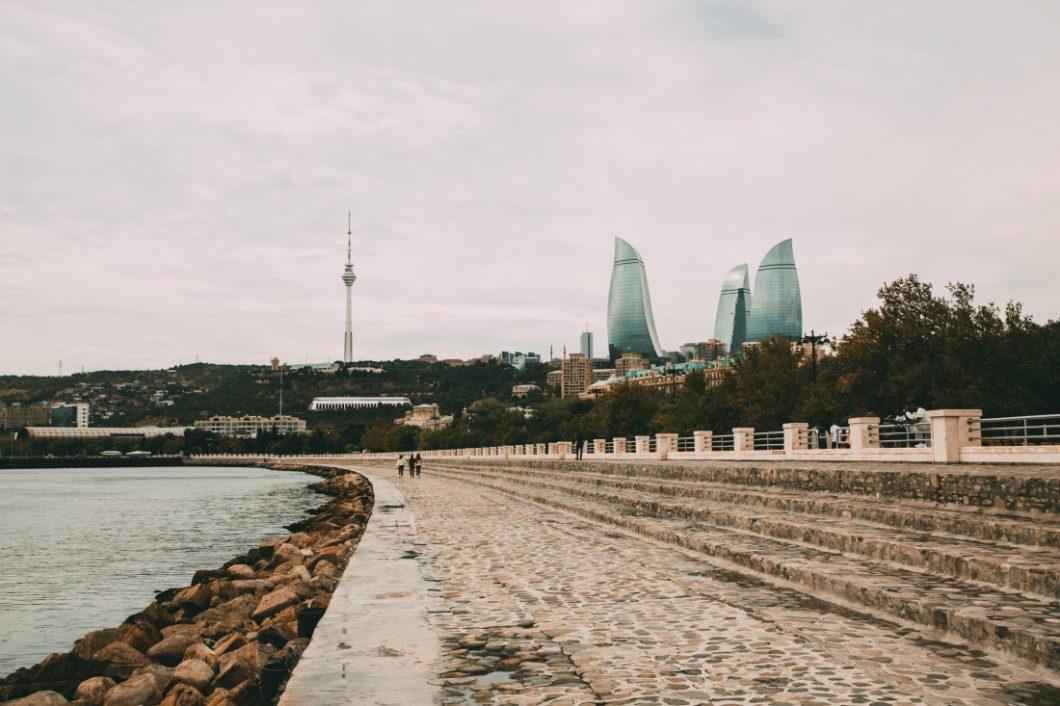 And, if you're in town for the Formula 1 race – this hotel is right on top of the action. (Not that it's the only hotel in this neighborhood, by any means, but it is a nice one!)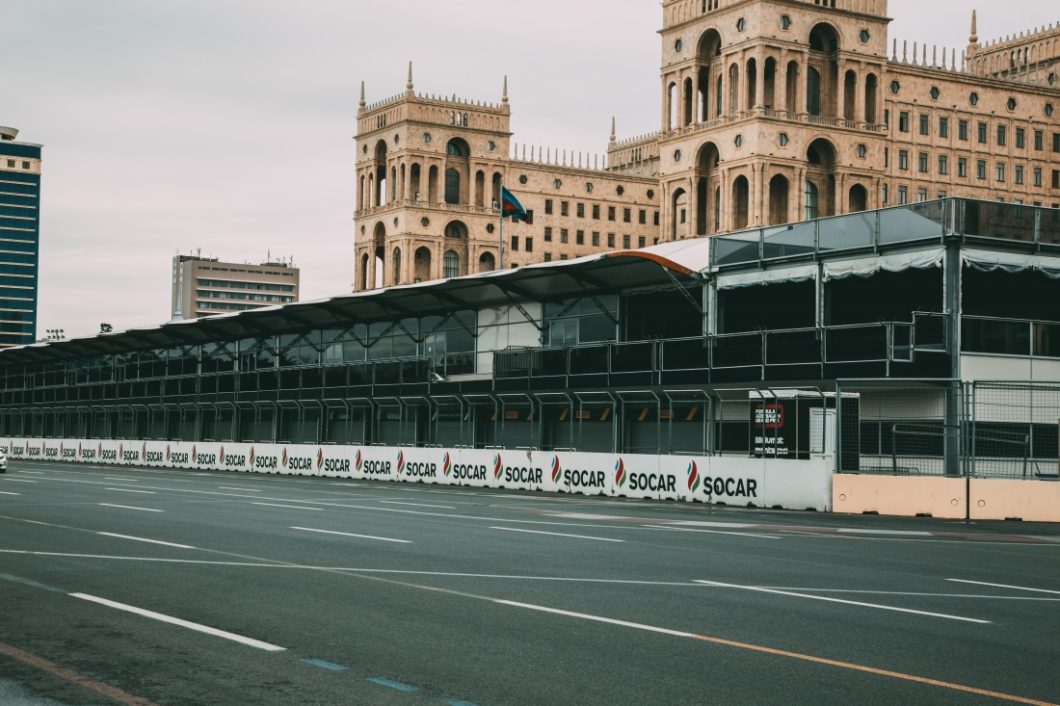 The Staff
I was blown away by how friendly the staff was here! The front desk (concierge service specifically) was SO helpful. They answered every question we had and made us reservations at a wonderful restaurant that we would not have found on our own. They drew us maps for walking in the area and offered to book tours and cabs for us. I was very happy with it all!
Even the cleaning staff came back to check in on us and gave us a bunch of bottled water and chocolate with a little wink. (She was the sweetest lady!)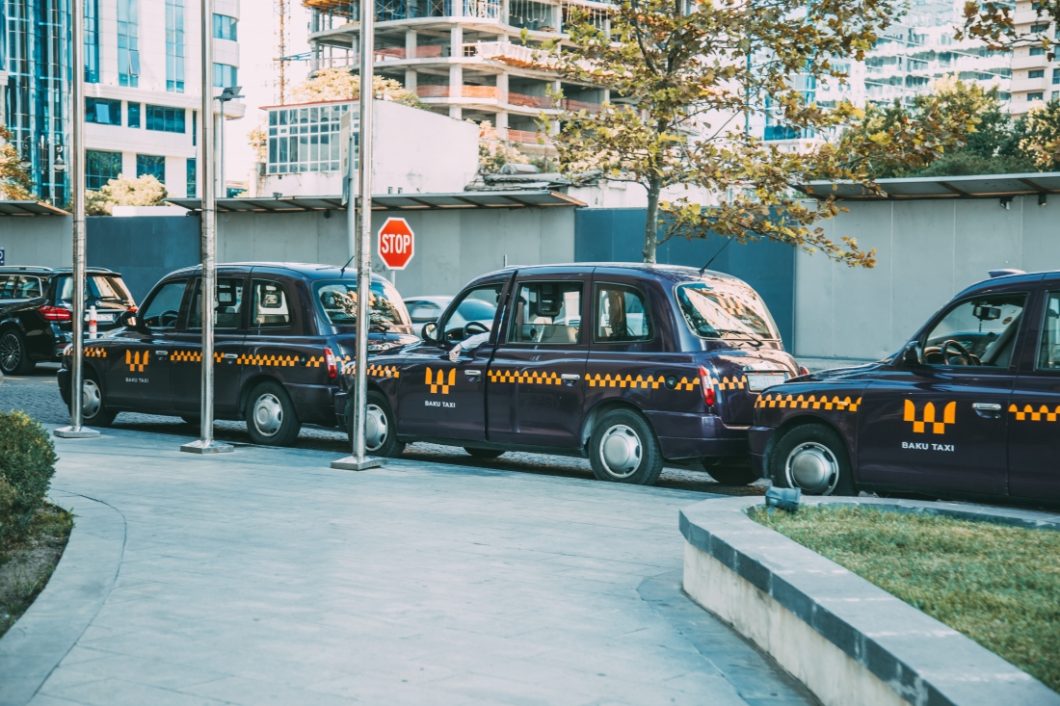 The Verdict – Would I Stay at JW Marriott Absheron Baku Again?
Absolutely! This hotel was a nearly perfect stay! Which, if you've been following my blog, that is a fairly rare occurrence. This hotel also embodied the "luxurious" reputation of the JW Marriott brand – we really felt like kings staying here. (And the price tag, at the time, was a little over $100 USD a night – which is a fraction of what a normal JW Marriott stay would cost us. Yay for the currency exchange working in our favor!) Click here to see current rates.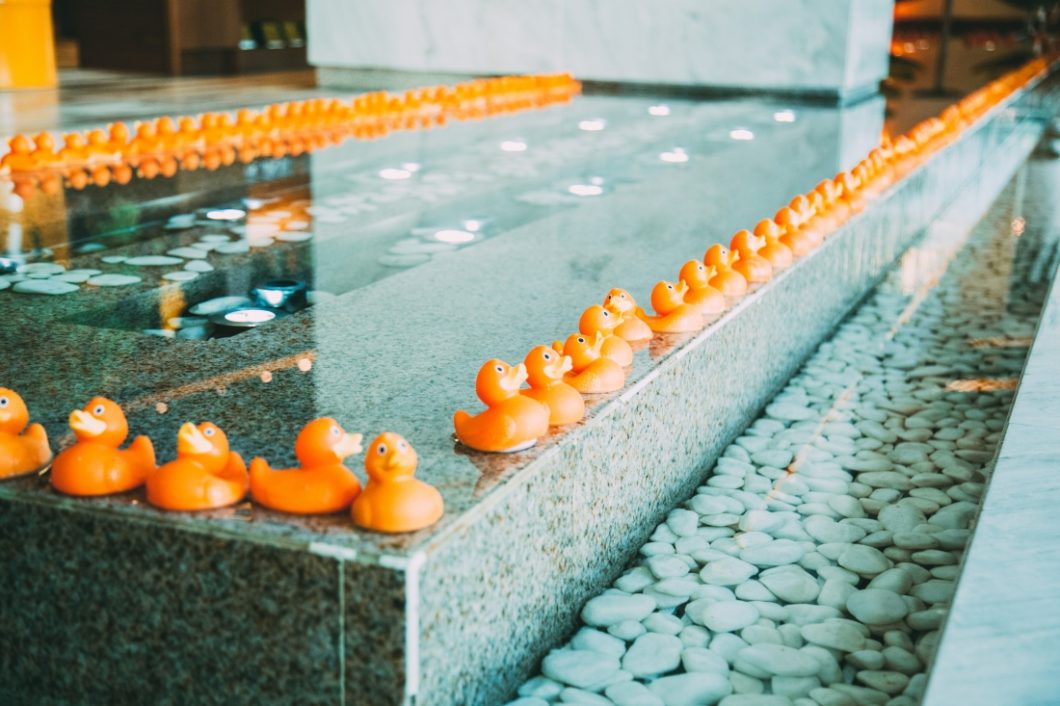 Click here to see all of my blog posts from Baku.
Click here to book your stay the JW Marriott Absheron Baku.
If you have any questions at all about our stay here, fire away in the comments section below!
Travel Insurance

It's a good idea, no matter where your adventure takes you, to have travel insurance. You never know what might happen! Whether you get sick before your trip and can't go, or you become sick or injured while on your adventure – being covered with travel insurance is a must. Some credit card companies do provide this service (check with yours), or you can get a quote from companies such as Squaremouth to find the best plan for you and your adventure. (This is the company I, personally, use. They are even recommended by Forbes!) To get a free quote, click here.
Visa Requirements
To check if your country requires a Visa for traveling to Azerbaijan, click here. (And if you do require a visa – then click here. This is the official website for the Republic of Azerbaijan, and it's very straightforward and easy to apply through.)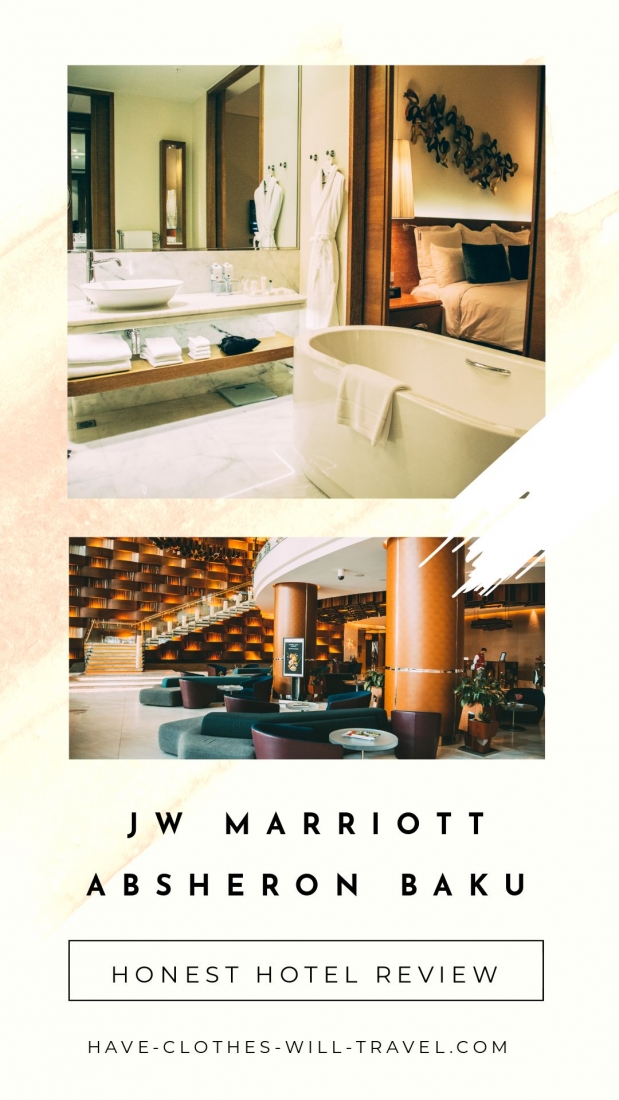 *Disclosure: some of these links are affiliate links. Meaning, if you click a link and make a purchase, Have Clothes, Will Travel gets a very small commission at no extra cost to you. Thank you for supporting the brands that make this blog possible! I am also a participant in the Amazon Services LLC Associates Program, an affiliate advertising program designed to provide a means for us to earn fees by linking to Amazon.com and affiliated sites.