Marriott Mena House Honest Review – Cairo, Egypt
Have you ever dreamed of being able to see the Pyramids from your bedroom window? Well, you're in luck. Marriott Mena House Hotel offers rooms with exactly those views + it's located in a very secure (almost to a fault) and luxurious compound.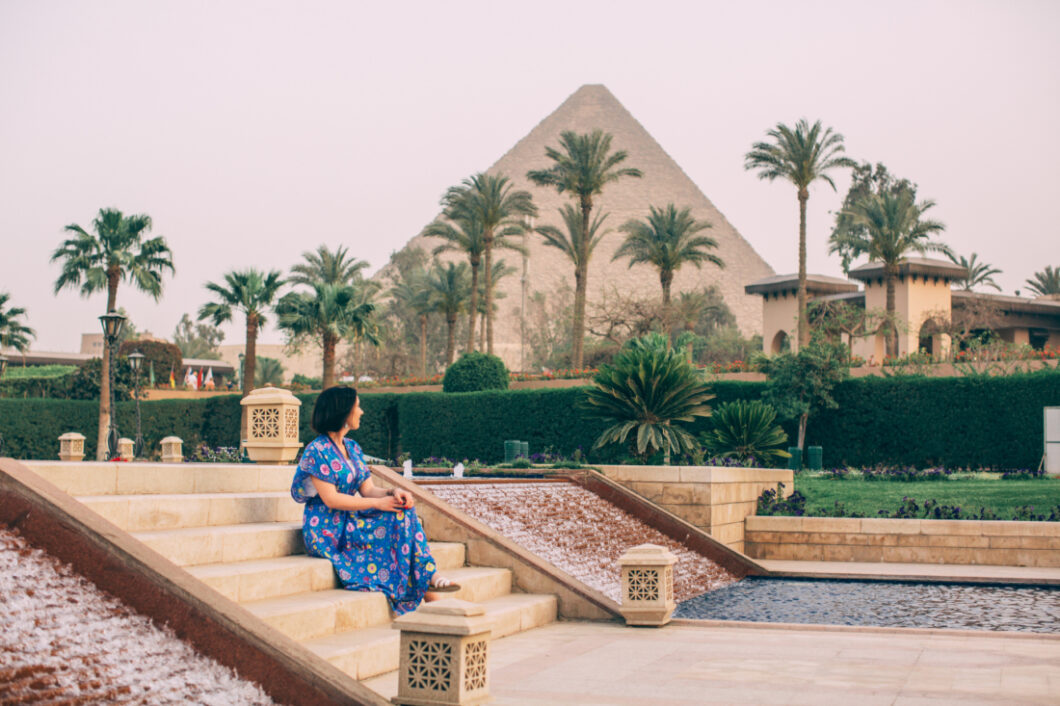 The Marriott Mena House happened to be the only hotel we stayed at the entire time we were in Egypt. (The rest of the time we were on our Nile River Cruise.) It's in a fantastic location – literally across the road from the Great Pyramids of Giza entrance!
Having a great view, though, isn't the only reason to stay at a hotel. So, for this post, I'll break down our experience staying here, both the good and the bad, and let you decide for yourself if this is the hotel for you while in Cairo.
Visit the Marriott Mena House website for booking information!
Marriott Mena House Key Features
Walking distance to Giza Pyramid Complex
Free WiFi in rooms and public areas
Onsite dining – 3 restaurants (1 Italian, 1 Indian + 1 buffet style)
Full-Service Spa
24-hour room service
Lounge
Outdoor pool
Gym
More than 300 rooms
My Experience Staying at the Marriott Mena House
We had first arrived here in the middle of the night. Our flight didn't get in until after midnight and by the time we reached the hotel it was about 2 am. The front desk was still very friendly and helpful, despite the late hour we were checking in. We had also realized that morning that we had screwed up our booking, and needed to book an extra night! The front desk was super accommodating of us despite our mistake and booked our room for an extra night without any grief. (We were also very happy with how they recognized our Platinum Elite status here – which is something the last few Marriott hotels we've stayed at have not.)
The Marriott Mena House Hotel Lobby Entrance
The rooms with views of the Pyramids are quite a ways away from the hotel lobby. There are hotel employees ready with golf carts, though, to get you back to your room in no time!
The man who took us to our room was very enthusiastic as well (despite it being 2 am), showed us around the room, and then took us onto our private balcony so we could try to glimpse the outline of the Pyramids in the dark.
Hotel Room with a View
Waking up the next morning to see the Pyramids from my bed, was an unforgettable moment! It was like Christmas morning times 100! I couldn't believe just how close the Pyramids were.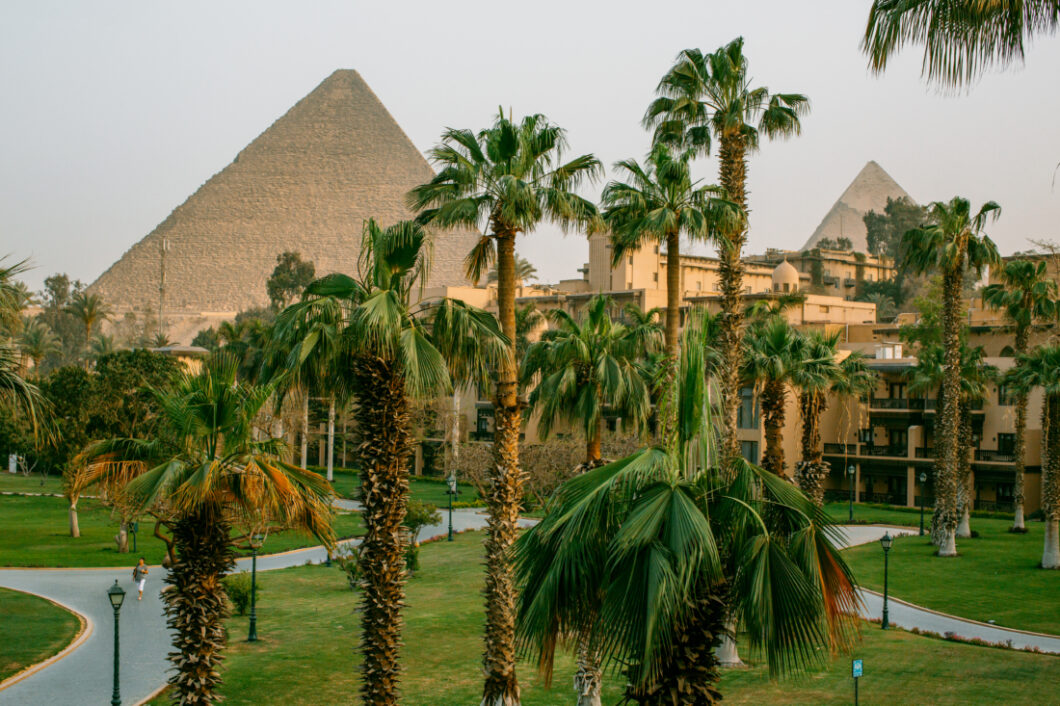 Our first day here felt like a fairytale – despite how tired and cranky we were from our late arrival. This was meant to be an "easy day" where we visited the Egyptian Museum in Cairo at a leisurely pace, had lunch, and then returned to the hotel to relax. It was great!
We then had to check out the next day so we could get to our Nile River Cruise. After 4 nights onboard there, we returned to the Marriott Mena House to stay for 2 more nights.
This is when things became a little interesting…
Marriott Mena House has quite the security team outside its gates. There are actually 2 security checkpoints your vehicle must pass through in order to get to the hotel and also to leave the hotel. The first is just to get on the road to the hotel (and also the Pyramids), this is a general bomb sweep of the vehicle, where security guards will inspect the vehicle and take a look in the trunk. Then, you'll get another round of security at the gate to the hotel, this involves bomb-sniffing dogs and such.
This is all fine and well – as who doesn't want to feel secure? However, this security also had a downside for us. We ended up not being allowed to leave that morning because our guide to visit the Pyramids had our tourism papers in an electronic format and they were not printed. (They, apparently, have been accepting them in electronic format for the last 2 years, and we had left the hotel this way to see the Cairo Museum just days ago.) The guards actually became quite hostile with us and were shouting things in Arabic (that we didn't understand).
The head guard was the most heated and behaved very erratically. My husband took a photo of him so he could later show the hotel manager who he was dealing with, but apparently, it's a great big no-no to take photos of guards/police/military in Egypt. He's lucky he didn't get arrested! (Although, the photo did help when we later discussed the incident with the hotel manager.) So, pro tip – don't take photos of the guards!
Our guide didn't know what to do, and no one from the hotel offered assistance. It felt as though this security guard was on a bit of a power trip and was just looking for a fight. (However, I do think our guide gets some blame for this scenario, though, too. They should have been more prepared and proactive in my opinion.)
It took my husband going inside the hotel and demanding, very sternly, a manager speak with the security team to allow us to leave the hotel. When the issue was finally resolved, we were nearly 2 hours late for our tour. This is crazy because we literally walked ourselves over to the Pyramids that afternoon and no one said anything to us! (It's only if you're in a tour group that they need these papers, I guess.)
The security team is not part of Marriott, it is government-run. However, it is my understanding that everything has a price in Egypt, and that includes the security in front of your hotel. (As I don't believe every hotel in Cairo has such strong security.) Hopefully, the security team and hotel have worked out a more harmonious relationship after that incident!
This was the only negative of our stay here. Otherwise, we thoroughly enjoyed it.
Restaurant and Bar at the Marriott Mena House in Cairo
While in Egypt, you'll likely spend more time than normal eating in hotels' restaurants…unless you know some Arabic or have someone who can show you around the local restaurants. A lot of travelers who are nervous about getting sick usually stick to hotel/tourist restaurants…which isn't all that exciting, but it beats getting food poisoning.
139 Restaurant
This restaurant has the best views in the house! You can dine outside (or inside) with a spectacular view of the Pyramids. This is where the buffet breakfast is held in the morning and turns into an international restaurant at night (can be a la carte or buffet-style dining).
The breakfast spread was impressive! (I'm sorry I never took any photos of it – I am the worst at photographing my food.) They had your normal breakfast stuff, such as eggs and sausages, and there were also plenty of Middle Eastern goodies to try. I'm also very picky about my black coffee in the morning, and mercifully, they had fantastic, regular, ole coffee for me!
The dinner spread had plenty of choices, however, it was quite pricey, in my opinion, for food that was just OK. You were really dining here for the view (which never got old)!
I should note, though, that I ordered prawns a la carte one night – and while they were plenty expensive (for me, at least), they were SO good.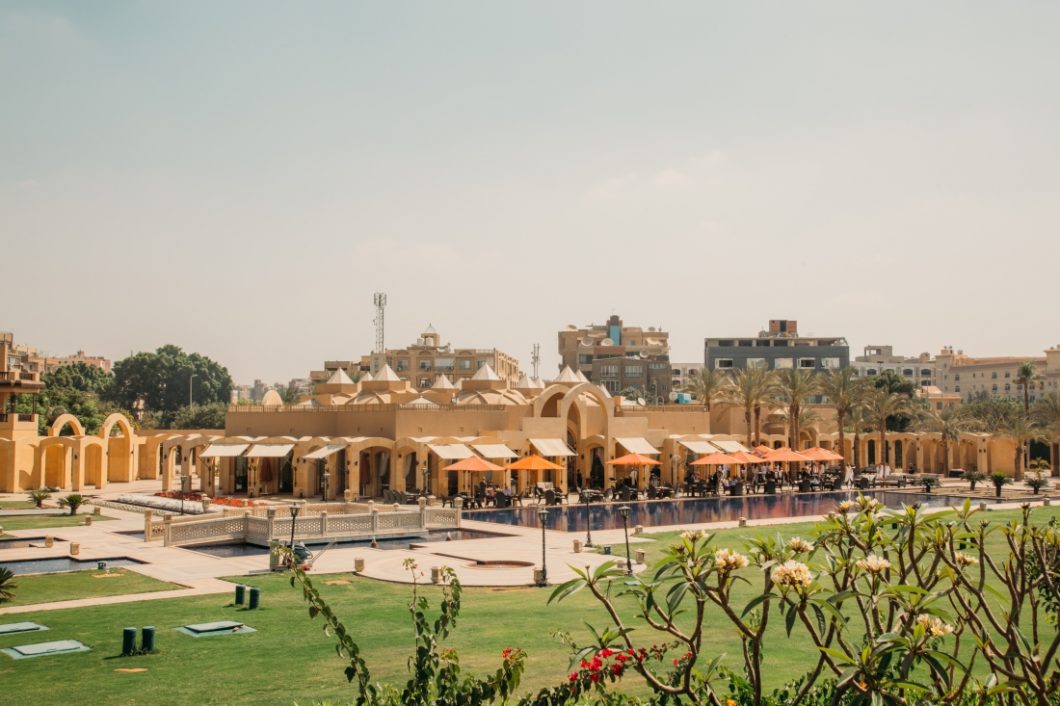 Alfredo Italian Restaurant
Alfredo is a lovely Italian restaurant located next to the hotel's pool. They have both indoor and outdoor seating as well. This, again, was not inexpensive dining by any means…but we ate here on one of our last nights in Egypt – and Italian food really hit the spot! The waitstaff here was very attentive and kind as well.
Moghul Room
This is an Authentic Indian Restaurant located right behind 139 Restaurant. We never ended up eating here as it was closed for Ramadan the night we had tried to go here.
View this post on Instagram
Sultan Bar
The Sultan Bar is located just off the main lobby of the hotel. It is a nice place to sit if you're meeting up with someone. We actually only came here to have a meeting with a manager of the hotel who wanted to get a better understanding of what had happened with the security team out front. He was kind enough to buy us drinks and offer apologies and promised they were working on improving the relationship with the security team out front.
Marriott Mena House Cairo Outdoor Pool
We never ended up using the pool, as I was so intent on always having a view of the Pyramids…we usually relaxed on our room's balcony instead of here. But my gosh, this pool looked like heaven too!
*There is also a free lounge onsite for Marriott Elite members. It was undergoing construction at the time we were there, though, and was located within the Alfredo restaurant. It has a very nice selection of food and beverages.
Our Suite at the Marriott Mena House in Cairo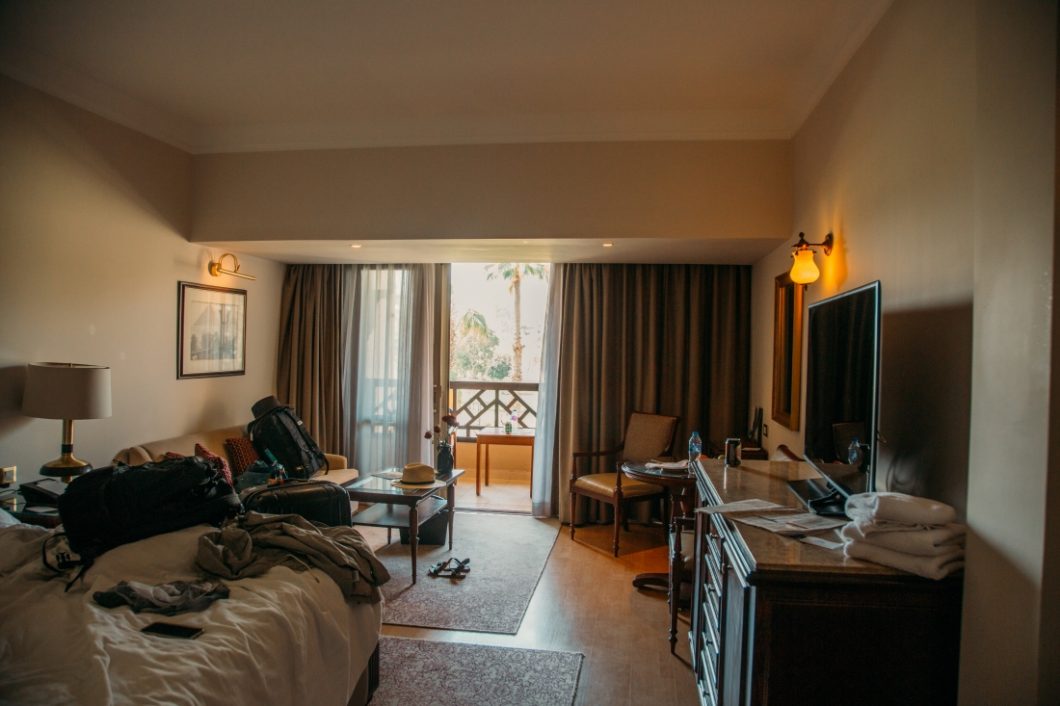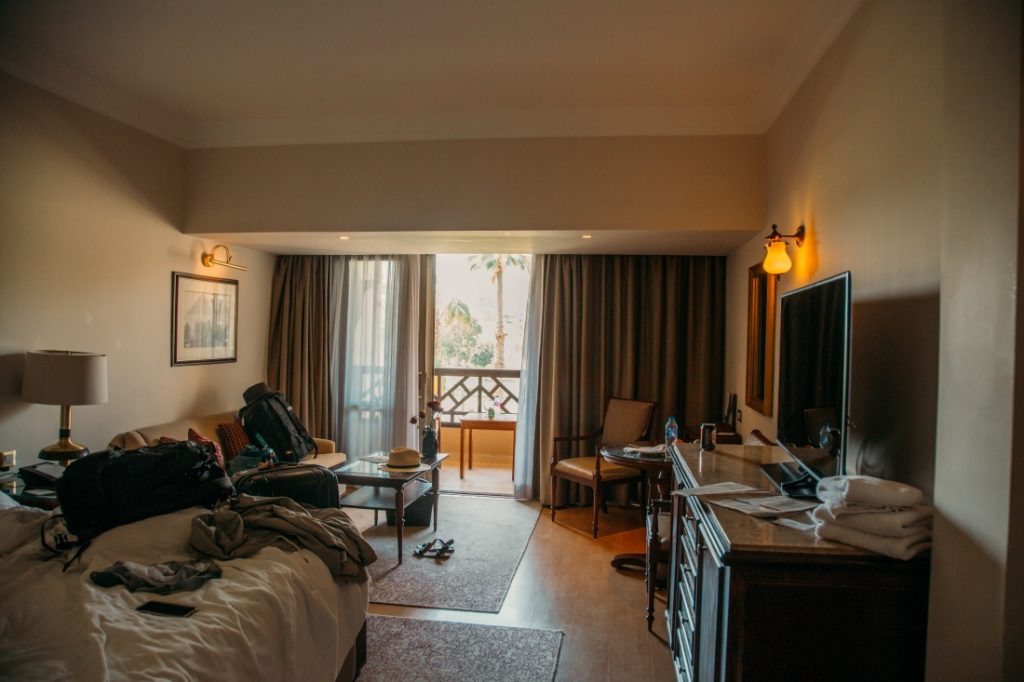 The Verdict – Would I Stay at Marriott Mean House Again?
Yes! Despite our little incident with the guard, this hotel is amazing. Being so close to the pyramids in such a luxurious setting is a dream come true. Having a few choices for onsite dining is great. And overall, the price of the room really wasn't that bad for what you all get by staying here. (It was around $150 USD at the time we had booked a Pyramid view room.) While that is insanely expensive for accommodation in Cairo, it really isn't all that bad for your average Marriott stay.
Visit the Marriott Mena House Cairo website to book your stay, browse dining options, and more!
If you have any questions at all about our stay here, fire away in the comments section below!
Tips for Traveling to Egypt: Travel Insurance & Visa Requirements
Travel Insurance
It's a good idea, no matter where your adventure takes you, to have travel insurance. You never know what might happen! Whether you get sick before your trip and can't go, or you become sick or injured while on your adventure – being covered with travel insurance is a must. Some credit card companies do provide this service (check with yours), or you can get a quote from companies such as Squaremouth to find the best plan for you and your adventure. (This is the company I, personally, use. They are even recommended by Forbes!) To get a free quote, click here.
Visa Requirements
To check if your country requires a Visa for traveling to Egypt, click here.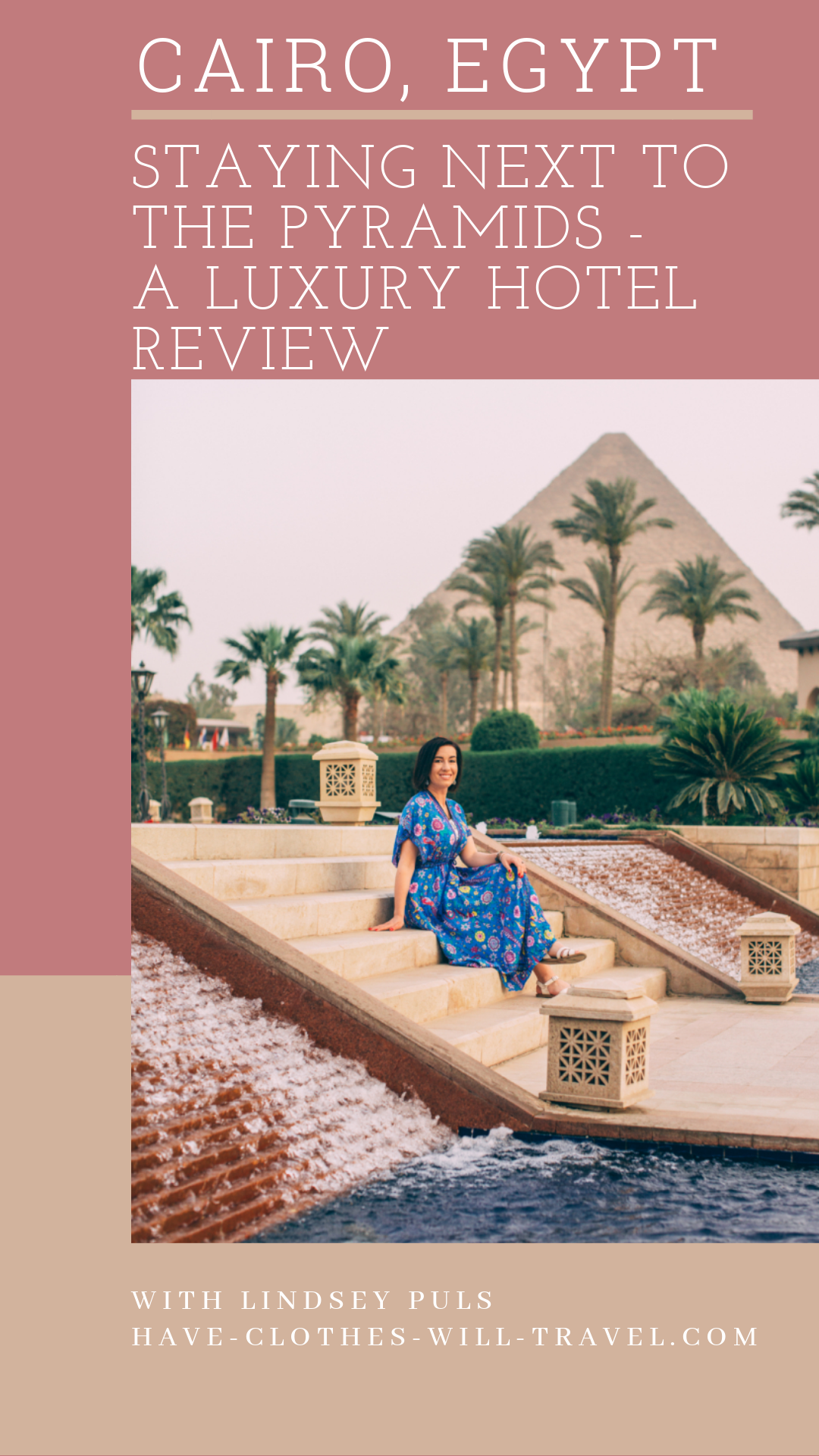 *Disclosure: some of these links are affiliate links. Meaning, if you click a link and make a purchase, Have Clothes, Will Travel gets a very small commission at no extra cost to you. Thank you for supporting the brands that make this blog possible! I am also a participant in the Amazon Services LLC Associates Program, an affiliate advertising program designed to provide a means for us to earn fees by linking to Amazon.com and affiliated sites.