The Coolest Airbnbs in Minnesota – Featuring Bubbles, Treehouses, Houseboats, Castles & More!
Are you looking for unique Airbnbs in Minnesota? This post is for you! I've found the coolest Airbnbs and vacation rentals in Minnesota to make your next trip unforgettable!
I love finding unique places to stay in! I recently put together a list of the coolest Airbnbs in my home state of Wisconsin, and that post was such a hit, I wanted to do another with Airbnbs close to our home.
Minnesota is right next door for us Wisconsinites, and has some incredible places to stay! I was blown away by our options in Wisconsin… but I think Minnesota just might have us beat (sorry)! I mean, they have stargazing bubbles, CASTLES, houseboats the most glamorous "farms" & grain bins I've ever seen, treehouses, and more! It's amazing!
I'd love to hear which is your favorite Minnesota Airbnb in the comments at the end of the post. Enjoy!
The Most Unique Airbnbs in Minnesota
*Disclosure: some of these links are affiliate links. Meaning, if you click a link and make a purchase, Have Clothes, Will Travel gets a very small commission at no extra cost to you. Thank you for supporting the brands that make this blog possible!
Treehouses Vacation Rentals in Minnesota
---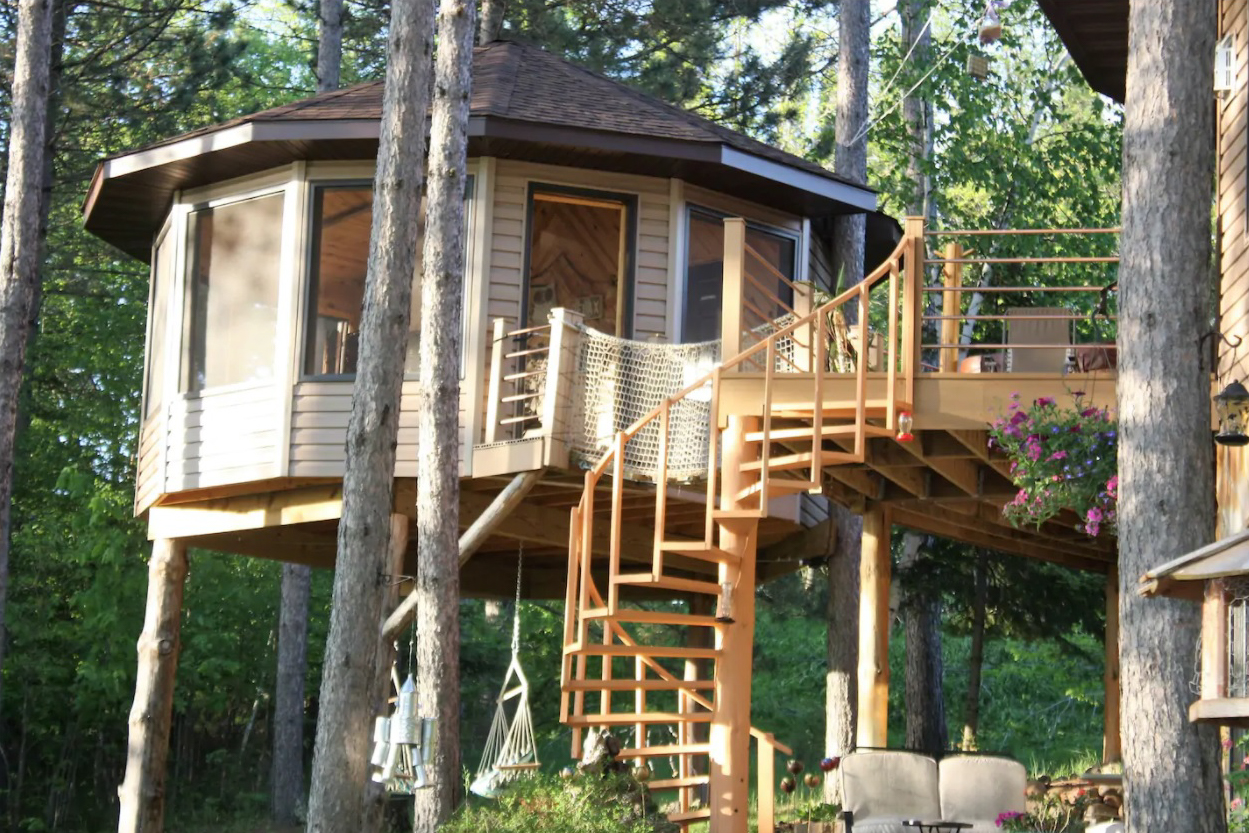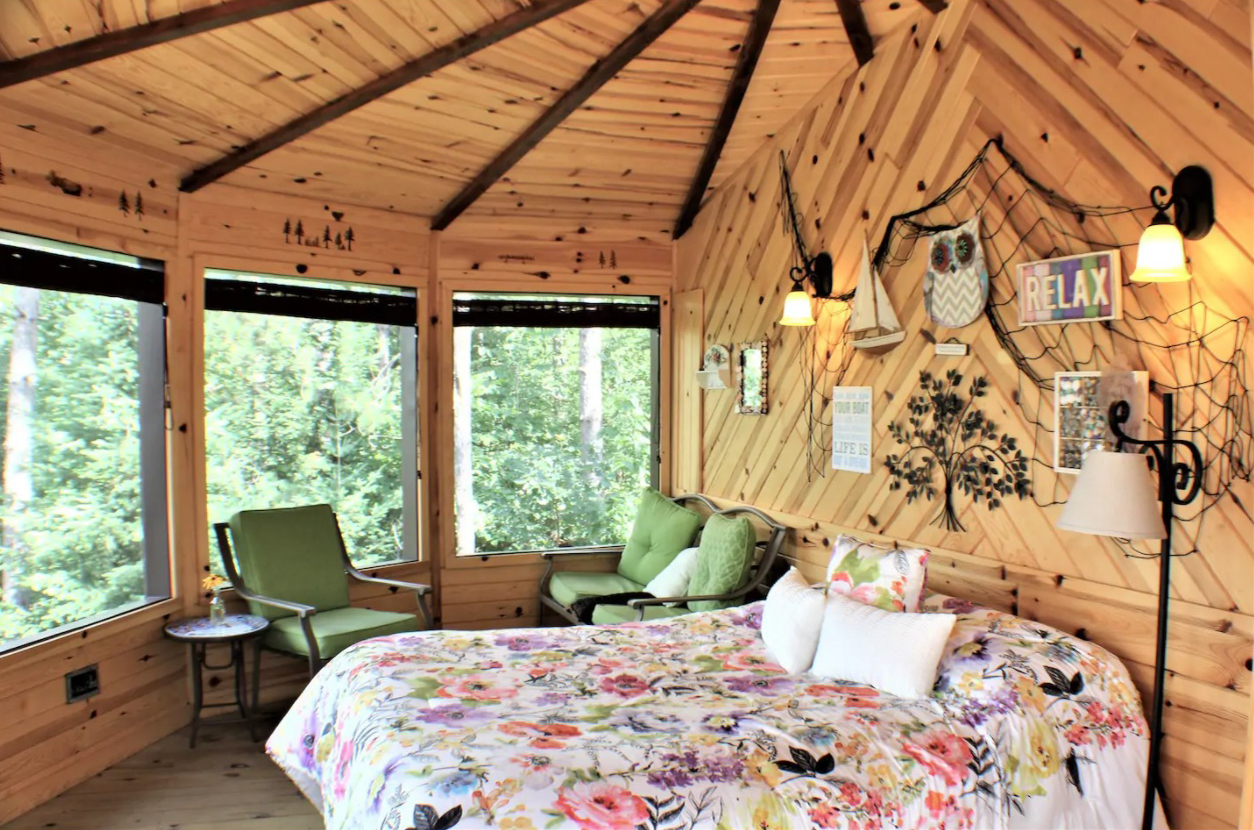 Treehouse Glamping – Squaw Lake, Minnesota
This is a real treehouse situated up in the pines with electricity and beautiful views. It's also located along a lake, where you will have access to a complimentary paddle boat and kayaks. Plus, there's a sauna you'll have access to on the backside of the treehouse!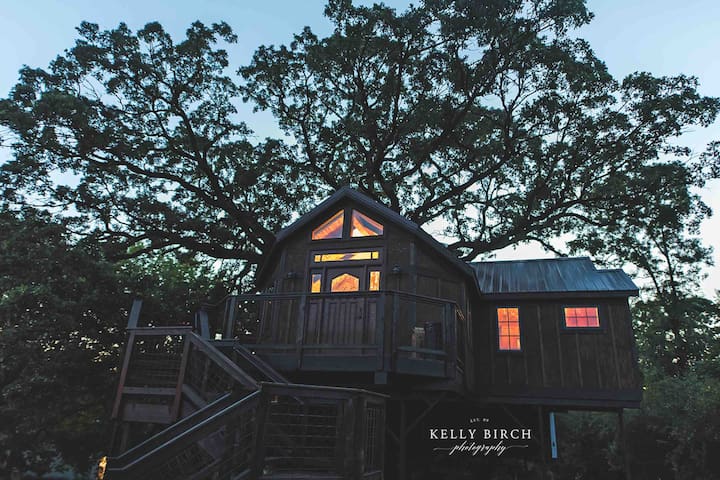 Luxury Treehouse Stay – Cottage Grove, Minnesota
Now, this treehouse stay is the height of luxury! This treehouse boasts a luxury 7 room suite with 4 outdoor decks, 2 fireplaces, a 2 person Jacuzzi and a tower and is situated on a historic farm and next to a 500-acre park. And if it wasn't cool enough already, this treehouse also has a hidden secret room inside…
Castle Airbnbs in Minnesota
---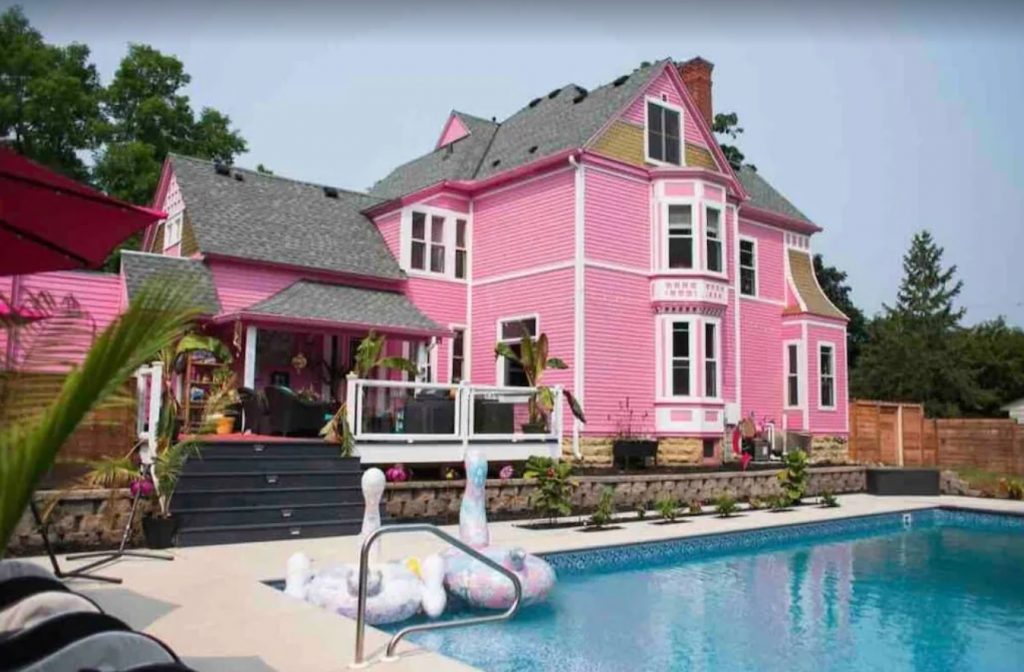 Pink Castle Bae-cation – Hudson, Wisconsin
OK, I am cheating a bit with this one, as it is located in Hudson, Wisconsin. However, it is only a half-hour away from Minneapolis, so I'm including it in this list! If you LOVE the color pink, like me – this is the ultimate dream getaway! This gorgeous victorian mansion was built in 1883 and is filled to the brim with over-the-top lavish glamour and lots and lots of PINK. You can even rent a pink escalade or a pink moped with eyelashes for an additional fee! It can host up to 40 guests. This place is bonkers!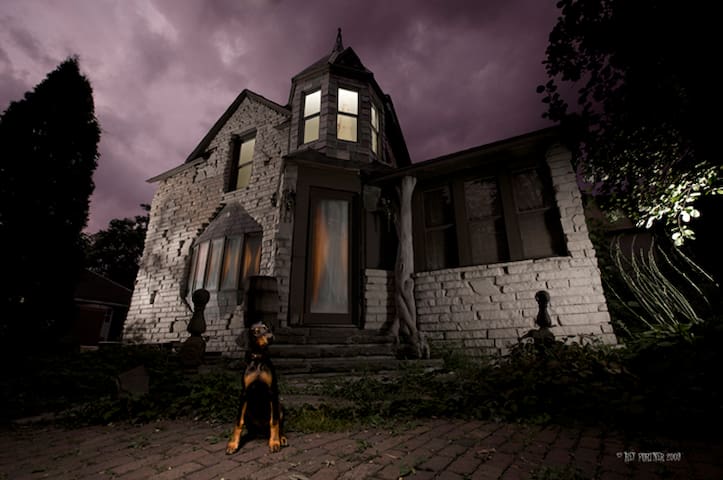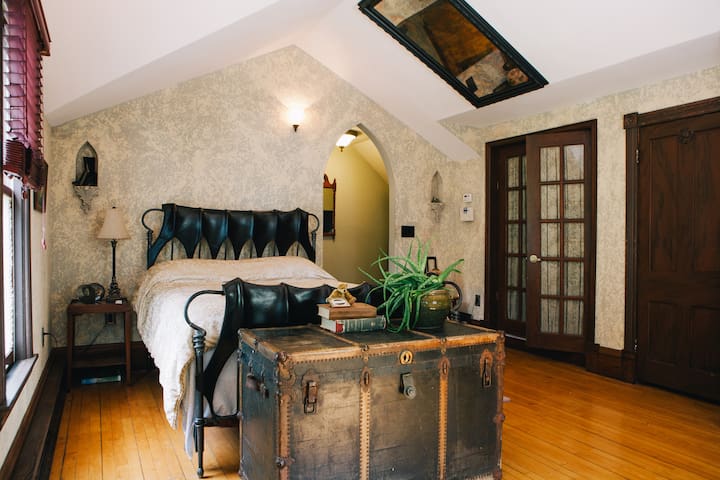 The Manor Master Chamber – Saint Paul, Minnesota
The Manor Master Chamber was built in 1883. It was once voted the most mysterious house in Saint Paul by the Pioneer Press many years ago…spooky, spooku. (Perfect for Halloween season!) It's also close to Minneapolis!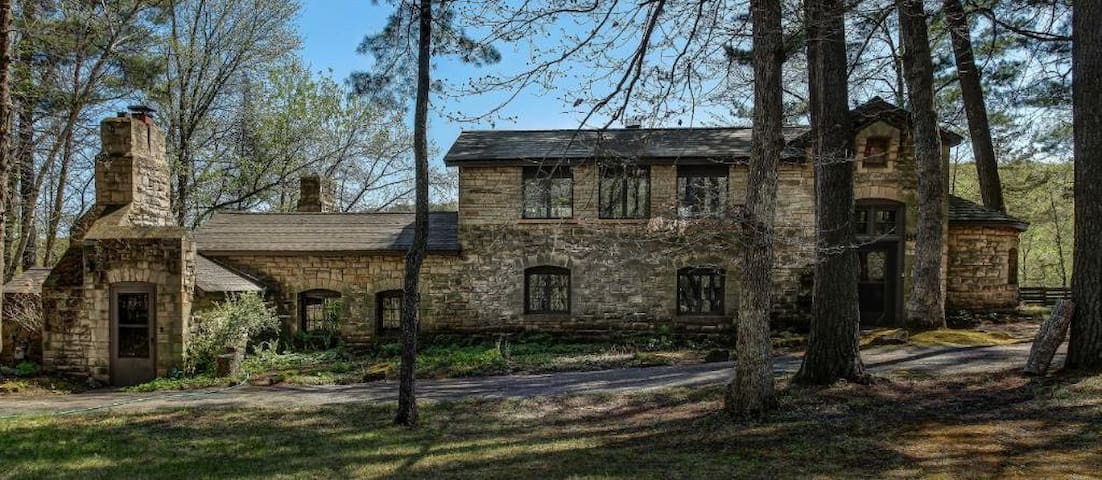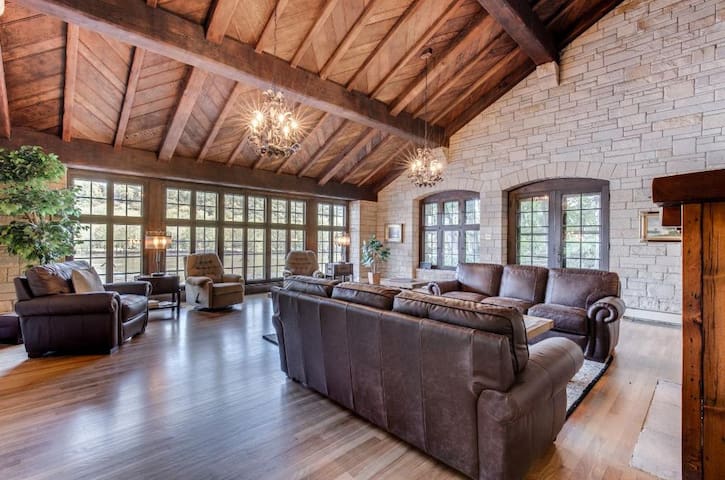 Castle on St. Croix River – Marine on Saint Croix, Minnesota
This historic property was designed for one of Minnesota's leading families as a weekend retreat by renowned architect Edwin Lunde. It's breathtaking! (Can accommodate up to 8 guests.)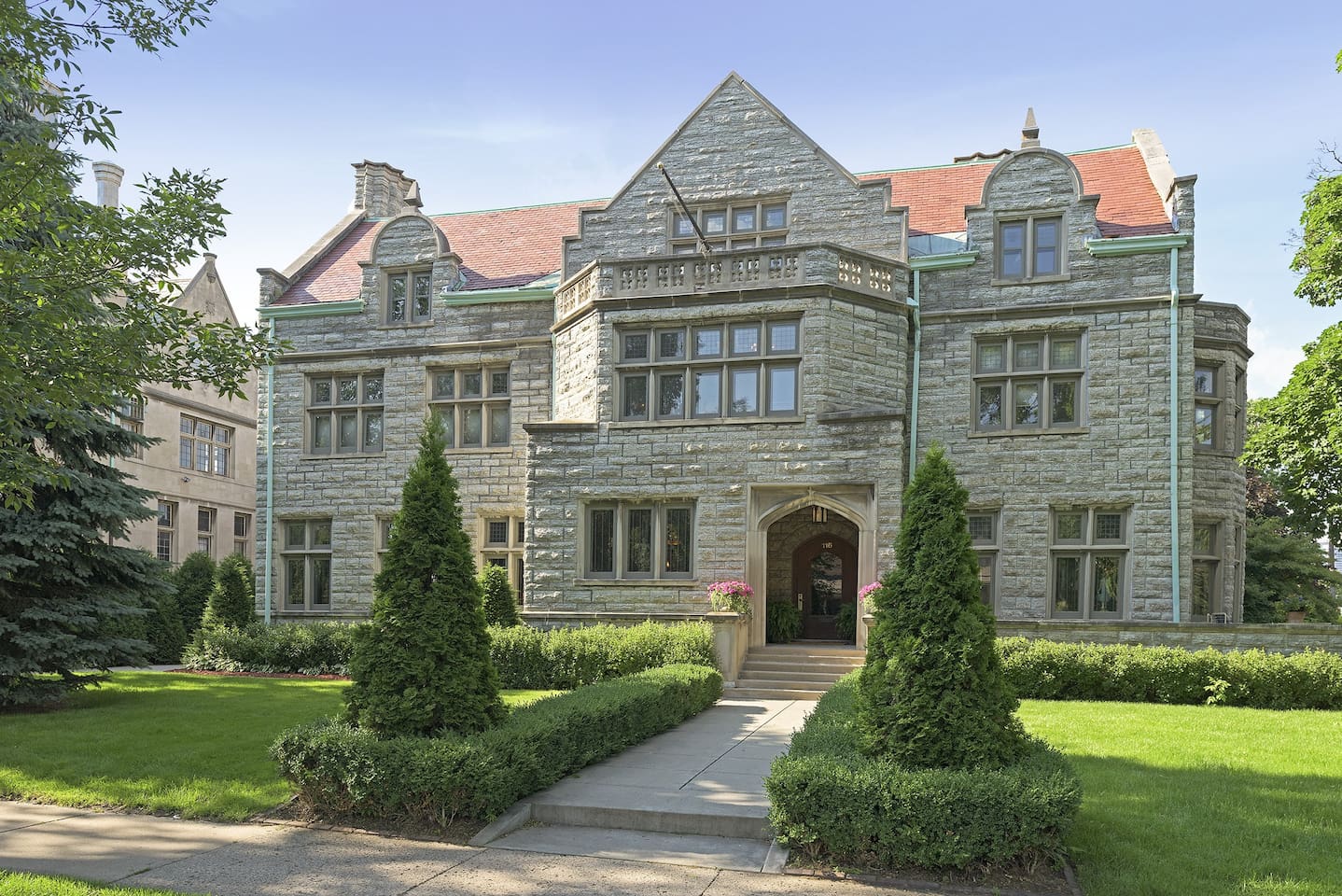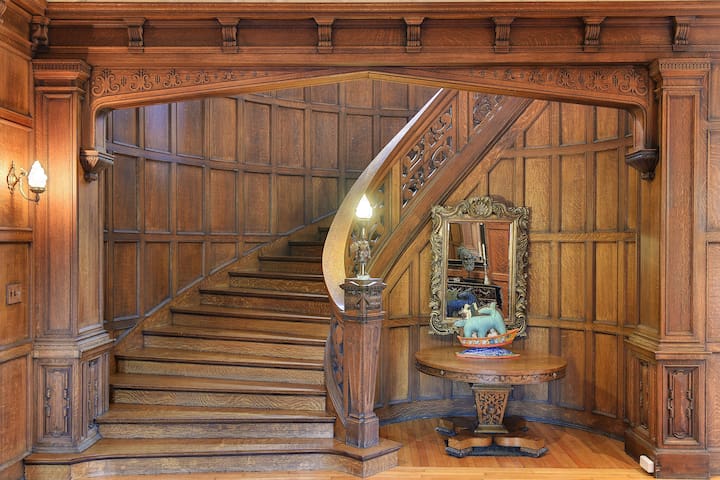 Historic Mansion – Minneapolis, Minnesota
This English Tudor historic mansion was built-in 1903. It is set in the quiet Minneapolis Institute of Arts neighborhood, which is 1.6 miles from US Bank Stadium. (Can host up to 7 guests.)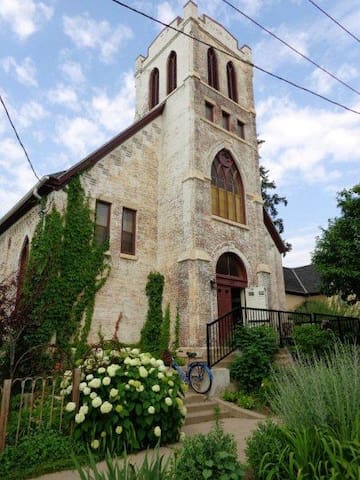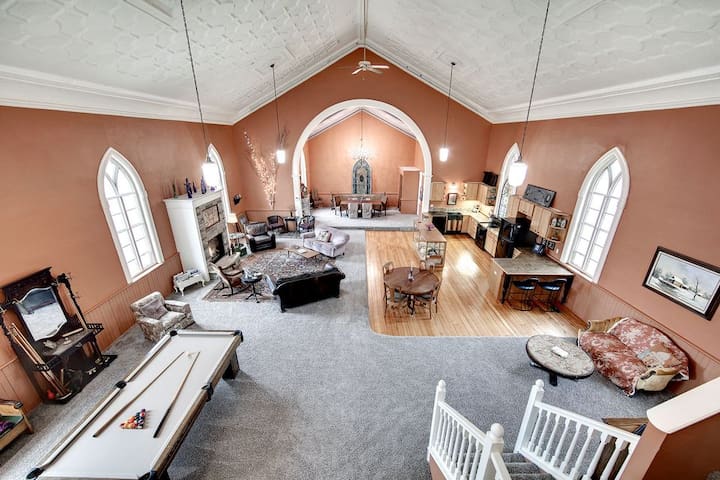 Unique Church to Vacation Rental – Red Wing, Minnesota
This one isn't actually a caste… but it's a church that has been converted into 4,500 sq foot, 22-foot ceiling property!
Tiny House Vacation Rentals in Minnesota
---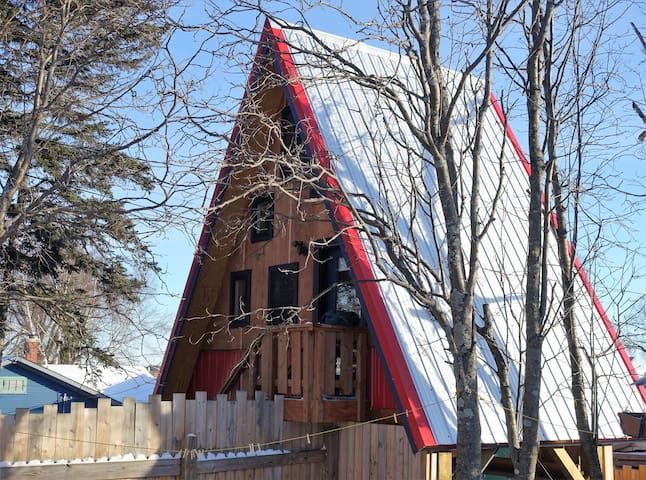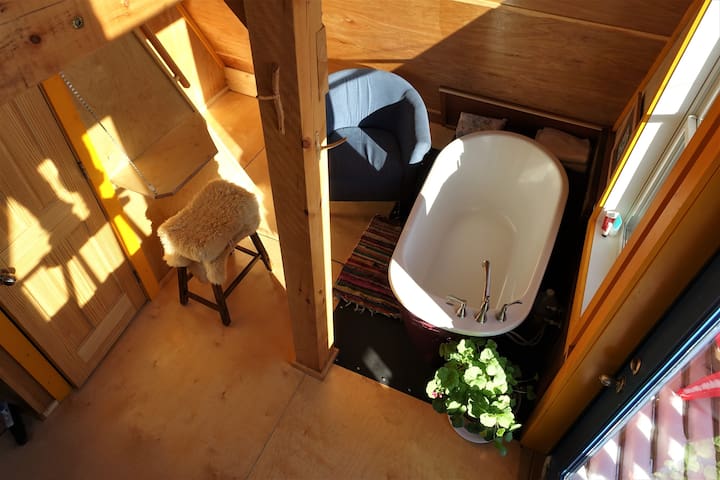 Mökki Birdhouse – Grand Marais, Minnesota
Perched upon timbers, this cozy little A-frame offers a perfect blend of urban loft and rustic cabin living. Offering a bird's eye view of the harbor and famous lighthouse from both the deck and the loft bedroom, the Birdhouse is a charming home base for your Grand Marais adventure.
*Bless This TINY HOUSE* on Minnesota Lakeshore – Faribault, Minnesota
Bless This Tiny House is a 267 sqft Tiny House built on wheels, parked in a beautiful spot alongside a huge deck overlooking the lake. You also have access to a paddle boat and kayaks.
Historic Wykoff Jail Haus – Wykoff, Minnesota
Halloween is just around the corner… and what better place to spend the spooky season than a historic jailhouse?! The property is owned by the city of Wykoff, and it's close to trails, trout fishing, Forestville State Park and the area's caves.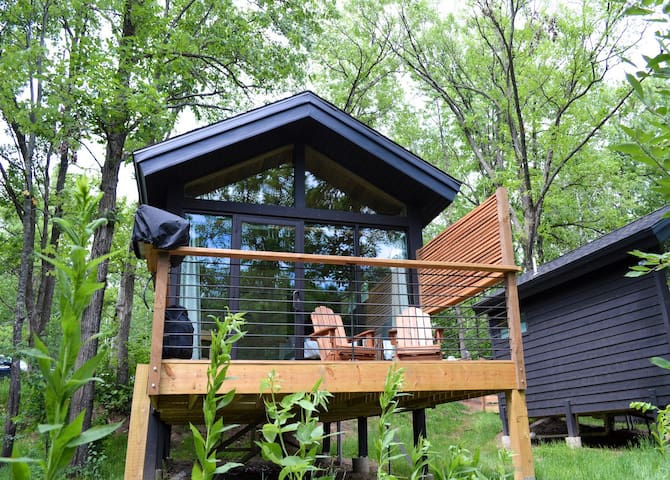 Modern Tiny Cabin in Cuyuna – Crosby, Minnesota
This gorgeous, modern cabin on stilts is directly next to Cuyuna State Recreation Area. You'll also have a spa-inspired bathroom in your cabin with a window in the shower looking out to the sky, along with incredible bath products. You'll also get access to a custom outdoor sauna included in your stay.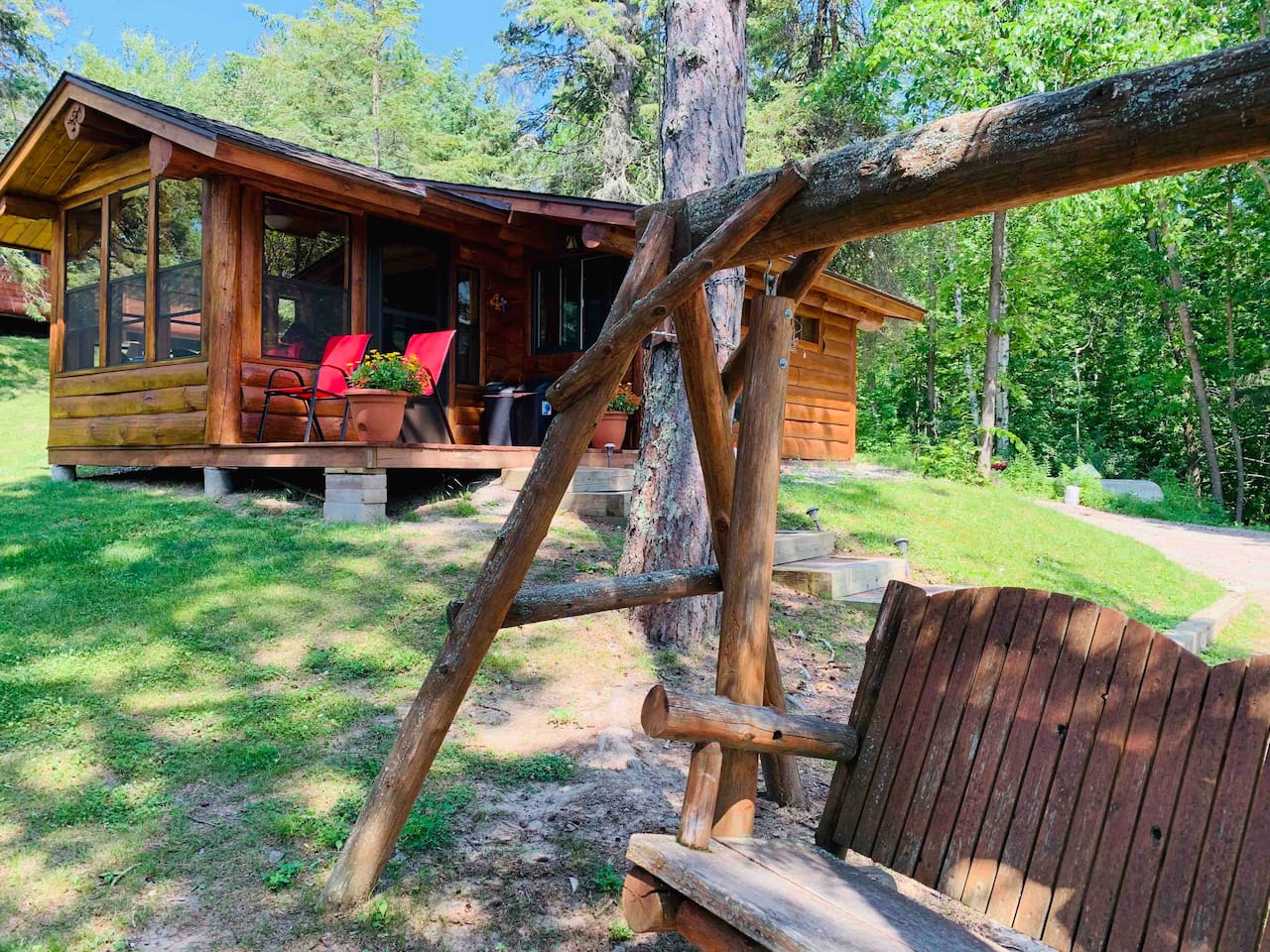 Love Nest on Caribou – Marcell, Minnesota
This is a new handcrafted cedar log cabin. This tiny cabin is 40 feet from Caribou lake. It comes with a full kitchen, bathroom with shower, in-floor heat, and a three-season screen porch.
Glamping – Yurts & Tents in Minnesota
---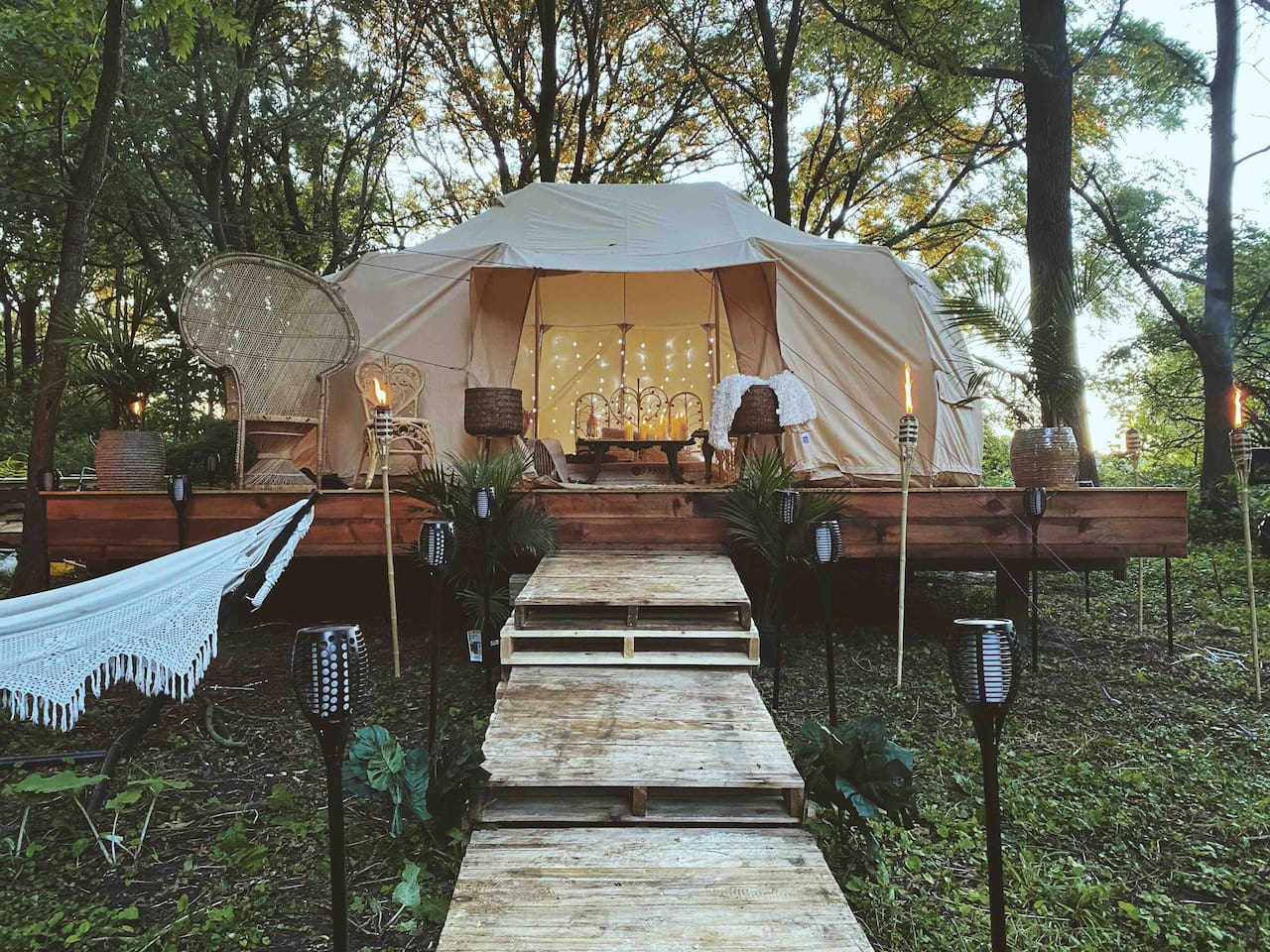 Glamping at Harlows Hideaway – Afton, Minnesota
How beautiful is this tent? It looks like the perfect romantic getaway to me! Plus, you'll have access to your own private beach when you stay here.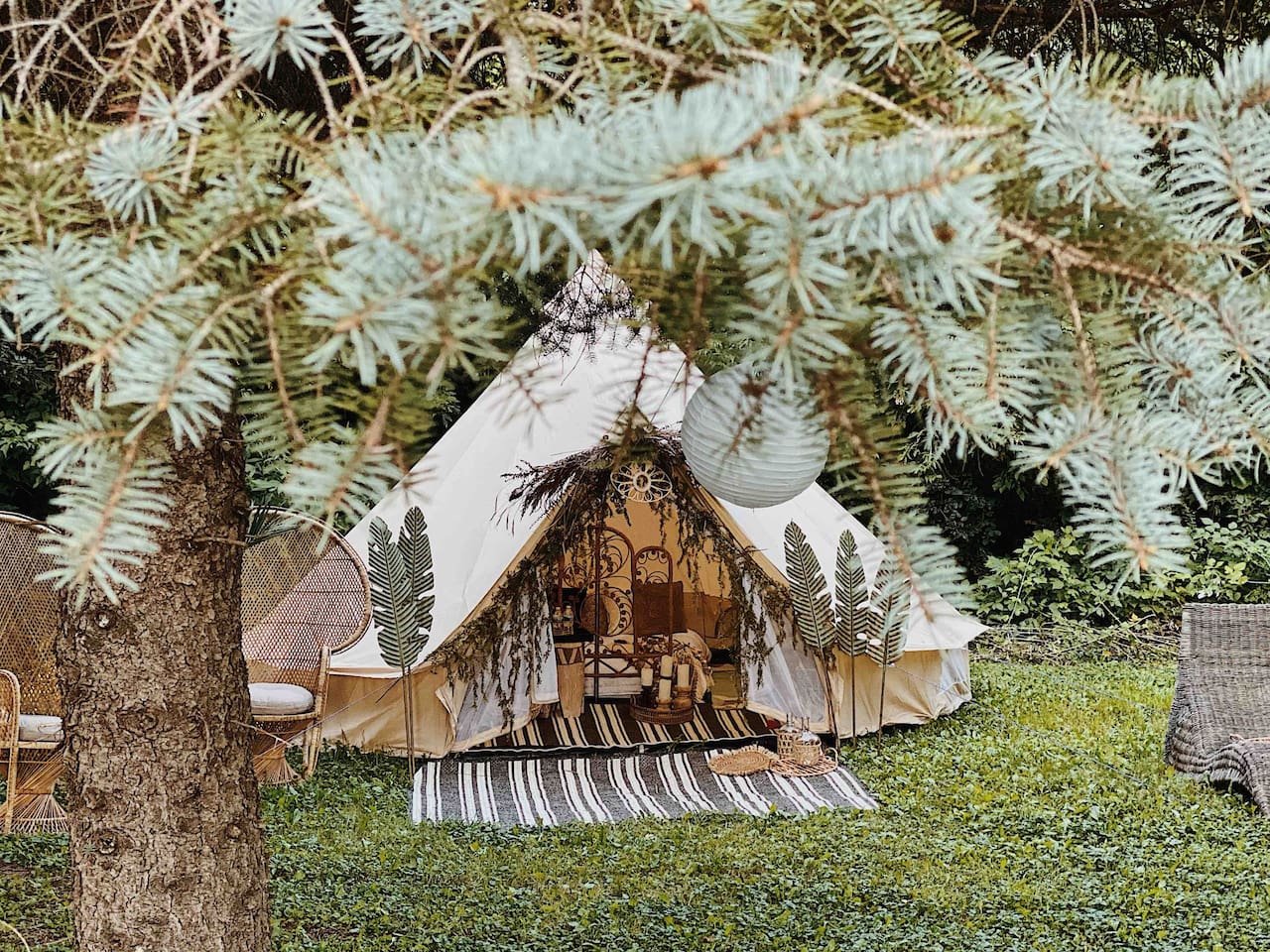 Brooke's Bungalow – Afton, Minnesota
This tipi is hosted by the same super host as the previous glamping experience. It comes with a grill, fireplace, personal porta-potty, Tempur-pedic zen bed, and spa packages are available on ala carte.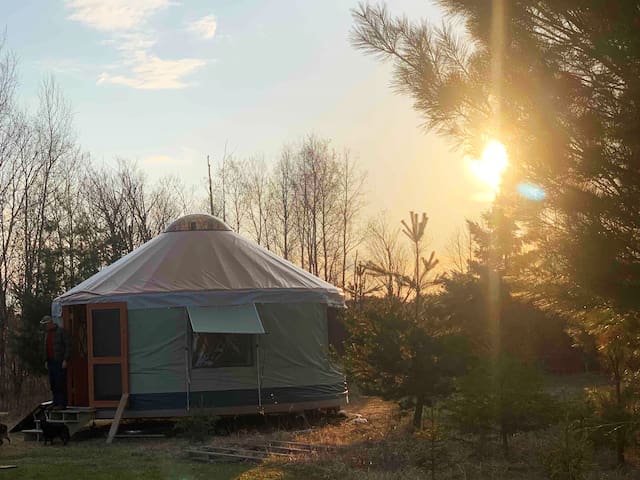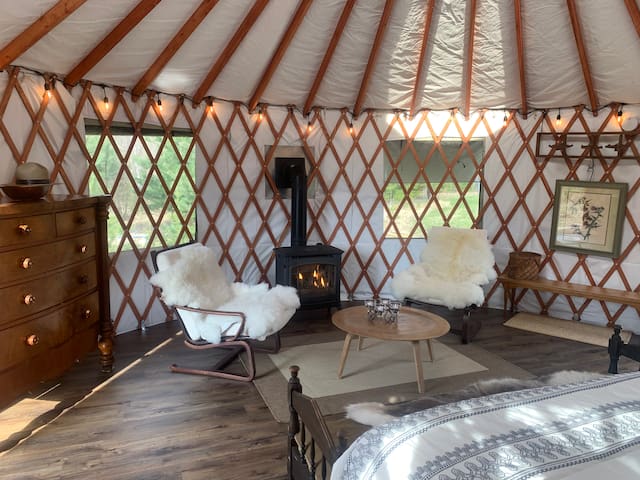 "Hemlock yurt" (near Duluth, MN) – Esko, Minnesota
Enjoy this tranquil yurt nestled in the trees overlooking a farm field, providing the perfect glamping experience. You will be surrounded by nature and wildlife, sheltered by the canvas 'yurt' and sleeping in a comfortable bed.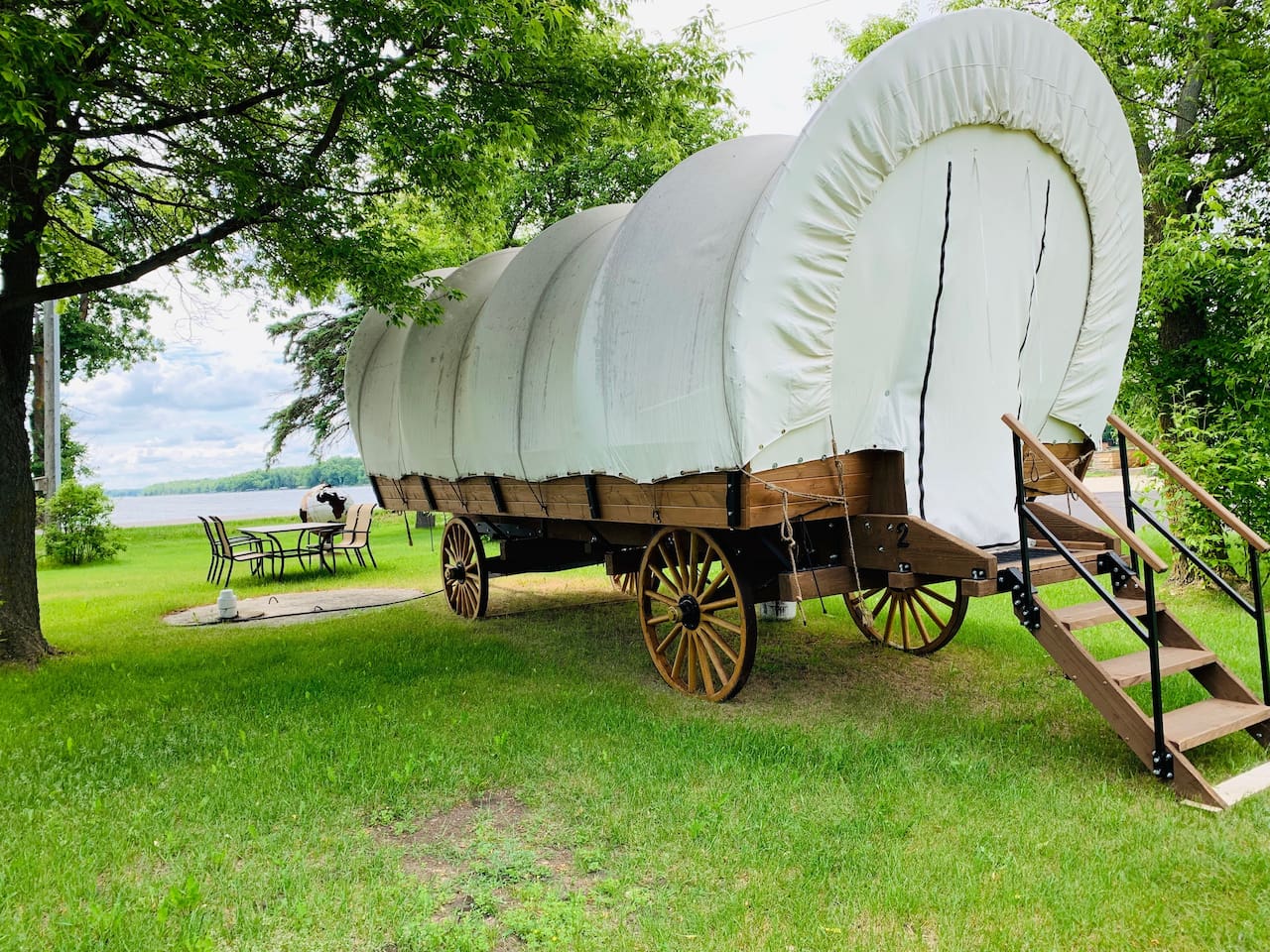 Rose Lake Glamping Wagon #2 – Vergas, Minnesota
Experience a one of a kind stay in a Conestoga Covered wagon on the shores of Rose Lake. Each wagon sleeps 4 guests with a king-size bed and bunk bed. (Anyone else remember playing "The Oregon Trail" as a kid? This is the perfect stay for fans of that game!)
Boats & Houseboats
---
Houseboat "Miss Guided" on the Mississippi – Brainerd, Minnesota
Spend your vacation floating along the Mississippi on a houseboat! You can captain it yourself, or the owners will move you to a new spot each day (if you're not comfortable driving a houseboat). My husband and his family have done this – and it's one of their favorite family vacations!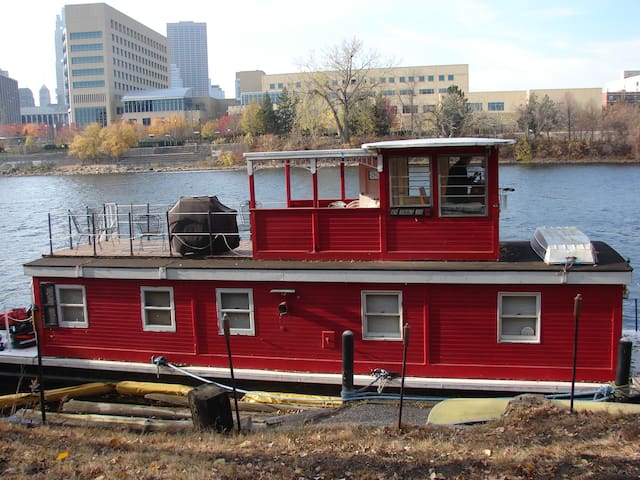 Classic Houseboat – Saint Paul, Minnesota
This 1949 Gordy Miller houseboat was originally built in St. Paul. Lovingly restored and updated, the houseboat sleeps 4, 2 on a pull-out sofa and 2 on the built-in platform bed, new kitchen, living room, bathroom, dining area, & bathroom. 2 decks. Houseboat stays at St. Paul marina.
Farms / Silos / Grain Bins!
---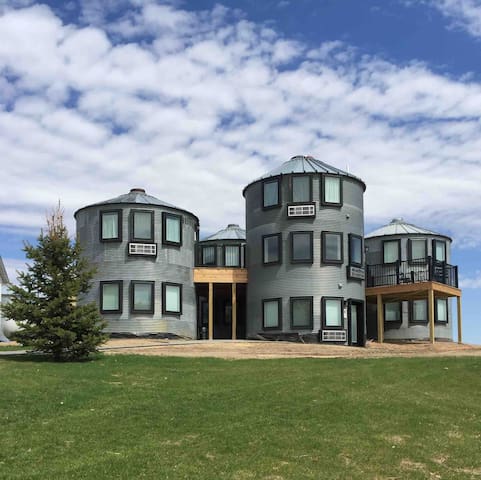 Private Room in a Luxury Grain Bin! – Alexandria, Minnesota
I have never seen anything quite like this accommodation in Alexandria. Not only are these grain bins gorgeous, but they're also located on a private lake. (This is a wedding venue too!)
Unique Fleetwood Farm Castle Getaway with Pool – Afton, Minnesota
This is not what comes to my mind when I think of "farm." This beautiful home is situated on 21 acres and has a heated pool and hot tub. It can host up to 16 guests. The inside of this farm is WILD – the interior is decorated in gilded baroque furniture (complete with a gold winged chair – the ultimate selfie station!). You'll have to see it to believe it!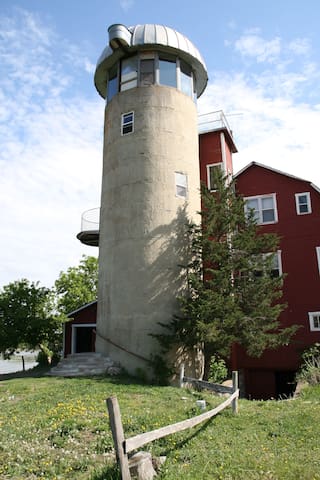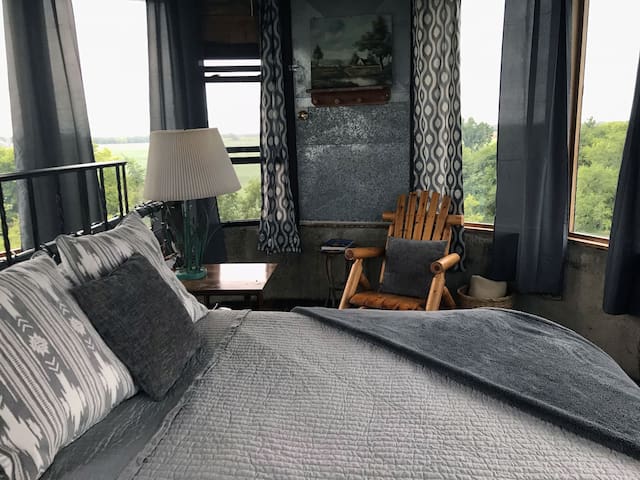 The Silo! – Clear Lake, Minnesota
Stay in a converted silo located on 600 acres in this unique accommodation! You'll also have access to a private lake.
Beautiful Cabins!
---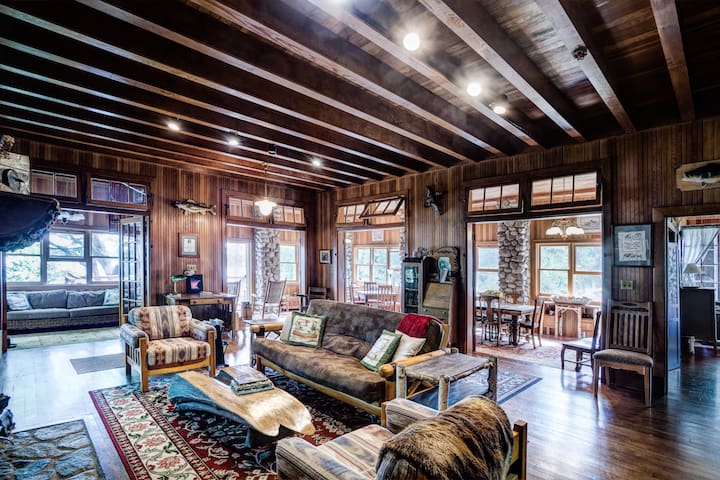 Resort Life in Historical 7 Bedroom Home! – Battle Lake, Minnesota
This beautiful 1920s lake home is located on an island and has stone fireplaces, air-conditioning, ensuite 3/4 bathrooms for all 6 bedrooms, an office, a full kitchen as well as several reading nooks, and 2 porches! It can host up to 16 guests.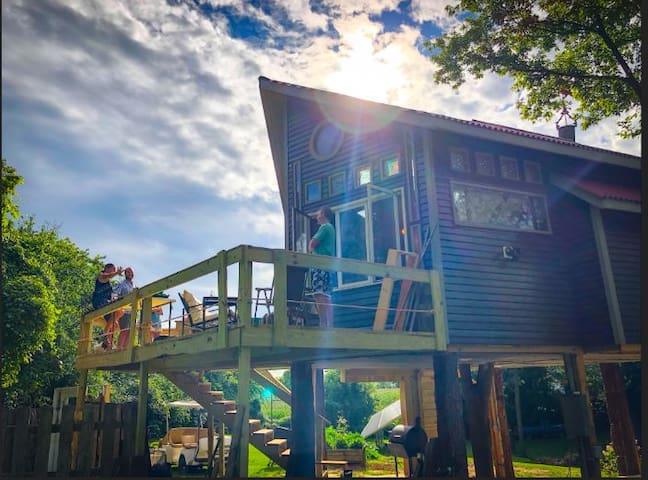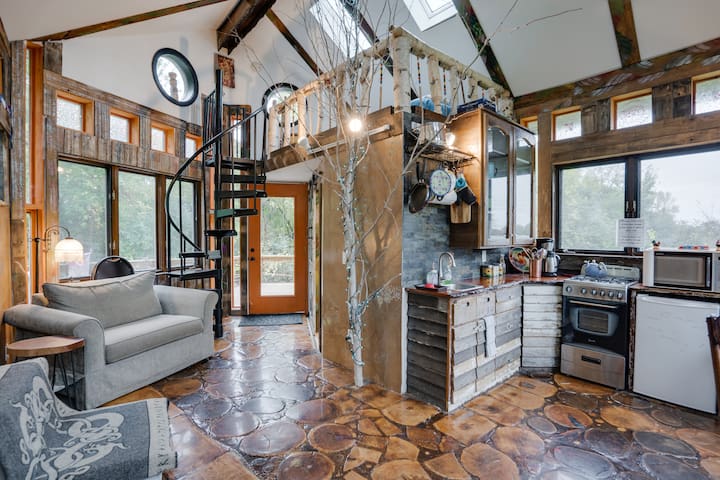 Star-Gazer Sky Cabin – Upsala, Minnesota
This beautiful cabin sits at the highest point of the area and offers a vaulted ceiling, 53 windows (stained & leaded) and skylights. It reflects the owner's love of Lord of the Rings! You'll also have access to a hot tub and many local outdoor activities.
Agua Norte Cabin: Lake Superior View with Sauna – Grand Marais, Minnesota
A new timber frame cabin 4 miles from Grand Marais, the perfect distance to feel like you are in the woods and still run to town whenever you choose. It is filled with windows to capture the amazing Lake Superior vistas plus a big skylight to stargaze and watch the northern lights. Grab your coffee and walk down to the pebble beach across the road or hang out on the big cedar deck and watch the waves crash on Five Mile Rock.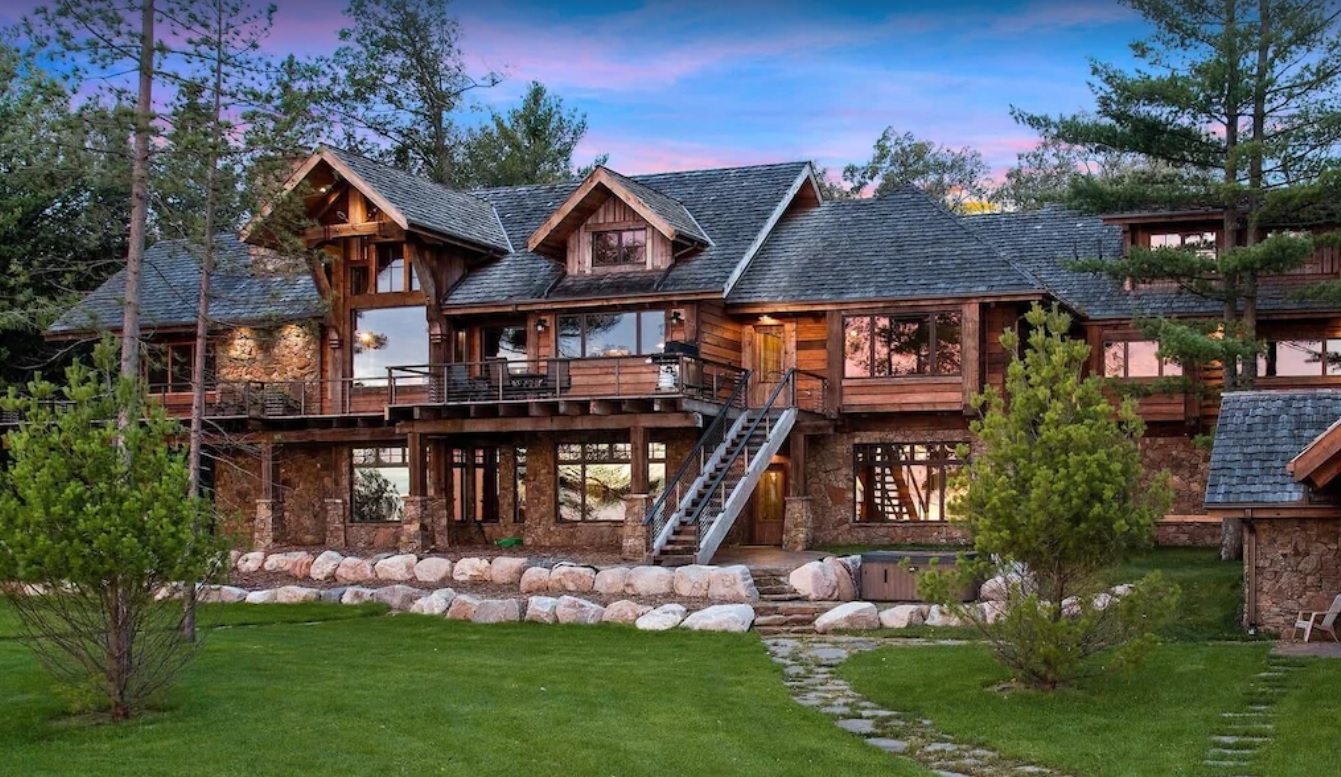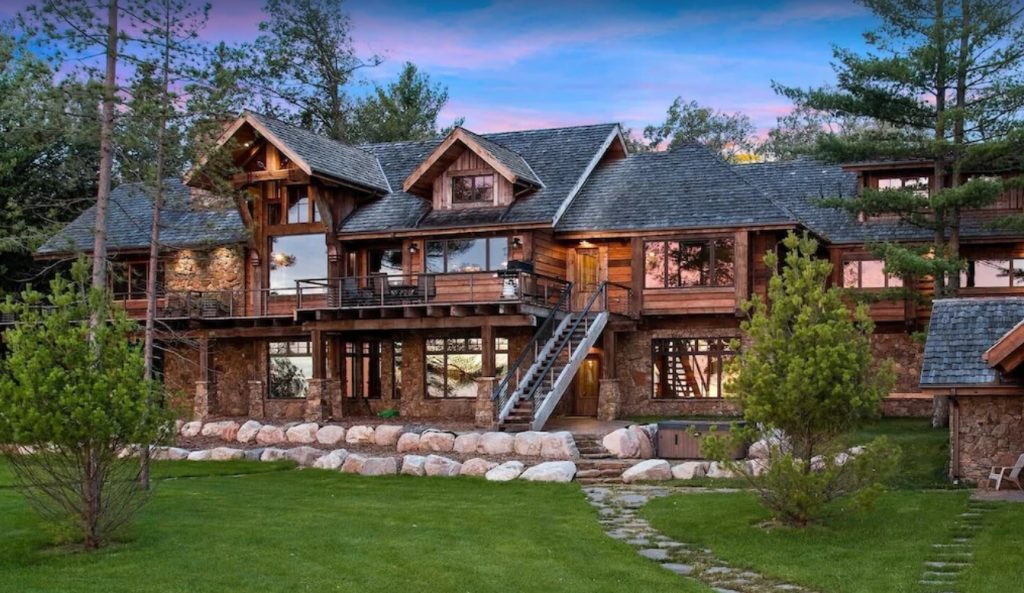 Reclaimed Charm and Luxury on Gull Lake – Brainerd, Minnesota
With impeccable taste, a prime location, and attention to detail this lodge has it all. It's made of beautiful reclaimed wood and is situated on a sand beach. The large lakeside fire pit is perfect to enjoy after sun down!
Stargazing Bubble
---
Star Gazing Bubble Camp – Sartell, Minnesota
How cool is this? You can fall asleep gazing at the stars…without having to worry about bugs! The Bubble is private, and there is also a toilet and cold shower.
Domes & Globes
---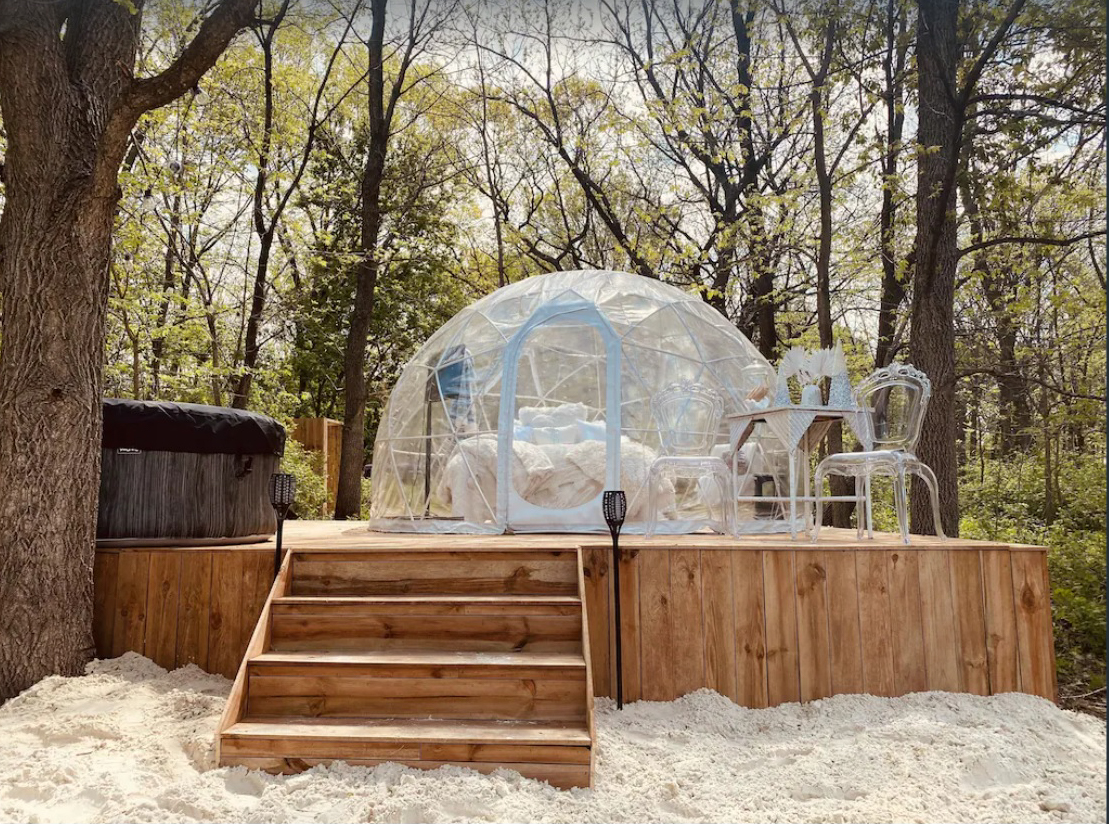 Stargazing Igloo – Afton, Minnesota
Be prepared to be completely mesmerized as you lay in the globe's luxurious queen size heated bed underneath a gorgeous starry sky. It's located on a private beach facing a breathtaking pond and also has a private hot tub that guests can use! (It's heated by a gas fireplace, so guests can enjoy staying here all year long.)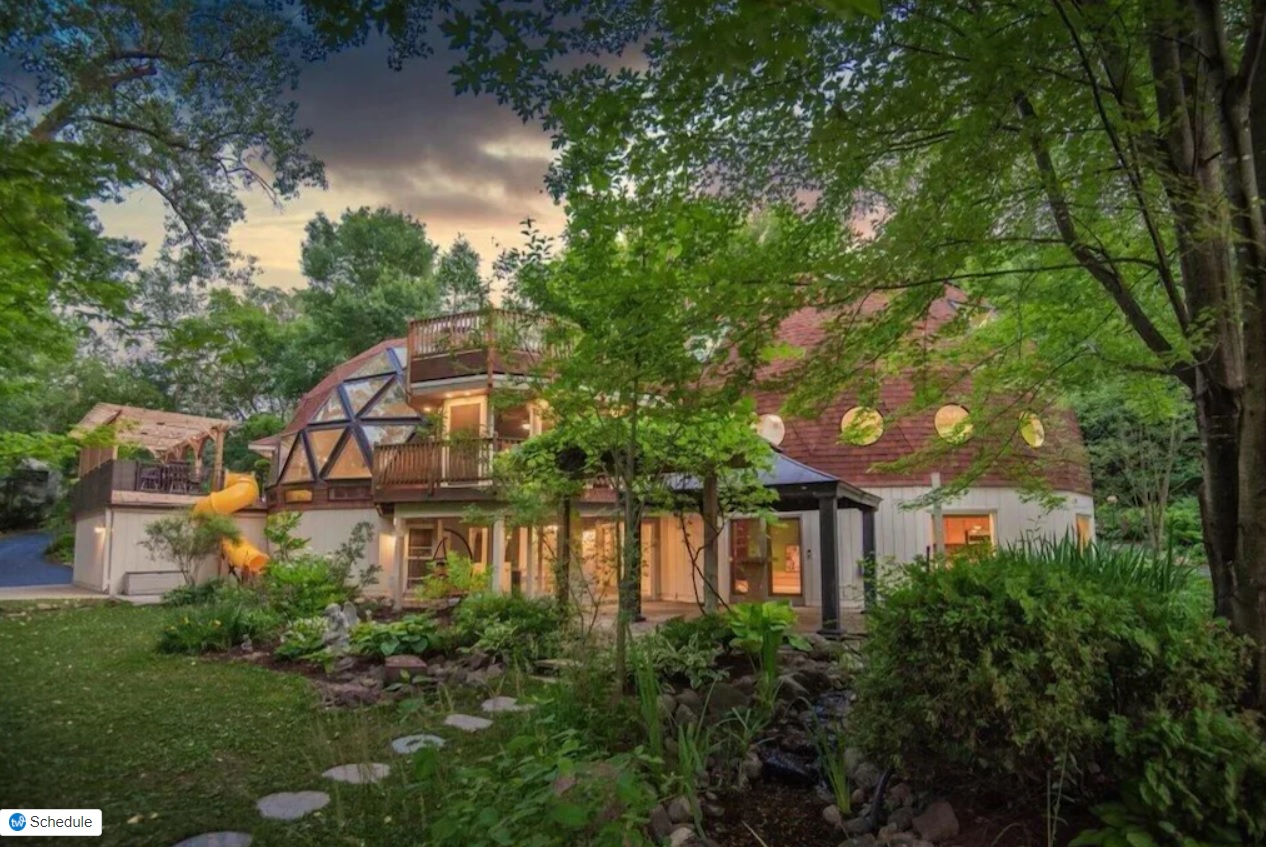 8,000 square foot GEODESIC DOMES – Eden Prairie, Minnesota
HOLY GUACAMOLE! This place is incredible for families with children. It features indoor and outdoor slides, a movie theater room, a stage and costumes, an indoor putting green, outdoor ziplining, trampoline, and MORE. This place is truly one-of-a-kind.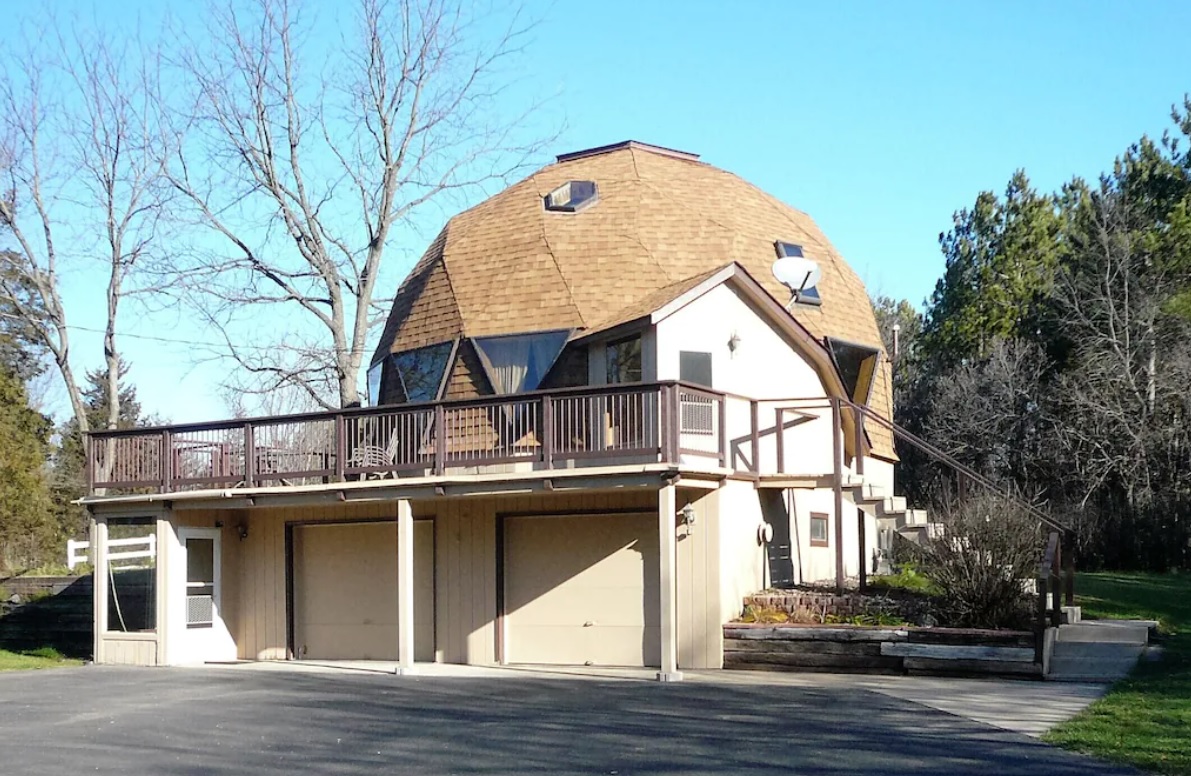 Fully furnished home – Afton, Minnesota
This 2 bedroom geodesic dome home is set on 10 private acres in Afton, MN. This space sleeps 6 comfortably and includes all the essentials for a comfortable stay. When the weather cooperates you can also utilize the large front deck!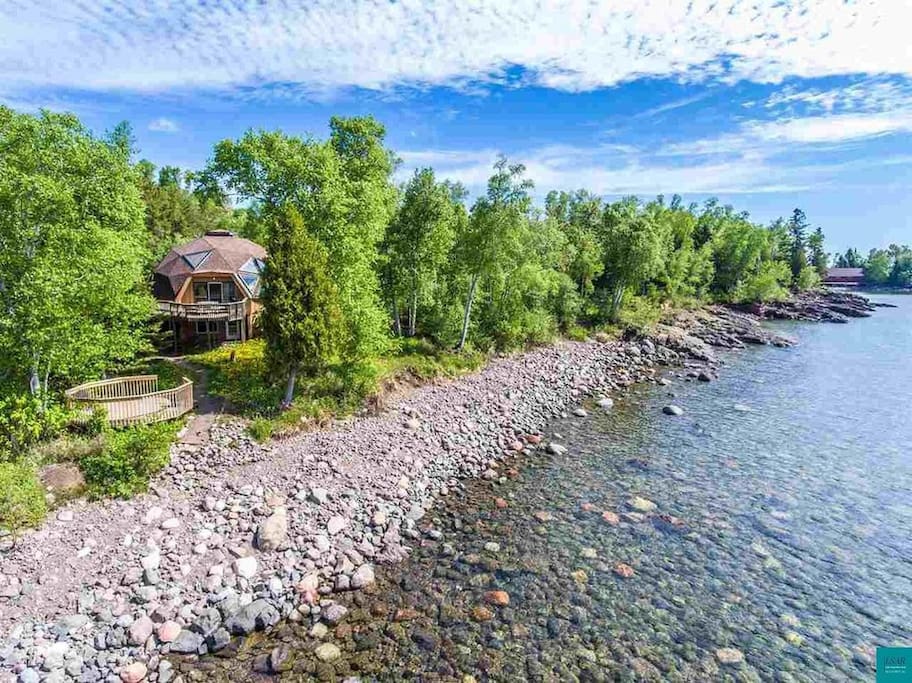 Geodesic Dome Cabin on Lake Superior – Schroeder, Minnesota
If you're looking for a little more comfort and luxury while you enjoy the night sky, then you'll love this geodesic dome cabin! This beautiful home can accommodate up to 12 guests too.
Cool Modern Rentals in Minnesota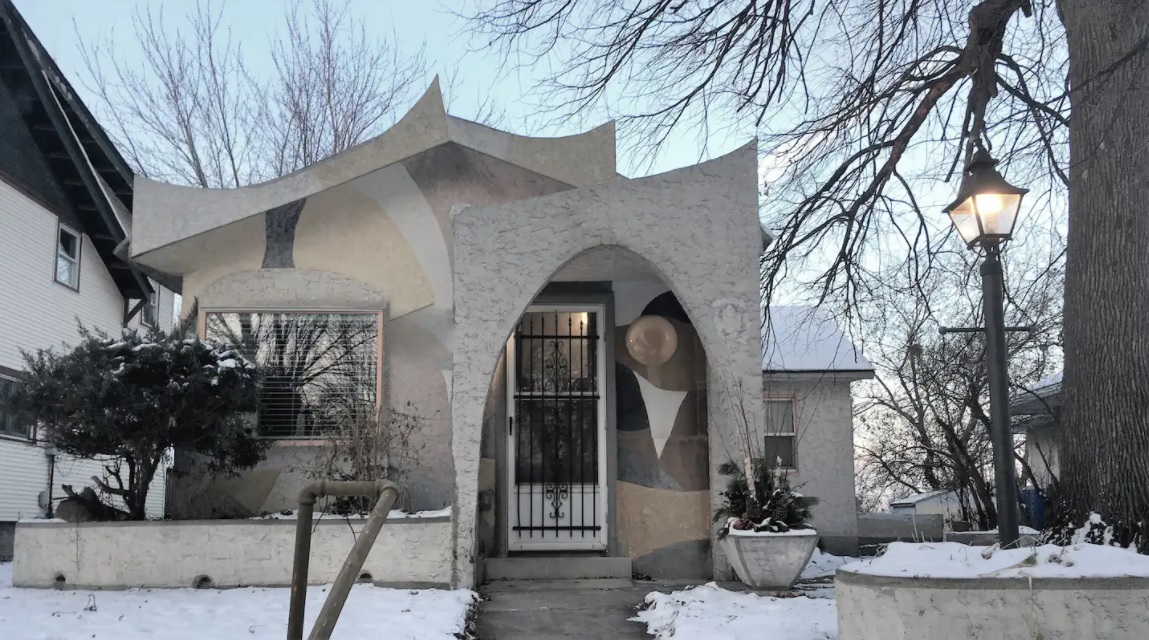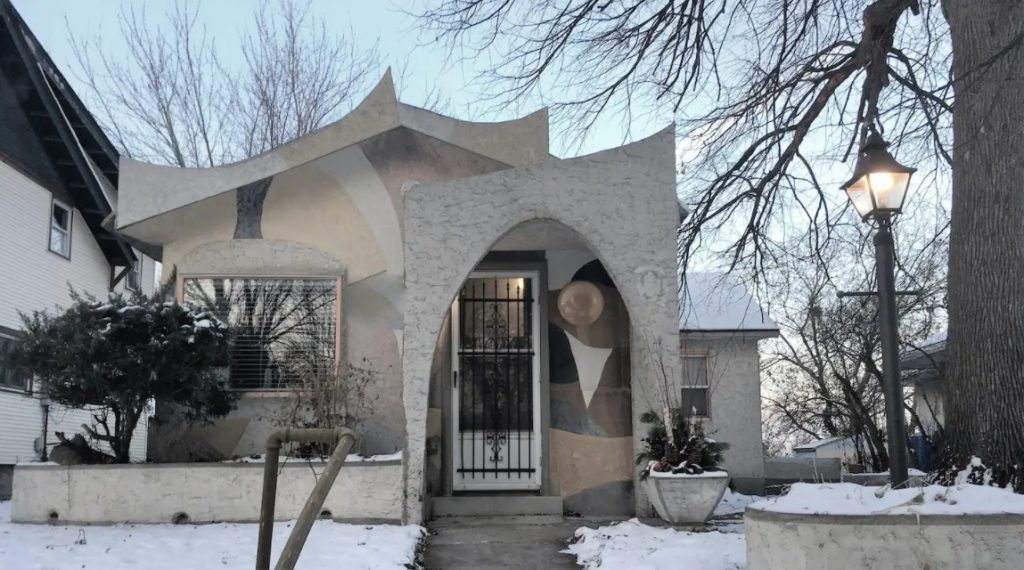 The "Jetson's" Cottage – Saint Paul, Minnesota
The Jetson's House is a unique cottage from the mind of Scottish-born plasterer, George Pilmer. The interior is quite "Jetson-like"! Plus, this cool cottage is located in a great neighborhood near shopping, Allianz Field, and a short driving distance to Concordia University, Macalester College, St. Thomas and St. Catherine University.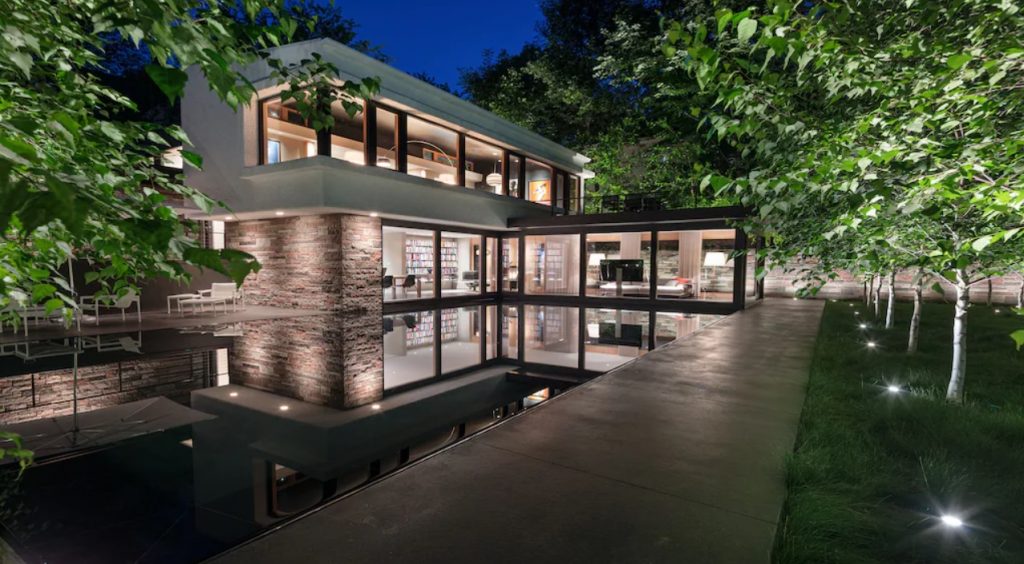 The Art of Reflection – Linden Hills, Minnesota
This house is a spectacular mid-century lake home, re-imagined by famed modern architect Jim Jennings. The coolest feature of this unique property is the 21 massive Duratherm windows that overlook the lake, a 40×20 foot infinity reflecting pool, a manicured grove of 40 birch trees, and the downtown Minneapolis skyline. Seriously, this is my dream home.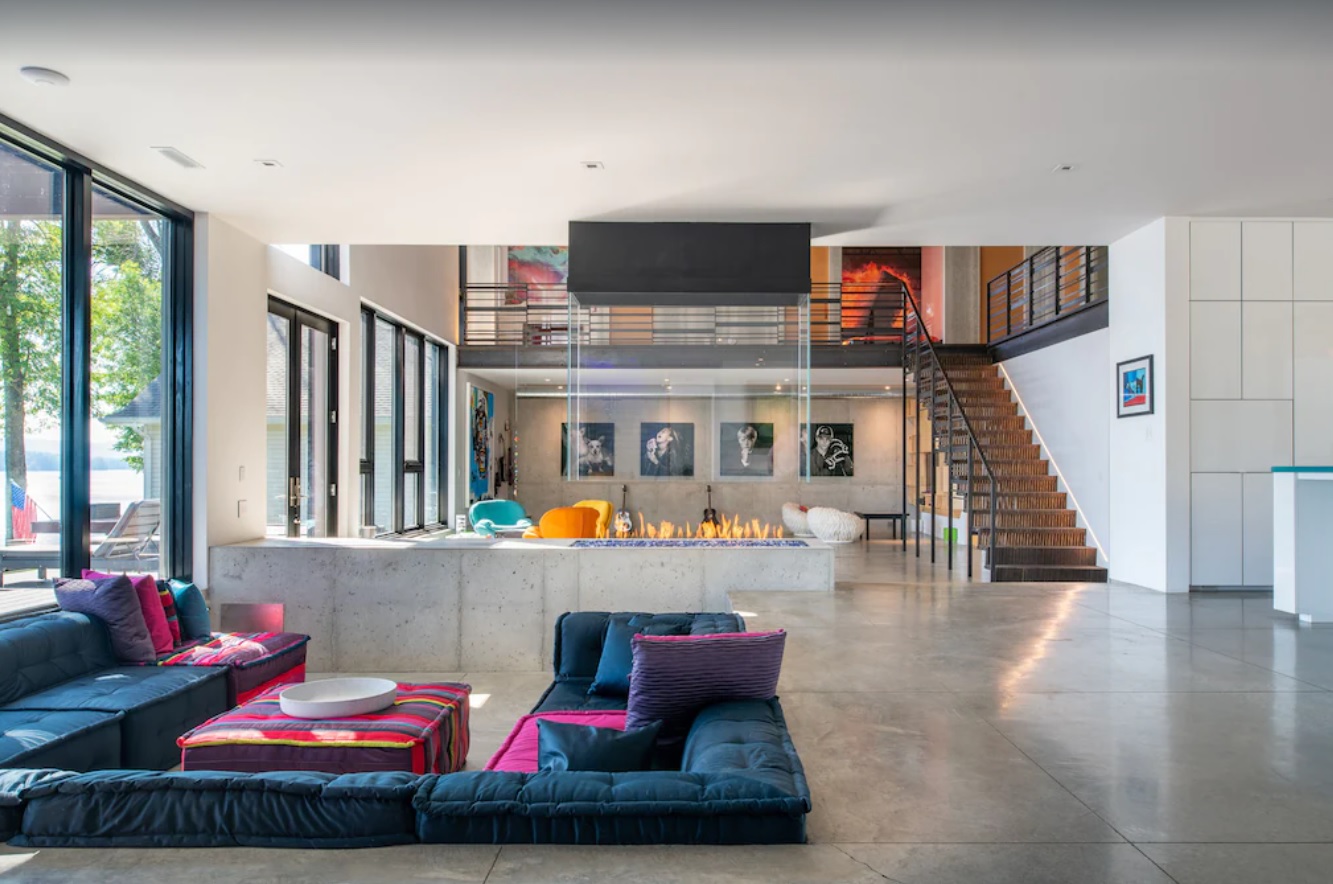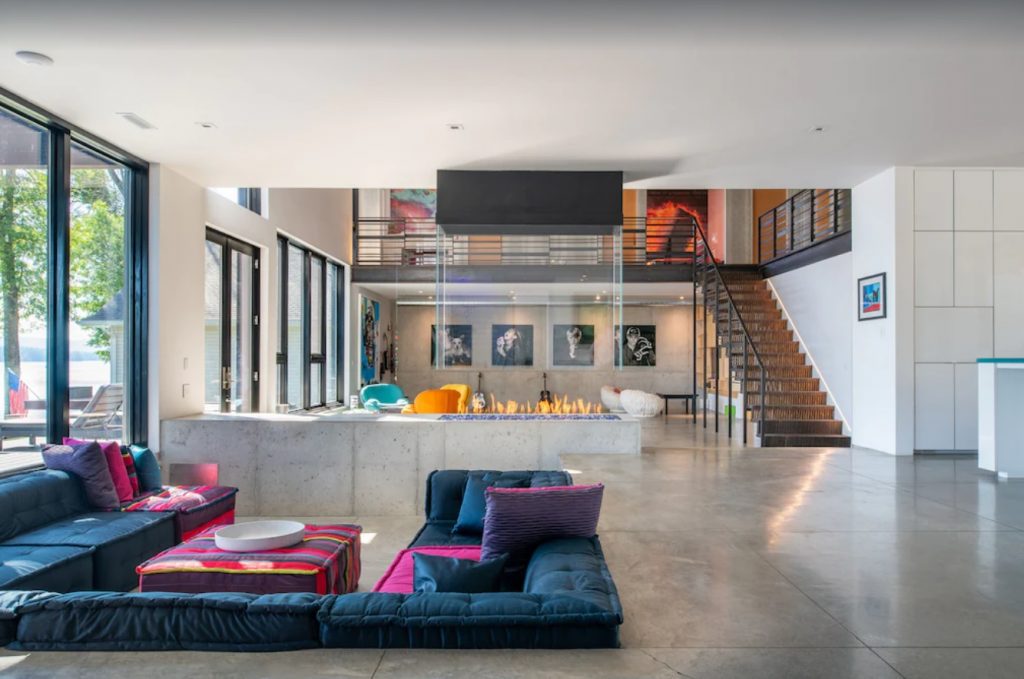 Luxury Modern Home on the Mississippi River – La Crescent, Minnesota
This modern luxury home has an expansive open feel and, with its five bedrooms, offers space for up to ten family members or groups of friends. The floor-to-ceiling windows provide a ton of natural light, plus panoramic views of the Mississippi River.
Now, I'm curious, which of these Airbnbs in Minnesota is your favorite? Let me know in the comments!
Need a house sitter while you are gone?
---
I, personally, recommend TrustedHouseSitters if you need to find a housesitter/someone to watch your pets while you are away.
How TrustedHousesitters works is they connect home and pet owners with trustworthy, verified sitters who won't charge to look after your pets, in exchange for a unique place to stay. They have sitters and homes all over the world!
It's a fantastic way to find trustworthy people to watch your home and pets while you are away. (And on the flip side, it's a cool way to stay in different areas of the country and world without having to pay for accommodation! I have a friend who literally didn't own or rent a home for years, and only used TrustedHouseSitters to find the next spot she was going to stay.)
---