The Coolest Cabins in Door County, Wisconsin to Rent for Your Next Getaway
One of the most frequent questions I've been getting asked this last year, from friends and readers alike, is – "What are some cool Airbnbs or cabins to rent in Door County?" It took me long enough, but I've finally put together a post to answer that question!
This list ranges from luxury lakefront cabins with hot tubs and saunas to quaint cottages with pool access. There are also a couple of condos toward the end of this post if you want the cabin feel but with all the amenities of a hotel! (I've also updated this post to include a few truly unique vacation rentals in Door County if you're looking to get off the beaten path. They're at the very end of the post!) This list has a cabin in Door County for everyone. Enjoy!
*Disclosure: some of these links are affiliate links. Meaning, if you click a link and make a purchase, Have Clothes, Will Travel gets a very small commission at no extra cost to you. Thank you for supporting the brands that make this blog possible!
The Coolest Cabins in Door County, Wisconsin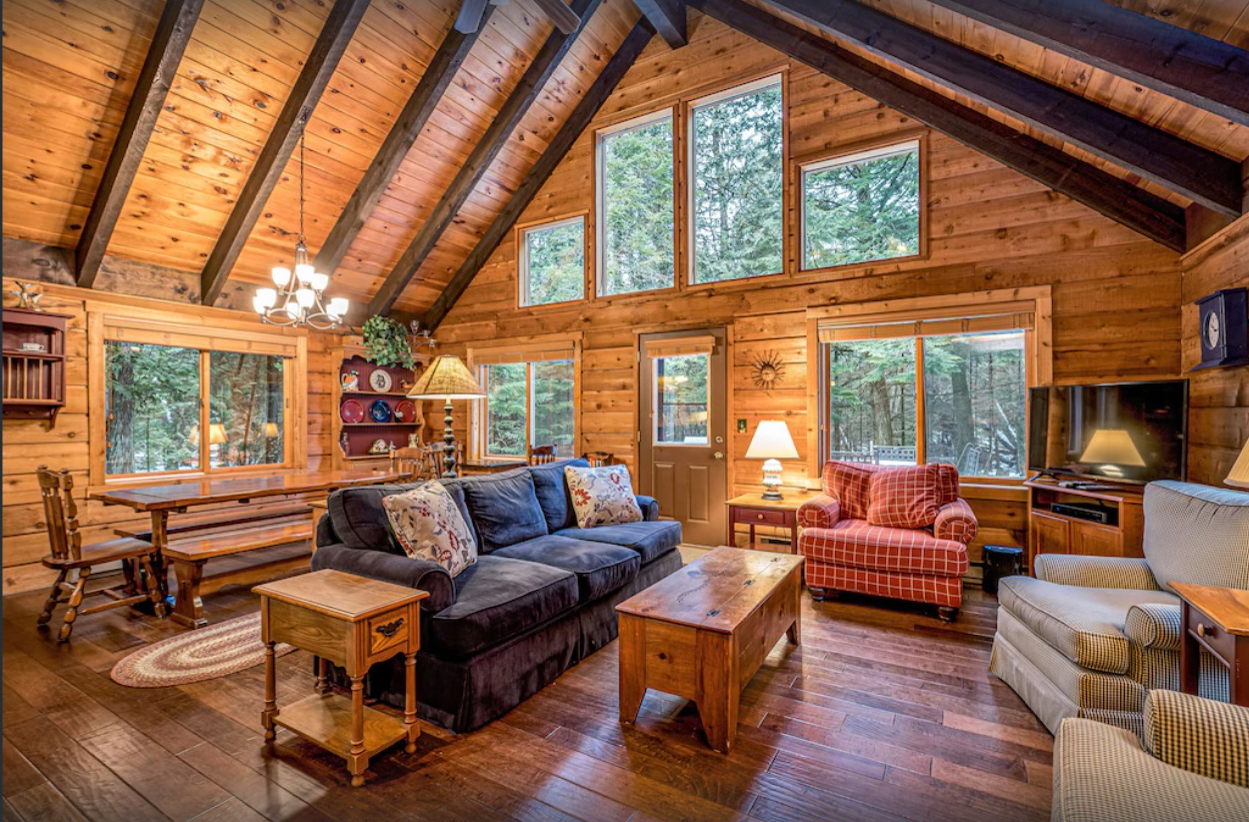 Private, picturesque, cozy retreat in the woods – Ellison Bay, Wisconsin
This cabin in Door County is bright, cozy and charming. The wall of windows into the woods in the living room is a wonderful place to do some wildlife watching. Better yet, head outside to the private outdoor deck looking over the woods and listen to the birds sing. Shut the door between the house and the four-season room for extra privacy to enjoy a good book, a cup of coffee or a glass of wine, or a good chat with a friend. This cabin is also just short walk to the marina on Lake Michigan, at Rowley's Bay.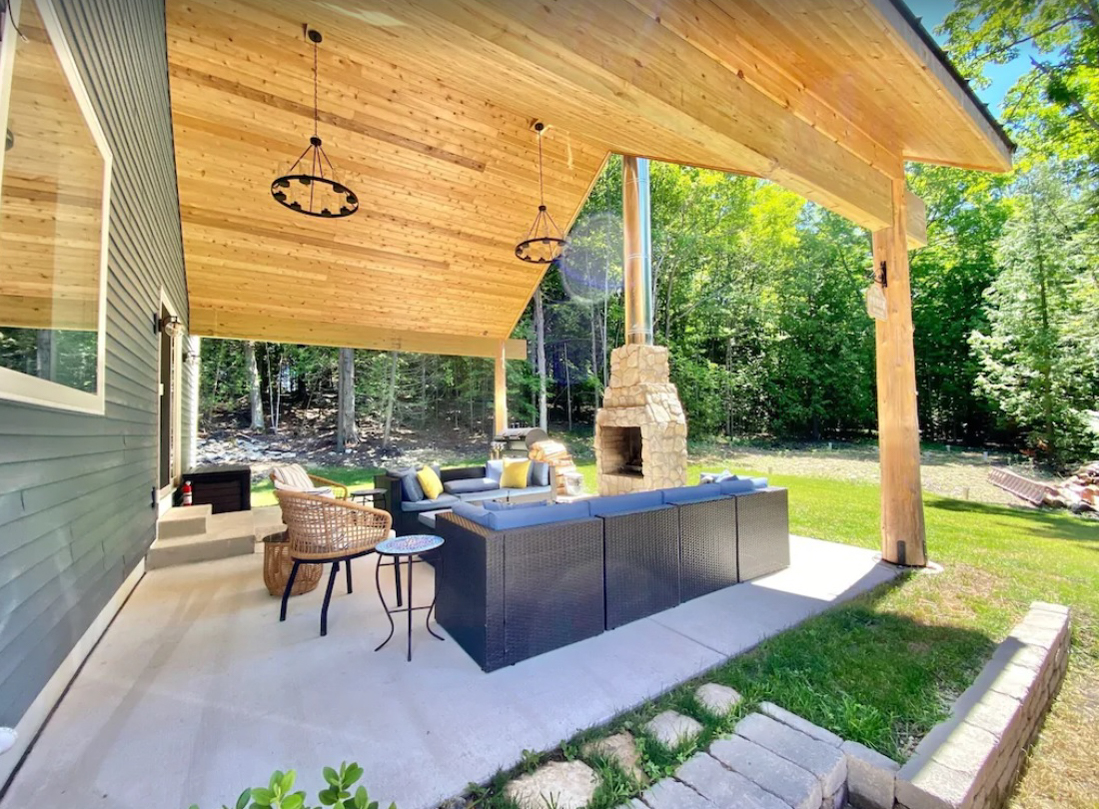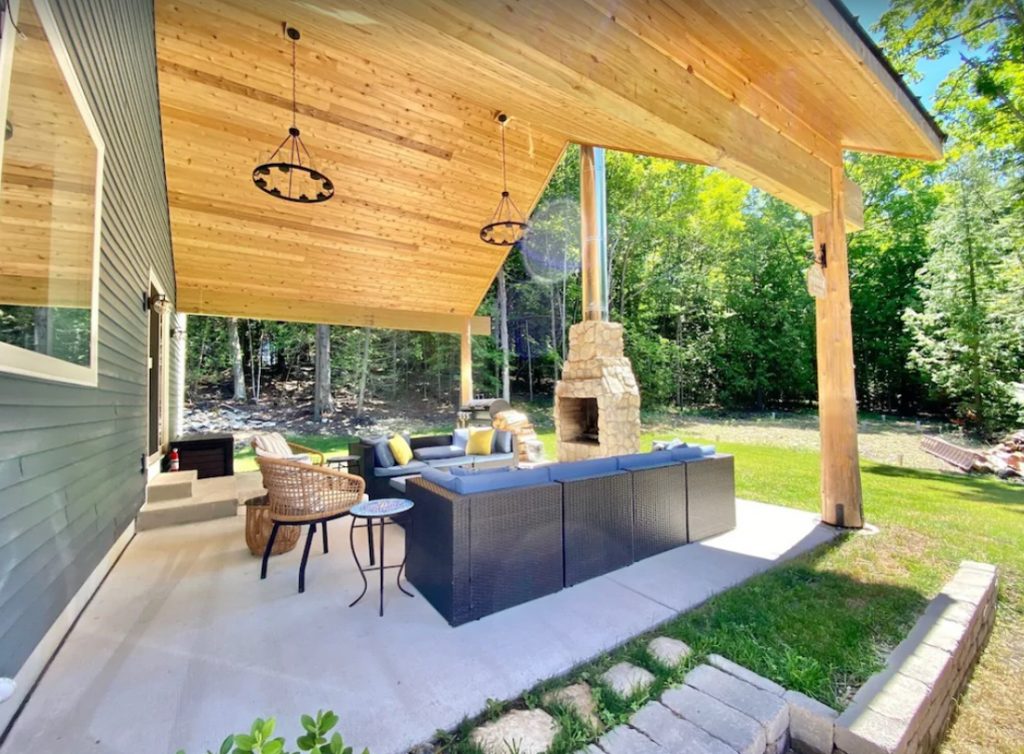 Door County Cottage Retreat – Egg Harbor, Wisconsin
Located in the heart of Egg Harbor, this custom-built cottage is the best of both worlds, within an 8-10 minute walk to the beach and Egg Harbor's best shops and restaurants. Cozily nestled in the woods, this vacation home has all the amenities to make you feel right at home. Brand new and sure to please, from the chef-style kitchen to the massive covered patio with Door County stone fireplace!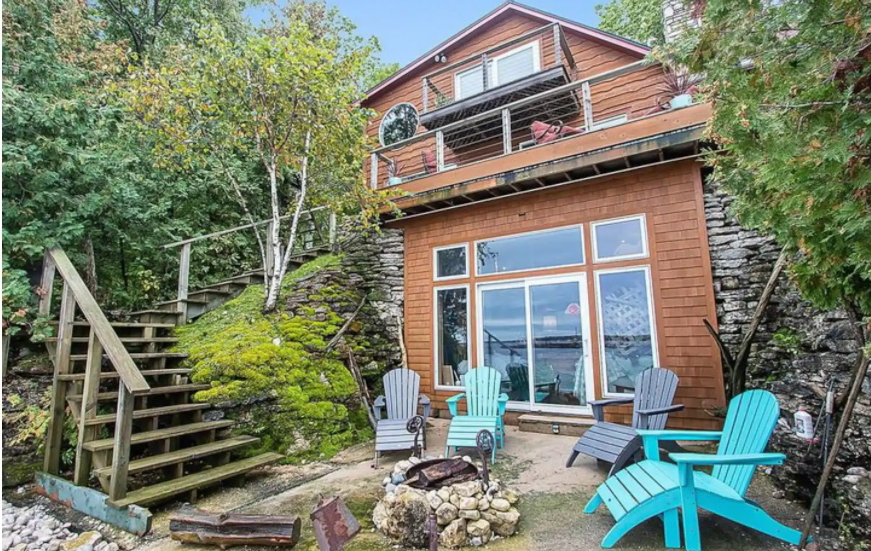 Luxury Waterfront Cabin in Northern Door County – Ellison Bay, Wisconsin
Set on a bluff at the very tip of the Door County Peninsula, this cabin feels like you're actually on a boat—that's how close you are to the water. The upscale cabin sits directly on Lake Michigan with exceptional views, luxury amenities, and hosts groups of up to 12. It was built on top of an old boathouse, which now has been converted into a fun hangout entertainment area with a pool table, darts, and more games. The sunroom is the star of the whole house and has a metal roof so rain sounds like pure magic, plus waterproof drapes that allow you to sit out there to watch a storm roll over the lake.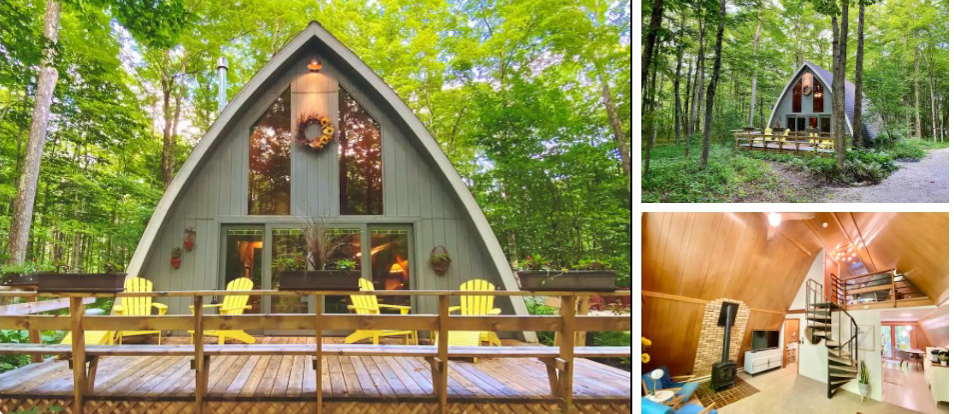 Secluded A-Frame – Sister Bay, Wisconsin
Completely escape from your everyday life at the cottage with only a short 5-minute drive to everything Sister Bay has to offer. This cottage is located on a 1.6-acre private wooded lot surrounded by beechwood trees. The cottage has a large open deck in the front and a spacious screened-in porch in the back. The interior is decorated with a warm mid-century modern charm and is equipped with everything needed for a relaxing stay.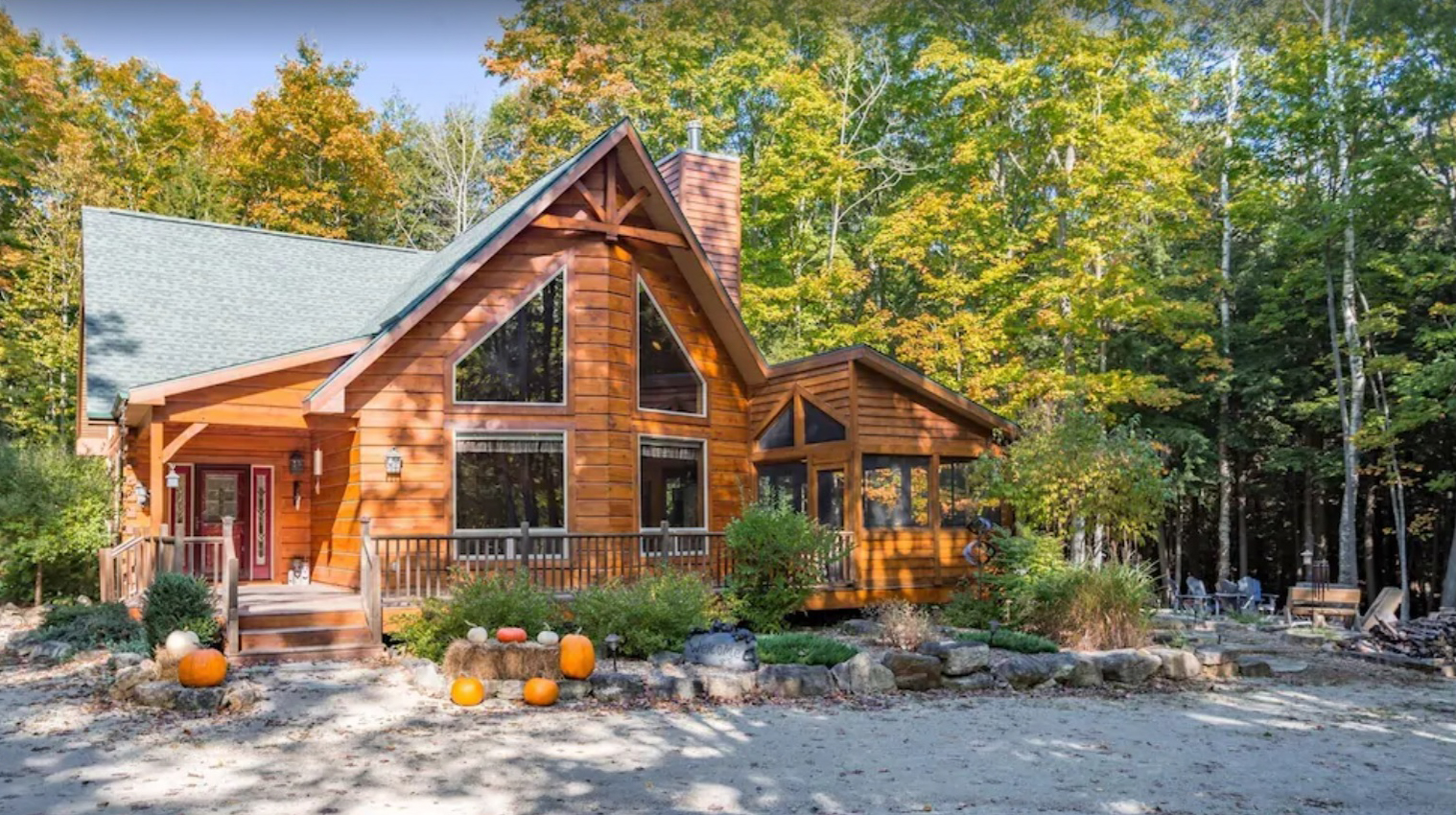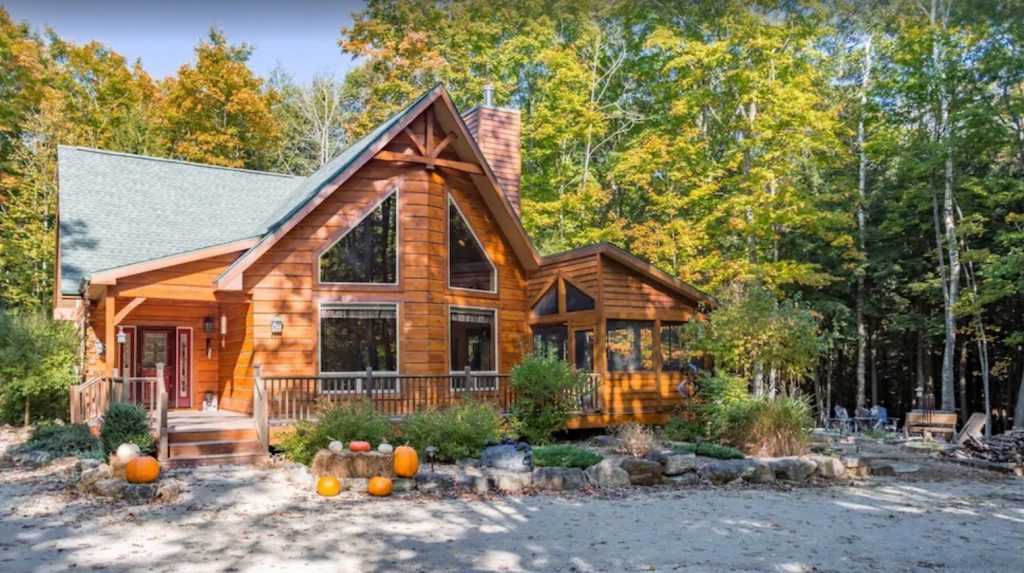 Log cabin in a wooded setting – Egg Harbor, Wisconsin
Relax in this hand-hewn log cabin offering rustic flare with contemporary décor right near Horseshoe Bay in the serenity of Egg Harbor. It features a spacious loft and screened-in porch that's perfect for friends and family gatherings. Aside from the four oversized windows that open to a refreshing view of the woods, the two-person "jacuzzi" tub in the master bedroom offers instant respite.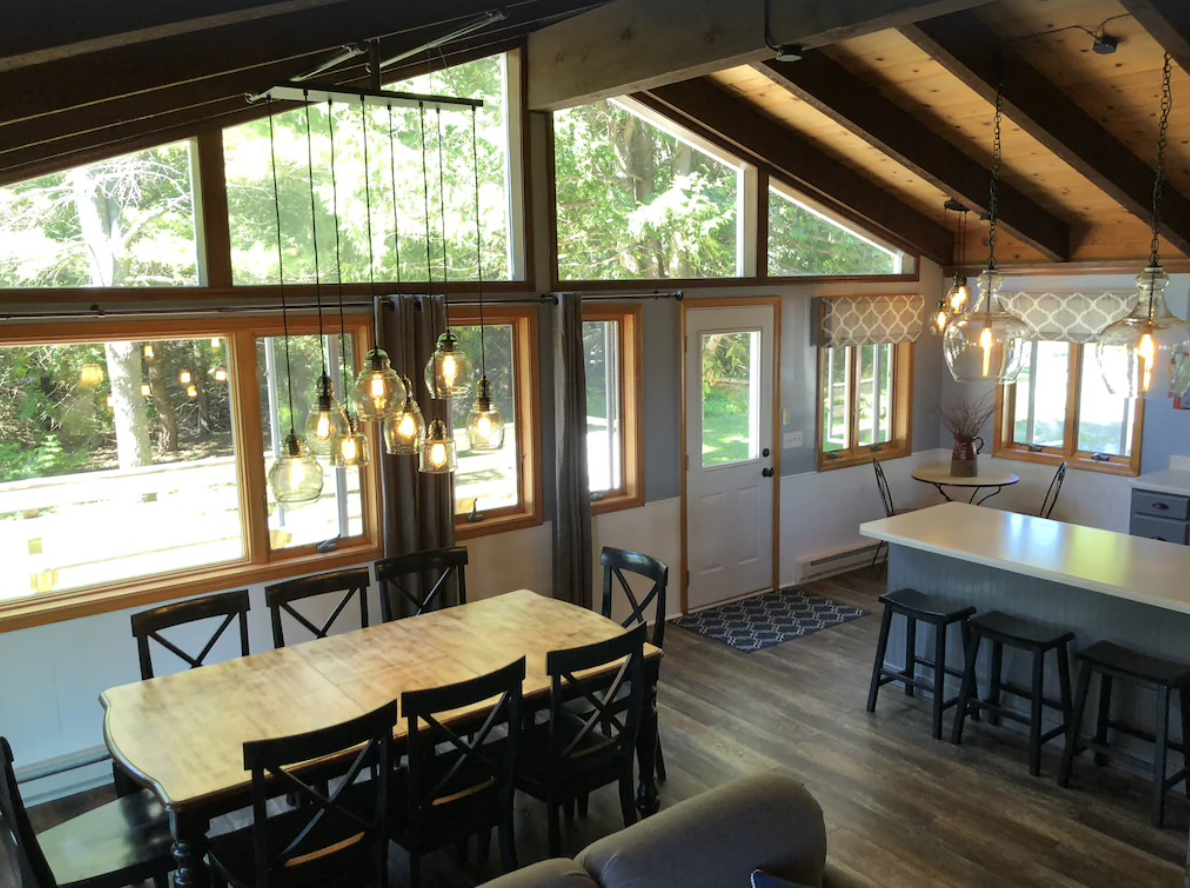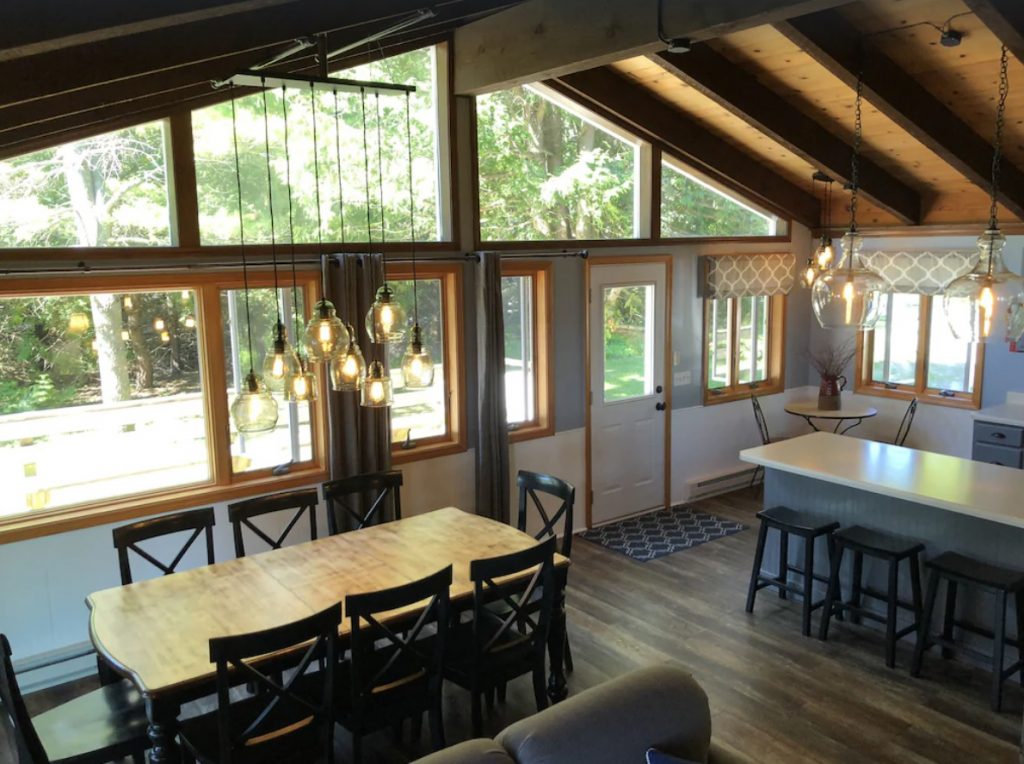 Newly renovated lakefront home – Ellison Bay, Wisconsin
A comforting and charming place to spend the long weekend with friends and family, this newly-renovated lakefront home is ranked as the #1 waterfront home in all of Door County. The house sleeps up to 12 persons and includes 4 bedrooms and 3 full baths. Activities abound as one can rent a boat, go kayaking, zip-lining, or swimming at the marina's resort.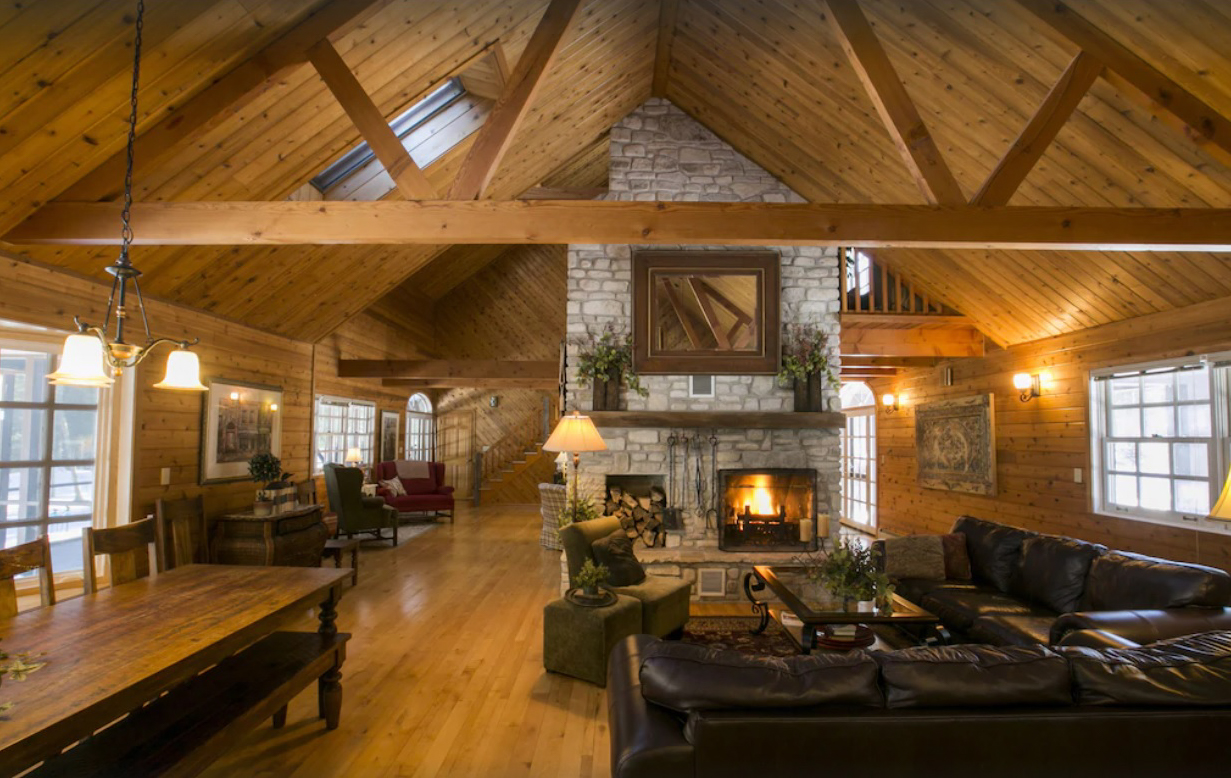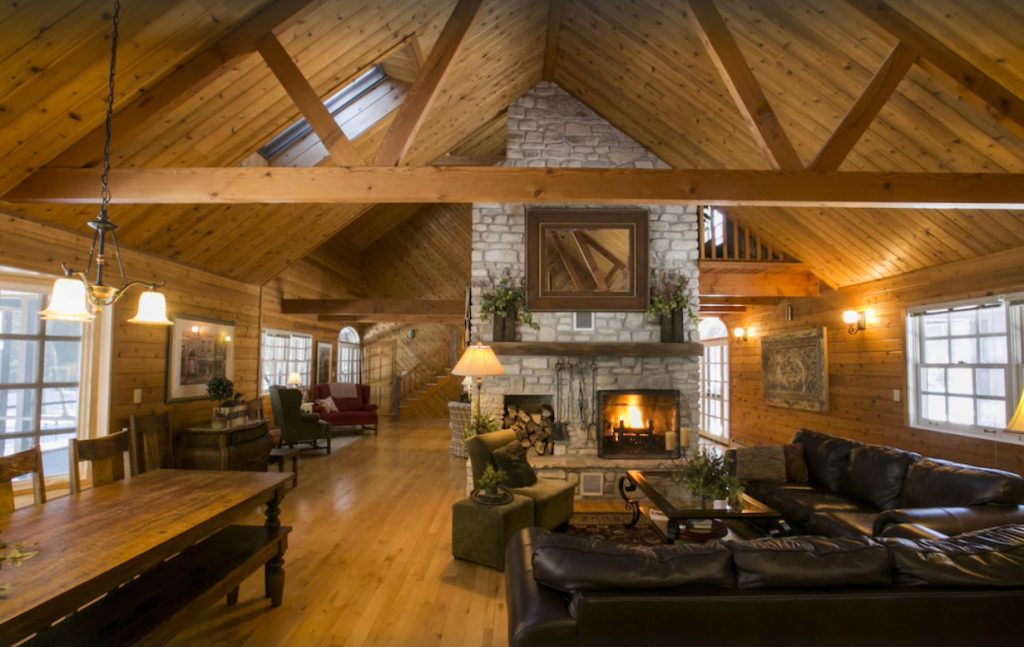 Initiative's Retreat – Washington Island, Wisconsin
This 5,600 sq ft. luxury destination property is perfect for corporate retreats, small weddings and family gatherings. The five-acre, secluded waterfront retreat features walking trails around the perimeter, a natural limestone patio for beach activities and manicured gardens throughout the property for private conversations. Beautiful large rock shorefront where you can sit, swim or sunbathe.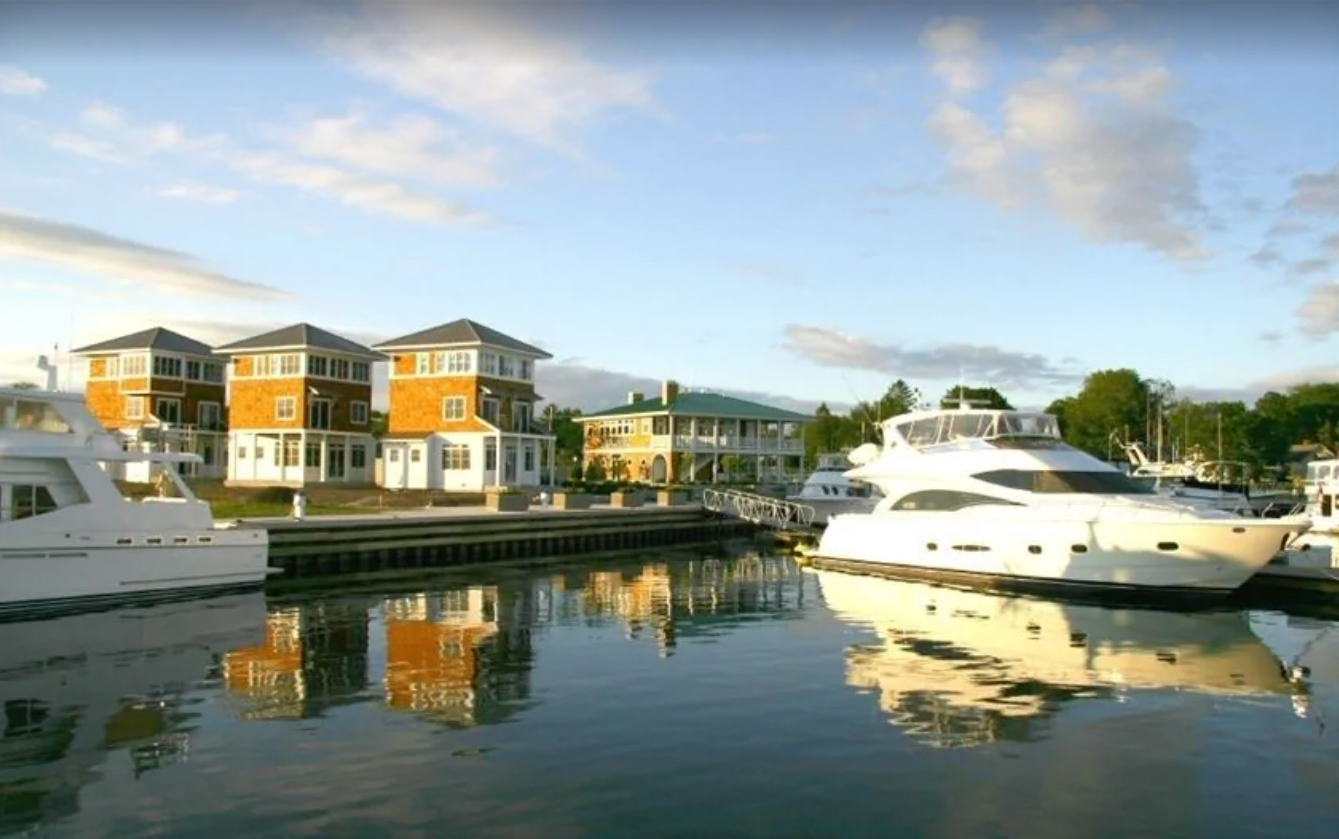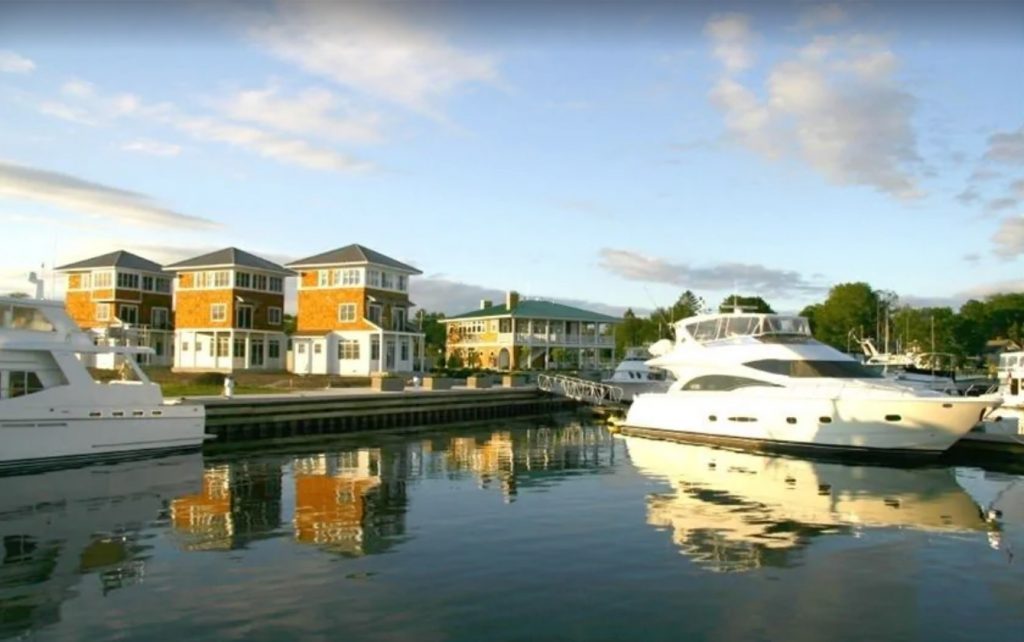 Waterfront cottage with indoor/outdoor pool – Sturgeon Bay, Wisconsin
A destination vacation like no other, this classic coastal cottage has 2 bedrooms and 2.5 bathrooms. Guests get to enjoy the full use and benefit of the Center Pointe Marina clubhouse including an indoor and outdoor pool with a lounge. Watch the sunrise at the second-floor balcony with deck chairs over the Bay View bridge or the sunset over the Michigan Street Bridge to the west.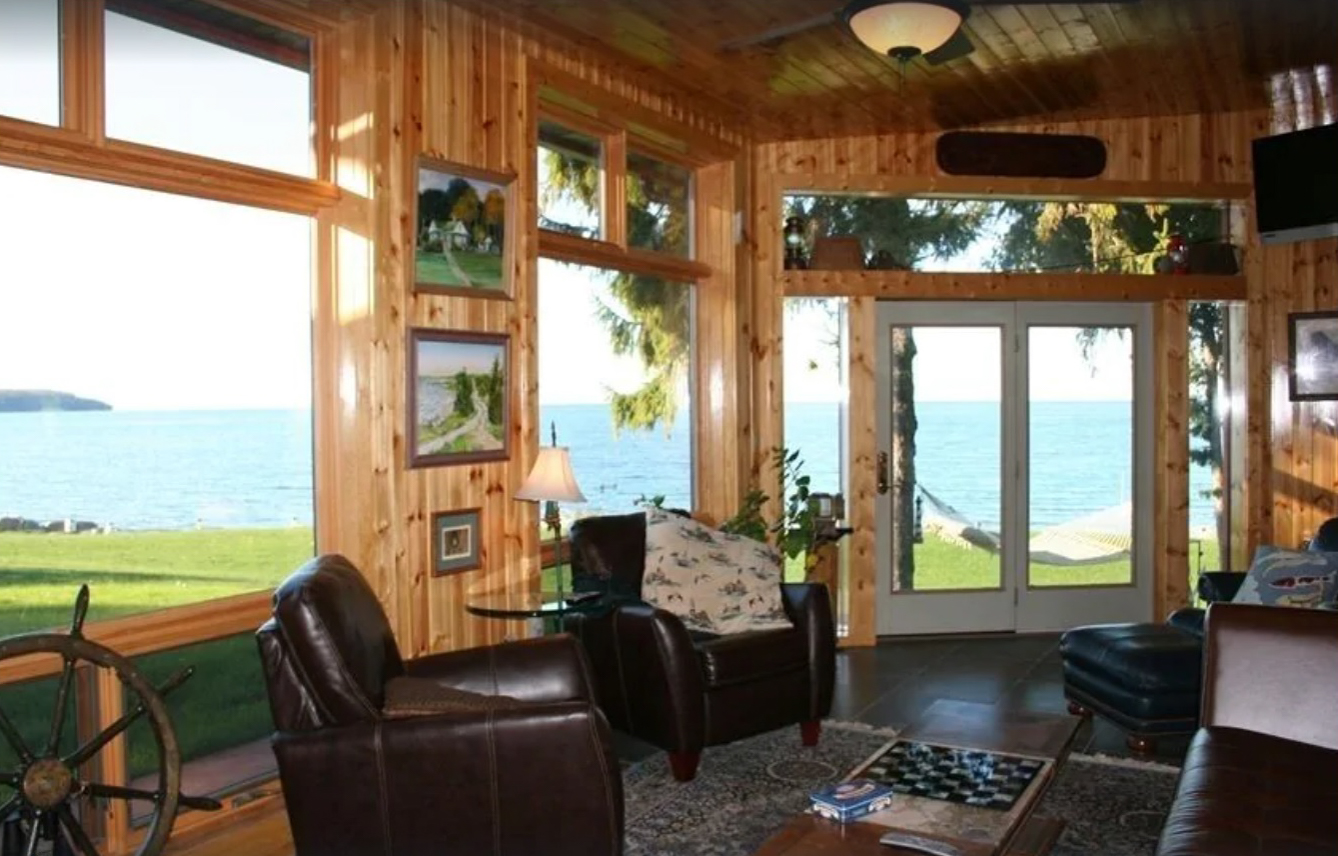 Waterfront cottage with hot tub and sauna – Ellison Bay, Wisconsin
A beautiful, private waterfront vacation home that's ideal for communing with nature and friends and is also just a two-minute walk from a marina. The property's floor-to-ceiling windows lend to a panoramic water view of the Hedgehog Harbor from the kitchen to the bedroom. The patio's open grill area with a fire pit is great for entertaining or hosting barbecues. Last but not least, delight in this property's sauna or hot tub with amazing views of the lakeshore.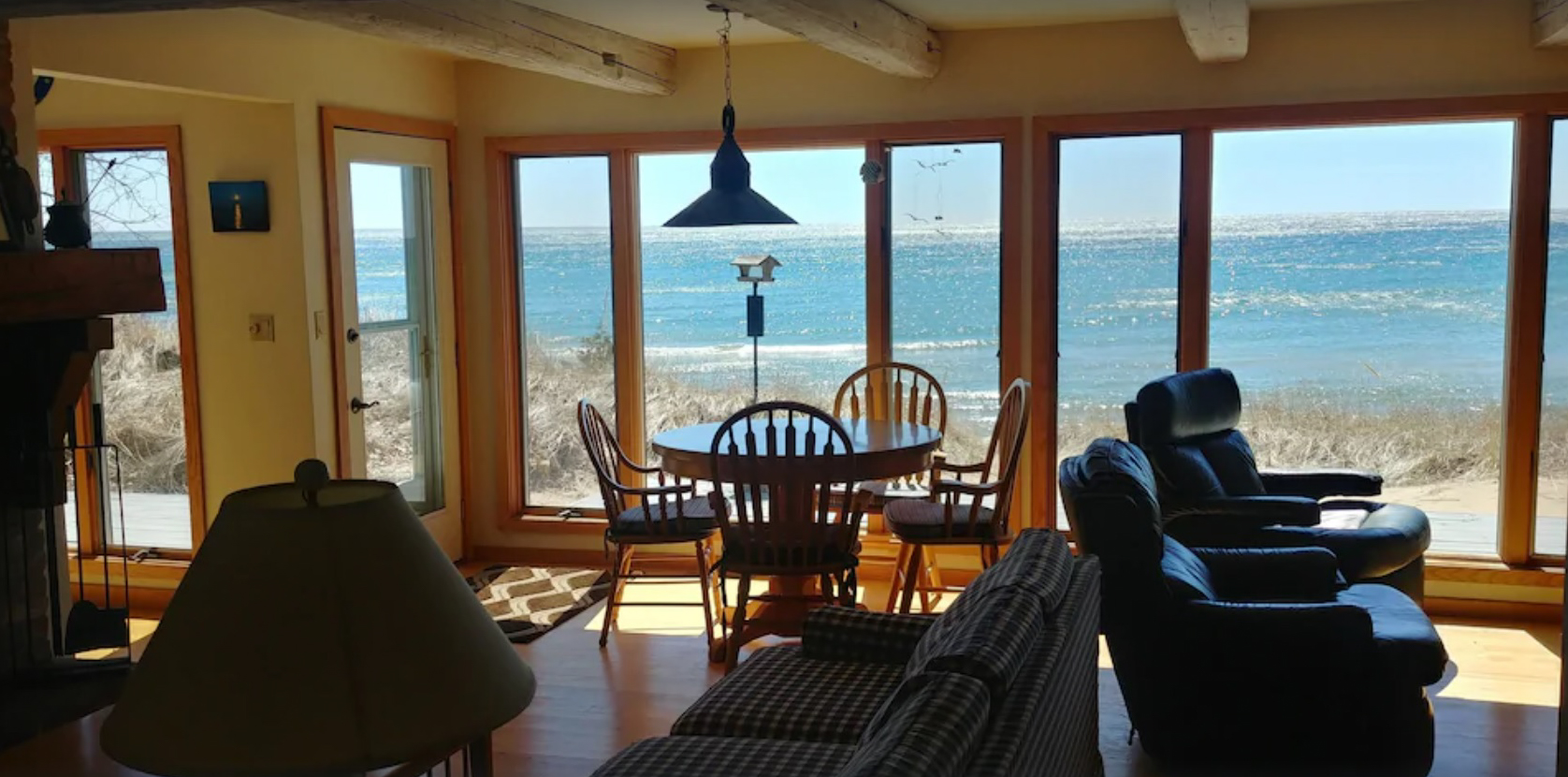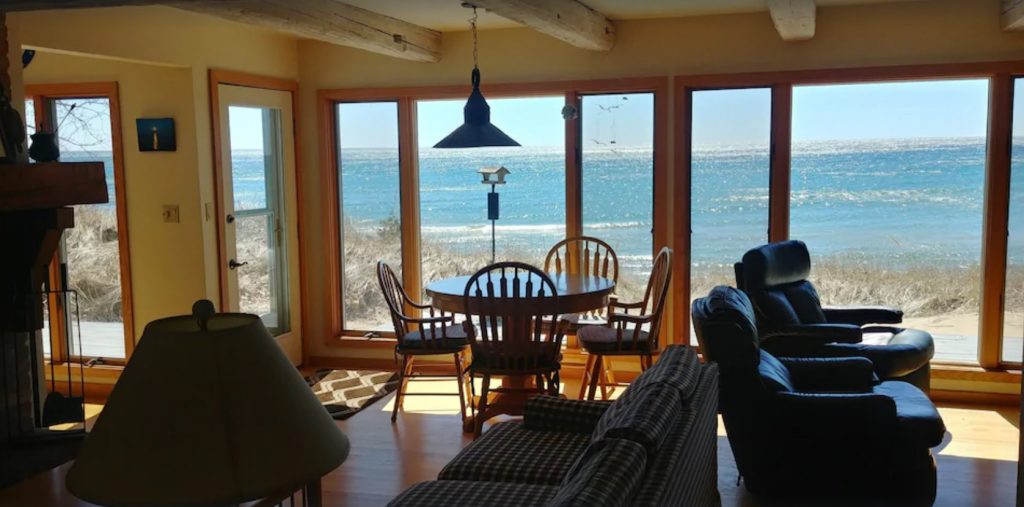 Beachfront home bordering Whitefish Dunes State Park – Sturgeon Bay, Wisconsin
A terrific beachfront home featuring 5 bedrooms, big windows, and skylights; it also has water views from all rooms. Wake up to the sound of the waves rolling onto the beach and take in the surrounding beauty of white birch trees, assorted evergreen trees, sand dunes, and a variety of wildlife. The property is on the "backside" of Whitefish Dunes State Park, and guests get to enjoy morning coffee on the expansive, beachside deck. See how awesome Whitefish Dunes State Park looks during fall in this post.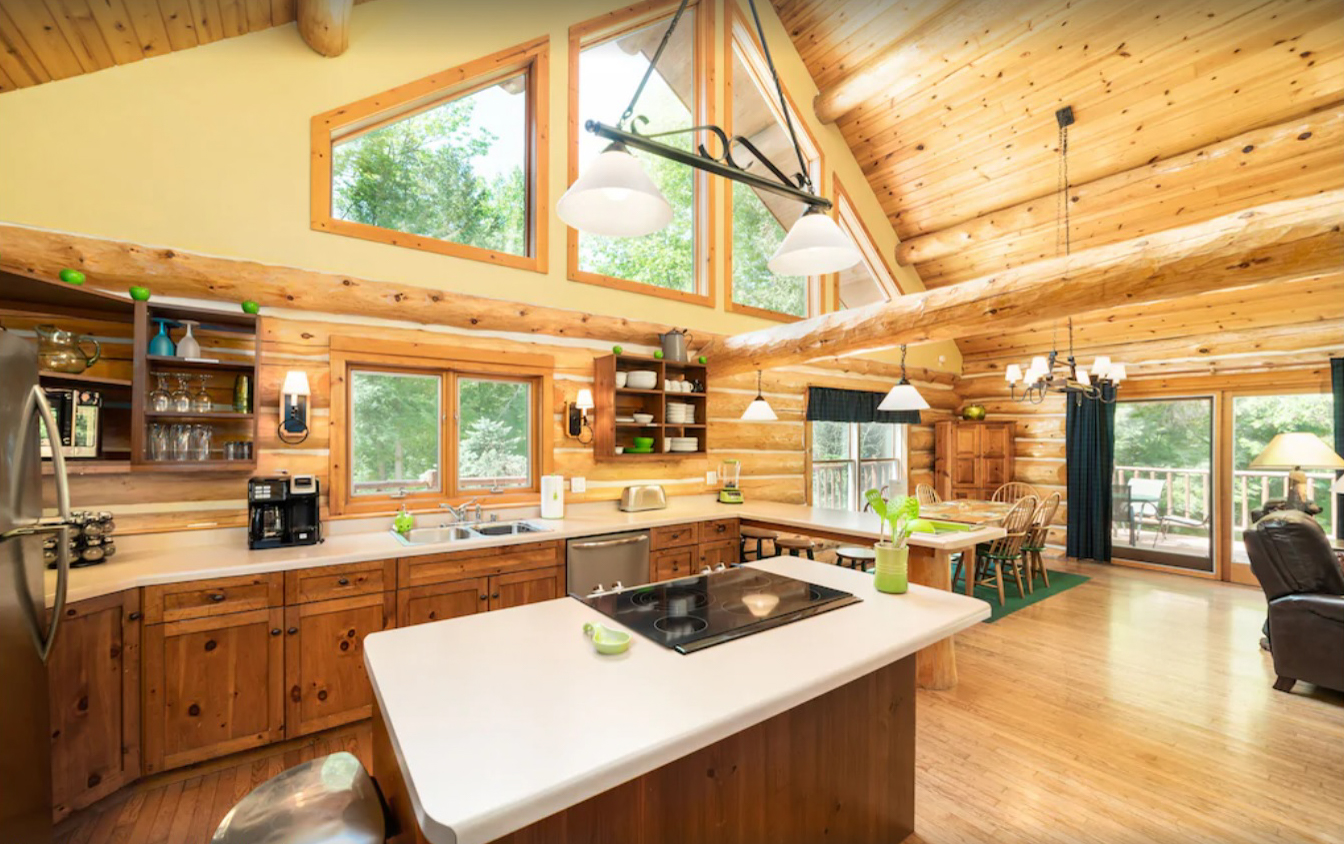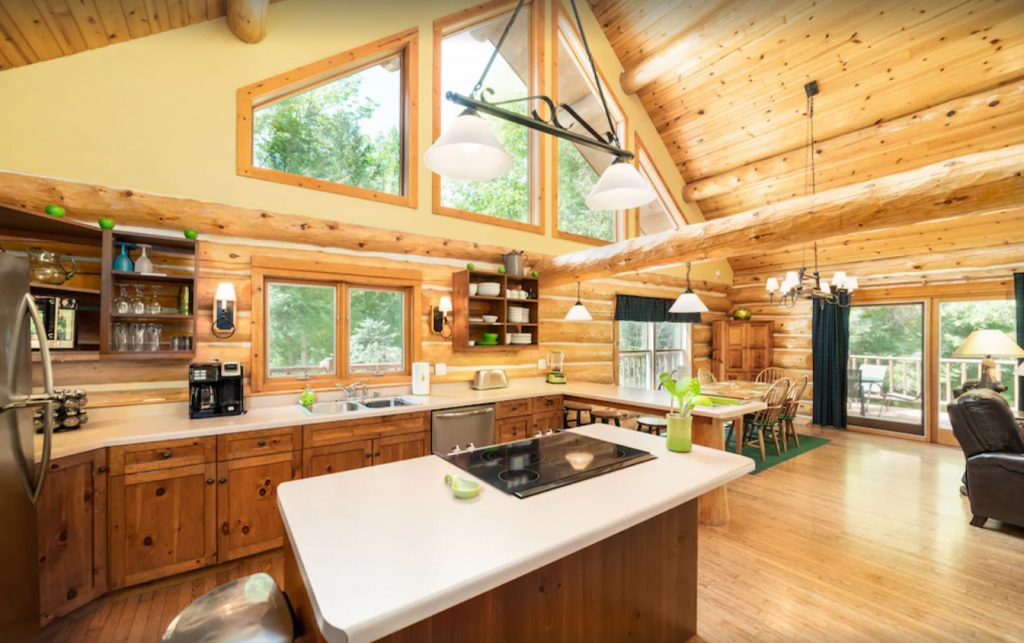 Rustic log home with therapeutic hot tub – Door County (details provided after booking)
This rustic yet cozy 3-bedroom log home with a therapeutic hot tub makes for an amazing stay. The property is beautifully decorated with barn boards and distressed pine furniture, giving it its rustic ambiance. The southern exposure gets in plenty of light to give the space a very open, cheery feeling. Amenities include two full baths, fully equipped kitchen, dining room, laundry room, and a living area with a natural stone fireplace.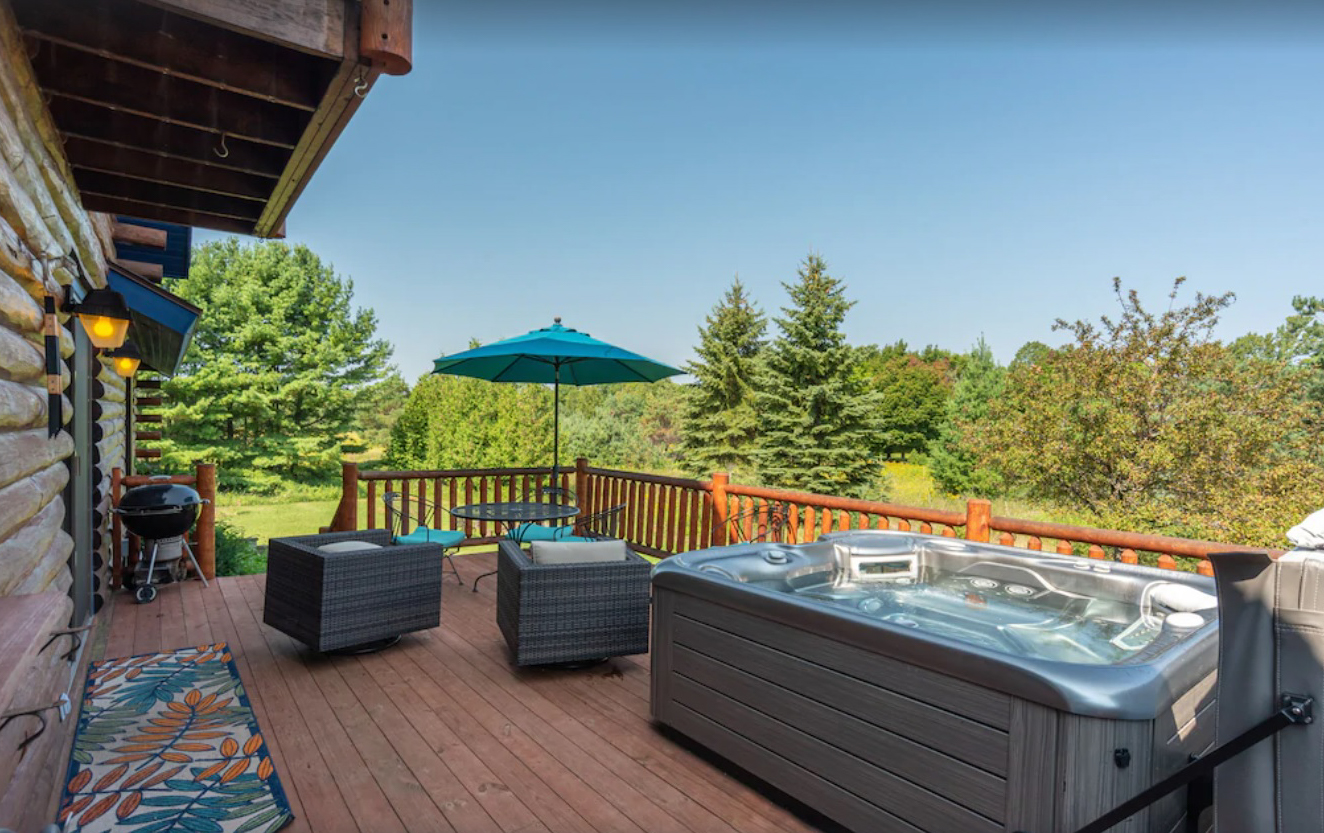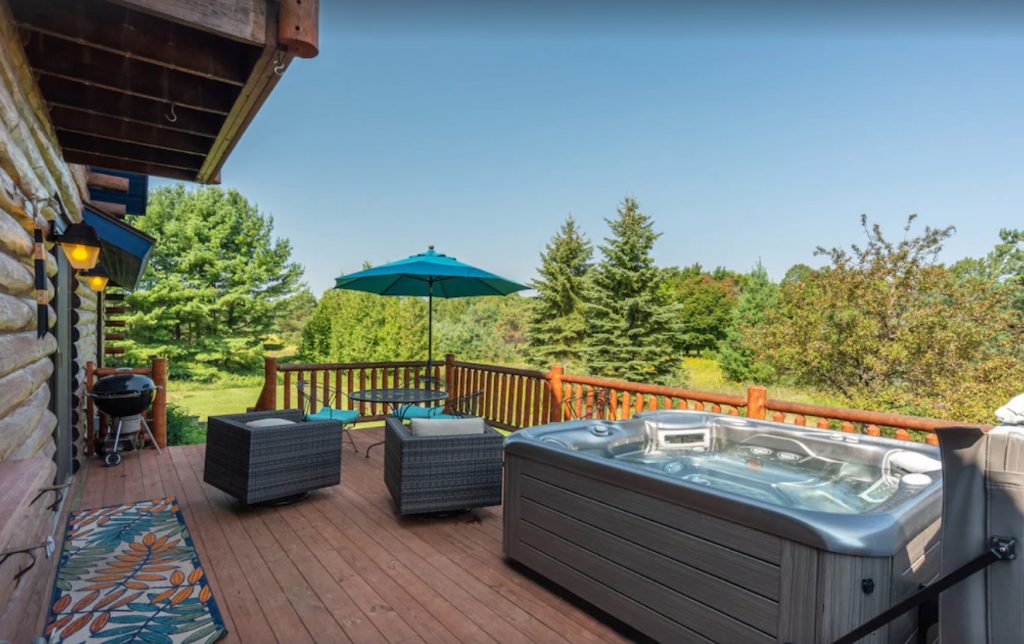 Cabin home with hot tub – Ellison Bay, Wisconsin
Nestled between Lake Michigan and Green Bay is this lovely cabin home that's also two miles away from a sandy beach. The 3-bedroom property's interior centers on a breathtaking two-story fieldstone fireplace. For some outdoor fun, guests can relax on the deck, covered patio, or around the fire pit. One can also sit on the front porch and bird-watch. Better yet, relax in the hot tub while sipping your favorite wine to destress.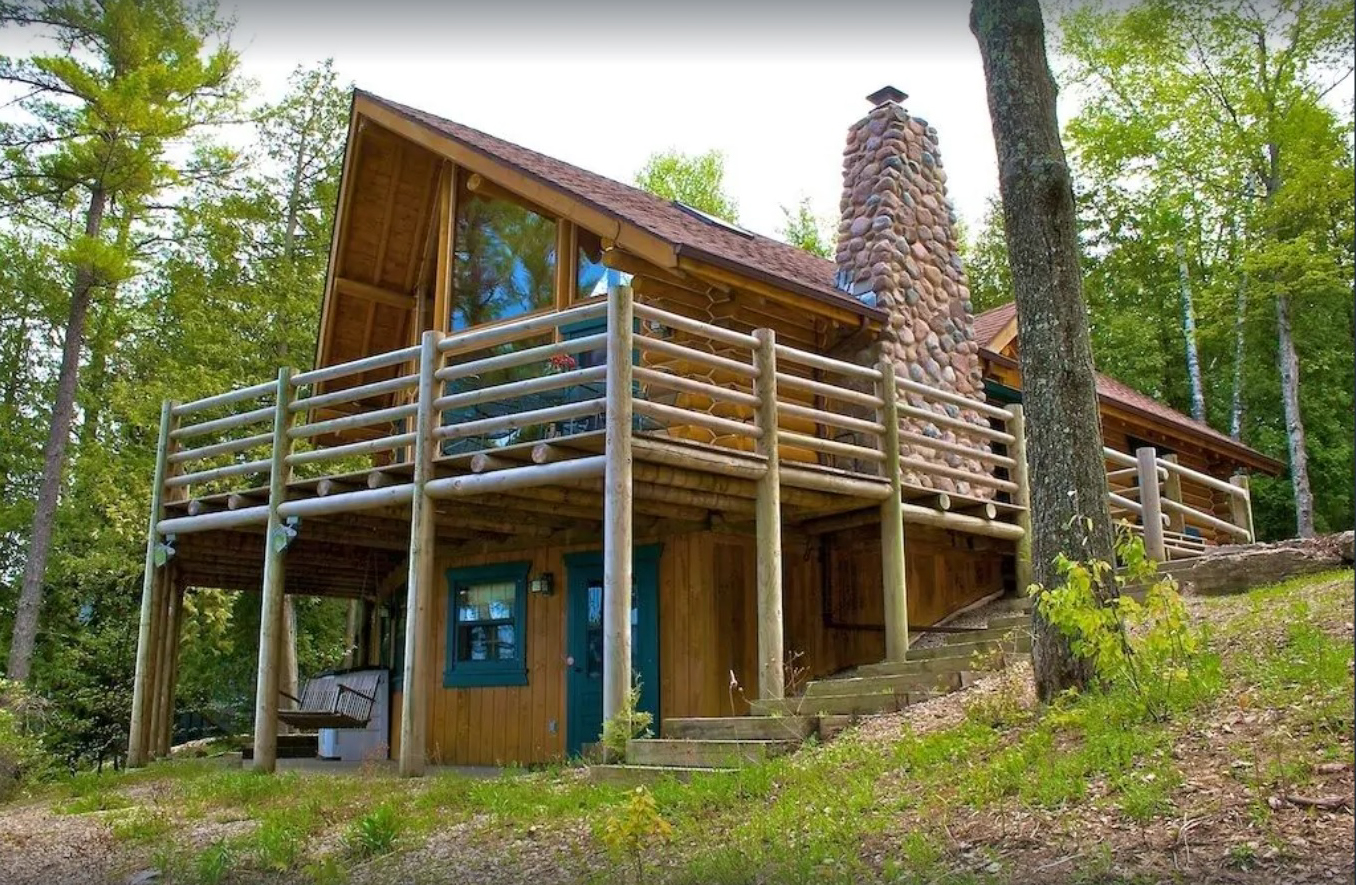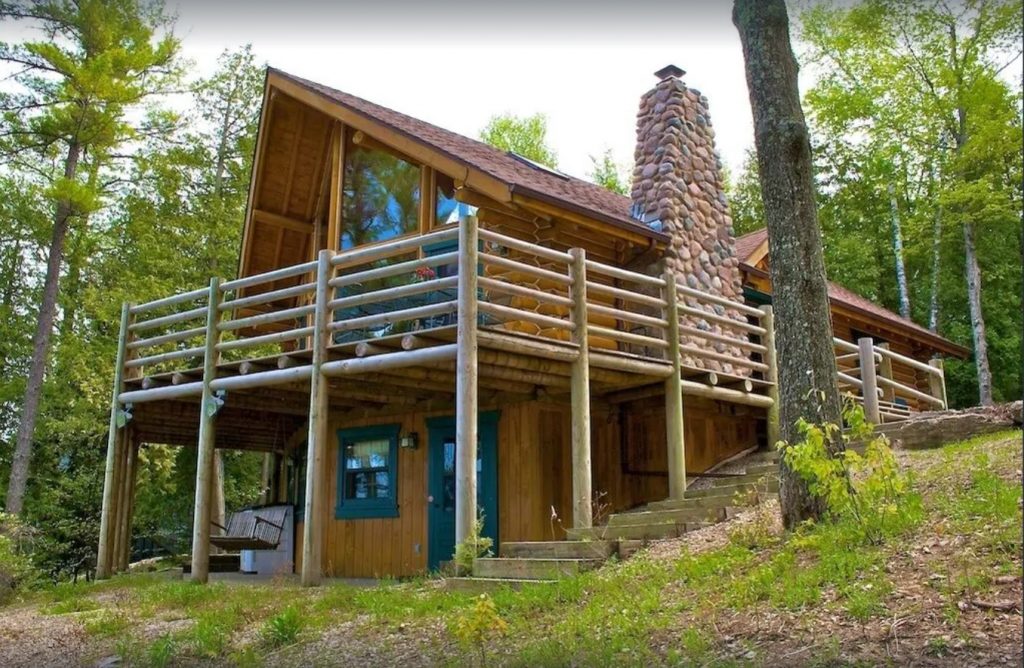 Log home with harbor views – Fish Creek, Wisconsin
This gorgeous log home with amazing harbor views overlooking Fish Creek awaits guests' arrival any season. It features spacious bedrooms (sleeps up to 8) and a comfortable living space and a beautiful deck. The property is secluded but is close to Peninsula State Park. It also has an open area for friends and family to gather over the fireplace on chilly nights or seasonal access to the Bay View Lodge's outdoor heated pool and whirlpool.
Modern Waterfront Lake Cabin – Sturgeon Bay, Wisconsin
An H-frame cabin located on Clark Lake in Door County, in the heart of the bay of the Northeast shore, this cabin is close to Lake Michigan, Cave Point County Park + Whitefish Dunes State Park! Enjoy lake life with fishing, swimming, boating while being close to all the amazing restaurants + wineries. This modern-eclectic cabin has the best second-story view of the entire lake, with floor-to-ceiling windows and ample room to kick back with a cup of coffee or glass of wine.
Relax in the sunroom with cozy seating, and a stunning view of the lake. You'll find shallow swimming off the dock for kids and a spacious deck with a farm table and patio furniture to enjoy one of Door County's epic sunsets! This cabin is perfect for hosting up to 2-3 families, couples getaways and can sleep up to 10 people. Enjoy air conditioning, a washer and dryer, new appliances with a fully stocked kitchen, recently remodeled bathroom, fire pit, kayaks, canoes, paddleboat and the option to rent a pontoon!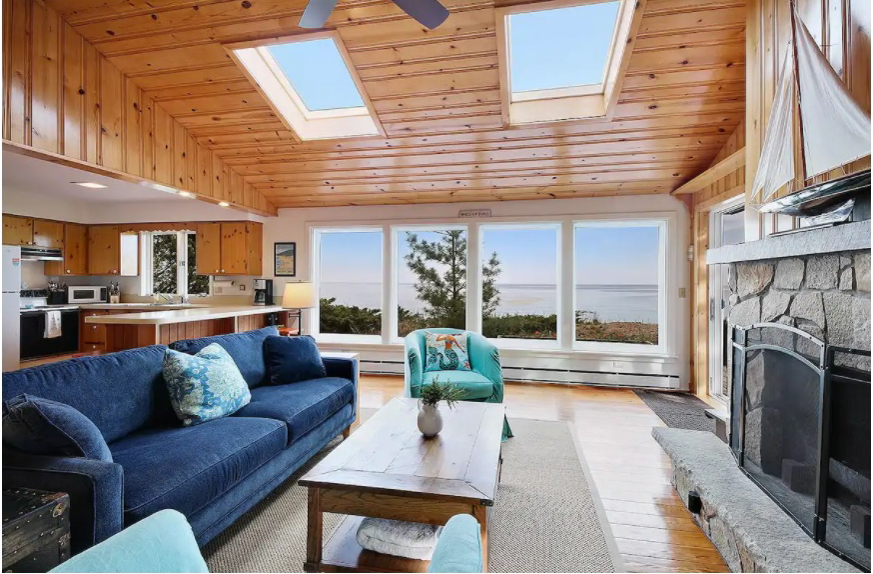 Gorgeous cottage with waterfront view – Sturgeon Bay, Wisconsin
Have a wonderful week at this lovely 3-bedroom cottage in a secluded wooded lot with a gorgeous waterfront view. The cottage is perched on the banks of Lake Michigan, giving guests a breathtaking 180-view of Whitefish Bay. There's also a large deck off the living area which is the perfect spot to catch the sunrise and enjoy morning coffee. For the adventurous, the Whitefish Dunes State Park is ideal for hiking, biking, or running trails.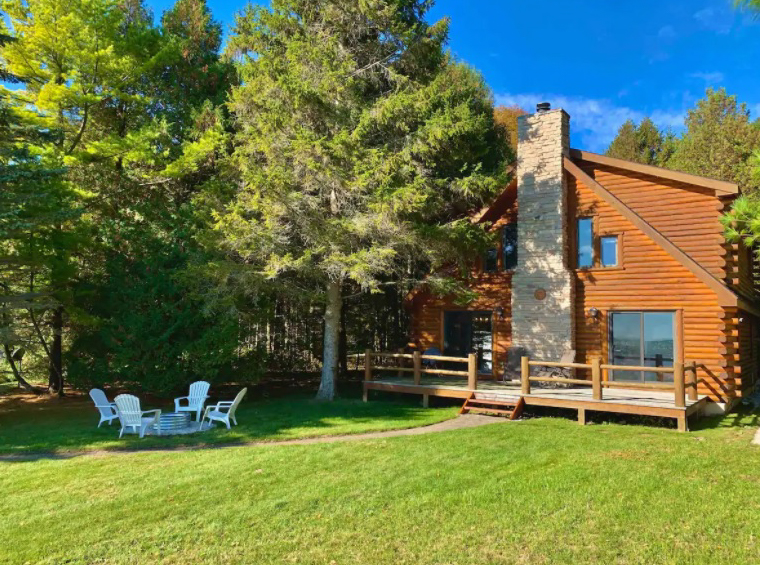 Cabin retreat with amazing Lake Michigan views – Algoma, Wisconsin
A homey cabin on Lake Michigan seems like just what the doctor ordered for those looking for a peaceful retreat. The cabin sleeps up to 8 guests and has the amenities of home including a well-stocked kitchen. There's also an indoor fireplace and an outdoor fire pit for a cozy camp out. Guests can also relax on the deck, take the kayaks out for a spin, or play games with friends and family into the night.

Cozy hideaway cottage with lake views – Baileys Harbor, Wisconsin
Spend a wonderful weekend at this cozy 2-bedroom cottage on the shores of Kangaroo Lake. Enjoy the sunsets, go kayaking, or simply hung a hammock between two trees in the property's spacious yard. It has a fully-equipped modern kitchen with countertops, wood flooring, and appliances. Outside are barbecue and picnic-style tables with chairs and a spot for a boat at the dock. Go swimming, fishing, or canoeing and simply enjoy Door County at its finest.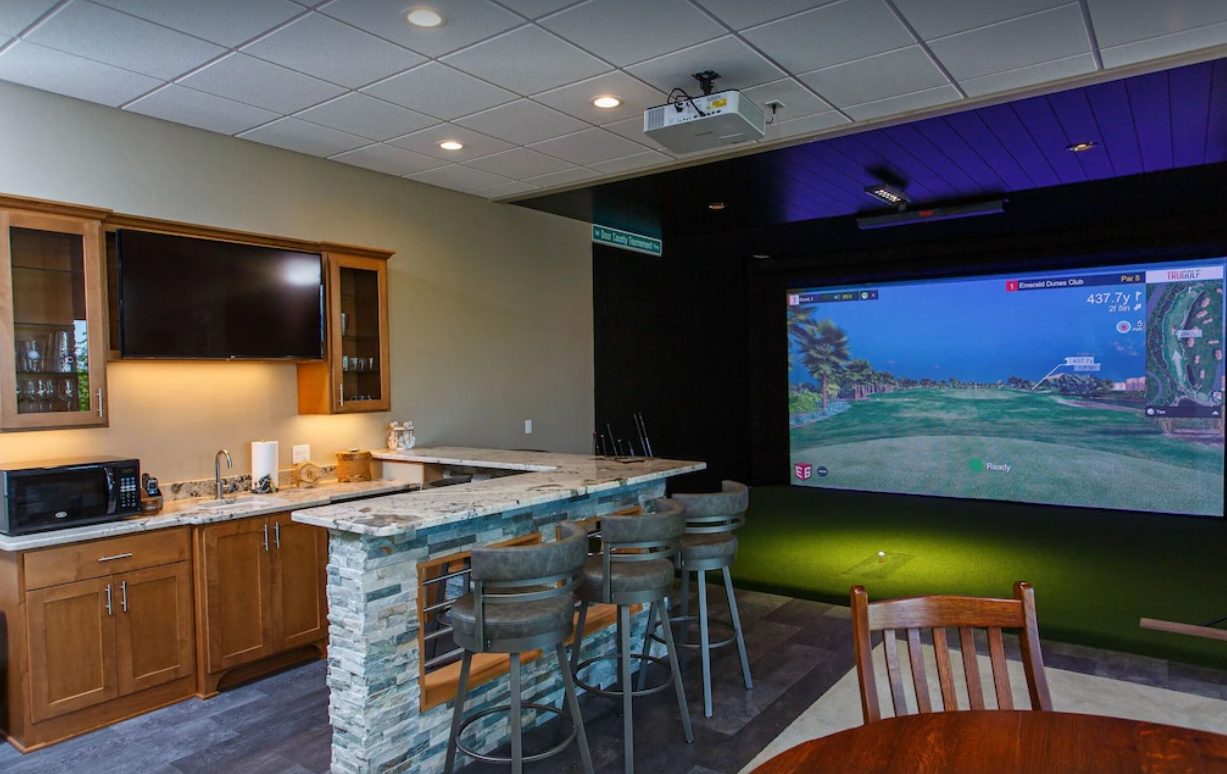 Stunning Bluff Views of Bay With Game room & Golf Simulator – Sevastopol, Wisconsin
This stunning luxury cabin includes 3 bedrooms with 3 full bathrooms over two levels. The main level has a great room, cook's kitchen, master bedroom with en suite and a 2nd bedroom with a bathroom. You will find fireplaces in the great room, all bedrooms, and in the lower level. Lower level includes a bar/kitchenette, a living/game area, GOLF SIMULATOR room (clubs provided), and a 3rd bedroom with bathroom. This bluff side lot is walkable, and the outdoor space is stunning, regardless of the season! Guests have access to the garage which includes a Tesla charger if needed!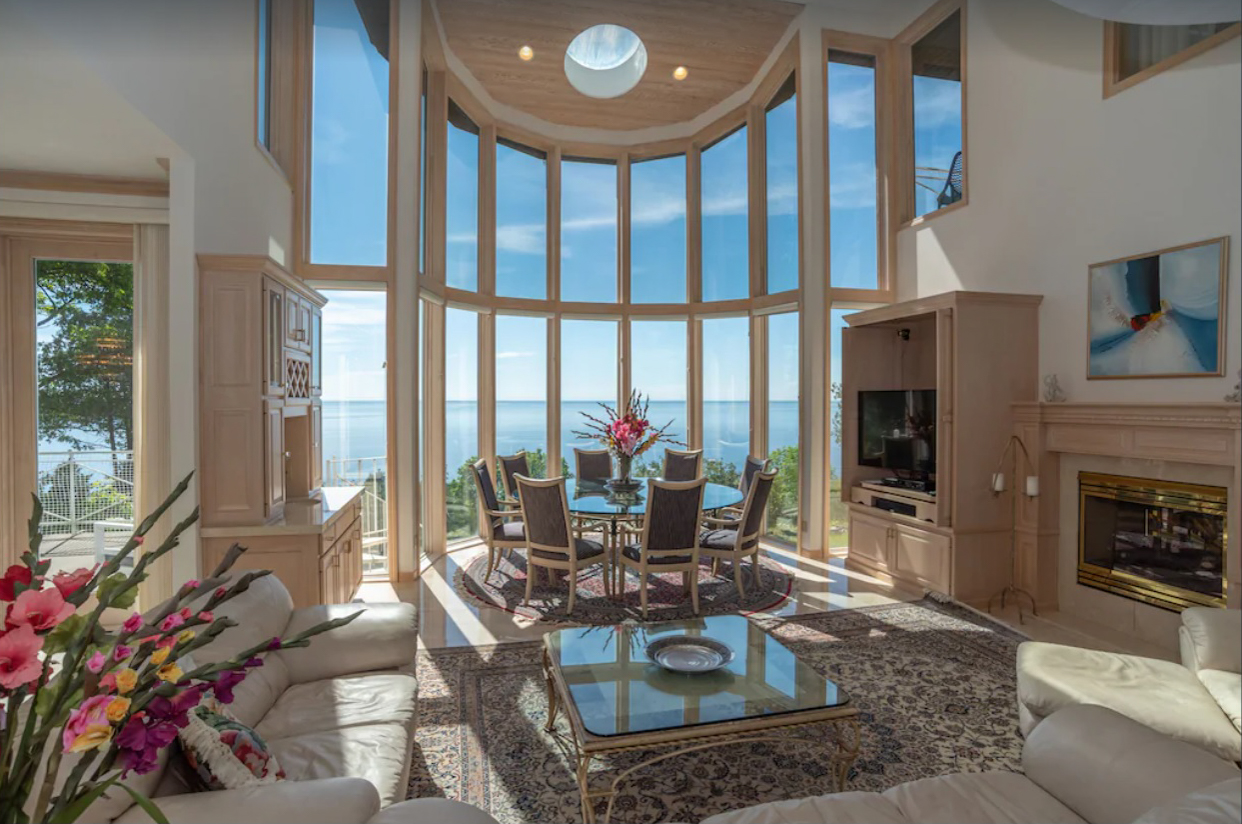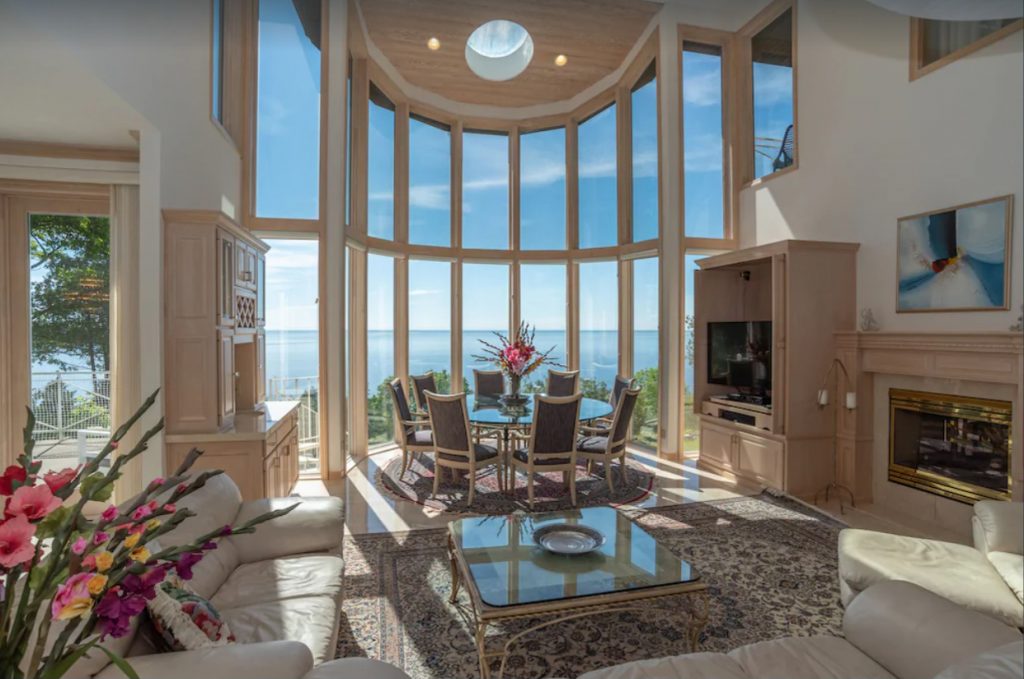 Contemporary vacation home – Egg Harbor, Wisconsin
This contemporary vacation home was designed as a family gathering space with entertaining in mind. Take in the dramatic views from the large double patio that overlooks the lake and tree-lined harbor. Enjoy the breathtaking sunsets each evening as you gather to discuss the day's adventures. Only a short walk from the heart of Egg Harbor or a bike ride to the local beach, you'll be right on the cusp of your favorite Door County activities.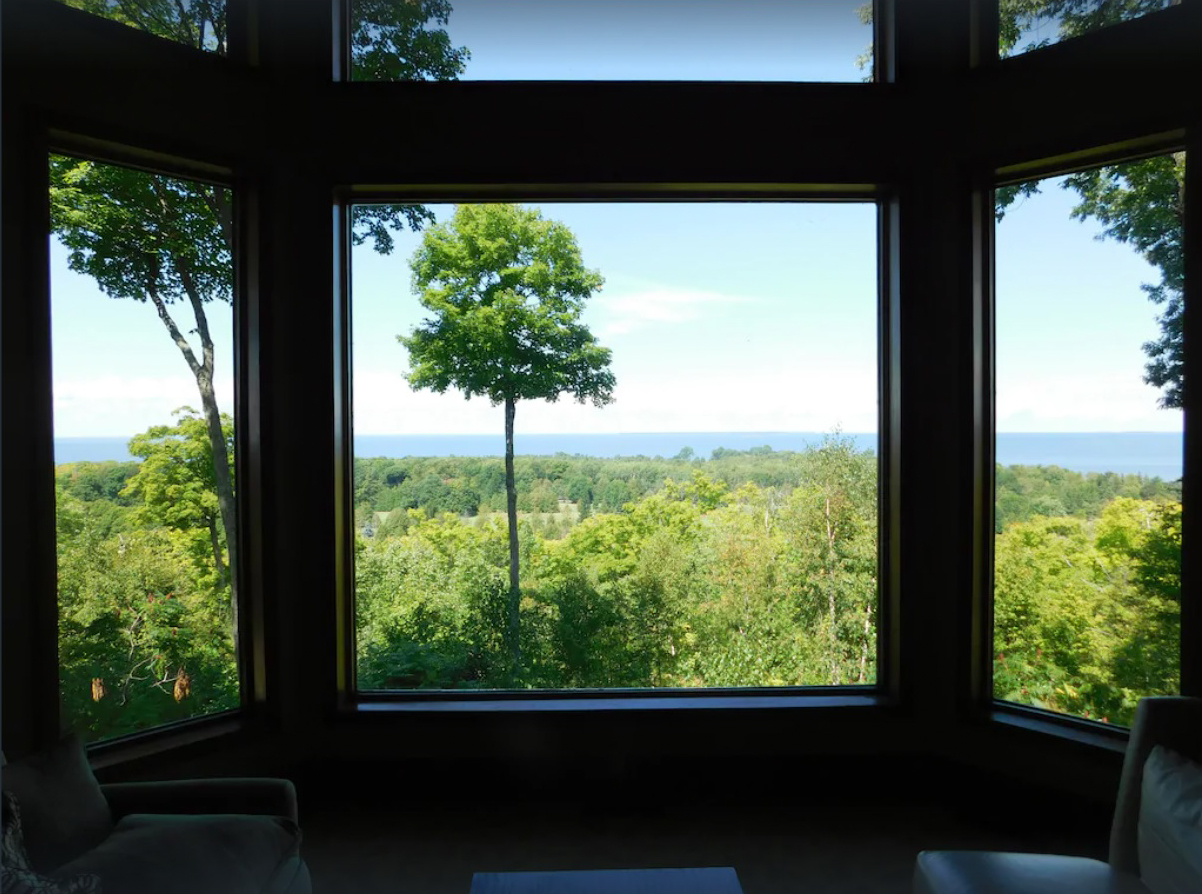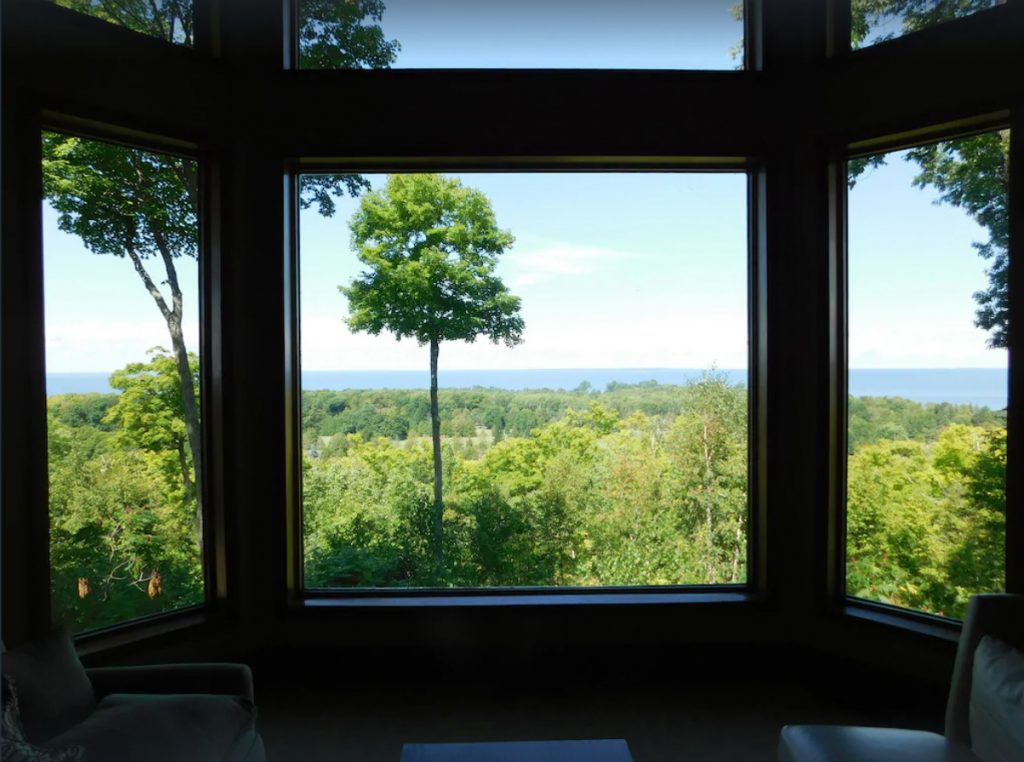 Cozy condo with indoor and outdoor pool – Egg Harbor, Wisconsin
A nice 1-bedroom condo in Landmark Resort with full amenities and a beautiful view of Green Bay during the day. It's situated on a wooded 40-acre bluff overlooking Lake Michigan and is only a few steps away from the outdoor pool and whirlpool. It's also the second closest unit to the Carrington Bar & Grille where guests can chill and have a fun dine-out with friends or family.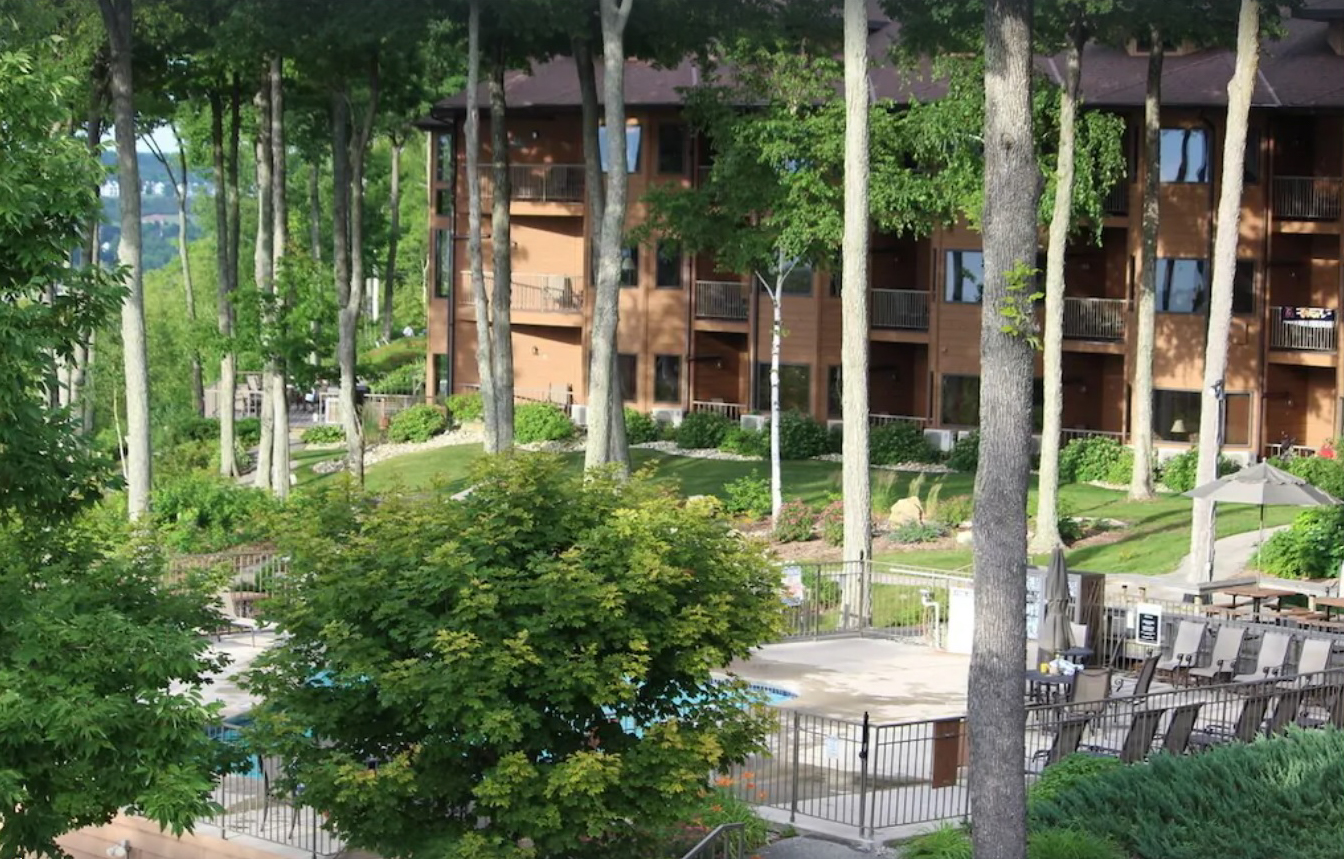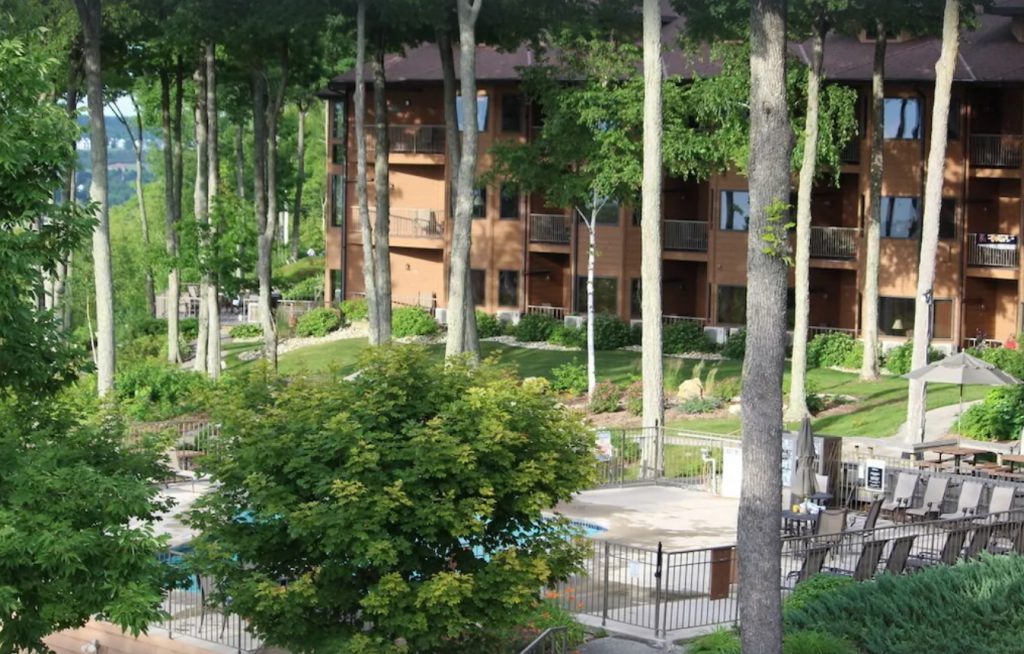 Hotel condo with water views – Egg Harbor, Wisconsin
A 2-bedroom, 1 bathroom hotel condo with great water views and a balcony located in the Harbor Building. Imbibe in the beautiful view of fall leaves and lake and experience Door County through its parks, beaches, wineries while making this hotel condo a home base. Guests will have access to resort amenities including three heated outdoor swimming pools, indoor swimming pool, free wireless internet, outdoor picnic areas with gas grills, on-site laundry facilities, game room, fitness center, steam rooms, and game courts among others.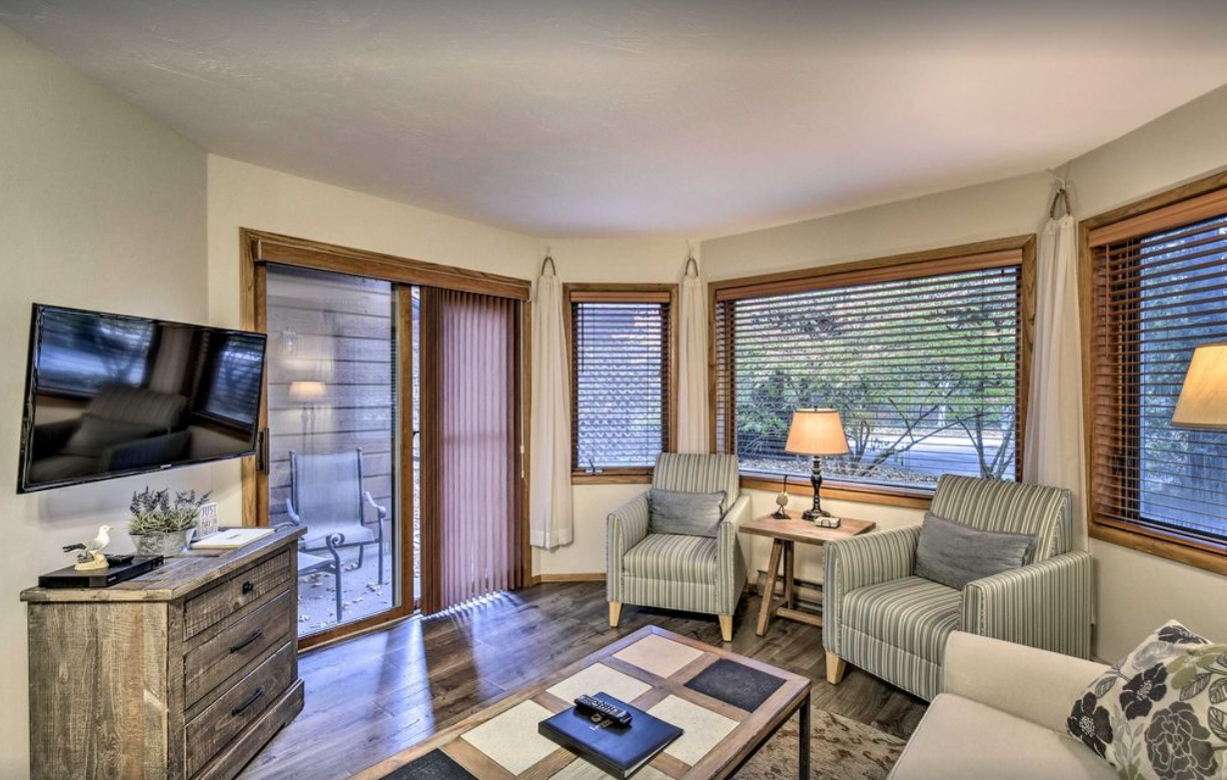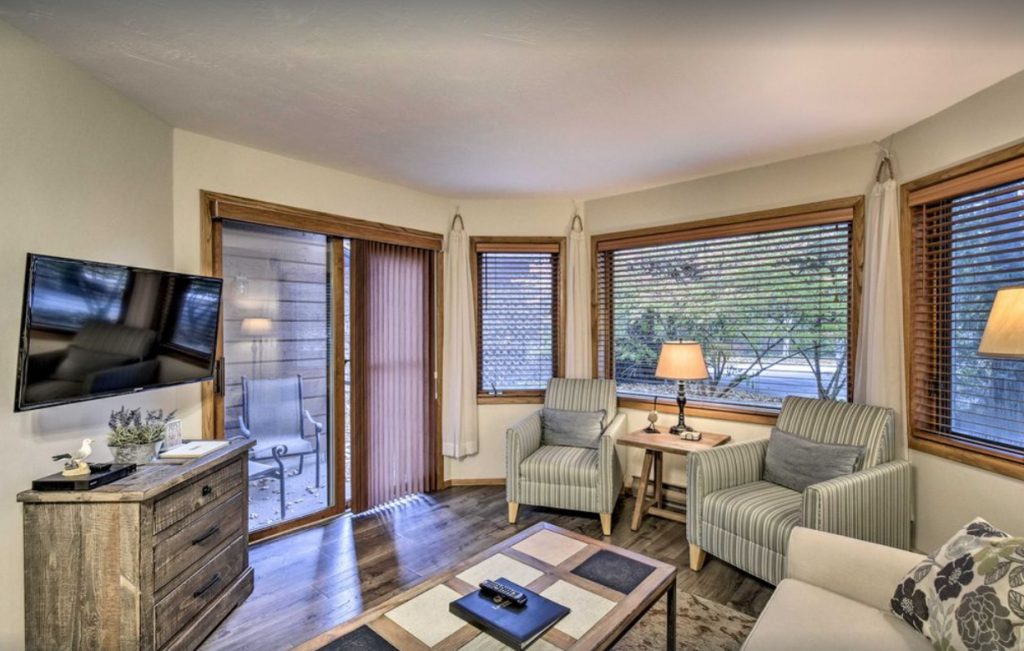 Condo with resort amenities – Egg Harbor, Wisconsin
A 1-bedroom condo haven perfect for couples or small families. It boasts the perfect amenities to keep guests occupied all year round including 3 heated outdoor pools, indoor pool, game room, fitness center, and a playground. Swim, relax, and explore the surrounding Door County attractions with this vacation rental as the strategic home base.
Unique Door County rentals
---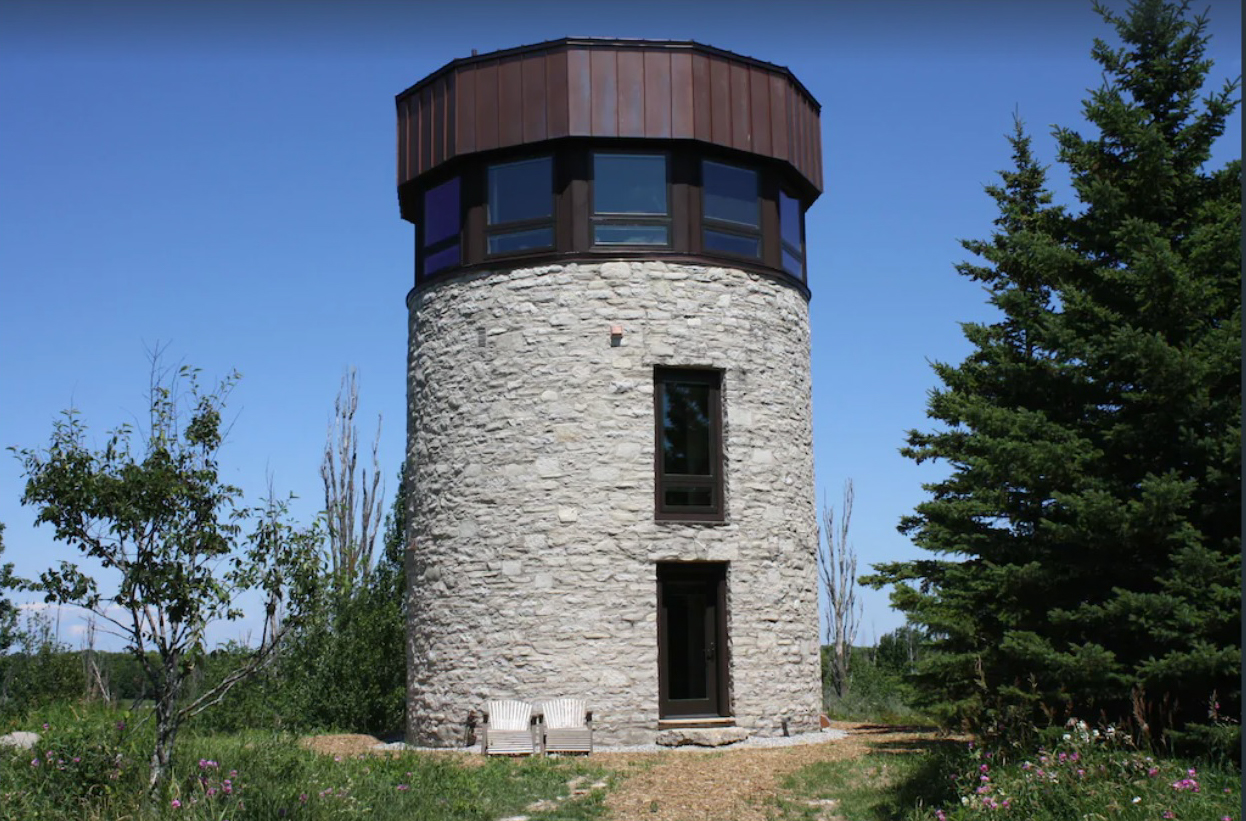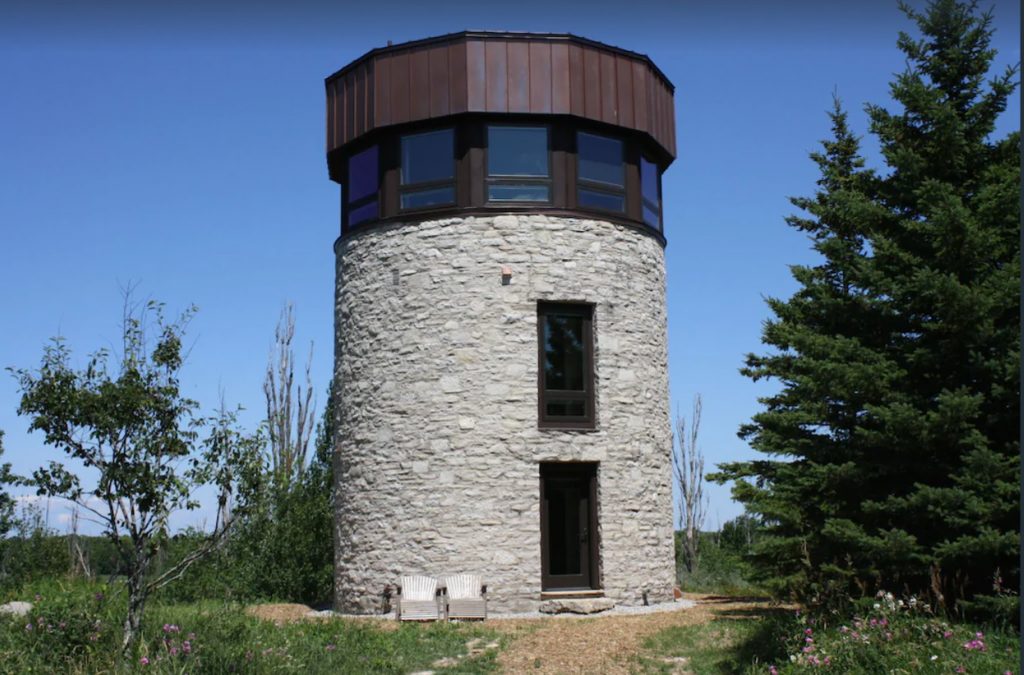 Brenner Tower – Ellison Bay, Wisconsin
Looking to get off the beaten path? This is the vacation rental for you! Enjoy sweeping views from the 365-degree windows of rolling fields, Bay of Green Bay and Washington Island. The tower's first floor has a family room and half bath with three separate doors to walk out. The master bedroom is situated on the middle floor with a shower and half bath behind the bed.
Door County Church Restored to a Beautiful Home – Sister Bay, Wisconsin
Very close to the village of Sister Bay is Maple Manor, a 2-acre estate with a historic church that has been transformed into a beautiful home. The great room is 27′ x 47′ with a beautiful fireplace and several sitting areas. Off this room are 4 bedrooms all with their own fireplaces and whirlpool baths. The large eat-in kitchen is also off this extraordinary room. Upstairs are 2 more bedrooms each with its own whirlpool baths and each with its own staircase. The basement has 2 bedrooms, a bathroom with walk-in shower, big screen TV, pool table and a shuffleboard table.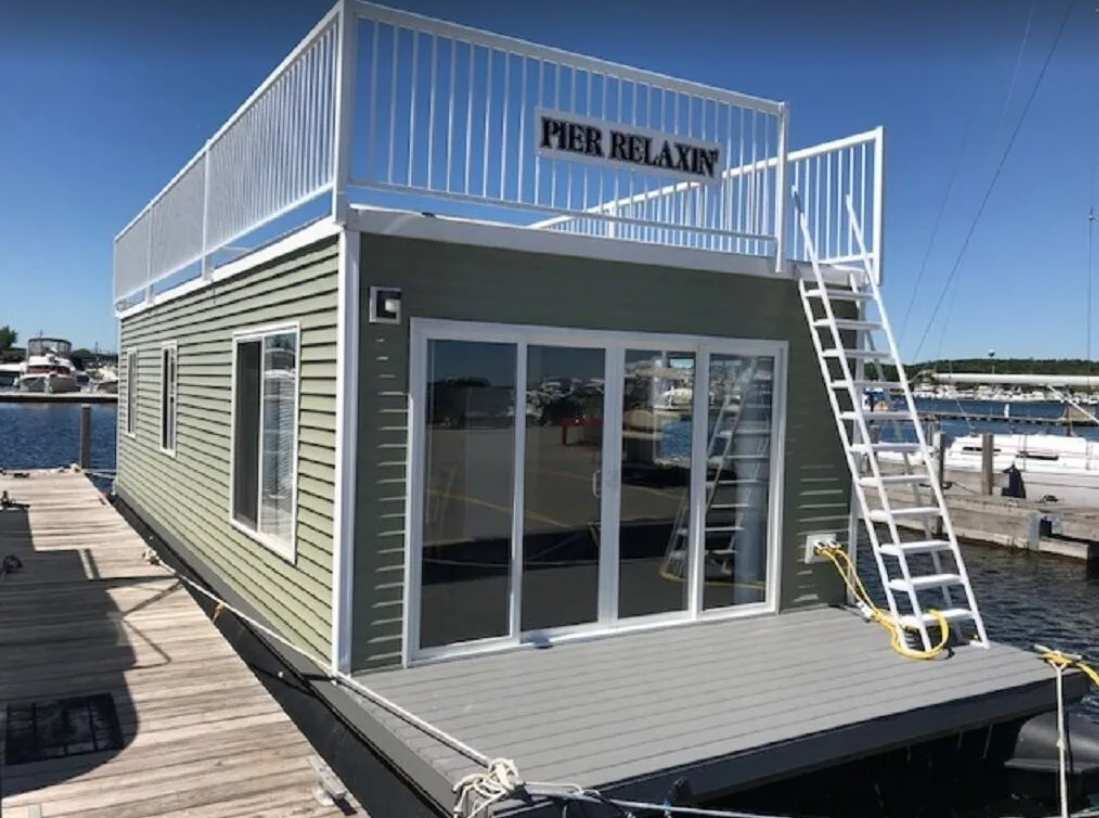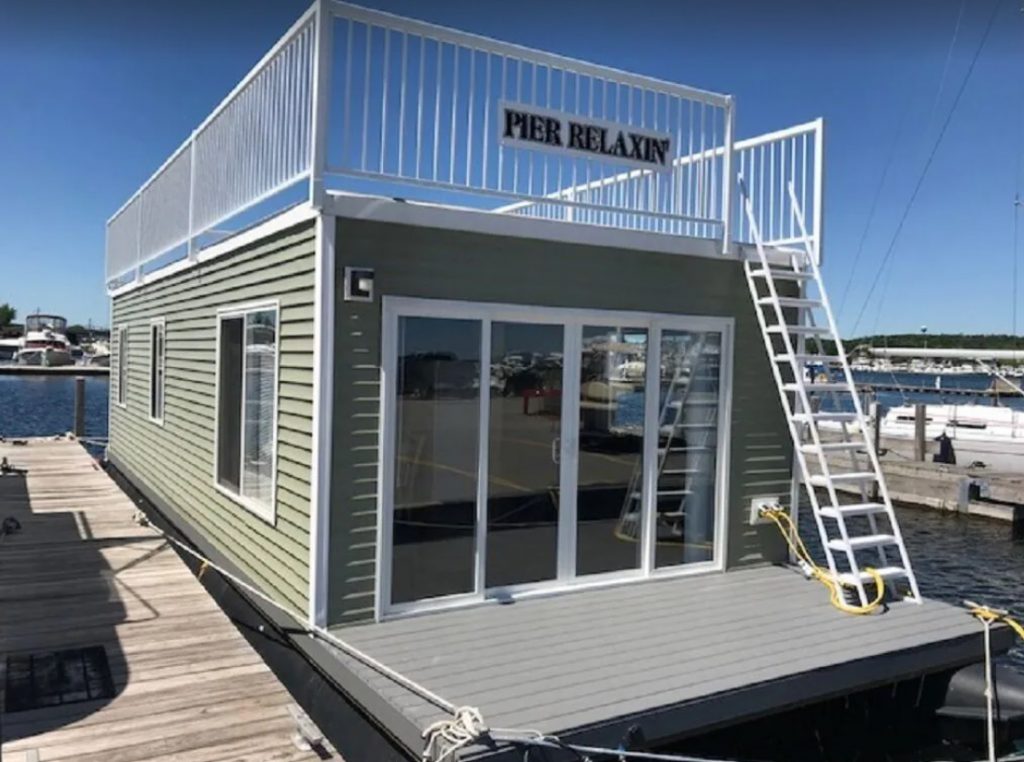 Door County Houseboat – Sturgeon Bay, Wisconsin
Door County Houseboat Rentals has a one-of-a-kind lodging experience awaiting you on the edge of the Sturgeon Bay canal in beautiful Door County, WI. Pier Relaxn', a newly constructed floating cottage features all the comforts of home with sleeping accommodations for up to 6 people.
Which of these cabins in Door County looks the coolest to you? Let me know in the comments!