My Experience Glamping in Wisconsin at Coadys' Point of View Resort
Wondering what it's like to go glamping in Wisconsin? This post explains my experience glamping at Coadys' Point of View Resort in Phelps, Wisconsin.
Glamping is a luxury style of camping I am in full support of (think beds and heat). I seek out these experiences wherever possible. From treehouses in the Amazon to luxury tents in Wadi Rum to a sailboat in Racine, I've been on a roll the last few years!
So, I was very excited to see I had some incredible glamping options available right in my own backyard in Wisconsin.
Coadys' Point of View Resort in Phelps currently features 10 glamping options, in addition to their cabin rentals and bring-your-own tent campsites. Their glamping sites feature luxury tents and remodeled vintage campers. Their rates are also some of the most affordable I've seen for an experience like this!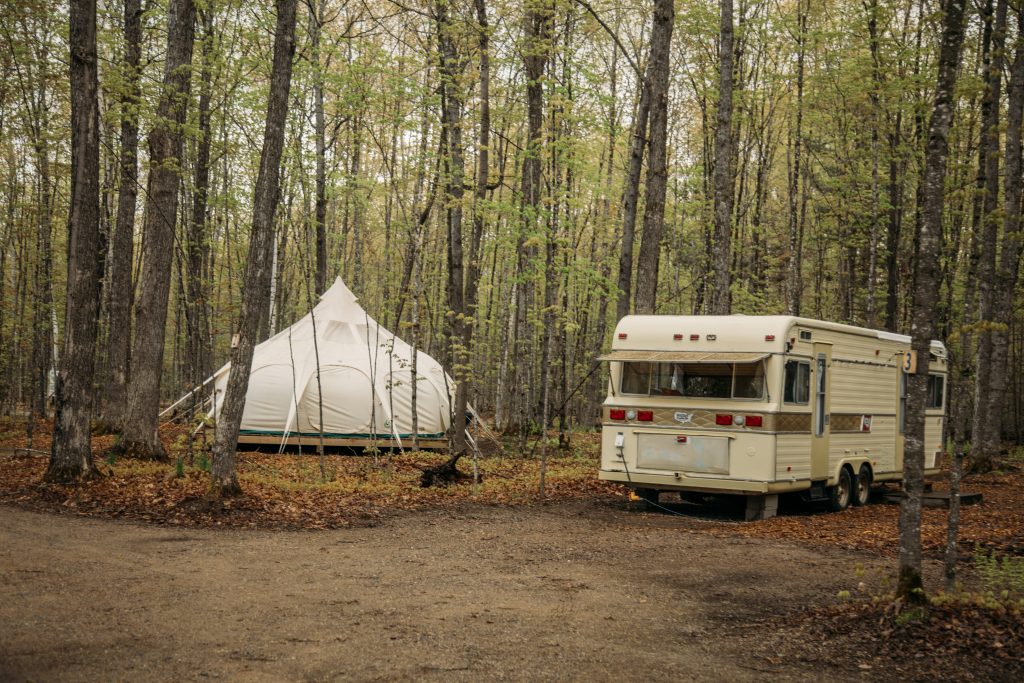 My Experience Glamping in a Vintage Camper in Wisconsin
My husband and I tried their 1961 Wolfe Vintage "Fiesta and Siesta" Camper late this spring for a romantic little weekend getaway. It was a bit chilly that weekend (hovering right around freezing at night), so staying in a camper vs one of the tents seemed like a good way to stay a little warmer at night!
The tents and campers do come with space heaters that require a 1 lb propane canister (which can be purchased at the resort general shop or you can bring your own). This kept us plenty warm!
Our camper was VERY clean. We were both impressed by this! The camper was also decorated in a very cute 60s fiesta style and featured a VERY comfy memory foam mattress. (We're actually looking to get a new mattress after this experience, haha. The resort's owners said the mattresses are Wayfair's "bed in a box" memory foam mattresses.)
They also featured some fantastic pillows. Pillows are something I am super picky about, and I ended up liking the resort's pillows better than the one I had brought with me! I even took a photo of it so I could order it when I got home, haha. Needless to say, we were very pleased with this sleeping situation!
The camper was perfectly comfortable for 2 people to spend a weekend together in. (This is perfect for a couple looking for a romantic getaway together!) We would definitely stay in the "Fiesta and Siesta" again!
Things to note about glamping at Coadys' POV:
Even though some of the options are campers (like the one we stayed in), they do NOT have running water or bathrooms in the campers or tents. There is a bathhouse that features private toilet/shower facilities just a couple of minutes walk from the campers.
There are NO pets allowed.
It's a campground, so you may hear other campers. However, they do have a quiet policy after 10 pm – if you're having any issues with your neighbors just let the owners know.
There is electricity! So you can charge phones, have lights on, run fans, etc.
The rates are VERY affordable. Even during the peak summer season, Coadys' POV glamping rates are LESS than $160 a night. You really can't beat their prices for such a unique experience!
There is Wifi in the common area of the resort. However, this didn't extend to our camper – which was rather nice, though. We wanted to be disconnected here.
The sites do have a grill and fire pit. So, you can cook here if you want!
I recommend reading Coadys' POV packing list before coming too! I also packed my own tiny coffee pot, as I need coffee the minute I wake up to function properly. (The rec room does have coffee, though.)
The Amenities at Coadys' Point of View
When you glamp at POV Resort, you also get access to the resort's amenities! Here are their complimentary amenities:
A rec room, complete with high-speed internet, a pool table, two new large TVs to stream movies & sports, vintage video games, and board games
Sandy beach area and swim platform
Kayaks, canoes, paddle boards, and paddle boats to use (free to guests)
Full basketball court that is also pickleball friendly
Sand volleyball that features a full sand pit
There are hiking trails on site
A horseshoe pit
Badminton, tetherball, ring toss, sandbox, playground and swing set
Tons of yard games
Boat launch
Fish cleaning house
Boat slips, snowmobile & trailer parking
On-site general store
A coin-operated laundry
Guests also have the option to rent fishing and pontoon boats!
Needless to say, there are PLENTY of things to do here – no matter what time of year you visit. We enjoyed walking around the lake and on the hiking trails, and just relaxing by the water!
There really isn't any reason to leave the resort, unless you don't feel like cooking for yourself. Haha. Fortunately, there are also some great restaurants and bars nearby!
Fun Food/Drink Options Near Coadys' POV & Things to Do
We had dinner our first night at Lanny's Fireside in Conover, which is less than a 20-minute drive from the resort. I could NOT get over how good the food and drinks were here. This was fine dining in a rural area. I loved it! Their ahi tuna rolls were incredible and their fish special that night was incredible. It was the best meal I've had in as long as I can remember. (Plus, the waitstaff was super friendly.)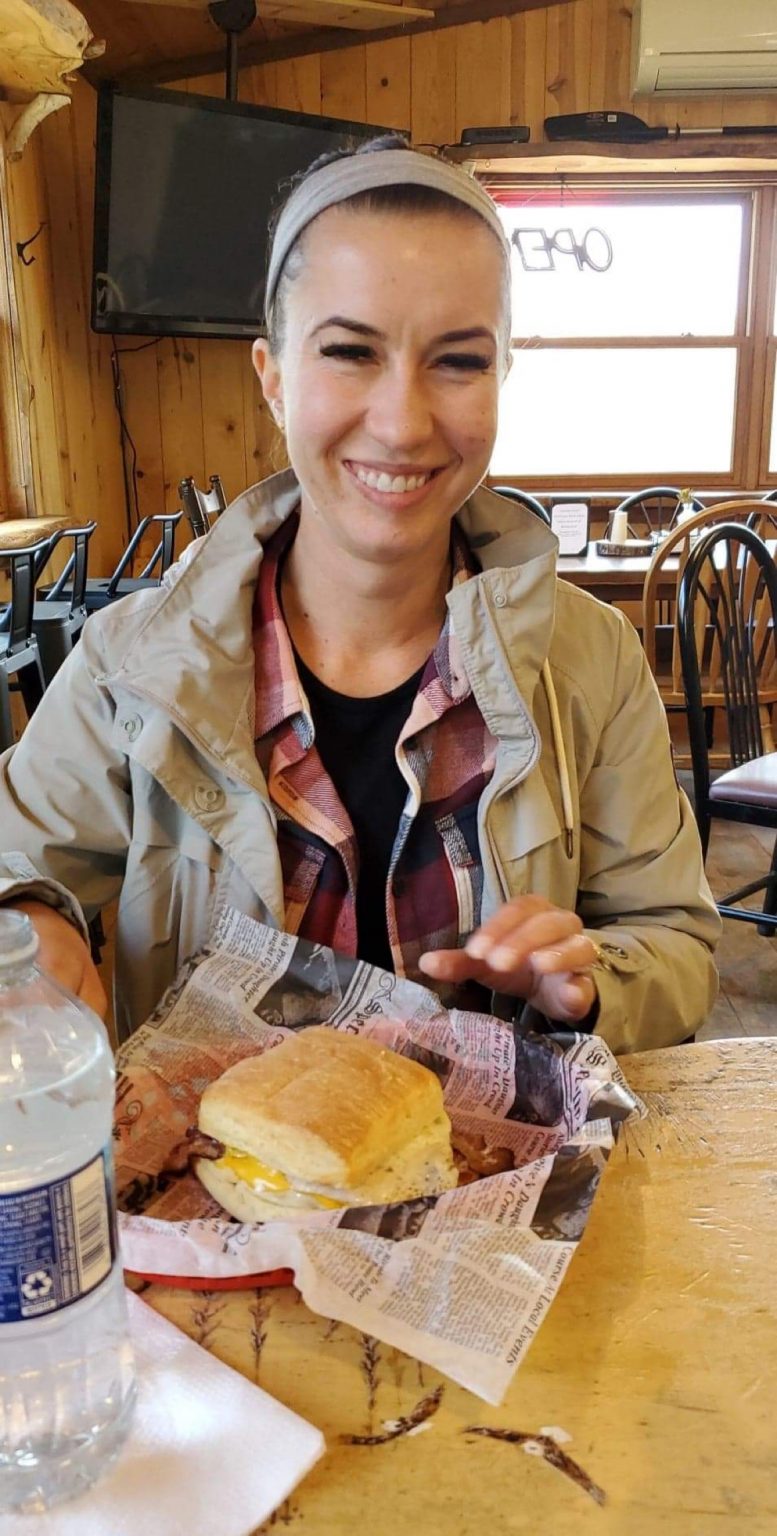 We got up the next morning to drive to the Forest Lake Country Store for their breakfast sandwich, as it had come highly recommend to us by our family. It's a 30-minute drive from Coady's POV in Land O' Lakes, but it is SO worth the drive. This is the best breakfast sandwich in the world, hands down. The store itself also has a lot of fun jams, snacks, beers, wines, liquors, etc. We'll be coming back next to try one of their Bloody Marys too!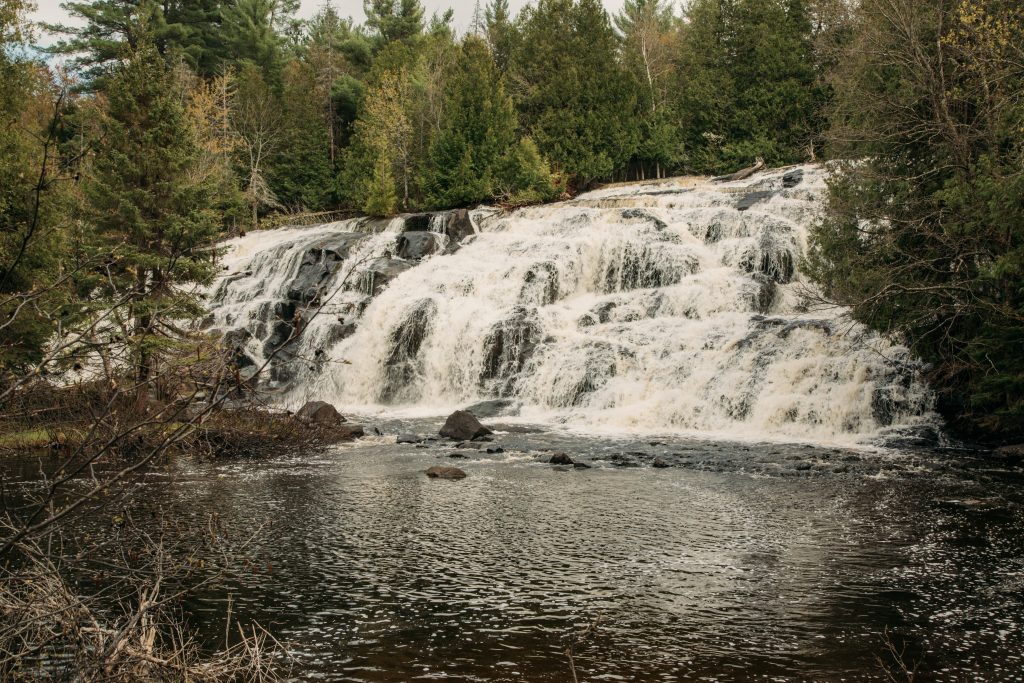 After breakfast, I wanted to see Bond Waterfalls in Michigan. It's about a 45-minute drive from Coadys' POV. I really enjoyed it! You can get very close to the falls here.
We stopped for ice cream in Paulding afterward at the Paulding General Store – that was AMAZING as well and ended up being our lunch because we had gotten so much ice cream, haha. (If you are bored Google the Paulding light as well. It's something to see if you're in the area around dusk.)
Then, we went back to Phelps and had drinks and dinner at the Great Escape Bar. This was a great atmosphere and had wonderful cheese curds and pizza. If the weather had been a little warmer, sitting on their porch would have been awesome! It had great views of the lake and plenty of seating. (Again, they had super friendly staff too!)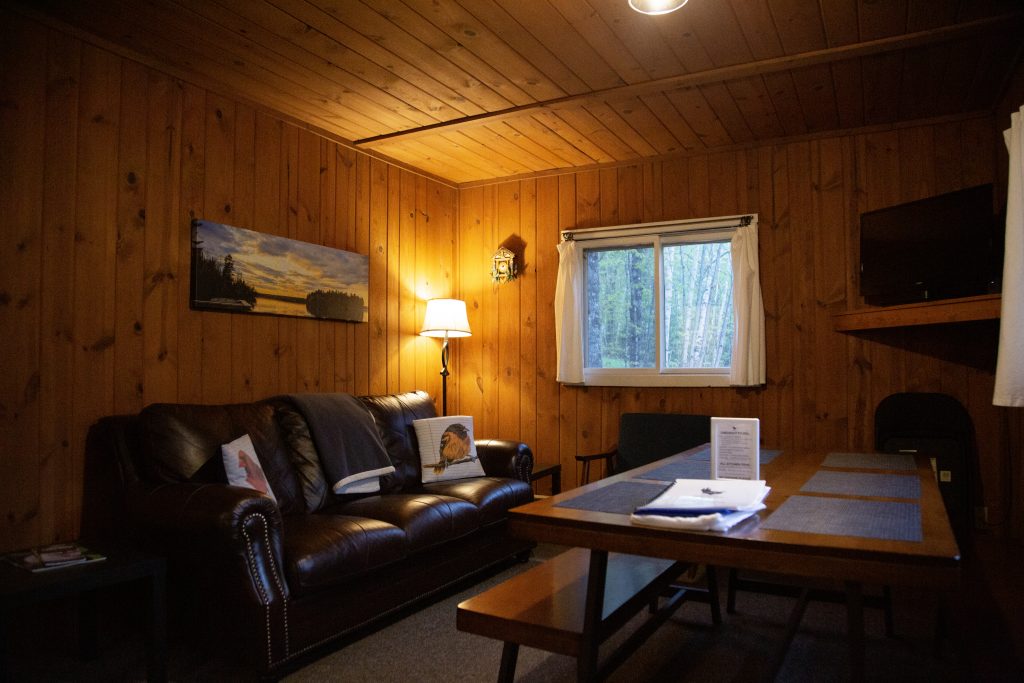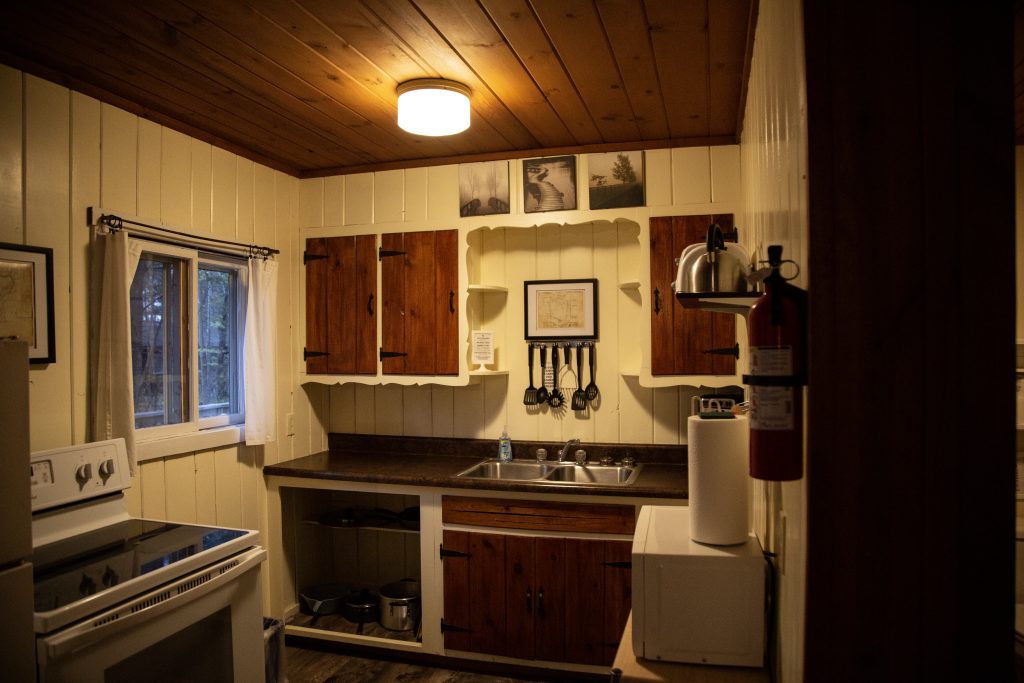 Booking a Glamping or Cabin Stay at Coadys' Point of View Resort
If glamping in Wisconsin is something that sounds fun to you – you can easily book a stay right on the Coadys' Point of View website. Their calendar will show you which glamping tents and campers are available as well as which cabins are available. (Their cabins are recently renovated and very nice as well!)
Due to their low prices and the limited number of units available, I highly recommend booking a stay at Coadys' POV NOW – especially if you're interested in staying on a weekend. The summer season books fast (and many cabins are already booked). Don't wait!
Bottom line: Both my husband and I had a fantastic weekend glamping in Phelps! We loved our camper and the Phelps area. We were both impressed by how nice the glamping accommodations were as well as the resort in general – especially for their affordable prices. We'll absolutely be coming back! We want to try one of the tents next time.
If anyone has any questions about glamping or Northern Wisconsin in general, please feel free to reach out in the comments section at the end of the post.
Thank you to Coadys' POV for hosting me for this stay. All opinions are my own, and I am never compensated for a positive review.