Staying on a Sailboat Airbnb in Wisconsin – What to Expect
Wondering what it's like to stay on a sailboat Airbnb? This post will explain!
I had stayed on a sailboat Airbnb in Racine, Wisconsin with my husband. The boat's name is "Clementine" (boats all need a name!), and she's a 29′ sailboat that is docked in the Reefpoint Marina. You may recognize Clementine from my list of the "coolest Airbnbs in Wisconsin!"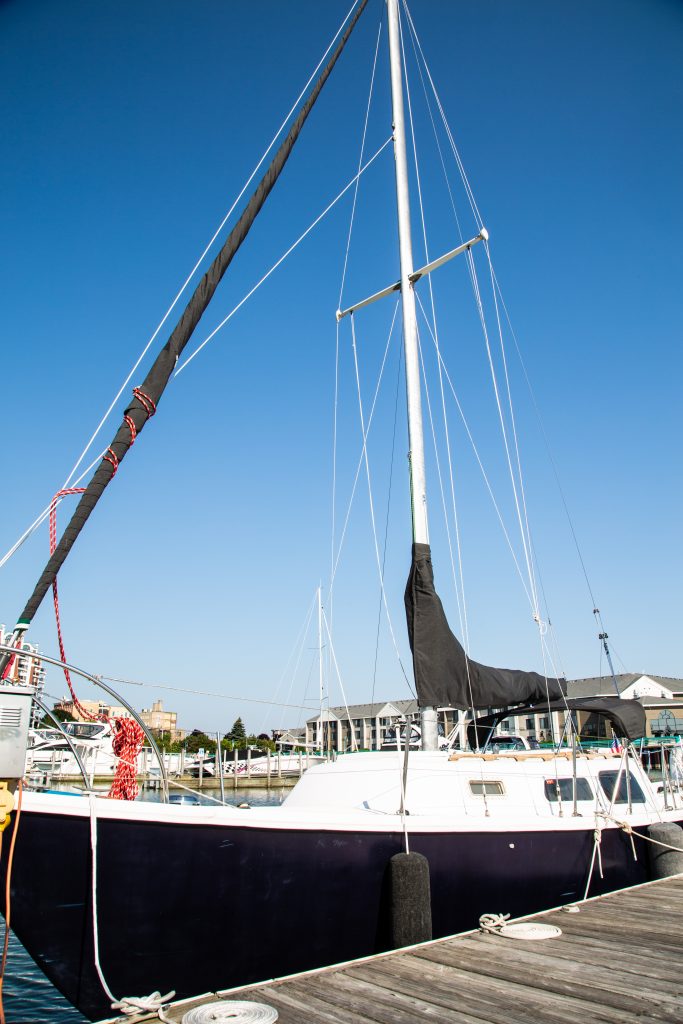 If you like trying unique accommodations as I do, Clementine is a great weekend getaway! This is a fun way to spice up the typical "book a hotel or rent a cabin" routine I tend to fall into during the summer when I'm looking to get away for a night or two.
My Experience Staying on "Clementine" – A Sailboat Airbnb in Racine, Wisconsin
I had been on a sailboat a total of one time prior to staying on Clementine (and that was in Ushuaia). I had decided after that one experience that sailing was just NOT for me. But staying on a docked sailboat for a night actually sounded pretty fun!
Clementine is docked at the Reefpoint Marina in Racine and is set up as a full-time Airbnb. She is a stay aboard listing only, meaning she doesn't leave the slip while you're here. I was perfectly content to enjoy a docked sailboat experience!
When you stay on any sailboat Airbnb, these are (typically) going to be docked boats. You're NOT going to be taking them out yourself. The owner may offer a quick ride, where THEY would be driving the boat, but that is not always the case (and certain permits are required, depending on what state the boat is in).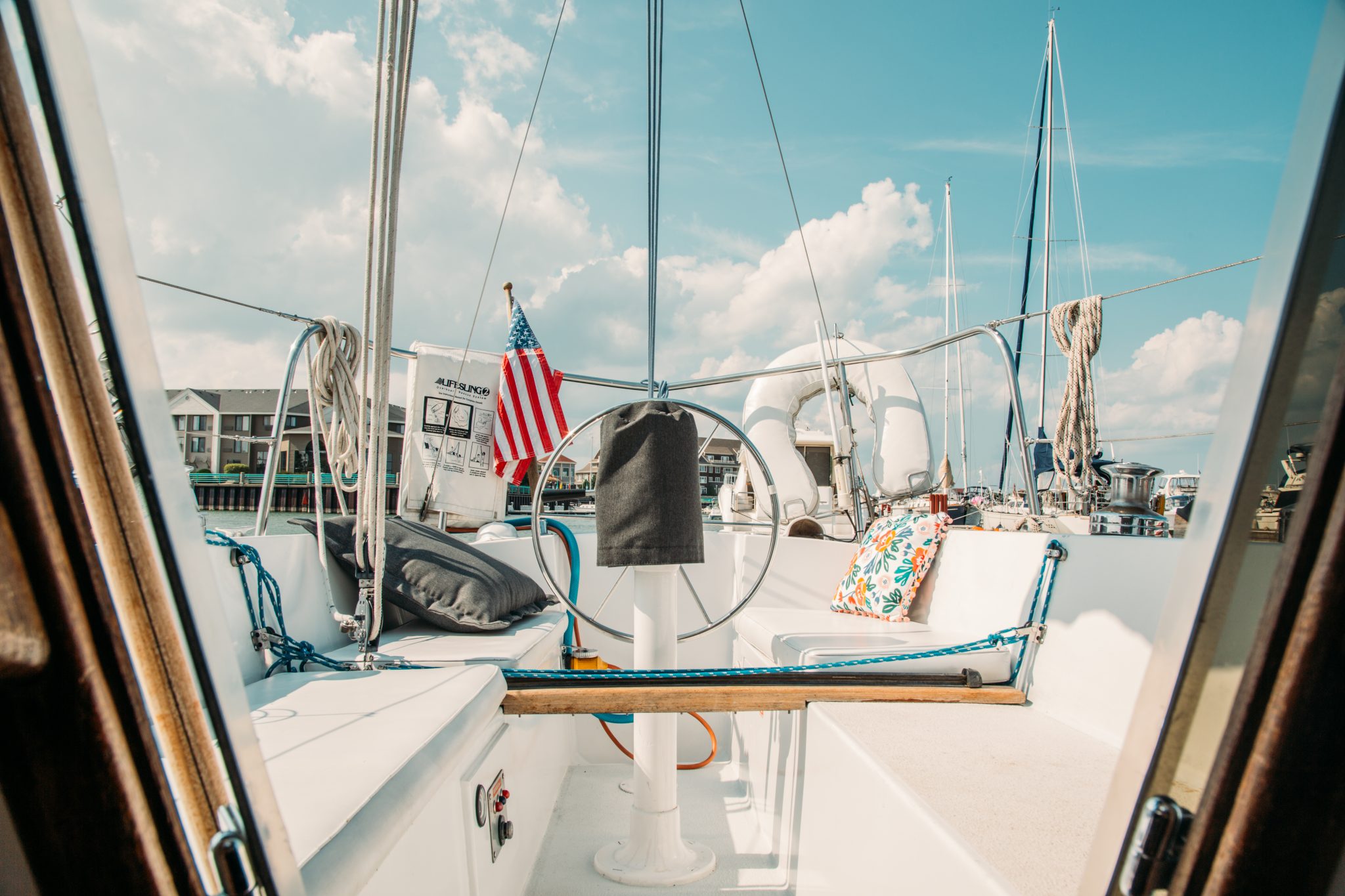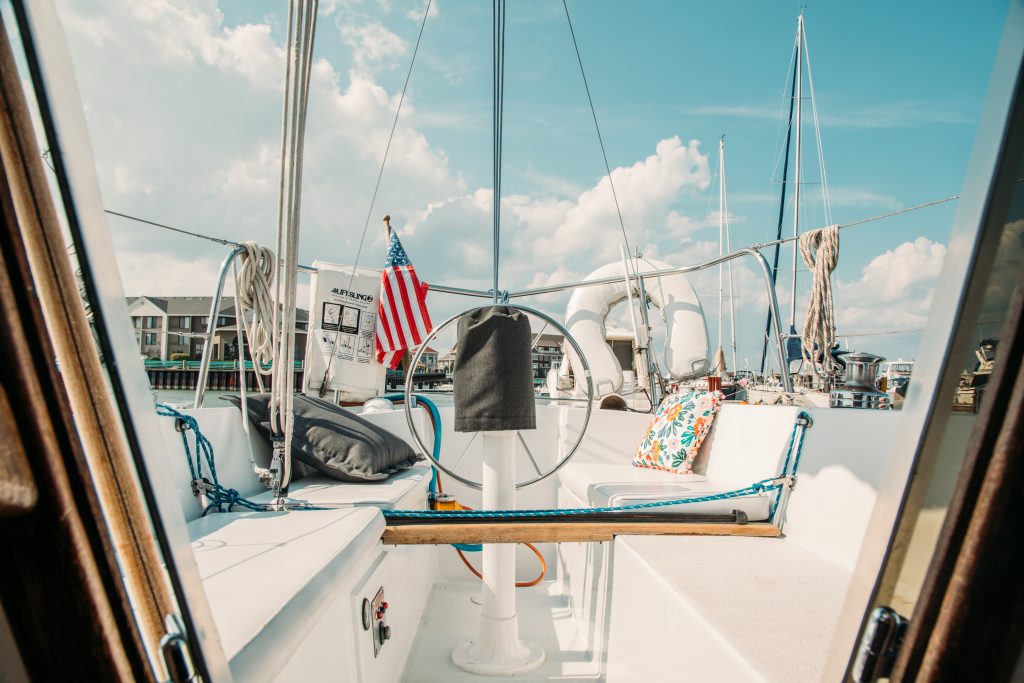 My husband and I had stayed on Clementine for one night but wished we would have booked for 2. Overall, it was a very relaxing stay, and getting to enjoy the marina's amenities was fantastic. I'll detail the whole experience, below!
Checking in for Clementine
Now, checking in could have been a complicated process. However, the boat's owner, Dustan, had made a detailed video that he sent to us before we arrived. It showed us exactly where we needed to go, and what we needed to do to get ourselves checked in without any issues. Overall, the check-in process was super smooth, thanks to that video! Dustan was a FANTASTIC host and always responded very promptly and kindly any time I messaged him.
Staying On Clementine!
Clementine is very cozy, and I LOVE that she is decorated with clementine-themed decor (and has a cute retro fridge). She was also VERY clean.
Clementine has 2 beds that sleep up to 3 people. That being said, though, more than 2 people is going to feel quite cramped – and that back bed is quite stuffy at night during the summer months. I wouldn't recommend more than 2 people. (This is perfect for a couple looking for a romantic getaway together!)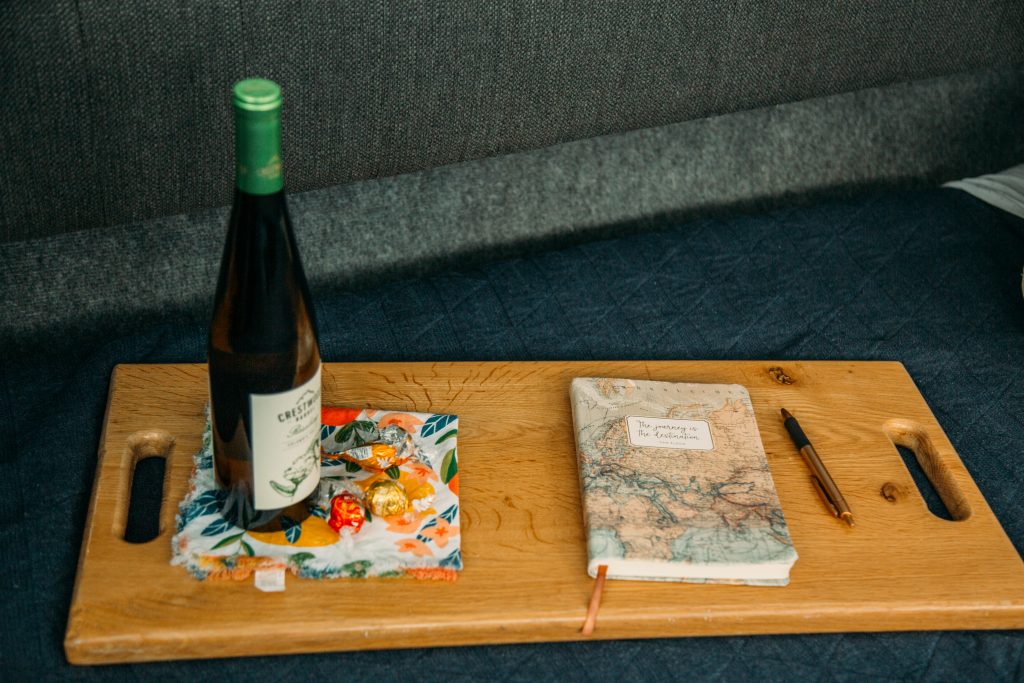 There is also a microwave, fridge, and coffee maker aboard, however, there is no oven or stove so plan on eating out while you stay here. (There is a couple of great restaurants just a short walk from the boat!)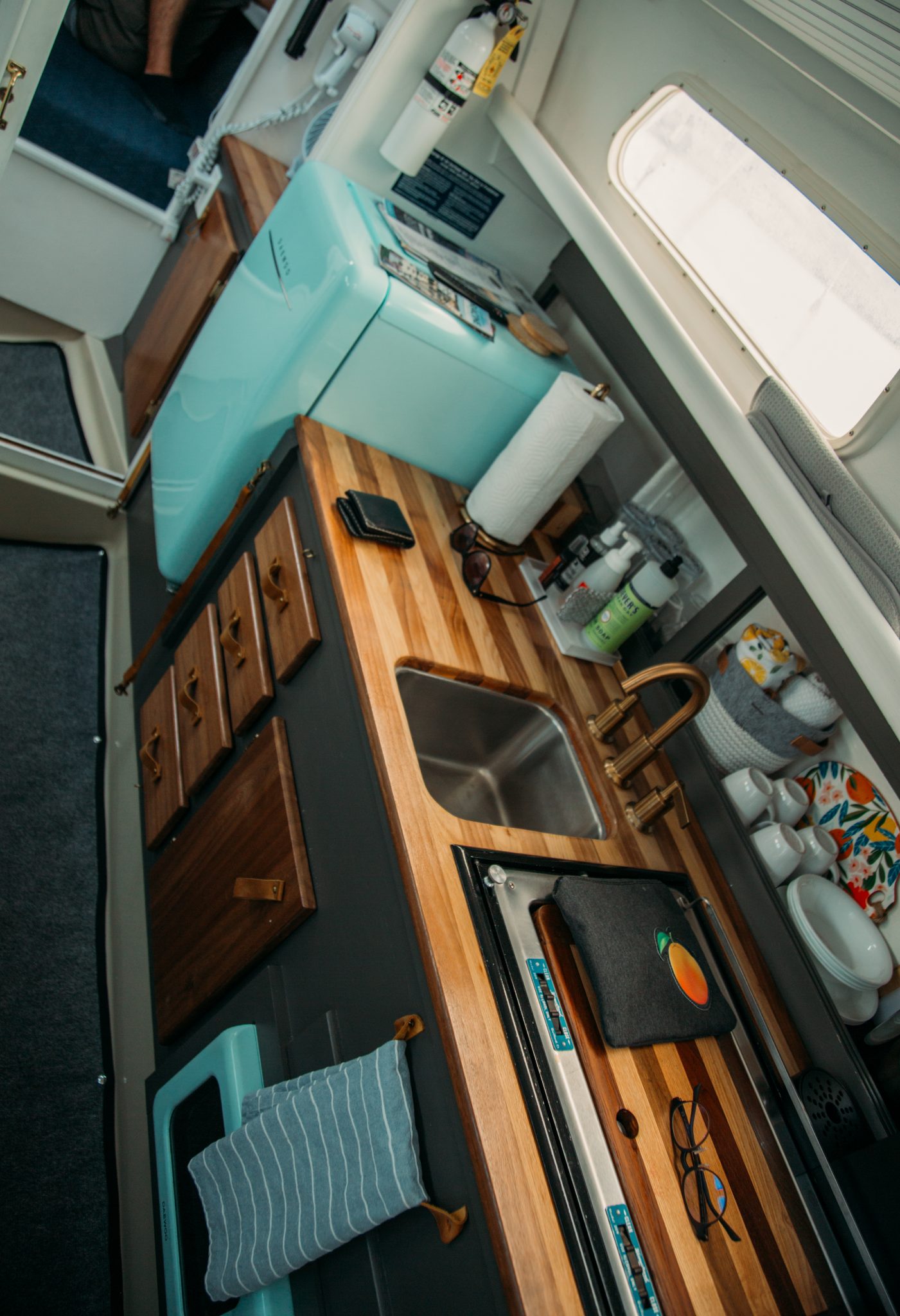 There is a sink with hot/cold water and a flushing toilet on the boat. For showering, you can use one of the marina's 3 facilities. I had only used the one closest to the boat – and it was very clean.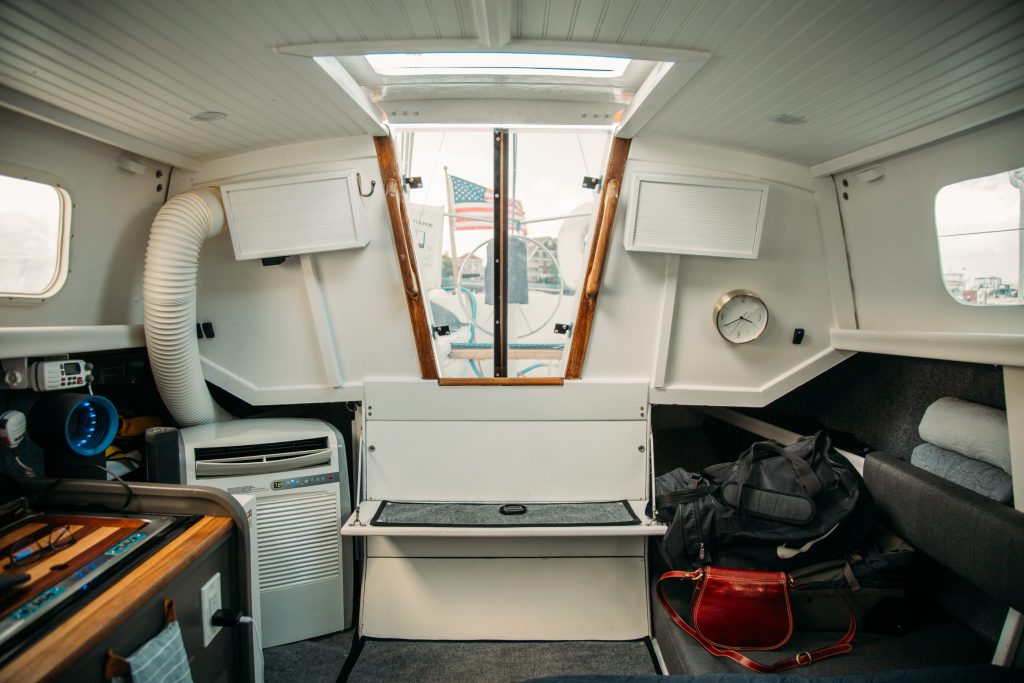 Clementine does have an air conditioner, as well as a couple of fans. This is something that's important during summer, as it gets VERY stuffy in here if you don't have these things on. There aren't any blinds or curtains on Clementine, so the sun really heats it up during the day.
Things to note:
It's worth noting that the door to get into the boat does NOT lock. This is a fire precaution that's actually pretty normal when you stay on a sailboat Airbnb. There is security at the marina at night, and we did feel very safe here – even though the door did not lock.
Another thing to keep in mind, too, is that staying on a boat is NOT going to be great for someone who has mobility issues. It also is going to require someone who is tall to stoop quite a bit.
As you can see in the photo, above, getting on and off Clementine requires a little work too. There isn't really an easy way to get on and off the boat.
Overall, I really enjoyed my stay on Clementine, but I do want to point these things out – so, you're not surprised!
Clementine is also the last boat on this particular dock, this means you only have one close neighbor on the other side of the dock (see photo below). So, you can expect peace and quiet while you stay here! It was very relaxing.
I also would say you don't need to worry about getting motion sickness. I'm pretty susceptible to it and had zero issues on Clementine. You're protected in the marina from any big waves and the boat only moves a little bit.
The Amenities at the Reefpoint Marina
When you stay at Clementine you do get to enjoy the Reefpoint Marina amenities. These include a heated pool with two hot tubs, a cute gift store, laundry facilities, shower facilities, and also the Reefpoint Brewhouse restaurant.
We ended up not using the pool when we were here. The pool was pretty busy, and we were content to chill on Clementine's deck!
Watching the sunset and enjoying coffee the next morning on the deck
We did end up buying some snacks (and my husband got a cigar) from the gift store. They had a wonderful selection in that little store! We also had dinner and lunch at the Reefpoint Brewhouse inside the marina. It was a great restaurant that has indoor and outdoor seating. We really enjoyed the food and the service here, and weren't too inclined to venture out, as this was so convenient and nice!
If you are up for venturing out, though, downtown Racine is only about a 10-minute walk away. There are a lot of cute restaurants and shops!
Clementine is also just a 5-minute drive from Racine North Beach. This beach is BEAUTIFUL and has 2,500 feet of shoreline. Plus, parking is free! We stopped here after we checked out of Clementine to hang out by the beach for a bit. This will make you forget you're in Wisconsin!
Booking a Stay on Clementine
If staying on a sailboat Airbnb is something that sounds fun to you – you can easily book a stay aboard Clementine via Airbnb! Please note, though, that Clementine is (obviously) a seasonal Airbnb. You can only stay aboard during the late spring, summer, and early fall.
This means she books up quickly for the season! If you're thinking about staying on Clementine (especially for a weekend), I highly recommend making your booking NOW. Don't wait!
Bottom line: I really enjoyed staying on Clementine, and I highly recommend this experience to anyone looking for a unique Airbnb in Wisconsin! If anyone has any questions about staying on Clementine or staying on a sailboat in general, please feel free to reach out in the comments section at the end of the post.