Mazayen Rum Camp Review – a Wadi Rum Luxury Desert Camp (with Martian Tents!)
"Welcome to The Martian Experience," is how the owner of Mazayen Rum Camp appropriately greeted us as he showed us to our "Martian tent." Through a series of fortunate events, our desert camp experience in Wadi Rum, Jordan had gotten a major upgrade. (The previous camp we had booked through our tour company ended up being overbooked for our dates, so we landed a complimentary upgrade to Mazayen Rum Camp!)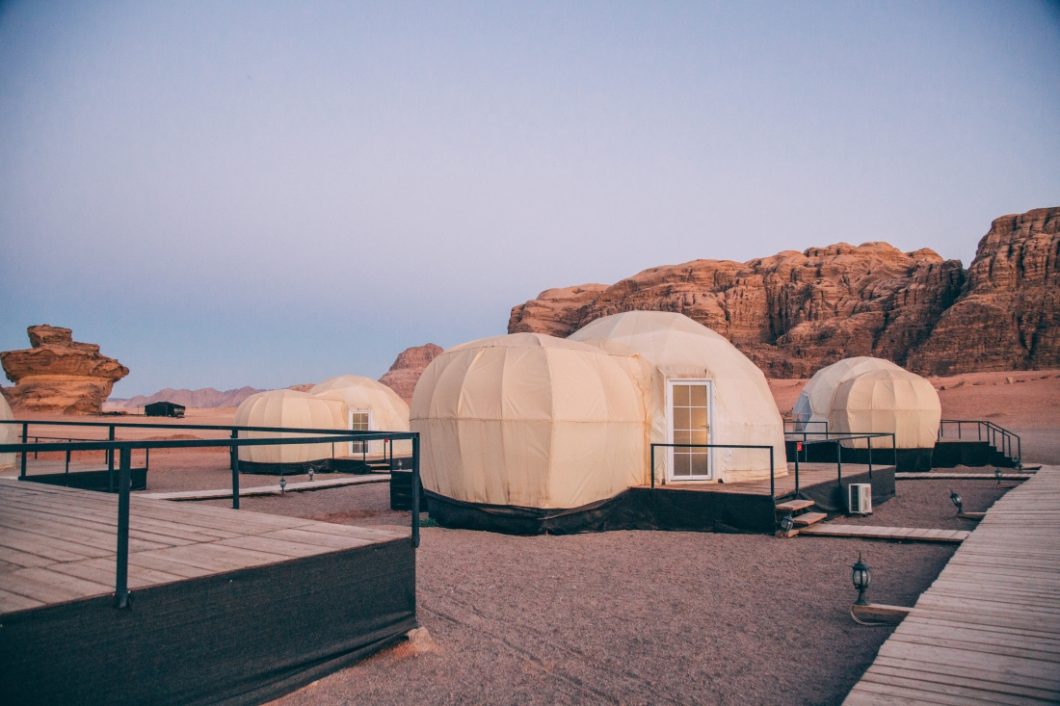 *Click here to see current Mazayen Rum Camp prices.
Our camp had been upgraded just as we were about to embark on our trip through Egypt and Jordan. So, neither of us had hardly spent any time looking through photos or reviews of this place. Needless to say, we were pleasantly shocked when we arrived at this camp!
Here are some of the main features of this luxury camp you should know before I get into my review…
Mazayen Rum Camp Key Features
40 private tents and 20 "Martian" tents all with private bathrooms, A/C and bedding/towels.
Buffet style meals are offered in the restaurant. (Breakfast & dinner are generally included in your booking price.)
There are lounging areas (both traditional & modern, indoor & outdoor).
Tours available onsite ranging from Jeep tours to camel riding and hiking.
Free WiFi. (Seriously, they have decent Wifi in the middle of the desert!)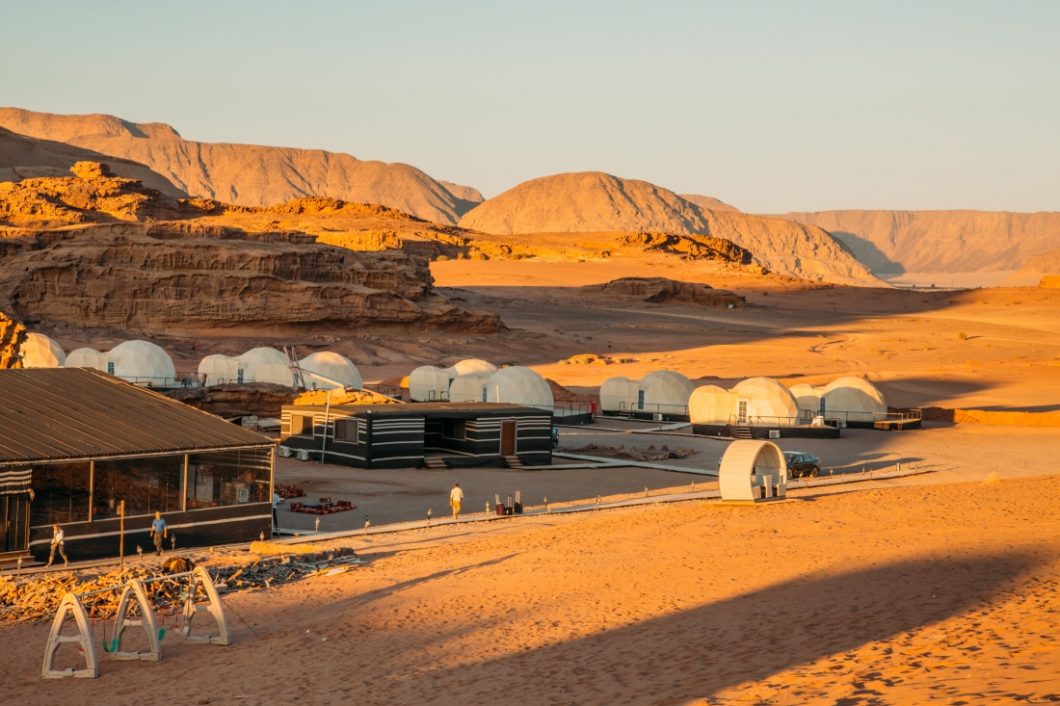 My Experience Staying at Mazayen Rum Camp
This is where our Wadi Rum Jeep tour had dropped us off. So, needless to say, we had arrived here rather dramatically. Our Jeep whipped into the backside of the camp and promptly arrived in time to watch the sunset from atop a rock formation near the camp. Our driver was kind enough to let us watch the sunset before taking us to check-in.

Sunset Viewing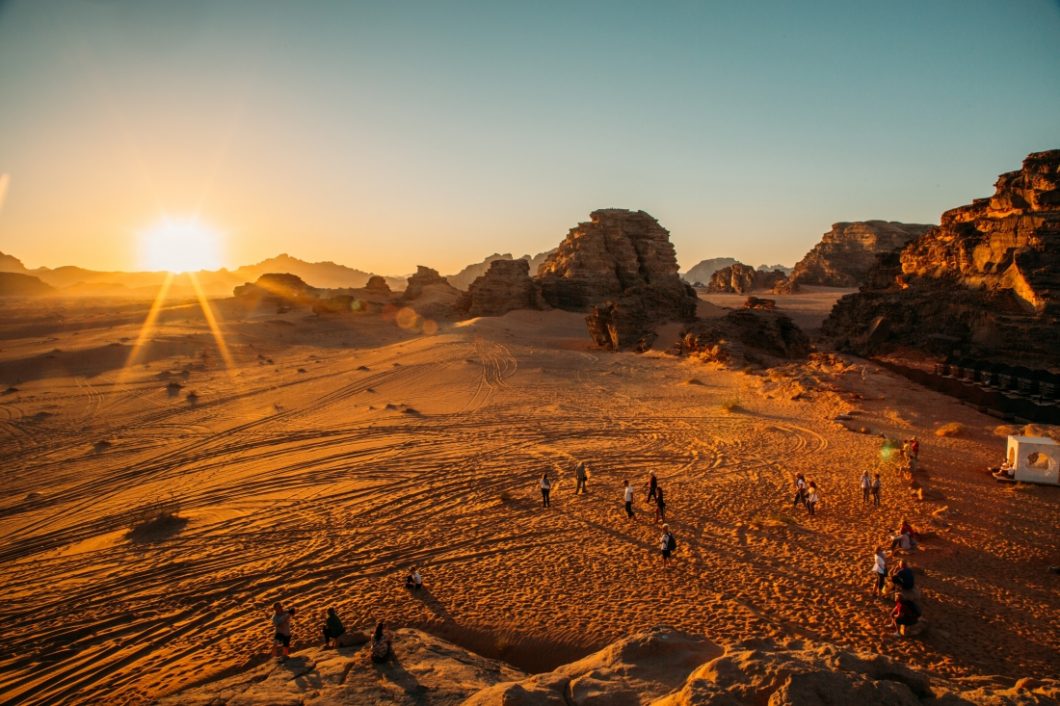 Now, we had watched it from atop the rock formation, but Mazayen Rum Camp has more options for you to watch the sunset – from crazy looking futuristic lounge chairs (Instagram perfect!) to regular ole chairs – you'll have plenty of options for making yourself comfortable for the sunset (or sunrise).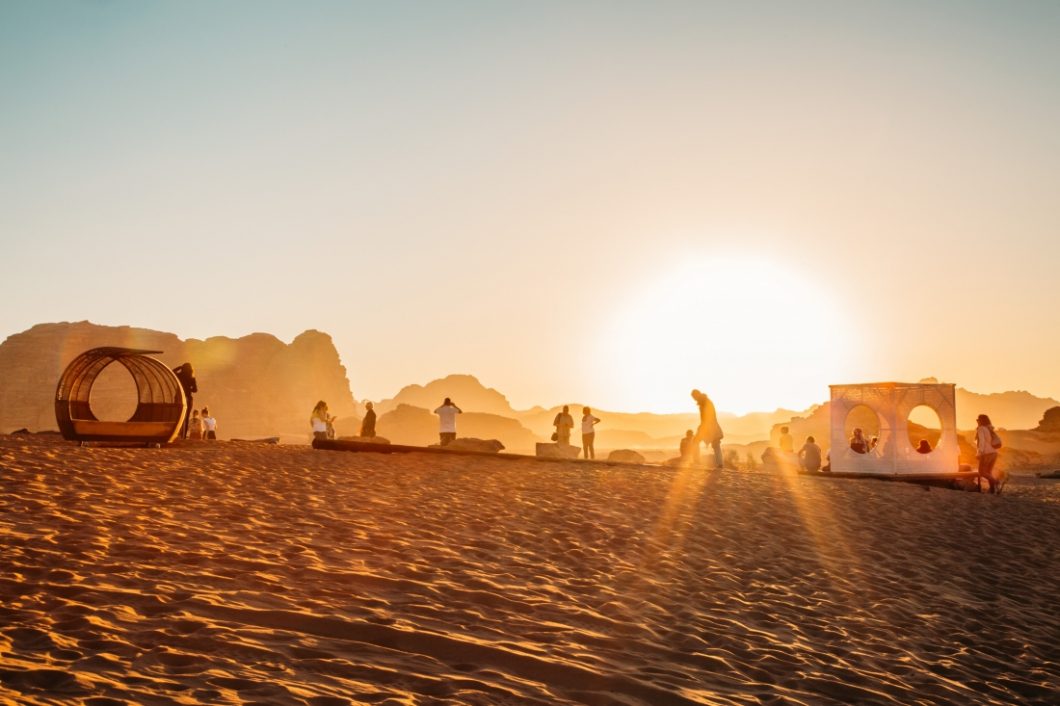 Checking in
After watching the magnificent sunset our driver took us (and our bags) up to the front desk. Again, a rather dramatic entrance! We were greeted enthusiastically by the owner and another employee who immediately showed us to our "tent" and helped with our bags.
Our "Room"
We hadn't realized we were staying in one of these deluxe rooms! We had assumed our accommodation would have been the more budget-friendly tent one – as we were booked in here last minute due to a booking snafu. So, we were really excited to be shown to this crazy looking bubble tent (which is nearly double the price of what we had paid).
Inside Our Room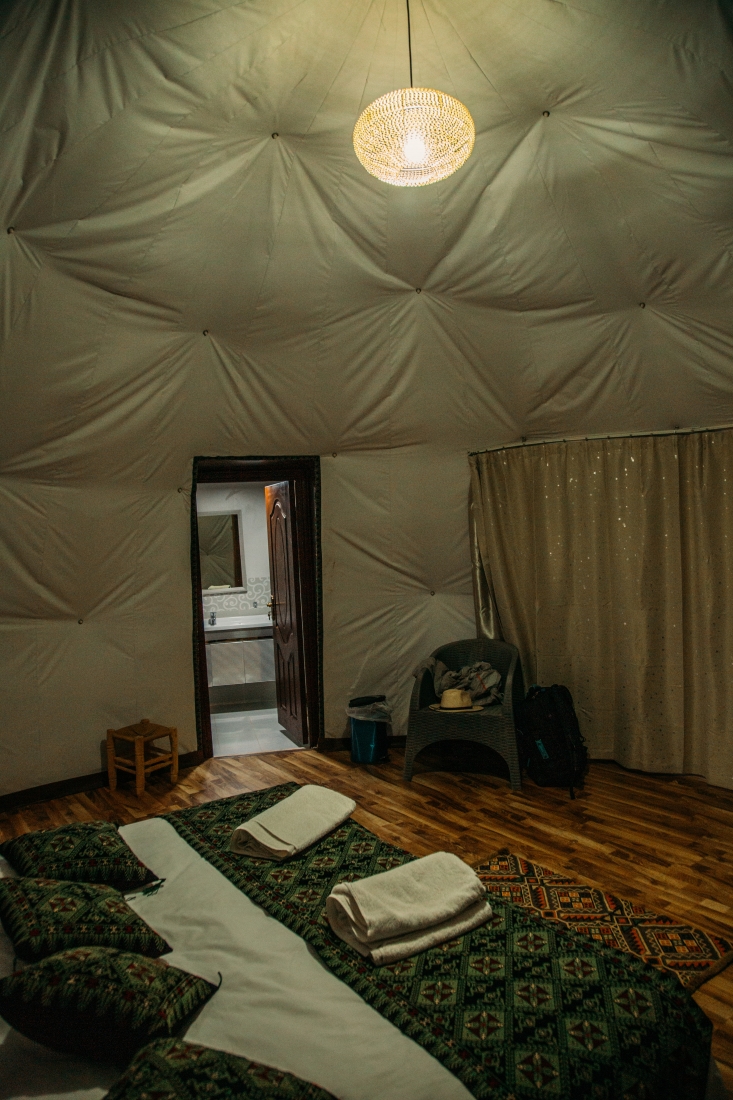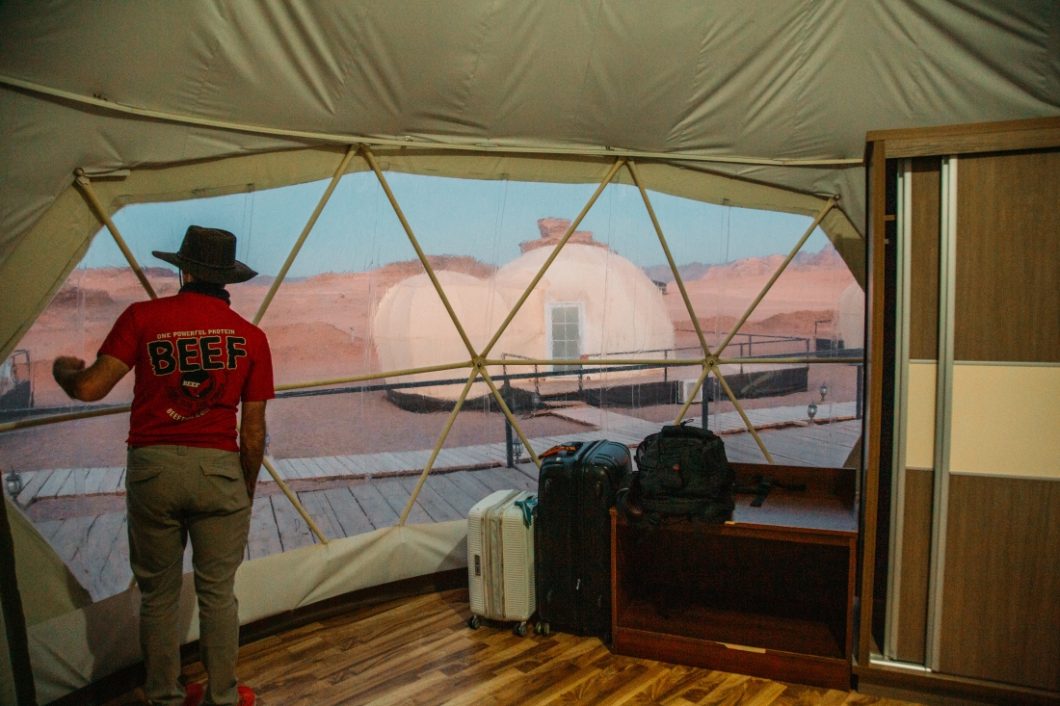 This was "glamping" at its finest. We had a very comfortable bed and a full private bathroom in the middle of the desert! Now, the shower didn't have the greatest water pressure and never really got "hot." However, you're in the middle of the desert, the fact we had a shower (with a comfortable water temperature) is amazing!
I was also surprised that there was air conditioning in our tent! Our last glamping experience was in a treehouse – which had no A/C or hot water to speak of.
Other Tent Options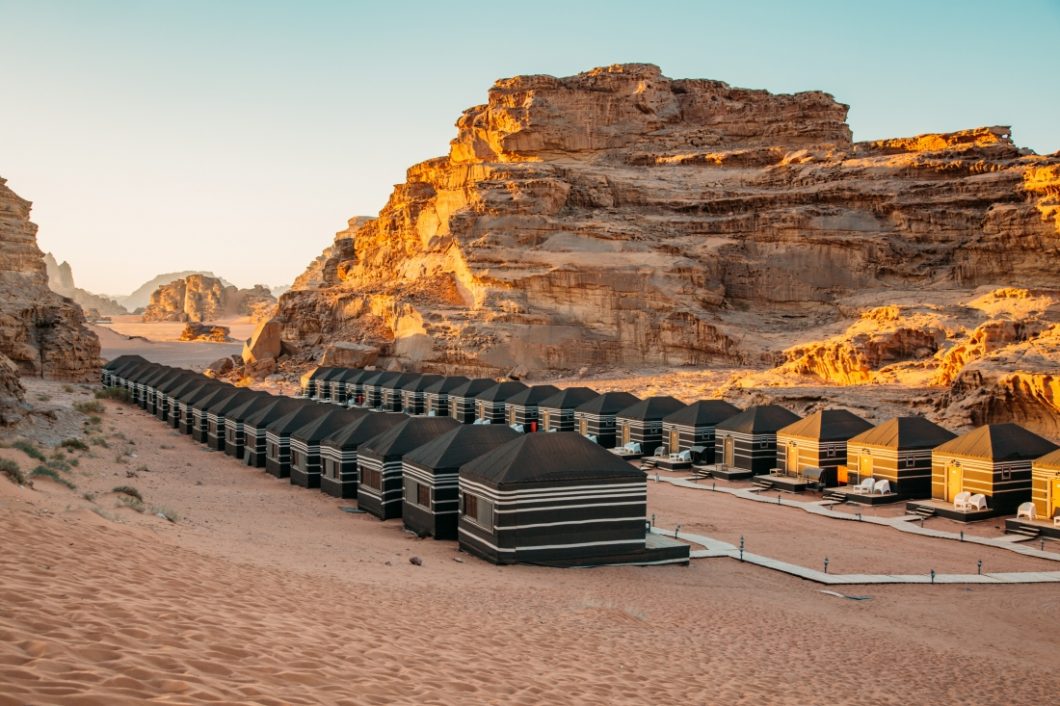 The photo above is of the other tents available here. From what I can see online (here), they look pretty snazzy on the inside as well! They just don't have the same view out the back as our bubble tent had.
Dining Onsite
Our food was prepared buffet style, and they also had a little show before we ate where they dug our dinner out of the ground! It was prepared "Zarb" style. This is a Bedouin way of cooking a meal in a prepared hole. It usually consists of lamb or chicken, sometimes herbs and vegetables, which have been buried in an oven with hot coals beneath the desert. (This is very similar to Hāngi cooking by the Maori in New Zealand.)
The food was really delicious and there were plenty of different options! And after all of the hiking we did that day, we were famished. (Which means I have zero photos of my food because I inhaled it before I thought to take a photo of it.) There was also unlimited water and soft drinks and also tea. I did notice some folks drinking wine and beer too (only one option was available of wine and beer, I believe). I didn't test out the alcohol that night, though.
Stargazing
After dinner was over, an employee came over to ask if we were interested in stargazing with some pretty crazy telescopes. He also said I could hook my camera up to the telescope to take photos. (I wasn't sure how that would work, but he seemed adamant that it would.) I thought "Sure! Why not! We might as well go stargazing and take photos!" My husband was more reserved about it, though.
It was rather expensive – I think it was around $35 USD per person. And the telescopes were about a 15 minute drive through the desert to get to.
Overall, for us, it ended up not being worth it. We weren't able to take photos. (I think the guy meant we would get our photos taken – like in the photo above.) It was neat to see the different constellations and the rings of Saturn, don't get me wrong. And the guide was an absolute expert! It was just, we only had one night here…
And with only having one night, I think we would have been better off enjoying the view of the stars from our cool little Martian tent or on our little balcony.
We had an early flight the next morning, too. And this stargazing tour didn't start until after 9 pm and took a couple of hours. We actually asked our driver if we could leave early, as it was only my husband and me from our camp (all of the other people were from other camps in the area). He did take us back before the tour was over, so we could enjoy our tent a bit and get a little sleep before our flight.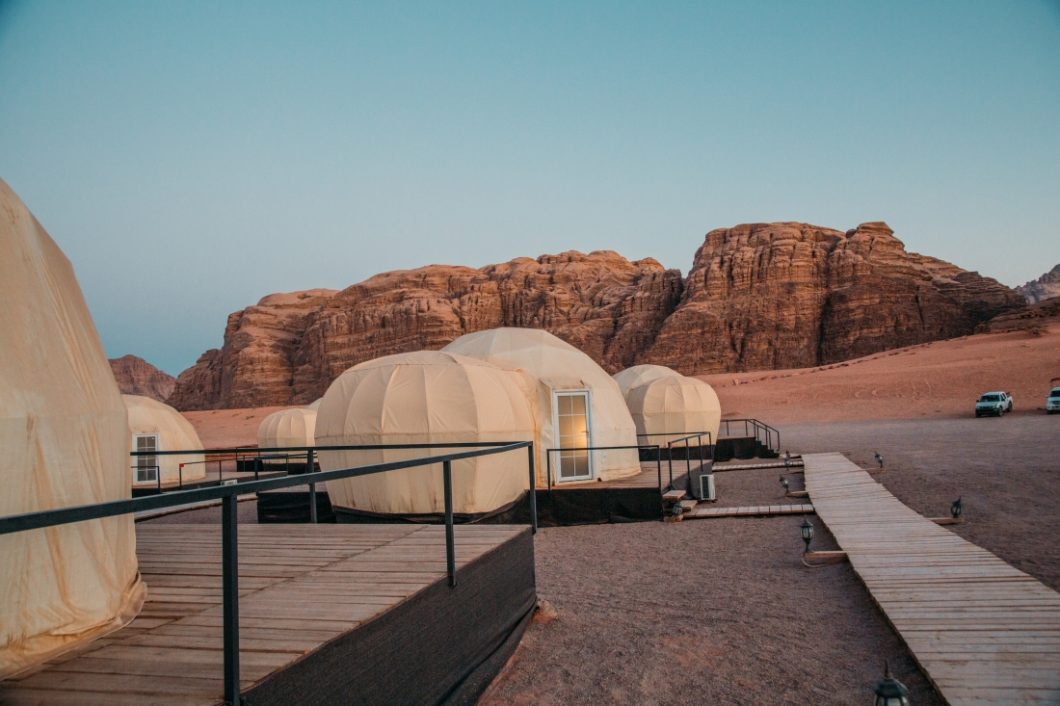 Early morning!
We had to get up and leave by 3 am the next morning. The owner himself drove us to meet our driver, and he had prepared us little to go breakfasts with fruit and bread. We really appreciated how kind and helpful he was (and everyone was) during our stay here. The service here was phenomenal!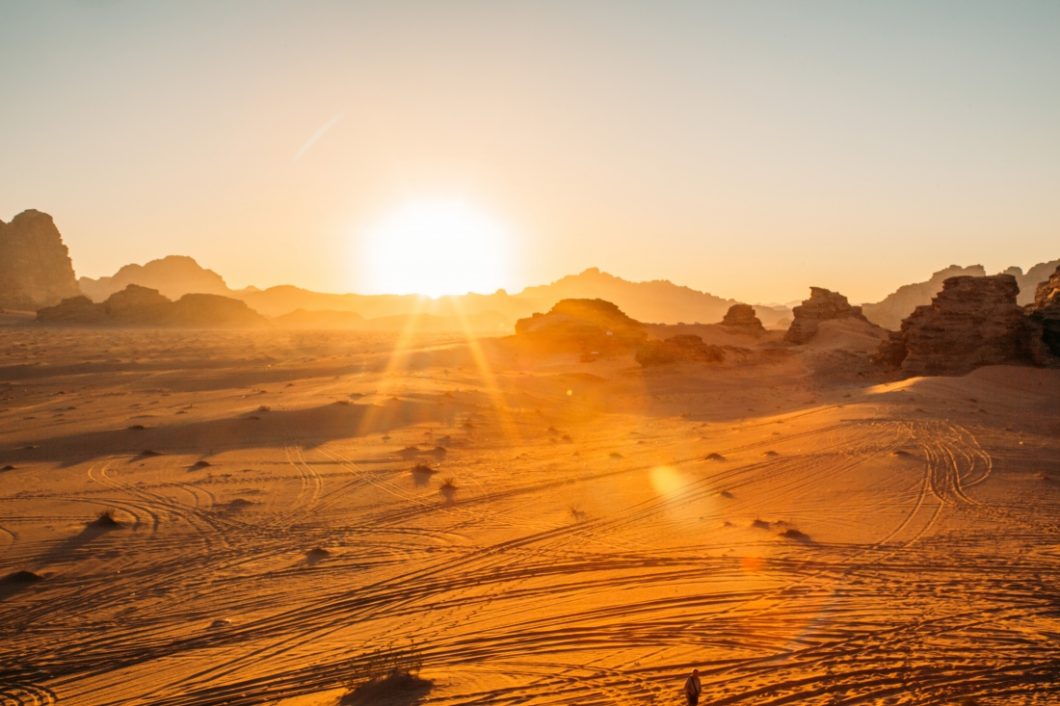 The Verdict – Would I Stay at Mazayen Rum Camp Again?
Oh my gosh – yes! I hope I would be so lucky as to stay here again. This experience ranks right up there with our most memorable and favorite travel experiences such as the Treehouse Lodge or climbing Mount Fuji and staying in the mountain huts – or heck, this might have even been equally or more exciting than our hotel next to the Pyramids of Giza.
The biggest mistake we made with this stay was not staying here one more night! If I could do it again, I would stay here for 2 nights instead of just one. There are so many activities to do in Wadi Rum, you certainly wouldn't be bored during the day – and coming back here to relax would be pure heaven.
The service here is also some of the best and most hospitable we have ever experienced. These folks really went the extra mile for their guests! And I can't recommend staying here enough.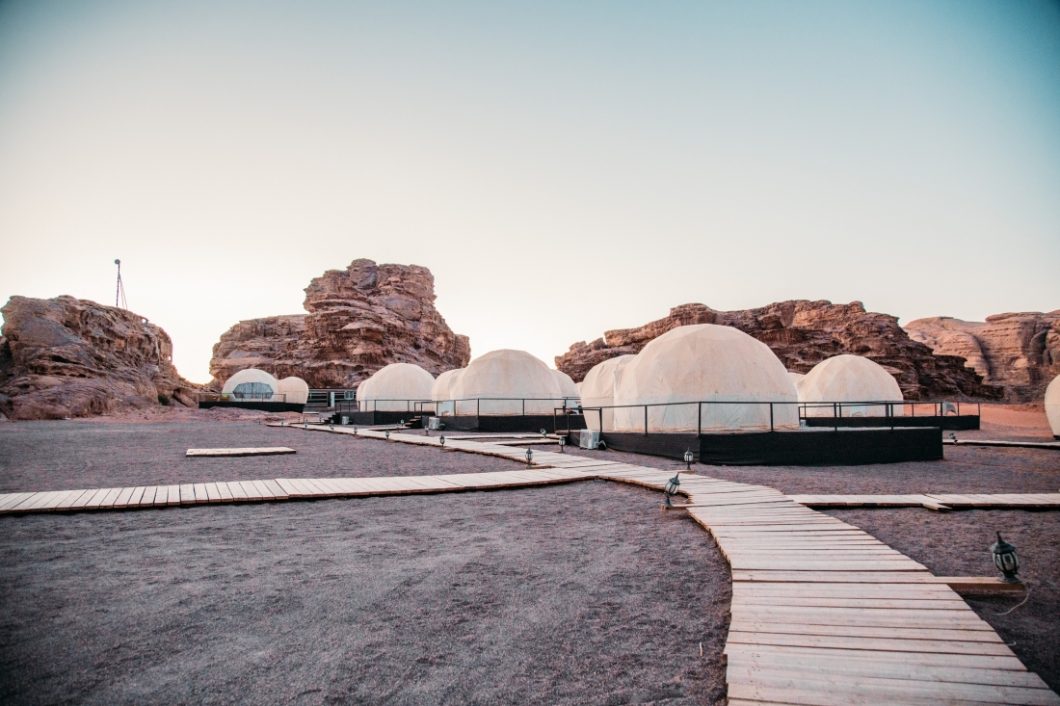 *Click here to see the current Mazayen Rum Camp prices. And click here to see more desert camps in Wadi Rum.
I'm curious, would you want to stay in a Martian tent in Wadi Rum? Let me know in the comments! And if you have any questions about our stay here, please feel free to ask as well.
*Click here to see all of my posts from Jordan.
*Click here to read about the Jeep tour we did in Wadi Rum to get to this camp!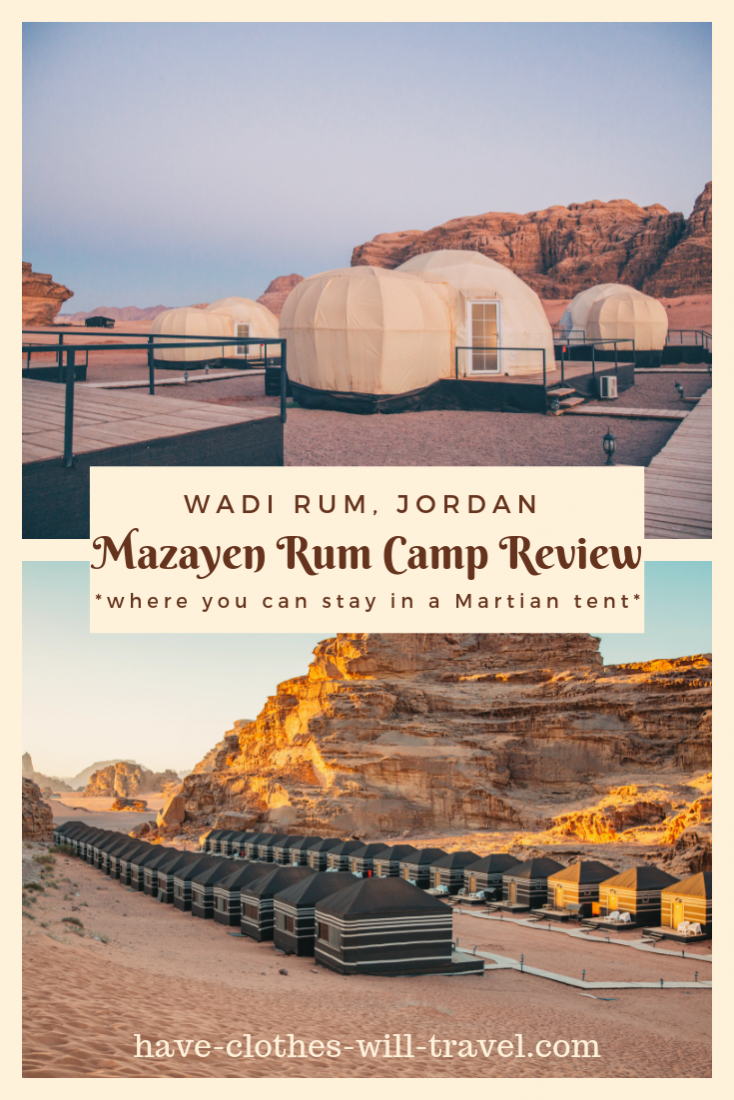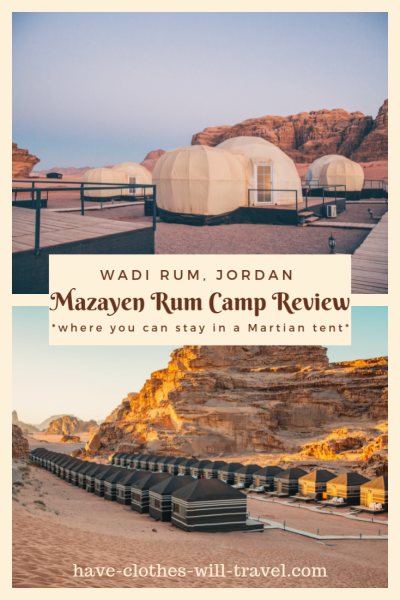 *Disclosure: some of these links are affiliate links. Meaning, if you click a link and make a purchase, Have Clothes, Will Travel gets a very small commission at no extra cost to you. Thank you for supporting the brands that make this blog possible! I am also a participant in the Amazon Services LLC Associates Program, an affiliate advertising program designed to provide a means for us to earn fees by linking to Amazon.com and affiliated sites.