How to Spend 7 Days in Egypt – The Ultimate Itinerary
Are you planning a trip to Egypt and trying to see its highlights from Cairo, Luxor, Aswan, and Abu Simbel in 7 days? This post is here to help you plan the perfect 7-day Egypt itinerary and help you see as much as you possibly can!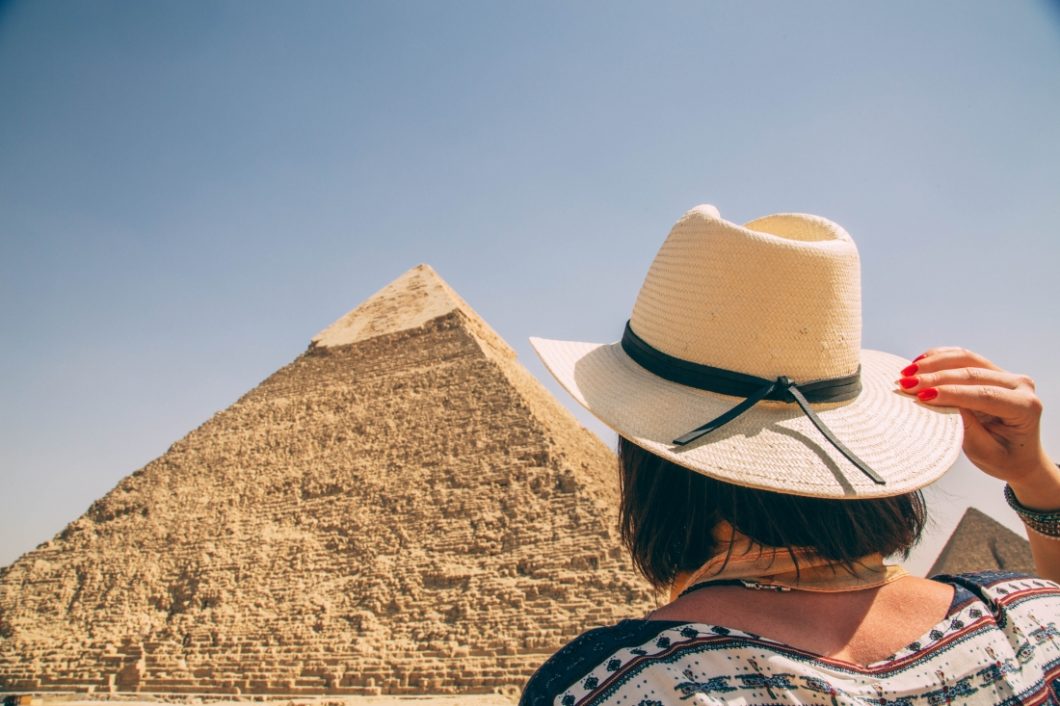 We were fortunate to have 7 full days to explore Egypt. Now, we normally try to spend 10 days in a country, but we also wanted to go to Jordan for a full 3 days on this vacation too.
This ended up working out quite well, though. One full week in Egypt felt like a good amount of time to see its highlights and major attractions at a relatively relaxed pace (at least compared to our normal touring pace).
By the time we had to board our plane to Jordan, we left Egypt feeling satisfied and ready for our next destination.
For this post, I'll share how I would do 7 days in Egypt if I had to do it over. (This isn't our exact itinerary.) There were some aspects of our itinerary that I would have done differently, and I'll be noting them here.
*And please note, if you are interested in doing a Nile River Cruise, depending on which cruise you choose and where it departs from, you'll have to board on a specific day of the week. You may need to split your time in Cairo.
G Adventures is holding a cyber sale where group tour packages are up to 20% off! (Including Egypt tours!)
How to Spend 7 Days in Egypt – The Ultimate 7 Day Egypt Itinerary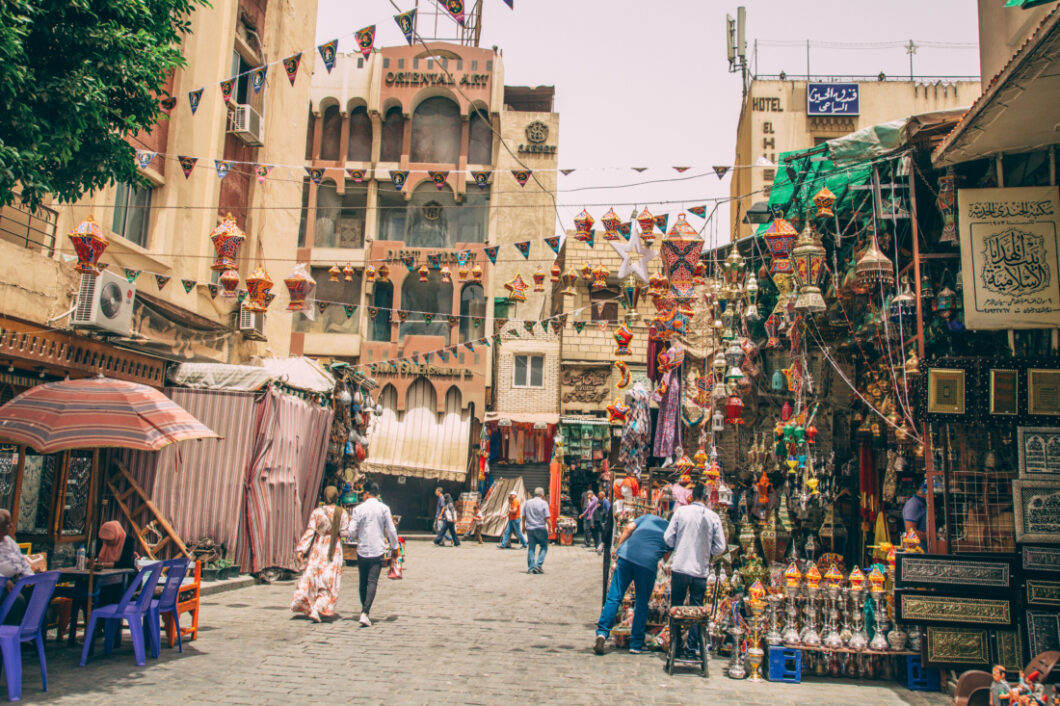 Depending on the flight you choose, you will likely have just enough time to get checked into your hotel, grab dinner and go to sleep. Of course, this depends on where you are flying from. If you have time and aren't too jet-lagged, you could do a tour that evening, such as exploring Cairo's markets with a local guide.
or if you have the time…
You could go straight by the Pyramids of Giza that evening for a sunset camel tour! (I do wish we would have done either a sunset or sunrise tour of the Pyramids while we were in Egypt.)
*Note: These tours will not be within the grounds of the Pyramids. They are at a distance from them because the grounds typically close well before sunset.
The other option is to spend time exploring the city. I recommend visiting the Coptic area of Cairo, the Khan el-Khalili bazaar, and the mosques in central Cairo.
Coptic Cairo is part of Old Cairo and is incredibly rich in history. There are many different churches and historic sites here, including the Coptic Museum, the Hanging Church, the Babylon Fortress, and the Greek Church of St. George.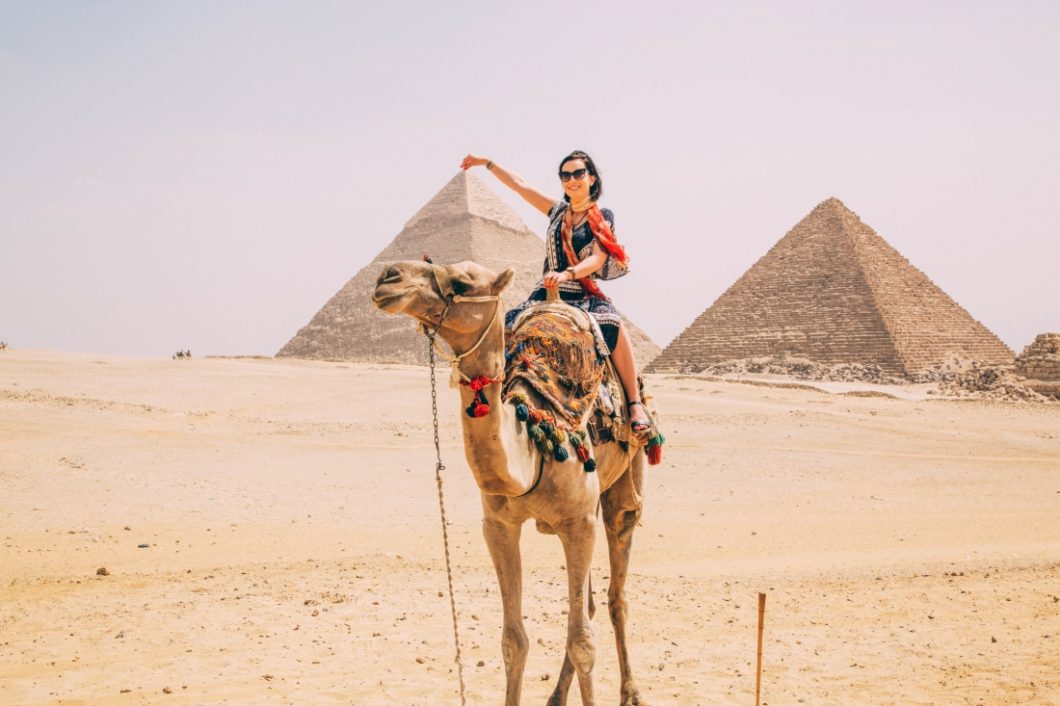 It is a good idea to see the Pyramids of Giza at your earliest opportunity. I had been wary of this and wanted to save it for last, as I thought it would be better to not be tired after our flight. Plus, I was also worried the other sights in Egypt would pale in comparison if I saw the Pyramids first… I was wrong on this one! See them ASAP.
This is because, from a chronological standpoint, the Pyramids of Giza are going to have been built earlier than anything else you will see on the other days.
My other reason for suggesting seeing them first is because if you run into any issues with your tour or the Pyramids closing unexpectedly (this happens every once in a while when a celebrity or politician visits), you'll still have the opportunity to see them at a different time. I recommend reading my tips for visiting the pyramids for more details.
After exploring one of the Seven Wonders of the Ancient World, don't forget to finish your day sightseeing at the Great Sphinx. According to archaeological evidence, it was built by ancient Egyptians of the Old Kingdom during 2558-2532 BC!
Morning – Visit the Pyramids of Giza
Visiting the Giza Pyramid Complex is far more pleasant in the morning. You'll also get better photos from the panoramic viewing area in the morning. Don't forget to check out my tips for visiting the pyramids to be fully prepared!
Afternoon – Tour the Egyptian Museum or Saqqara + Memphis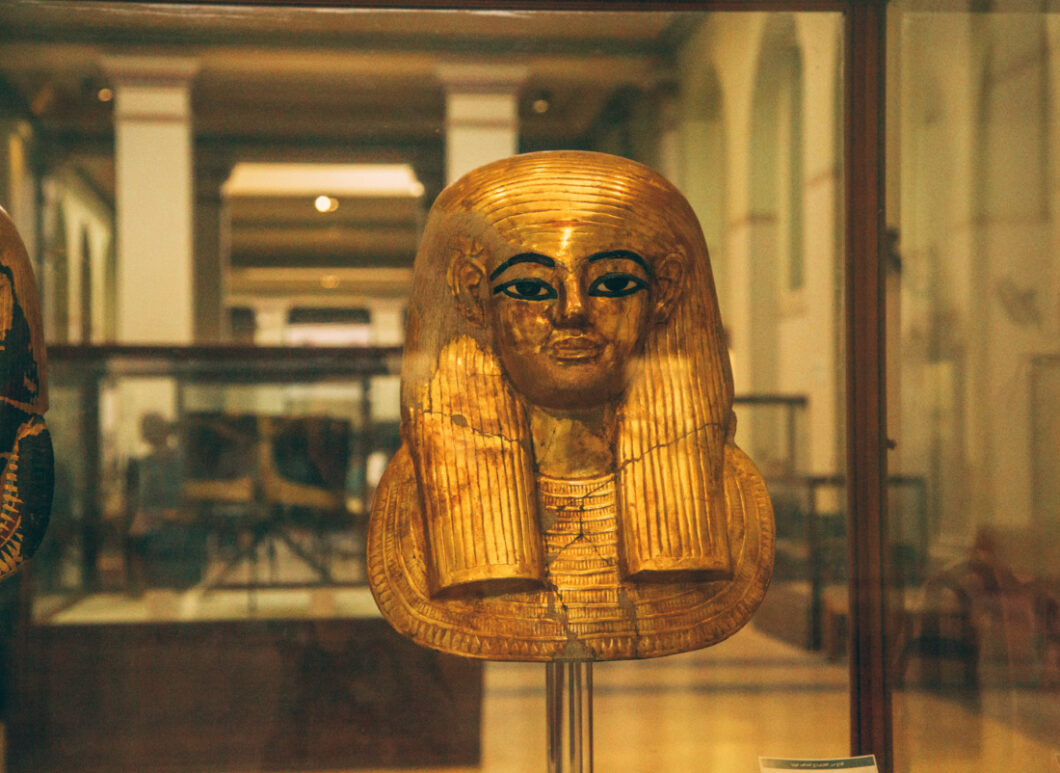 After you've visited the pyramids, it's time to see the pharaoh's treasures. Many tours combine visiting the Pyramids with the Egyptian Museum or Saqqara. This is entirely personal preference, of course.
If I had to choose, I would say the Egyptian Museum in Cairo wins, hands down for me. This is especially if the brand-new Grand Egyptian Museum is going to be open when you visit! As of November 2023, it is scheduled for a late 2023 or early 2024 opening.
The amount of history crammed into that museum is simply astounding. However, Saqqara and Memphis are both interesting to visit as well. Saqqara was the necropolis for the Egyptian capital city of Memphis.
This is where you'll get to visit the famous Step Pyramid of Djoser, which happens to be the oldest complete stone building complex in the world!
They are also relatively quiet places to visit if you're looking to escape the crowds of tourists. If you want to know more, read my article on Saqqara. I highly recommend checking out my tips for visiting the Egyptian Museum too!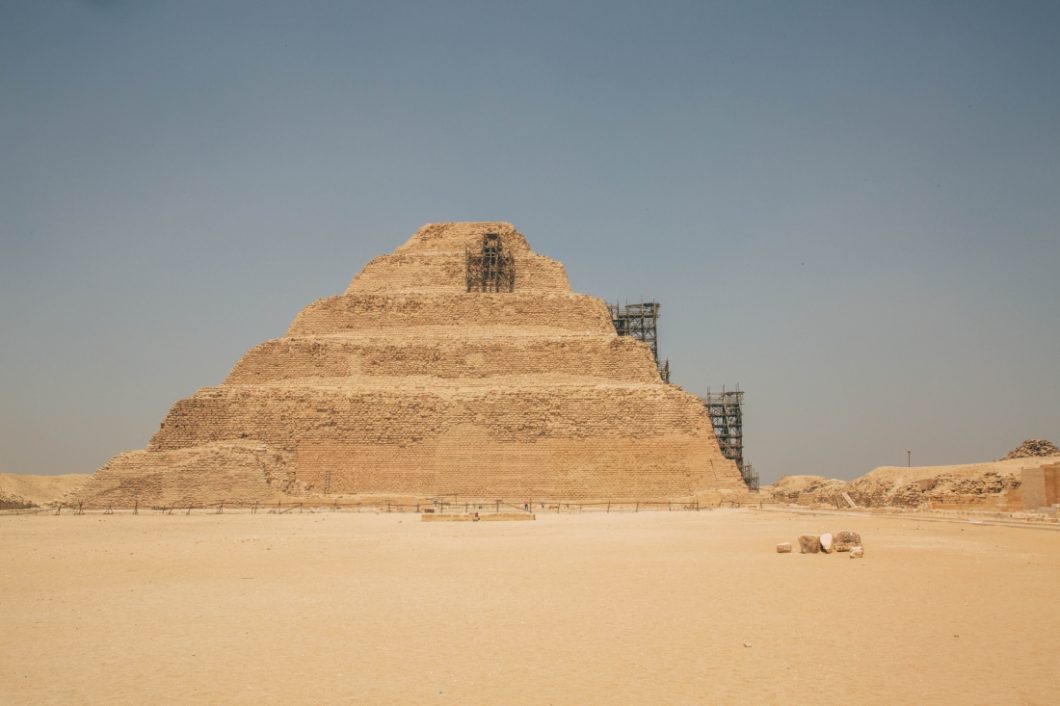 With the way our flights had worked out, we were able to see Saqqara and Memphis as well before we left Cairo. (Again, though, if you can't do all of these – I choose the Egyptian Museum.)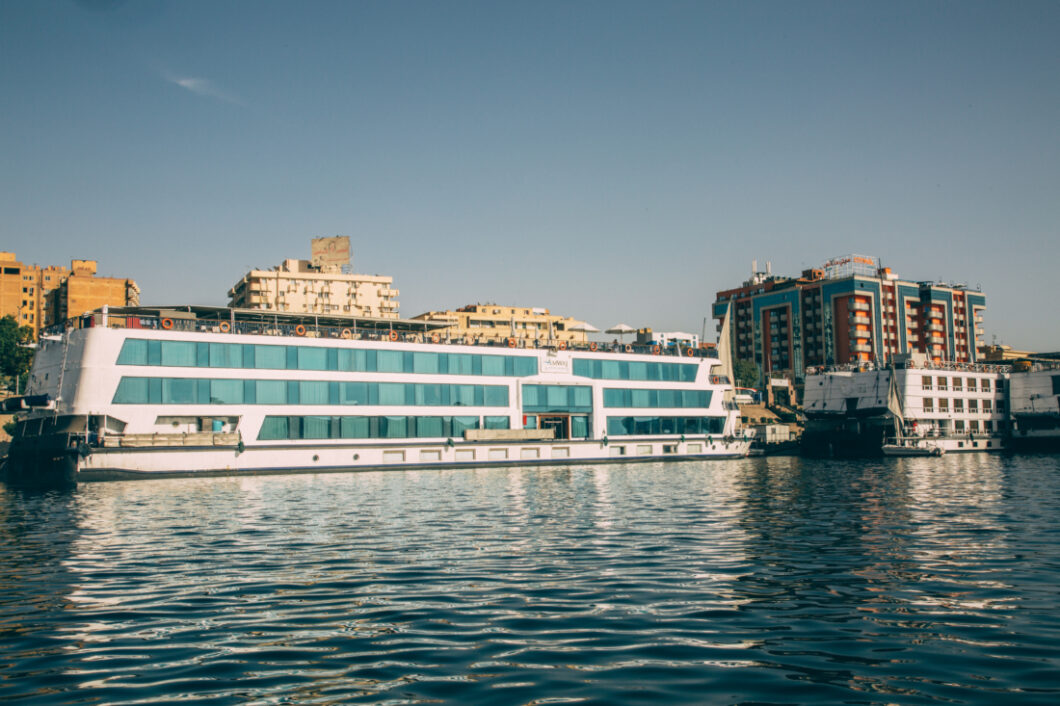 We had opted for a Nile River Cruise to see the remainder of the sights. You don't have to do a Nile River Cruise by any means.
Alternatively, you could take the train to these destinations or fly to Aswan and then to Luxor and take day trips to all of the places mentioned. (You can also read my full Nile River Cruise review to decide for yourself.)
Morning – Flight to Luxor + Nile River Cruise Check-in
For us, our cruise was leaving from Luxor (you could also depart from Aswan – depending on which days work best for your itinerary).
We spent the morning at the airport and then getting checked into our cruise. We also spent a little time wandering around Luxor.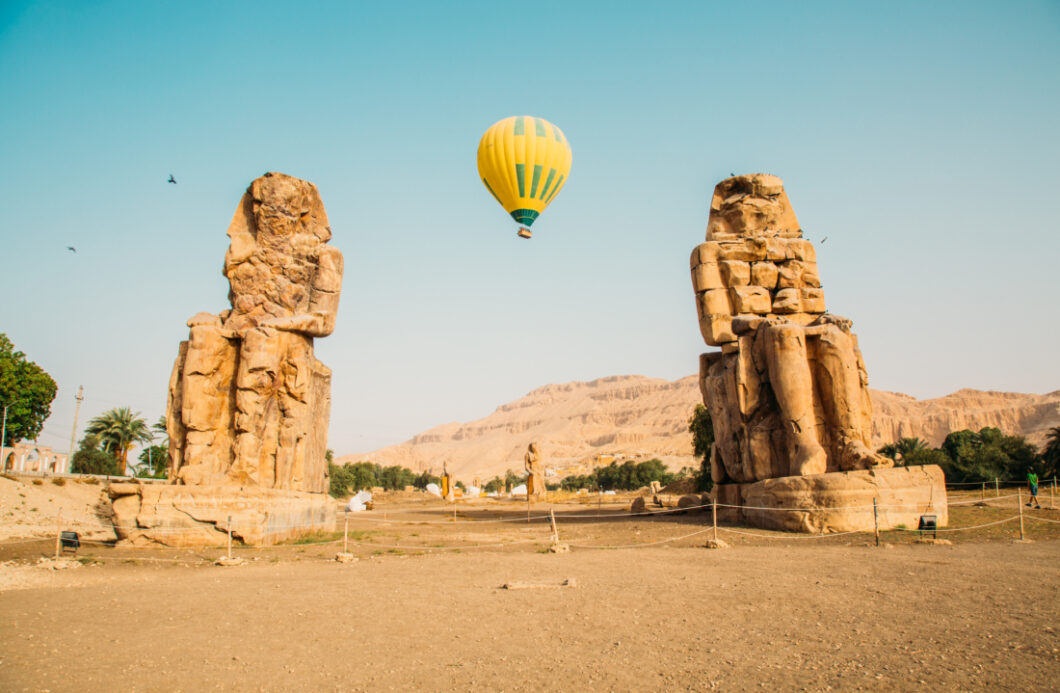 Optional: Hot Air Baloon Ride by the Valley of the Kings.
If you have an extra morning in Luxor, I highly recommend taking a hot air balloon ride by the Valley of the Kings.
A sunrise hot air balloon ride over the Valley of the Kings is an unforgettable dreamlike experience. As you drift silently over the ancient temples (except for the occasional roar of the burners), the sunrise colors the horizon in pink and orange hues.
It's incredibly peaceful floating above the historic ruins at daybreak before the tourists arrive. This unique perspective of the valley makes you feel like you've stepped into a magical world.
Just don't be startled when the balloon's noisy burner occasionally interrupts the serene journey. But it's definitely a good option for any Egypt itinerary, especially if you're not afraid of heights!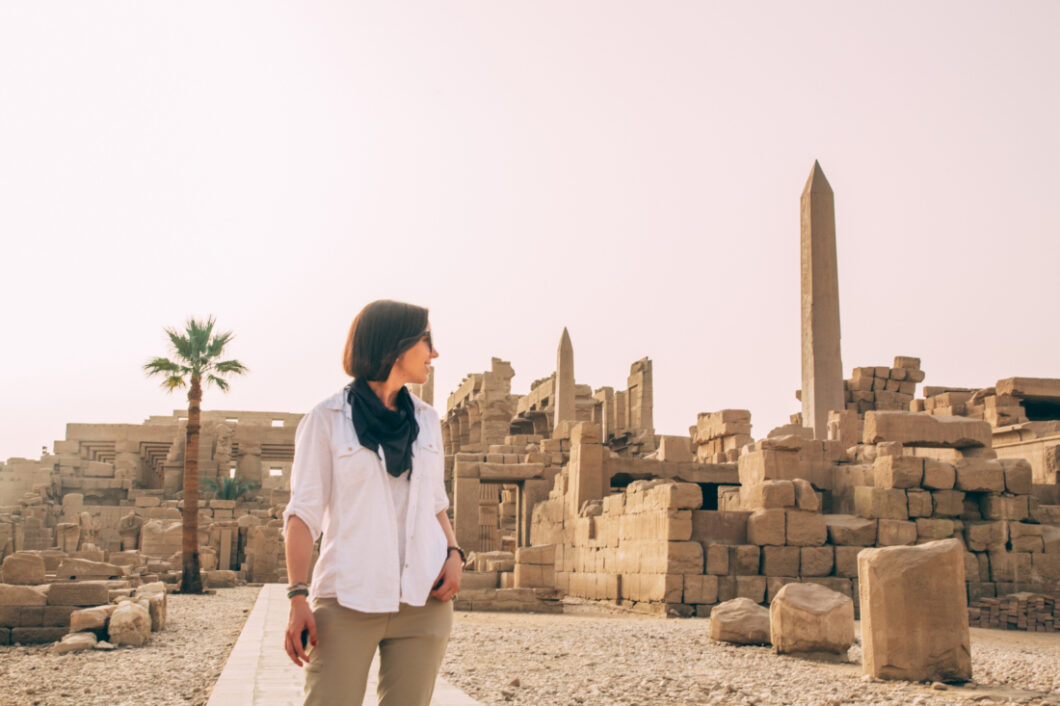 Afternoon – Explore Karnak & Luxor Temples
By about 3 pm that afternoon, we set off with a tour group to explore Karnak and Luxor Temples in Luxor. They are both incredible to see.
Karnak Temple is actually the second most visited sight in Egypt, the first is, of course, the Pyramids. It also happens to be the second-largest temple complex in the world. I also have a complete guide to visiting Luxor's Karnak Temple if you're interested!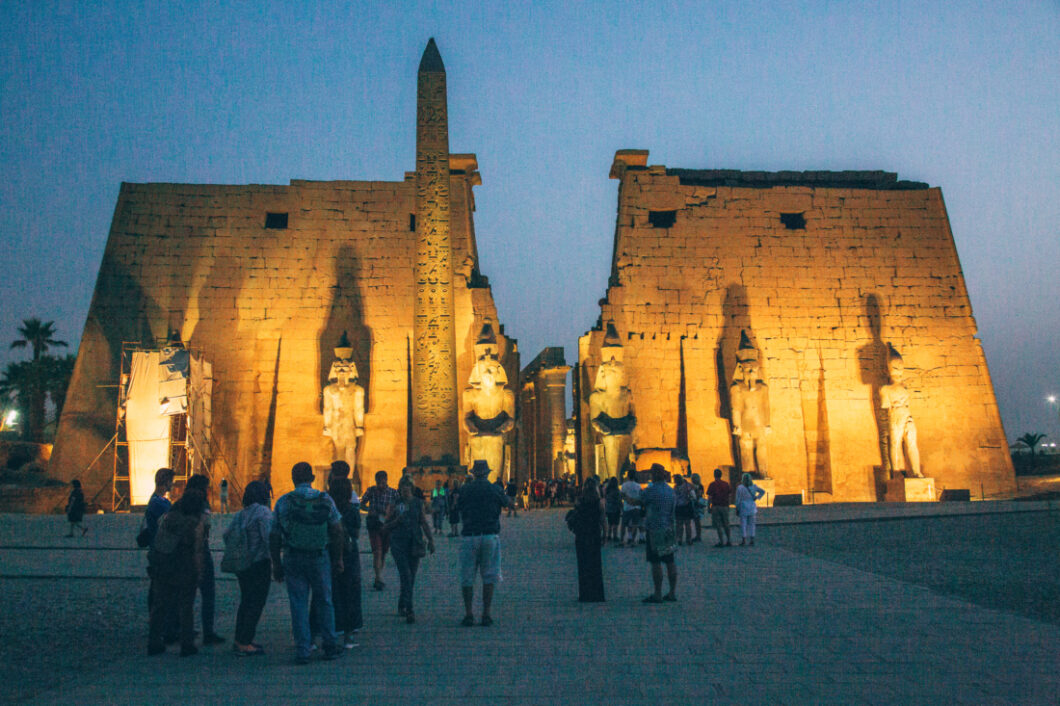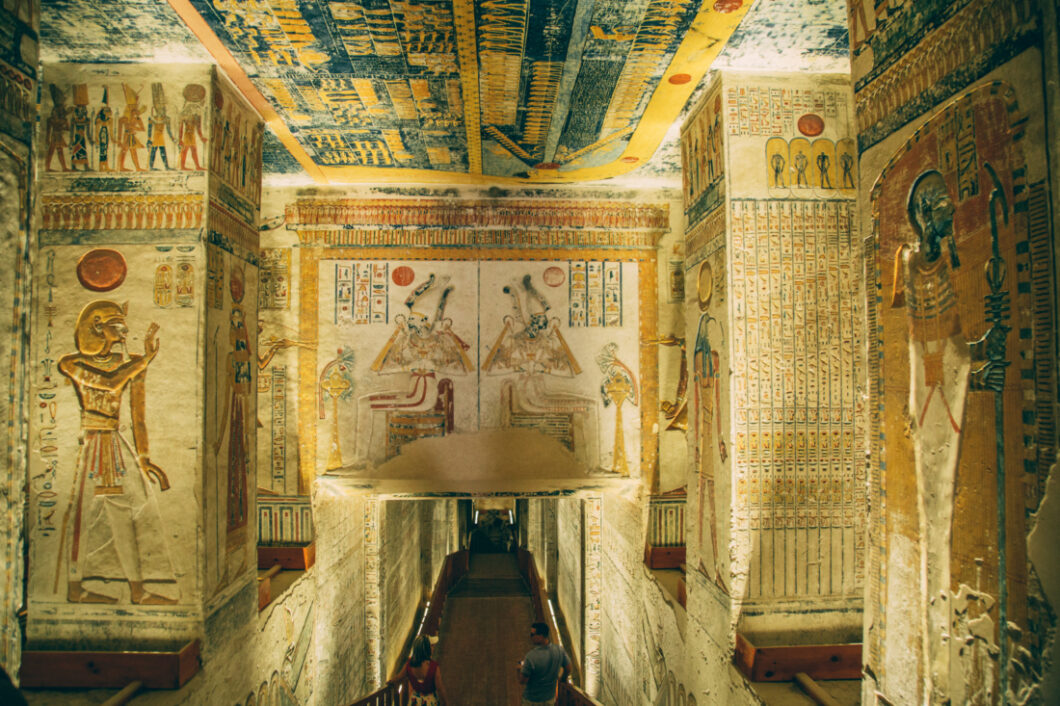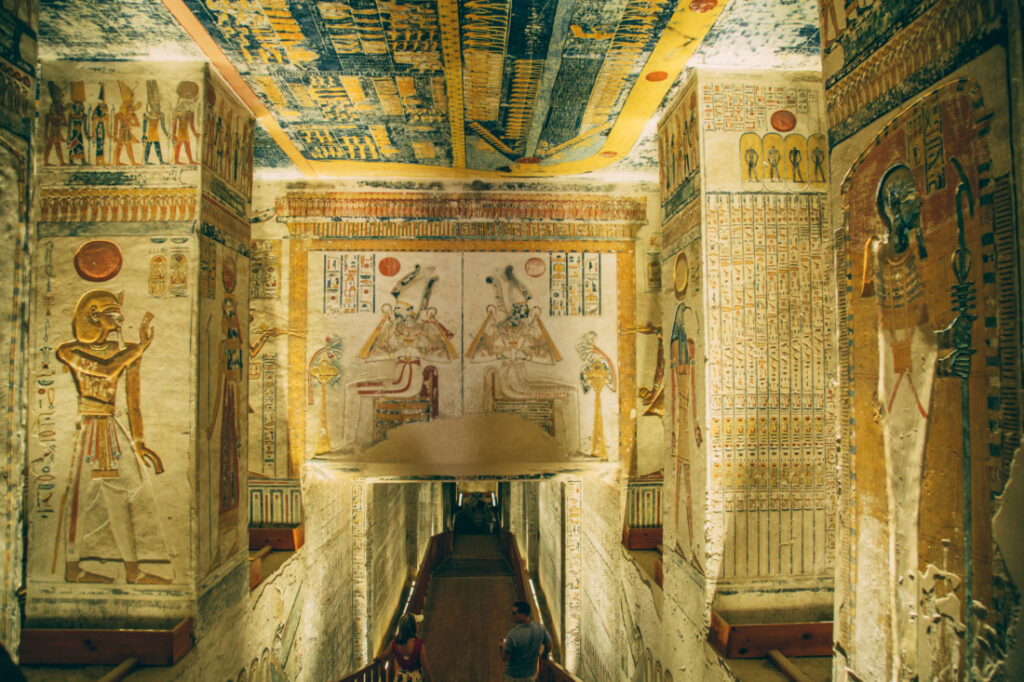 Morning – Valley of the Kings
Luxor itself has the East Bank and West Bank. The West Bank is where you'll visit mortuary temples that were dedicated to the dead (where the Valley of the Kings is located).
It's on the west side because that's where the sun sets, while the East Bank is where ancient Egyptians lived because it's where the sun rises.
The Valley of the Kings is where, for nearly 500 years (from the 16th to 11th century BC), the tombs for the pharaohs and nobles were made. They are all located underground in this valley so they would be hidden from looters…and now you can tour some of them!
So many of you ask questions about this, so I have a complete guide to visiting Valley of the Kings for more information.
And don't miss the Colossi of Memnon on your way to the Valley of the Kings. These gigantic statues portray Pharaoh Amenhotep III. Carved from single chunks of stone, each statue is a staggering 650 tonnes!
Afternoon – Traveling to Edfu via Your Nile Cruise or….
We spent the afternoon relaxing on our Nile River Cruise. However, if you opt not to do the cruise, you could spend this afternoon exploring more in Luxor. (There is also the Valley of the Queens to see!)
Another option is to go straight to Aswan now and take the rest of your day trips from there.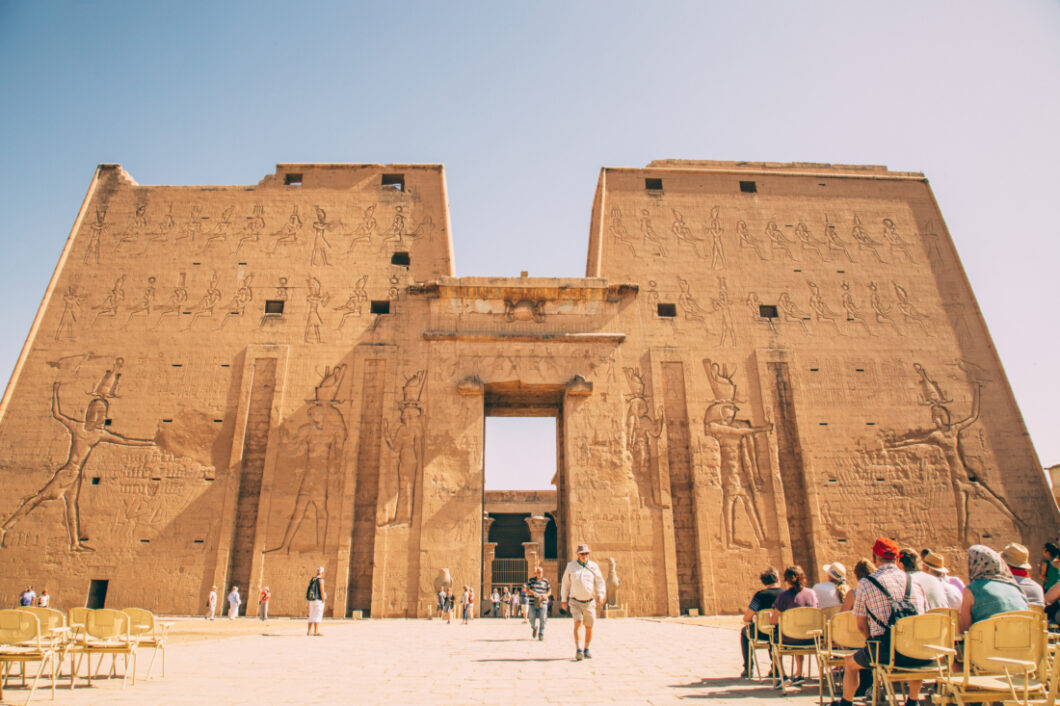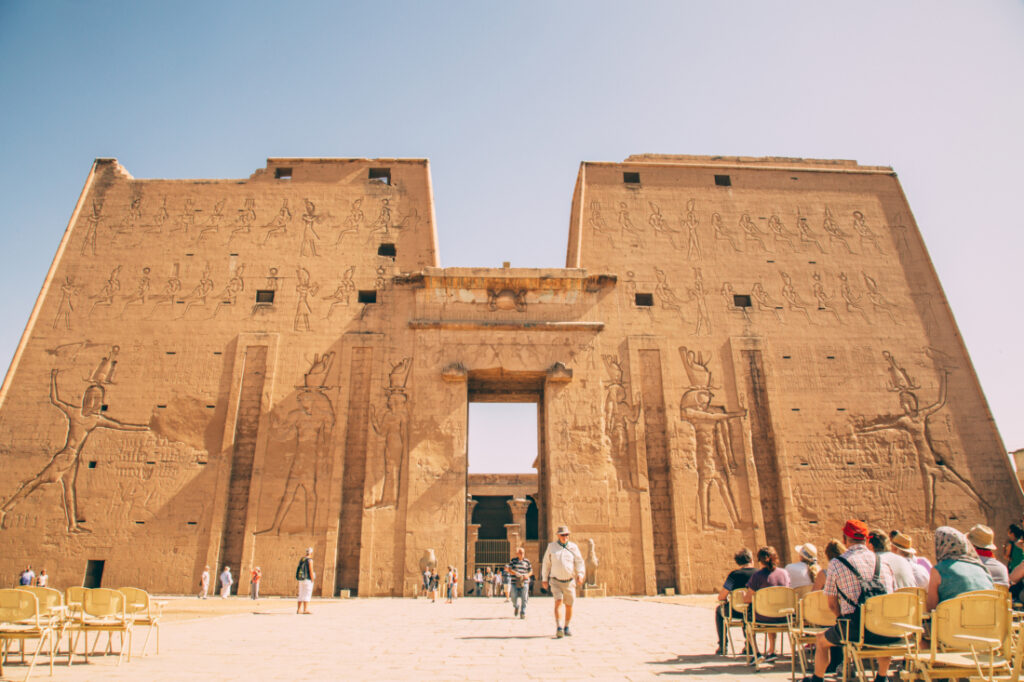 Morning/Afternoon
Edfu and Kom Ombo are towns along the Nile River in Egypt that are home to 2 famous temples – The Temple of Horus at Edfu and The Temple of Kom Ombo. This double temple layout is unusual and fascinating since it honors to different gods, Sobek, the crocodile god, and Horus, the falcon god.
I personally enjoyed the Temple of Horus at Edfu – it was extraordinary to see, and when we visited right away in the morning, there were hardly any tourists there. If you can't make up your mind, here are other reasons why Kom Ombo and Edfu are worth adding to your itinerary.
The temple complex is well-preserved and stunning. There's a large courtyard and a beautiful columned chamber showcasing incredible hieroglyphs and carvings.
Since crocodiles were revered in the area, the Kom Ombo Temple has a small museum nearby with about 300 mummified crocodiles on display. The little museum probably stays nice and cool too, which is good on a hot day.
For our Nile Cruise, we visited Edfu straightaway in the morning and then we visited Kom Ombo Temple later that afternoon. If you opt to visit these as a day trip from Luxor or a day trip from Aswan, this will be an all-day tour.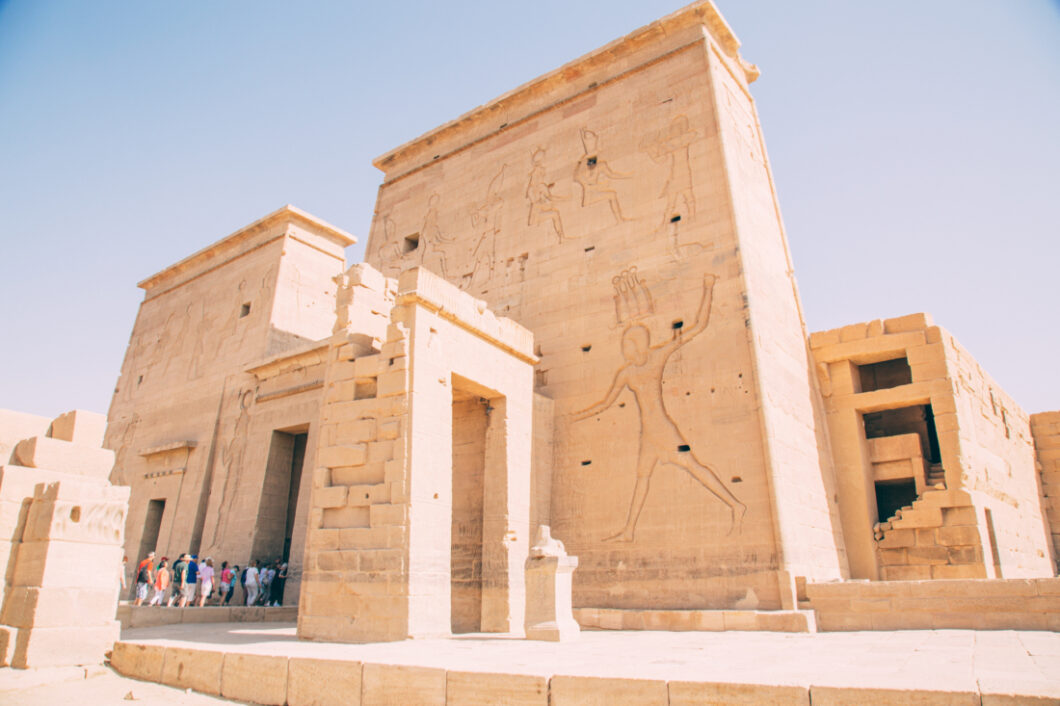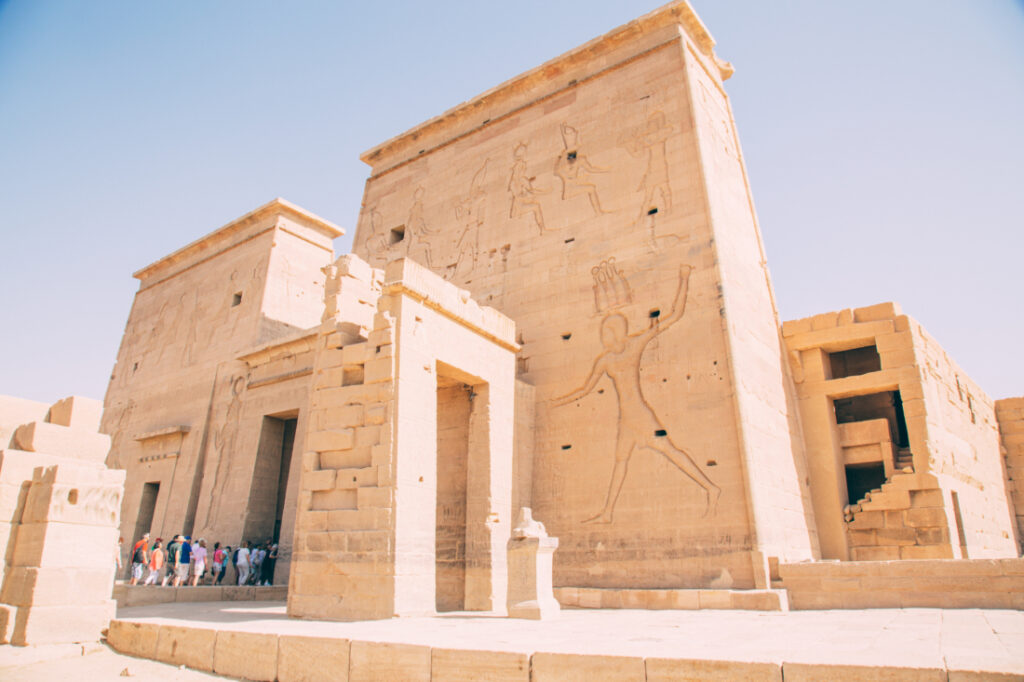 Morning – Temple of Isis (Philae Temple) + High Dam + Unfinished Obelisk
Aswan is a beautiful city located along the Nile River, and it is home to some very interesting places to visit!
Out of all the cities we visited in Egypt, Aswan was, perhaps, my favorite. It was quite clean and modern, and traffic was not as horrifically crazy as it was in most of Egypt.
You can visit the Temple of Isis, which is actually located on an island and was built to honor the goddess Isis back in 690 BC.
The Aswan High Dam (fed by the Nile River) is also not that far away…nor is the unfinished obelisk..which is the largest known ancient obelisk! I highly recommend it for any Egypt itinerary.
The high dam was built between 1960 and 1970 to help control and harness the power of the Nile. It's massive and 13,000 feet (or 4000 meters) long and 3220 feet (or 980 meters) wide.

I have a complete guide on things to do in Aswan that I recommend you check out to make sure you know exactly how to spend your time there.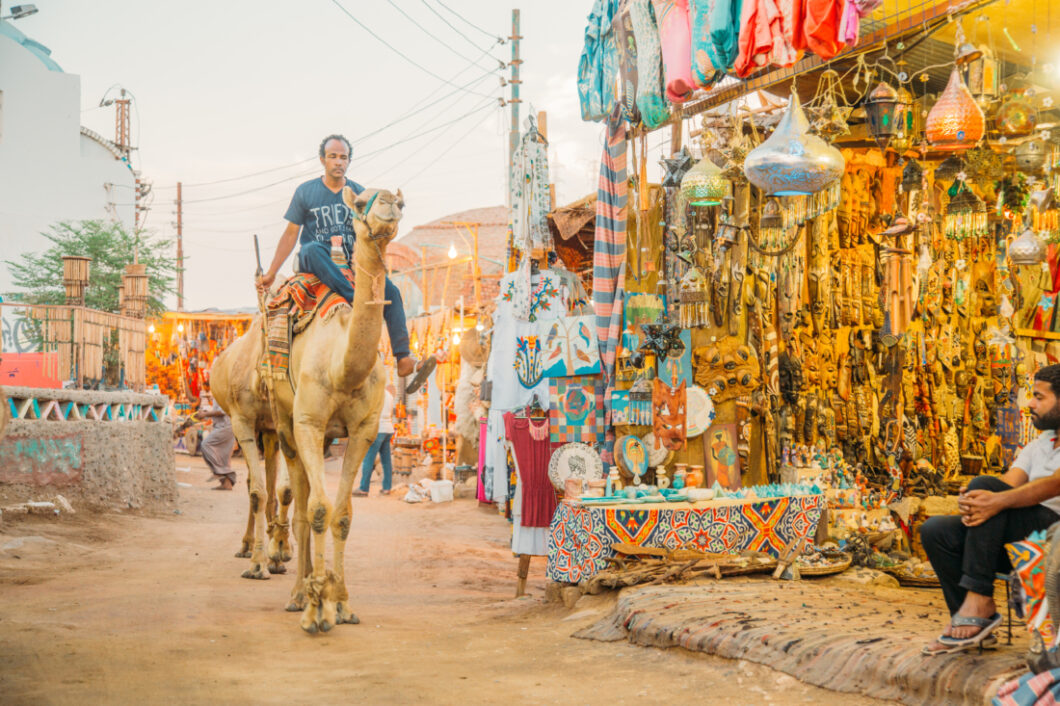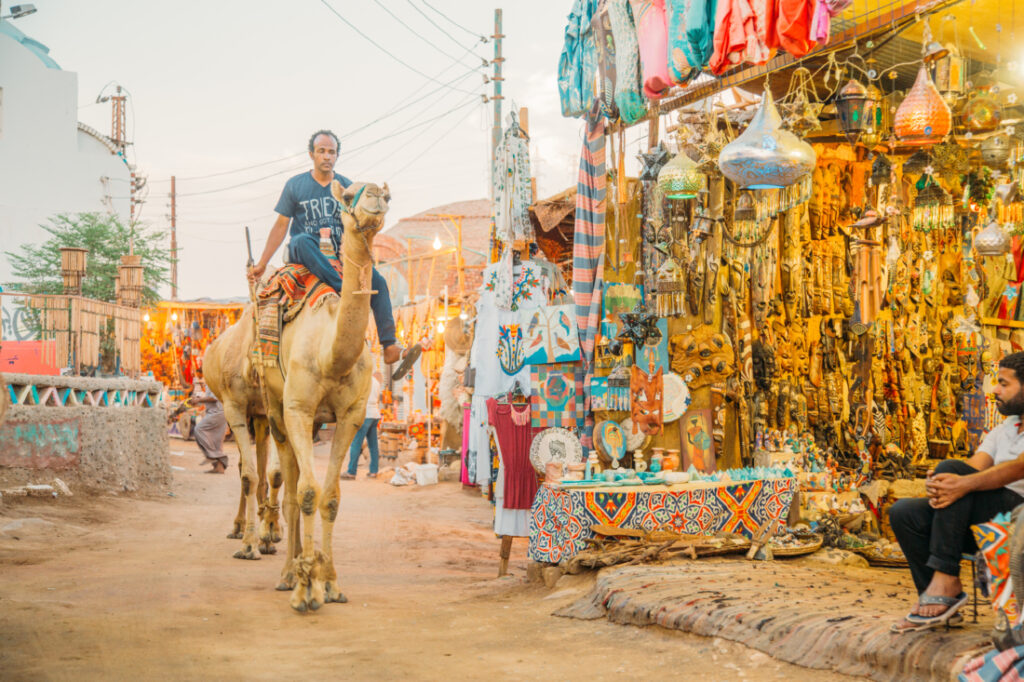 Afternoon – Relax or Do a Tour
You could spend your afternoon hanging about by the pool on your Nile River Cruise or your hotel or you could do an excursion. We visited the Nubian Village, and I definitely have some opinions about that. I recommend reading my article on whether or not Nubian Village is a tourist trap before deciding to head there.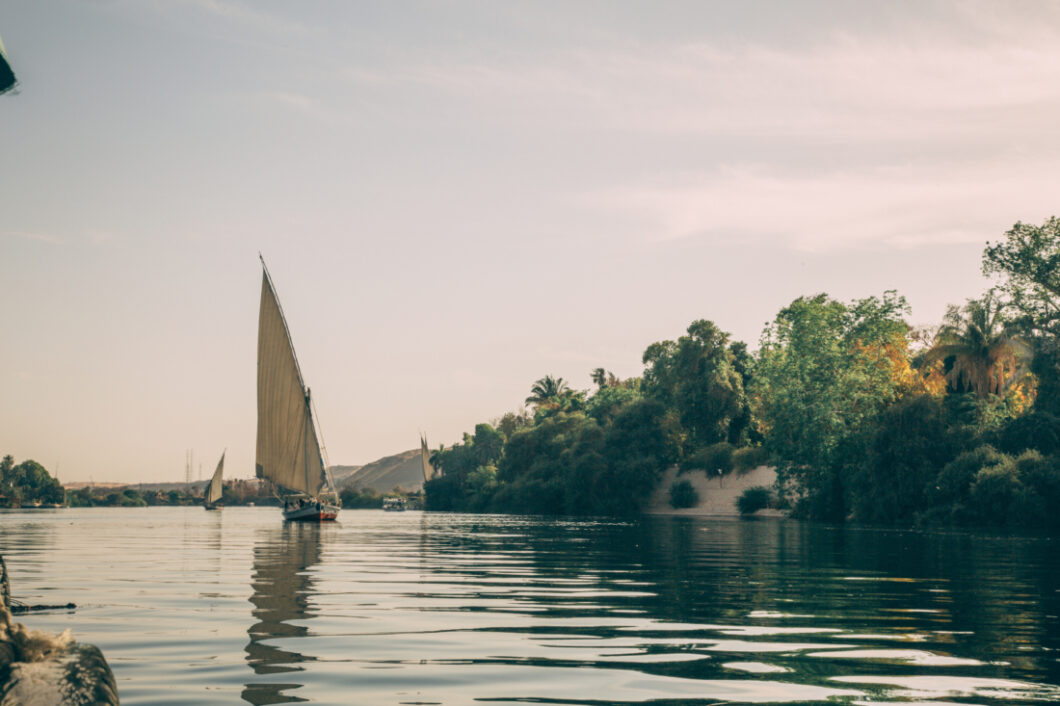 Another option is to take a sunset-felucca ride and visit some of the islands in the area. (Personally, I think this would be the nicest option.)
Or you could see the Sound and Light Show at Philae Temple – which is supposed to be the best out of all of the sound and light shows.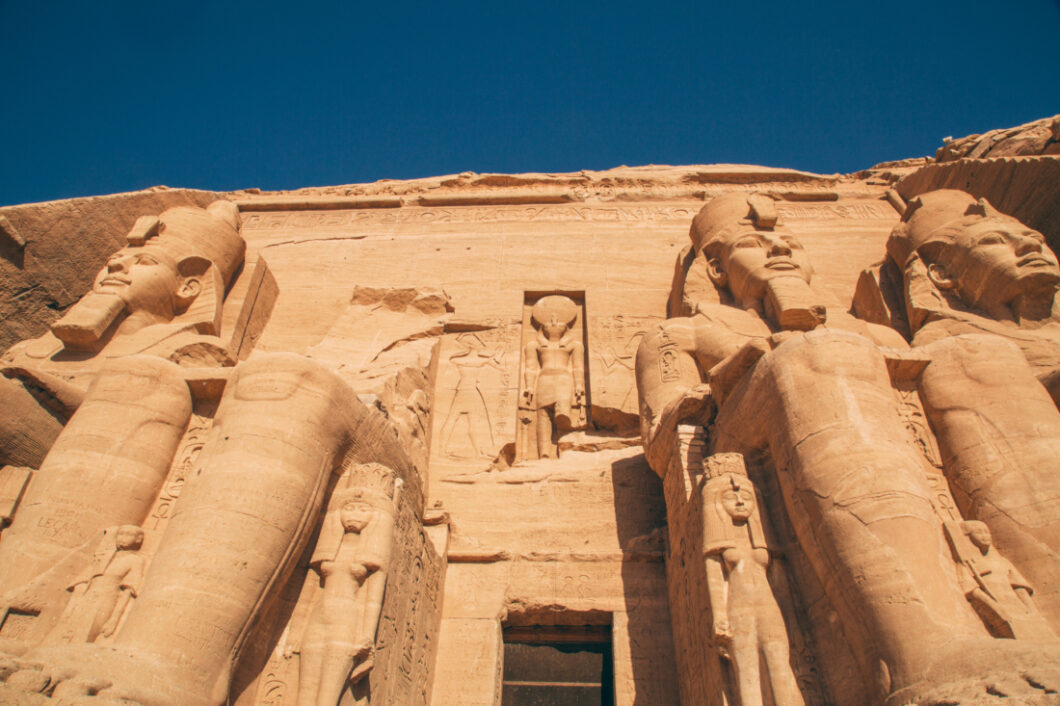 Morning – Abu Simbel
Abu Simbel is an absolute must-do for any Egypt itinerary. There's a reason why people say that if you didn't see Abu Simbel, you really didn't see Ancient Egypt.
This was honestly cooler for me than seeing the pyramids, and I have been dreaming about visiting the pyramids since I was 8!
Abu Simbel is a village in Southern Egypt, near the border of Sudan. It is home to two massive rock-cut temples one for the great Egyptian ruler Ramses II and one for his chief wife, Queen Nefertari.
There is so much more to Abu Simbel, Egypt and I highly recommend reading up more on my experience there.
Afternoon – Flight home or more time in Aswan or Cairo
Depending on how your flight works out, you could fly from Aswan back to Cairo and then to wherever your international destination is.
Or you could spend another night in Aswan or Cairo and then fly out the next morning. (There is also a tiny airport in Abu Simbel – but flights are very few and far between!)
Extra Days
Wondering what I'd recommend you check out if you have some extra days in Egypt? Here are my top two picks for a longer Egypt itinerary: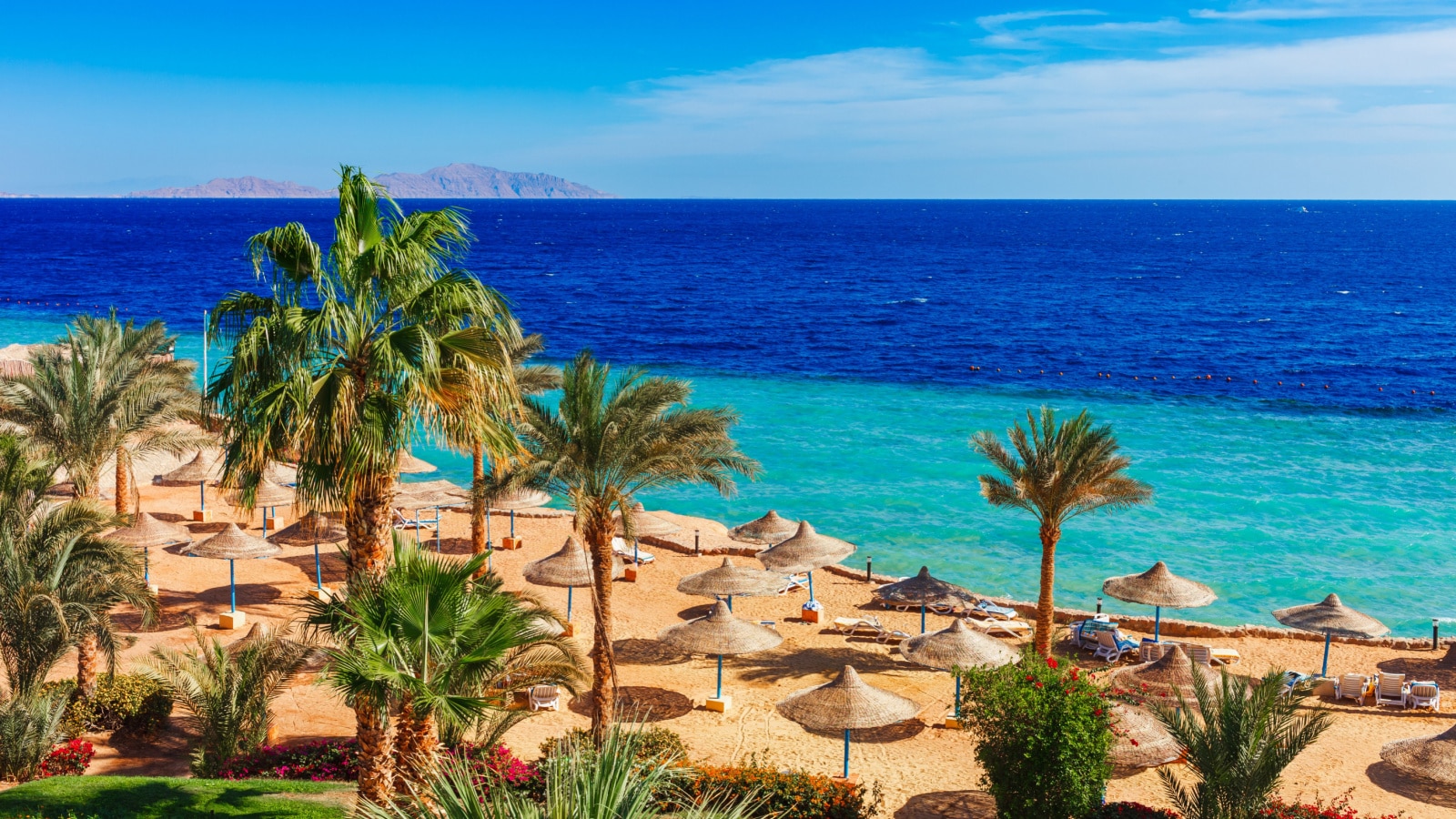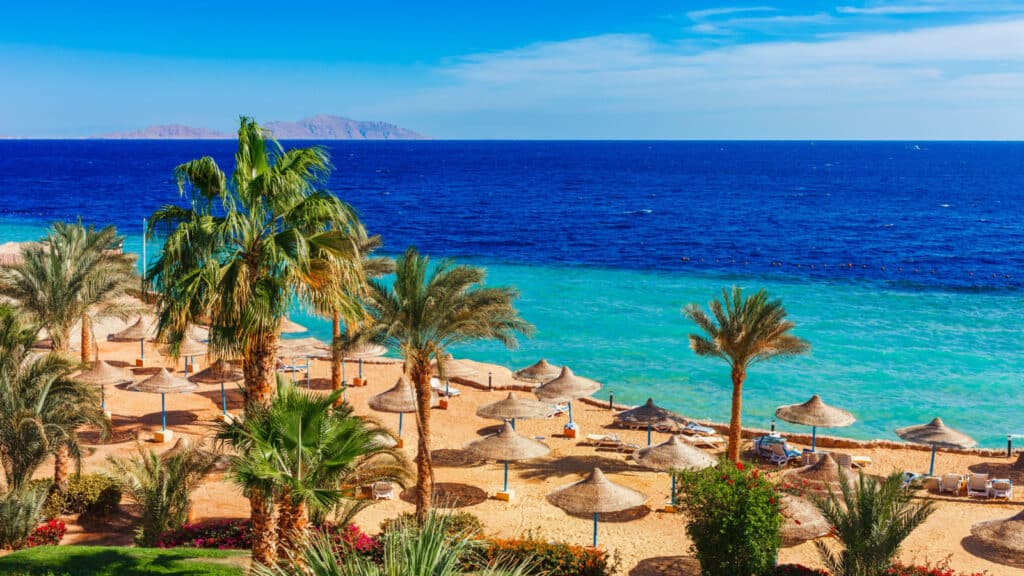 Hurghada and the South Red Sea
Hurghada is a stunning beach city on the south coast of the Red Sea. If you're looking for a luxurious, relaxing place to stay to unwind from your Egypt trip before heading home, then this is the perfect spot!
It has a laid-back, resort-style vibe and is incredibly relaxing. Hurghada also has its own airport so it's easy to get to from Cairo.
This place is world-renowned for scuba diving and a great spot to get your open-water certificate. Many people come here hoping to swim with the wild dolphins that hang out in this part of the Red Sea.
Another popular spot along the Red Sea is Sharm el-Sheikh. You can also climb Mount Sinai from here for sunrise and visit the St Catherine Monastery.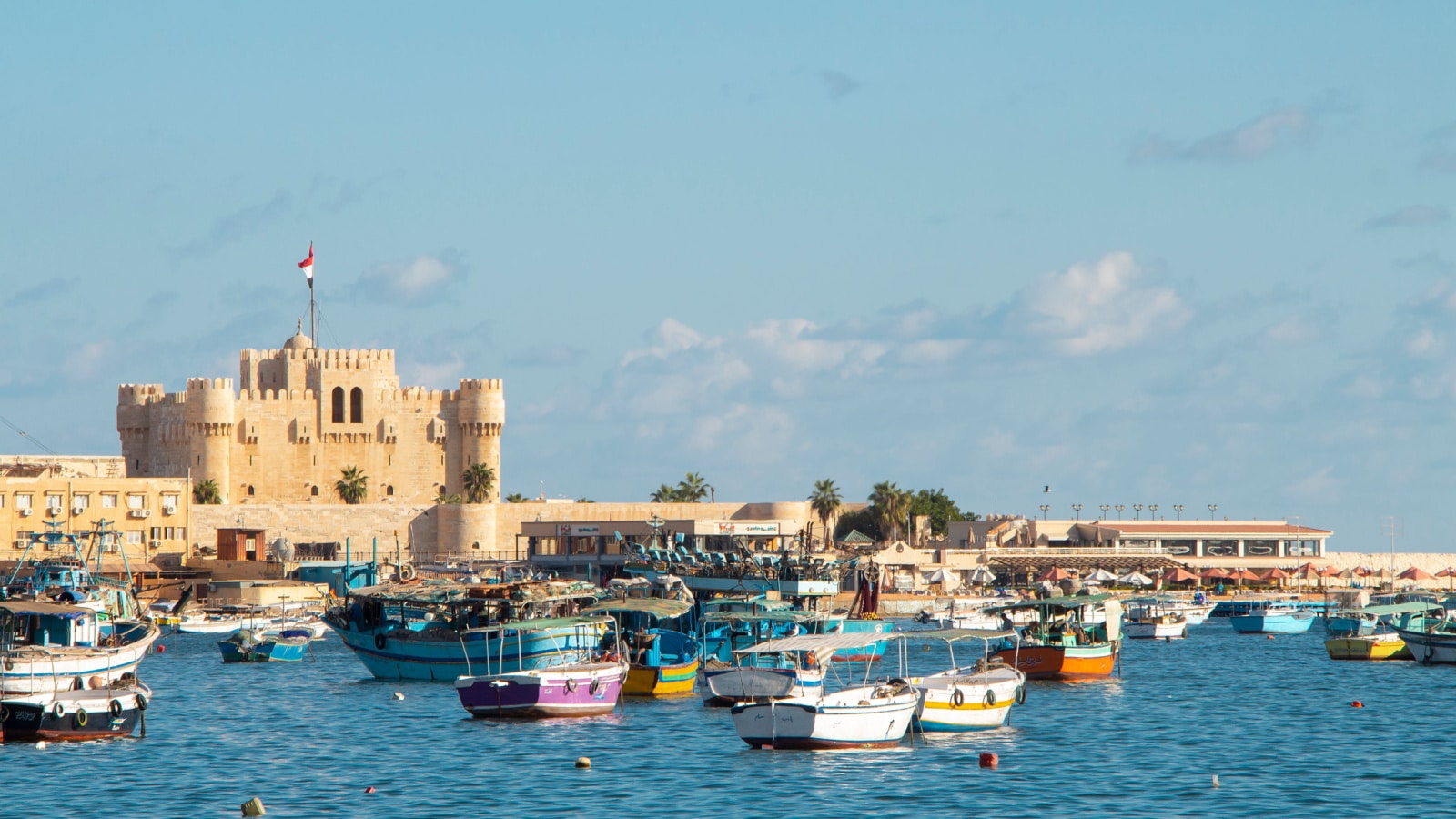 Alexandria
If you love visiting historical cities, then Alexandria is well worth your time. It used to be the capital of Egypt after Alexander the Great founded it. Currently, it's a stunning port city along the Mediterranean.
Some popular sites here include the Bibliotheca Alexandrina, and the Catacombs of Kom el-Shuqqafa, which are pretty fascinating since they're underground. The Ras el-Tin Palace is a great spot too.
It's worth noting though that most people visit Alexandria on a Cairo day trip, and prefer spending extra days along the Red Sea instead.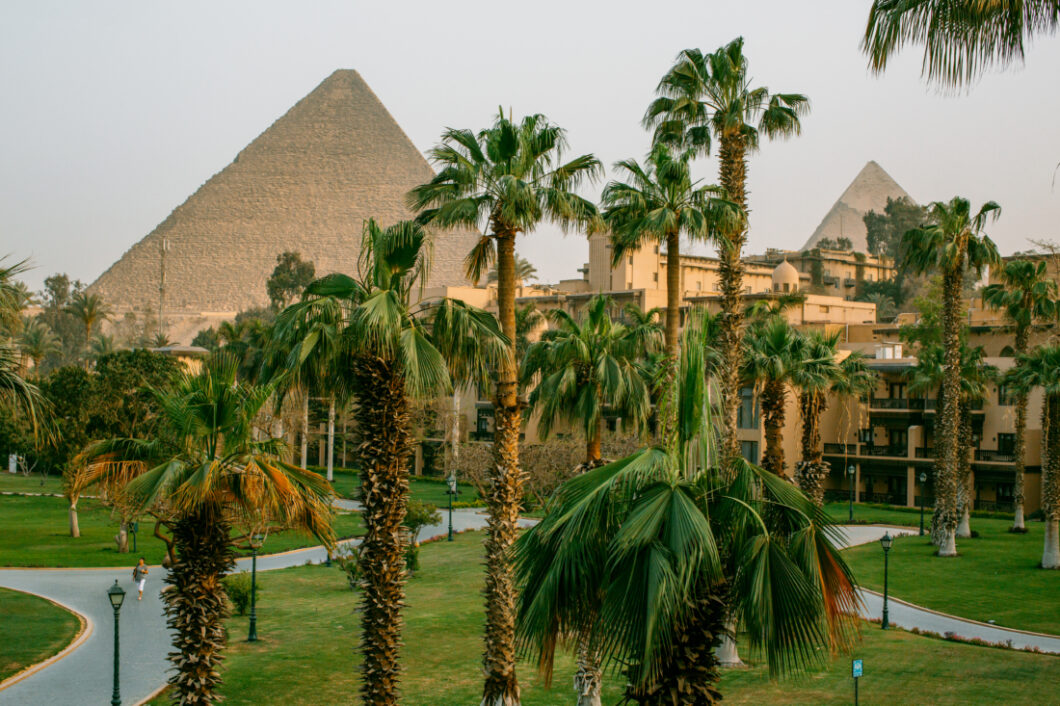 Hotels – Where We Stayed
While we were in Cairo/Giza we stayed at the Marriott Mena House – which had incredible views of the Pyramids (as you can see above)! It was also a very luxurious place to stay. Read my review of Marriott Mena House to decide for yourself if it's worth it.
For the remainder of the trip, we were on our Nile River Cruise. Again, we really enjoyed this and I have a full review on the cruise too!
Here's my collection of articles on Egypt for anyone who wants to learn more!
G Adventures is holding a cyber sale where group tour packages are up to 20% off!
Visa Requirements
---
To check if your country requires a Visa for traveling to Egypt, click here.
Using a VPN When Traveling to Egypt
---
VPN is short for "virtual private network." A VPN (like IPVanish) sets up a private connection between your device and whatever network you are connected to – so, no one can see your browsing data. It is important to use a VPN anytime you are connected to public Wifi (such as at a restaurant, resort, hotel, cafe, airport, etc.). This is because when you connect to a public network no matter where you are, you run the risk of a hacker grabbing your unencrypted data. Trust me, speaking from experience here…this can put a real damper on your trip if your banking, phone or email get hacked while you're traveling!
VPNs can also help you save on domestic flights, help you watch Netflix shows not available in the US and more! You can read more about using a VPN in my post "Why I Use a VPN When Traveling and at Home (And You Should Too)."
Travel Insurance
---
I, personally, use Squaremouth for finding the best insurance policies for my travels, and I have already used them for my own trips, and have had great success when needing to file claims. They're also recommended by Forbes! Get your free travel insurance quote from Squaremouth or enter your information via the widget below.
If you have any questions at all about this 7-day itinerary in Egypt – don't hesitate to reach out in the comments section, below.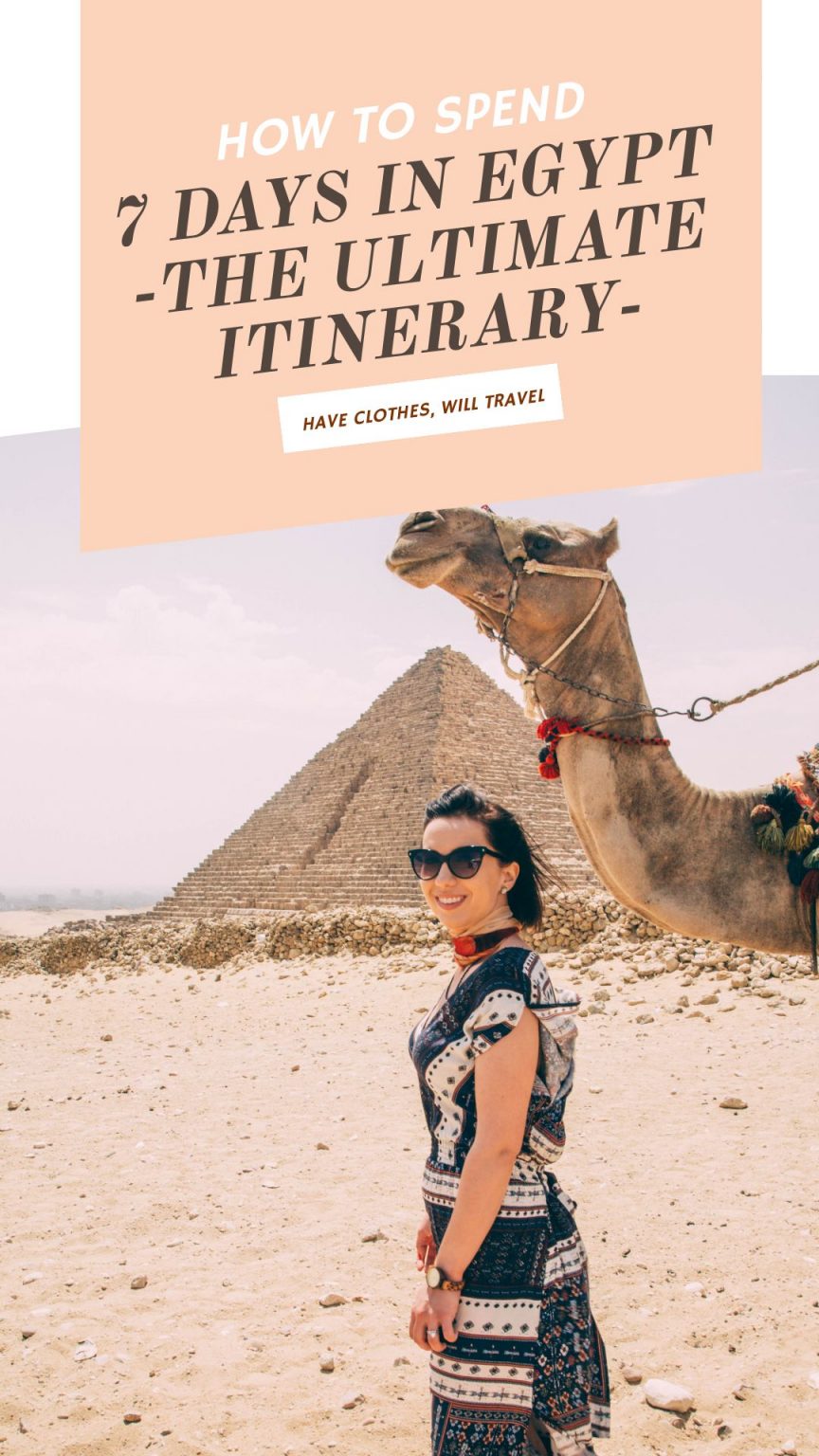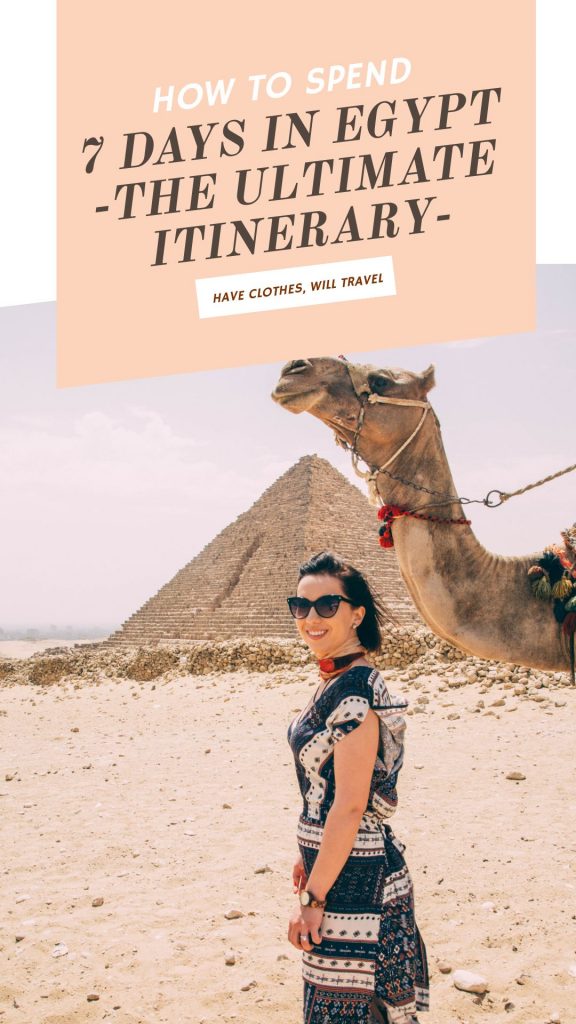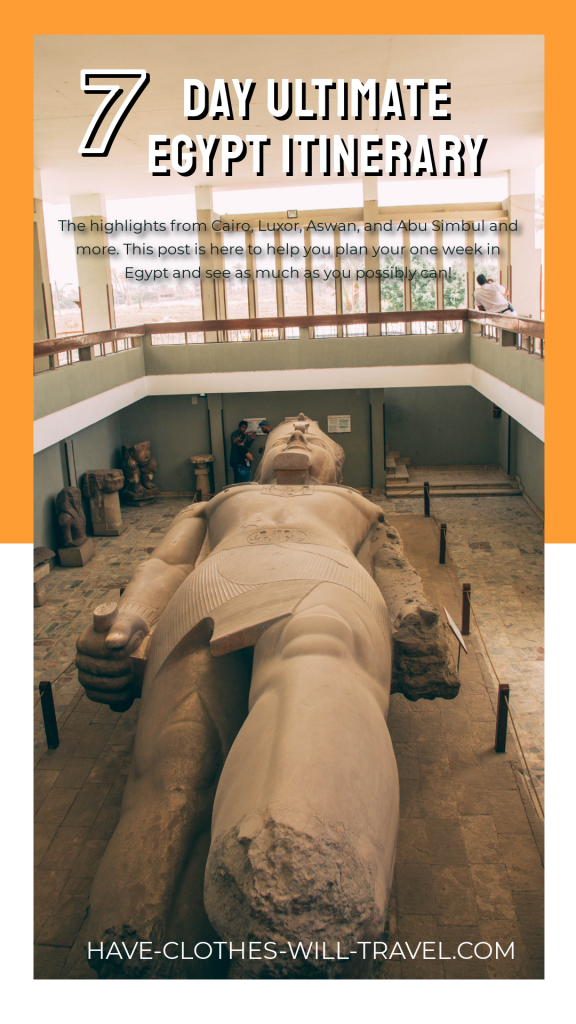 *Disclosure: some of these links are affiliate links. Meaning, if you click a link and make a purchase, Have Clothes, Will Travel gets a very small commission at no extra cost to you. Thank you for supporting the brands that make this blog possible! I am also a participant in the Amazon Services LLC Associates Program, an affiliate advertising program designed to provide a means for us to earn fees by linking to Amazon.com and affiliated sites.