More Pyramids Near Cairo – Saqqara (Djoser's Step Pyramid) + Ancient City of Memphis
The Great Pyramids of Giza are always what comes to mind when we think of pyramids near Cairo, Egypt. However, these aren't the only pyramids near Cairo. In fact, the world's oldest pyramid is located not far from Cairo! (And no, it isn't the Great Pyramid of Giza.) This post will explain, plus I'll share a little bit about the Ancient City of Memphis and how you can tour all of these places in less than a day!
More Pyramids Near Cairo – Saqqara
Saqqara is a big, ancient burial ground in Egypt. There are over 10 other pyramids here! It's about a 45-minute drive from Giza. We had visited The Pyramids of Giza, Saqqara and Memphis all in less than a day.
Saqqara was a very quiet place to visit, though, especially in comparison to the Pyramids of Giza. There were only a handful of fellow tourists here, despite the historical significance of this place.
Djoser's Step Pyramid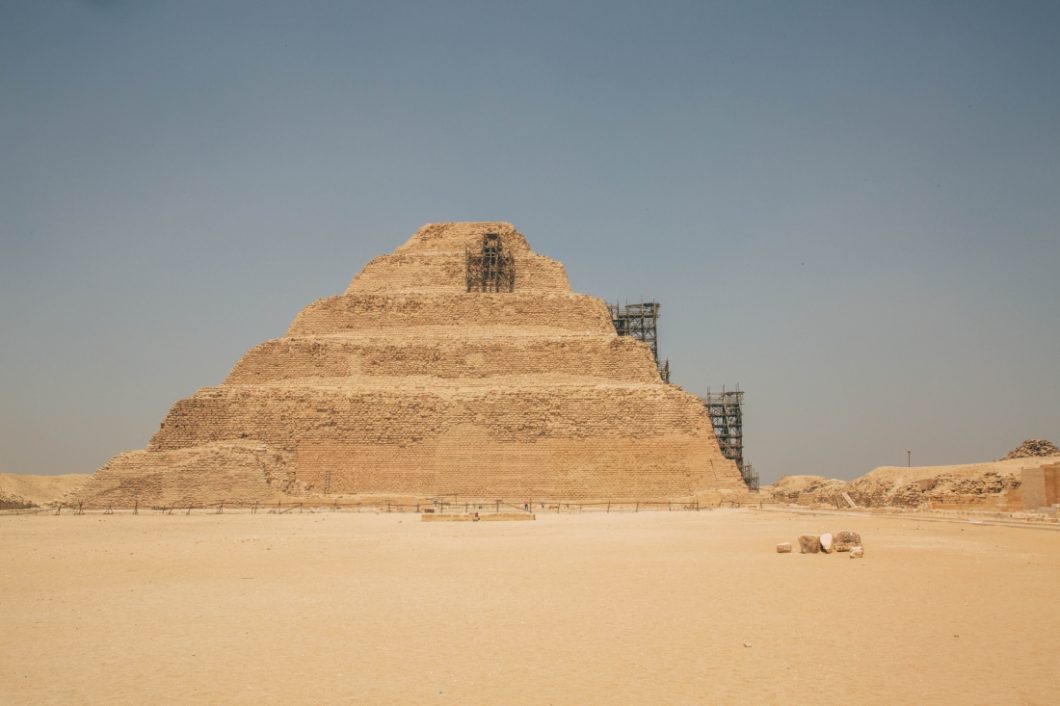 Djoser's Step Pyramid is the most famous of these pyramids because it is actually the world's first successfully built pyramid! Djoser's pyramid was the first to use multiple mastabas (rectangular tomb structures) stacked on top of one another to form a step pyramid. It was built around 2630–2610 BC during the Third Dynasty.
At the time we visited, there was quite a lot of construction going on to stabilize the pyramid, and we were not allowed to go inside. However, I believe once this is complete, they will allow people back inside to tour.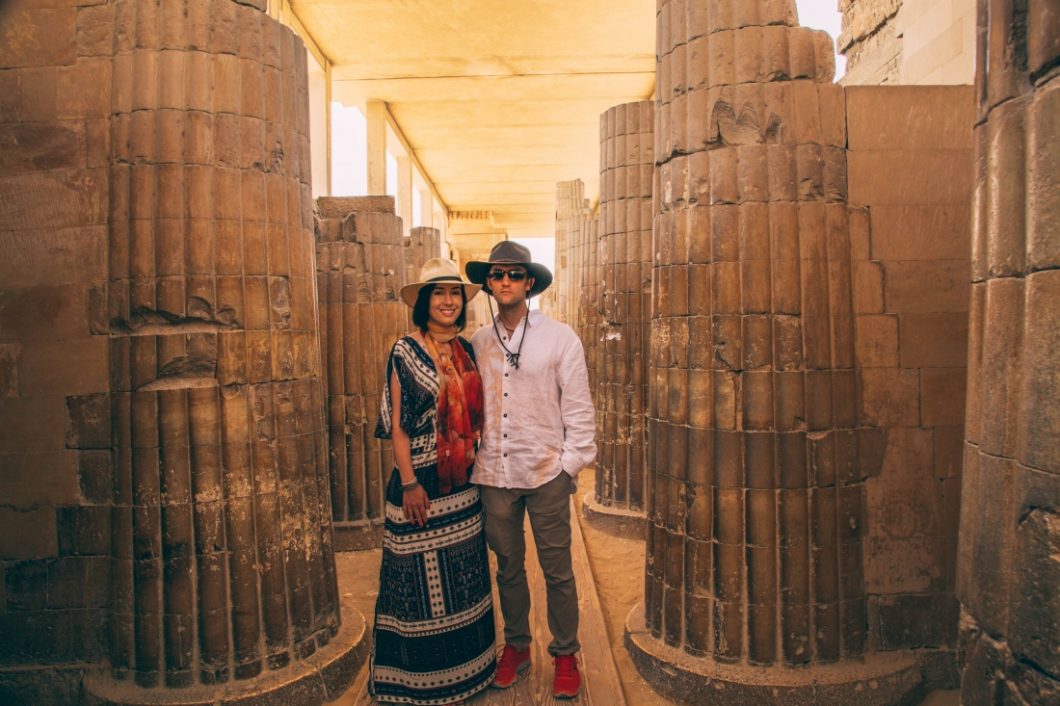 Pyramid of Userkaf
The pyramid complex of Userkaf was built around 2490 BC for the pharaoh Userkaf. It's on the north-east of the step pyramid of Djoser. The pyramid is now ruined and looks more like a heap of stone than a pyramid. (It's still very interesting to see, nonetheless!)
Ancient City of Memphis
Memphis was one of the oldest and most important cities in ancient Egypt. It is located at the entrance to the Nile River Valley near the Giza plateau. (And also a short distance from Saqqara.) It served as the capital of ancient Egypt.
One of the coolest things to see in Memphis is the massive statue of Ramesses II that was uncovered here, measuring over 30 feet tall!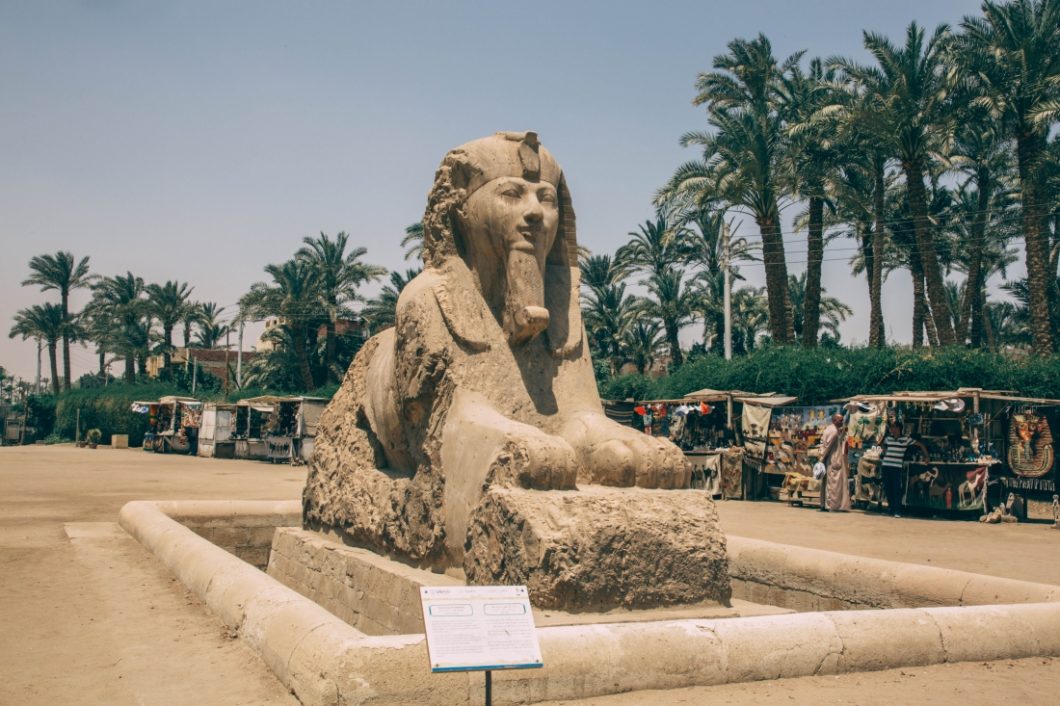 The Sphinx of Memphis is also located here. It is a stone sphinx which is believed to have been made between 1700 and 1400 BC, during the 18th dynasty.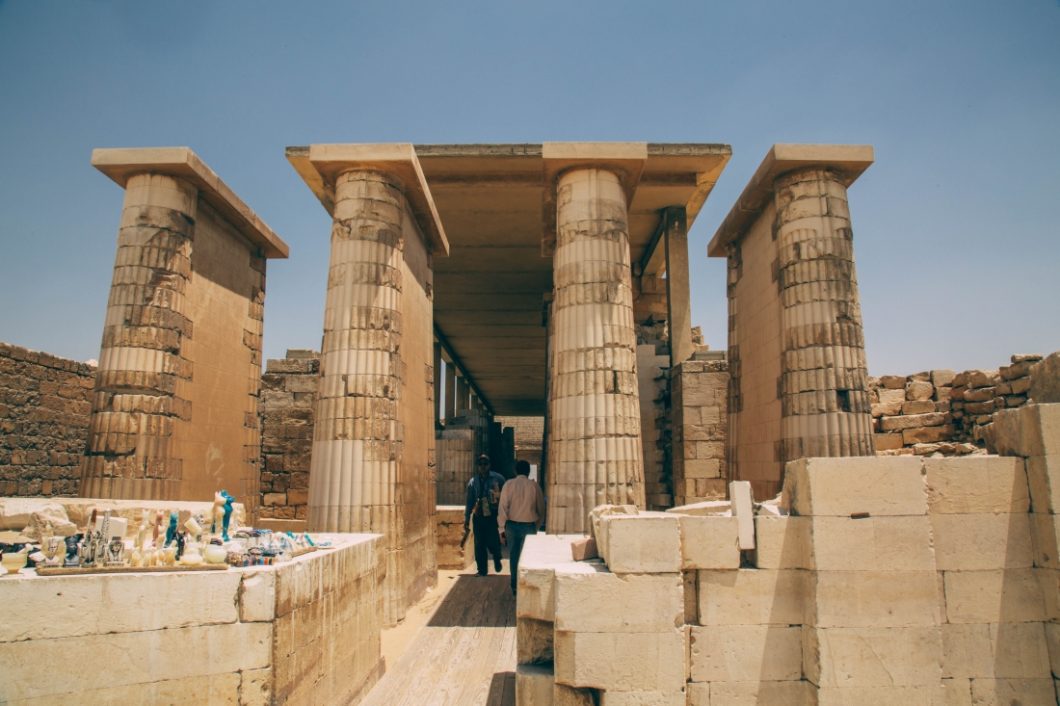 Getting to Saqqara and Memphis
The easiest way to see these sights is to book a tour. We had combined them with our tour of the Pyramids of Giza. (This tour, here, is a private tour and very affordable!)
Another option is to hire a taxi driver. Your best bet would be to do this through your hotel. Unfortunately, public transport does not go to these sights.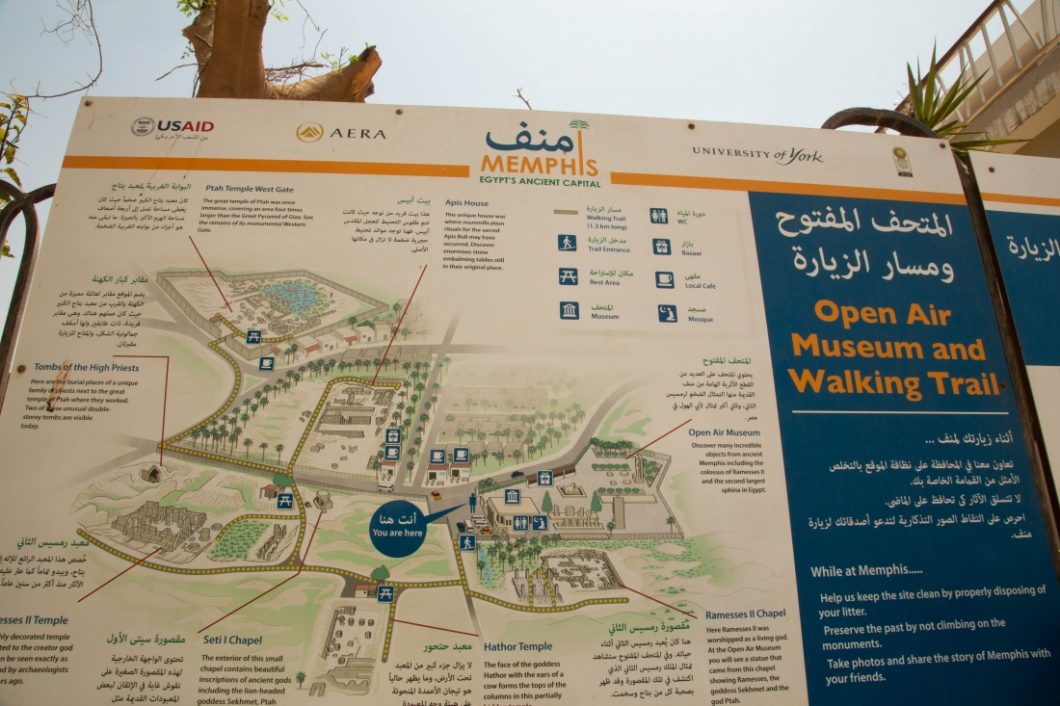 Did you know what the world's oldest pyramid was before this post? (I didn't realize this until we visited!) And would you be interested in seeing these places? Let me know in the comments!
*Click here to see my tips for visiting the Pyramids of Giza.
*Click here to see my outfit post from here.
*Click here to see all of my Egypt posts.
*You can also check out my entire packing list for Egypt as a woman.
*Also see my itinerary for how to spend 7 days in Egypt!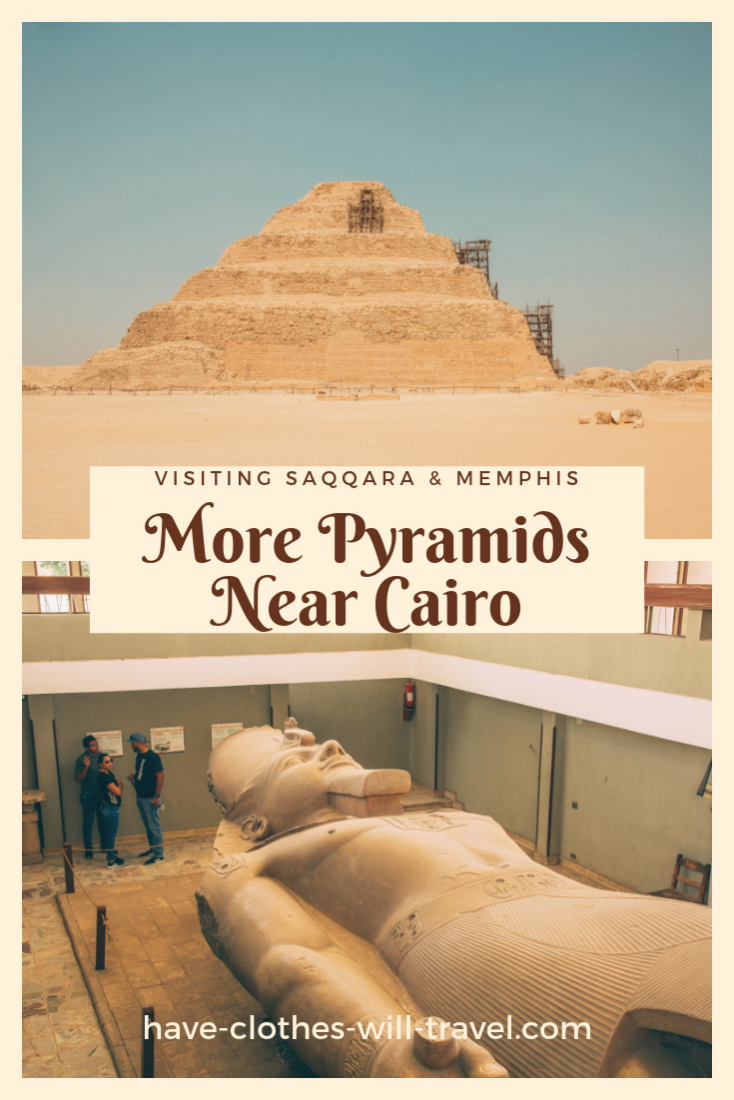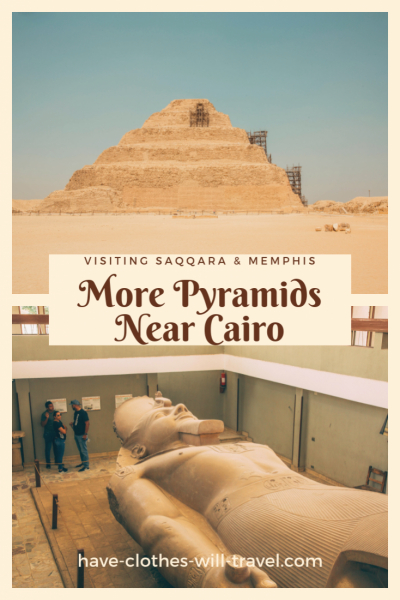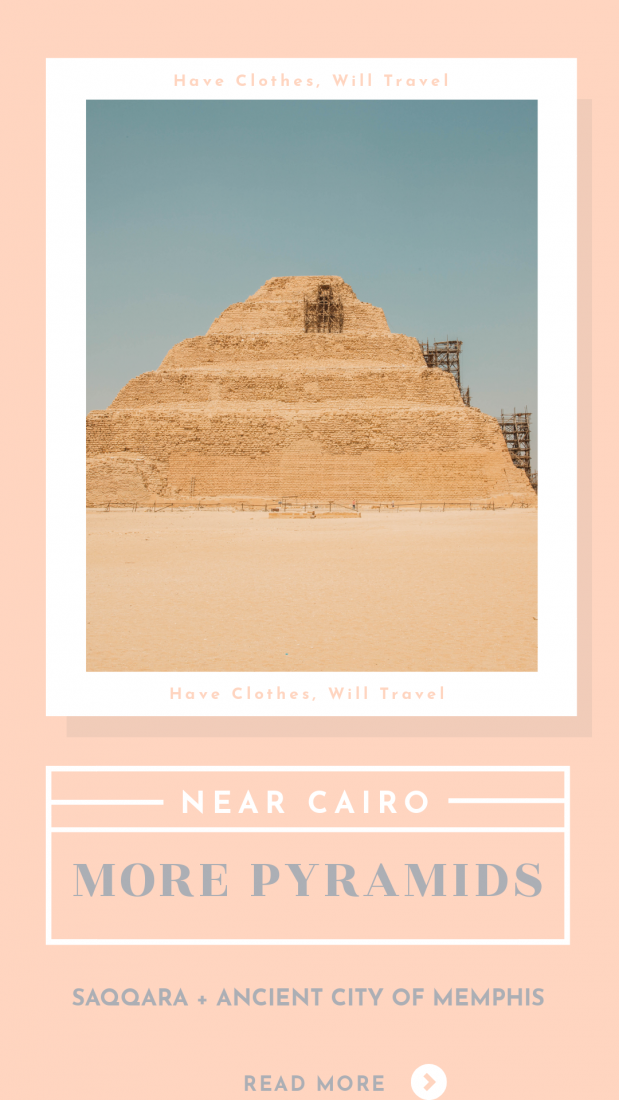 *Disclosure: some of these links are affiliate links. Meaning, if you click a link and make a purchase, Have Clothes, Will Travel gets a very small commission at no extra cost to you. Thank you for supporting the brands that make this blog possible! I am also a participant in the Amazon Services LLC Associates Program, an affiliate advertising program designed to provide a means for us to earn fees by linking to Amazon.com and affiliated sites.