What to Wear in Egypt as a Woman + My Egypt Packing List
Wondering what to pack for a trip to Egypt as a stylish woman? This post breaks down what to wear in Egypt + shares some of my packing tips for this trip & outfits!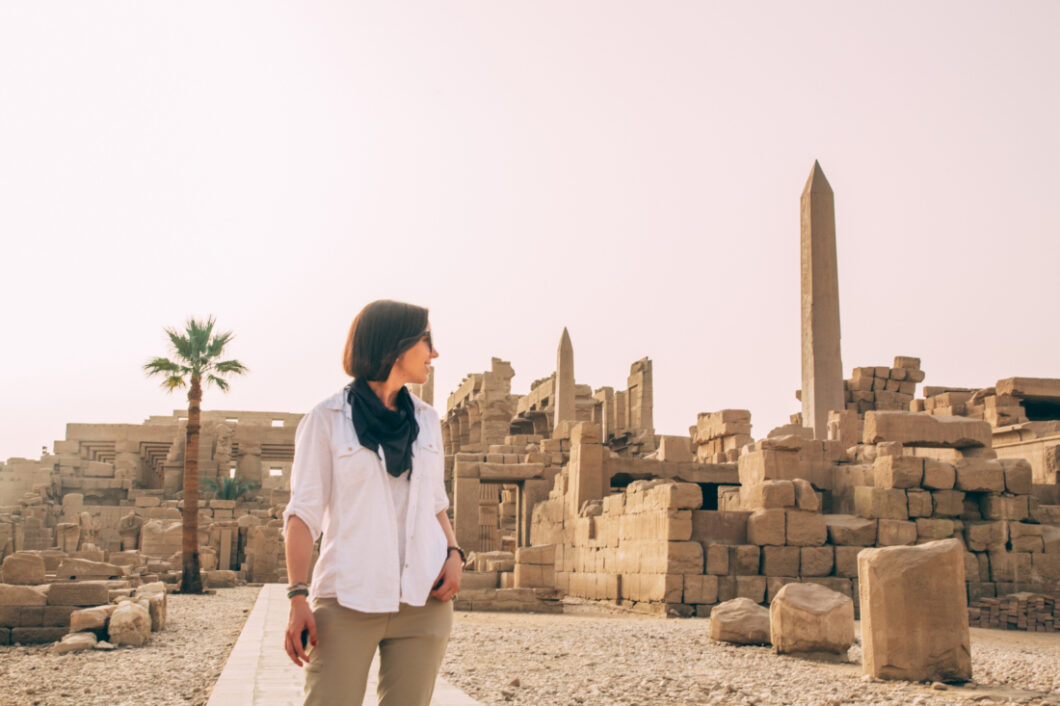 Packing for a trip to Egypt can be a bit tricky if you're a woman, especially if you're a woman who likes to look stylish whilst traveling. This post is here to help! I'll offer my packing tips for Egypt + a rundown of everything I wore + brought along on this trip. (I was in Egypt for a full week on this adventure.)
*Disclosure: some of these links are affiliate links. Meaning, if you click a link and make a purchase, Have Clothes, Will Travel gets a very small commission at no extra cost to you. Thank you for supporting the brands that make this blog possible!
G Adventures is holding a cyber sale where group tour packages are up to 20% off!
What to Wear in Egypt as a Woman
When figuring out what to wear in Egypt as a woman it's important to remember that Egypt is a predominantly Muslim country. Therefore, you should pack modest clothing that will work well in the hot temperatures of Egypt. By dressing modestly I mean, your shoulders, cleavage, and knees should be covered, and you should avoid tight, clingy clothing.
Now, it's not the end of the world if any of these parts aren't covered…it's just not considered respectful to many of the people in this bustling country. It also might get you some unwanted attention (especially if you're traveling solo) if you aren't dressed modestly. You'll notice in many of the highly touristic areas (Egyptian Museum in Cairo, the Pyramids of Giza, Karnak Temple, etc.), though, that not everyone will abide by this dress code.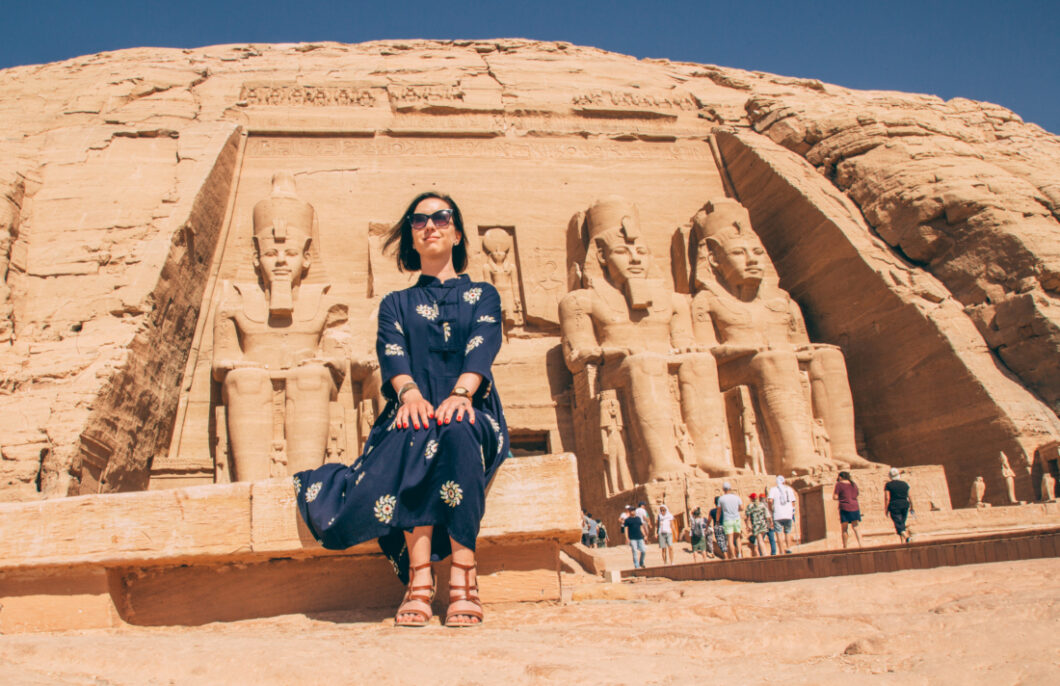 Bright colors are common in Egyptian fashion, so don't be afraid to incorporate some into your wardrobe. However, avoid clothing with provocative or controversial images or slogans, as they might be viewed as disrespectful as well.
Lastly, remember that these are general guidelines, and the dress code can vary depending on the location. For instance, beach resorts and major tourist sites (like the Egyptian Museum in Cairo) have more relaxed dress codes compared to more conservative rural areas or religious sites.
Can you wear swimsuits in Egypt?
You can wear bikinis at your hotel/resort and also on Nile Cruises. (Again, I personally felt more comfortable in a one-piece swimsuit.) Egypt just isn't a place you want to be wandering around in your swimsuit outside of these areas.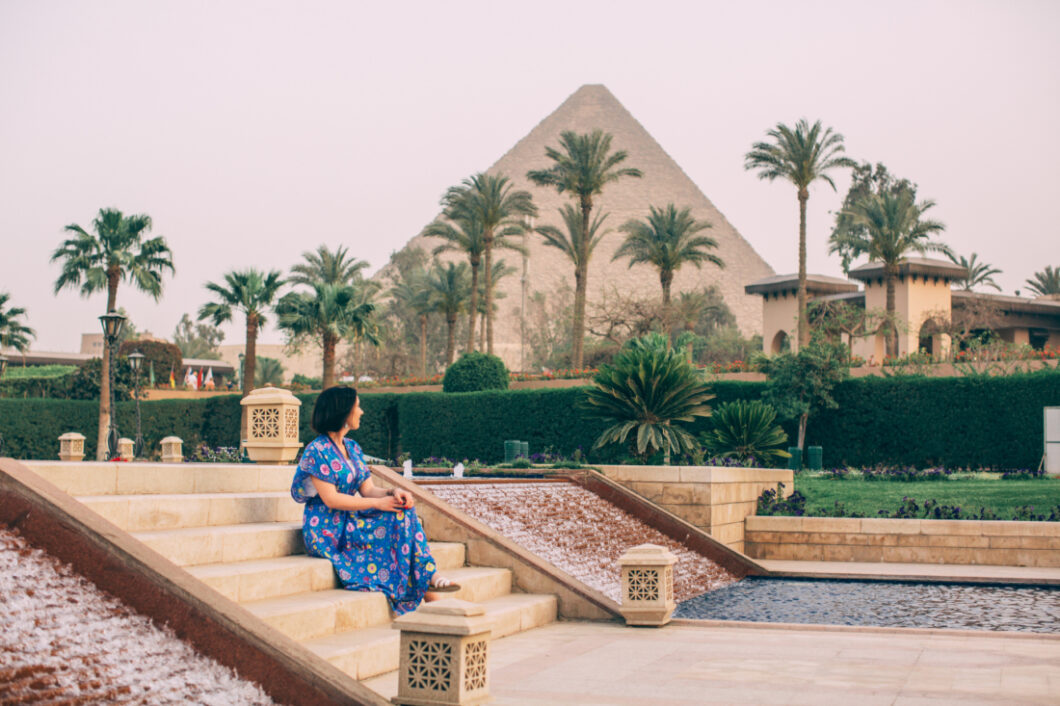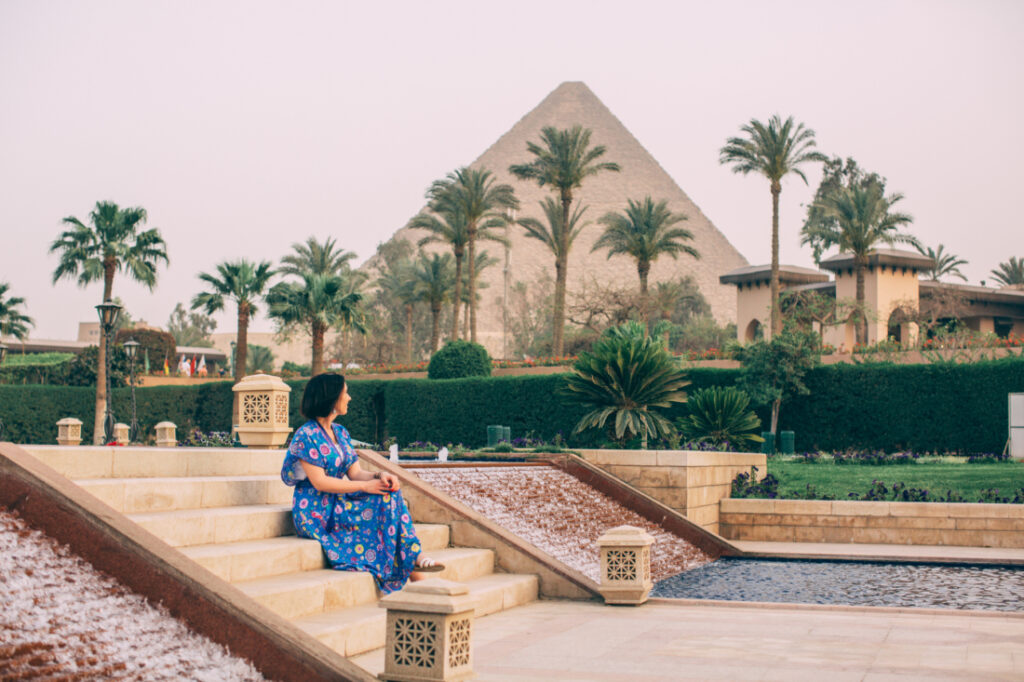 Can women wear shorts in Egypt?
I would not advise wearing shorts in Egypt, as it is not considered respectful to the locals. Opt for lightweight pants, maxi skirts, or maxi/midi dresses. Capris would also be considered respectful to wear in Egypt as they cover your knees.
Can you wear leggings or skinny jeans in Egypt?
You can. You will likely even notice local women wearing them. However, it's important to balance these with a longer, loose-fitting top that will cover your bum.
Do women have to wear a hijab in Egypt?
It also is not necessary to wear a hijab in Egypt. Many of the local women will be wearing them, but it is not expected for women who are touring to wear them. (Unless you want to, of course. The locals will really appreciate your attempt at wearing one!)
If you plan to tour any mosques, though, it is a good idea to carry a scarf with you so you can cover your head. I almost always wore a lightweight scarf anyway, as I liked the added modesty it provided, to make sure my cleavage was never accidentally showing.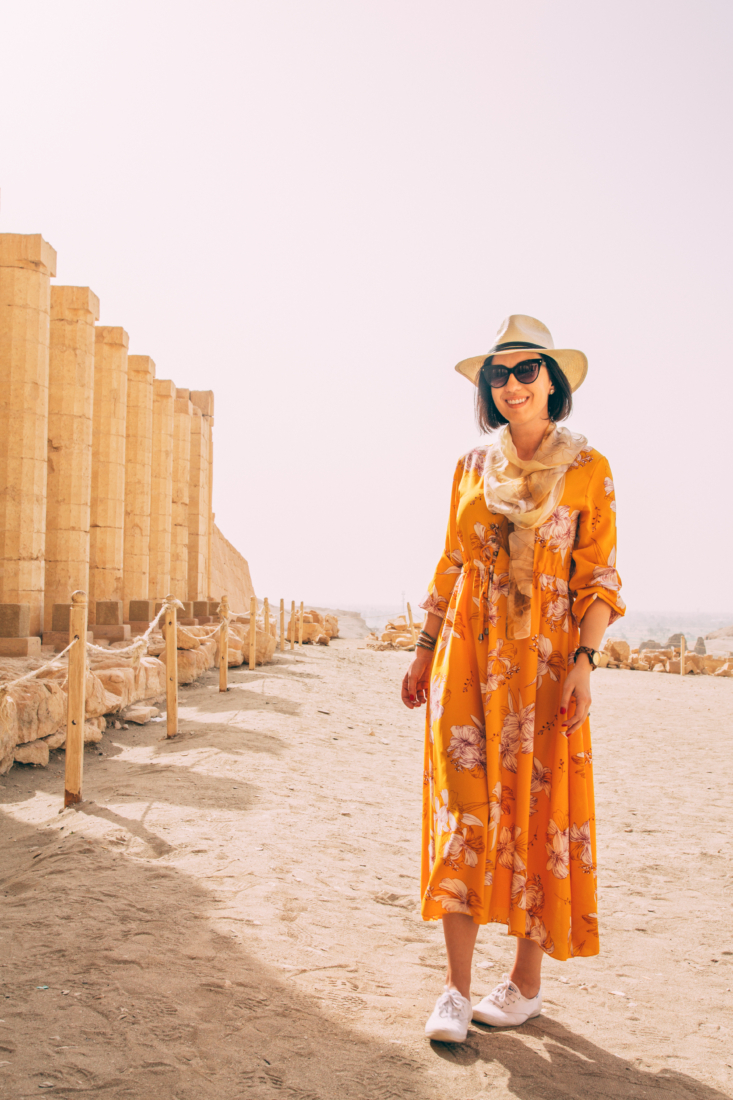 Keep in Mind the Heat When Deciding What to Wear
Egypt is generally always going to be warm, no matter what time of year you visit. Cairo's temperatures will be a bit milder in the winter, but if you're visiting Luxor…even in winter the average temps are in the upper 70s (Fahrenheit)! (I have an entire post dedicated to how to dress comfortably and stylishly for the heat in Luxor!)
I had visited Egypt in May. This is just when the temps are starting to get nearly unbearable. This had its perks, though, as many places were quieter, with not as many tourists. (Except in Cairo – the Pyramids of Giza and the Egyptian Museum were still bonkers busy despite the heat!)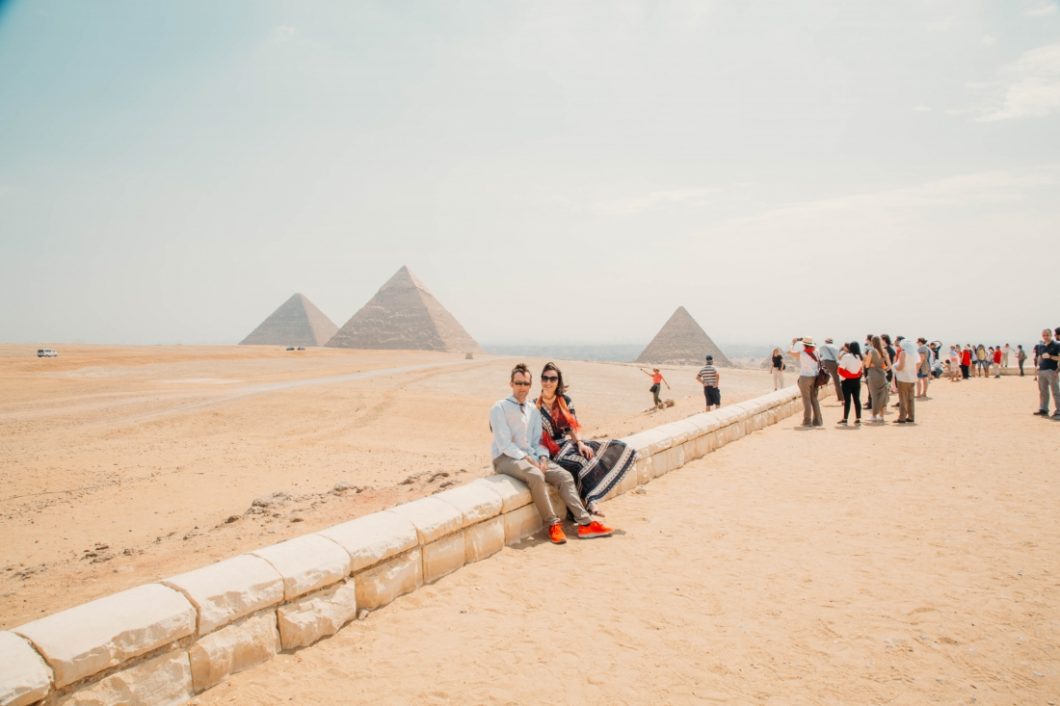 Wearing lightweight, natural fabrics will be your best bet in Egypt! This way you can still be covered but also comfortable. (Look for 100% cotton, silk, or linen items.)
That being said, though, those items tend to be a bit pricier and will generally wrinkle easily. Only about half of what I packed for this trip contained natural fibers. I did wear several dresses that contained synthetic fabrics – so, they were significantly less expensive – but were still perfectly comfortable (for me at least). I'll talk more about exactly what I packed in a moment, though!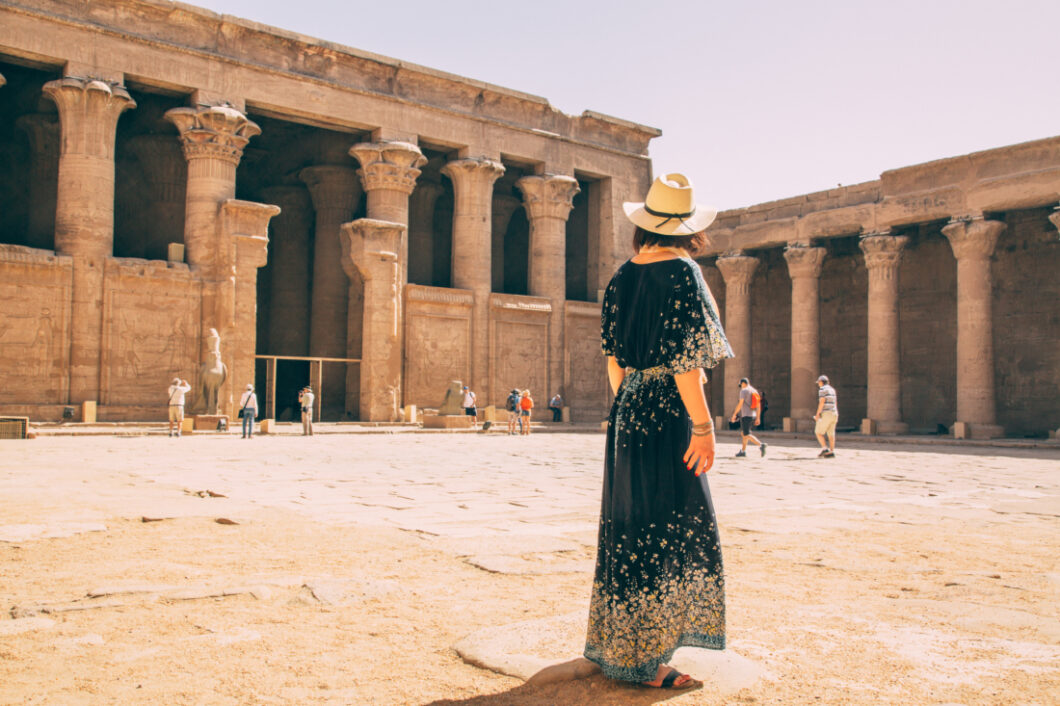 During the cooler winter months, layering is key. While daytime temperatures can still be warm, evenings can get quite chilly. A light jacket or sweater is a good idea.
Remember, regardless of the season, the principle of modesty still applies. Aim to balance comfort with respect for local norms and traditions.
What to Pack for a Week+ in Egypt
*A good rule of thumb: Pack one change of clothing per day. You're likely going to sweat through everything you wear during the day!
I had 7 full days in Egypt. (On the 8th day I just woke up and hopped on a plane to Jordan.) Now, I like to wear dresses. I like the way they look, and I feel more comfortable while wearing them. So, the vast majority of what I packed for Egypt consisted of lightweight maxi dresses that had some kind of sleeve. (I also liked the added protection from the sun, as my sunscreen application throughout the day can be terrible!)
And, if you're hoping to only pack a carry-on bag, this isn't the packing list for you. Sorry. I am also a style blogger, so only packing a carry-on rarely happens around here. (I also was heading to Jordan for 4 days after this and did re-wear some of these outfits…if they weren't too smelly!)
*I used this checked bag to pack all of my clothing + toiletries in.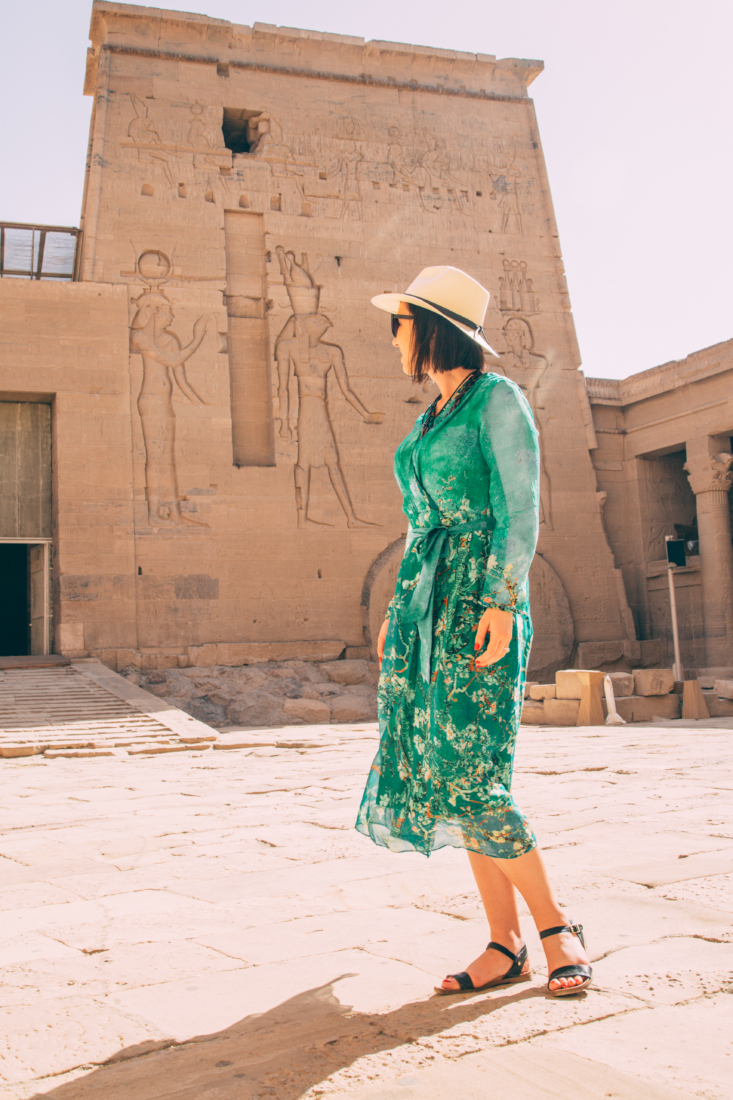 However, if you want to dress comfortably yet stylishly and still respect Egyptian culture by dressing modestly, this is the Egypt packing list for you! (Who doesn't want to look stylish in their photos next to the pyramids?!)
Here is exactly what I packed for clothing, and I'll share each outfit with its corresponding post below.
*Note: if you are visiting in winter, then you will want to adjust the packing list a bit, as the temps will be chillier than when I was there in May. I would swap out some dresses for more pants + button-up shirt combos. Here are also some suggestions for additional items to pack:
So, yeah, I packed quite a bit! I did, however, wear all of this while in Egypt and re-wore quite a bit of it while in Jordan too. The reason there are more outfits than days is because a couple of these outfits were just for changing into for dinner after I showered from being in the heat all day. (We had also taken a Nile River Cruise where most people showered and looked nice for dinner. Most people also looked nice at Mena House in Cairo after exploring for the day.) I'll list each outfit below.
Another Packing Essential – Use a VPN When Traveling to Egypt
VPN is short for "virtual private network." A VPN (like IPVanish) sets up a private connection between your device and whatever network you are connected to – so, no one can see your browsing data. It is important to use a VPN anytime you are connected to public Wi-Fi (such as at a restaurant, resort, hotel, cafe, airport, etc.). This is because when you connect to a public network no matter where you are, you run the risk of a hacker grabbing your unencrypted data. Trust me, speaking from experience here…this can put a real damper on your trip if your banking, phone, or email get hacked while you're traveling in Egypt!
VPNs can also help you save on flights within Egypt, help you watch Netflix shows not available in the US, and more! You can read more about using a VPN in my post "Why I Use a VPN When Traveling and at Home (And You Should Too)."
Pro tip: if you are only planning to use a VPN for your vacation (and not daily life), purchase a monthly plan, right before you leave for your trip. Use the VPN for the duration of your trip, come home, and cancel the plan. This way you'll have only spent a few dollars… but you'll save yourself a HUGE headache.
The Outfits I Wore in Egypt
These are all of the outfits I wore in Egypt. I was very comfortable in all of these and have reused them for several trips to the Middle East.
The only outfit not listed above was my maxi skirt + T-shirt outfit I wore for a night at the Nubian Village, and I also wore this for my plane ride to Jordan. It's a comfortable outfit. However, out of all my outfits, this one felt a bit too clingy for my preference…at least this particular skirt. I have looser-fitting maxi skirts that would have been better! I did, however, love wearing this T shirt. (I also wore it nonstop when we were in the Amazon, along with lightweight travel pants.)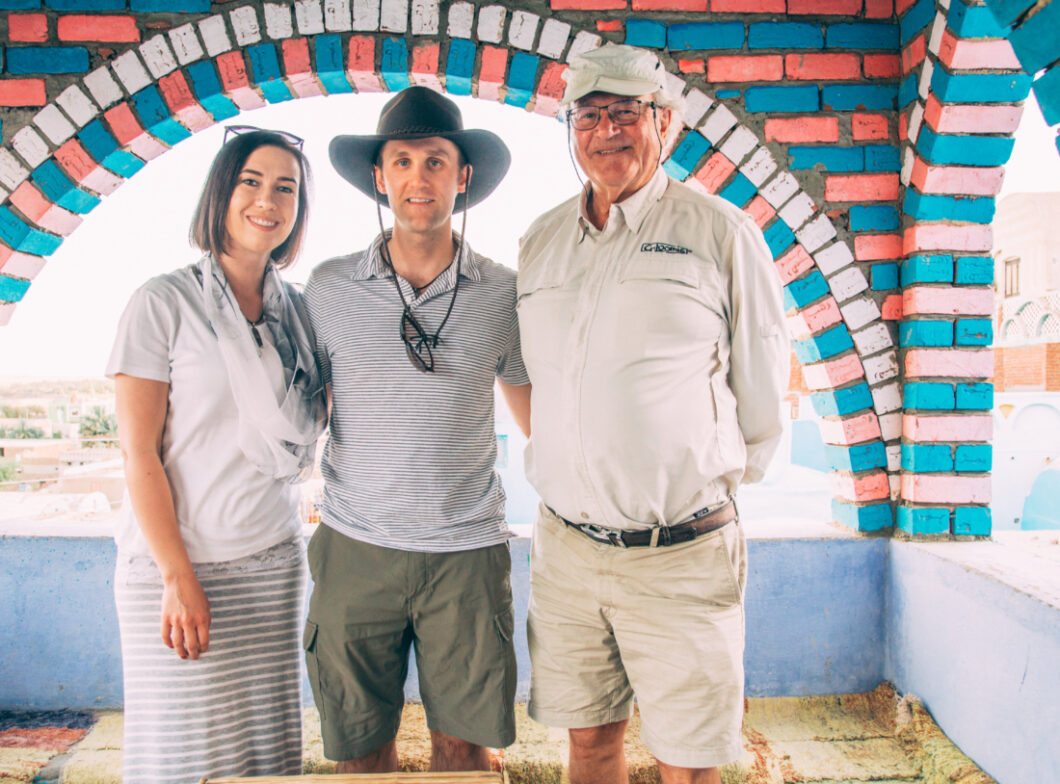 Toiletries I Packed for Egypt (and a Few Other Things)…
My makeup (liquid foundation with SPF, eyeliner, mascara, powder, etc.)
Shampoo & conditioner (I'm picky about this due to my thin hair)
Moroccan oil (for my hair)
Deodorant (Good grief did I need this! Haha)
Aloe (It's inevitable that one of us was going to get burnt!)
Zit cream (my acne is the worst when traveling)
Contact solution
Bandaids + Neosporin
Medicines, such as Advil, Pepto, Immodium, Tylenol PM, Benadryl, etc. (ended up needing ALL of it at one point or another on this trip.)
Anti-itch stick (I got some horrific bug bites on the Nile Cruise!)
All-in-one heat styling tool (It's Dual Voltage)
Outlet Adaptors (Egypt is Type C – like most of Europe)
Again, I pack above and beyond for toiletries (even if they are all travel-sized)! This is also why I check a bag – there isn't any way that's all coming in a carry-on bag with me. I'm high-maintenance – but, I still travel all the time. (There's no changing me at this point!)
The majority of women would be able to pack half of this stuff and be OK – but, I'm being honest with what I all packed and used for this trip to Egypt. If you have any questions at all but what to wear in Egypt or what to pack for Egypt, fire away in the comments below!
G Adventures is holding cyber sales where group tour packages are up to 20% off!
Travel Insurance
I, personally, use Squaremouth to find the best insurance policies for my travels. I typically use the Trawick Safe Travelers policy. I have had no issues getting reimbursed for any claims I've had over the years (the most recent one being stuck in Peru for an extra 5 days). They're also recommended by Forbes! You can get your free travel insurance quote here.
Visa Requirements
To check if your country requires a Visa for traveling to Egypt check out this site. At the time I visited (as a U.S. Citizen), I bought my visa at the airport upon arrival.