Cute Dresses for Egypt + Modest Yet Stylish Egypt Outfit Ideas
Are you wondering what the best dresses are for your trip to Egypt? This post is for you! I'm sharing several different dresses I wore for my adventures through Egypt and Jordan that were incredibly comfortable and modest yet still looked nice. Plus, most of these dresses are only around $30!
When packing for a trip to Egypt as a woman it's important to remember that Egypt is a predominantly Muslim country. Therefore, you should pack modest dresses that will work well in the hot temperatures of Egypt. By dressing modestly I mean, your shoulders, cleavage, and knees should be covered, and you should avoid tight, clingy clothing. So, in other words, the best dresses for Egypt are loose-fitting maxi and midi dresses that have sleeves or can be layered.
Now, it's not the end of the world if any of these parts aren't covered…it's just not considered respectful to many of the people in this bustling country. It also might get you some unwanted attention (especially if you're traveling solo) if you aren't dressed modestly. You'll notice in many of the highly touristic areas (Egyptian Museum in Cairo, the Pyramids of Giza, Karnak Temple, etc.), though, that not everyone will abide by this dress code.
Egypt is generally always going to be warm, no matter what time of year you visit. Cairo's temperatures will be a bit milder, but if you're visiting Luxor…even in winter the average temps are in the upper 70s (Fahrenheit)! (I have an entire post dedicated to how to dress comfortably and stylishly for the heat in Luxor!)
I had visited Egypt in May. This is just when the temps are starting to get nearly unbearable. This had its perks, though, as many places were quieter, with not as many tourists. (Except in Cairo – the Pyramids of Giza and the Egyptian Museum were still bonkers busy despite the heat!)
With this in mind, please enjoy my list of the best dresses for Egypt, below. If you are visiting in the winter months, though, you will also want to layer these dresses with a cardigan and/or travel jacket . I also wore lightweight scarves with these dresses in an effort to be more modest.
The Best Dresses for Egypt To Be Comfortable Yet Stylish
1.) Boho Split Tie-Waist Vintage Print Maxi Dress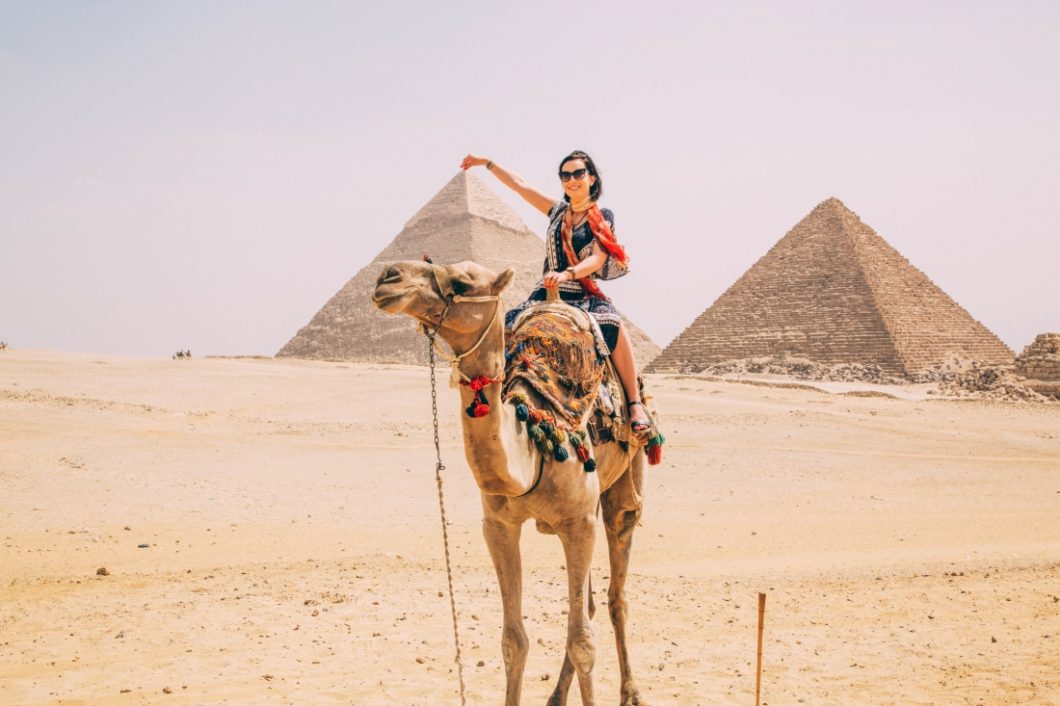 The dress I wore to the Pyramids of Giza, was hands down, my favorite dress from the trip. I ended up liking this particular dress so much, I have it in two other prints & colors (you'll find them below)! I liked the print on this particular one best, though. As my husband said, "It just looks like a good dress to wear by the Pyramids."
It's super comfy, and it also worked well in the weirdly windy conditions we were having that day. I didn't have any wardrobe malfunctions with it! The slits are just high enough that you can ride a camel in this dress, but not flash the world. This is something I never realized I would need to care about, haha.
The only thing that I didn't love about this dress is, it's a bit long on me and was dragging on the ground slightly. (I'm 5'5″.)
Where to find it:
Dress: Amazon | Sandals: Steve Madden (Size up a half size.) | Hat: Nordstrom | Sunglasses: Similar here | Scarf: Amazon
2.) Floral Print Flowy Maxi Dress With Sleeves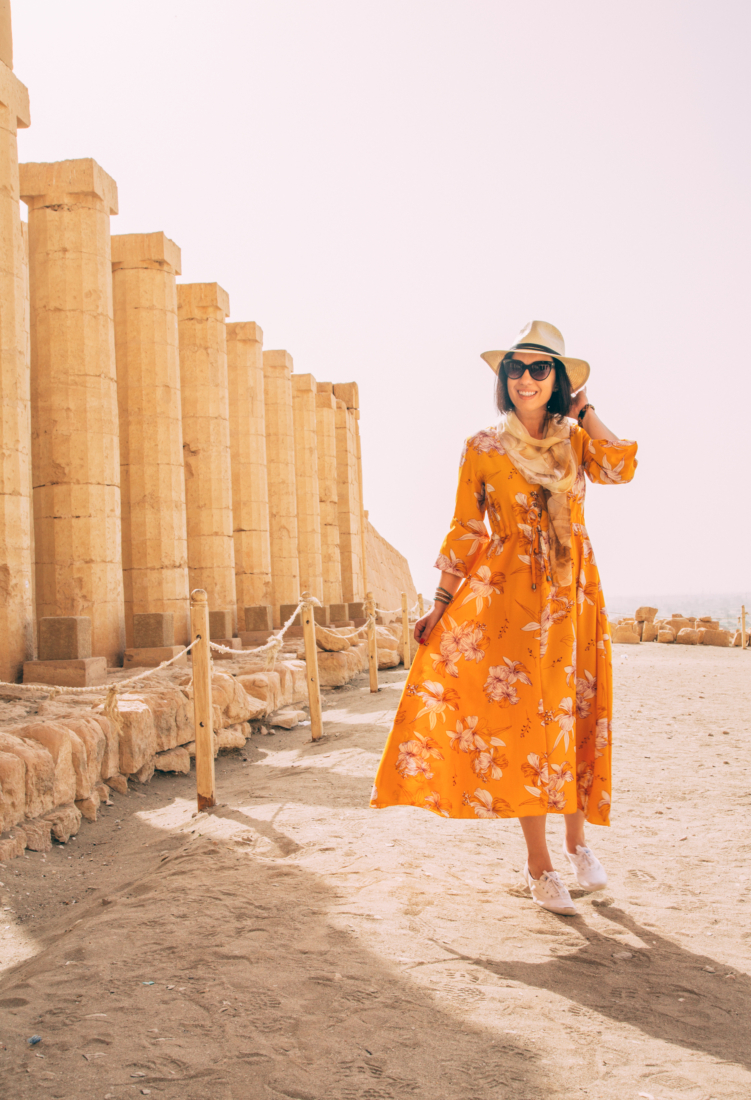 This maxi dress turned out to be the most comfortable one I packed for my trip through Egypt and Jordan! It covered me appropriately, and it breathed really well. I rolled out of bed at 4 a.m. that day and was already sweating. So, by the time these photos were taken, I was drenched! However, this dress let the sweat evaporate quickly and didn't make me any warmer than I already was.
The only thing I don't love about this dress, though, is it is a bit sheer. I did have to make sure to wear light-colored undergarments – without any prints or patterns on them! You will be able to see that under the dress! (I made that mistake in Baku when I wore this dress again – I saw myself in my hotel's elevator mirror and had to run back to my hotel room to change my undergarments to something lighter! Haha.)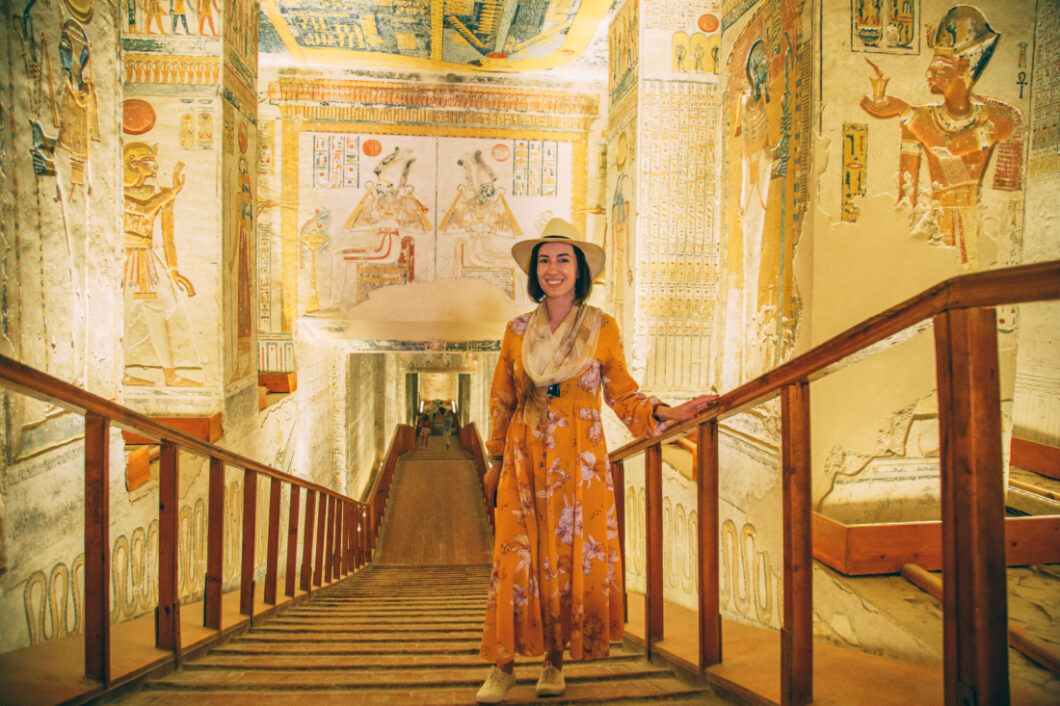 This dress also received the most compliments out of anything I had packed for this trip! I was getting messages from family and friends who had seen me wearing it on my husband's Snapchat story and wanted to know where they could buy it, haha. I even received compliments from some of the older gentlemen I was touring with who kept remarking what a nicely dressed tour group we were that day, especially with this yellow dress, haha. It was a hit with just about everybody!
Where to find it:
Dress: Amazon or Shein (similar)| Shoes: Keds | Hat: Nordstrom | Scarf: Amazon | Sunglasses: Similar here | Watch: Similar here | Bracelet: WesterRiverLeatherCo.
3.) Button Up Floral Print Maxi Dress
As you can see, these photos of this dress weren't taken in Egypt. These photos were taken in Cappadocia, Turkey. I did, however, wear this dress to the Egyptian Museum in Cairo. The reason I didn't have any photos of the outfit at the museum was because I was pretty lazy that day, and if you read my post about that day, you'll know our guide was really rushing us. So, I didn't get a chance even if I wanted to.
This maxi dress is one of my favorite travel dresses because it can work for a variety of occasions, can easily be dressed up or down and it's super breathable – so, I can wear it in the sweltering heat of Cairo or layer it up for a cozy, fall outfit. I've worn this dress from Egypt, Argentina, Turkey and back home in Wisconsin. It's fantastic!
Where to find it:
Dress | Scarf (Similar) | Boots c/o*
4.) Summer Print Deep V Neck Cotton Long Dress
I really like how brightly colored and cheery this dress is. I also like how well it moves in the wind, and its unique back and sleeves. (It's also true to size.) This was a great dress for this trip!
The only problem I had with this one, though, is that it's far too revealing to wear without my cami underneath while in Egypt. That was not a big deal for wearing it on a cooler day, but for a day out and about exploring in the heat of Egypt…I learned really fast that I did not want to wear camis under my dresses unless absolutely necessary! (This dress honestly looks better without a cami too, but that wasn't something I was going to do on a trip like this.)
Where to find it:
Dress | Sandals | Cami | Necklace | Bracelet
5.) Blue Silk Long Sleeve Floral-print Wrap Dress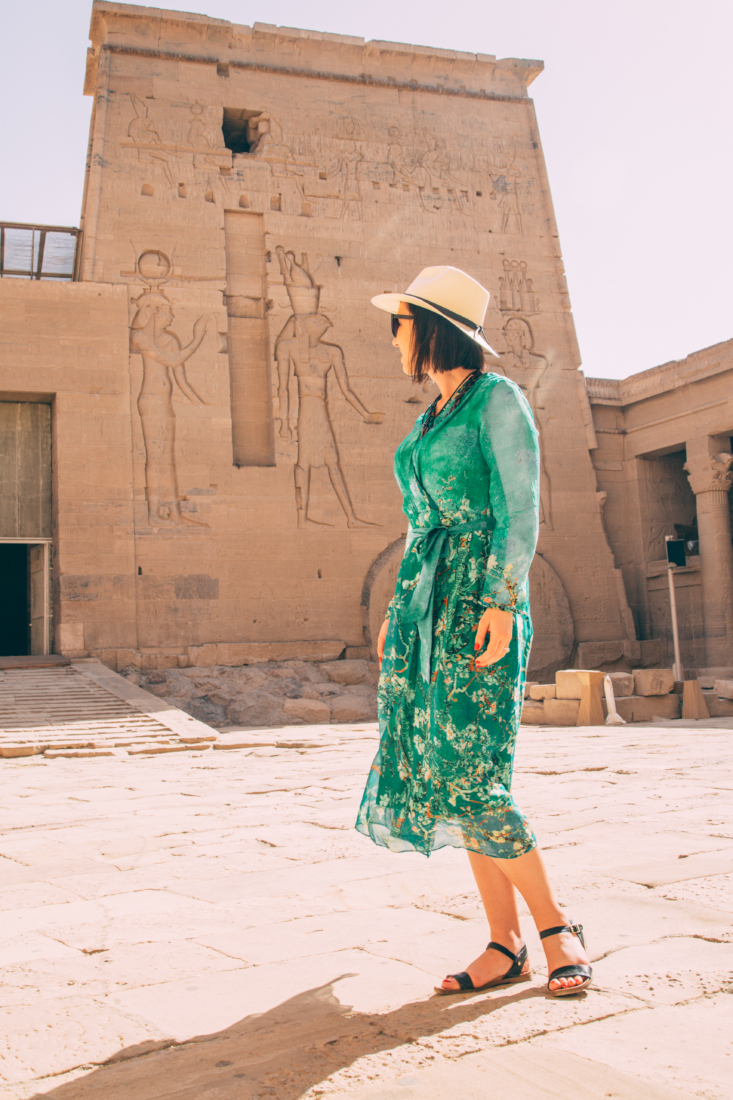 This dress I'm wearing here in Aswan is 100% silk and was fabulous for this adventure in Egypt. I always thought of silk as being a "fancy" fabric. And a silk dress should be worn to a luxurious event and cost a fortune.
However, that's not true! Silk is moisture-wicking and breathes so well. It's great for a day of exploring as it will help to keep you cool. I was so comfortable wearing this dress out and about at the sights in Aswan. This dress is from my friend's over at Stylewe and most of their silk dresses are less than $100. (Click here to check them out.) Unfortunately, this exact dress is no longer available, but I've linked to some similar ones below.
Where to find it:
Dress: c/o* Stylewe (Similar options) | Sandals: Steve Madden | Hat: Nordstrom | Sunglasses: Old (Similar here)
6.) Linen Smock Dress With High Neck & Long Sleeves
The dress I wore to Abu Simbel was a linen blend smock dress that was incredibly comfortable for the occasion. It was great for a day of sweating and long bus rides!
I had always sworn off wearing these smock dresses. (They remind me of a moo-moo!) So, I've been belting the couple I have. For this trip, though, I didn't pack any belts – and I'm glad I didn't. This smock dress looked fine without it, and it was super comfortable.
There was always a nice breeze blowing through it, but I never once had a wardrobe malfunction. Plus, it's one of the most modest dresses I own – which is perfect for Egypt.
Where to find it:
Dress: Currently sold out. (Similar here) | Sandals: Blowfish (similar) | Bag: Modcloth
7.) Boho Split Tie-Waist Vintage Print Maxi Dress (#2)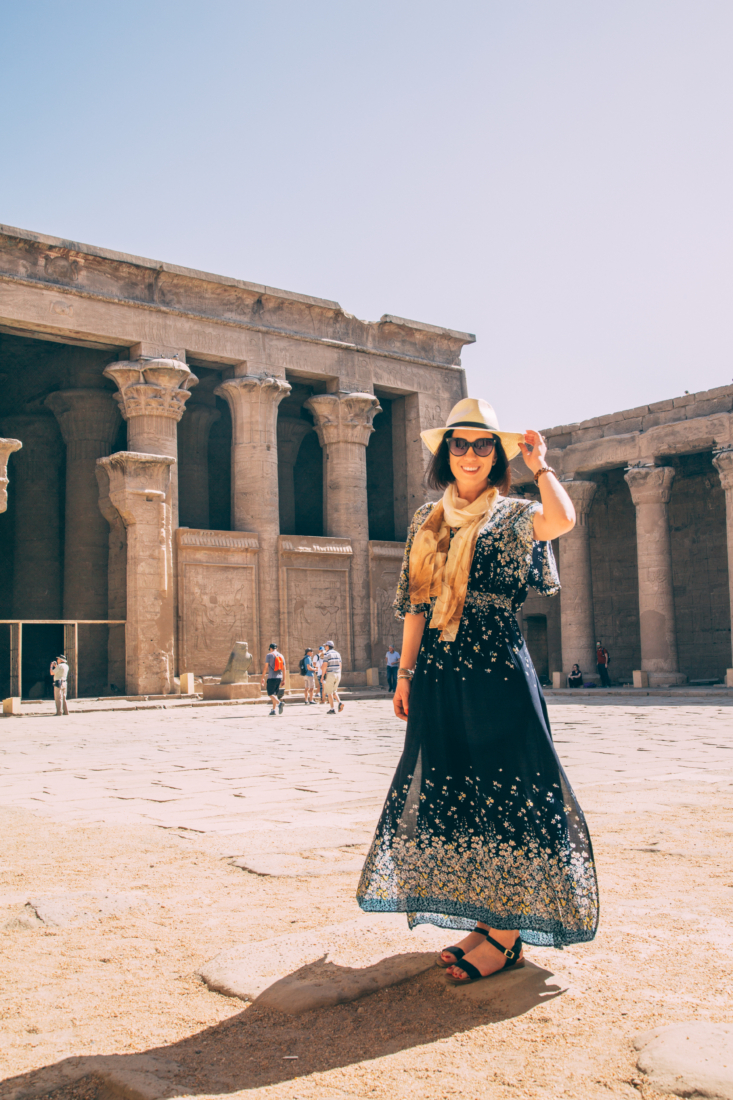 This is the same dress as #1 but in a different print… and while it is the same dress, technically, this dress is slightly more fitted and shorter than #1 is. While I REALLY love the way the first dress looks and feels, this dress was a bit more practical for exploring, as it wasn't dragging on the ground. (I'm 5 feet 5 inches tall and this dress is the perfect length for me.)
This dress is nice and lightweight for a day of exploring out in the heat. It also was nice and loose (so, very comfortable + modest), but it didn't look as though I was wearing a sack of potatoes either!
Where to find it:
Dress | Hat| Sandals | Scarf | Sunglasses | Watch
8.) Boho Split Tie-Waist Vintage Print Maxi Dress (#3)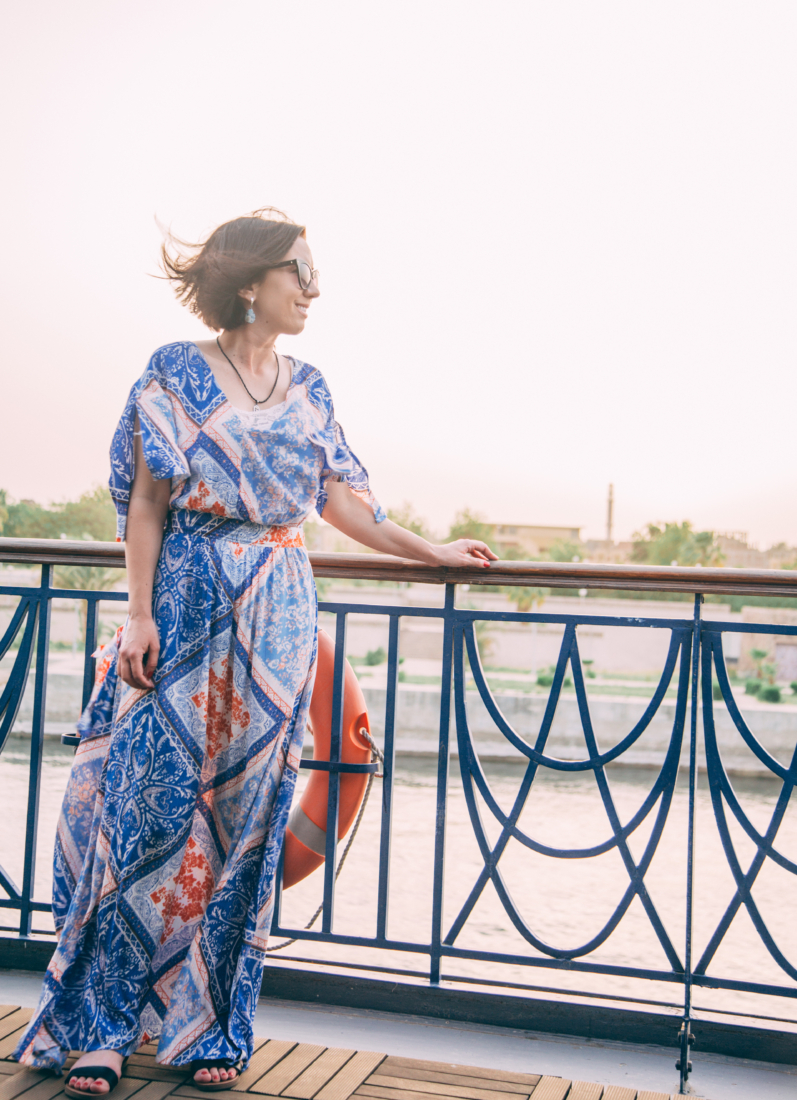 Once again, this is the same dress as #1, allegedly. This print, though, is a WAY different fit. This dress would be perfect for someone who is taller than me – i.e. taller than 5'5″. That's because there is an extra 3 inches of fabric on the bottom of this dress on me! (An easy fix to hem or simply size down a size – I threw this one in my suitcase the night before our flight left, though!)
This dress turned into my "dinner" dress while on our Nile River Cruise in Egypt because it is comfortable for the heat, but still "dressy" enough for dining on the boat…and it also didn't fit me as well as the rest of the dresses I had packed, and I didn't want to risk wearing it for a day of exploring! (But again, if you're taller, this dress would be amazing.)
Where to find it:
Dress | Sandals | Necklace | Sunglasses
9.) Polka Dot Maxi Dress
This maxi dress was worn in both Egypt and Jordan (these photos are from Jordan, though). It's flowy and ruffled hemline and poofy sleeves were a fantastic addition to a maxi dress. This dress is also loose-fitting but has a tie waist, so you aren't drowning in the fabric.
Unfortunately, this exact dress sold out shortly after I ordered it. It's by All in Favor… however, Anthropologie actually carries a ton of similar maxi dresses right now that are simply STUNNING. (Click the sleeves filter, though, when you're searching.)
Where to find it:
Dress: All in Favor (Similar options here.) | Sandals: Steve Madden (Size up a half size!) | Hat: Nordstrom | Scarf: Amazon | Sunglasses: Similar here | Watch: Similar here | Bracelet: WesterRiverLeatherCo.
If anyone has any questions about these dresses/outfits or for what to pack for a trip to Egypt, please reach out in the comments section at the end of the is post!
Using a VPN When Traveling to Egypt
VPN is short for "virtual private network." A VPN (like IPVanish) sets up a private connection between your device and whatever network you are connected to – so, no one can see your browsing data. It is important to use a VPN anytime you are connected to public Wifi (such as at a restaurant, resort, hotel, cafe, airport, etc.). This is because when you connect to a public network no matter where you are, you run the risk of a hacker grabbing your unencrypted data. Trust me, speaking from experience here…this can put a real damper on your trip if your banking, phone or email get hacked while you're traveling!
VPNs can also help you save on domestic flights, help you watch Netflix shows not available in the US and more! You can read more about using a VPN in my post "Why I Use a VPN When Traveling and at Home (And You Should Too)."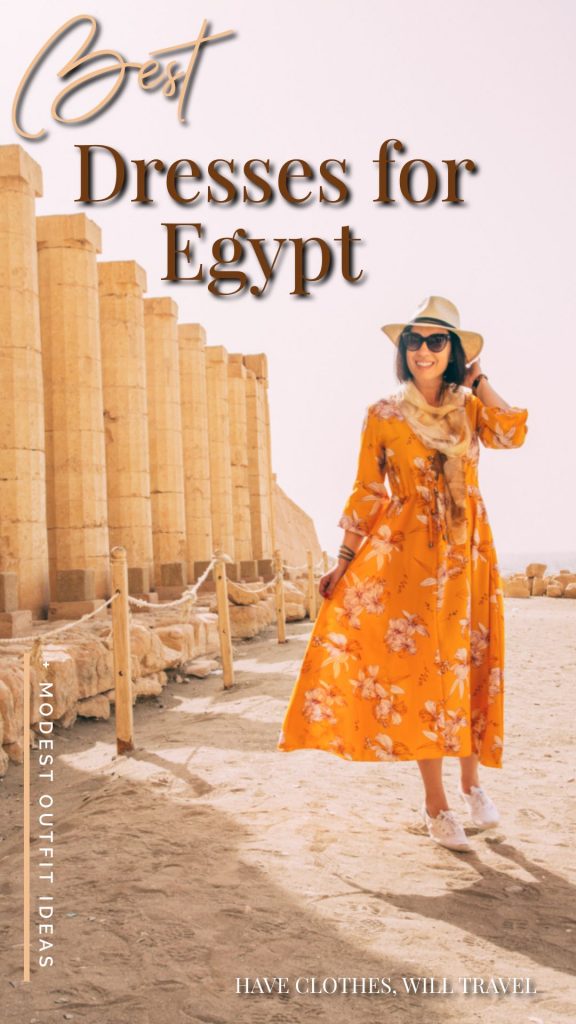 *Disclosure: some of these links are affiliate links. Meaning, if you click a link and make a purchase, Have Clothes, Will Travel gets a very small commission at no extra cost to you. Thank you for supporting the brands that make this blog possible! I am also a participant in the Amazon Services LLC Associates Program, an affiliate advertising program designed to provide a means for us to earn fees by linking to Amazon.com and affiliated sites.
*c/o = courtesy of, meaning the company gave me the product to be used on my blog, and I did not pay for it. All opinions are my own, and I am not being compensated for a positive review.