What I Wore for Visiting Edfu & Kom Ombo
Wondering what to wear when visiting Edfu & Kom Ombo in Egypt? This post will explain!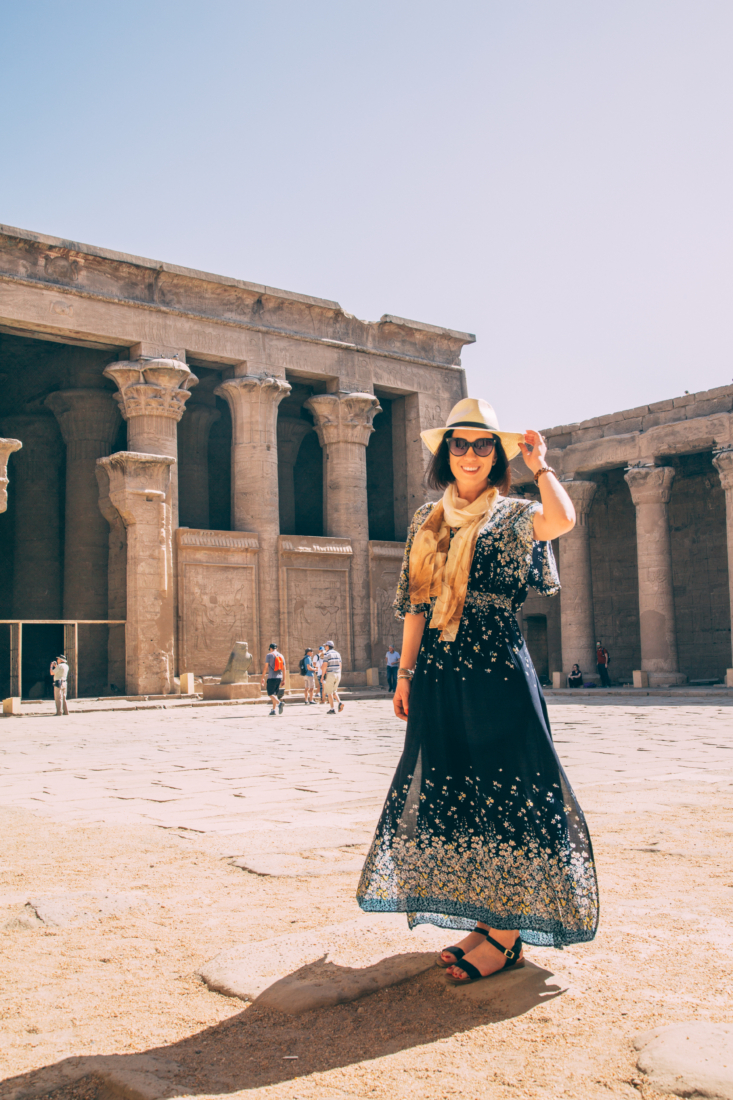 Dress | Hat (Similar here & here) | Sandals | Scarf | Sunglasses | Watch
This was my outfit for a day of exploring temples in Edfu and Kom Ombo. These particular photos were taken in Edfu, though. Both of these destinations required some walking (and there was a few hours of riding on our Nile River cruise in between them), and both destinations were very, very warm. So, comfort was still key! This turned out to be one of my favorite outfits of the trip because it was incredibly comfortable, and I thought it looked rather nice too!
*Note: I was here during the month of May. If you're here during winter you may want a cardigan or jacket to go with this outfit!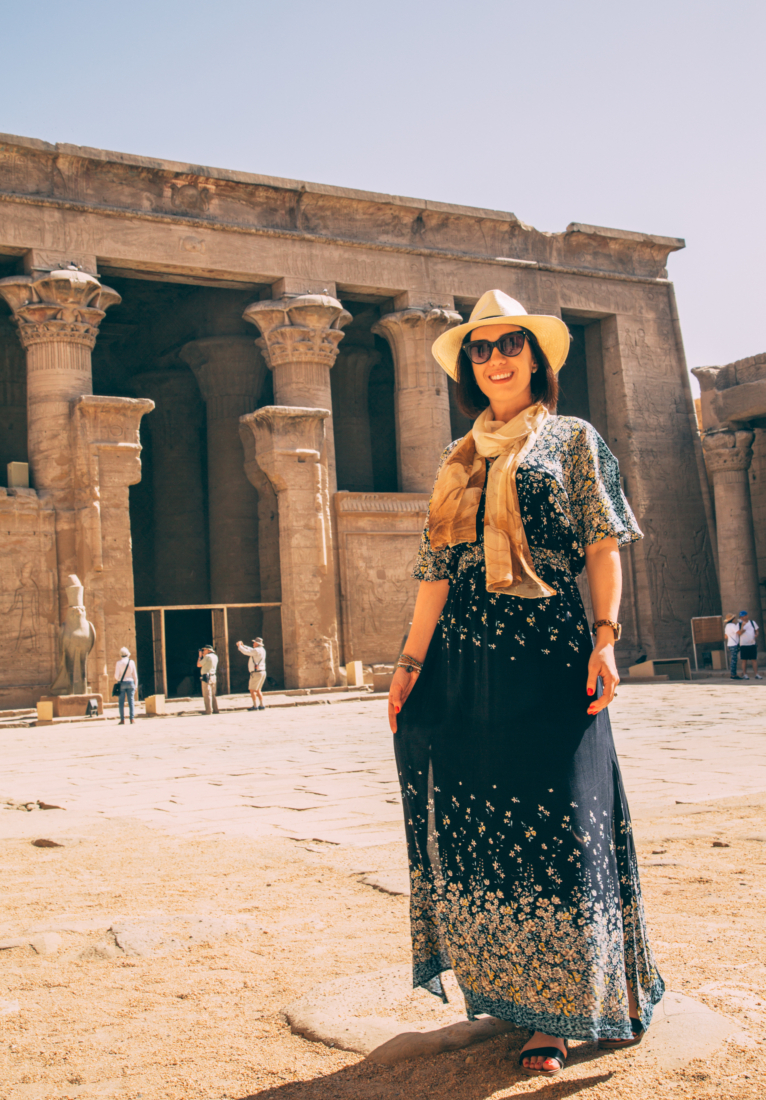 The Dress
Believe it or not, this dress is the same dress as my Nile River cruise outfit…it just has a different print. It's incredible how different these two fit me! This one was a far better dress for exploring, though, as it isn't dragging on the ground. (I'm 5 feet 5 inches tall and this dress is the perfect length for me.)
It was especially great for wearing while in Egypt because the length was modest enough (no knees should be showing), and it covered my shoulders + upper arms. (Egypt is predominately a Muslim country, so modest is the way to go!) This dress is nice and lightweight for a day of exploring out in the heat. It also was nice and loose (so, very comfortable + modest), but it didn't look as though I was wearing a sack of potatoes either! If you can be comfy and still look nice, that's a big plus in my book.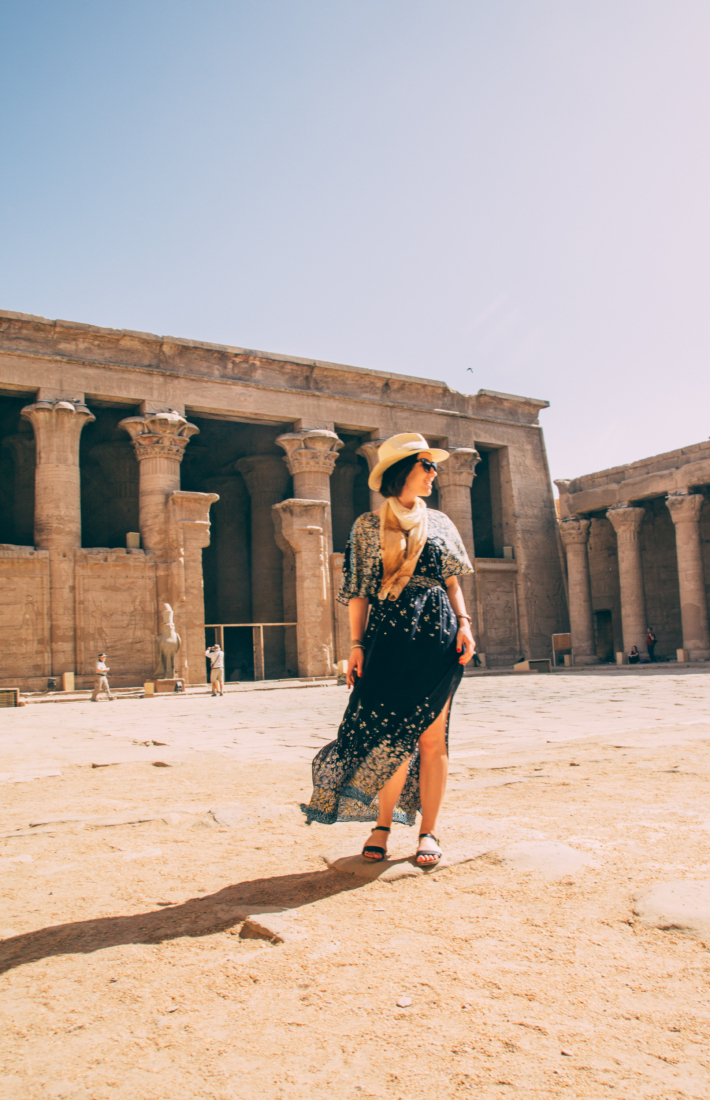 I had been a little bit worried that the two side slits could end in a wardrobe malfunction if it was windy, so I wore a pair of running shorts underneath my dress too (just in case). This turned out to be unnecessary as I never once had a wardrobe malfunction. (And I even wore this dress for riding a camel! You can see that, here!)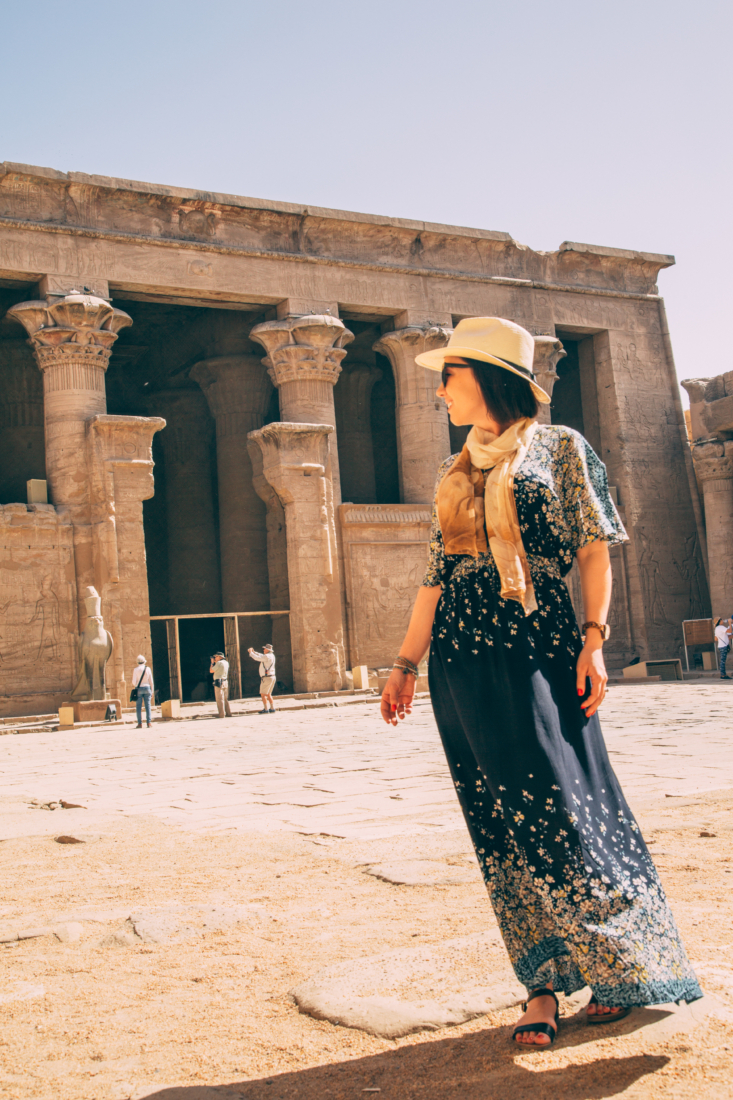 Accessories
I also wore a scarf again, this is because the front of this dress dipped a bit too low to be considered modest, and I found wearing these lightweight scarves to be more comfortable than wearing a cami under my dresses. They really didn't make me any warmer than I already was, and they added another layer of protection from the sun…as did my hat. (I wore this hat every single day of the trip!)
Sandals
This is also the first time I've mentioned these sandals! I wore these more than any other shoes on this trip because they were so comfortable. They required absolutely no breaking in either. I literally put them on and wore them for an entire 8 hour day of nonstop exploring – no problem! They went with almost every outfit I had packed too.
I don't know if you can tell in these photos, but my feet are incredibly swollen as well. This happens to me pretty frequently when I'm a bit dehydrated (and it really doesn't help if I've been flying a lot too). These sandals were a godsend because they didn't restrict my puffy feet until I could get them back down to a normal size (lots of water and no salt or alcohol!). Instead, the soft leather straps expanded with my feet, and they still fit nicely once my feet were back to normal. (The website says to size up a half size, I ordered my normal size 8 and they worked. However, an 8 1/2 would have likely been better.)
What is one of your favorite outfits for exploring in hot weather? Let me know in the comments!
*Click here to read my post about visiting Edfu & Kom Ombo.
*Click here to see all of my blog posts about Egypt.
*You can also check out my entire packing list for Egypt as a woman.
*Also see my itinerary for how to spend 7 days in Egypt!
Where to find it:
Dress: Amazon
Hat: Nordstrom (Similar here & here)
Sandals: Steve Madden
Scarf: Amazon
Sunglasses: Old (Similar here)
Bracelet: c/o* WestRiverLeatherCo
Watch: Similar here
*Disclosure: some of these links are affiliate links. Meaning, if you click a link and make a purchase, Have Clothes, Will Travel gets a very small commission at no extra cost to you. Thank you for supporting the brands that make this blog possible! I am also a participant in the Amazon Services LLC Associates Program, an affiliate advertising program designed to provide a means for us to earn fees by linking to Amazon.com and affiliated sites.
*c/o = courtesy of, meaning the company gave me the product to be used on my blog, and I did not pay for it. All opinions are my own, and I am not being compensated for a positive review.