What I Wore to the Pyramids of Giza
I debated for a long time about what to wear to the Pyramids of Giza. I wanted to be both comfortable and stylish for this adventure, as well as modest (Egypt is a predominately Muslim country). I also knew there was a chance I'd be riding a camel before the day was over…
Now, this outfit was by no means perfect for this day! However, I am happy enough with how it worked out.
Note: I was in Egypt during the month of May.
The Dress
I ended up liking this particular dress so much, I have it in two other prints & colors! (I wore one dress in Edfu and the other on our Nile Cruise.) I liked the print on this particular one best, though. As my husband said, "It just looks like a good dress to wear by the Pyramids."
Note: if you are visiting during winter, you will likely want a jacket or cardigan in addition to an outfit like this. It'll be chillier!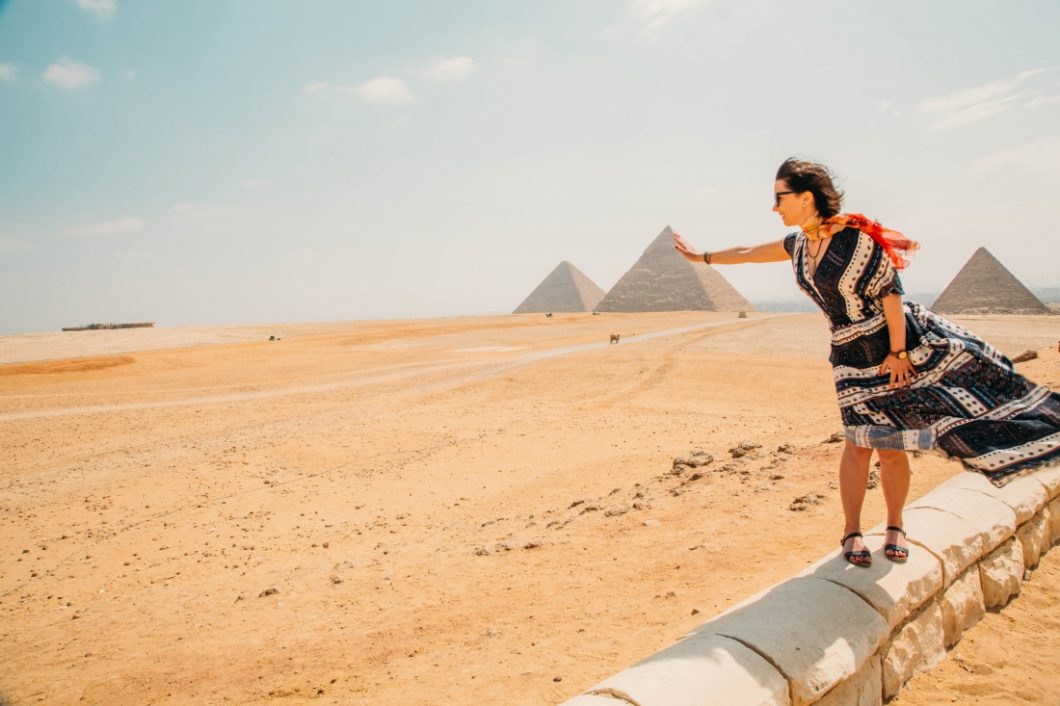 It's super comfy, and it also worked well in the weirdly windy conditions we were having that day. I didn't have any wardrobe malfunctions either! The slits are just high enough that you can ride a camel in this dress, but not flash the world. This is something I never realized I would need to care about, haha.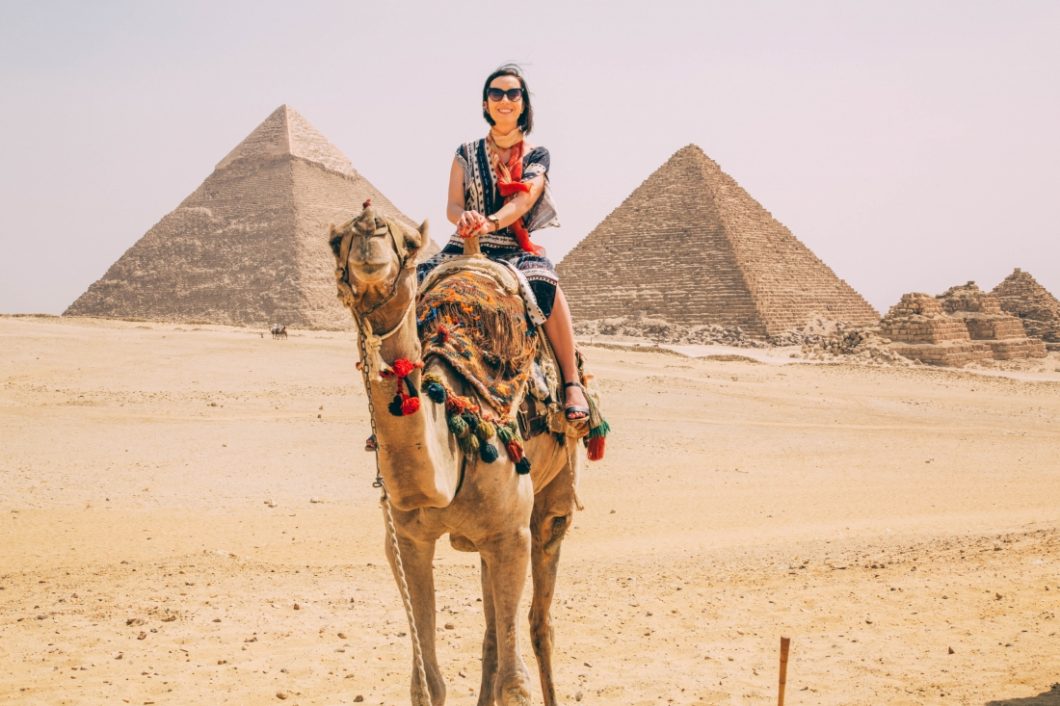 Sandals
I also wore my new favorite sandals for this adventure. They are super comfy and went with nearly everything I packed for this trip. (Just be sure to size up a half size!)
The biggest thing to worry about when you get dressed for the pyramids is definitely your footwear. You're going to want to wear your comfiest shoes as there is quite a bit of walking (as is the case for just about any other site in Egypt)!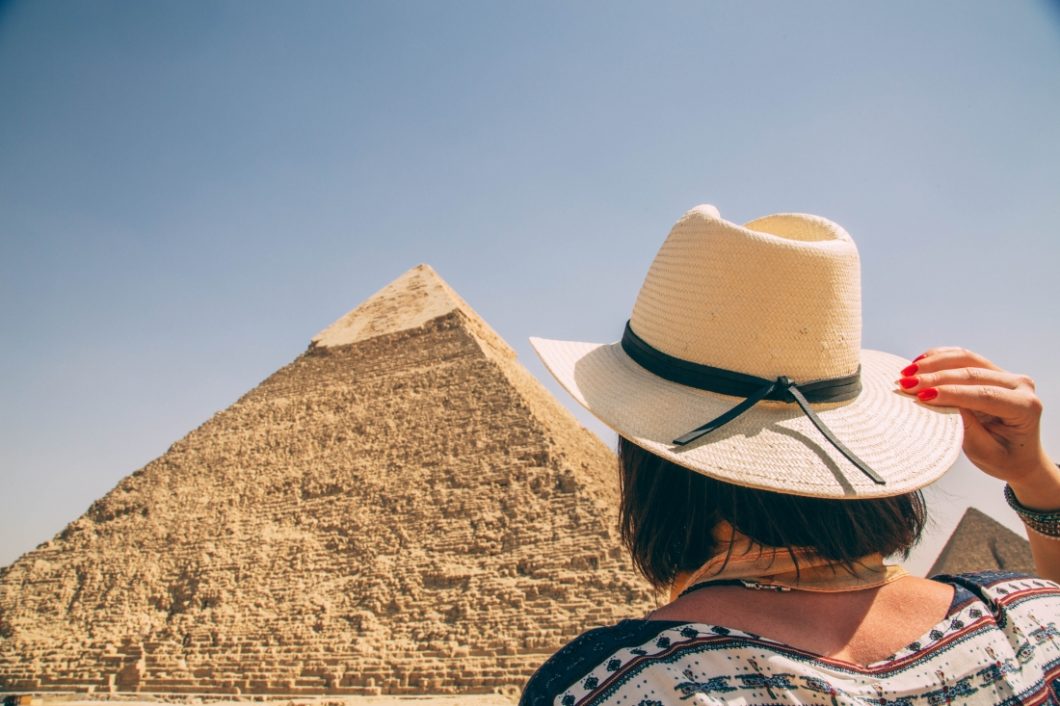 Hat
For most of the day, it was, unfortunately, too windy to wear my hat. This was the one day on this trip that I got burnt as a result! (I completely forgot to reapply my sunscreen.) I loved wearing this hat throughout this trip, but in hindsight, a hat with straps would have been a better idea.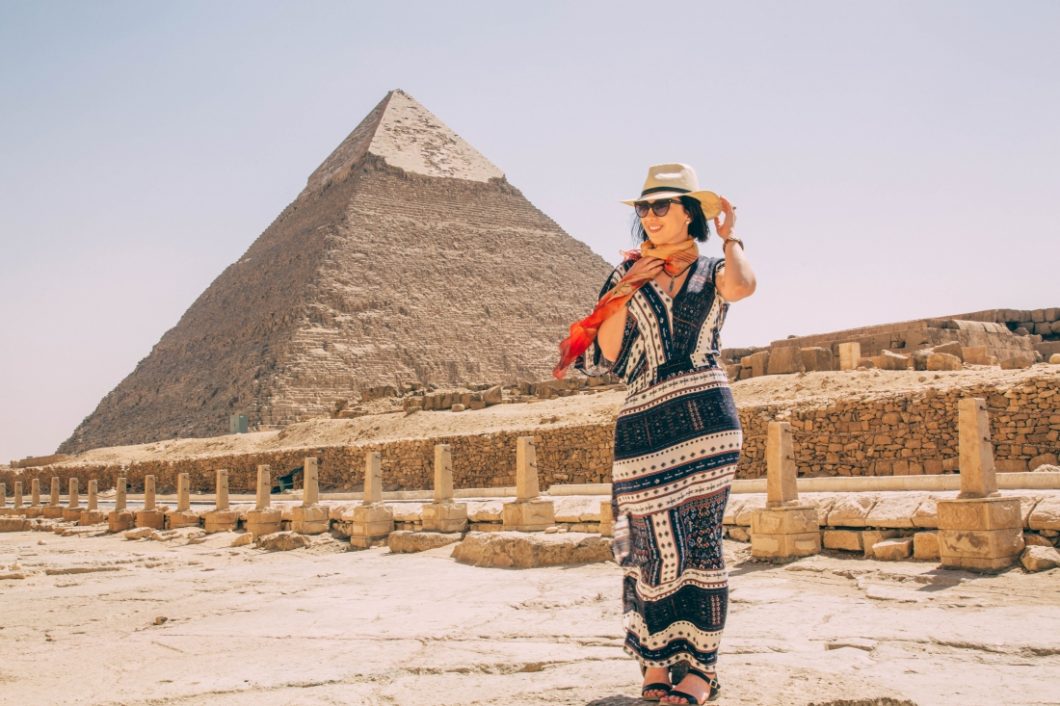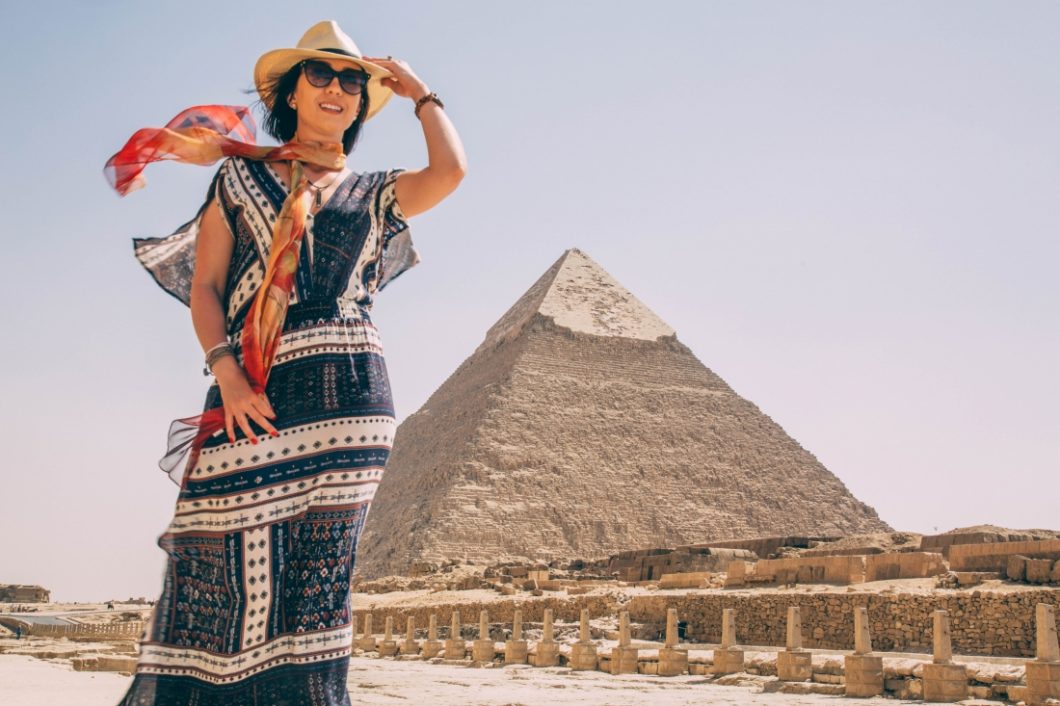 Scarf
I wore these lightweight scarves for the majority of this trip in an effort to be more modest and also to prevent sunburn. This was the one day where wearing a scarf was also a pain in the butt, thanks to the wind. Once I figured out how to tie it properly, though, I never ended up having it fly off again!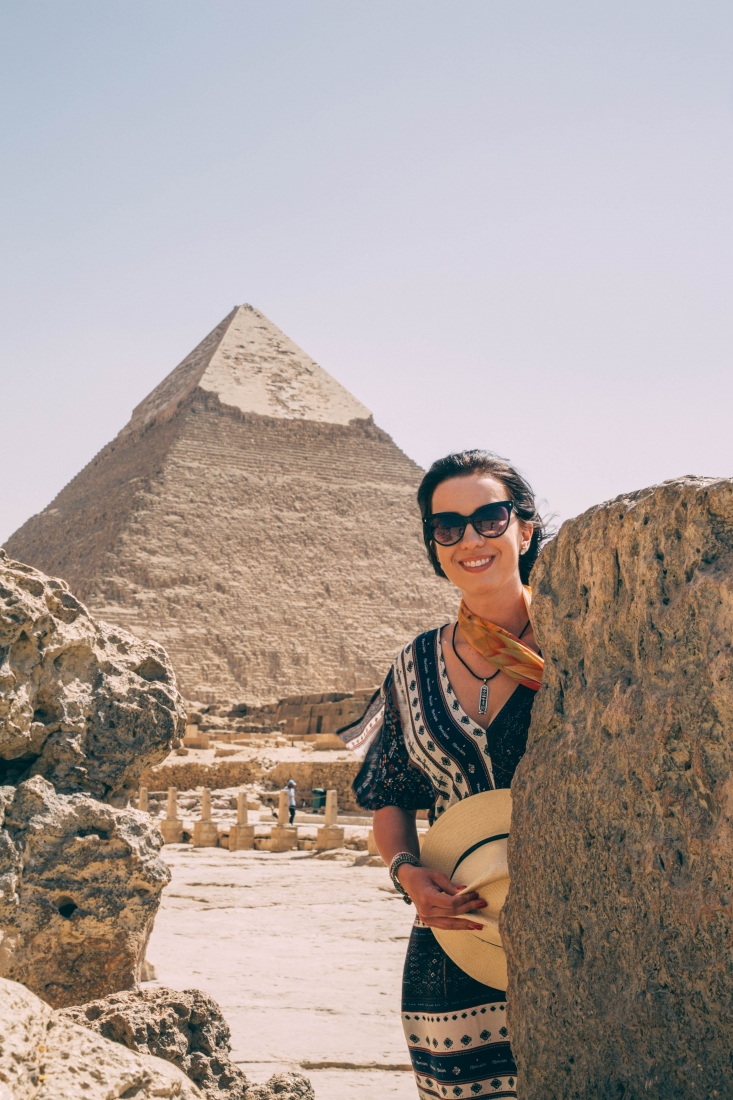 *Click here to read my tips for visiting the Pyramids of Giza.
*Click here to read my tips for dressing for the heat in Egypt.
*Click here to read all of my Egypt posts!
*You can also check out my entire packing list for Egypt as a woman.
*Also see my itinerary for how to spend 7 days in Egypt!
Where to find it:
Dress: Amazon
Sandals: Steve Madden (Size up a half size.)
Hat: Nordstrom (Sold out. Similar here)
Necklace: Similar here
Sunglasses: Similar here
Scarf: Amazon
Earrings: Etsy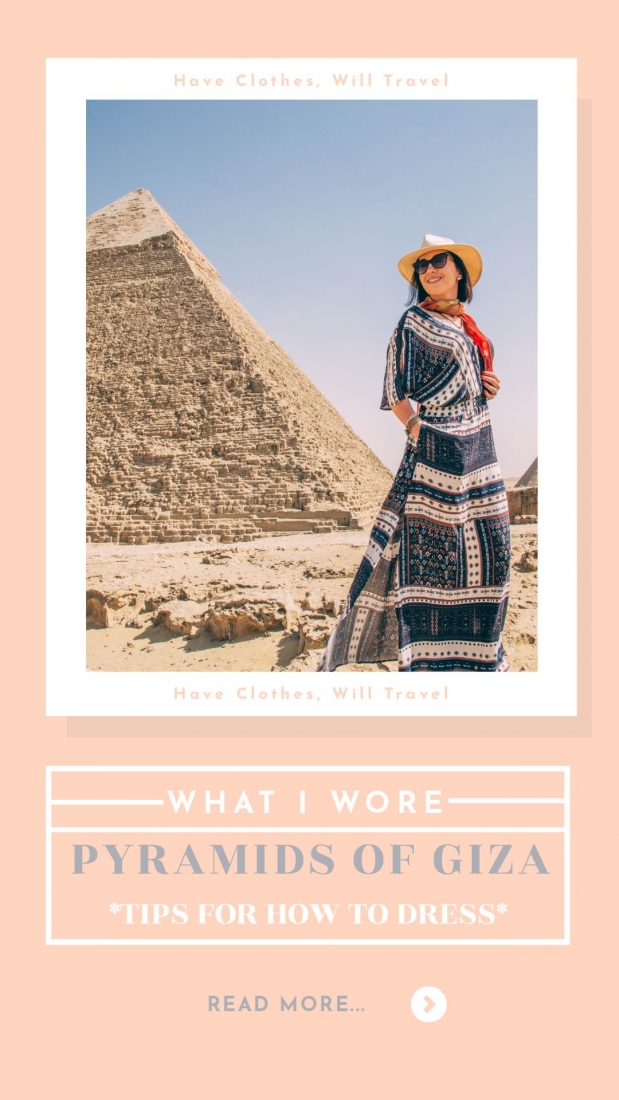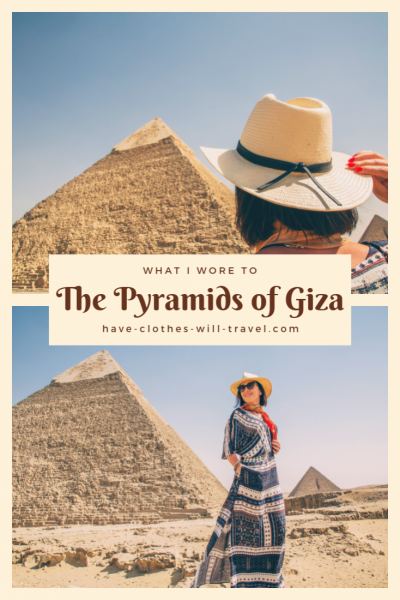 *Disclosure: some of these links are affiliate links. Meaning, if you click a link and make a purchase, Have Clothes, Will Travel gets a very small commission at no extra cost to you. Thank you for supporting the brands that make this blog possible! I am also a participant in the Amazon Services LLC Associates Program, an affiliate advertising program designed to provide a means for us to earn fees by linking to Amazon.com and affiliated sites.
*c/o = courtesy of, meaning the company gave me the product to be used on my blog, and I did not pay for it. All opinions are my own, and I am not being compensated for a positive review.