How to Dress Comfortably Yet Stylishly for the Heat in Luxor, Egypt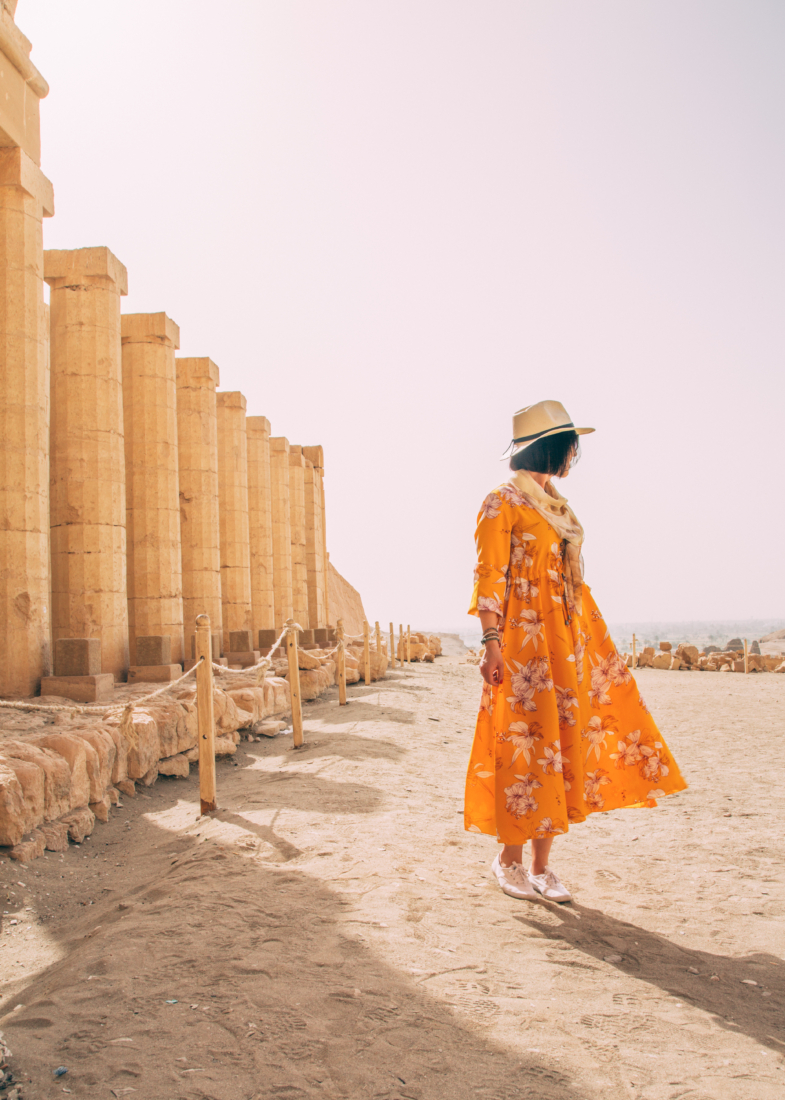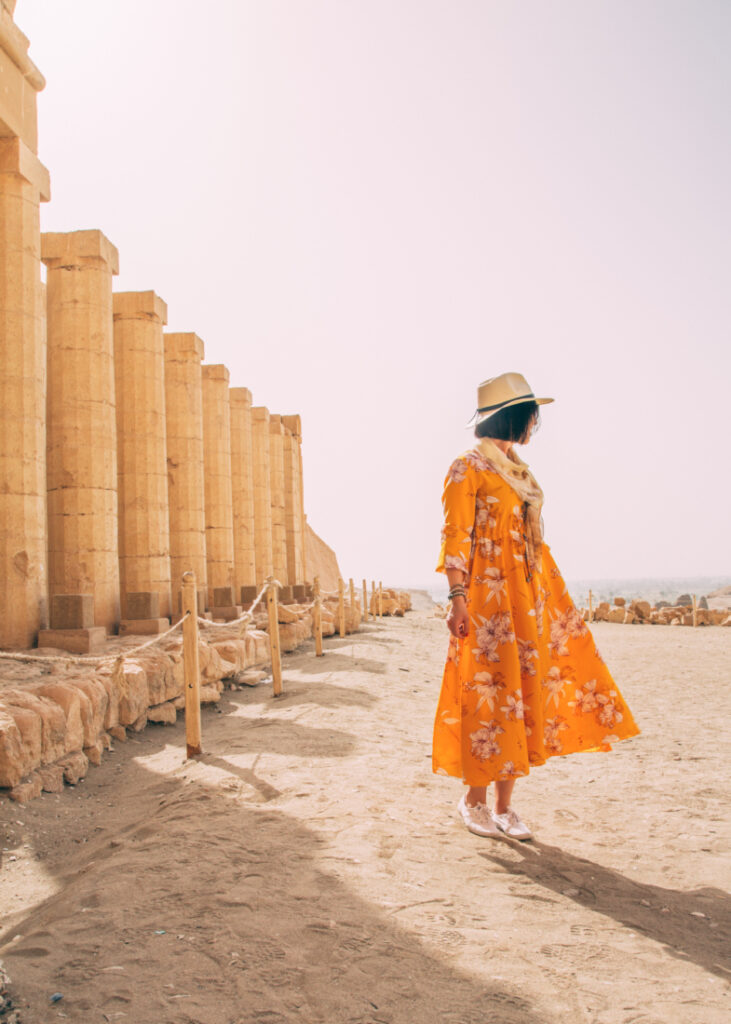 It has taken me far too long to figure out to dress appropriately for the heat. Fortunately, by the time I traveled to Luxor, Egypt…I had FINALLY figured out the formula for dressing comfortably yet stylishly for a day of suffocating heat.
The summer heat in Luxor is no joke. We were there during SPRING, and most days were already soaring above 100 degrees Fahrenheit and without a cloud in the sky! (For this day we were specifically exploring the Valley of the Kings and surrounding area.)
G Adventures is holding a cyber sale where group tour packages are up to $400 off.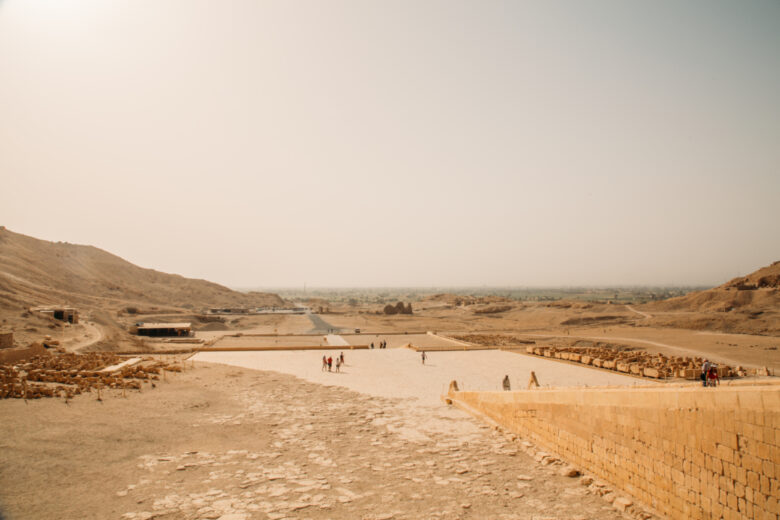 So, when you're going to spend a day exploring in that kind of weather, the key is to cover yourself as much as possible with loose clothing and breathable fabrics. I know that sounds ridiculous…"It's 100+ degrees Fahrenheit, Lindsey! I want to be naked! Not putting on more clothing…" And that used to be my thoughts too. I was all about wearing tank tops and short shorts when the temps were sky-high. However, I almost always didn't feel well by the end of the day and would inevitably be sunburned, too. (I never remember to reapply sunscreen when I'm out exploring!)
Note: if you are visiting in winter, the temps are far more comfortable. You may even need a cardigan or jacket!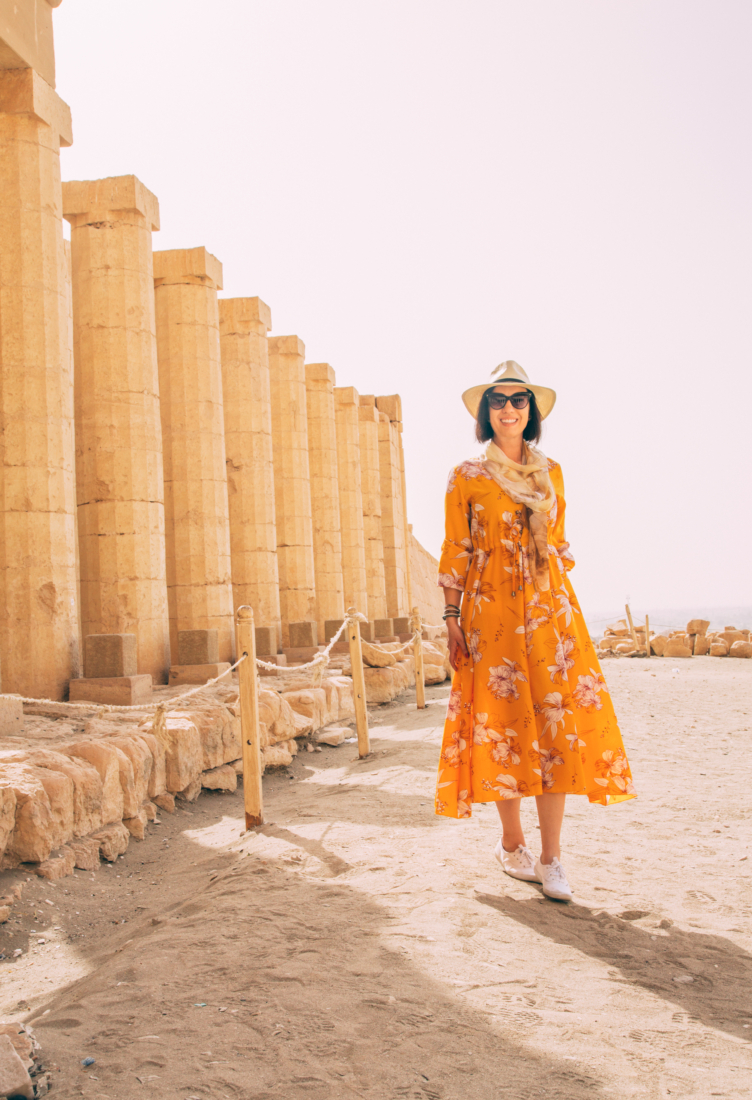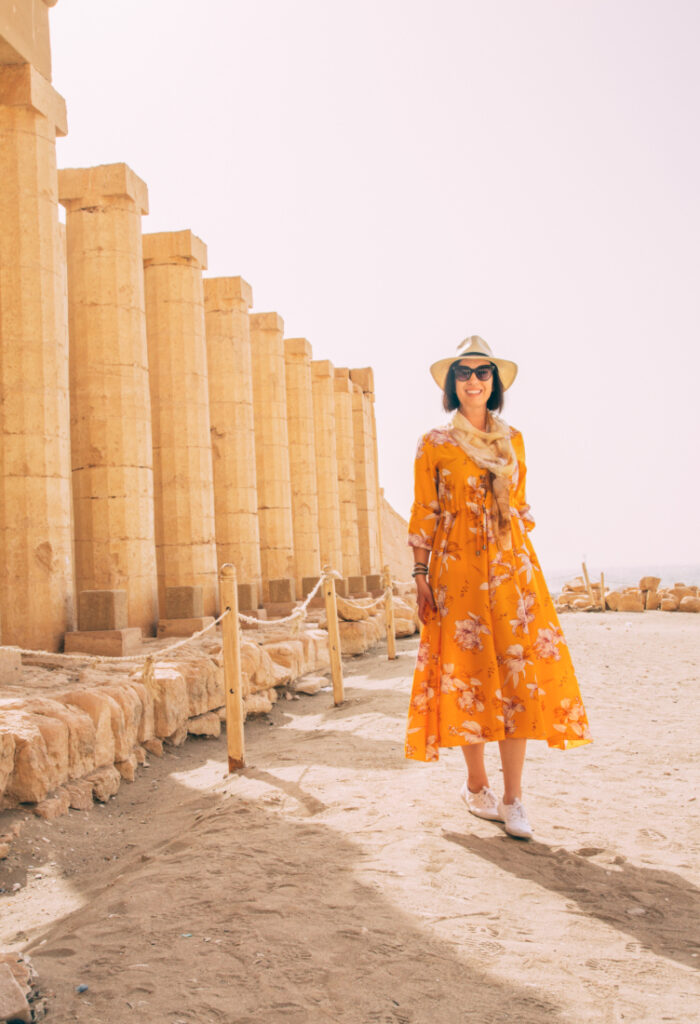 So, being covered and protected from the sun will not only help you to prevent a nasty sunburn, you'll likely feel better at the end of the day too. Not exposing yourself to the harsh rays for a day of exploration can certainly have its benefits. Wearing light-colored clothing reflects sunlight and lessens skin temperature as well.
Have you ever noticed when you're visiting places like this, that many of the locals are completely covered? Or when you watch a movie about people in the desert they're always covered up? They're all on to something! Not to mention, Egypt is a country where dressing modestly is appreciated anyways.
Now, if you're not a dress person, you can check out my hiking pants + linen shirt outfit for the heat, here. For everyone else, please proceed.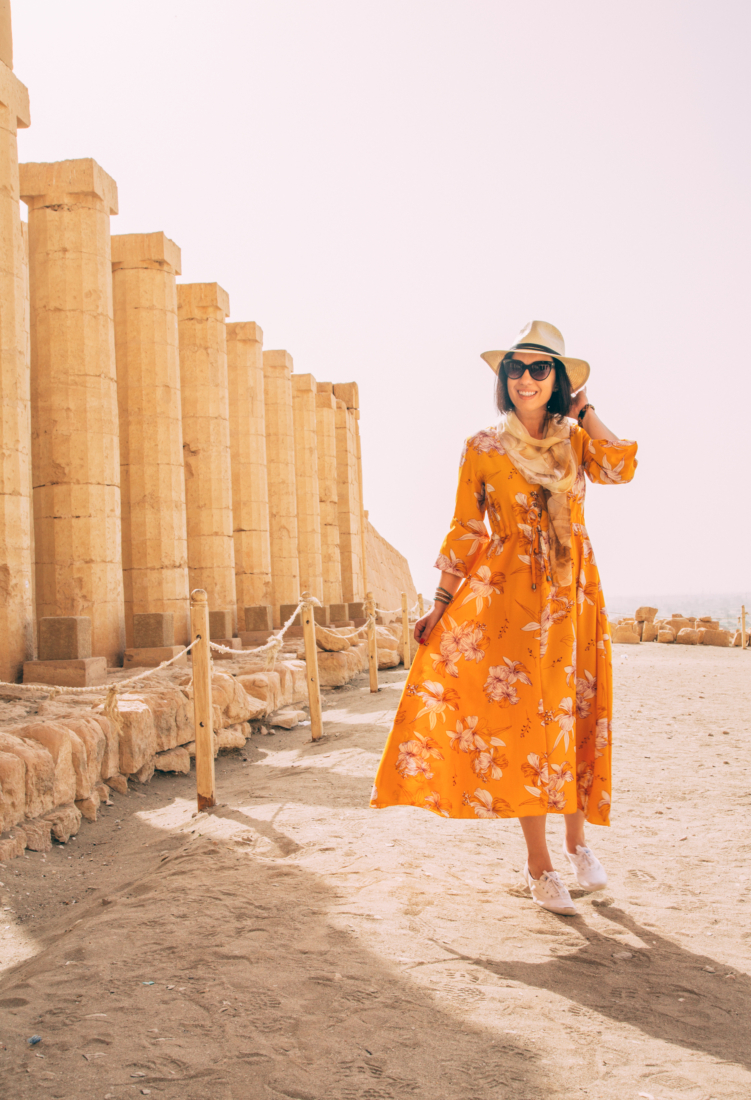 Dress
This maxi dress turned out to be the most comfortable one I packed for my trip through Egypt and Jordan! It covered me appropriately, and it breathed really well. I rolled out of bed at 4 a.m. that day and was already sweating. So, by the time these photos were taken, I was drenched! However, this dress let the sweat evaporate quickly and didn't make me any warmer than I already was.
I had also been a bit worried that this dress would be too sheer, but it wasn't too bad. (So, I didn't have to wear a cami or anything underneath.) I did have to make sure to wear light-colored undergarments, though – without any prints or patterns on them! You will be able to see that under the dress! (I made that mistake last weekend in Baku when I wore this dress again – I saw myself in my hotel's elevator mirror and had to run back to my hotel room to change my undergarments to something lighter! Haha.)
This dress also received the most compliments out of anything I had packed for this trip! I was getting messages from family and friends who had seen me wearing it on my husband's Snapchat story and wanted to know where they could buy it, haha. (You can buy it here or, if you're outside the US or just don't want to shop on Amazon, it's also available here with worldwide shipping/all currency options, everyone. It's also available in short sleeves here.) I even received compliments from some of the older gentlemen I was touring with who kept remarking what a nicely dressed tour group we were that day, especially with this yellow dress, haha. It was a hit with just about everybody!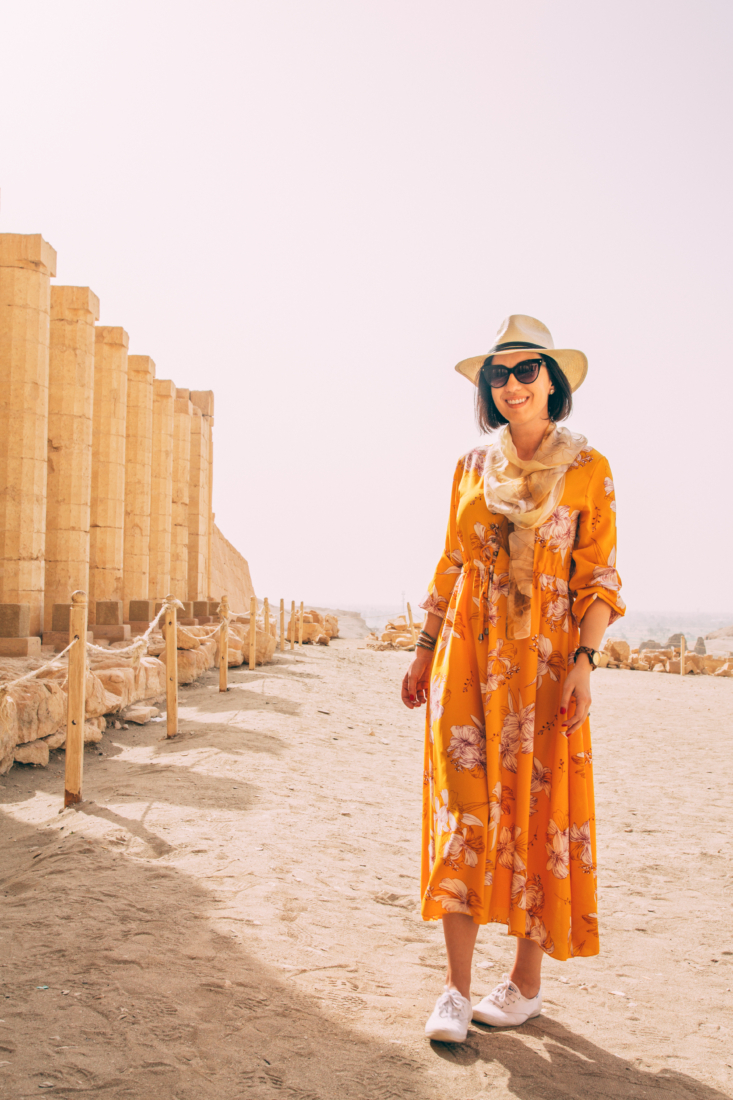 Scarf
I also found that wearing a lightweight scarf proved to be a good way to look more modest while in Egypt. It also prevented the sun from hitting my chest and burning me to a crisp, too. I actually brought along 2 other scarves identical to this one just in different colors. They were perfect for this trip! (It's also good to have a scarf along while in Egypt as you'll be required to cover your head if you want to enter any mosques.)
Hat
This is the first trip of my life that I wore a hat for. I have always told myself "that I don't look good in hats" and "they're so uncomfortable to wear"…plus, they mess up my hair. But, boy oh boy, I am glad I finally embraced wearing a hat for this trip! I felt SO much better at the end of the day after wearing one. There was one day where I didn't wear this hat (because it was insanely windy), and I felt awful and sunburned at the end of it. Fortunately, that was toward the end of our trip. I am now a sunhat person from here on out!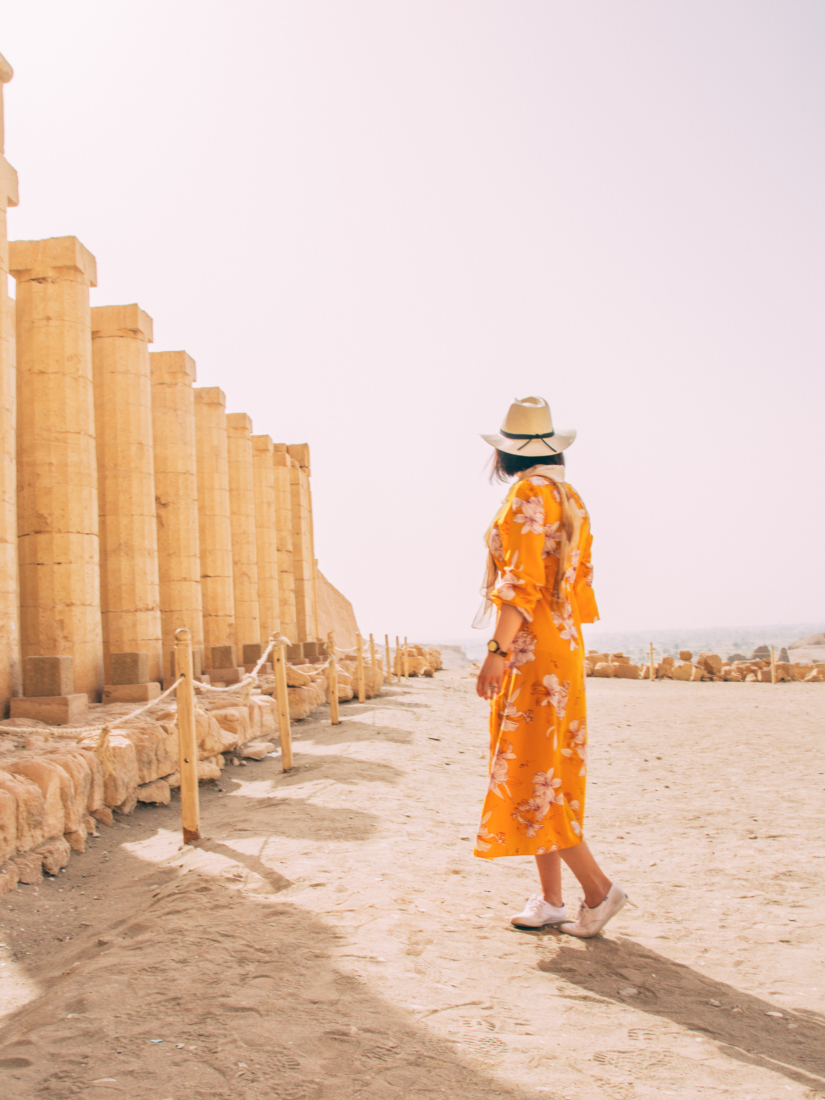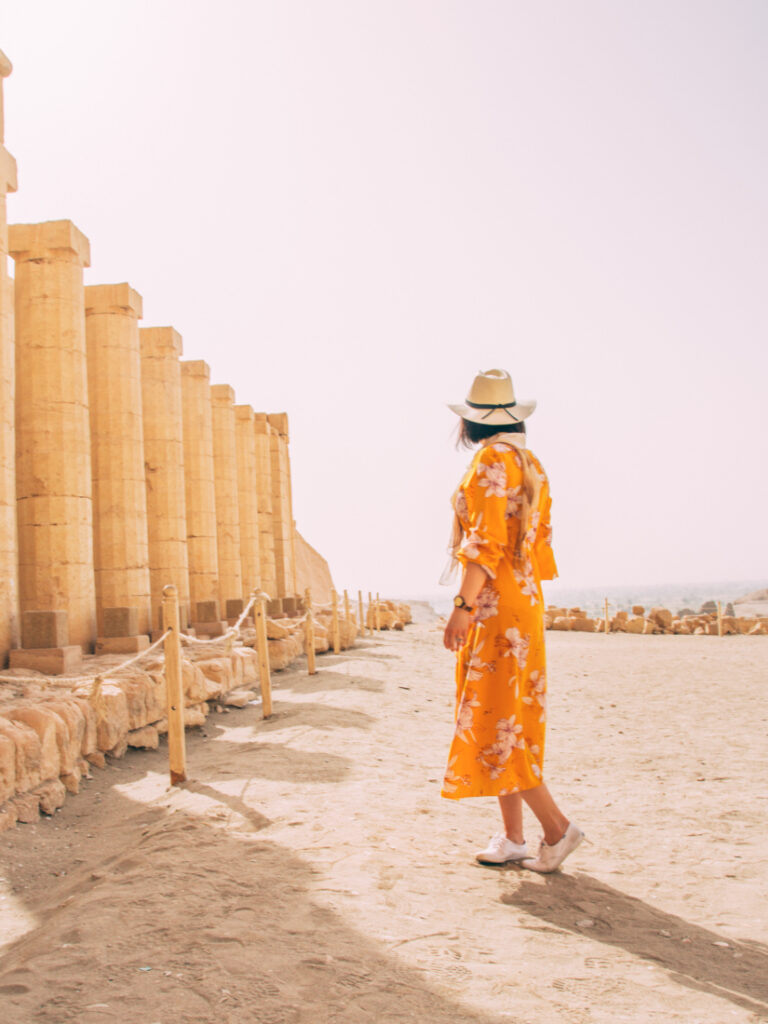 Shoes
So, Luxor is not going to be hardcore hiking or anything. However, there are a lot of stairs and you're going to be walking through a lot of gravely and sandy areas (specifically in the Valley of the Kings). You're going to want to wear the most comfortable pair of shoes you have a long and nothing that would be easy to trip in. Our guide wanted us all to wear sneakers for this day of exploring the Valley of the Kings. So, I happily obliged with my Keds. (Which are always super comfortable for a day of walking!)
Now, I would say a comfortable pair of sandals that fit well would have sufficed for this day. However, I do see why he recommended sneakers (all of the stairs in the tombs means it can be very easy to trip if you're not wearing proper footwear). And hey, wearing sneakers means my feet were covered and not getting sunburned!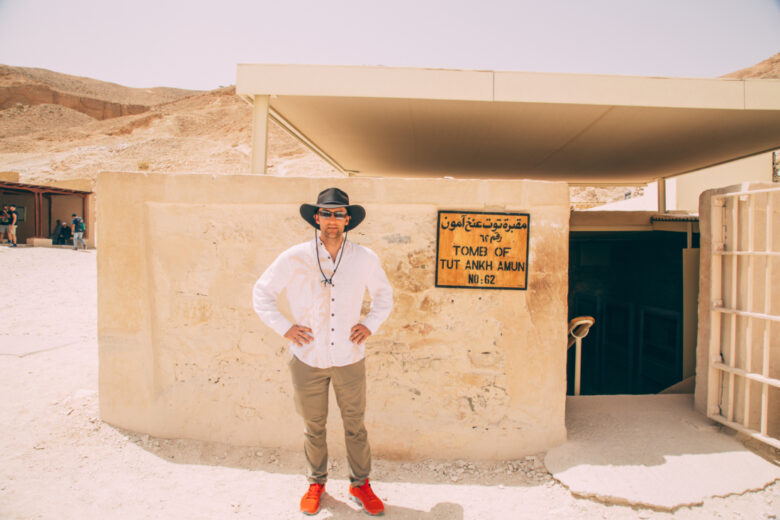 My Husband's Outfit
My husband had followed a similar formula for this day and wore a long-sleeved linen shirt with his hiking pants. He also wore his sneakers and his Indiana Jones hat for this entire trip. He LOVES this hat. (It also was perfect to wear when we got to Petra, haha.)
*You can also check out my entire packing list for Egypt as a woman.
*Also see my itinerary for how to spend 7 days in Egypt!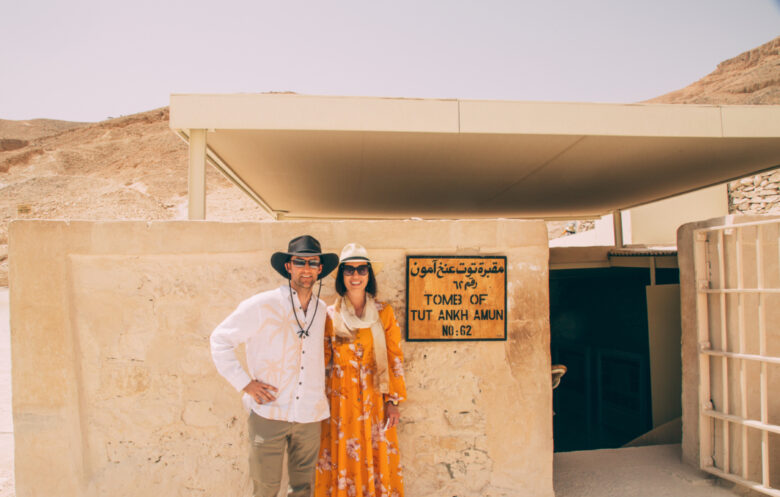 Do you try to cover up when you're in the heat all day? Let me know in the comments!
I'm explaining more about the Valley of the Kings and The Mortuary Temple of Hatshepsut (where these photos were taken) in this post! You can also check out all my Egypt posts so far by clicking here.
G Adventures is holding a cyber sale where group tour packages are up to $400 off.
Where to find it:
Dress: Amazon or Shein
Shoes: Keds
Hat: Nordstrom (Similar here & here)
Scarf: Amazon
Sunglasses: Similar here
Watch: Similar here
Bracelet: WesterRiverLeatherCo.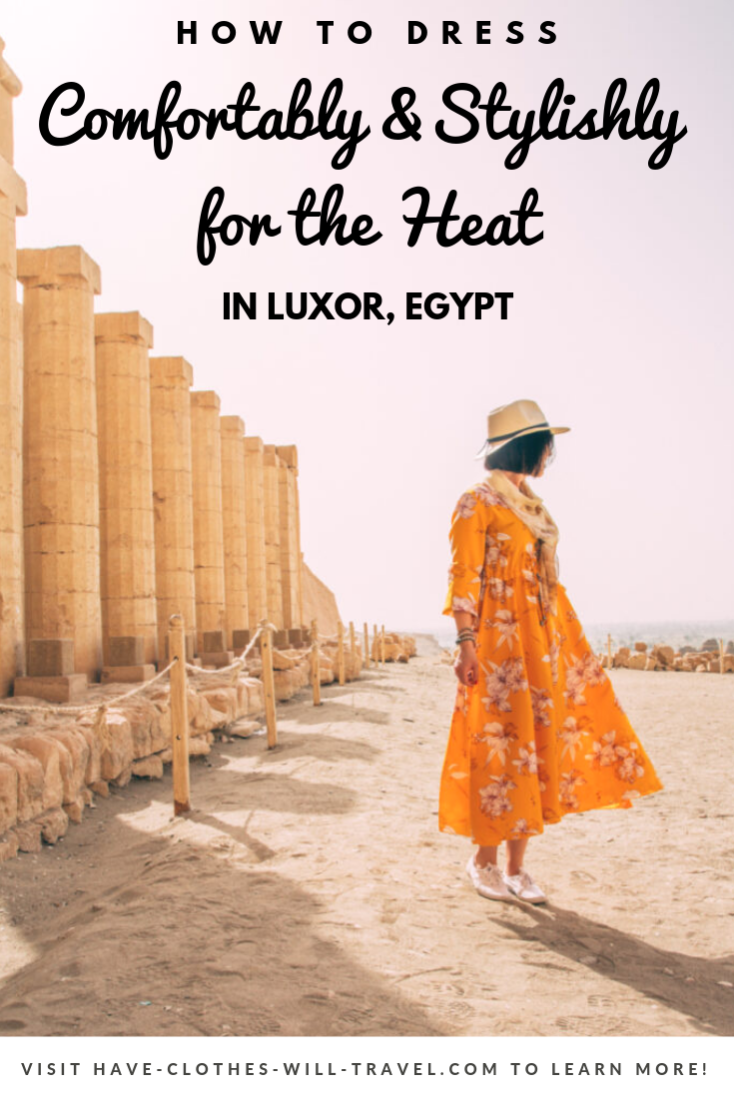 *Disclosure: some of these links are affiliate links. Meaning, if you click a link and make a purchase, Have Clothes, Will Travel gets a very small commission at no extra cost to you. Thank you for supporting the brands that make this blog possible! I am also a participant in the Amazon Services LLC Associates Program, an affiliate advertising program designed to provide a means for us to earn fees by linking to Amazon.com and affiliated sites.
*c/o = courtesy of, meaning the company gave me the product to be used on my blog, and I did not pay for it. All opinions are my own, and I am not being compensated for a positive review.