What I Wore to Explore Baku, Azerbaijan
Wondering what to wear for a day of exploring in Baku, Azerbaijan? This post is here to help!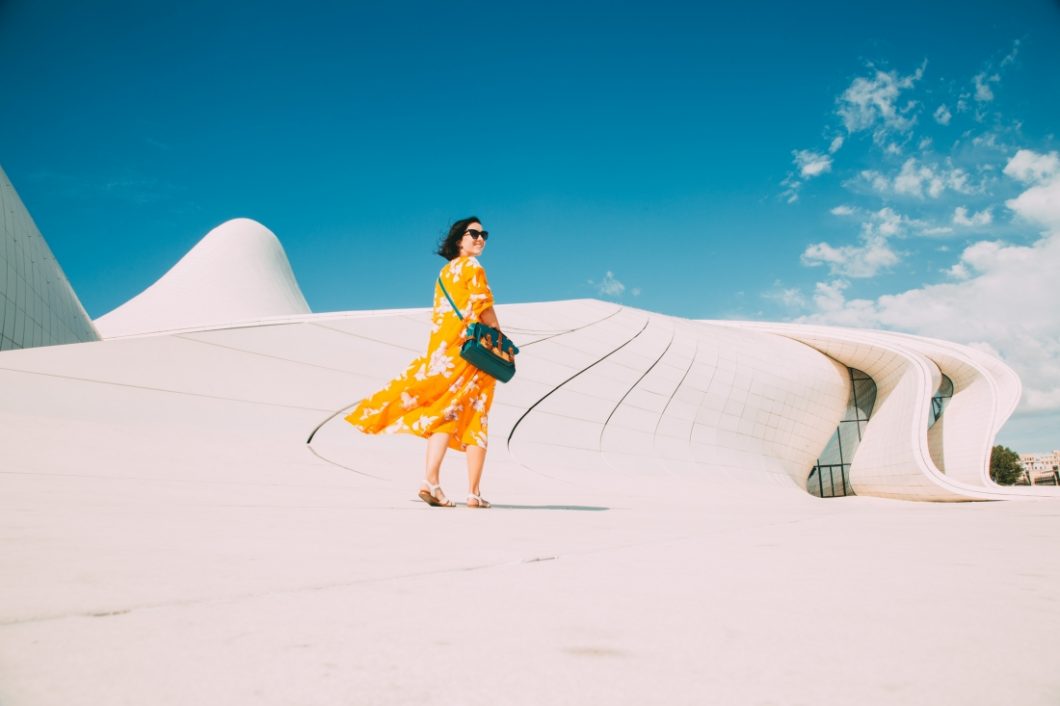 Unlike my previous outfit post from Baku, this outfit worked perfectly for a day of exploring the city! I was comfortable in it all day long – and it went from rainy and miserable in the morning to hot and sticky by the afternoon. (I visited in September.)
What to Wear in Baku, Azerbaijan for a Day of Exploring
What Shoes to Wear in Baku, Azerbaijan
As with any city, a day of exploring in Baku calls for quite a lot of walking! Wearing comfortable shoes was the most important component of this outfit.
Now, in my previous post about how to dress for a day trip to Gobustan National Park (outside of Baku) – these sandals were NOT a good idea. They didn't have nearly enough traction. However, for a day of leisurely strolling around the city, my Salt Water Sandals were perfect and super comfortable.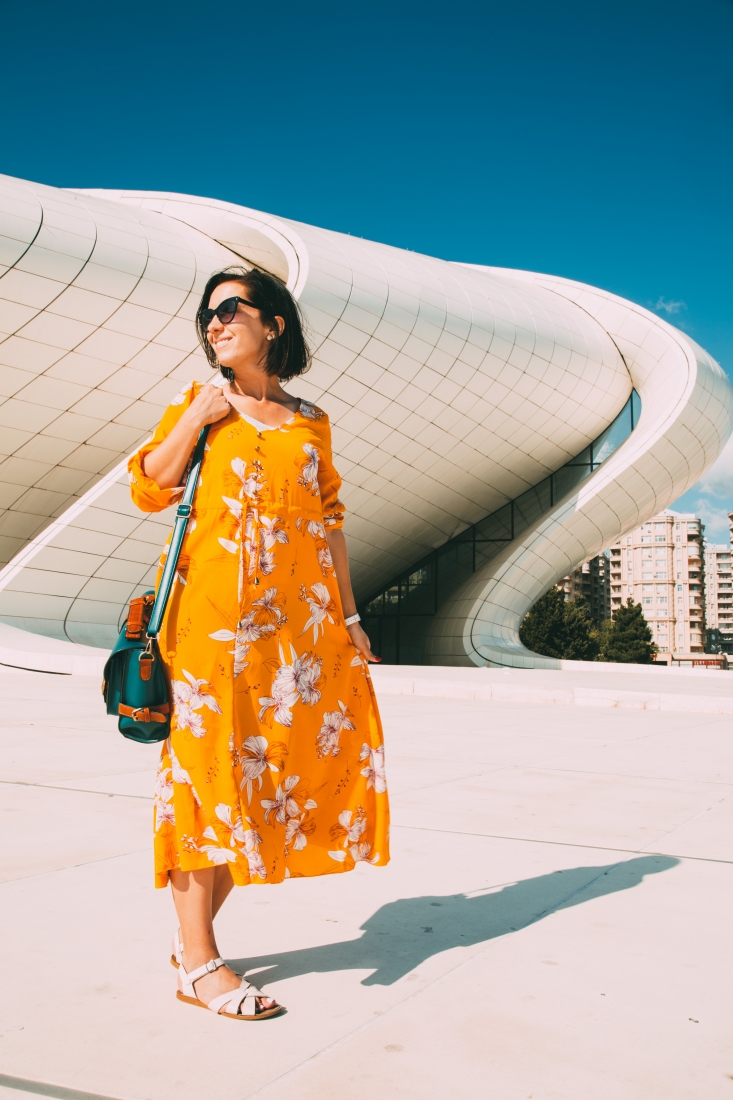 What Kind of Dresses to Wear in Baku, Azerbaijan
I'm a dress person, and always prefer dresses over wearing pants – especially when it's warm out. It was in the low 80s Fahrenheit by the time we took these photos. So I wanted something I knew would be comfortable in that type of heat. (I had my jean jacket on over this in the morning, though.)
This white and yellow floral dress from Amazon is one I had worn in the hot weather in Luxor, Egypt – and it worked perfectly! It's very breathable and lightweight. However, I found out on this trip that this dress is a little more see-through than I had originally thought. (A similar version of this dress is also available here with international shipping options.)
I put it on in the morning and hopped in my hotel's elevator only to notice in the elevator mirror that you could see the print on my undies plain as day! I raced back up to my room and put on more neutral undergarments for the day. Depending on the lighting, this dress can be rather sheer – lesson learned.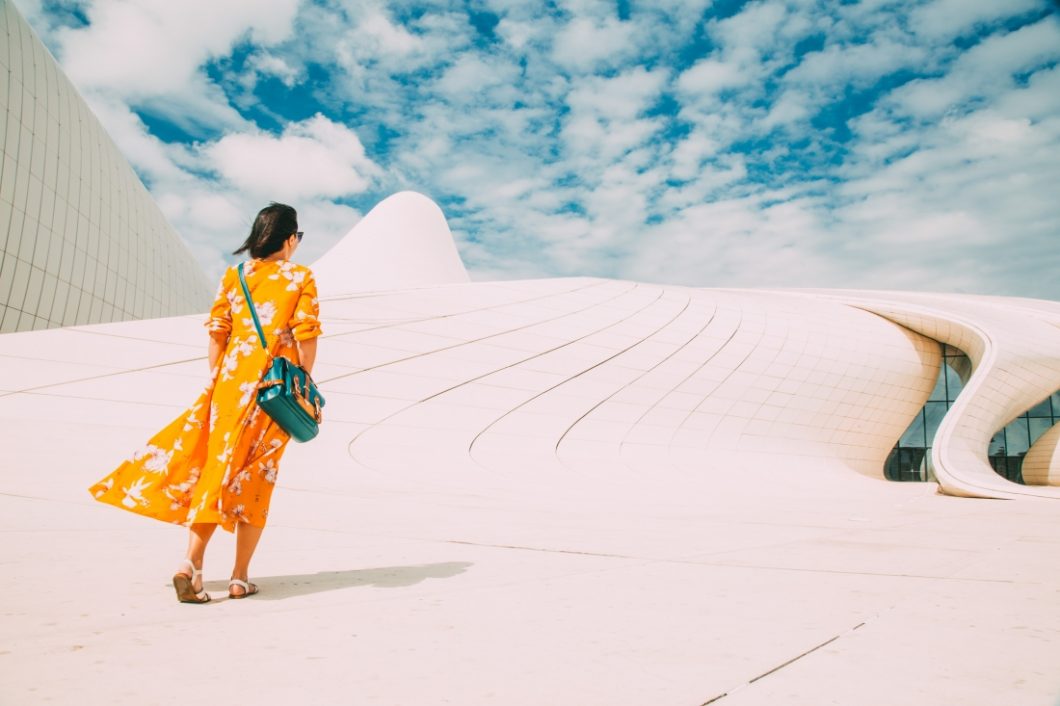 Another reason I had worn this dress is that it worked well for Egypt – given that it covers my knees and shoulders, and layered with a cami or scarf, it doesn't show any cleavage.
I hadn't been entirely sure how to dress for this trip, so I erred on the side of caution. I knew Azerbaijan is a mostly Muslim country, but I also knew it was a Post-Soviet country, and would likely be similar to Russia.
At least in Baku and the surrounding area, it turns out, there isn't any unspoken dress code for women – as there is in parts of the Middle East. I didn't see women wearing headscarves, and most people were wearing Western clothing in Baku. I would say to err on the side of conservative dress, so perhaps no super short shorts, belly shirts, or excessive cleavage. (But I would say that for any new country you visit – that revealing clothing isn't overly common in Russia either.) Beyond that, though, I would say to just wear what you are comfortable in. (And if you're visiting in winter – you won't have to worry about it anyway! It gets rather chilly here!)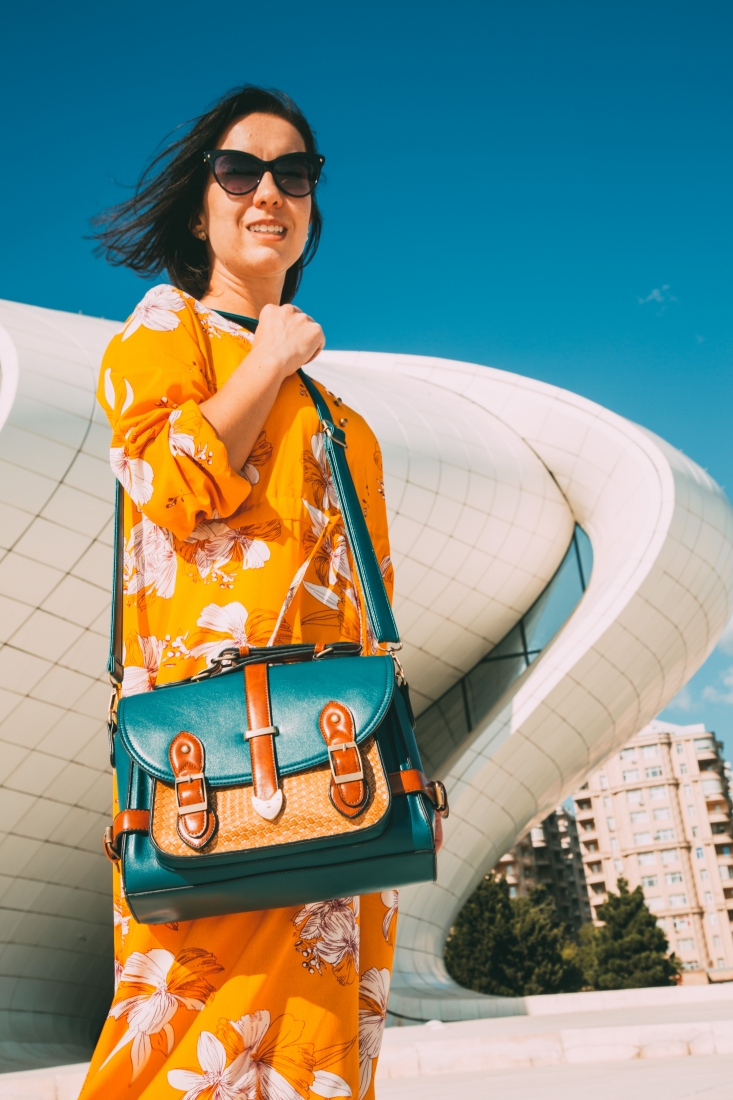 Best Bag or Purse to Carry in Baku, Azerbaijan
I always use a crossbody bag when traveling somewhere new, so I don't make myself an easy target for pickpockets or anyone looking to steal a handbag! This ModCloth Academic bag has served me well for the last 2 years of travel and daily life. The color is surprisingly versatile, and I love that it also has a zipper closure with the button top (for an extra layer of security).
I felt perfectly safe in Baku. However, pickpockets can be an issue in just about any city in the world – so, better to be safe than sorry when traveling!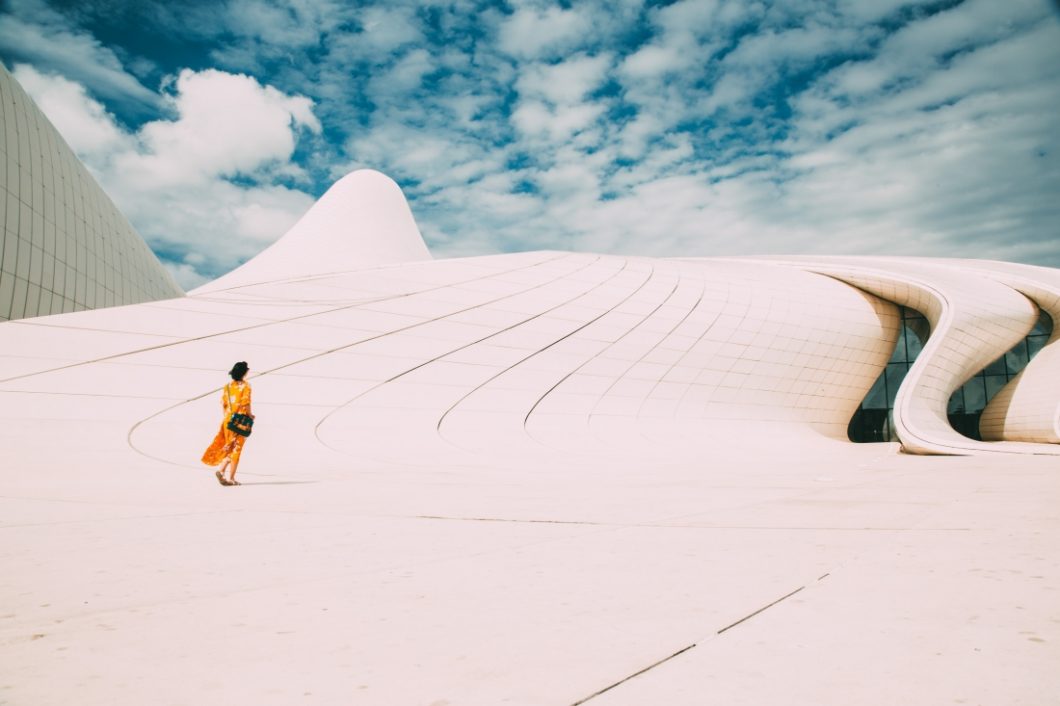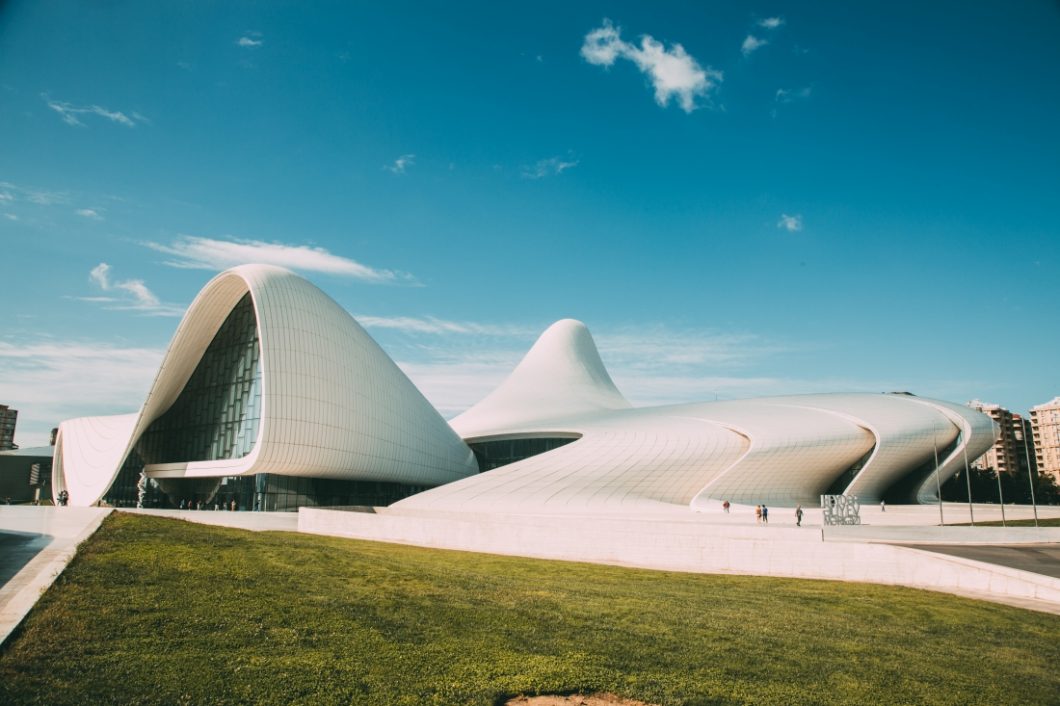 Heydar Aliyev Center in Baku, Azerbaijan
These photos were taken at the Heydar Aliyev Center in Baku, Azerbaijan – which is one of the coolest buildings I've ever seen. Not a single straight line was used in its design!
This architectural wonder is a museum complex designed by British-Iraqi architect Zaha Hadid. (She was the first woman to receive the Pritzker Architecture Prize.) My post about the Heydar Aliyev Center takes a look inside at one of its Classic Car Exhibits.
Browse all of my blog posts from Baku here.
If you have any questions about how to dress in Baku as a woman let me know in the comments section at the end of this post. I'll be happy to answer them!
What to Wear in Baku: Source List
Dress: Floral Print Maxi Dress from Amazon
Sandals: Salt Water Sandals
Bag: ModCloth Academic Teal Over-the-Shoulder Bag
Watch: c/o* Timex Leather Strap Watch
Sunglasses: Oversized Vintage Cateye Sunglasses from Amazon
*Disclosure: some of these links are affiliate links. Meaning, if you click a link and make a purchase, Have Clothes, Will Travel gets a very small commission at no extra cost to you. Thank you for supporting the brands that make this blog possible! I am also a participant in the Amazon Services LLC Associates Program, an affiliate advertising program designed to provide a means for us to earn fees by linking to Amazon.com and affiliated sites.
*c/o = courtesy of, meaning the company gave me the product to be used on my blog, and I did not pay for it. All opinions are my own, and I am not being compensated for a positive review.