How to Spend 2 Days in Baku, Azerbaijan – The Ultimate Itinerary
2 days in Baku, Azerbaijan is just enough time to get a good feel of the city. Granted, you won't be able to see absolutely everything Baku has to offer in this timeframe – but you will get a great overview. I'm sharing how we spent our 2 days here and a few tips for planning your Baku itinerary.
How to Spend 2 Days in Baku, Azerbaijan – The Ultimate Itinerary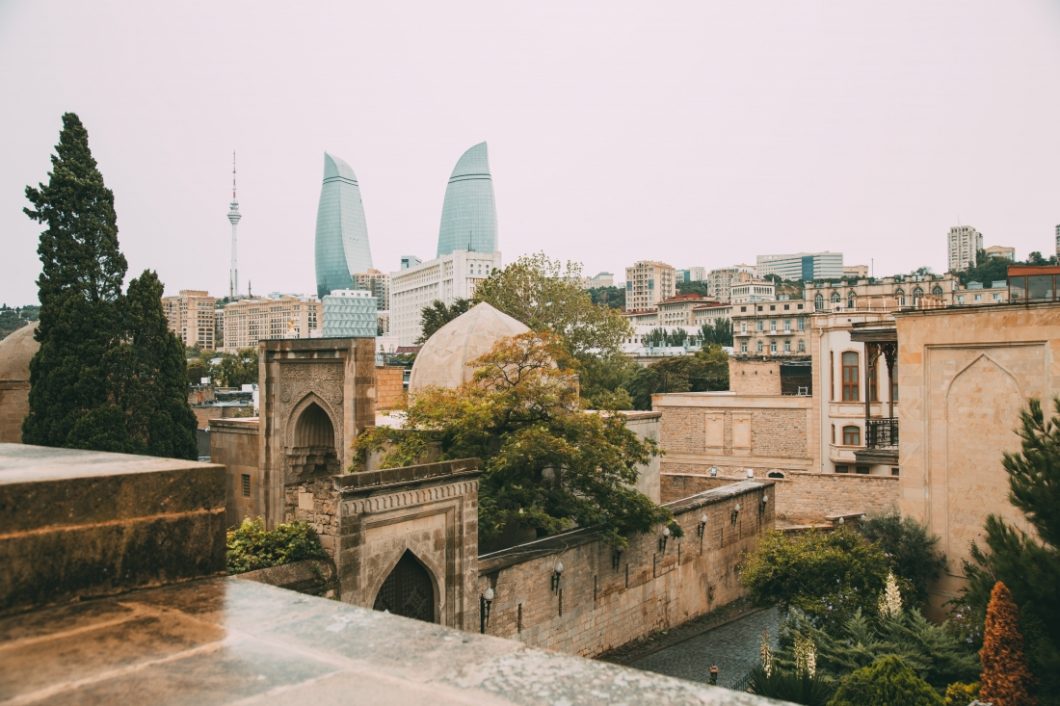 We had come to Baku from Moscow for a weekend getaway. I had found a good flight on Skyscanner that got us to Baku at about 9 pm on a Friday night. We took a taxi from the airport for 25 manats to our hotel in Baku's City Centre.
It was fun to get our first glimpse of the city at night – as the buildings are all lit up and quite futuristic looking. (There are even city tours designed to specifically show the city at night! Click here to see them.)
We ended up going straight to bed this night, as we had a big day the next morning!
Day 1 – Day Trip to Gobustan National Park, Fire Mountain & Fire Temple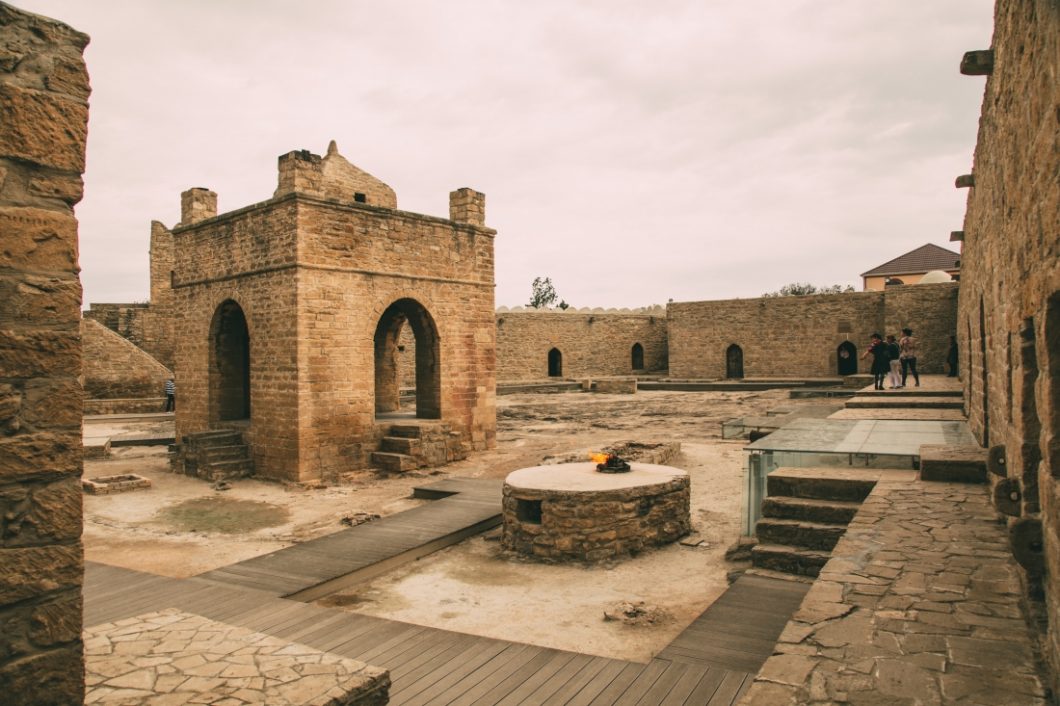 I know this sounds silly. You just got to the city of Baku – why would you want to take a day trip outside the city on your first day here? Well, I think it's a good idea to see these places first, because if the weather is poor, this day tour will not be pleasant..and may not happen at all!
This is because almost all of this is outdoors – and Gobustan National Park is home to some very interesting mud volcanoes that would be nearly impossible to get to if the weather is rainy. (All that mud can make for some slick driving conditions!) So, this is why I recommend going to these places on your first day – so, you at least have one more day as a buffer in case of bad weather.
Gobustan National Park – Petroglyphs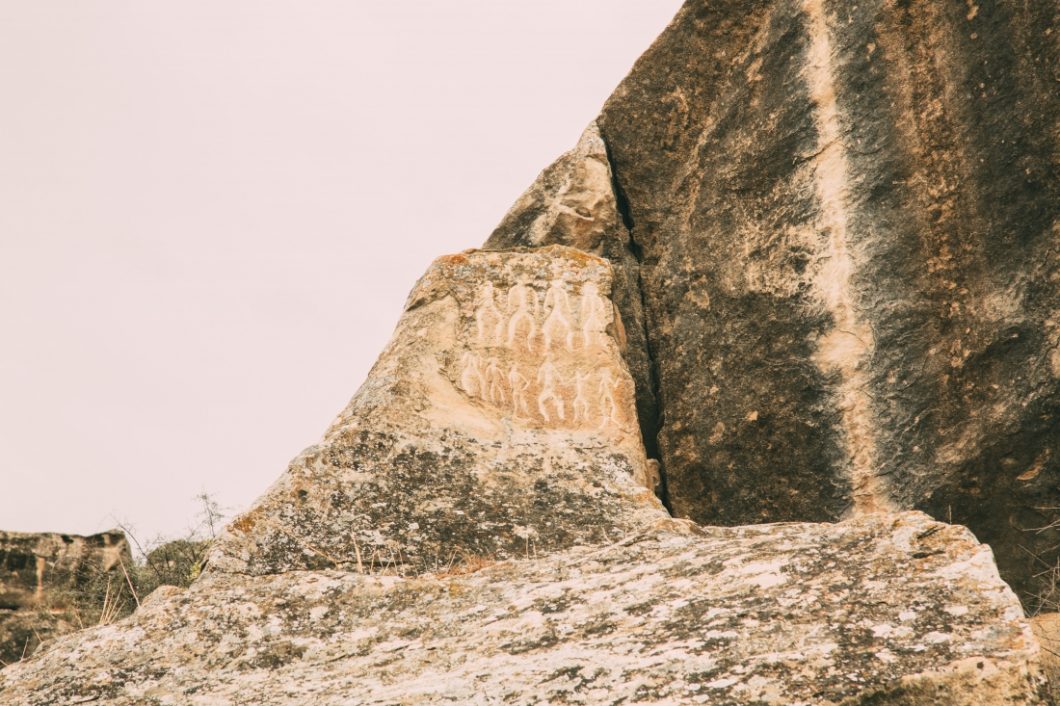 Gobustan State Reserve is home to more than 6,000 petroglyphs (rock carvings). Many of these carvings are between 5,000 and 20,000 years old – how crazy is that?! They depict hunters, dancing, people traveling by reed boats, bulls and more. (Click here for more info.)
Gobustan Mud Volcanoes!
Azerbaijan is home to more than 400 mud volcanoes! That's more than anywhere else on the planet. Oh yeah, and these volcanoes are not hot – they're actually quite cold. So, you don't have to worry about scalding yourself if you get too close to them. They're actually said to have health benefits too – so, don't be surprised to see people slathering the mud on themselves! (Click here for more info.)
Ateshgah of Baku "Fire Temple"
The Ateshgah of Baku is often referred to as "Fire Temple." It's a temple that was used as a place of worship for Hindus, Sikhs and Zoroastrians. Zoroastrianism is a religion I knew next to nothing about before visiting here…and it's actually one of the world's oldest continuously practiced religions. Fire is the primary symbol of the religion, and Zoroastrians usually pray in the presence of some form of fire. (Click here for more info.)
Yanar Dag "Fire Mountain"
Yanar Dag means "burning mountain." This hillside has been continually burning since the 1950s. It is fed by natural gas. Visiting Yanar Dag at night would be a bit more impressive. (There are tours that will take you here at night, too.) When you hear the name "Fire Mountain" you'll likely think an entire mountain is on fire…which is not the case at all. It's a rather small fire, which can vary in size depending on the day. It's still rather interesting to see, though! (Click here for more info.)
We had arranged this entire day through the tour service, Bag Baku Tour. To see my full review of them, click here.
Dinner at Sumakh
If you're coming all the way to Baku, you should spend at least one night enjoying some traditional Azerbaijani food. We had a great experience at Sumakh. The atmosphere was relaxed and happy. The staff was very warm and able to accommodate our English-speaking selves. But, most importantly, the food was fantastic! I loved my dolma, especially. And although I'm not a fan of this type of wine – it was still fun to try the pomegranate wine! Click here for more info.
Day 2 – Visit Old City, Heydar Aliyev Center and Walk Along Baku Boulevard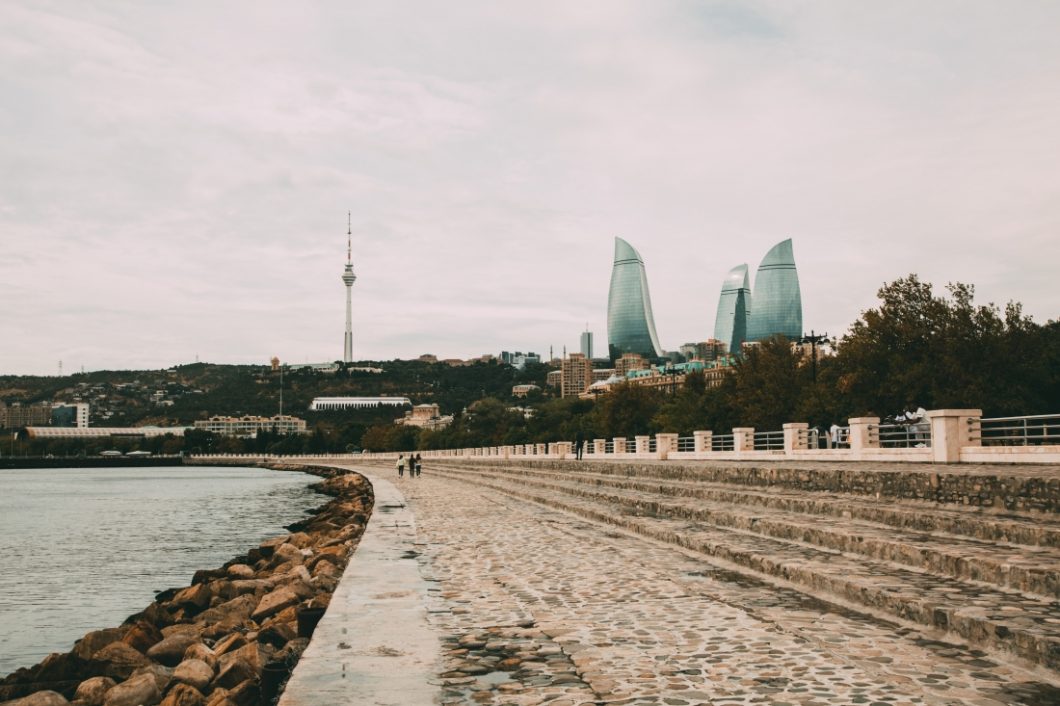 Morning – Walk Along the Caspian Sea
Depending on the weather and where you are staying, you can start your day by walking along Baku Boulevard and enjoying the breeze off the Caspian Sea. There are a lot of cafes along the way to stop for coffee and tea as well. (We stayed at the JW Marriott in Baku, which was an easy walk to the Boulevard.)
The Baku Boulevard is about 1-mile long with interesting architecture to admire along the way. (Click here for more info.)
Explore Old City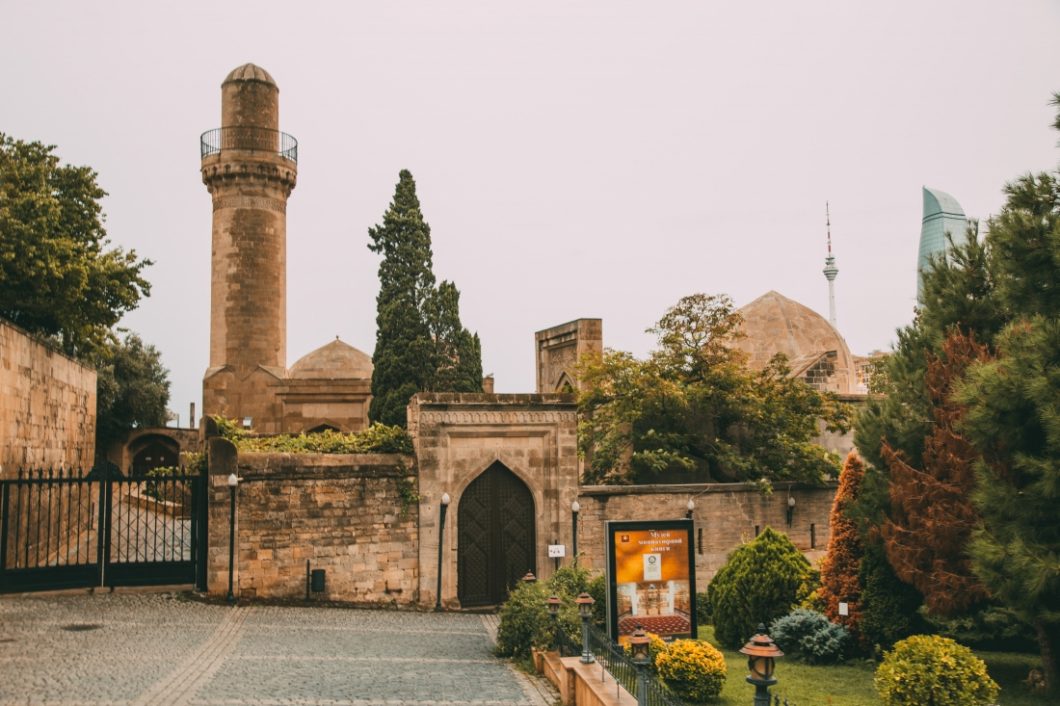 Old City is the most ancient part of Baku. It dates to around the 12th century. It's a great spot to walk around for (at least) a few hours. The morning we were there it was pretty rainy, and we still had a great time exploring this area.
Here are a few highlights:
Maiden Tower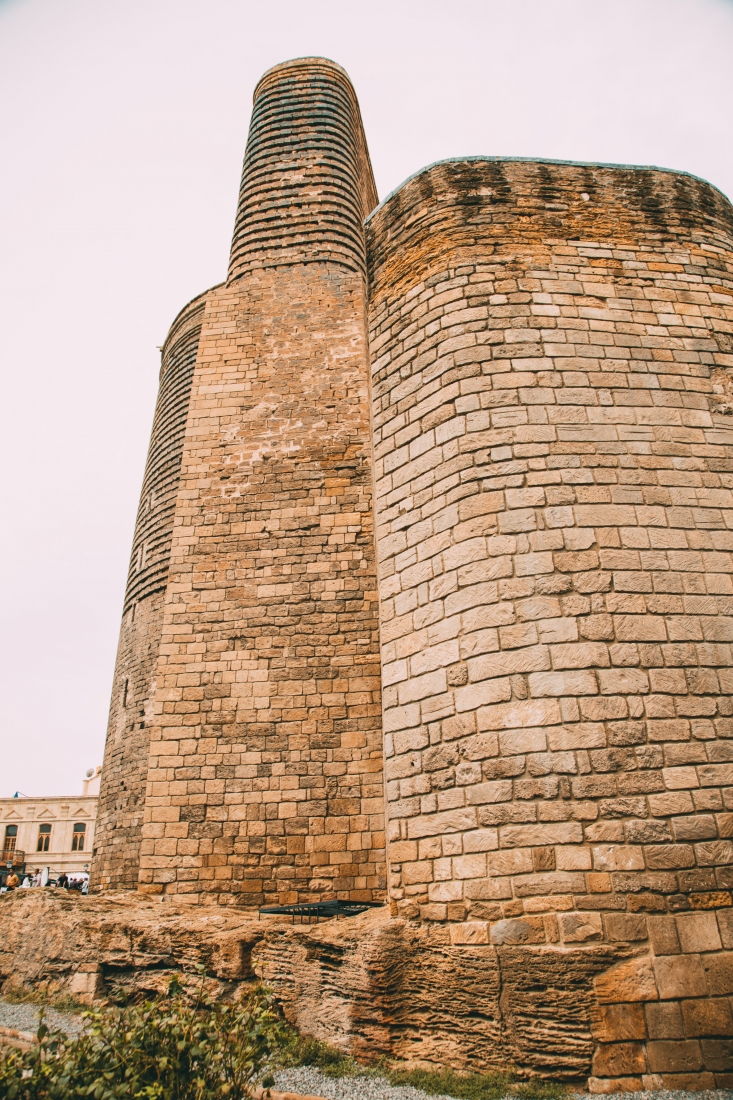 The Maiden Tower is, perhaps, the most famous landmark in Baku and is located in Old City. (You can climb to the top of it for a view of the city and the Caspian Sea.) It's also interesting because no one seems to agree on why or when The Maiden Tower was built exactly.
The Palace of Shirvan Shahs
The Palace of Shirvan Shahs is a 15th-century palace built by the Shirvanshahs (rulers of Shirvan – now, Azerbaijan). Inside the complex, you'll find a mosque with a minaret, a mausoleum, burial vaults and the remnants of a bathhouse
Baku Museum of Miniature Books
The Baku Museum of Miniature Books is the only museum in the world of mini books! (It has a Guinness World Record for it as well.) There are more than 6,000 mini books from 64 different countries!
Then… Head Over to the Heydar Aliyev Center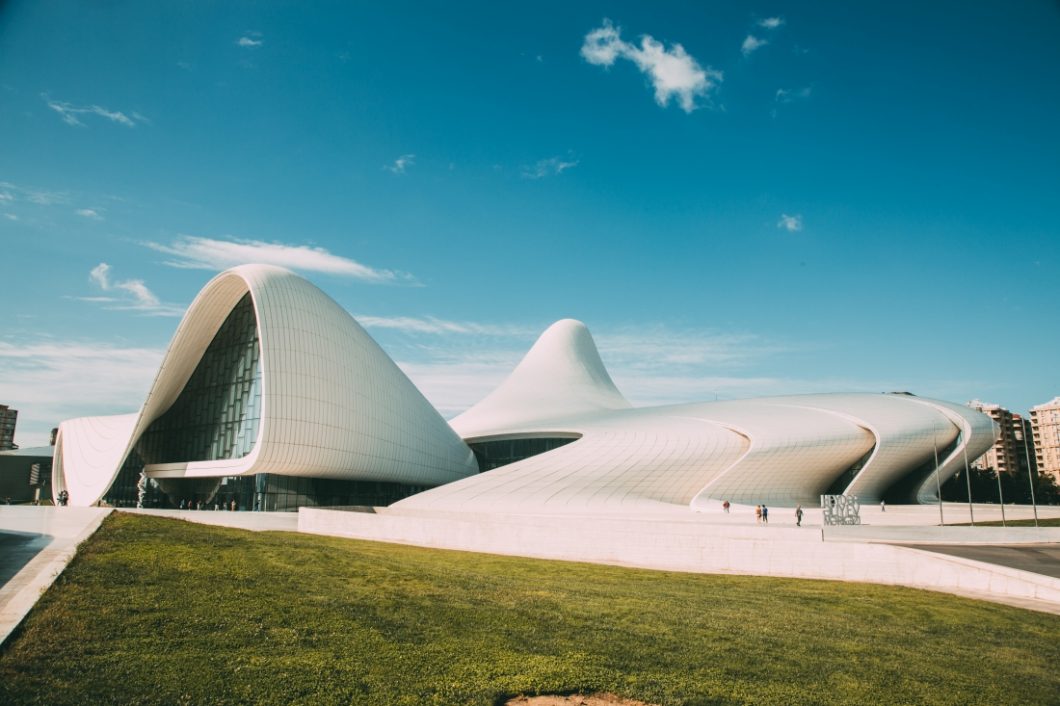 This is one of the most stunning buildings I have ever seen in my life. Not a single straight line was used in its design!
This architectural wonder is a museum complex designed by British-Iraqi architect Zaha Hadid. (She was the first woman to receive the Pritzker Architecture Prize.) The exhibits inside are dedicated to the history and culture of Azerbaijan. (There is also a Classic Car Exhibit inside. Click here for more info.)
This is a tough one to get to by walking – I would recommend taking a cab.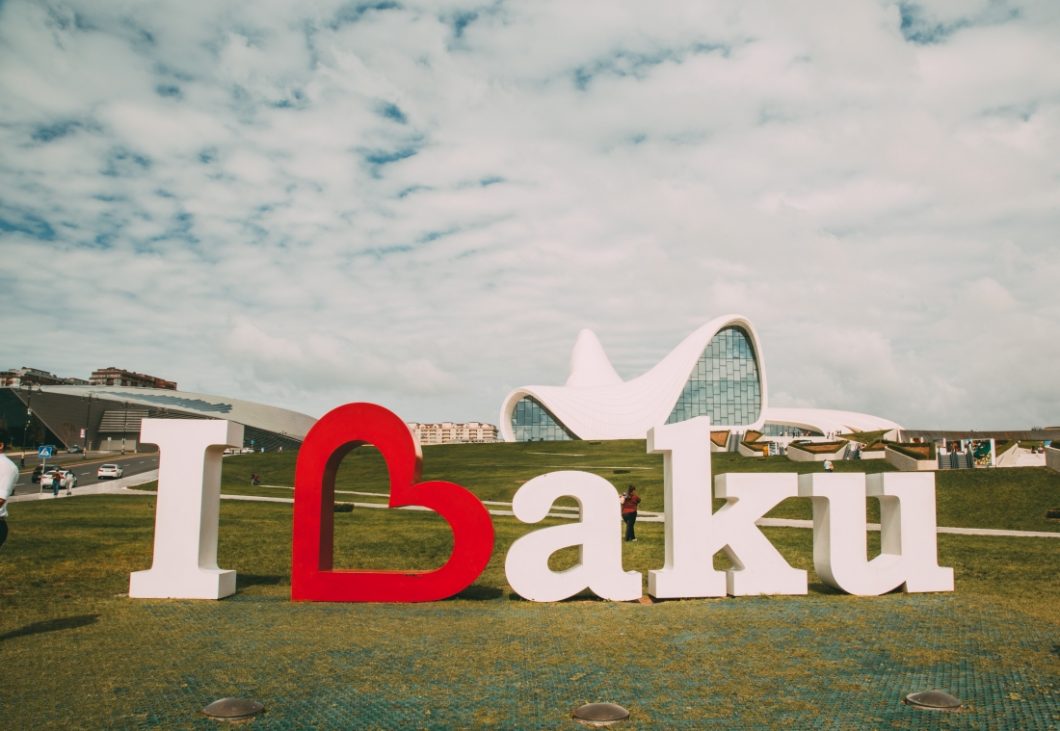 Our flight left at 8 pm that night. So, this gave us enough time to get our bags from our hotel grab an afternoon snack and tea and head to the airport.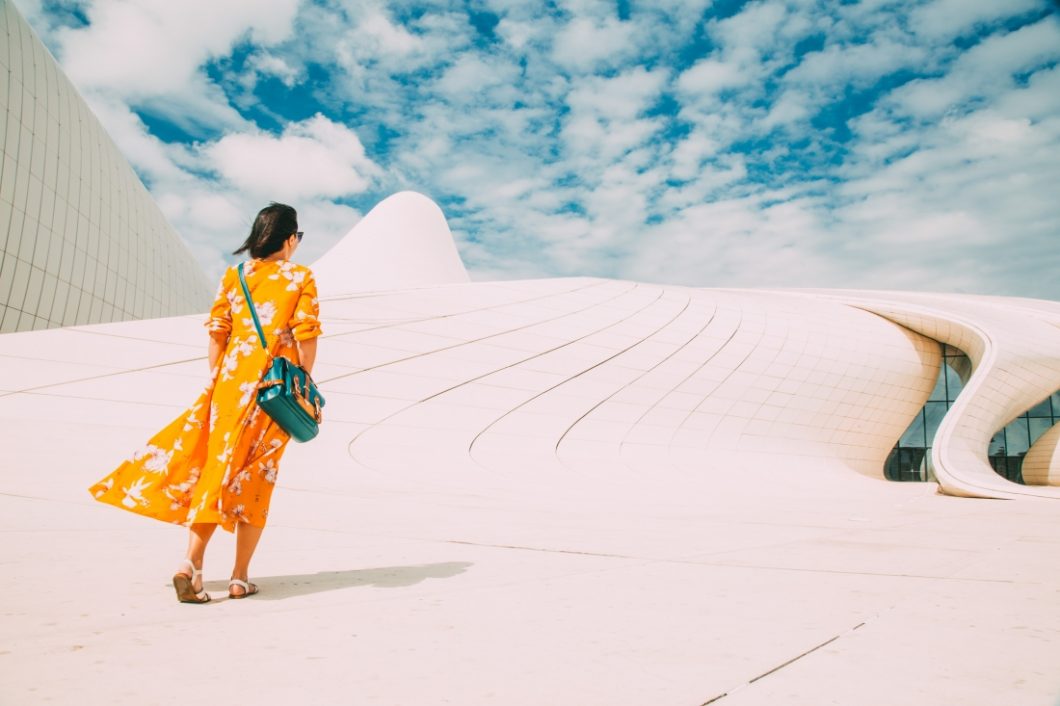 If anyone has any questions about traveling to Baku – please feel free to reach out in the comments section at the end of this post.
Travel Insurance

It's a good idea, no matter where your adventure takes you, to have travel insurance. You never know what might happen! Whether you get sick before your trip and can't go, or you become sick or injured while on your adventure – being covered with travel insurance is a must. Some credit card companies do provide this service (check with yours), or you can get a quote from companies such as Squaremouth to find the best plan for you and your adventure. (This is the company I, personally, use. They are even recommended by Forbes!) To get a free quote, click here.
Visa Requirements
To check if your country requires a Visa for traveling to Azerbaijan, click here. This is the official website for the Republic of Azerbaijan, and it's very straightforward and easy to apply through. (My visa took 3 days to be processed and approved.)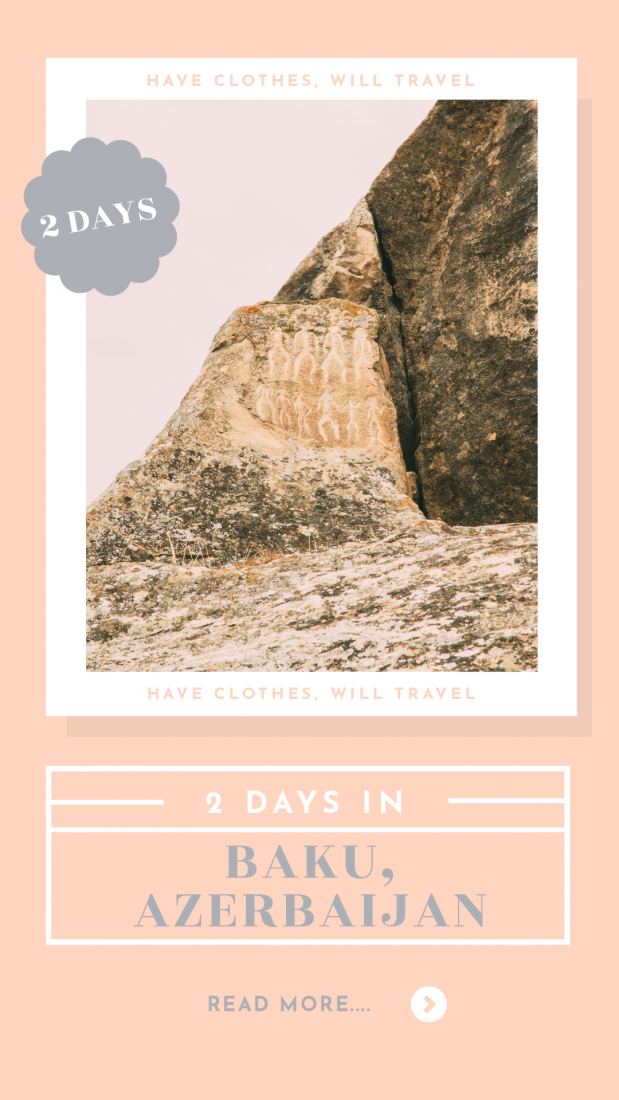 *Disclosure: some of these links are affiliate links. Meaning, if you click a link and make a purchase, Have Clothes, Will Travel gets a very small commission at no extra cost to you. Thank you for supporting the brands that make this blog possible! I am also a participant in the Amazon Services LLC Associates Program, an affiliate advertising program designed to provide a means for us to earn fees by linking to Amazon.com and affiliated sites.