Coolest Things to See in Baku, Azerbaijan + Travel Tips
What comes to mind when you think of Baku, Azerbaijan? If "nothing" is your first thought – you're not alone. I honestly couldn't have pointed to the city of Baku on a map until a year ago… let alone tell you what there is to do there. This post is here to explain this interesting city – from language and safety concerns to what there is to see and do here!
Where Even Is Baku, Azerbaijan?
Baku borders the Caspian Sea and is an interesting mix of European and Middle-Eastern with a hefty splash of Soviet Union influence. The country of Azerbaijan itself is actually located in both Europe and Asia. (It shares a border with Russia, Georgia, Armenia, Turkey and Iran.) It's a unique mix that sounds odd but works together beautifully.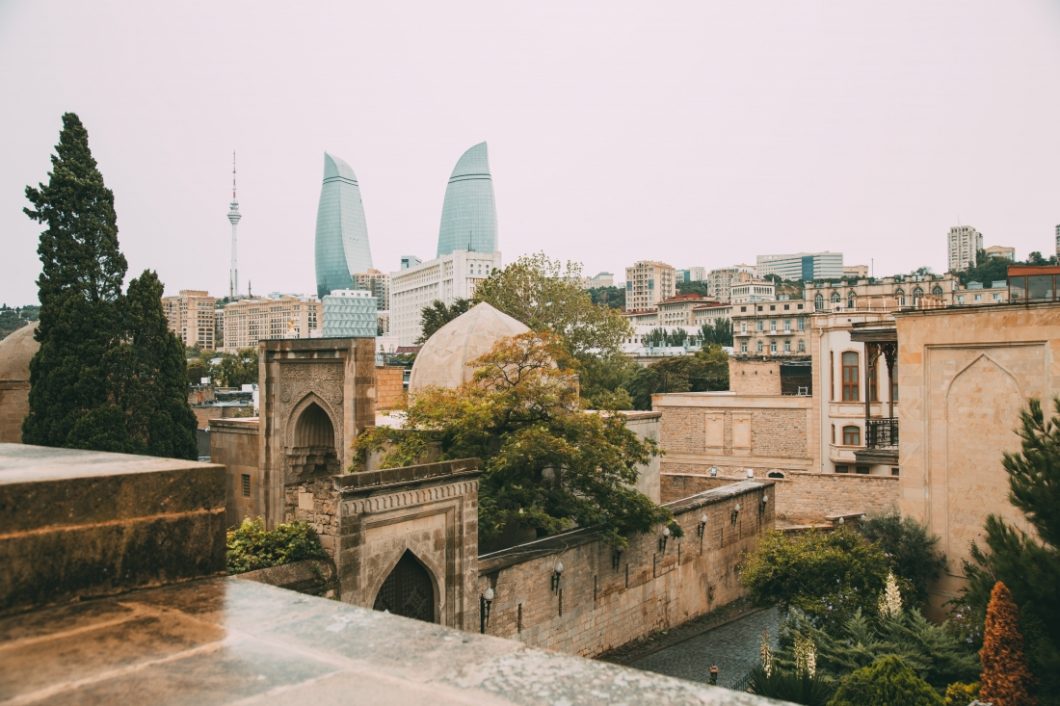 This relatively small country is not a world-famous tourist destination…yet. Its notoriety is growing. Azerbaijan is most known for its oil industry, but the country is also making strides in recent years to up its tourism industry. (The government established a State Tourism Agency and Board just last year.)
Beautiful, new architectural wonders are beginning to dot the skyline of the capital city of Baku, and the government has also implemented an easy online visa application process for tourists (that takes only 3 days to get, now, on average).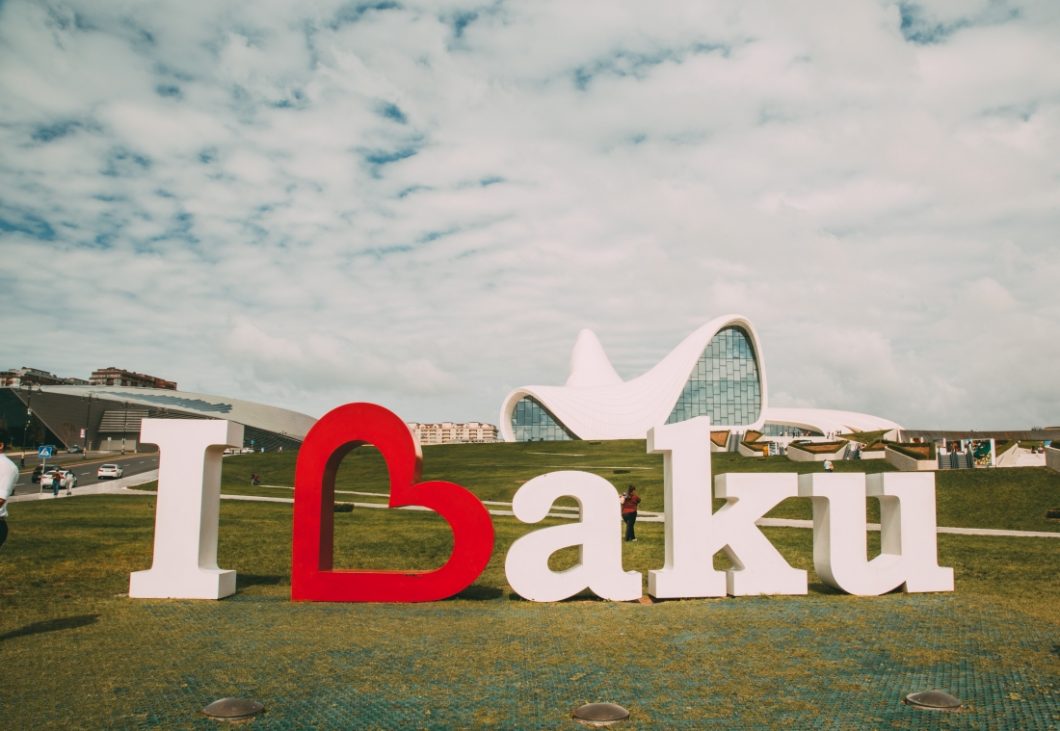 I know Baku is likely not going to be the destination for many of my US-based readers to hop on a plane for a week-long vacation. It is, however, an interesting stop for someone who is heading to Eastern Europe or the Middle East. (Planning a trip to Turkey? Spend a few days exploring Azerbaijan!)
The reason Baku landed on my travel list is that it was such an easy flight for me from Moscow, Russia…and I found a last-minute deal on Skyscanner. (I had been living in Russia for a little over a year.) And I'm sure glad I had the chance to visit!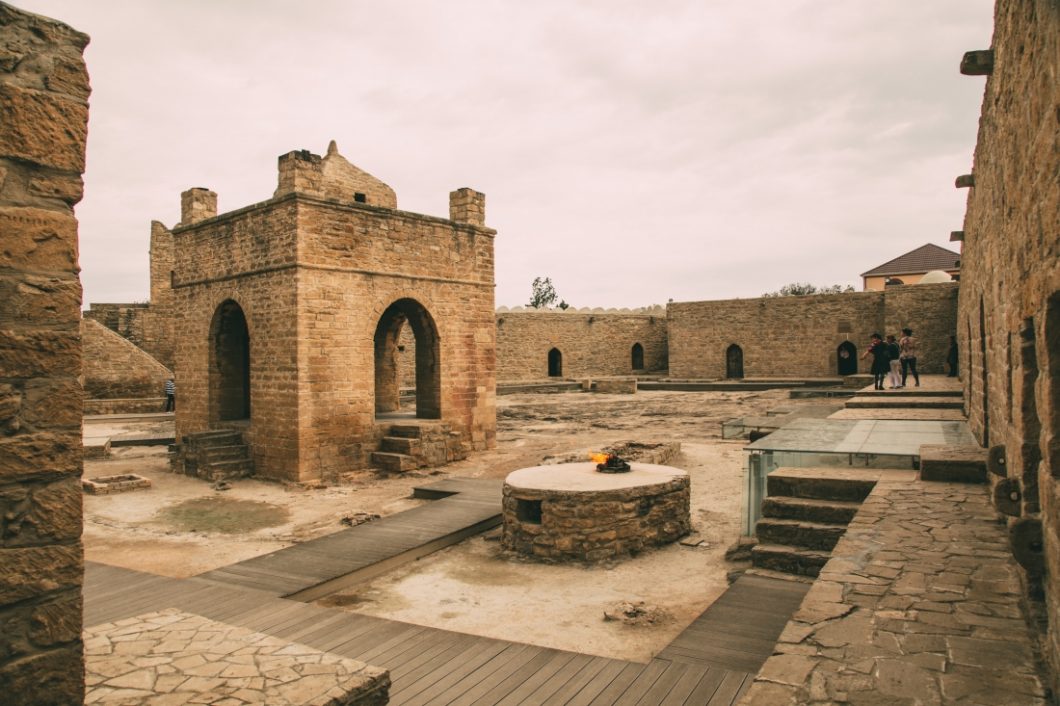 Is Baku, Azerbaijan Safe?
I get this question about every single country I visit, and it's always surprising how much more safe I'll feel in some of these seemingly "scary" countries and cities than I do in most cities in the US.
The crime rate in Baku as of 2019 is low (for muggings, vandalism, drugs, etc.), political corruption is another story, though. (It's similar to Russia, in my opinion, in this regard. Moscow is one of the safest cities I've ever been to, but political corruption is another story.)
However, as a tourist visiting Baku – you are more than fine. Exercise the normal precautions you would in any other city, and you'll have a great time visiting.
As an American woman, I never once felt unsafe in Baku.
I should note, though, that there were enough scams happening to get a few extra dollars out of tourists. We noticed this specifically with taxi drivers. Get a rough idea of how much a taxi ride should cost from your hotel's front desk, to wherever you want to go, then negotiate the price with your driver before you leave. We had drivers trying to charge us double what the average rate was sometimes. Also, be sure to check your receipts from restaurants before paying as well…I've heard some trying to tack on "extra" charges for no apparent reason.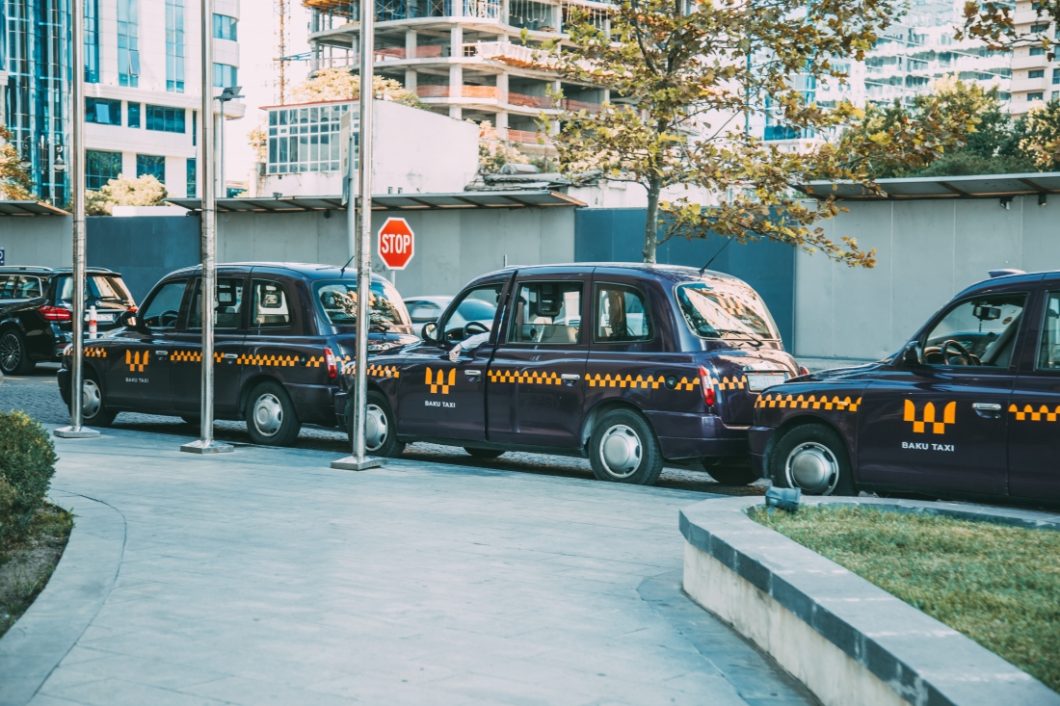 What About the Language Barrier in Baku?
So, the main language in Baku is Azerbaijani. (Quite a few people also speak Russian.) However, in Baku, you'll get by just fine with English. While not everyone is bilingual, we found many people were kind and willing to work with us through the language barrier. Many signs were also translated.
13 Cool Things to See in Baku, Azerbaijan
Now, that you have a rough idea of what the city of Baku is like – here are some of the cool things you can see and do here!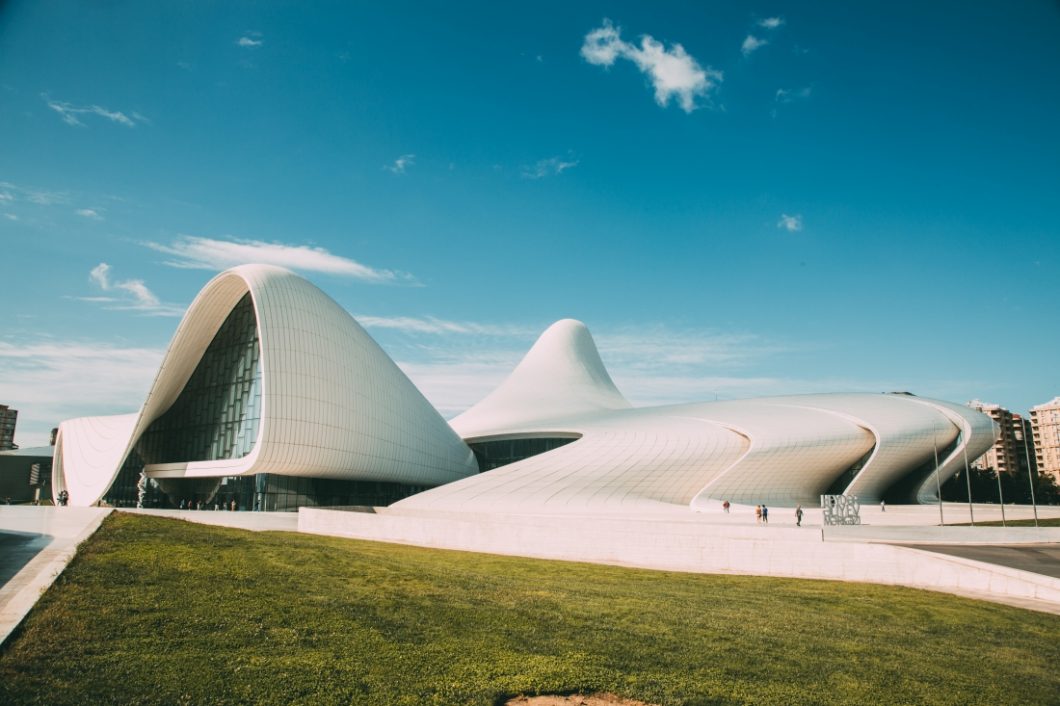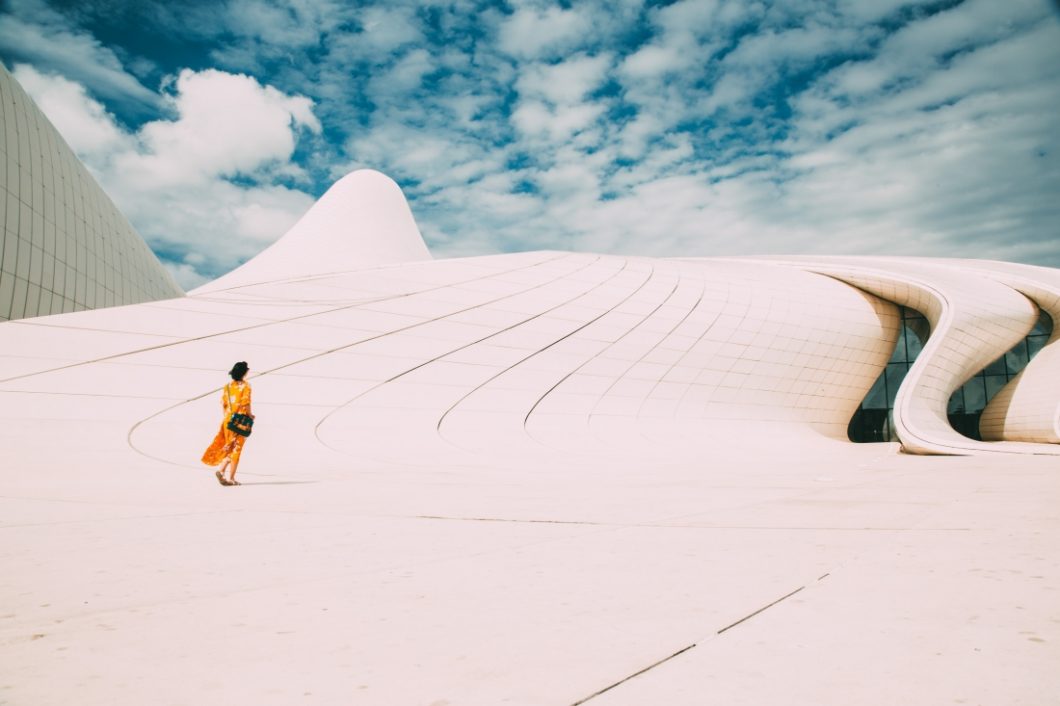 1.) The Heydar Aliyev Center is one of the most stunning buildings I have ever seen in my life. Not a single straight line was used in its design!
This architectural wonder is a museum complex designed by British-Iraqi architect Zaha Hadid. (She was the first woman to receive the Pritzker Architecture Prize.) The exhibits inside are dedicated to the history and culture of Azerbaijan. I can't recommend seeing it enough!
I apologize if you've been following my Baku posts and are tired of hearing about this building, but I still in awe of it. (Click here for my recent blog post from here.)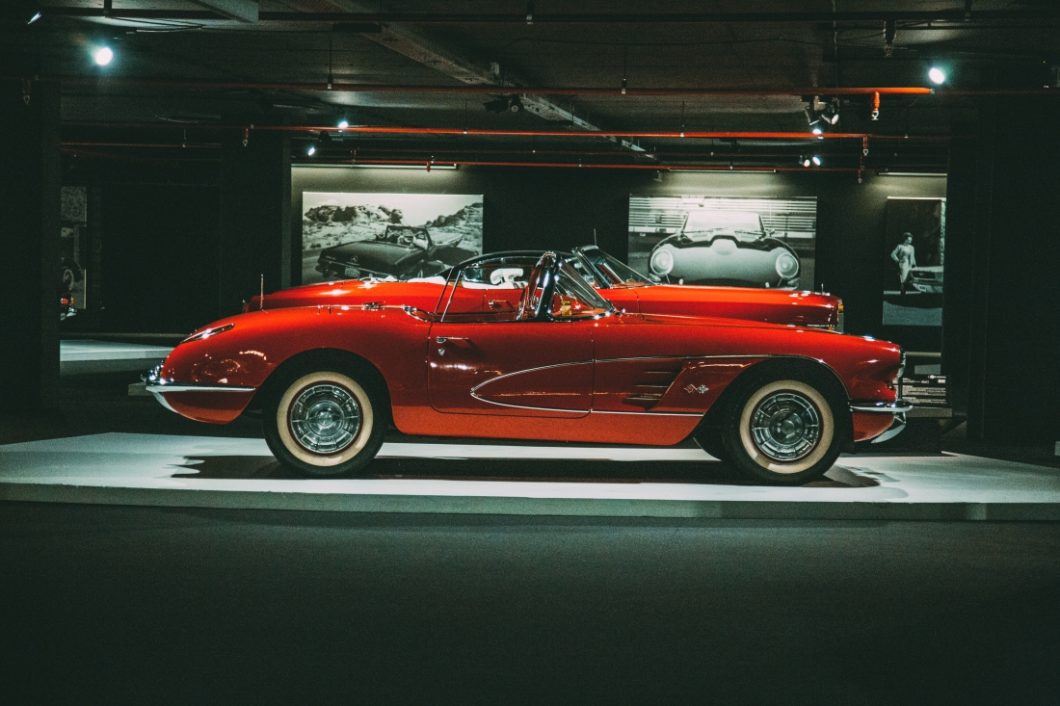 2.) Classic Car Exhibit (inside Heydar Aliyev Center) – And if you're heading to the Heydar Aliyev Center anyways, you might as well check out it's impressive Classic Car Exhibit in the basement of the building! I'm not a car person, but I even found myself oohing and aahing over this exhibit. (Click here for my full photo gallery of it.)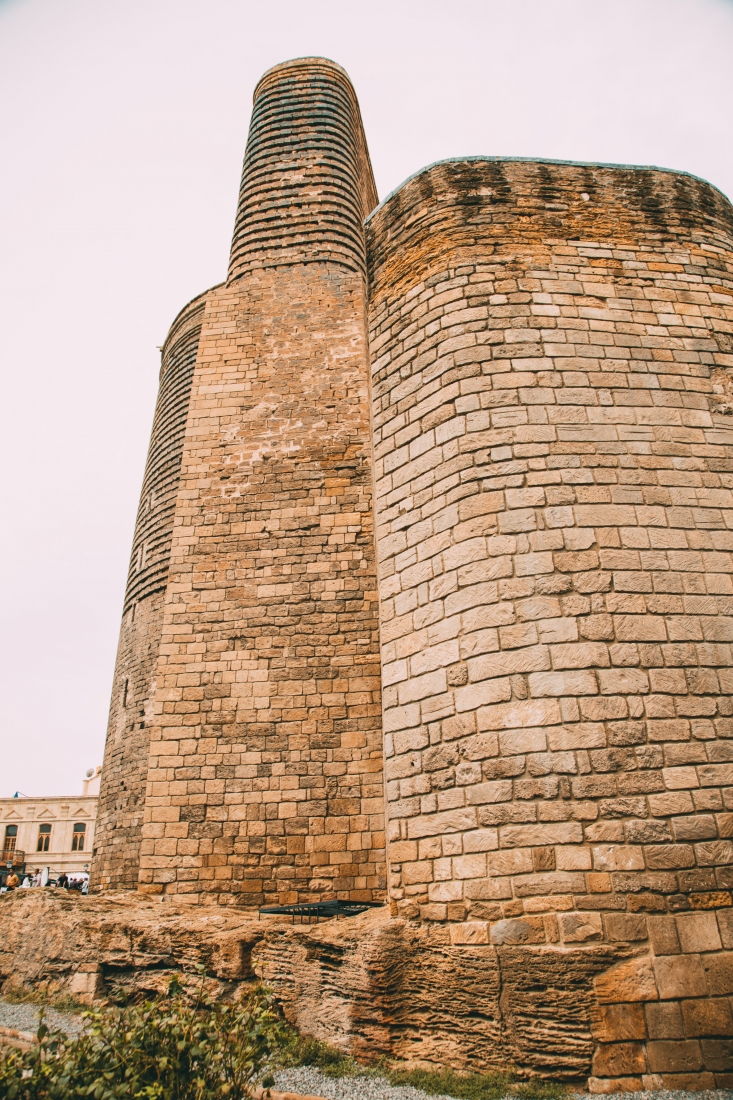 3.) Old City // Maiden Tower – Old City is the most ancient part of Baku. It's so strange to see such modern buildings (such as the Heydar Aliyev Center) and then step into Old City, which dates to around the 12th century. The Maiden Tower is, perhaps, the most famous landmark in Baku. (You can also climb to the top of it for a view of the city and the Caspian Sea.) It's also interesting because no one seems to agree on why or when it was built exactly. And who doesn't love a good mystery?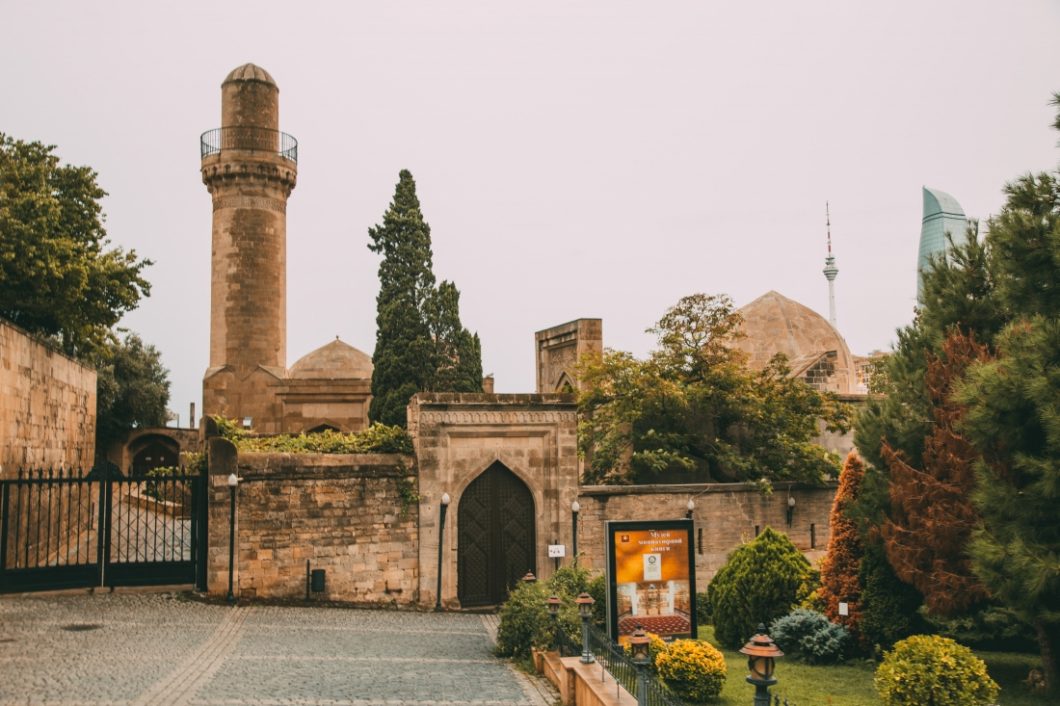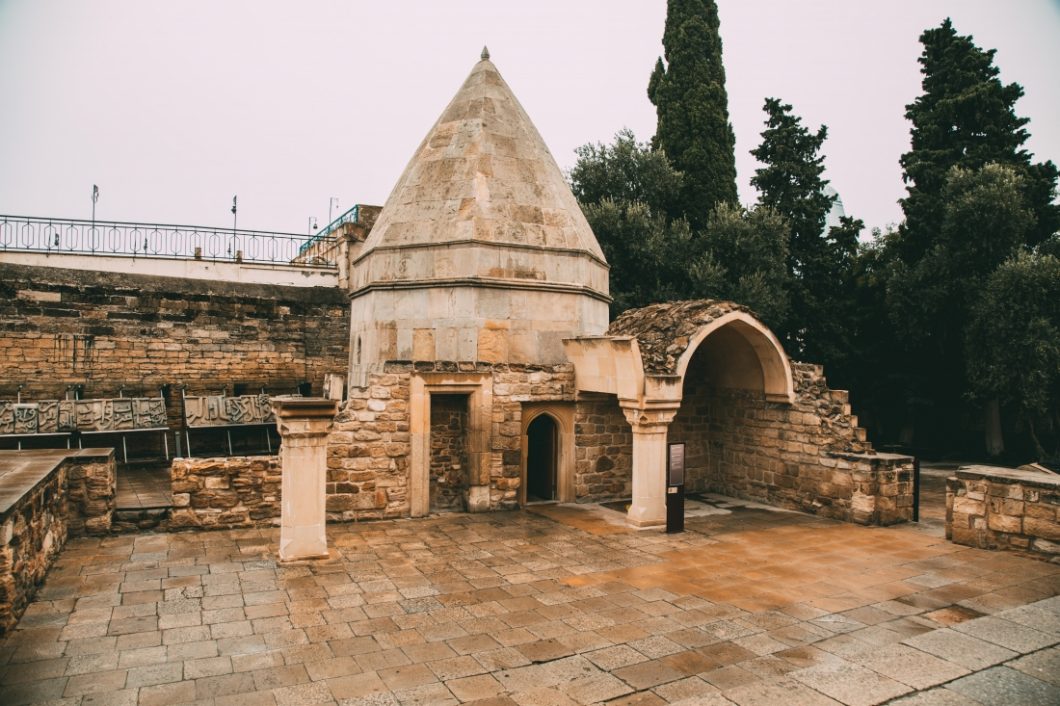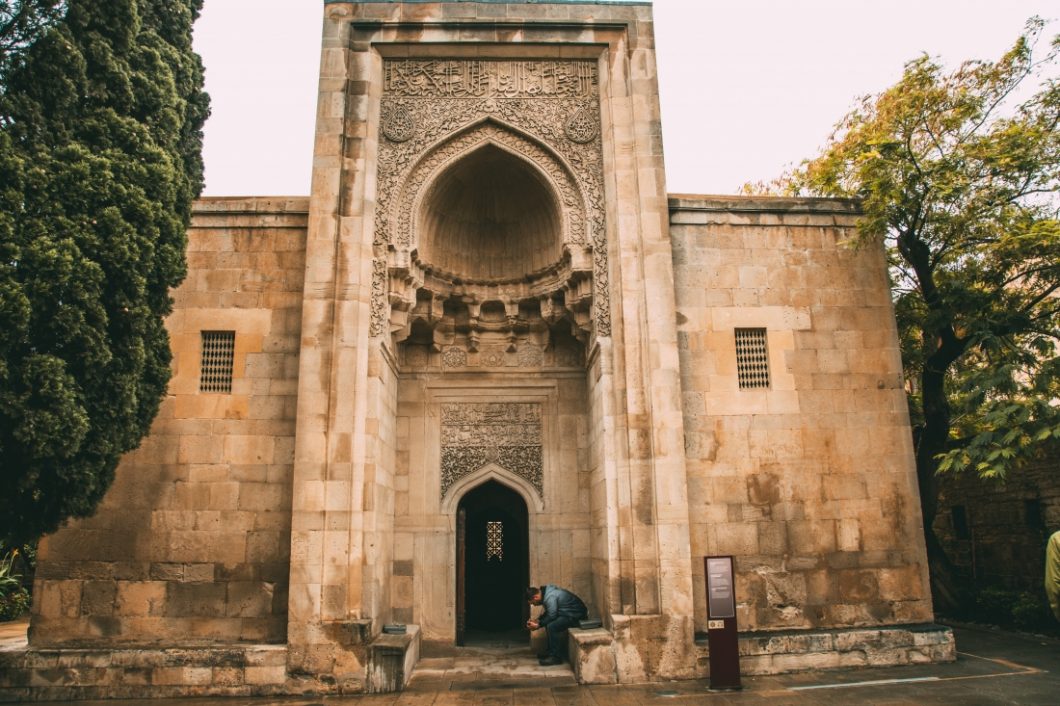 4.) Old City // The Palace of Shirvan Shahs is a 15th-century palace built by the Shirvanshahs (rulers of Shirvan – now, Azerbaijan). Inside the complex, you'll find a mosque with a minaret, a mausoleum, burial vaults and the remnants of a bathhouse – pictured below.
5.) Old City // Baku Museum of Miniature Books – this museum is the only museum in the world of mini books! (It has a Guinness World Record for it as well.)
There are more than 6,000 mini books from 64 different countries!
It's a fairly small museum (no pun intended) and won't take too long to walk through. (It's also free to enter.) The woman working at the front desk the day we were there was so kind and enthusiastic. She couldn't wait to show everyone to where their country's book section is.
6.) Azerbaijan National Carpet Museum – a museum dedicated to, of course, carpets and rugs and the different weaving techniques throughout Azerbaijan's history. I did not go inside this museum, unfortunately. However, the outside is quite interesting to see as well. It's literally a building in the shape of a rolled carpet!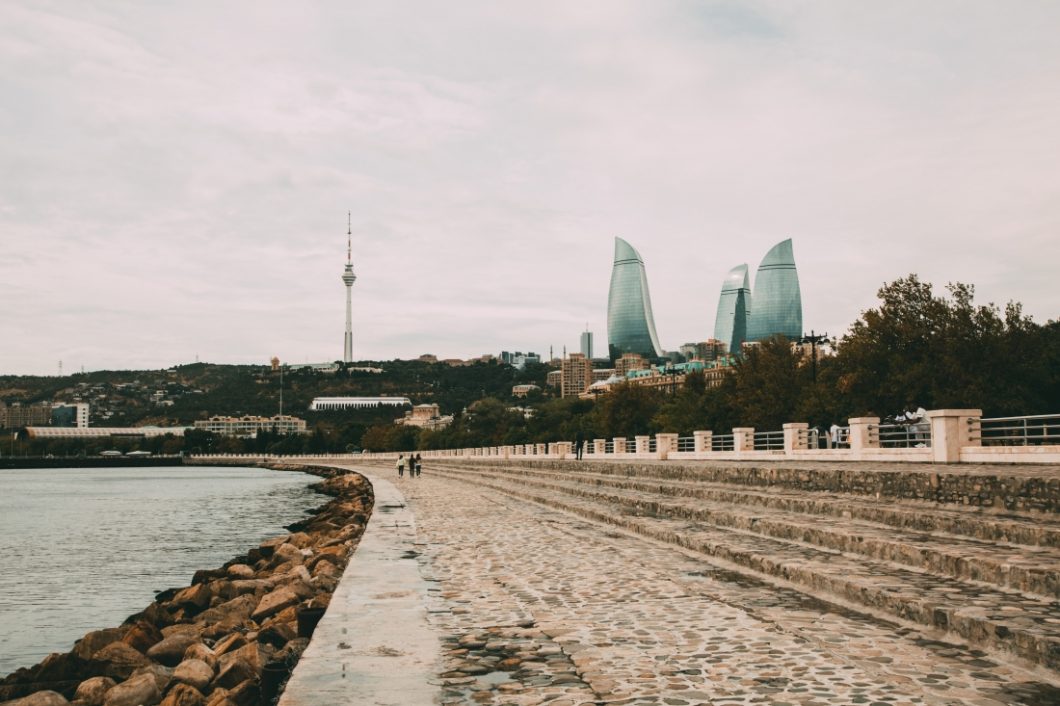 7.) The Flame Towers – these are 3 skyscrapers that represent flames. They are representing Ahura Mazda in the religion of Zoroastrianism.
8.) Just outside Baku // The Ateshgah of Baku "Fire Temple" – a temple that was used as a place of worship for Hindus, Sikhs and Zoroastrians. Zoroastrianism is a religion I knew next to nothing about before visiting here…and it's actually one of the world's oldest continuously practiced religions. Fire is the primary symbol of the religion, and Zoroastrians usually pray in the presence of some form of fire. Click here for more info.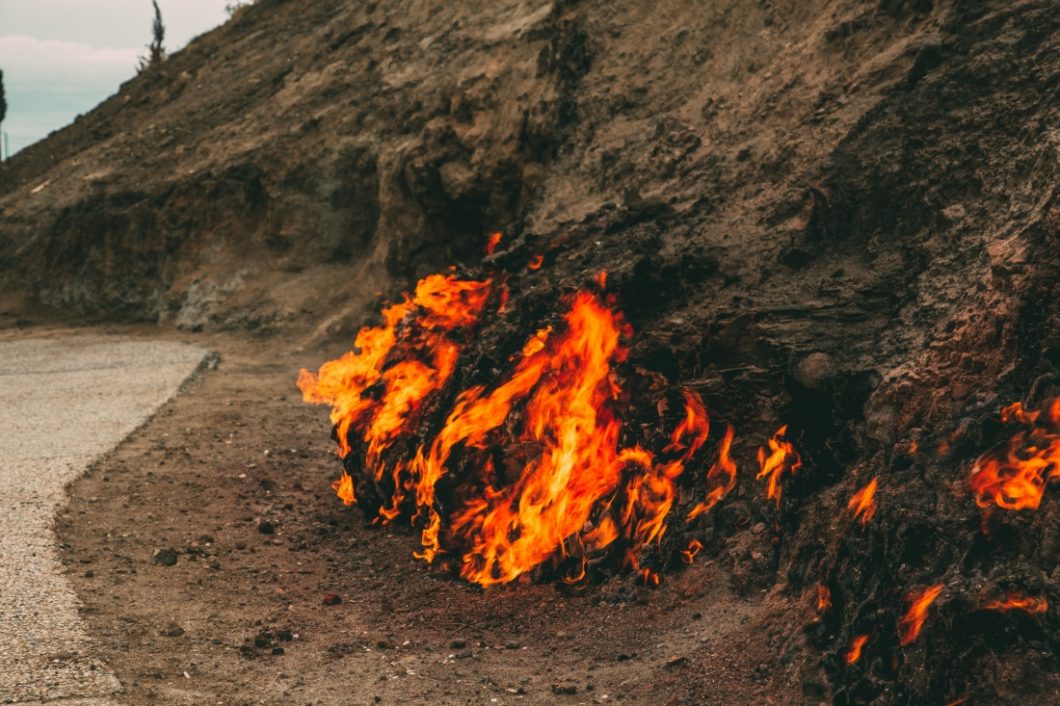 9.) Just outside Baku // Yanar Dag "Fire Mountain" – This hillside has been continually burning since the 1950s. It is fed by natural gas. When you hear the name "Fire Mountain" you'll likely think an entire mountain is on fire…which is not the case at all. It's a rather small fire, which can vary in size depending on the day. It's still quite interesting to see, though! Click here for more info.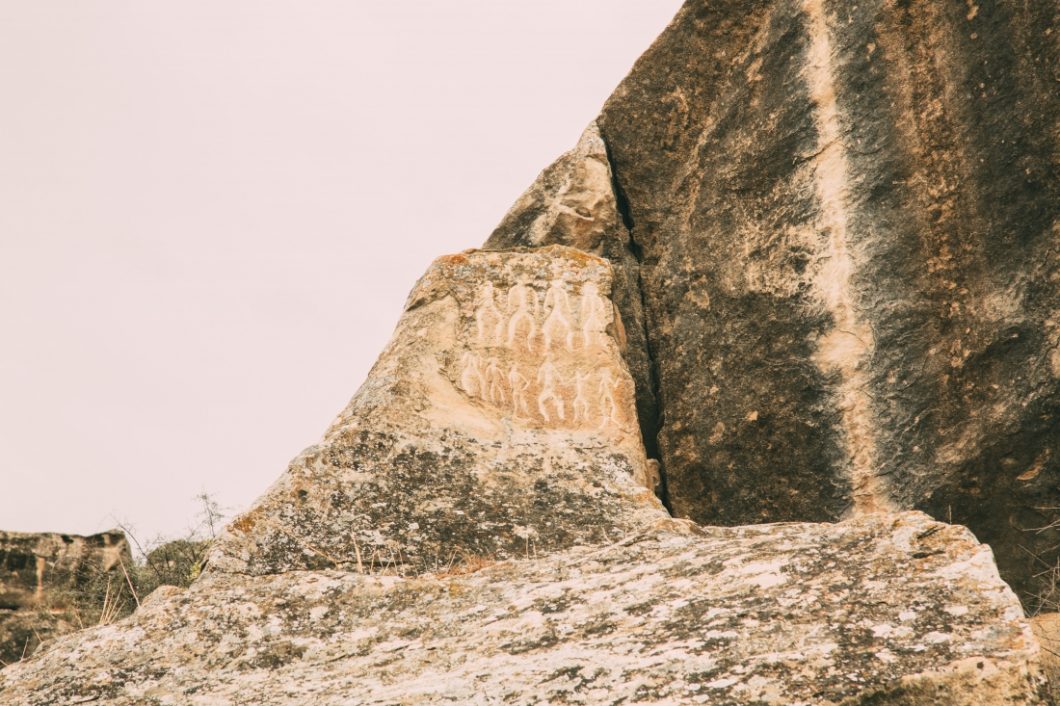 10.) Gobustan National Park // Mud Volcanoes + Petroglyphs – This is about a 45-minute drive from the city center, but it's worth the journey! (We took this tour to it.) Gobustan State Reserve is home to more than 6,000 petroglyphs (rock carvings). Many of these carvings are between 5,000 and 20,000 years old – how crazy is that?!
Azerbaijan is home to more than 400 mud volcanoes! That's more than anywhere else on the planet. These mud volcanoes are thought to have health benefits as well, so don't be surprised to see people slathering the mud on themselves while they're here. Click here for more info.
11.) Be sure to try some local cuisine as well! I especially loved the dolma (stuffed grape leaves). Plov is also popular (it's saffron-flavored rice with meat, vegetables and herbs – but there are tons of different ways to make it). There are also tons of different kebabs to try. Azerbaijan also produces pomegranate wine – which I thought was interesting to try as well. There are quite a few wine tours you can do in Baku too. Click here to check them out.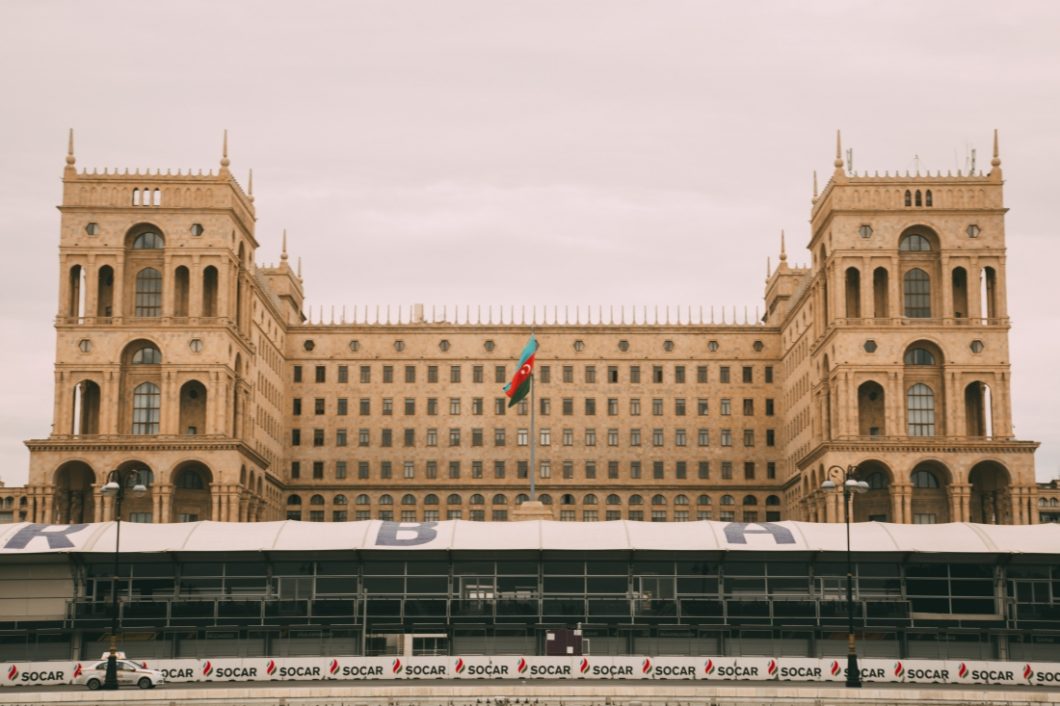 12.) Baku is also home to a Formula One motor race – you can check out where it's held or, better yet, plan a trip during the race! The Azerbaijan Grand Prix is held on the Baku City Circuit… a street circuit in Baku.
13.) Enjoy Baku Boulevard by taking a leisurely stroll along the Caspian Sea. The views of the sea and architecture are fantastic. There are also lovely parks, cafes and restaurants to enjoy along the way. (This is about a 1-mile walk.)
Have I convinced you to add Baku to your bucket list?
If anyone has any questions about traveling to Baku – please feel free to reach out in the comments section at the end of this post.
This blog post is now available as a walking tour on the app "GPSmyCity." You can download this app to your mobile device to read the article offline and create a self-guided walking tour to visit the attractions featured in this article. Click here to download it.
More photos of Baku Old City, below.
*Disclosure: some of these links are affiliate links. Meaning, if you click a link and make a purchase, Have Clothes, Will Travel gets a very small commission at no extra cost to you. Thank you for supporting the brands that make this blog possible! I am also a participant in the Amazon Services LLC Associates Program, an affiliate advertising program designed to provide a means for us to earn fees by linking to Amazon.com and affiliated sites.