How to Spend 3 Days in Cappadocia, Turkey – The Ultimate Itinerary
Usually, I start my itinerary posts off lamenting how I wish I had more time in whatever place I'm writing about. However, for once, I think I finally figured out the appropriate amount of time to visit a place (at least this place). Having 3 days in the Cappadocia region of Turkey felt like just the right amount of time to see the highlights of Cappadocia!
How to Spend 3 Days in Cappadocia, Turkey – The Ultimate Itinerary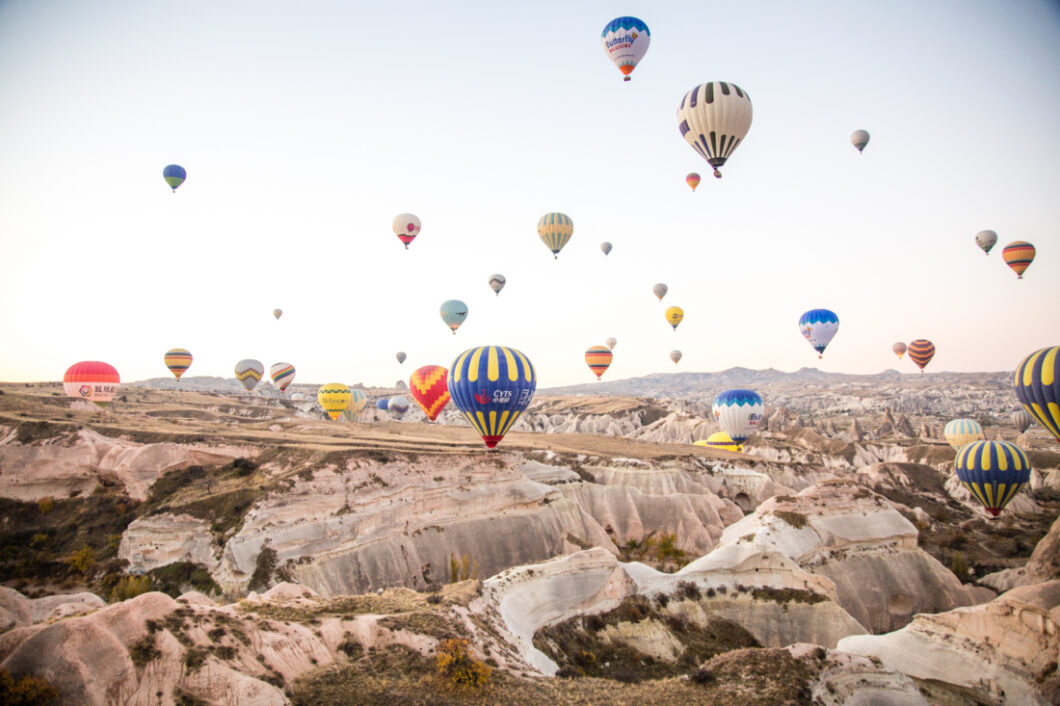 Day 1 – Explore Goreme + Afternoon Activity
Morning – Explore Goreme
Your hotel will likely be in Goreme (I have some accommodation suggestions at the end of the post), after you get checked in walk into town to do some exploring! There are a ton of great restaurants and bars to enjoy, as well as souvenir shops. You can also stop at Sultan Carpets to buy your magic carpet, or simply take a photo with their majestic set up in the back of the store (You have to pay a fee for that, though – double-check before you snap pics)!
Afternoon/Evening – Horseback riding or Quad Tour or Wine Tour
Horseback riding
Now, depending on how adventurous you are, you can spend your late afternoon/evening a few different ways. The most popular option is horseback riding through the valleys with their fairy chimneys. These rides typically last 2 hours. So, it's great to sneak in at the end of your day. (Click here for more info.)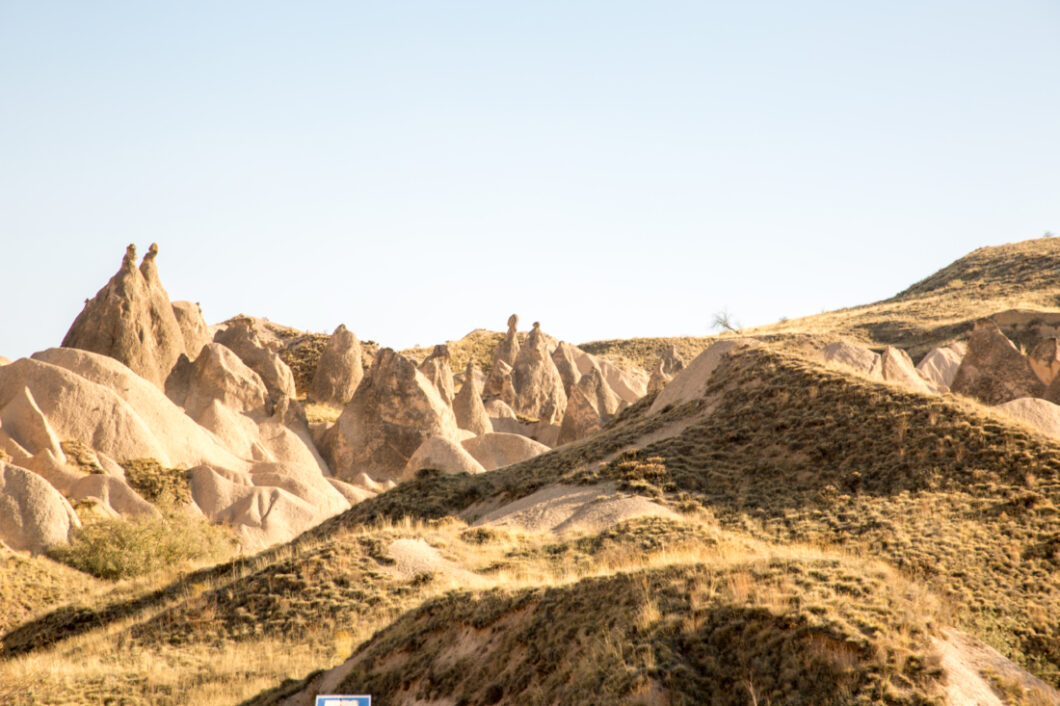 Quad Tours
The 2nd most popular option is riding a quad (or ATV) through Love, Sword and Rose Valleys. These tours also last about 1-2 hours and are perfect to take just before sunset. You'll get a different perspective of these unique valleys, plus get to have some fun driving an ATV! (Click here for more info.)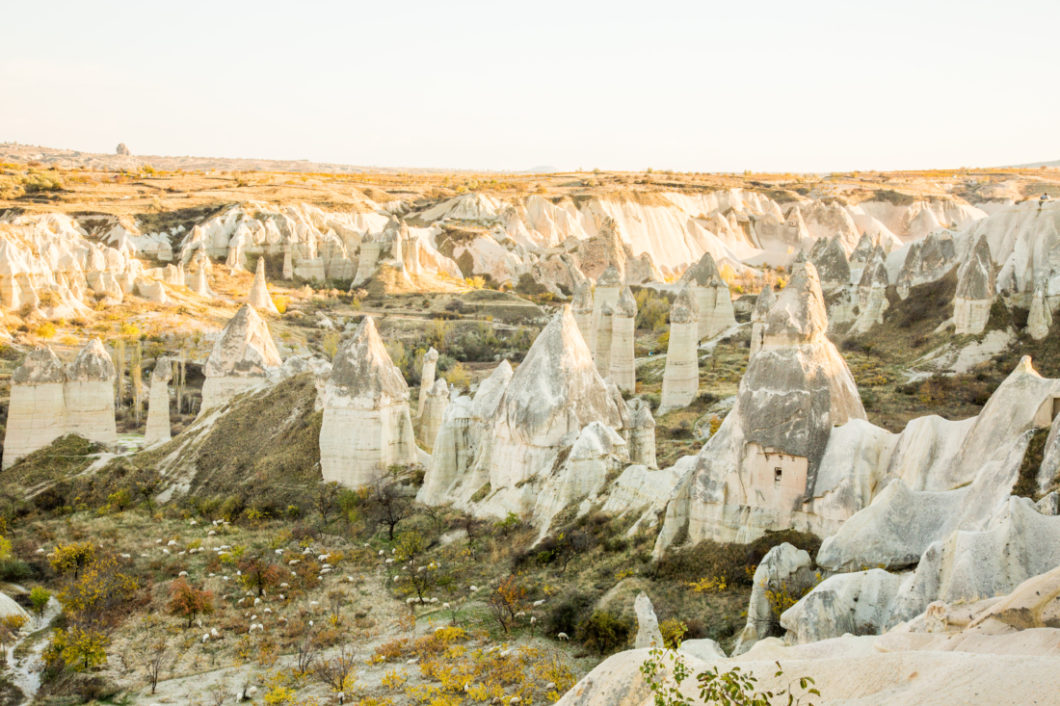 Wine Tour
And if that all sounds like way too much work (I hear ya!), why not take a wine tour? It's not too often that you get to visit a wine region that has been in production for 4,000 years! (Click here for more info.)
Day 2 – Hot Air Balloon Ride & Red Tour
Sunrise – Hot Air Balloon Ride
Ah, but the reason for Cappadocia's fame is most certainly those magical hot air balloon rides! Be sure to schedule your hot air balloon ride the first morning you are in the area. This is because if there is bad weather, you'll be able to go up the next day then. (Most companies offer this "rain day" option.) This is an absolute must-do if you're in Cappadocia! (Click here for more info.)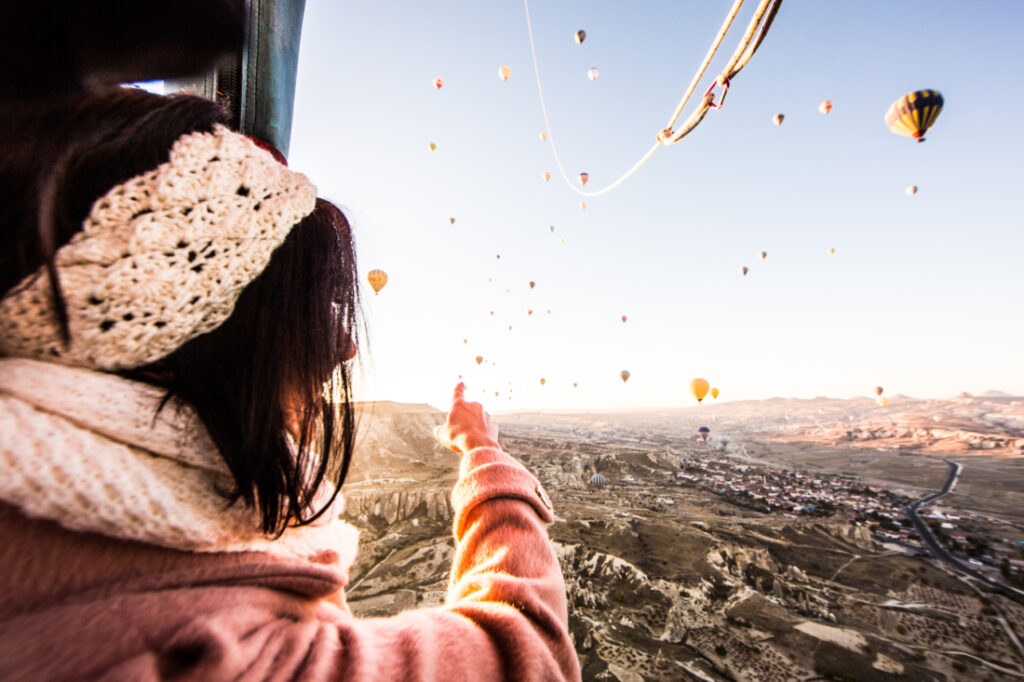 Rest of the Day – Red Tour // Uchisar, Goreme Open Air Museum, Pasabag Monks Valley, Devrent Valley, Love Valley
Yes, you'll have plenty of time to do the Red Tour and a hot air balloon ride. The balloon rides finish up by 8 am – so, plenty of day left to do some exploring! If you book a tour company, this day won't be very strenuous because you'll be driving from spot to spot (which is nice, after getting up before sunrise for a hot air balloon ride). You can also rent a car yourself and easily get to the places featured on the Red Tour (some spots, like the Goreme Open Air Museum, are even within walking distance of the majority of hotels in Goreme). Click here for more information on the Red Tour.
Day 3 – Photoshoot & Green Tour
Sunrise – Photoshoot
Now, if you're dead set on getting the perfect photo of the hot air balloons rising over Goreme – I highly recommend you stay at the hotels listed at the end of the post. Then, you just have to stumble out of bed before sunrise to take your photos! However, another option is to hire a local photographer to take you around to all the hot spots for photos. This tour here looks especially cool because you'll also have a vintage car for photos! (Click here for my blog post about photos & click here for the tour mentioned.) And if photos aren't your thing…feel free to sleep in today!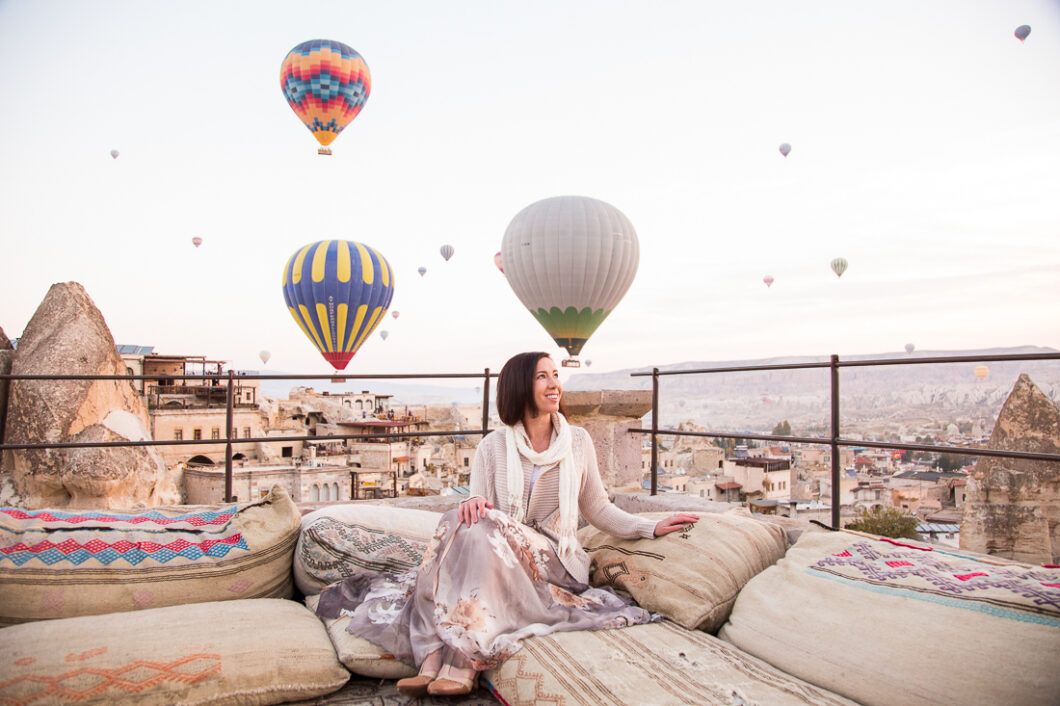 Rest of Day – Green Tour // Derinkuyu Underground City, Ihlara Valley, Selime Monastery, Pigeon Valley
If you only take one tour while in Cappadocia, I highly recommend it being the Green Tour. This is because the places you'll see are 1.) AMAZING 2.) They're quite a long distance from Goreme and not the easiest to find. Taking a tour will ensure you'll make it to all the spots mentioned in a timely manner. The Green Tour was my favorite part of this trip, and that's because I was able to do a little hiking this day! Yes, this tour requires quite a lot of walking. So, it's best to save this for a day that you're not tired out from riding in a hot air balloon. (Click here for more info.)
**Honorable mention – Sema (whirling dervishes) ceremony
If you really want to get the most out of your trip and still have energy either after the Red or Green Tour – try to catch a 1-hour show of the whirling dervishes. I have heard nothing but amazing things about this experience, and I really regret not seeing it. (Click here for more info.)
Where We Stayed
We stayed at the Sultan Cave Suites – which has an incredible terrace view of the hot air balloons rising (pictured below) + authentic cave rooms. They also have a wonderful restaurant on-site and a breakfast buffet to die for. (Click here for my full review.) Next door is also Mithra Cave Hotel, which boasts a similar view of the hot air balloons each morning!
*Cappadadocia also has tons of budget-friendly room options with some well-rated hotels starting at $28 USD a night. Click here to check them out.
*If you're looking for luxury accommodation while staying in Cappadocia, I recommend checking out Kayakapi Premium Caves – some of these cave rooms have their own private underground pools or Kapadokya Hill Hotel & Spa!
Visa Requirements
To check if your country requires a Visa for traveling to Turkey, click here.
Travel Insurance
It's a good idea, no matter where your adventure takes you, to have travel insurance. You never know what might happen! Whether you get sick before your trip and can't go, or you become sick or injured while on your adventure – being covered with travel insurance is a must. Some credit card companies do provide this service (check with yours), or you can get a quote from companies such as Squaremouth to find the best plan for you and your adventure. (This is the company I, personally, use. They are even recommended by Forbes!) To get a free quote, click here.
If you have any questions at all about the Cappadocia region of Turkey – don't hesitate to reach out in the comments section. And I'm curious, what day looks like the most fun to you?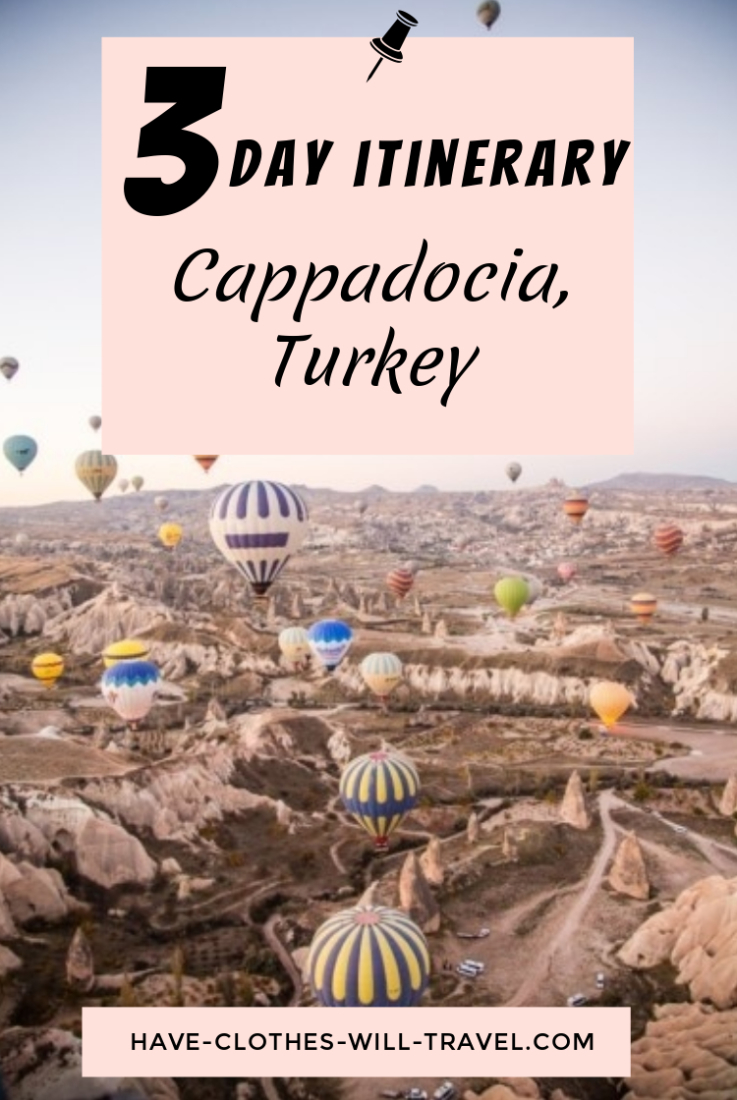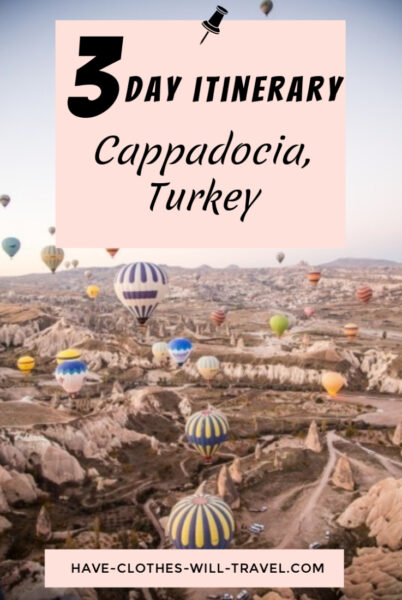 *Disclosure: some of these links are affiliate links. Meaning, if you click a link and make a purchase, Have Clothes, Will Travel gets a very small commission at no extra cost to you. Thank you for supporting the brands that make this blog possible! I am also a participant in the Amazon Services LLC Associates Program, an affiliate advertising program designed to provide a means for us to earn fees by linking to Amazon.com and affiliated sites.