How to Spend 3 Days in Jordan – The Ultimate Itinerary
Spending 3 days in Jordan will give you just enough time to see the highlights of this gorgeous country. Now, it'll be up to you to decide if you want to see as much as you possibly can of Jordan in these 3 days… or pick out the sights that are most unique to Jordan and give them ample time for exploring. For this post, I'm actually going to do 2 itineraries – 1 itinerary featuring what we actually did (and this is how you can see the majority of the highlights in 3 days) and also 1 itinerary featuring what I would do if I could do it over.
How to Spend 3 Days in Jordan // Itinerary #1 – Northern Jordan (Jerash, Ajloun Umm Qais) + the Dead Sea + Petra + Wadi Rum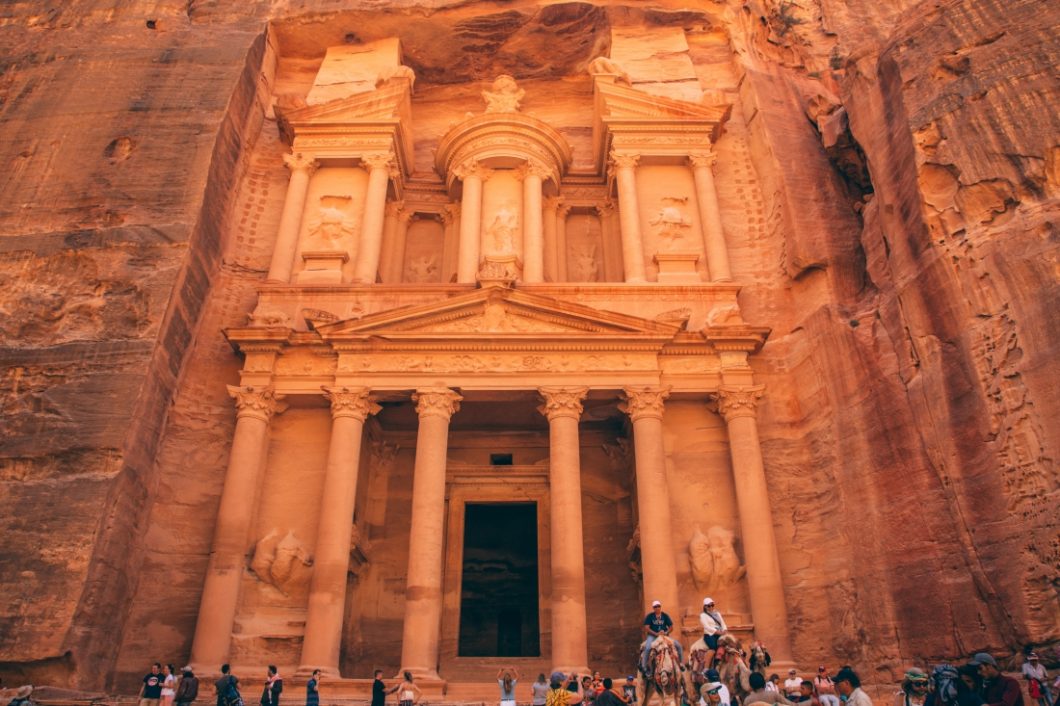 Transport Options for These Itineraries
Before we get into the itineraries, I'm going to share a few different options you have for getting around in Jordan…
Take tours – tours are easy and a stress-free way to get to all of the places mentioned in this post. (I'll share some recommendations for each spot as well.)
Hire a private driver – this is what we did. We booked a driver for our entire time in Jordan who took us from Amman and to all of the places we wanted to see. This is a little pricier than a group tour, but it was great to go everywhere at our own pace and not worry about driving.
Rent a car and drive yourself from Amman – Driving in Jordan is much more organized than I had expected. If you're comfortable driving in foreign countries, you would be just fine driving in Jordan. Amman has some traffic, like any other major city, but overall driving in Jordan is not chaotic at all. (If you're from the US, you're in luck, because you also drive on the righthand side of the road in Jordan.) Check out car rental rates, here.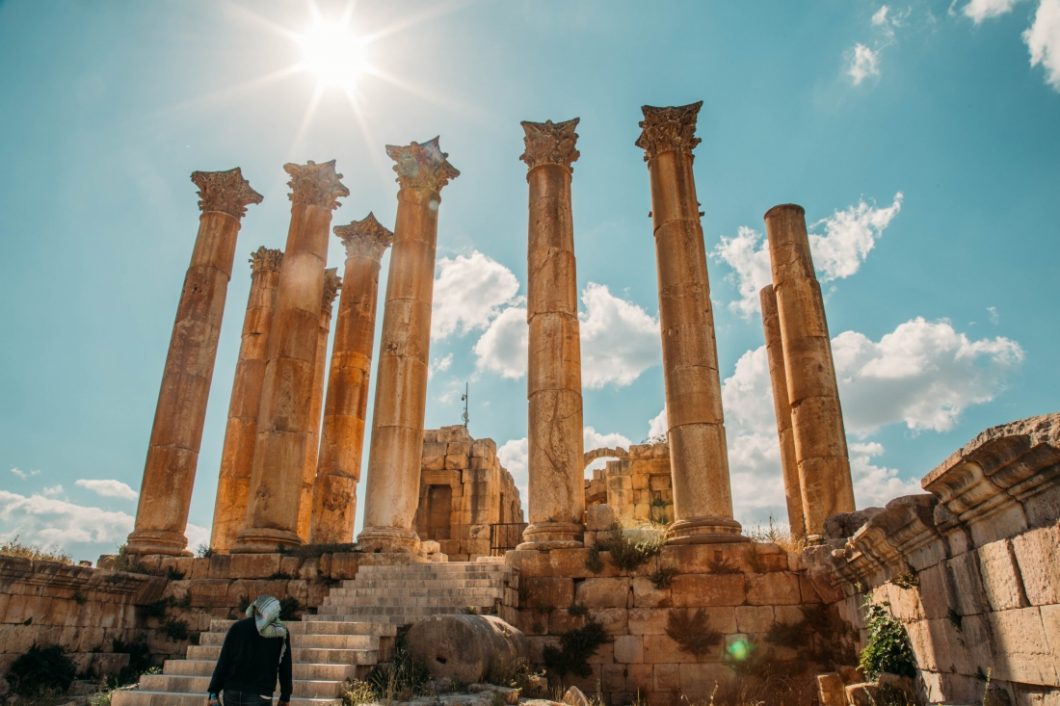 Day 1 – Drive to Northern Jordan to See Jerash, Ajloun & Umm Qais
Overnight in Amman
*This private tour will take you to all of the spots metioned in Day 1.
We flew into Amman late the night before, so we slept in a little at our hotel in Amman before venturing out to Northern Jordan. (If you're flying into Amman this morning, you could also easily drive from the airport to Jerash.)
Jerash is the highlight of this day. It's sometimes called the "Pompeii of the East" because its Roman ruins are so well-preserved. (Click here for more info.)
Jerash
Ajloun is also very impressive! It's a 12th-century Arab castle that is not terribly overwhelmed by tourists. (It felt as though we had this place to ourselves!) It's only about a half-hour drive from Jerash.
Ajloun Castle
Umm Qais is a Greco-Roman town that's located on a hillside with sweeping views of the Sea of Galilee and 3 countries – Jordan, Israel, Syria and also Palestine Territories. There are ruins of ancient Gadara here and very few tourists. This is also the furthest spot away from Amman. (It's over a 2-hour drive.) So, if you're short on time this day…skipping Umm Qais would be your best bet, as the other two destinations are quite close to one another and aren't too far of a drive.
Umm Qais
To read all of my tips for Day 1 of this itinerary, click here.
Day 2 – Drive to Madaba & Mount Nebo & the Dead Sea
Overnight in Amman or at a Dead Sea Resort
*This private tour will take you to all the places mentioned in Day 2.
For this day, you'll set out from Amman to Madaba. Madaba is an ancient town in Jordan, southwest of Amman. This is about a 45-minute drive from Amman. Madaba is best known for its 6th-century mosaic map in the Greek Orthodox Church of St. George. (Click here for more info.)
Madaba
There is also a lovely little museum between Madaba and Mt. Nebo called "La Storia Tourism Complex." The people who work here are SO friendly and enthusiastic – I loved it. The museum itself is filled with dioramas that depict various historical and biblical scenes throughout Jordan and its surrounding region.
La Storia Tourism Complex
Mount Nebo is next up – it's about 710 meters above sea level with sweeping panoramic views of the valley of the River Jordan and also the city of Jericho…and if the day is clear enough, you can also see Jerusalem.
The Bible says Mount Nebo is where Moses lived out his final days and saw the Promised Land. It also says that Moses' body is possibly buried here – however, there is no current proof of this.
Mount Nebo
After Mount Nebo, you can finish your day relaxing and floating in the Dead Sea. Personally, I would recommend staying at one of the resorts on the Dead Sea (click here to see them all). We drove back to Amman – and that was just silly, in my opinion. As the next day, it was roughly the same amount of driving to get to Petra. (Click here to see my post from the Dead Sea, and click here for everything you need to know before floating in the Dead Sea.)
The Dead Sea
To read all of my tips for Day 2 of this itinerary, click here.
Day 3 – Petra & Wadi Rum!
Overnight in a Wadi Rum desert camp
*These tours will take you to all the places mentioned in Day 3 (depending on where you are departing from).
Ah, the best for last! Time embrace your inner Indiana Jones! You'll want to wake up as early as possible to make it Petra before the crowds. It's about a 3-hour drive from Amman and also the Dead Sea. (Click here to read all of my tips for visiting Petra.)
Petra
After Petra, head to Wadi Rum to do a sunset Jeep tour and see "The Valley of the Moon" in all its glory. The sand in Wadi Rum is known for being the reddest in Jordan (colored by iron oxide). Wadi Rum looks so much like Mars – many movies have been filmed here for their otherworldly scenes such as The Martian, Rogue One: A Star Wars Story, Prometheus, Red Planet and…of course, Lawrence of Arabia – just to name a few. (Click here for more info on this Jeep tour.)
Then, end your day at a super cool desert camp! We stayed at Mazayen Rum Camp, and it was nothing short of amazing! A photo of our "tent" is below.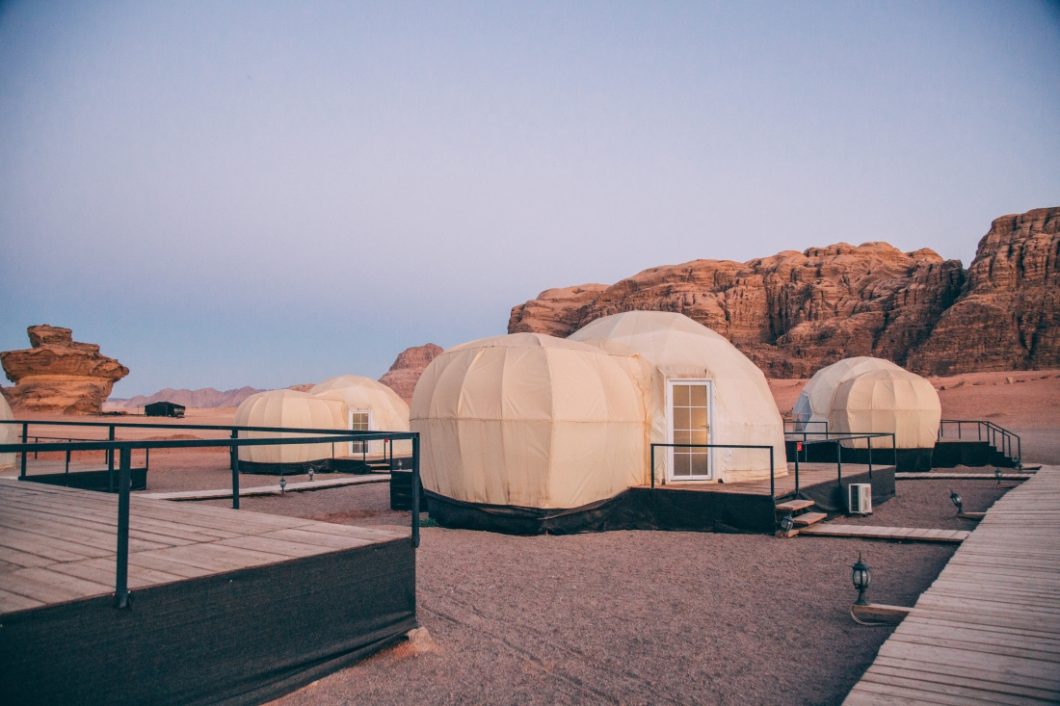 *We had to leave at 3 am to catch our flight out of Amman the next morning – this was not ideal!
Now, this 1st itinerary will ensure you hit the majority of the sights in Jordan in your 3 days! However, the next itinerary is how I would do it if I had to redo my 3 days in Jordan…
How to Spend 3 Days in Jordan // Itinerary #2 – Petra + Wadi Rum + the Dead Sea
Day 1 – Petra
Overnight in Petra (Wadi Musa)
I would head straight to Petra on your first day in Jordan. Petra is a sight unique to Jordan that deserves at least an entire day + an overnight stay to really do it justice (in my opinion). Doing a day trip here is cutting it too short. (Click here to read all of my tips for visiting Petra.)
Day 2 – Petra + Wadi Rum
Overnight in Wadi Rum
If you didn't get enough time exploring Petra on your first day, you could do one more hike that morning before heading to Wadi Rum. Then, in Wadi Rum you could do another hike or camel ride or Jeep tour – depending on your preference.
Then, spend the night enjoying your desert camp under the stars! (Click here for desert camp options.)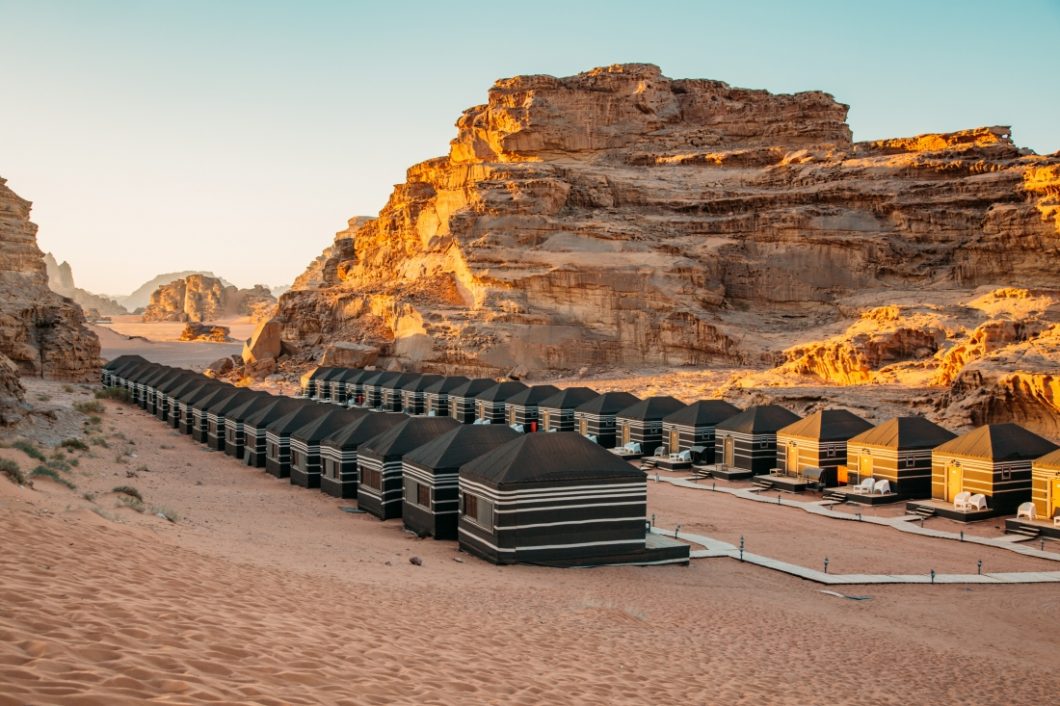 Day 3 – Dead Sea
Overnight at a Dead Sea Resort
Wake up bright and early to enjoy the sunrise from your desert camp. Then, hit the road to the Dead Sea. (It's about a 4-hour drive, unfortunately.)
Spend the rest of the day lounging by the Dead Sea and slathering on some of that magical Dead Sea mud!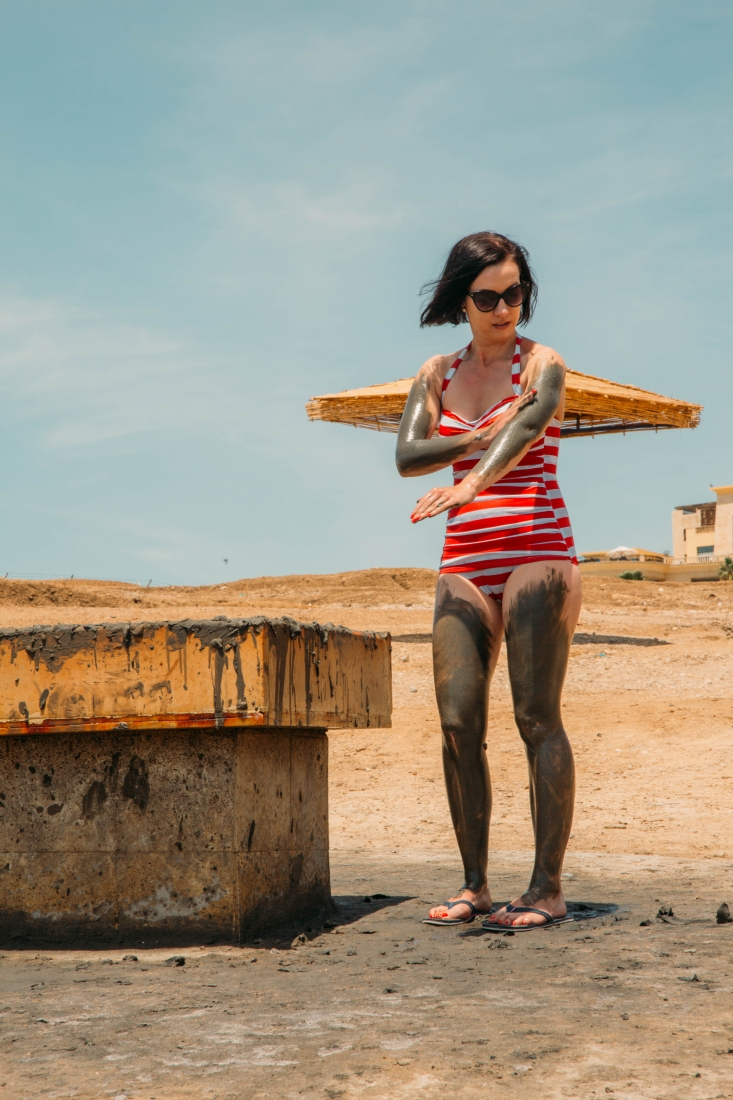 This second itinerary is my personal preference because, for me, Petra and Wadi Rum were the highlights of this trip. They are such unique and otherworldly experiences, that deserve far more time than the first itinerary allows. If you've never been to the Dead Sea, and aren't planning to visit Israel, then the Dead Sea is a must as well. However, if a trip to Israel is on your bucket list – I'd save the Dead Sea for that trip, and spend an extra day exploring Petra instead.
*Click here to read all of my posts from Jordan.
Visa Requirements
To check if your country requires a Visa for traveling to Jordan, click here.
Travel Insurance
It's a good idea, no matter where your adventure takes you, to have travel insurance. You never know what might happen! Whether you get sick before your trip and can't go, or you become sick or injured while on your adventure – being covered with travel insurance is a must. Some credit card companies do provide this service (check with yours), or you can get a quote from companies such as Squaremouth to find the best plan for you and your adventure. (This is the company I, personally, use. They are even recommended by Forbes!) To get a free quote, click here.
*Disclosure: some of these links are affiliate links. Meaning, if you click a link and make a purchase, Have Clothes, Will Travel gets a very small commission at no extra cost to you. Thank you for supporting the brands that make this blog possible! I am also a participant in the Amazon Services LLC Associates Program, an affiliate advertising program designed to provide a means for us to earn fees by linking to Amazon.com and affiliated sites.