How to Dress Conservatively Yet Stylishly for Traveling in Jordan
As a foreign woman (or man) traveling in Jordan, it's important to give some thought to how you dress. As was the case in Egypt, Jordan is also a mostly Muslim country where dressing conservatively is appreciated.
Now, nothing terrible will happen if you don't follow these clothing "rules." However, as a tourist, I think it's important to respect the culture and customs of the country you are visiting. So, offending the people of the country I am in is something I personally try to avoid at all costs. This was especially true for me in Jordan, where I met some of the kindest people I've ever come across in my life – and I grew up in the Midwest!
What does it mean to dress conservatively as a woman in Jordan?
What this means is your shoulders, knees, and cleavage should be covered. (So, short sleeves are fine, just avoid spaghetti strap tank tops.) You also should not wear anything super formfitting. (It's more comfortable anyways to wear looser clothes!) So, avoid tight jeans and leggings or low-cut or tight tops. (Or, if you wear tight jeans, consider wearing a longer top with them or a scarf with a tight or low-cut top, etc.)
While many local women will wear a headscarf, this is not necessary for a tourist. I also usually wore a hat while I was out exploring, I did this more to prevent sunburn than anything, though…(and my hair is a bit short to tie back).
What does it mean to dress conservatively as a man in Jordan?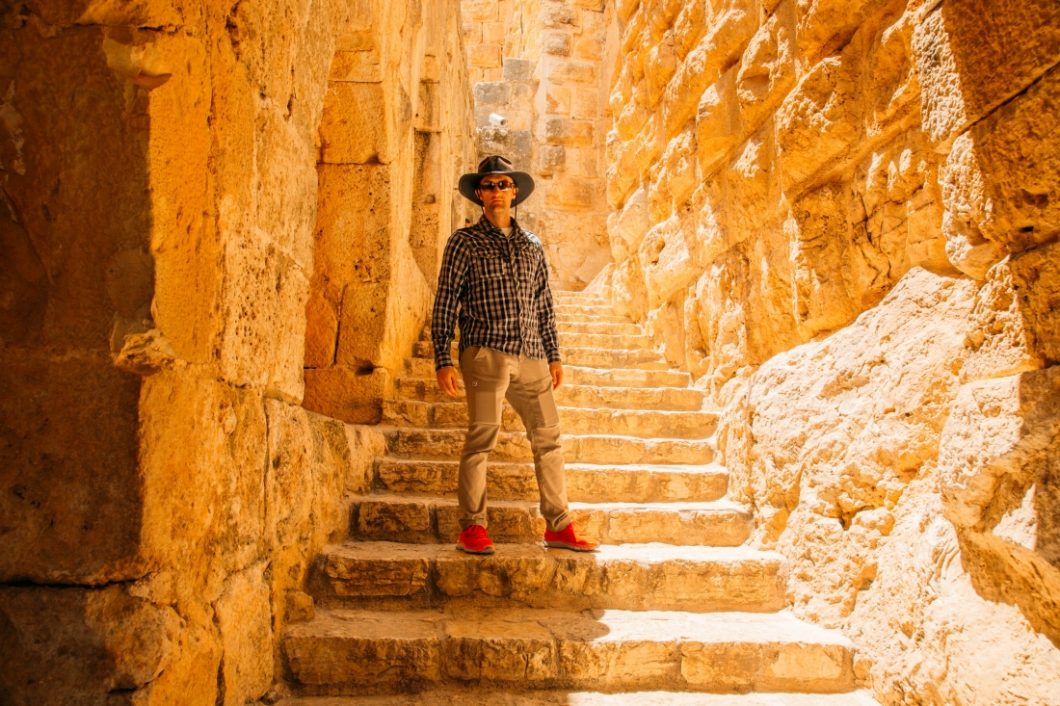 It's also important to note, that conservative dress is not limited to JUST women. Men should also keep this in mind too. Many men wear long pants (not shorts) and sleeves that at least cover the shoulders (so, again, short sleeves are fine – but tank tops should be avoided).
My husband would argue that wearing his lightweight hiking pants is actually more comfortable than shorts anyways – even during the hot summer weather.
Modest Outfits (Men's and Women's) For Sight-Seeing in Jordan
Modest Menswear: My Husband's Outfit
My husband wore a long-sleeved linen shirt with his hiking pants. He also wore his sneakers and his Indiana Jones hat for this entire trip. He LOVES this hat. (It also was perfect to wear when we got to Petra, haha.)
Modest Women's Wear: My Outfit for Traveling in Jordan
We visited Jordan in late May. Now, it was nowhere near as hot here as it is in Egypt at this time of year. The highs were in about the lower 80s (Fahrenheit) during the day. However, at night it dipped down to the low 60s or upper 50s – it was cool enough that I needed a light jacket with this outfit at night.
Dress
Obviously, this wasn't the only outfit I wore while in Jordan. It is, however, my favorite and in my opinion, the most stylish of all the outfits I wore while I was here! I had worn it for a day of exploring Northern Jordan. (Petra and Wadi Rum will be getting their own outfit posts – as that's a different ballgame.)
This maxi dress was the main reason for that. Its flowy and ruffled hemline and poofy sleeves were a fantastic addition to a maxi dress. This dress is also loose-fitting but has a tie waist, so you aren't drowning in the fabric.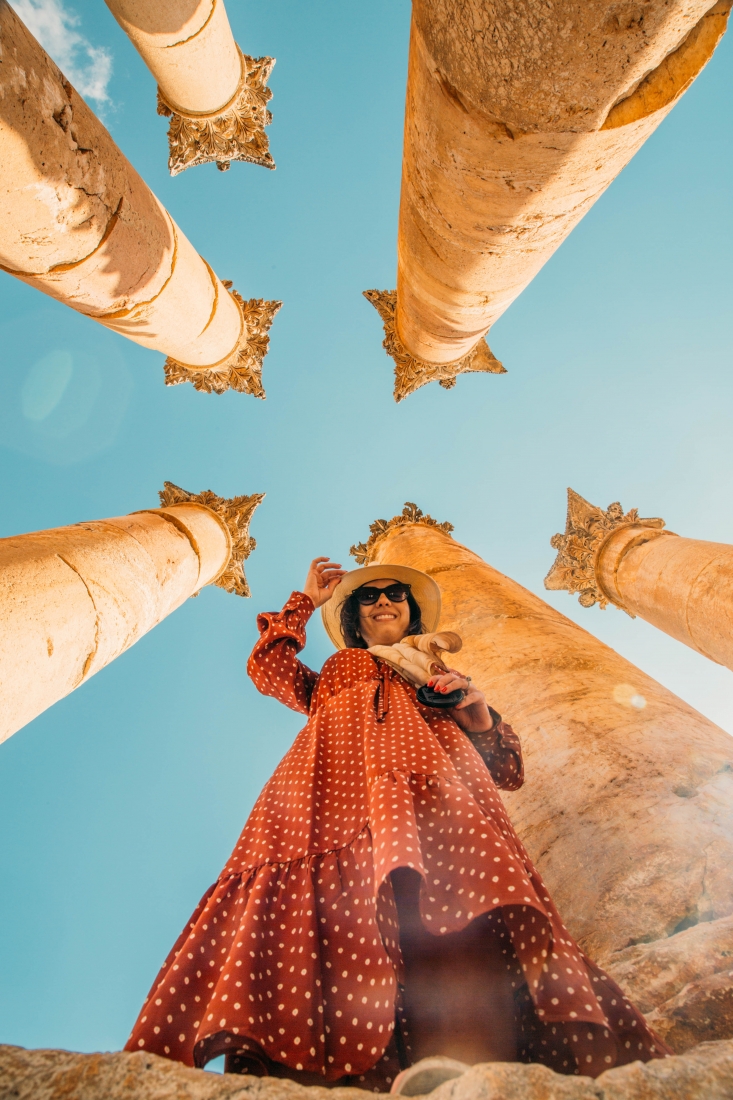 Unfortunately, this exact dress sold out shortly after I ordered it. It's by All in Favor… however, Anthropologie actually carries a ton of similar maxi dresses right now that are simply STUNNING.
Hat
I also wore a hat for the duration of this trip. Having your hair covered is respectful, and it's a good way to keep yourself from getting sunburnt anyway! This exact hat also sold out immediately after I ordered it – it's by Brixton (but they have plenty of similar straw hats on their website).
I don't usually wear hats, but I was grateful to have one along for this trip. (I also wore it nonstop while in Egypt.) To be honest, though, having one with a neckstrap would have been a better idea – as I nearly lost this one countless times due to the wind.
Scarf
I also found that wearing a lightweight scarf proved to be a good way to look more modest while in Jordan. It also prevented the sun from hitting my chest and burning me to a crisp, too. I actually brought along 2 other scarves identical to this one, just in different colors. They were perfect for this trip (and in Egypt too)!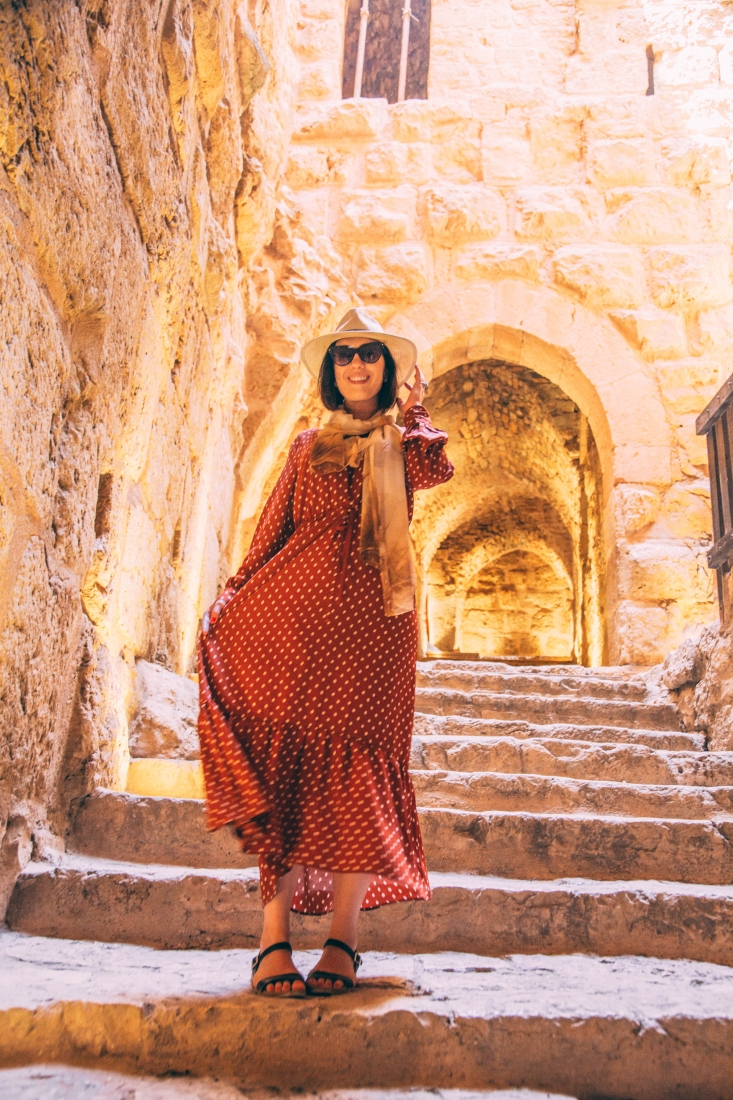 Sandals
I wore these sandals the most for this trip through Jordan and also Egypt. This is because they are incredibly comfortable to walk in and versatile. They required absolutely no breaking-in either. I literally put them on and wore them for an entire 8-hour day of nonstop exploring – no problem!
I don't know if you can tell in these photos, but my feet are incredibly swollen as well. This happens to me pretty frequently when I'm a bit dehydrated (and it really doesn't help if I've been flying a lot too). These sandals were a godsend because they didn't restrict my puffy feet until I could get them back down to normal size (lots of water and no salt or alcohol!). Instead, the soft leather straps expanded with my feet, and they still fit nicely once my feet were back to normal. (The website says to size up a half size, I ordered my normal size 8, and they worked. However, an 8 1/2 would have likely been better.)
You can check out more about my day exploring Northern Jordan here.
And browse all of my posts from Jordan.
If you have any questions about how to dress while traveling in Jordan, I'm happy to answer them in the comments section at the end of this post.
Shop the Look: Source List for my Jordan Sightseeing Outfit
Travel Insurance
It's a good idea, no matter where your adventure takes you, to have travel insurance. You never know what might happen! Whether you get sick before your trip and can't go, or you become sick or injured while on your adventure – being covered with travel insurance is a must. Some credit card companies do provide this service (check with yours), or you can get a quote from companies such as Squaremouth to find the best plan for you and your adventure. (This is the company I, personally, use. They are even recommended by Forbes!) To get a free quote, click here.
Visa Requirements
To check if your country requires a Visa for traveling to Jordan, click here.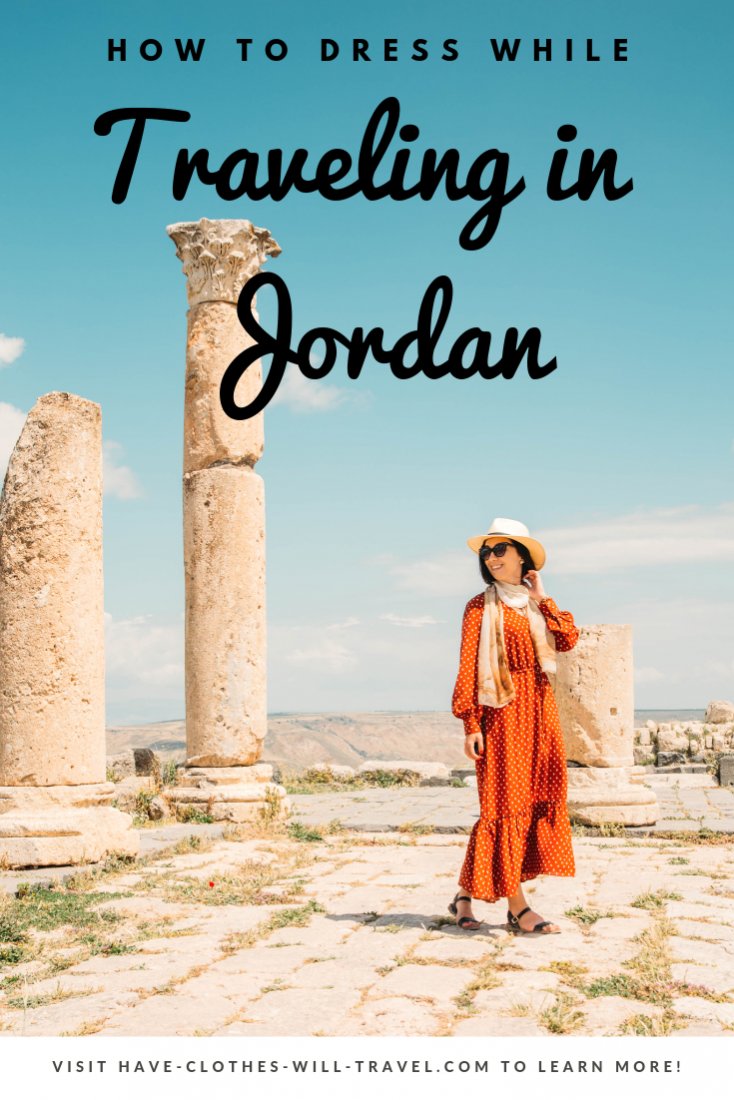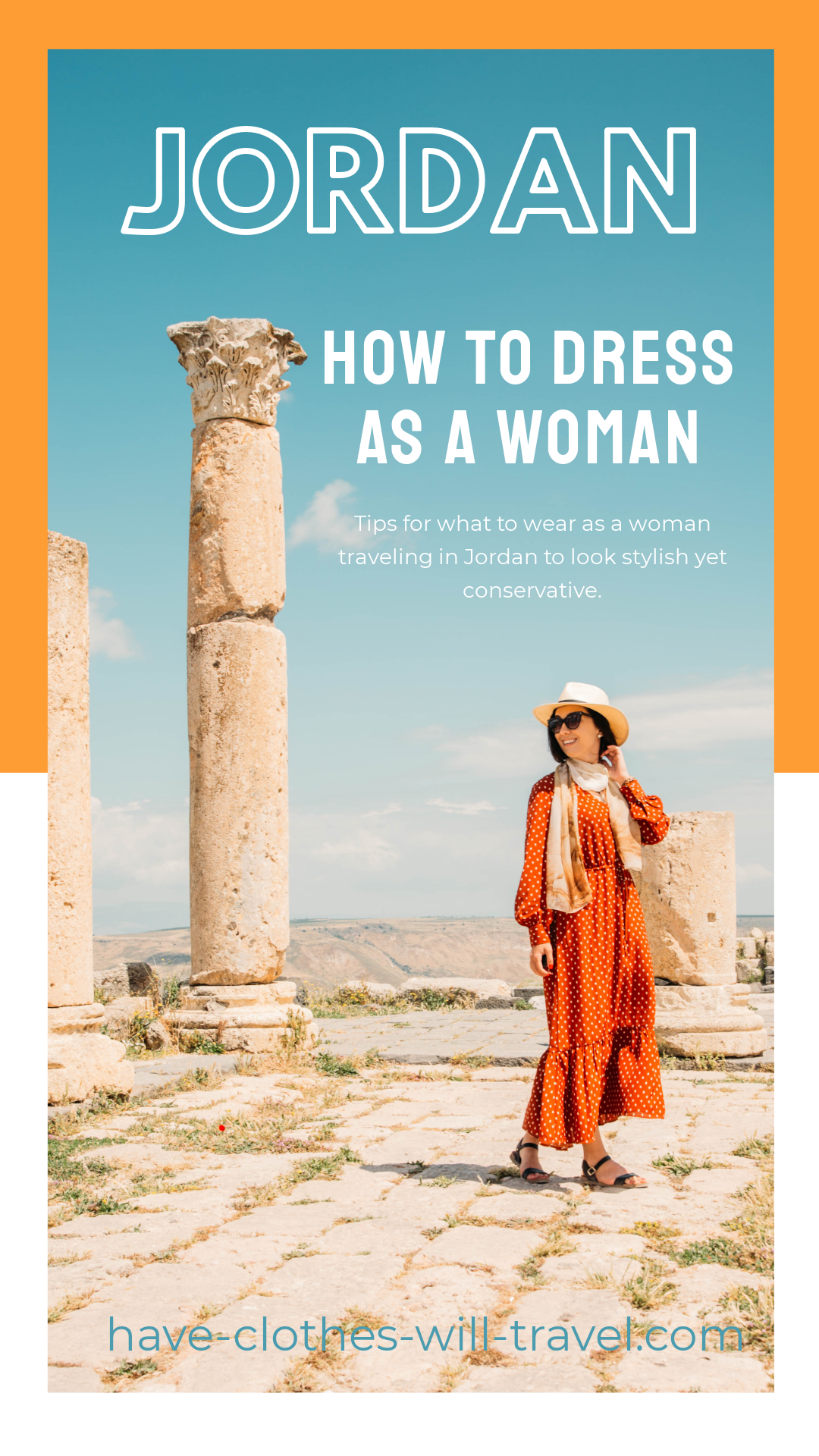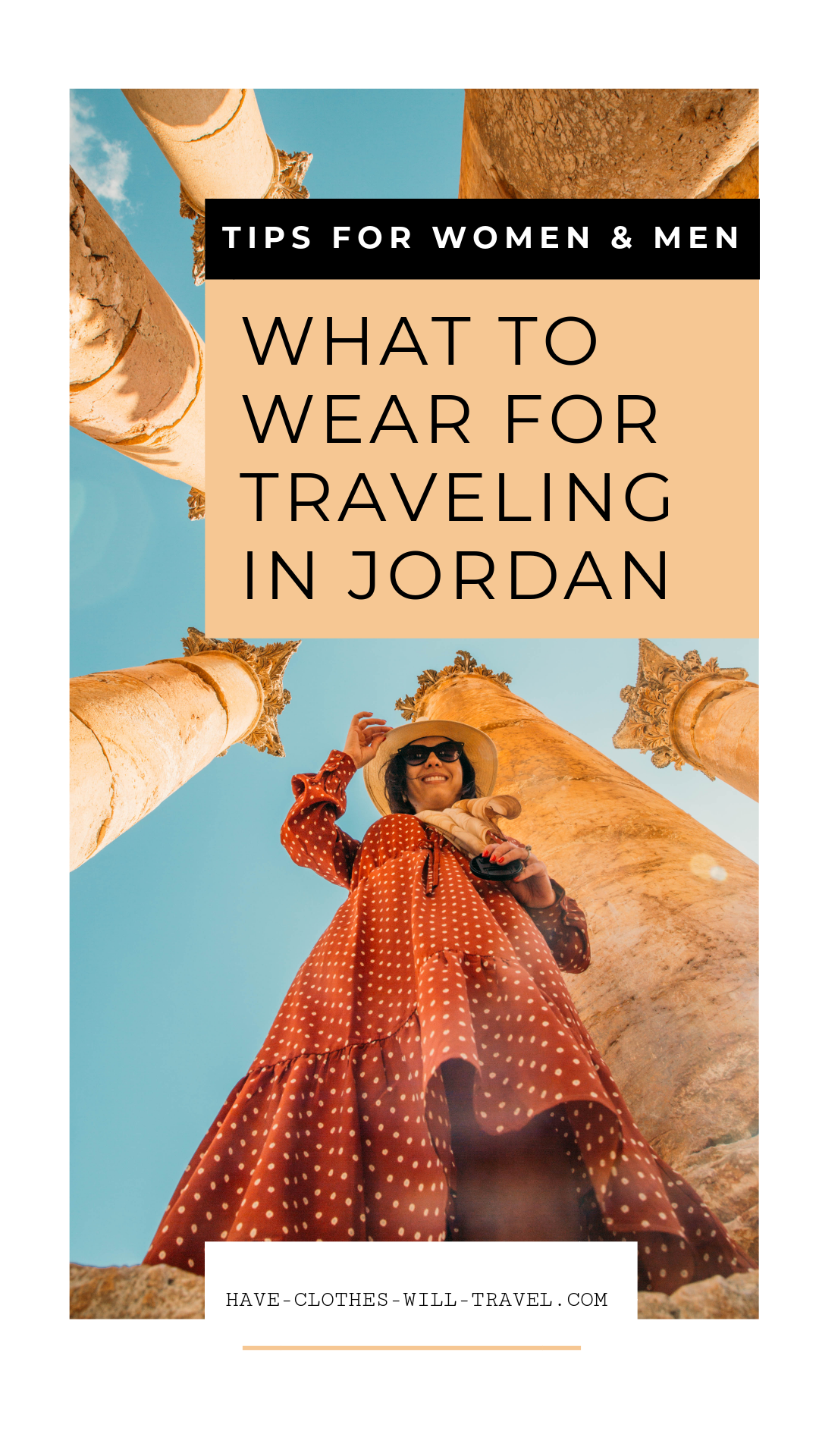 *Disclosure: some of these links are affiliate links. Meaning, if you click a link and make a purchase, Have Clothes, Will Travel gets a very small commission at no extra cost to you. Thank you for supporting the brands that make this blog possible! I am also a participant in the Amazon Services LLC Associates Program, an affiliate advertising program designed to provide a means for us to earn fees by linking to Amazon.com and affiliated sites.
*c/o = courtesy of, meaning the company gave me the product to be used on my blog, and I did not pay for it. All opinions are my own, and I am not being compensated for a positive review.