What to Wear to a Baptism or Christening (+ What NOT to Wear)
Figuring out what to wear to a baptism or christening is not quite as intimidating as it sounds! While other ceremonies, like weddings and funerals, have strict unspoken dress codes… this is not the case with baptisms. It is far less formal, and there aren't any colors or patterns you should/shouldn't wear!
Of course, we all want to look our best on important days like these – even if there isn't a strict dress code! This post is meant to offer a little guidance when choosing your outfit for baptisms for both men and women.
Outfit Tips for Baptisms
1.) Try to Dress Modestly
What do I mean by dressing modestly? These are the guidelines I think are good to keep in mind.
For women:
Avoid low-cut tops and short skirts/dresses. High necklines and knee-length or midi or maxi lengths are perfect!
Avoid extremely tight and clingy clothing. (This is not to say your attire can't be fitted, just avoid EXTREMELY tight clothing.)
Avoid spaghetti straps. If it's a hot summer day, opt for thicker straps or short sleeves.
Read next: 20 Best Sites to Shop for Baptism Dresses for Women
For men:
I think dressing modestly is a good idea for any type of ceremony taking place in a church and is a good way to show respect.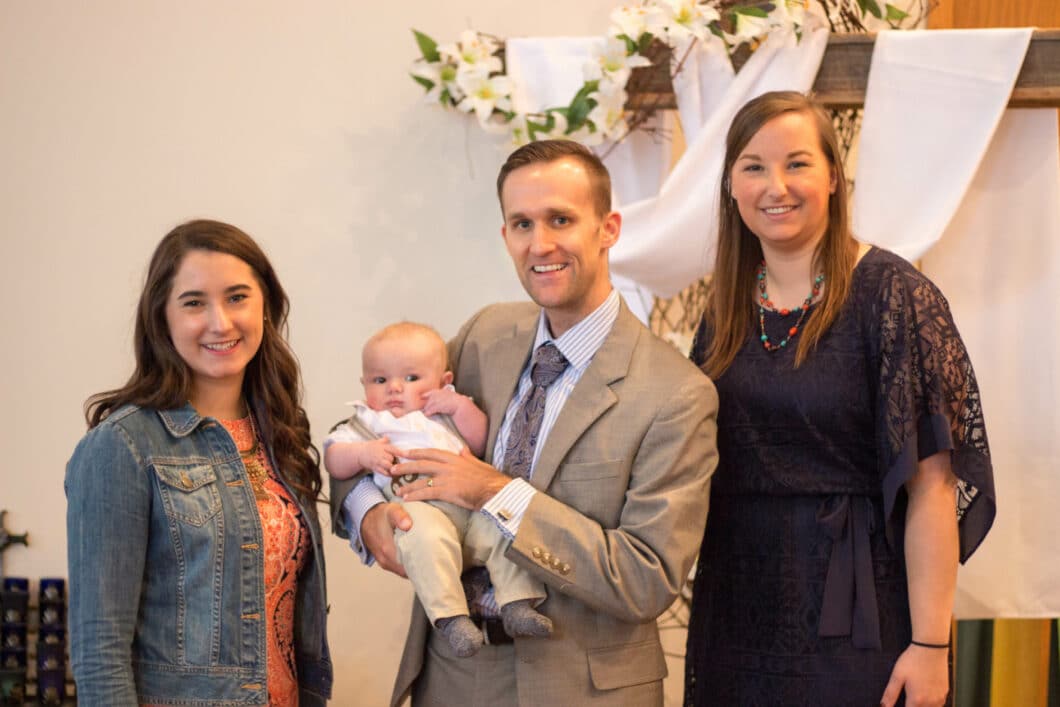 2.) Wear a Cardigan/Sweater/Jacket (or Bring One Along)
Churches can be cold, even in the dead of summer. While wearing a sleeveless dress might sound like a good idea on a hot summer day, you might end up freezing halfway through the ceremony! Grab a cardigan that matches your outfit, just in case.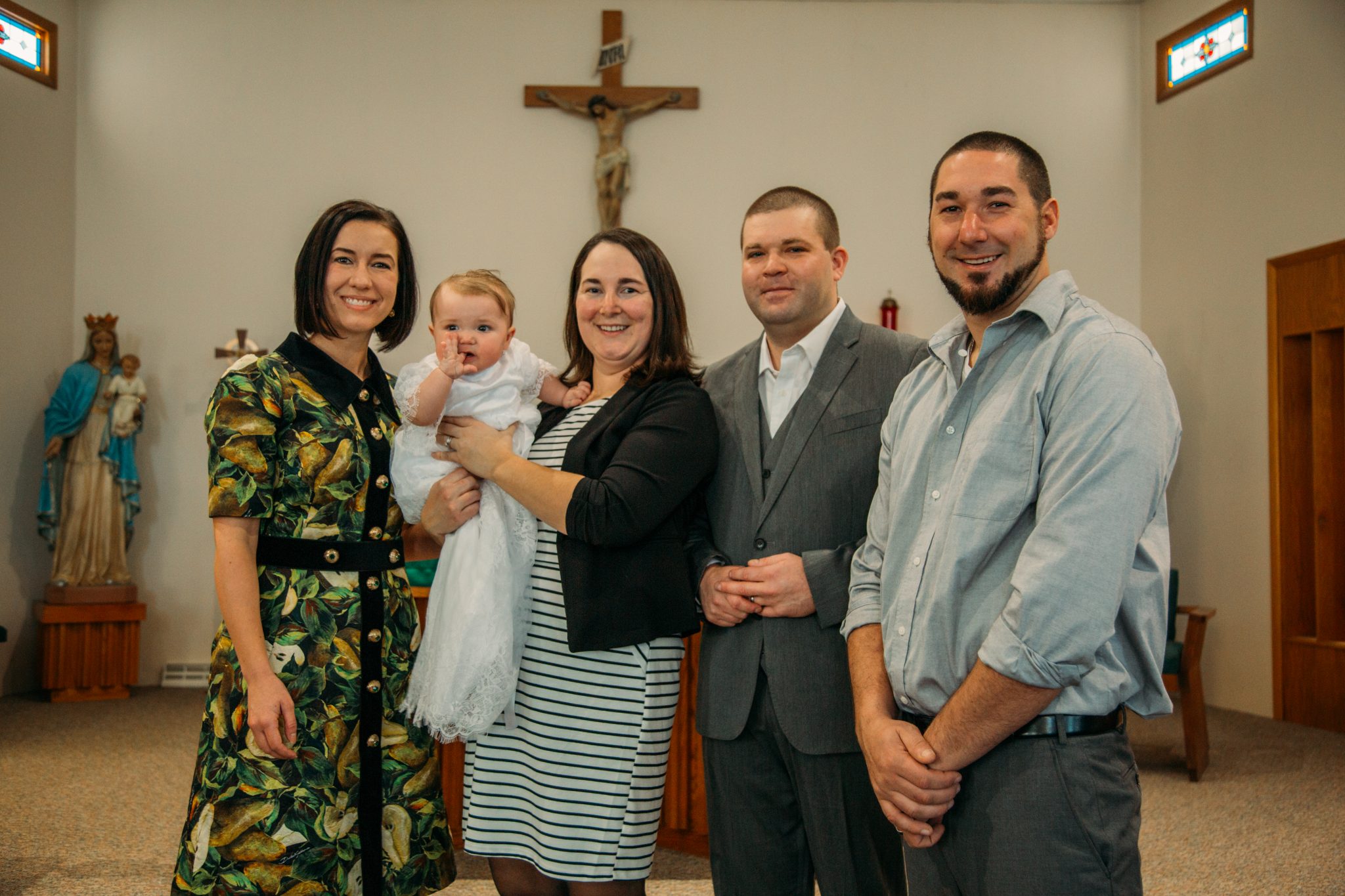 3.) Wear Pants if You Want!
While many ladies tend to think you HAVE to wear a skirt or dress for these types of ceremonies… there is no reason you can't wear pants to a baptism/christening. This is especially true if you're attending one in the winter! The temps were well below freezing for my Goddaughter's ceremony last weekend, and many of us opted for pants over dresses.
4.) Consider Wearing Clothes That Can Be Easily Cleaned (Or Won't Show Stains)
I mention this because there is always the chance of getting spit up on when holding a baby! There will also likely be other children at the ceremony that could contribute to stains as well… (speaking from experience here, haha).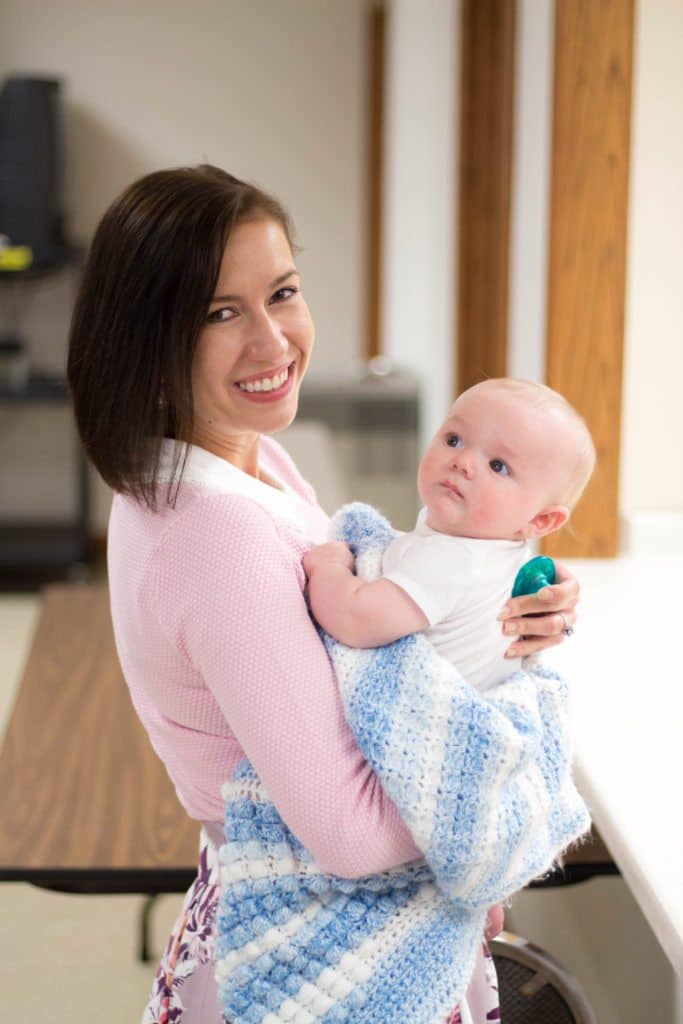 5.) Embrace Colors & Happy Patterns!
There is no color or pattern that is off-limits for a baptism! White, black and polka dots are all more than fine to wear. You can never go wrong with floral prints and pastels for a baptism, in my opinion!
6.) When in Doubt, Ask the Family
If you're still unsure, you can never go wrong with asking the family what they would like you to wear. Every family will likely have a different idea of how formal guests should dress for a baptism – so, it never hurts to ask!
Outfit Ideas for Women for Baptisms and Christenings
1.) Floral Midi Skirt for Spring
This is my outfit from my nephew's baptism a few years ago. This skirt is a great length, and florals are a good idea, in my opinion, no matter what time of year the baptism takes place! While my top is fitted, it's balanced out by the skirt and the neckline is also high and modest.
Click to shop:
Similar skirts | Similar tops | Similar Flats
2.) Printed Dress With Collar (Godmother Outfit!)
I am REALLY excited I am the godmother to my niece Claire! Her baptism was last weekend and it was FREEZING. I paired my dress with fleece-lined tights!
I had opted for this dress, as the pear print is fun and cheery, but the cut of the dress is still modest. I'm also finding that I am a fan of wearing dresses/tops with collars for baptisms!
Click to shop:
Dress | Similar Wedges | Similar Tights
The next set of outfits I did not actually wear to a baptism (we don't have too many babies in our family!), but these outfits would work too!
3.) Polka Dot Dress

Click to shop:
Similar polka dot dress here & here | Pumps | Similar handbag
4.) More Floral Midi Skirt Ideas!
Read next: How to Style a Floral Midi Skirt – 7 Outfit Ideas for Summer & Fall
Shop a similar midi skirt, here & here.
5.) Dress + Cardigan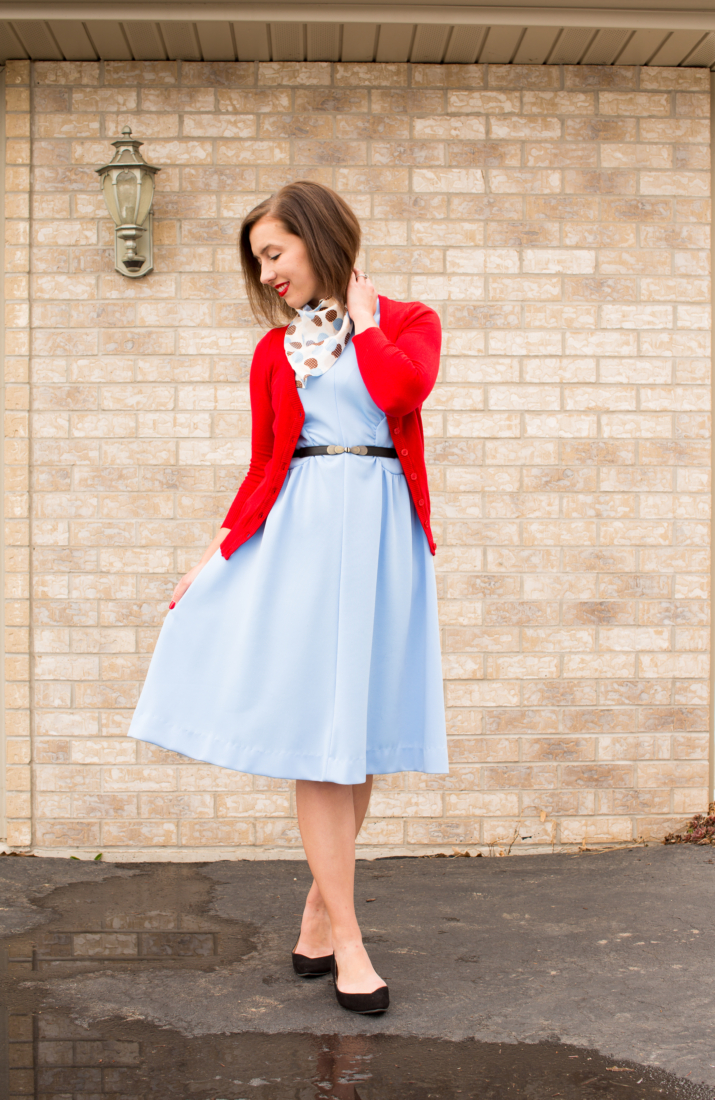 Read next: Accessorizing a Vintage Dress
6.) White Midi Skirt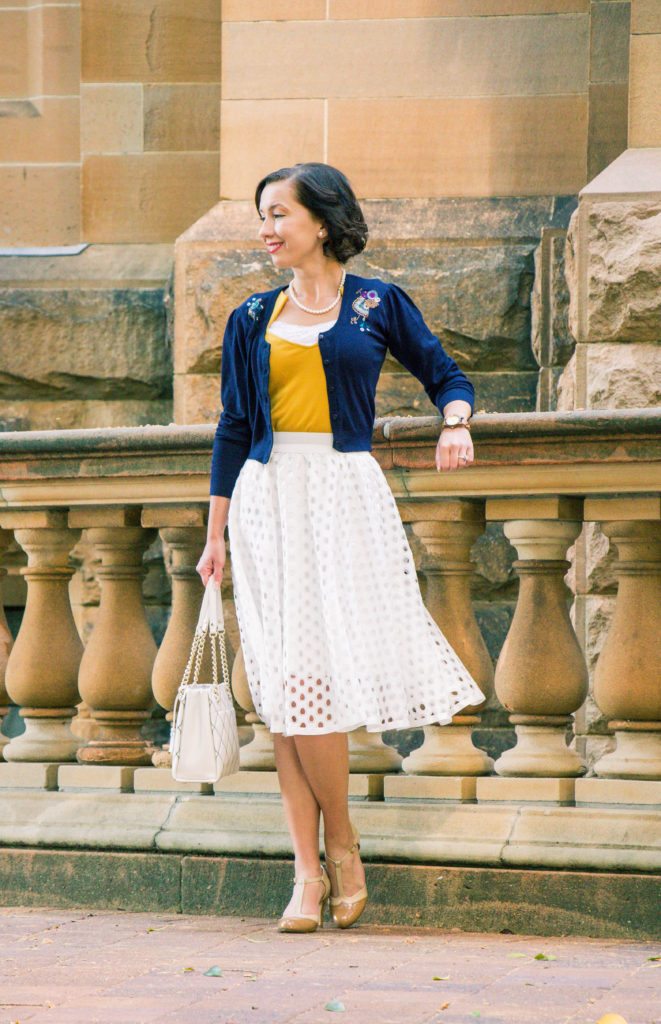 Read next: 4 Ways to Style a White, Eyelet, Midi Skirt
If anyone has any questions, please reach out in the comments section at the end of this post!
*Disclosure: some of these links are affiliate links. Meaning, if you click a link and make a purchase, Have Clothes, Will Travel gets a very small commission at no extra cost to you. Thank you for supporting the brands that make this blog possible!