Accessorizing a Vintage Dress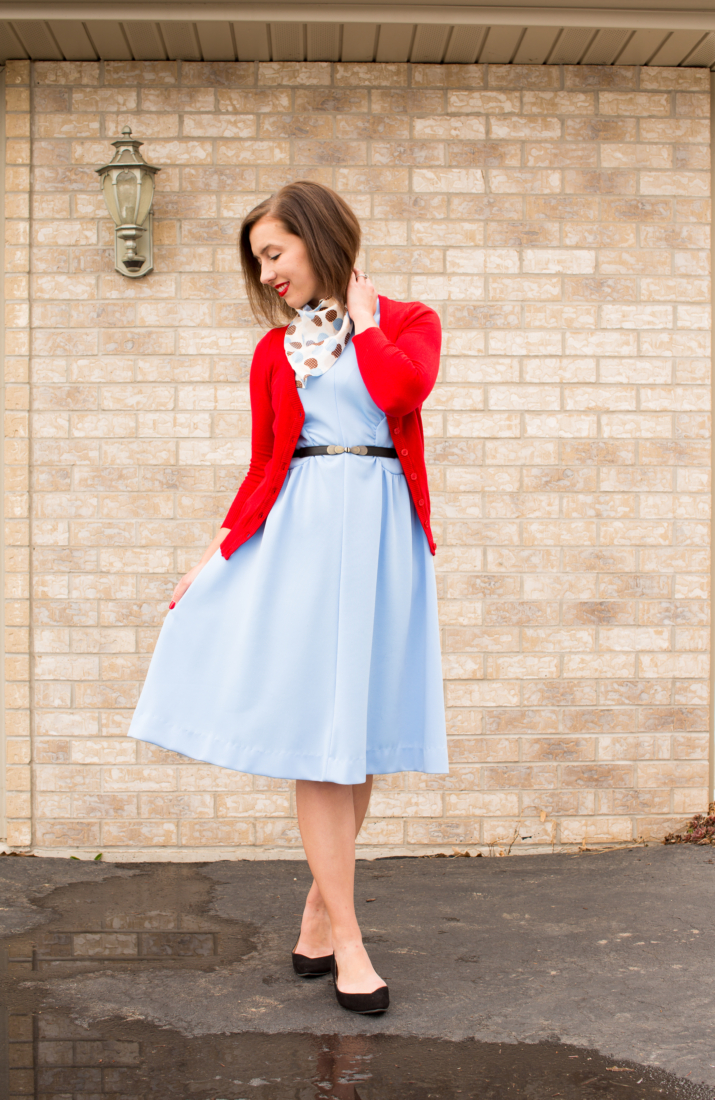 Dress c/o* | Cardigan | Flats | Scarf c/o* | Belt
Told you I liked this vintage dress so much I had to wear again ASAP! However, this time I tried some different accessories to spice up the look. The accessories were also necessary because we had a cold streak for a couple days…so a cardigan and a scarf were necessary.
Speaking of which, check it out! I'm finally wearing a cardigan other than my trusty mustard colored one. Haha. I finally broke down and ordered a different color of the exact same cardigan. Because let's face it, I needed a little more variety, and I'm practically on the verge of wearing holes in the mustard colored one!
And this scarf was another vintage find from my new favorite store, Green Goddess Vintage. The shop's owner Laurie had picked it out, and it matches this vintage 1970s Alison Ayres dress perfectly! (The dress is also from Green Goddess Dressing.) You guys will have to check out her shop. 🙂
I had paired it with a belt to give it a little more structure with the cardigan and to have something to match my trusty black flats. I had quite a lot of walking that day, so I wanted to wear some comfy shoes with this look.
This week I'm dog sitting for my parents, so taking indoor photos (like the one above) has been too funny. Their pooches are like glue to me and need to be in all the shots! (Photographic evidence is below, haha.)
It's nice to have some furry companions around, though, because this has been a real stinker of a week! As you may notice, this post was late getting published today. (Sorry!) That was because the WifI stopped working yesterday, and someone has to come out to take a look today (fingers crossed it's resolved ASAP). We also were really excited and placed a bid on a house for asking price on Monday, and found out last night that someone else swooped in and bid over asking price…so, we lost the house. Darn it! And we're in a small town in Wisconsin, not San Francisco! So, this competitive housing market is just bonkers! But oh well, I guess it just wasn't meant to be. Back to house hunting this weekend!
*If you missed my first post featuring this dress, click here!
How is your week going? And how would you restyle a vintage dress? Let me know in the comments!
Where to find it:
Dress: c/o* Green Goddess Dressing
Scarf: c/o* Green Goddess Dressing
Cardigan: Modcloth
Belt: Amazon
Flats: Chinese Laundry

*Disclosure: some of these links are affiliate links. Meaning, if you click a link and make a purchase, Have Clothes, Will Travel gets a very small commission at no extra cost to you. Thank you for supporting the brands that make this blog possible! I am also a participant in the Amazon Services LLC Associates Program, an affiliate advertising program designed to provide a means for us to earn fees by linking to Amazon.com and affiliated sites.
*c/o = courtesy of, meaning the company gave me the product to be used on my blog, and I did not pay for it. All opinions are my own, and I am not being compensated for a positive review.