1st Time Vintage Dress Shopping Featuring Green Goddess Dressing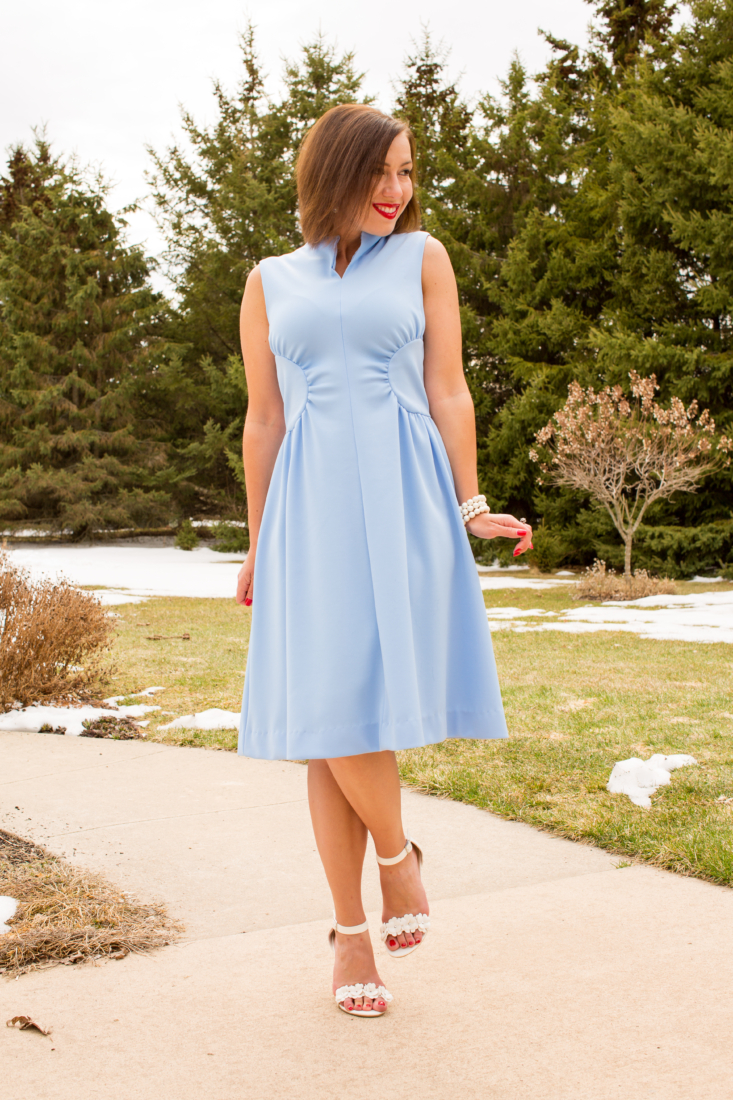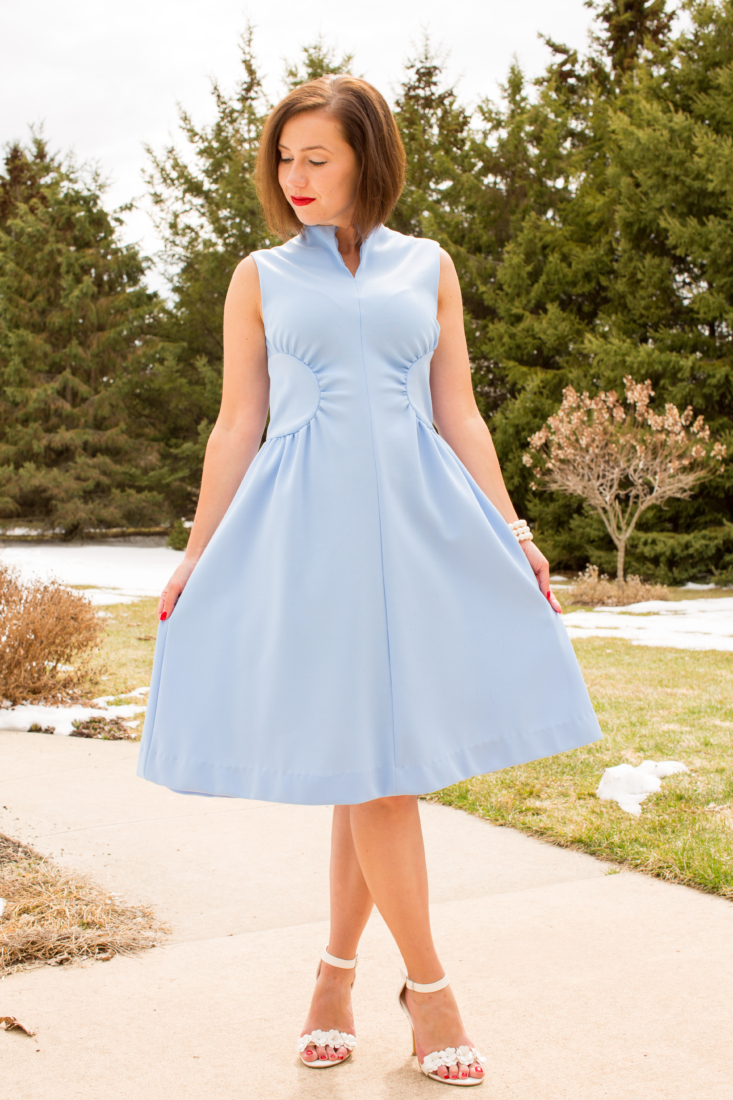 Dress c/o* | Heels (Old. Similar here & here) | Bracelet c/o*
I love vintage-inspired fashion, but authentic vintage dress shopping has always intimidated me. I think this mainly comes to down the fact that I have zero experience with vintage clothing shopping, and I've never had anyone to talk to/help me with it. However, that all changed when Laurie from Green Goddess Dressing reached out to me!
Laurie owns an authentic vintage clothing Etsy store and also the store, Green Goddess Dressing. She has a fabulous selection of both clothing and accessories and was incredibly helpful with determining my size in the clothing she had available.
I loved that Laurie was able to give me so much information about this dress too! It's a new experience to have a dress that has some history to it. For example, Laurie was able to tell me that this Alison Ayres original dress is from the 1970s and made in the USA. It's wrinkle resistant (perfect for traveling)! It's made from polyester, which was relatively new in the 1970s; it was considered the miracle fabric of its time. It's fun to think of who else has worn this dress during its 40-50ish-year-old life!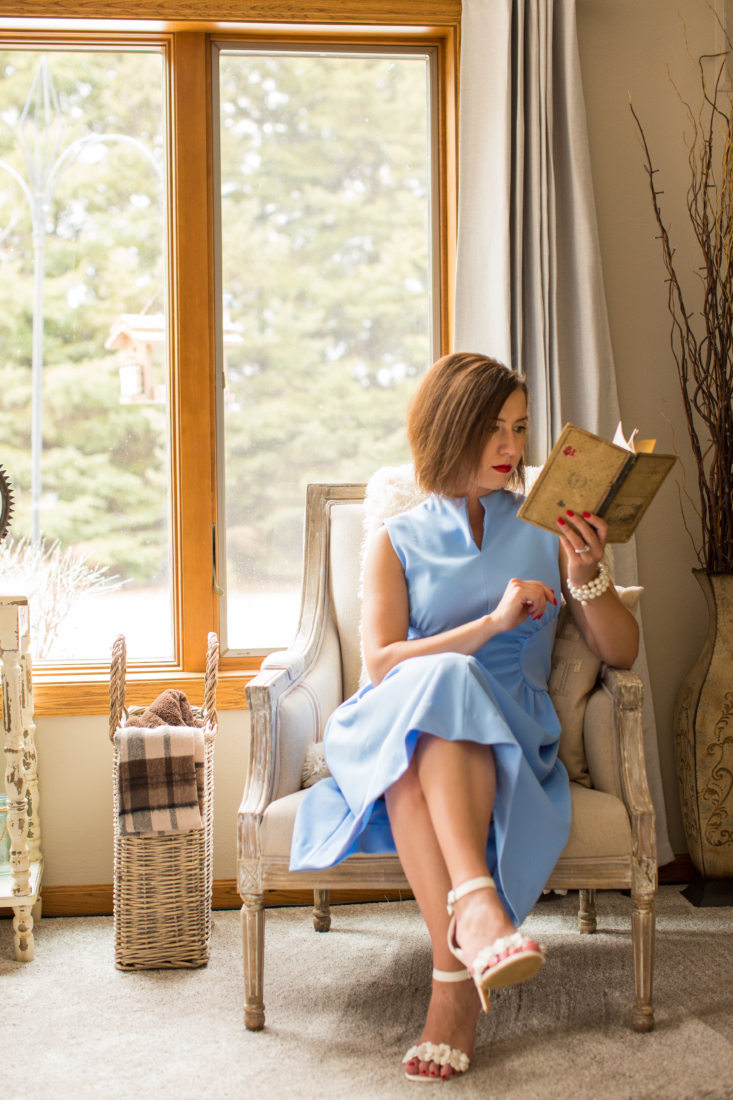 Also, I should probably explain what's going on with this outfit + the snow in the background, haha. See, I'm in Wisconsin right now, where the weather has no idea what to do with itself. It was in the upper 70s (Fahrenheit) the day I took these photos, but we had got a boatload of snow a couple weeks ago that is still working on melting! (I think it might all actually be gone today, though.) So, don't worry, I'm not crazy or freezing in these photos! It was actually warm and the snow is misleading, haha.
To be honest, I had started this outfit off with a scarf and cardigan, but was way too warm! I really liked the way that outfit looked too, though, so stay tuned! I'll likely be featuring this dress again next week with a little more layering.
I'm curious, have you ever bought an authentic vintage clothing item? Let me know in the comments! And then click here to check out Laurie's Etsy shop and then click here to see her website! I highly recommend buying from her. 🙂
Where to find it:
Dress: c/o* Green Goddess Dressing
Heels: Old (Similar here & here)
Bracelet: c/o* Green Goddess Dressing

I'm very excited that this post was featured on the cover of Independent Fashion Bloggers this week! Check out all the other posts featured, below.
Links à la Mode, May 10th, 2018
*Disclosure: some of these links are affiliate links. Meaning, if you click a link and make a purchase, Have Clothes, Will Travel gets a very small commission at no extra cost to you. Thank you for supporting the brands that make this blog possible! I am also a participant in the Amazon Services LLC Associates Program, an affiliate advertising program designed to provide a means for us to earn fees by linking to Amazon.com and affiliated sites.
*c/o = courtesy of, meaning the company gave me the product to be used on my blog, and I did not pay for it. All opinions are my own, and I am not being compensated for a positive review.