Outfit – Florals? For Spring? Groundbreaking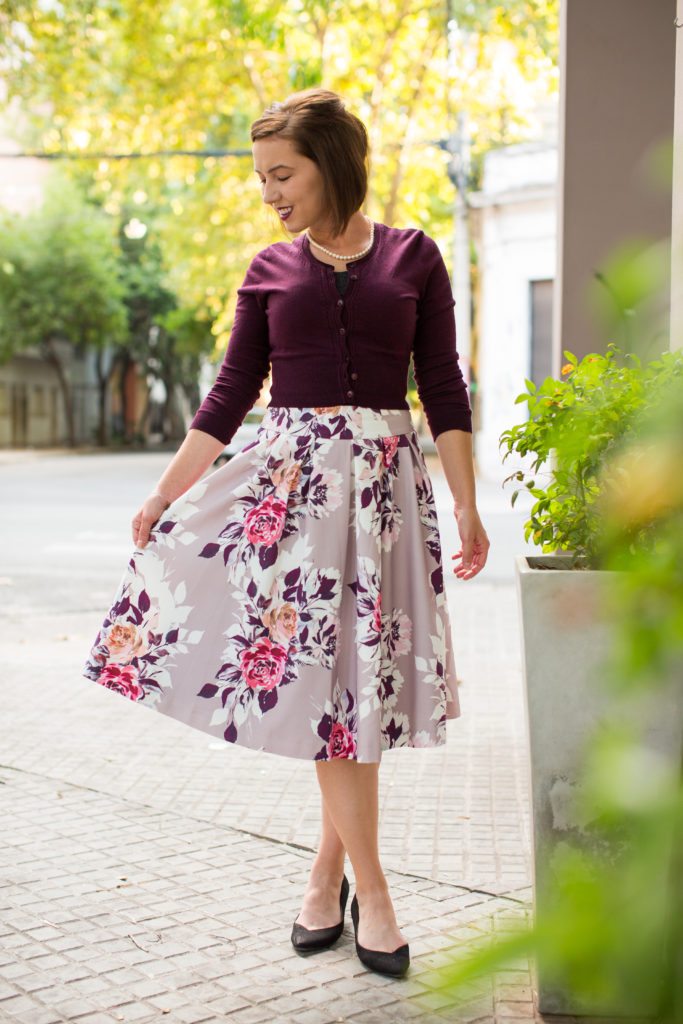 Skirt (similar here & here) | Cardigan (similar here) | Wedges | Bracelet | Necklace
I can't help thinking of that darn Devil Wears Prada quote every time I see florals in spring or even summer. So, I present to you a spring-time outfit that would make Miranda Priestly roll her eyes. Haha.
Despite their, perhaps, overuse in the spring and summer months. Floral prints are still my favorite of all the prints to don. And they can most certainly be worn all year long (I don't care what anyone says)! This skirt was from my Sydney Shopping Spree almost an entire year ago. I've been wearing it the way I originally styled it this entire year…up until I finally got around to wearing it with the cardigan the lovely Review Australia clerk convinced me would also match this skirt perfectly.
I don't regret buying this color cardigan one bit! It really does look fabulous with this skirt. I'm just still a little shocked that I let myself get upsold by a sales clerk, haha. I hardly ever go into brick and mortar stores anymore for this reason. I like to shop alone…on my couch with lots of coffee. Is anyone else like that?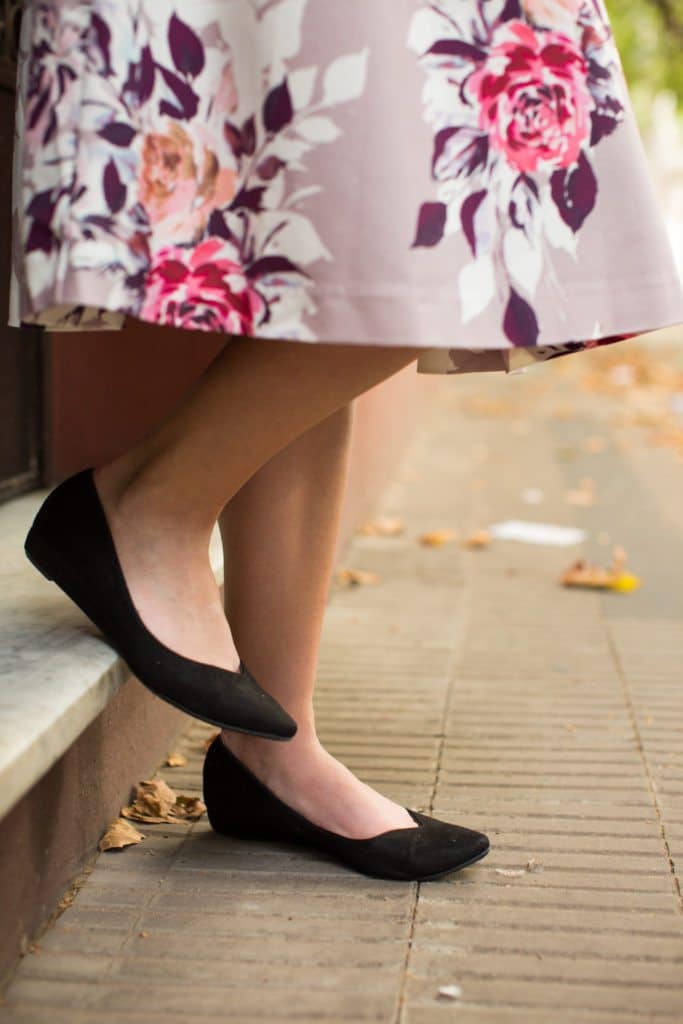 These flats were a recent online purchase success story. I have an almost identical pair…except I wear them so often, I was worried I was going to wear them out! So, I ordered another pair to rotate into the mix. These are true to size and fabulous if you have wide feet (like me). However, they shouldn't be walked in all day long after you initially buy them. As I did with my first pair, I walked darn near 10 miles in them right after I took them out of the box and ended up with a nasty blister. So…just be sure to "break them in" before you walk 10 miles in them!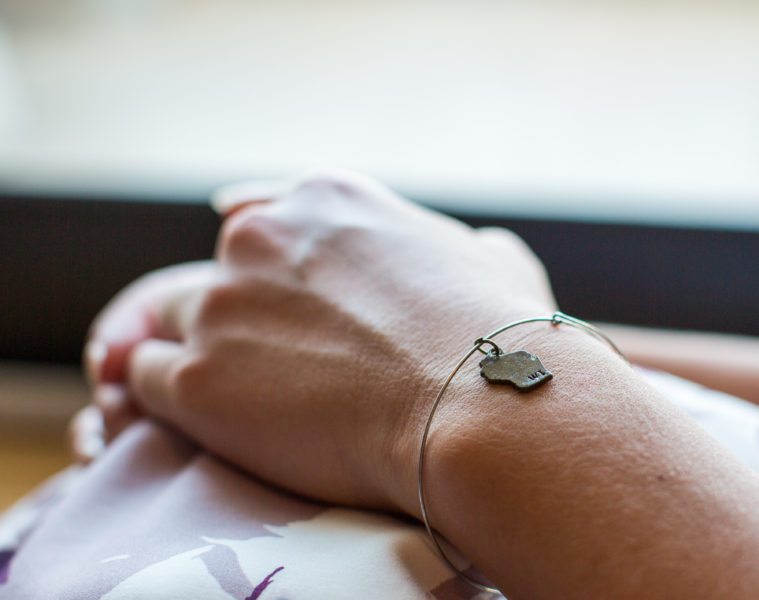 And how cool is this bracelet? My sister-in-law bought it for me, and I've been wearing it like crazy. I have freakishly small wrists, so bracelets don't usually work for me. But this one is perfect, and I love that it features my home state of Wisconsin on it.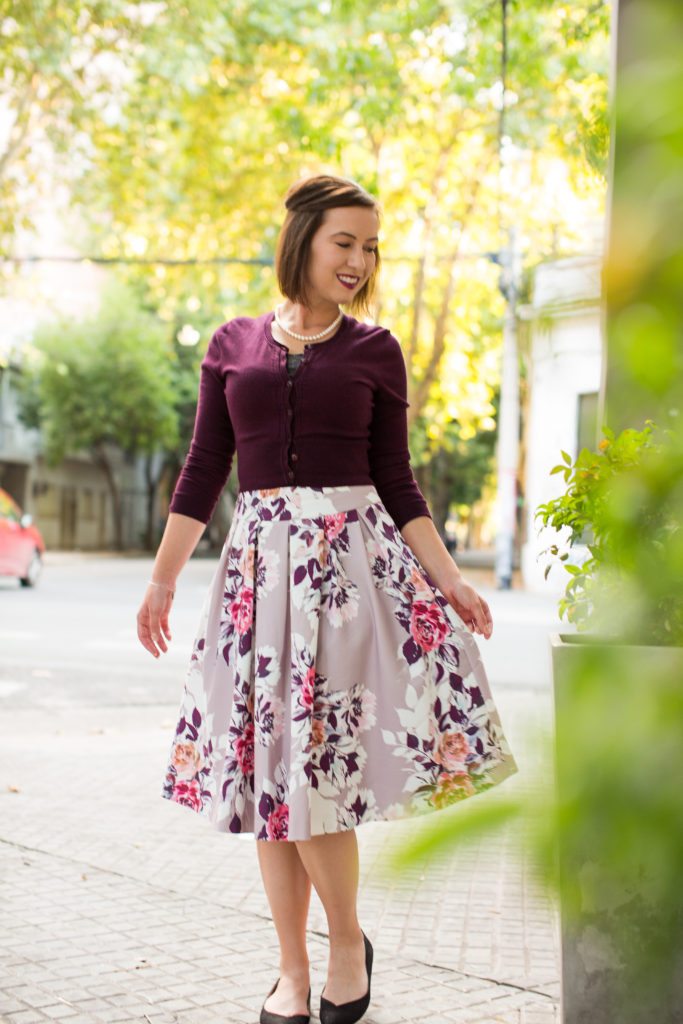 As I mentioned in my last post, I'm just getting back from Iquitos, Peru today. So, stay tuned for photos and stories about how my time in the jungle went! I hope everyone else is having a fabulous Valentine's Day…If I'm lucky, I'll be in my PJs for most of it, eating pizza. Haha.
Do you tend to wear floral prints in the spring or not at all? Or do you wear floral prints all year long? Let me know in the comments!
Where to find:
Skirt: Review Australia (No longer available. Similar here & here.)
Cardigan: Review Australia (No longer available. Similar here.)
Shoes: Amazon
Bracelet: Gift from my sister-in-law (Similar here)
Necklace: Gift from my husband (Similar here)
*And be sure to check out Tissura's amazing cotton dress fabric.

*Disclosure: some of these links are affiliate links. Meaning, if you click a link and make a purchase, Have Clothes, Will Travel gets a very small commission at no extra cost to you. Thank you for supporting the brands that make this blog possible! I am also a participant in the Amazon Services LLC Associates Program, an affiliate advertising program designed to provide a means for us to earn fees by linking to Amazon.com and affiliated sites.
*c/o = courtesy of, meaning the company gave me the product to be used on my blog, and I did not pay for it. All opinions are my own, and I am not being compensated for a positive review.