Star Wars Outfit for a Special Occasion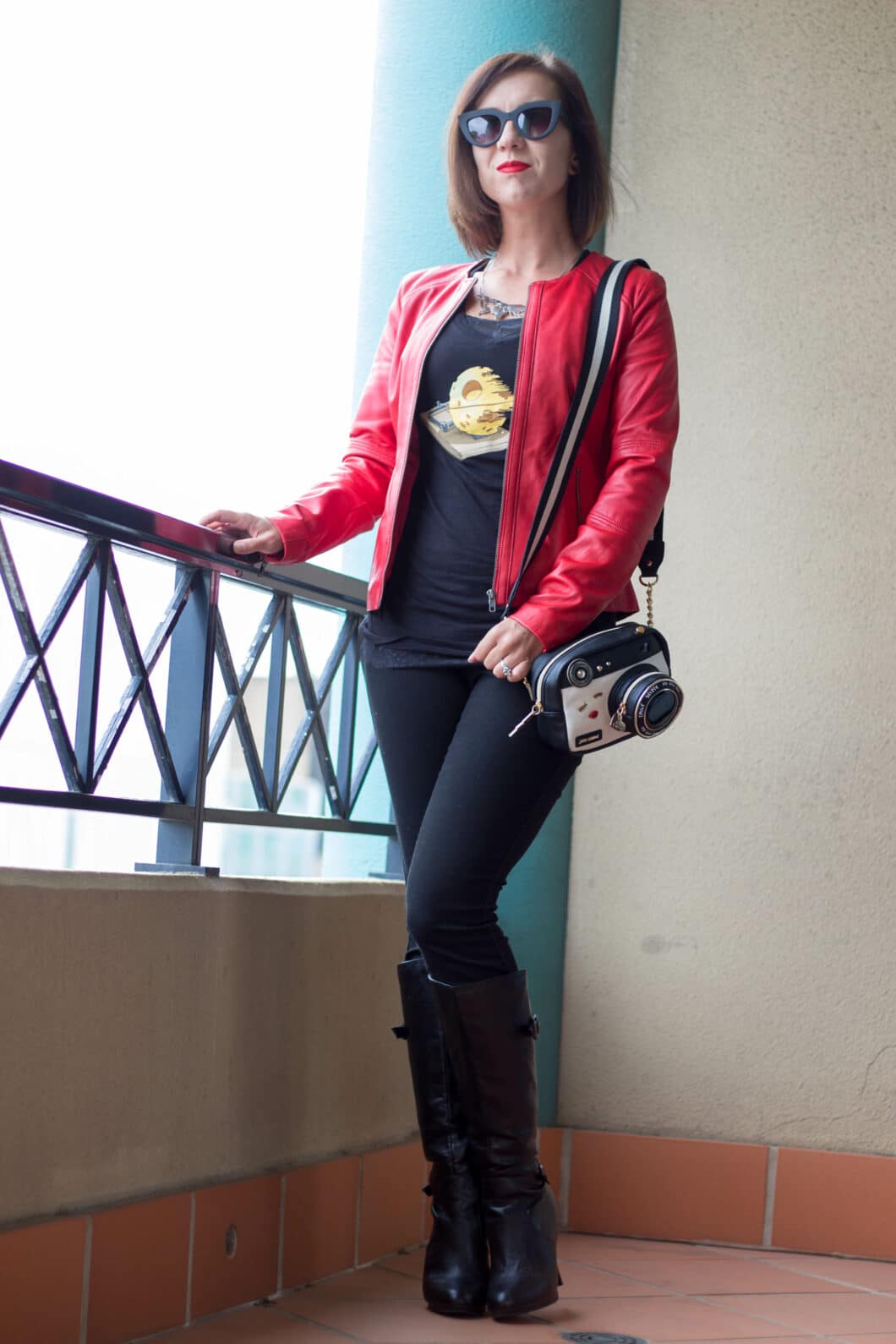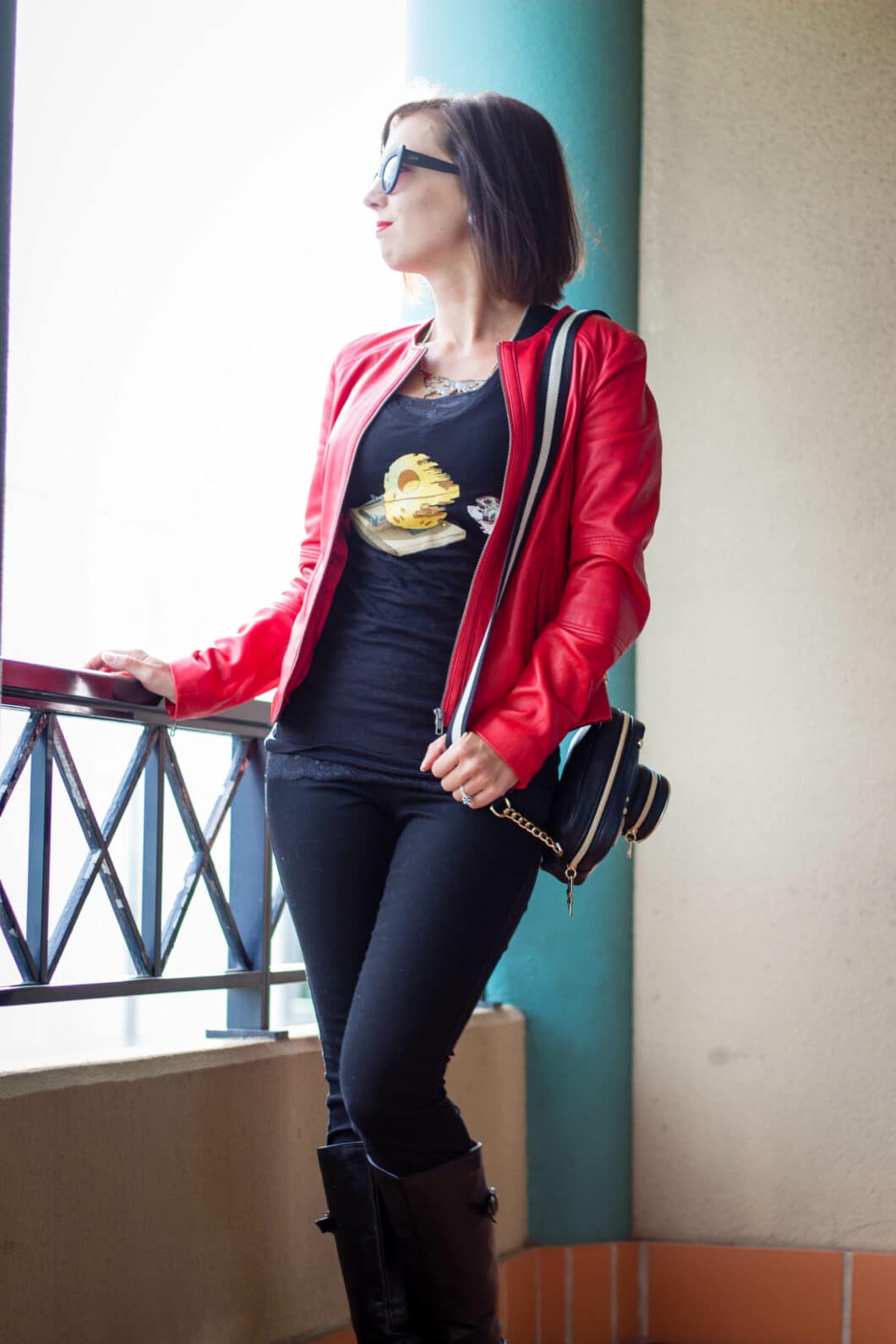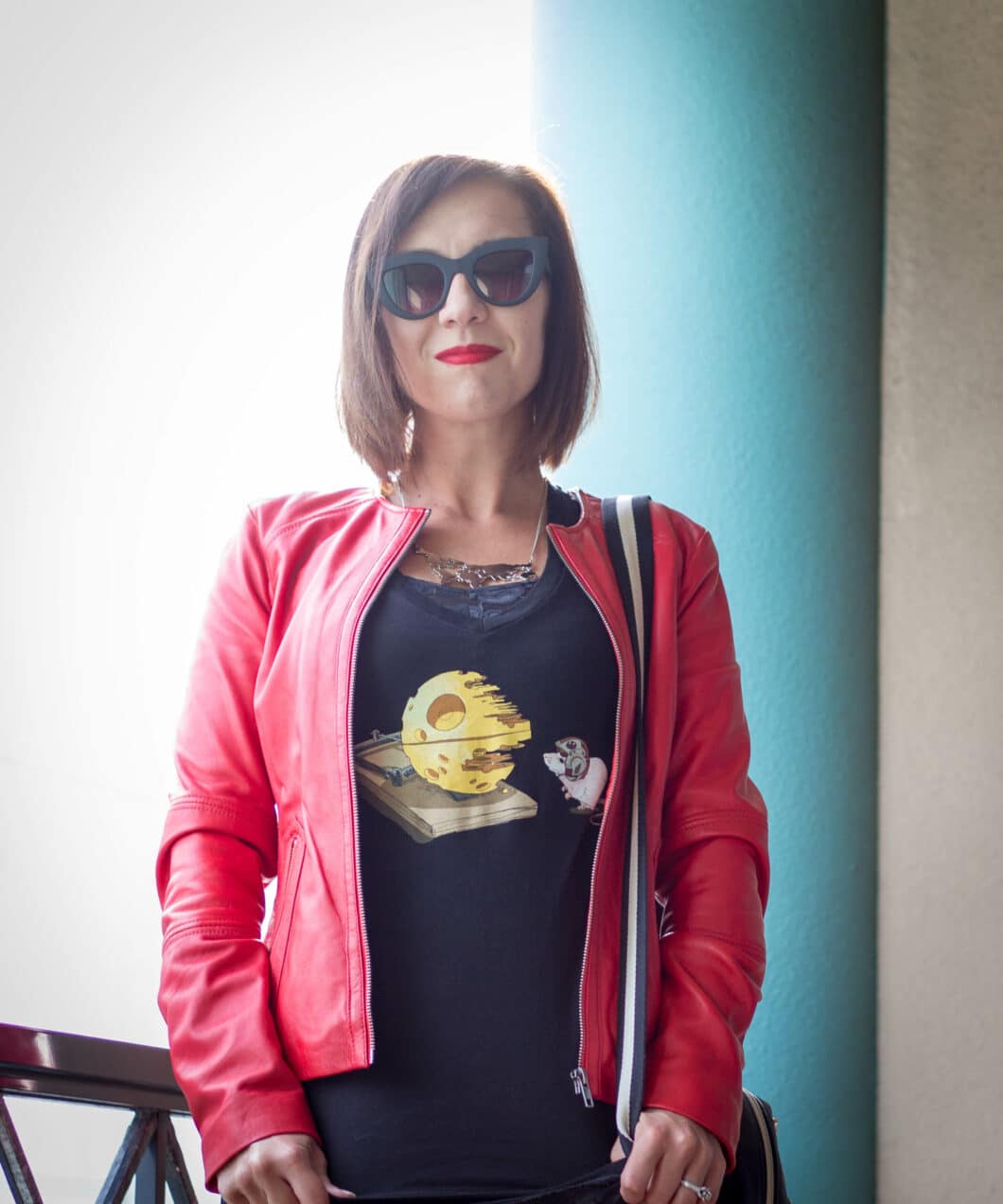 I know, the first thing that comes to mind for most people when getting dressed for a special occasion, like a wedding anniversary, is NOT a quirky Star Wars shirt, red leather jacket and a super fun Betsey Johnson camera purse. But, I'm not most people. Haha.
My husband and I celebrated our 4th year of marriage on January 4th (last week). And, we originally didn't have any big plans for it. However, we tried a couple times while we were home for the holidays to go see "Rogue One" in theaters, but it just never worked out.
So, once we got back to Sydney it seemed like a perfectly good way to celebrate our anniversary. I mean, honestly, for us, going to a Star Wars movie tops the list of activities for a date night! And we even sprung for the extra fancy theater seats…where they recline and waiters bring you your treats & wine to you during the movie. It was super fun. Oh, and I don't want to give any spoilers, in case you haven't seen it, but we both REALLY enjoyed the movie.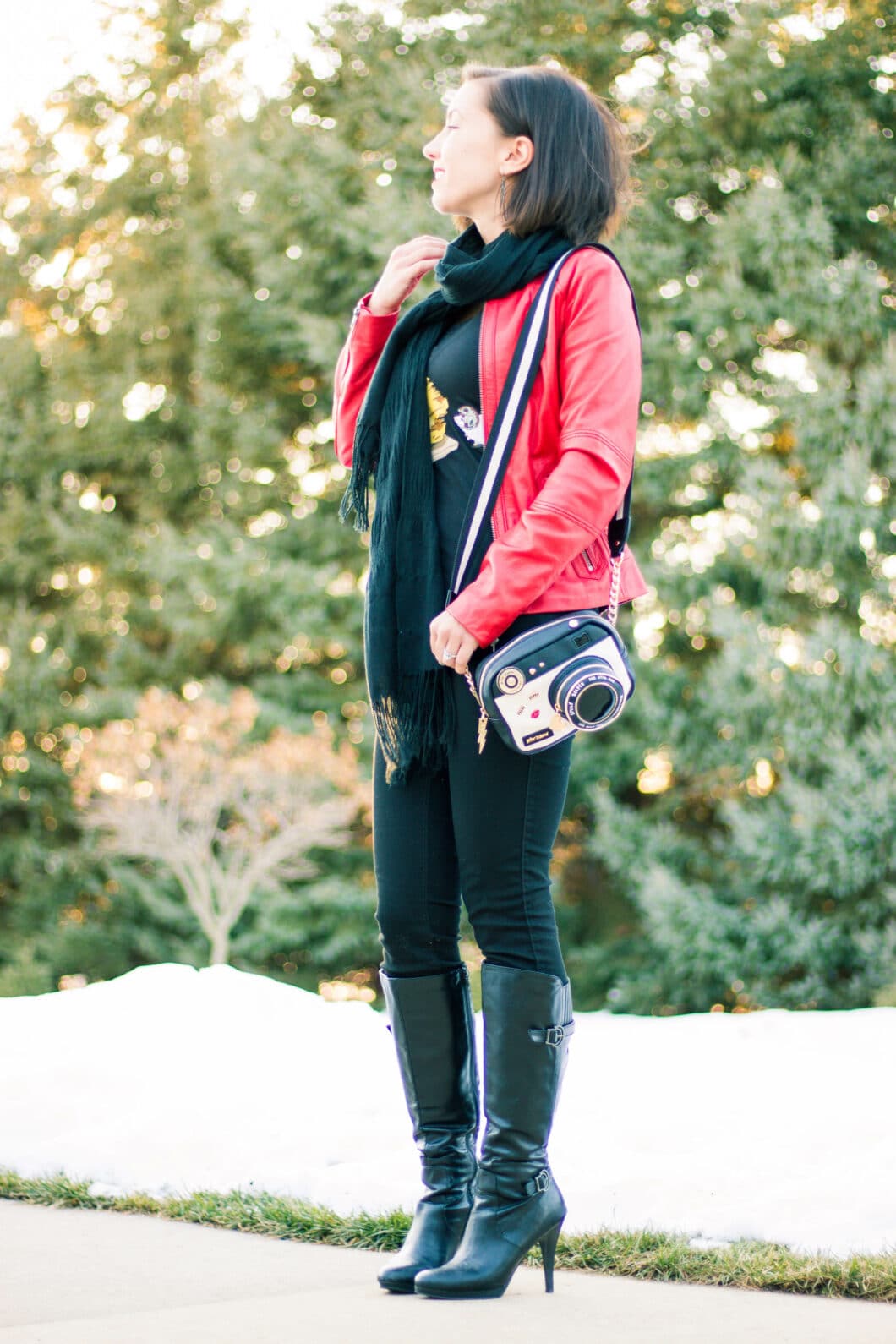 Funny enough, each time we attempted to see "Rogue One" while we were home, I wore this outfit. Haha. So, I wore this outfit a total of 3 times in about a week and attempted to take photos of it each time – but the photos were so rushed, I didn't end up liking hardly any of them! Hence, why there are a few different backgrounds and I'm wearing a scarf in some photos. (It was chilly in Wisconsin but wayyyyy too warm in Sydney for one!)
But I was determined to wear my "It's a Trap!" T-shirt for this movie. I mean, Rogue One, is all about the Death Star and there's a big, cheesy, Death Star on this shirt (with a Rebel rodent, of course)…so, it seemed like a perfectly good occasion to wear it. Right?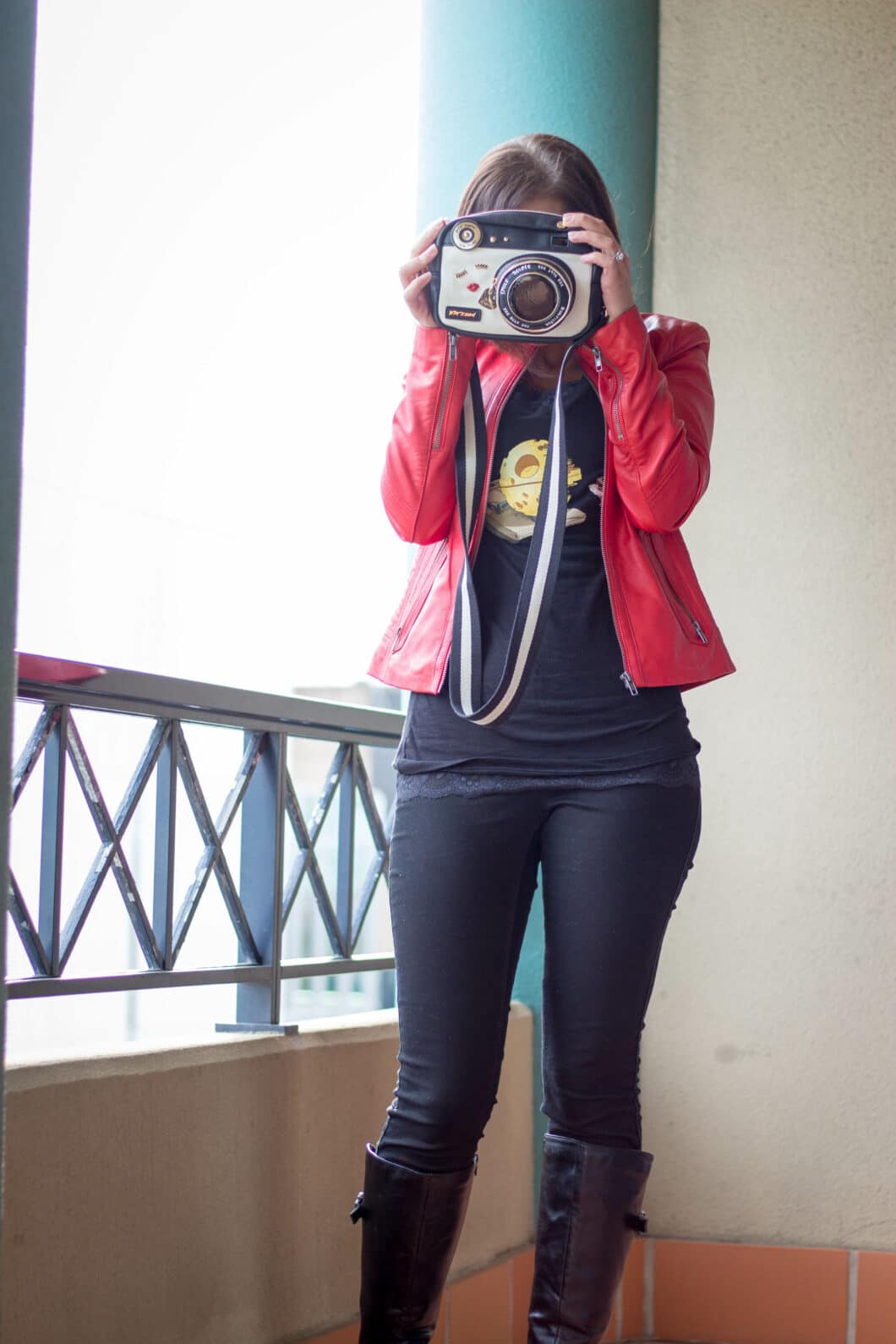 And I did you see how awesome my purse is? I had just gotten this Betsey Johnson camera purse from my mother-in-law for Christmas! If you guys follow me on Twitter & Instagram you may have seen me mention my love for it – and my mother-in-law surprised me with it when we got back home. I've been using it nonstop and can't stop staring it! It's so much fun. (Thank you, Kim!)
Last but not least to complete my Star Wars/Anniversary outfit – my shiny, new leather jacket! I have been waiting patiently for this baby for months! It's from Wilsons Leather, and they don't ship to Australia, unfortunately, so my mom was keeping it safe for me until I came home. I have never had a jacket fit me so well and feel so soft! I'm seriously blown away by the quality of this jacket. I also love that it's red, for a little something different. I really can't wait until it's cool enough to wear it again in Sydney! But I might have to wait a bit for that to happen again. 😉
Has anyone else seen Rogue One? What did you think? And did you wear any special outfits for it? Haha. (Or is that just me?)
Where to find it:
Leather Jacket: c/o* Wilsons Leather
Shirt: ModCloth
Purse: Betsey Johnson
Boots: Old (Simlar here.)
Pants: H&m (Similar)
Map Necklace: ModCloth
Sunglasses: Quay
Scarf: Amazon (Similar)
*c/o = courtesy of, meaning the company gave me the product to be used on my blog, and I did not pay for it. All opinions are my own, and I am not being compensated for a positive review.