Stripes Never Go Out of Style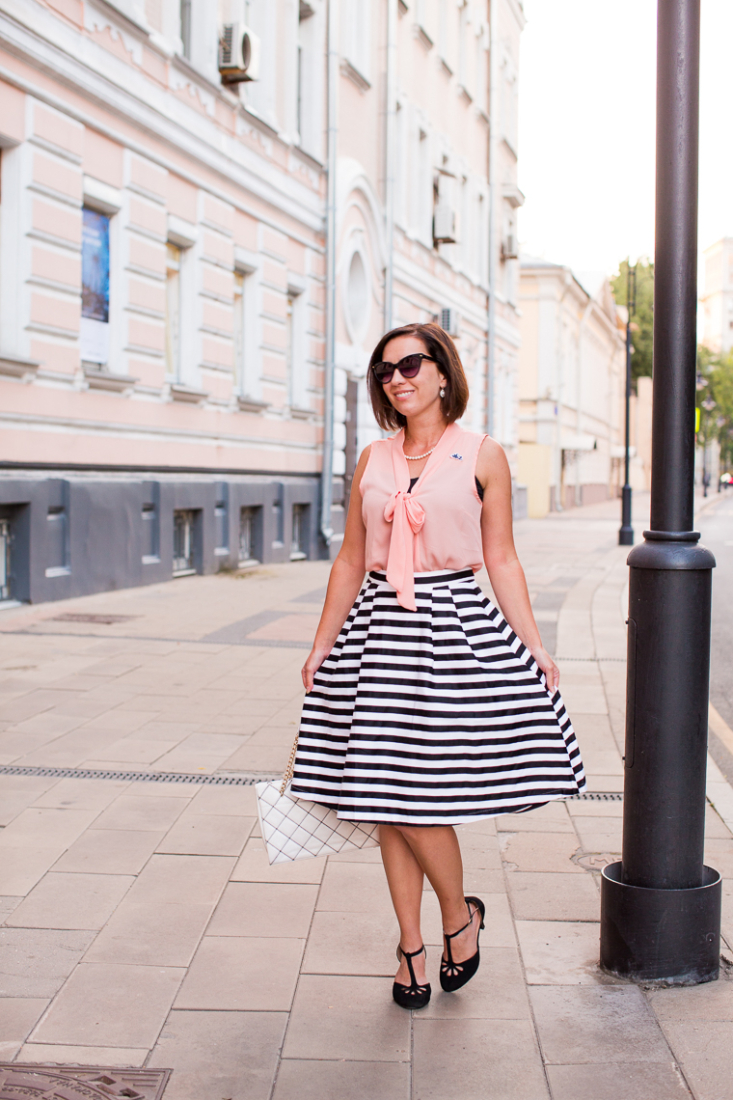 Skirt (similar here) | Heels | Top (similar) | Sunglasses | Pin | Bag (similar)
Another day another striped skirt! I am obsessed with all things black and white stripes right now. And I'm OK with this because black and white stripes are chic, versatile, and they won't be going out of style. (I have a whole mess of striped tops to featured once the temps cool off too!)
The structure of this skirt is what had initially caught my eye, and the fact it was on sale! Haha. Oh, and it has pockets! This striped skirt doesn't have a ton of sizes left, thanks to its lowered price tag, but I did find an almost identical version of it, here.
I wore this outfit for a dinner in Moscow with my husband. This pink top is a bit baggier than I care for (given how full this skirt is, it looks better with a fitted top half). But I actually restyled this skirt with a more fitted, polka dot top when I was in DC for a big event my husband's company put on there. It was my first time mixing and matching polka dots & stripes – I can't wait to feature it on the blog!
Sorry, I'm going to keep featuring and mentioning these heels because they are seriously one of the best shoe purchases I've made in years. They are SO comfortable and easy to walk in. Plus, they fit my wide feet. Oh, and they're super affordable!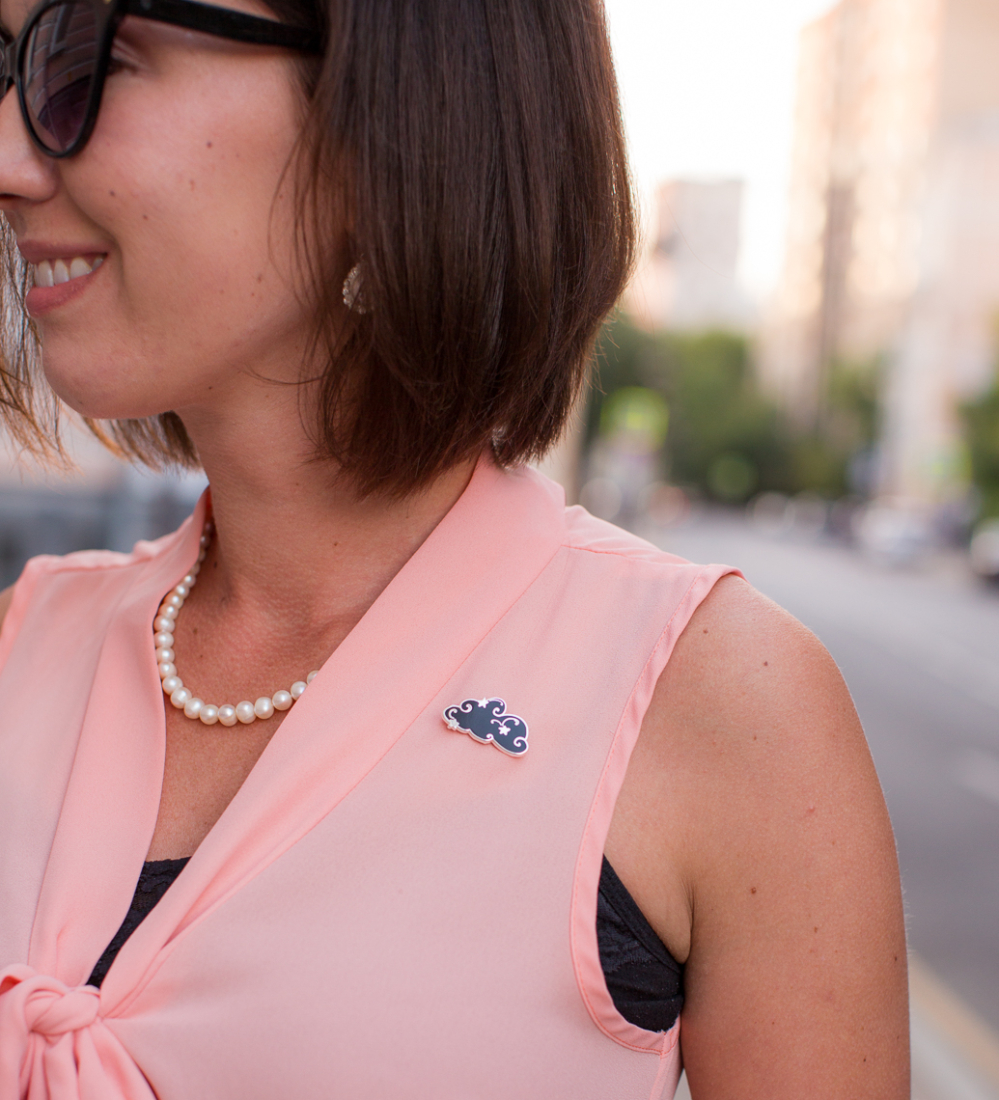 My little cloud pin is another one from Lace & Whimsy Studios! I am just obsessed with Kathy's designs and I love that her pins have dual pins with rubber backs (so much comfier). I featured her swan pin in a post, here, and I have one more adorable deer pin to show off. I'm addicted!
If you follow me on Instagram, you've probably noticed that I'm rather excited about all the colorful buildings in Moscow! I've been having a lot of fun photographing my outfits against buildings that match. I had no idea Moscow was so colorful – I love it!
Are you as big of a fan of black and white stripes as me? Or what's a pattern you're crazy about? Let me know in the comments!
Where to find it:
Skirt: ModCloth – on sale & limited sizes available right now (Similar version here)
Top: No longer available (Similar here)
Heels: Amazon
Bag: Kate Spade (Different color)
Pin: Lace & Whimsy Studio

*Disclosure: some of these links are affiliate links. Meaning, if you click a link and make a purchase, Have Clothes, Will Travel gets a very small commission at no extra cost to you. Thank you for supporting the brands that make this blog possible! I am also a participant in the Amazon Services LLC Associates Program, an affiliate advertising program designed to provide a means for us to earn fees by linking to Amazon.com and affiliated sites.
*c/o = courtesy of, meaning the company gave me the product to be used on my blog, and I did not pay for it. All opinions are my own, and I am not being compensated for a positive review.