How to Style a Floral Midi Skirt – 7 Outfit Ideas for Summer & Fall
Wondering how to style a floral midi skirt? This post is for you! I'm sharing 7 different outfits I've styled with one floral midi skirt.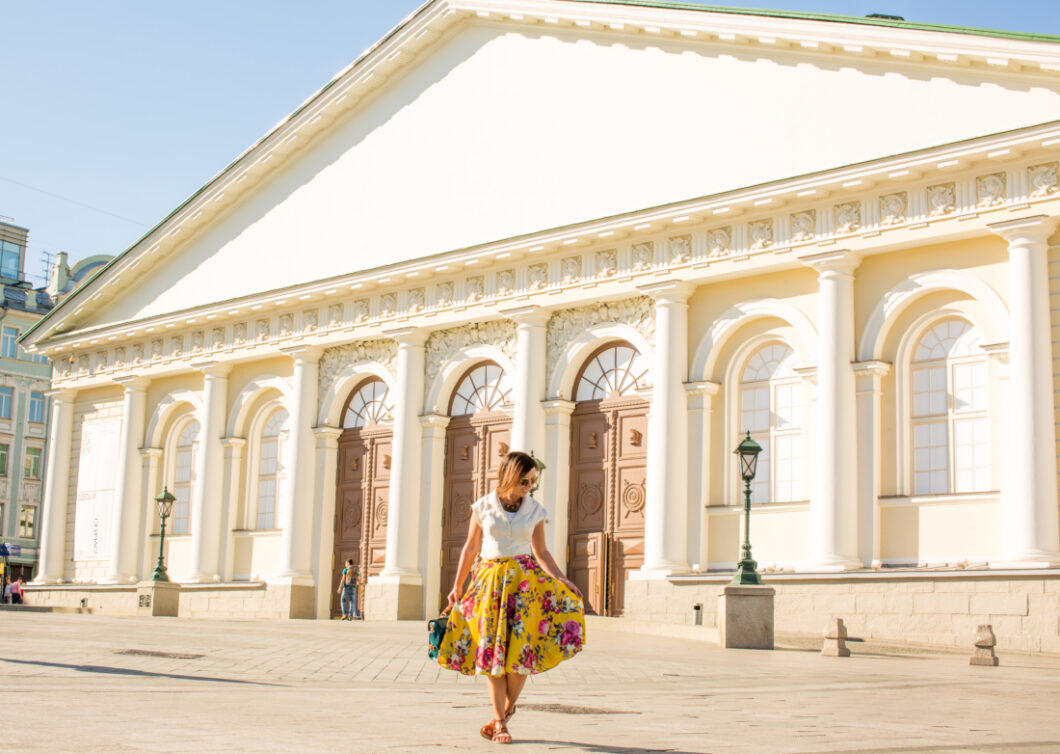 Who knew a floral midi skirt could be so versatile? This skirt has certainly gotten its money's worth! I've had it for about 1 1/2 years now and have worn it countless times.
And now, I've finally put together a post featuring the different ways I've styled it! (I'm also going to be including some reader's/fellow bloggers' style posts featuring it too at the end!) These styling formulas don't need to be limited to JUST this midi skirt, though. I use these same tops with a couple of other floral midi skirts I own – 1 that is pink and the other has a ton of different colors mixed in it! Floral skirts are my jam, what can I say.
I hope you enjoy this post, and I'd be curious to hear which outfit is your favorite in the comments section at the end!
The featured skirt…
Fortunately, most of you already seem to have purchased this Ikebana for All A-Line Skirt
By ModCloth – wahoo! And if you haven't yet…I'm sorry to say, but it looks like this color of the skirt JUST sold out (over the weekend from what I can tell). There is a similar version of this skirt available, and I've linked to some similar floral skirts in mustard yellow here, here, here & here.
How to Style a Floral Midi Skirt – 7 Outfit Ideas for Summer & Fall
1.) Pairing a Floral Pullover + a Floral Midi Skirt (Pairing two floral prints)

This is the first way I ever styled this midi skirt. I paired it with this pullover that also has floral embroidery on it. The floral embroidery is subtle enough that it doesn't overpower the skirt. Having 2 loud and large floral prints might look a little busy – but with a pullover that's mainly a solid, with just a bit of floral detail can look quite nice, in my opinion. I also kept my shoes more muted, to not make this look too over-the-top.
*Click here to see the full outfit post.
2.) Styling a Cream Button Up + Floral Midi Skirt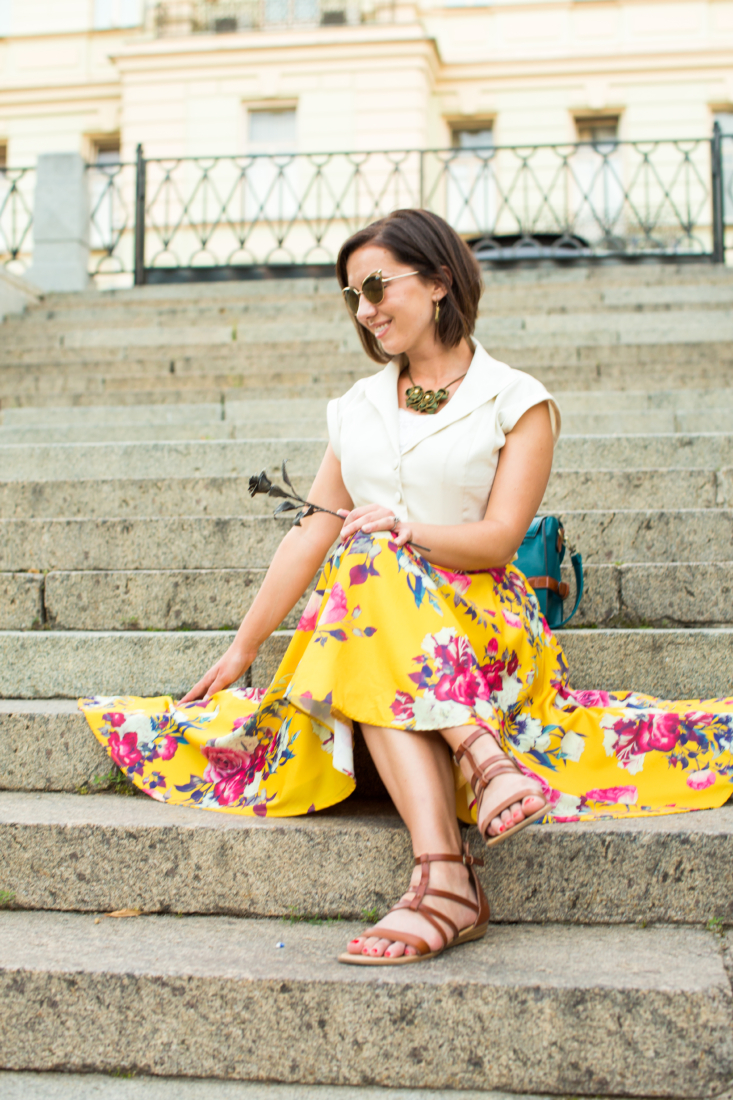 This vintage-inspired button-up pairs perfectly with many of the skirts in my closet. You could also swap out the sandals for a pair of heels for a dressier look. (I was doing a lot of walking the day I wore this outfit!) This is a look that could easily be swapped out for a tailored, long-sleeve button-up as well, paired with heels for the office.
*Click here to see the full outfit post.
3.) Pairing a Blazer + with a Floral Midi Skirt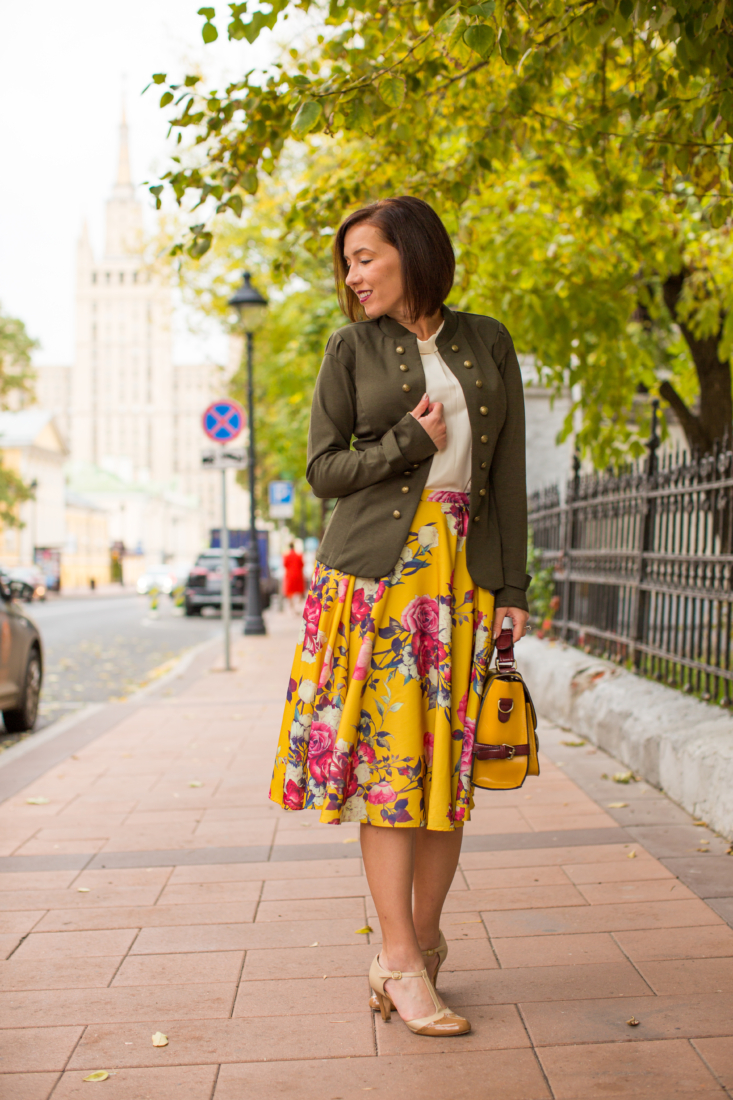 This is one of my favorite ways to style this skirt. It's very office appropriate, and it's basically taking all of my favorite/most versatile pieces and putting them together. This blazer is eventually going to get its own post dedicated to it – as it goes with so many different pieces in my closet. The heels really tie the blazer and floral skirt together, though, in my opinion. (And these heels are so versatile, they already do have their own post dedicated to them featuring 10 different outfits!)
*Click here to see the full outfit post.
4.) Mixing Stripes + a Floral Midi Skirt
This has turned into one of the most popular outfits on my blog! This was my first venture into pattern and print mixing – and this floral skirt was the perfect guinea pig. Keeping thinner stripes to pair with this big of a floral print worked out well. This is another one that could have been paired with pumps for a dressier look. (But the Keds worked well – as I had a lot of walking to do, again.)
*Click here to see the full outfit post.
5.) Pairing Polka Dots + a Floral Midi Skirt

This is my most recent attempt at pattern and print mixing. I used the same concept as the stripes and swapped it out for this flirty polka dot blouse. I also liked the way a pair of black and white pumps looked with this outfit versus a solid pair of black pumps (as my husband pointed out – this look isn't about wearing solid colors!).
Click here to see the full outfit post.
6.) Cropped Cardigan + Floral Midi Skirt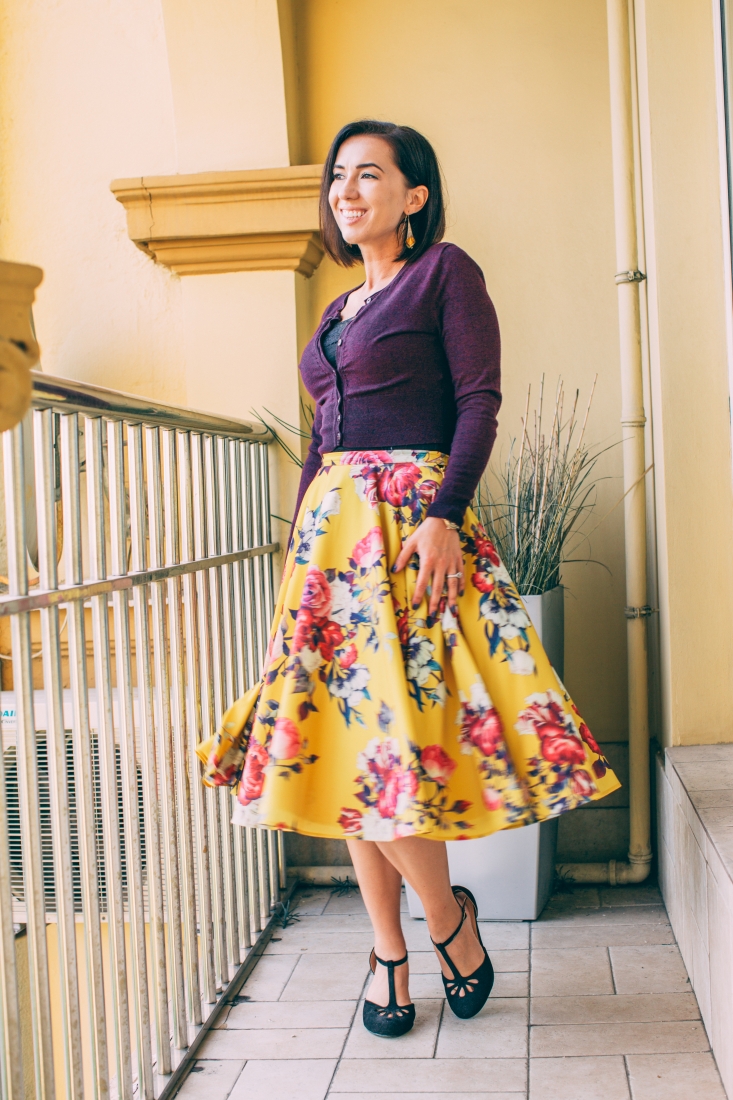 This is a look I hadn't featured on the blog yet, just because I had already featured the exact outfit…just with a different floral midi skirt here. A solid cropped cardigan matched with a pair of solid colored pumps or heels is my go-to outfit with allll of my midi skirts – no matter what color or print they happen to be.
Where to find it:
Cardigan (similar) | Skirt (different color | Pumps | Cami | Earrings
7.) Black & White High Collar Blouse + Midi Skirt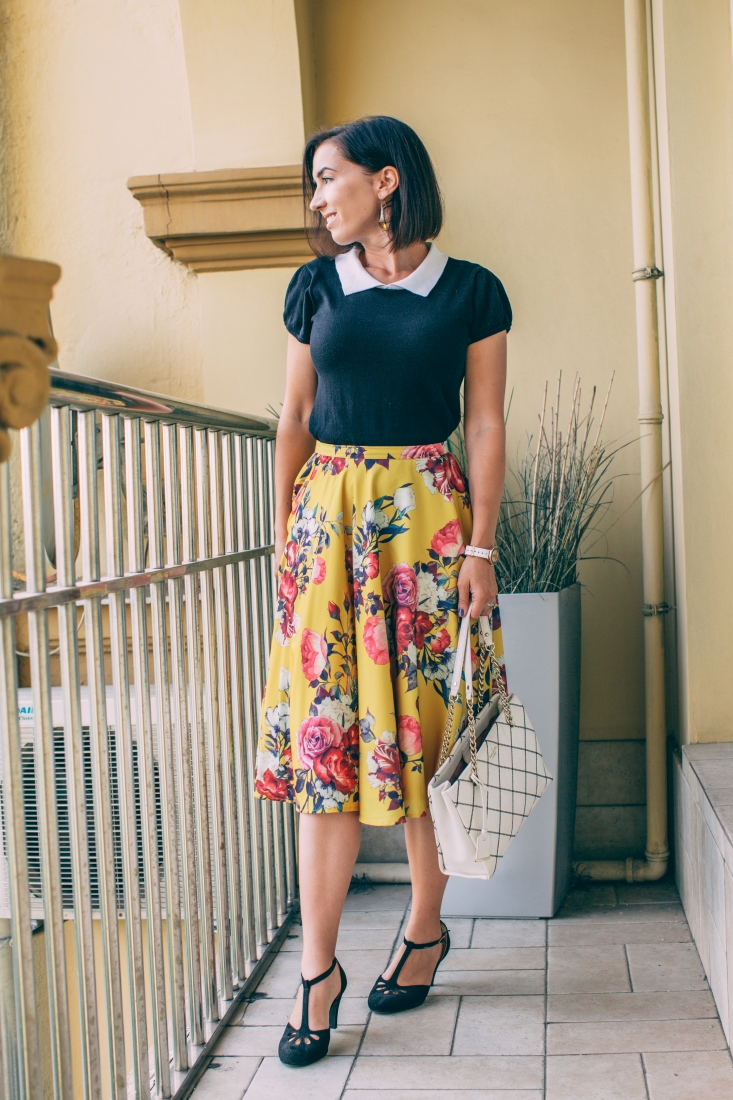 For some reason, this outfit has never been featured on the blog either. However, this black & white high collar blouse and floral midi skirt happens to be one of my most worn outfits. I've been wearing it for everything from church to brunch to buying a car and even our first home!
Where to find it:
Blouse (similar) | Skirt (different color | Pumps | Cami | Earrings| Bag | Watch
How other bloggers and readers have styled this floral midi skirt!
Chez Mireille *fashion*travel*mom styled this skirt 5 different ways on her blog! (She is the inspiration for this post!)
@Julie_Noel_Bee put her own twist on styling this skirt too! (She also inspired me to put this post together.)
Finding Femme is the queen of styling this skirt! She is my inspiration for buying it in the first place! (She also has the original version of it, before ModCloth started producing it.)
Now, I'm curious, which look is your favorite? Let me know in the comments!
*This post is featured on JTouchofStyle's Link Pary!
*Disclosure: some of these links are affiliate links. Meaning, if you click a link and make a purchase, Have Clothes, Will Travel gets a very small commission at no extra cost to you. Thank you for supporting the brands that make this blog possible! I am also a participant in the Amazon Services LLC Associates Program, an affiliate advertising program designed to provide a means for us to earn fees by linking to Amazon.com and affiliated sites.
*c/o = courtesy of, meaning the company gave me the product to be used on my blog, and I did not pay for it. All opinions are my own, and I am not being compensated for a positive review.