10 Different Looks Featuring 1 Pair of T-Strap Heels
When it comes to heels in my closet, this pair of T-strap heels is by far the best pair that I own. Not only are they cute, but they also go with many different outfits, ranging from formal to casual looks. The best part about these heels, though, is that they are honest-to-goodness COMFORTABLE. I can actually walk long distances in them too!
When I moved to Sydney, Australia, and then Rosario, Argentina, these and a pair of black flats were basically the only shoes I would wear because, living in cities, I needed to be able to walk some serious distances at times. They're also easy enough to clean off and really don't show dirt too badly, either. (And Rosario had some pretty dirty streets…no offense, Rosario!)
And to prove just how much use I'm getting out of these heels and to give you a little style inspo, check out my 10 different looks featuring these heels below! I'd love to hear your favorite one in the comments too.
How to Style T-Strap Heels: 10 Different Looks!
1.) Classy Vintage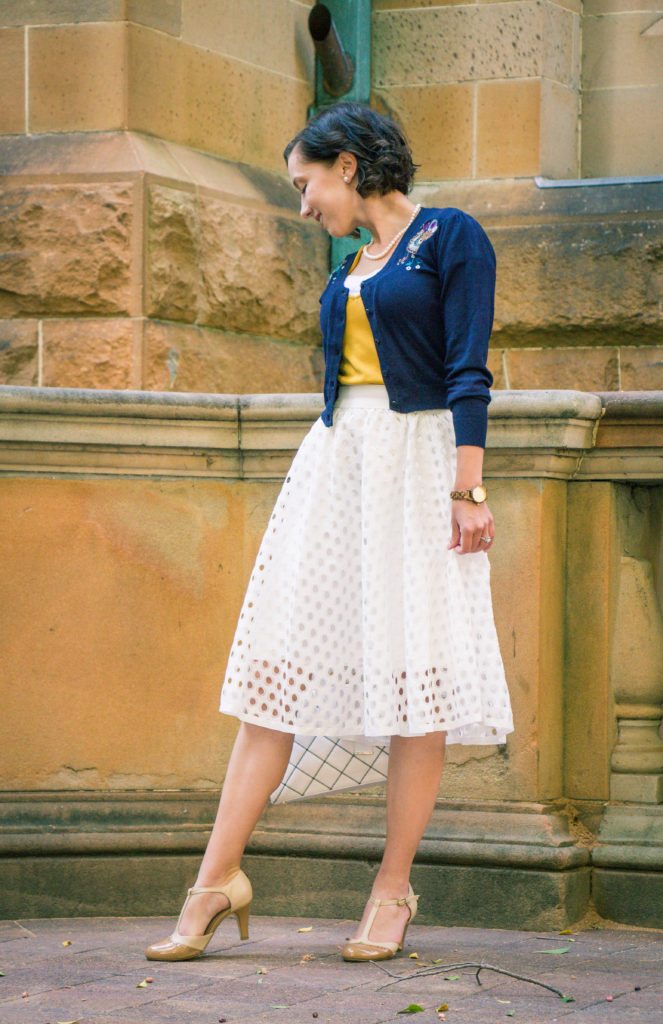 My first outfit featuring these shoes! I think this might be my favorite one with them too. I had worn this outfit for a tour of the Sydney Opera House…and it involved a lot of walking to get there!
Outfit Post: My Favorite New Vintage-Style Fit
2.) For a Summer Garden Party
This was an outfit post that took me outside of Sydney and also required a lot of walking through parks and beaches and to my bus stop! Once again, these heels prevailed!
Outfit Post: Back to Nature Garden Party Skirt
3.) With The Perfect Bodycon Dress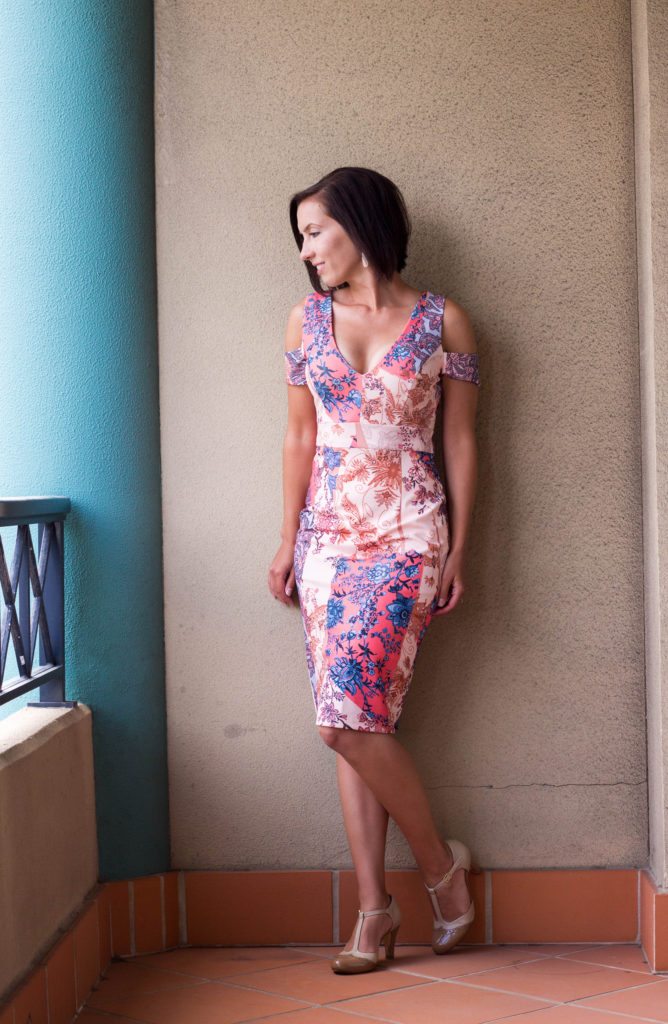 Alright, this post didn't require a ton of walking…but hey! Look! They even work with a pink bodycon dress, haha.
Outfit Post: Styling the Perfect Bodycon Dress
4.) Bright & Snowy Winter Vibes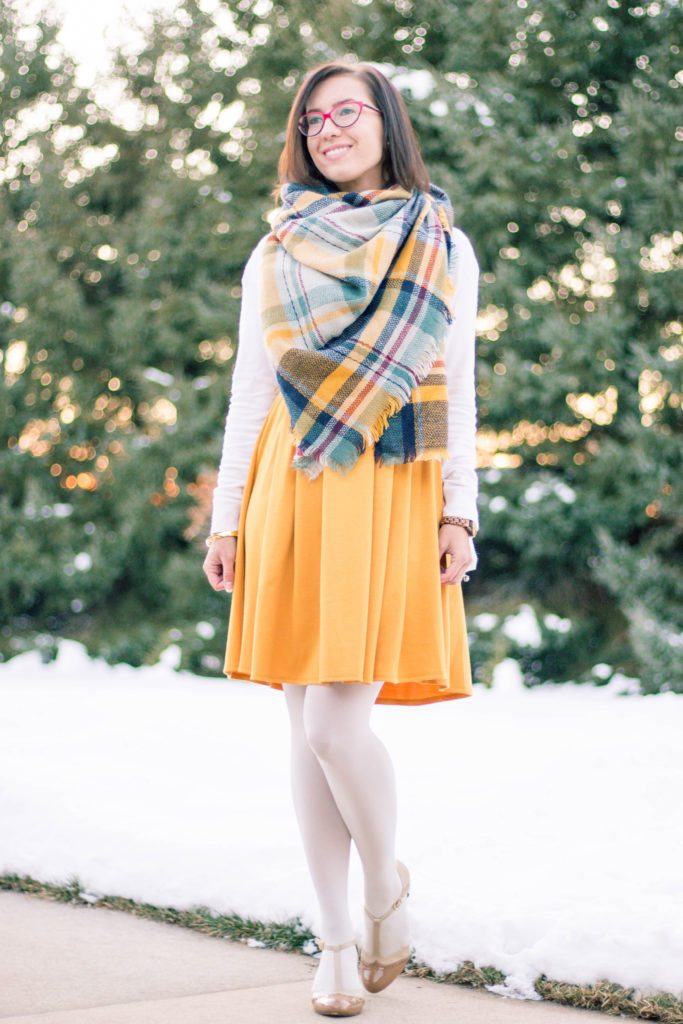 And then, the week after I wore that bodycon dress, I took these heels for a spin in the frozen tundra of Wisconsin! And they proved to be snow-worthy too. (But avoid snow banks, haha.)
Outfit Post: Styling a Blanket Scarf
5.) With A Summery Butterfly Dress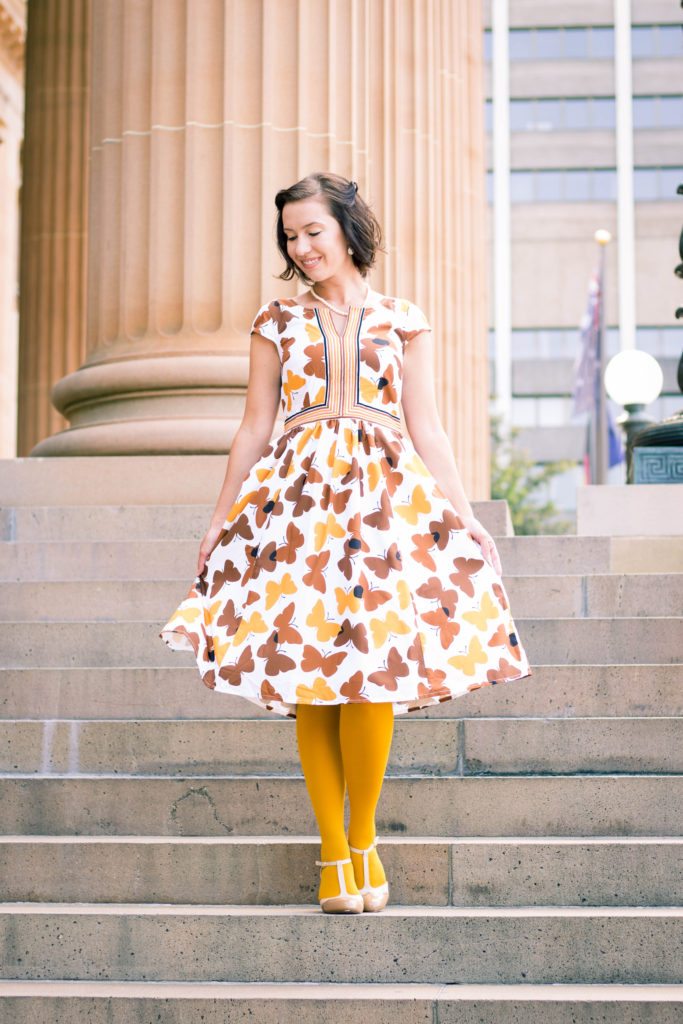 Back to Sydney, we go! I had worn this outfit to explore a South African restaurant on the other end of the city. The buses we had to take to get there were standing room only…and while it was tricky, I still managed to not tip over standing up on a bus wearing these heels, haha.
Outfit Post: A Summery Butterfly Dress in Sydney
6.) A Dressy-Casual Outfit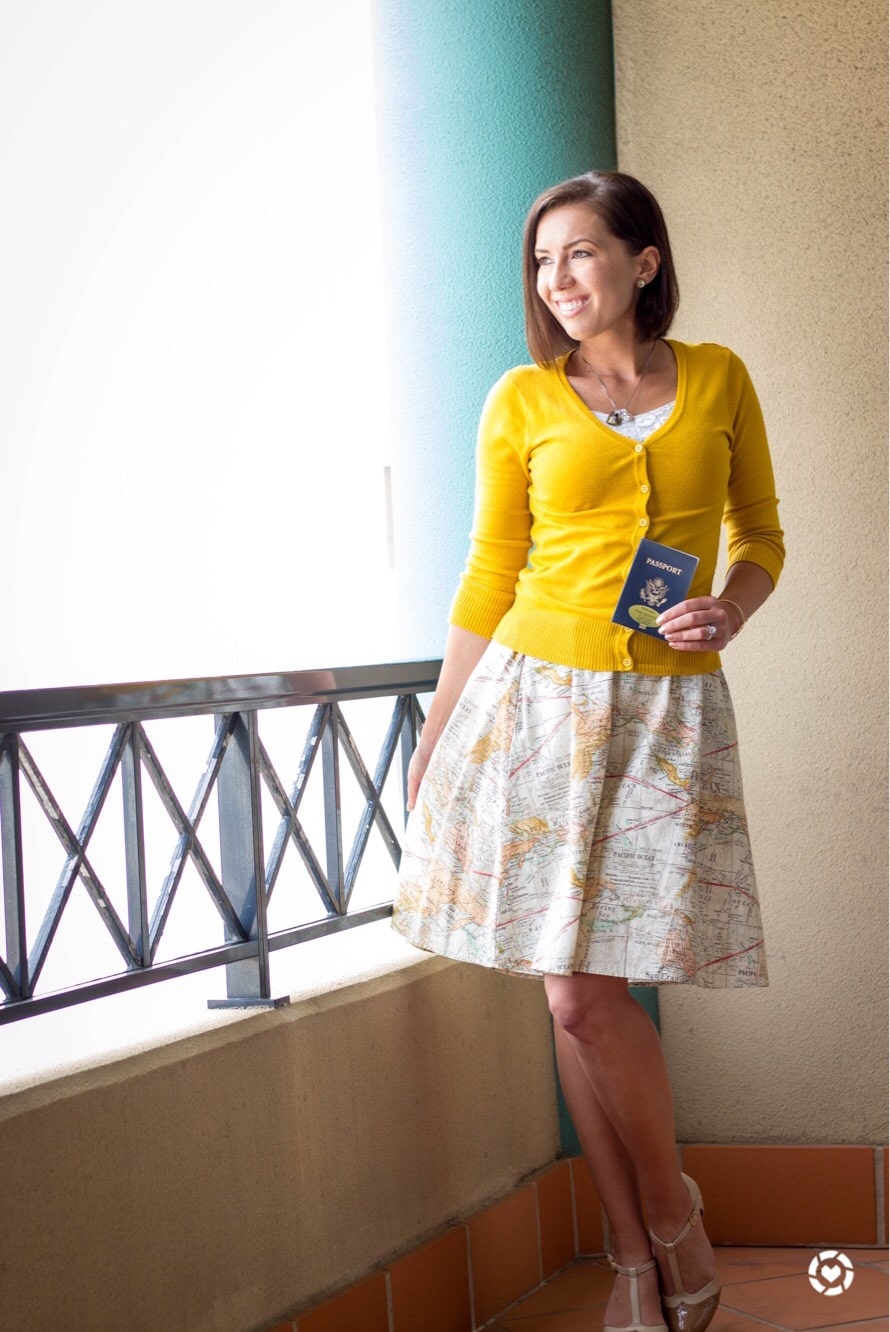 Sigh, and then when we found out we were moving from Sydney to Rosario. A bittersweet day that involved several adult beverages at the end of it…and I was still able to walk safely home wearing heels, haha.
Outfit Post: Moving Across the World… Again!
7.) With Casual Streetwear in Rosario, Argentina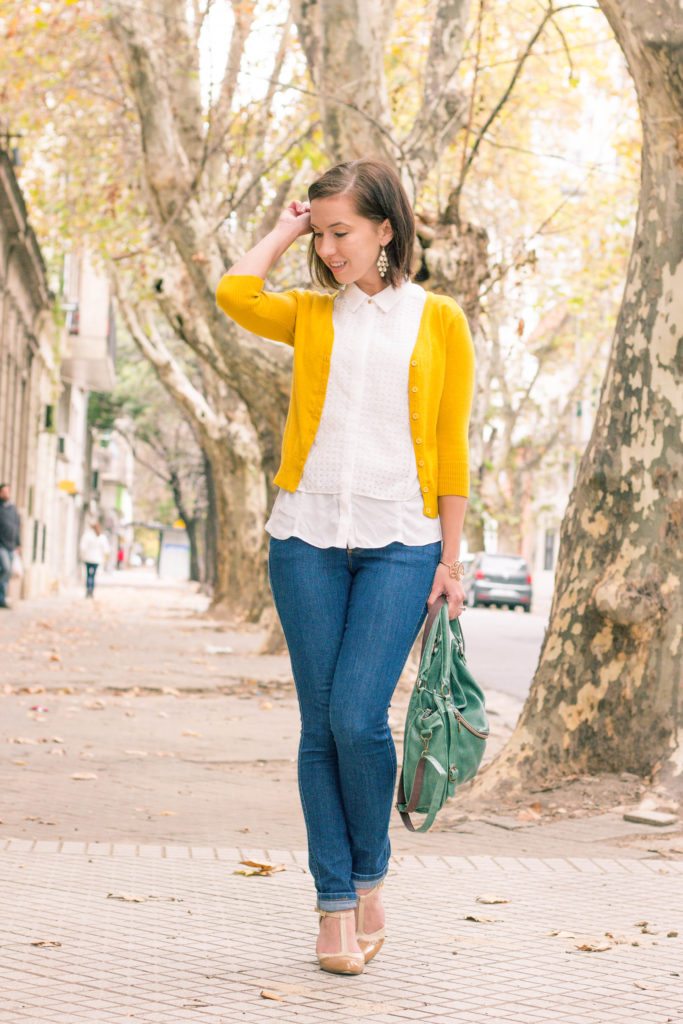 And here is one of my first outfit posts from Rosario. The streets of Rosario are a bit, ah, tricky because they are rather broken and dirty. It's important to wear closed-toe shoes and shoes that are easy to walk in. Thankfully, these t-strap heels fit the bill for both! And look..they work with jeans too!
Outfit Post: Casual Weekend Wear in Rosario
8.) A Stylish Fall Outfit in the City
Oooh, this was an outfit post I dedicated solely to how amazing these heels are! I had owned them for about a year at this point.
Outfit Post: Heels Made for Walking!
9.) A Green and Yellow Super Bowl Outfit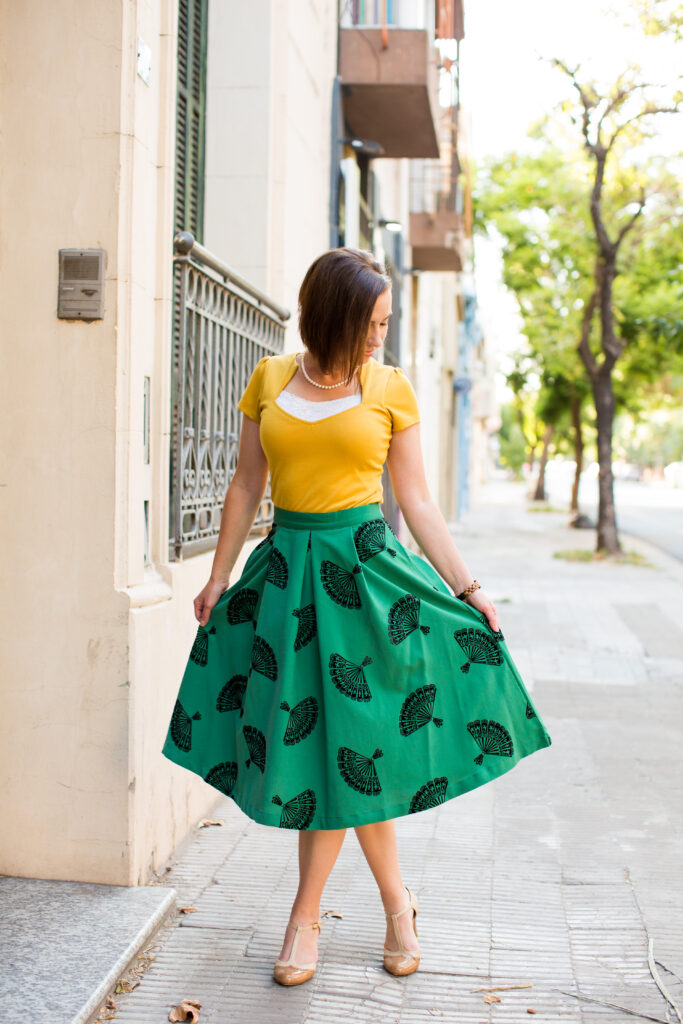 So, this outfit was actually from the Super Bowl this year. Our friend in Rosario had a little party at his apartment, and none of us were really too concerned about who won the Super Bowl…because we're Green Bay Packers fans. So, we wore our team's colors in support, haha.
Outfit Post: Styling a Midi Skirt for a Super Bowl Party
10.) With an All-White Ensemble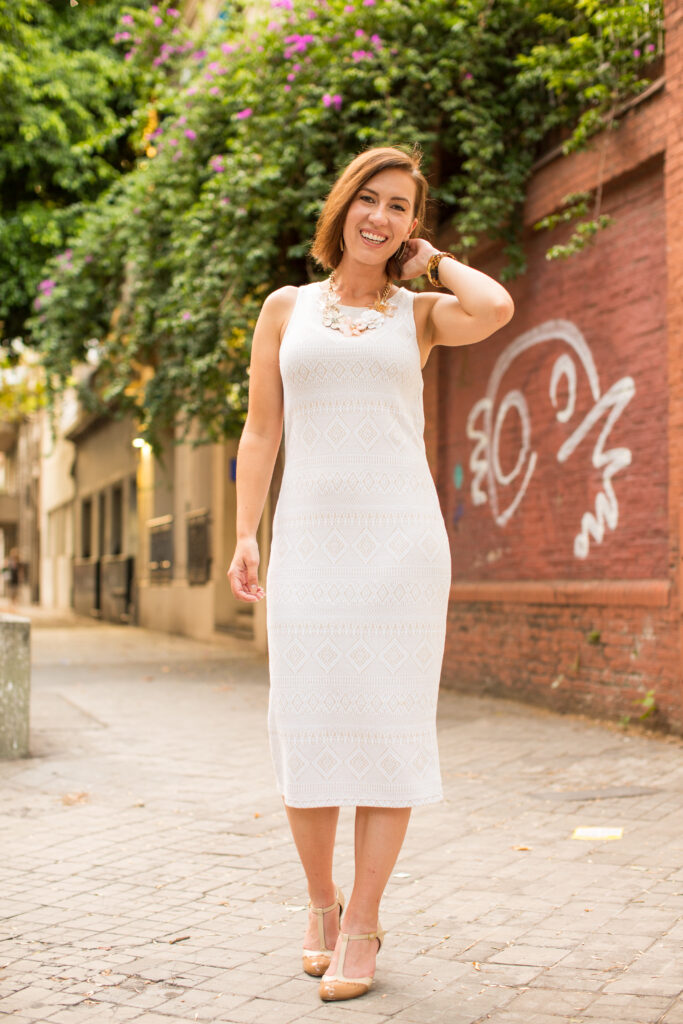 One of my last posts from Rosario…also a bittersweet day. There was a tapas restaurant in Rosario that I had been meaning to try for forever, and once we found out we were leaving I made it a mission to try it! It was such a LONG walk from our apartment, though. I think we walked for 30 minutes, haha. Good thing these heels are comfy…
Outfit Post: Summer-Ready in a Sheath Dress
Which of these looks is your favorite? And how would you style these heels? Let me know in the comments!
*Heads up to my regular readers, with the holiday on Monday here in the US, I will NOT have a new blog post. My next one will be on Wednesday! Enjoy your weekends!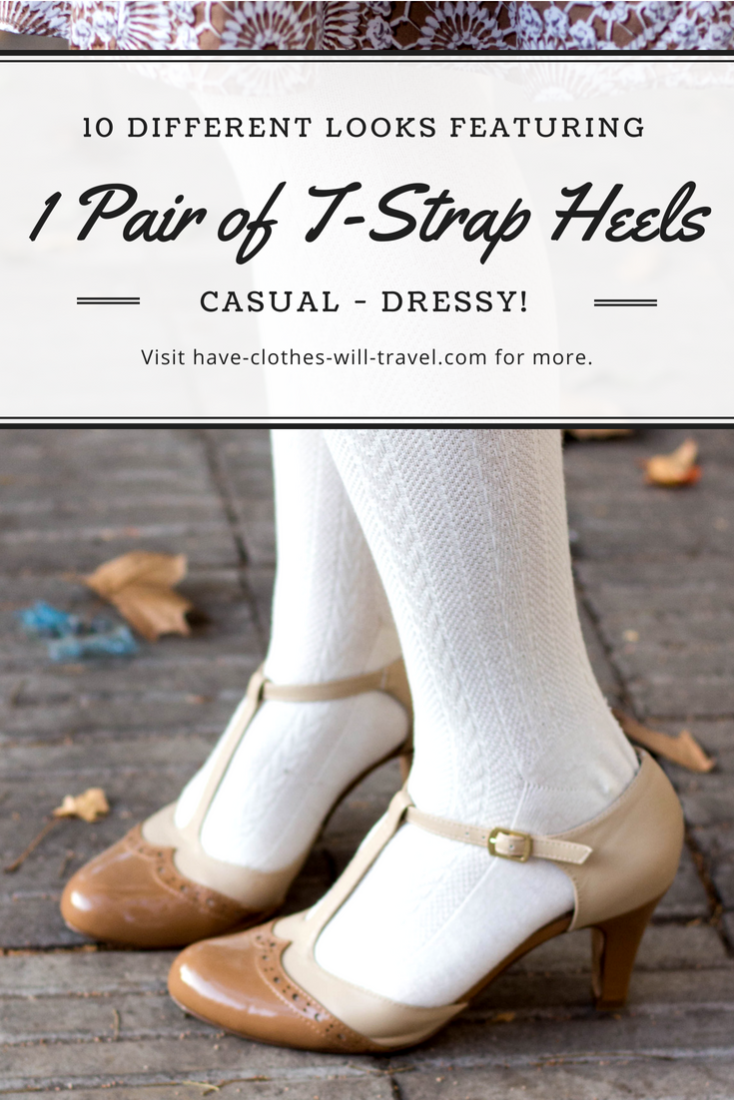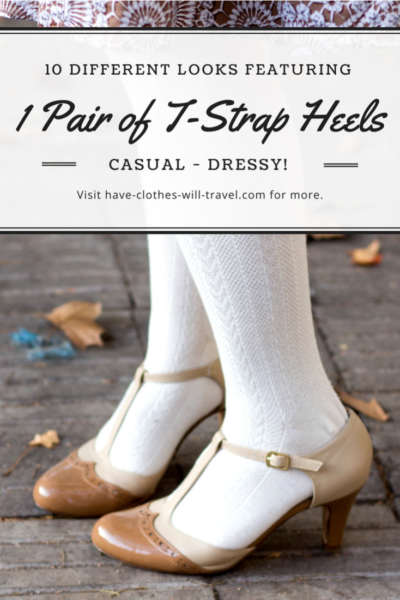 *Disclosure: some of these links are affiliate links. Meaning, if you click a link and make a purchase, Have Clothes, Will Travel gets a very small commission at no extra cost to you. Thank you for supporting the brands that make this blog possible! I am also a participant in the Amazon Services LLC Associates Program, an affiliate advertising program designed to provide a means for us to earn fees by linking to Amazon.com and affiliated sites.
*c/o = courtesy of, meaning the company gave me the product to be used on my blog, and I did not pay for it. All opinions are my own, and I am not being compensated for a positive review.