The Best Skirt in My Closet (For 5+ Years!)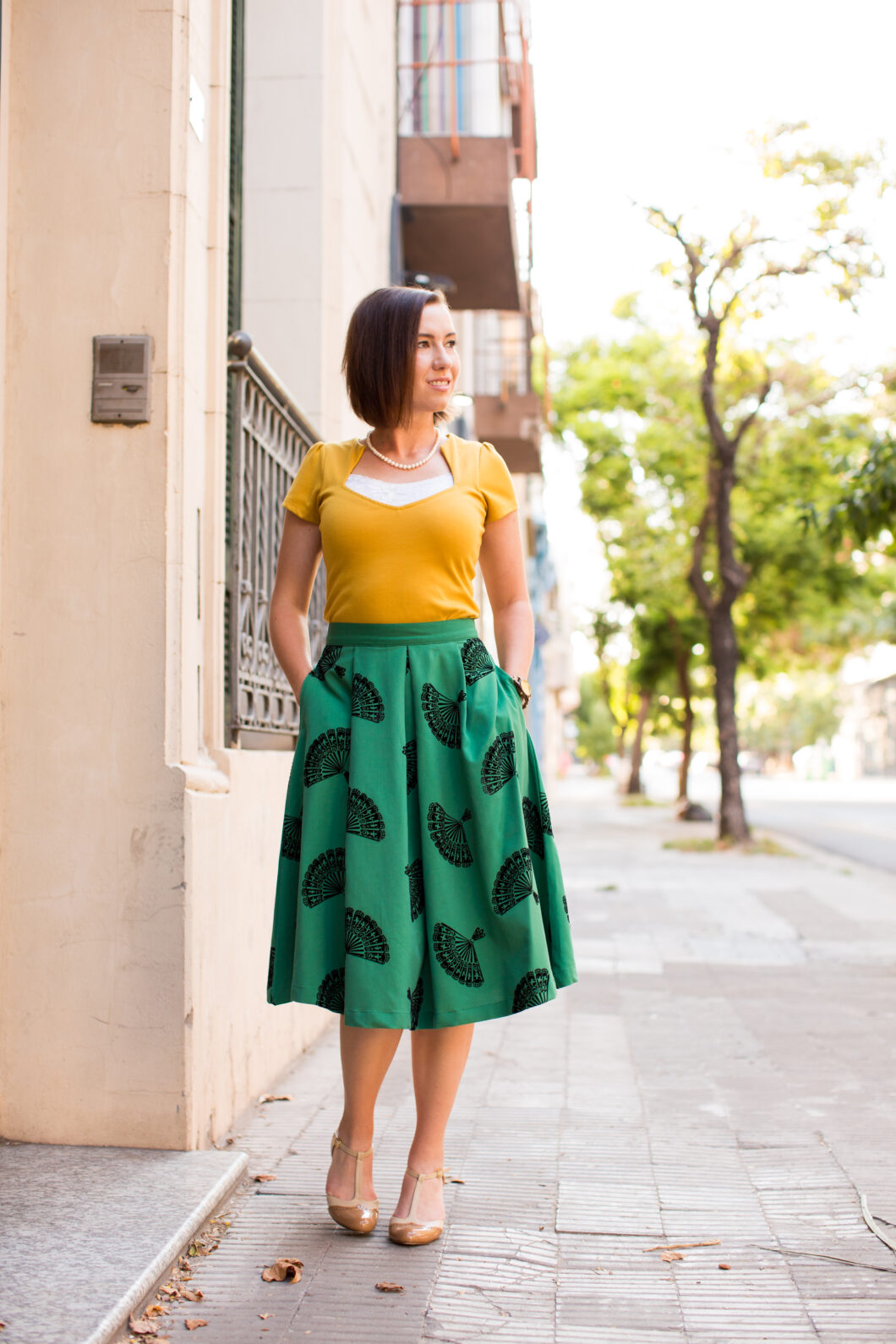 Skirt (on sale!!) | Heels | Top (similar) | Cami (on sale!!) | Watch c/o* | Necklace (similar)
The award of "Best Skirt in My Closet" is one I don't give lightly, but this skirt has been out doing itself for almost 6 years! This skirt came along and swept me off my feet the moment I laid eyes on it…and it still makes my heart race when I see it in my closet. With those little velvet fan appliques, its beautiful pleats and twirlability, I just can't get enough.
I've had this fan midi skirt for almost 6 years now and still love it to bits. I've worn it on countless adventures around the world (and just to run errands) and I still have so many ways I want to style it. My regular readers are probably a bit tired of this skirt by now…it makes an appearance about every 6 months or so on my blog. (Sorry!) But I thought today would be a great day to feature it again because it's actually ON SALE today. That never happens! (Click here to shop it.)
But if you need a little more convincing of why I love this skirt, check out my list below!
10 Reasons Why I Love This Fan Midi Skirt So Much!
1.) It's incredibly versatile. This skirt is perfect to wear with heels or flats. I can style this skirt with so many different tops, shoes, prints, purses, tights and jewelry! I still have a boat load of colors I want to pair with it. (I really want to pair it with a black & white striped top next – any suggestions on where to find a good one would be appreciated in the comments!)
2.) This skirt is SO well-made. I mean, I've had it for almost 6 years and wear it about twice a month (granted this is on average… sometimes it's more, sometimes it's less), and it still looks brand new.
3.) It's machine washable – I can put this in my washing machine with no problems. No need to run up a dry cleaning bill!
4.) This is THE best twirling skirt in my closet. (Proof of that in this post.)
5.) It is so unique. I mean, how many fan skirts have you seen in your day? Haha.
6.) One of my favorite bloggers (Lauren of Grace Rock Kelly Roll) also has this skirt. So, we can plan twinsy days!
7.) It's comfortable! The material is soft and the waist has some give…so I can wear it all day long without discomfort.
8.) No wardrobe malfunctions! The material is heavier (but not so heavy I can't wear it in summer), so I don't have to worry about any Marilyn Monroe moments when I wear it.
9.) POCKETS! It has pockets! 'Nuff said!
10.) The perfect length for a skirt is a midi skirt! (That might be just me, though.)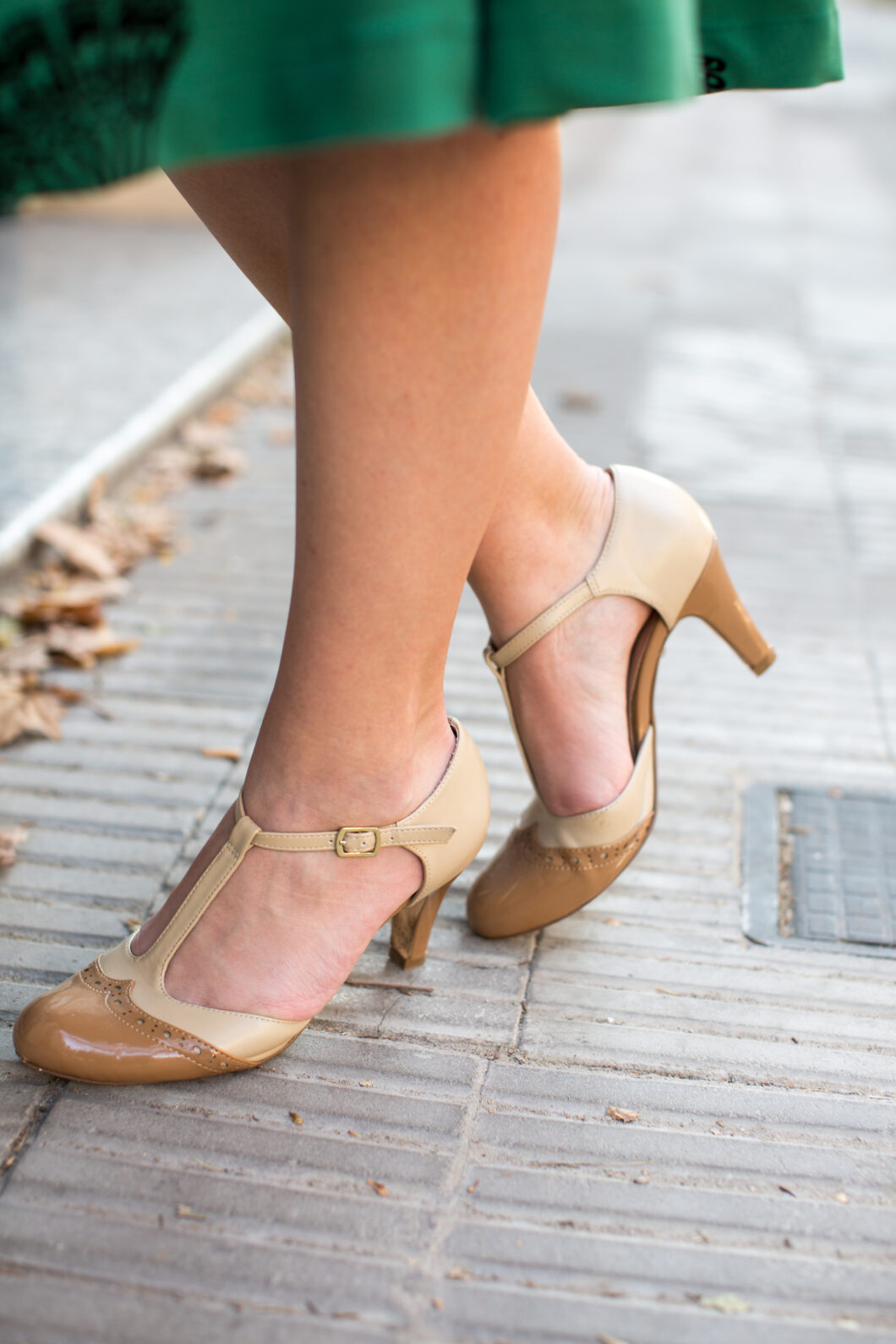 The Best Heels in My Closet
Also, while we're on the subject, these are the best heels in my closet. Haha. I already did a whole post on why I love these so much, though. So, I won't drive you all crazy with that, again! (You can see that post, here.) But boy oh boy was it nice to wear my best heels and skirt together!!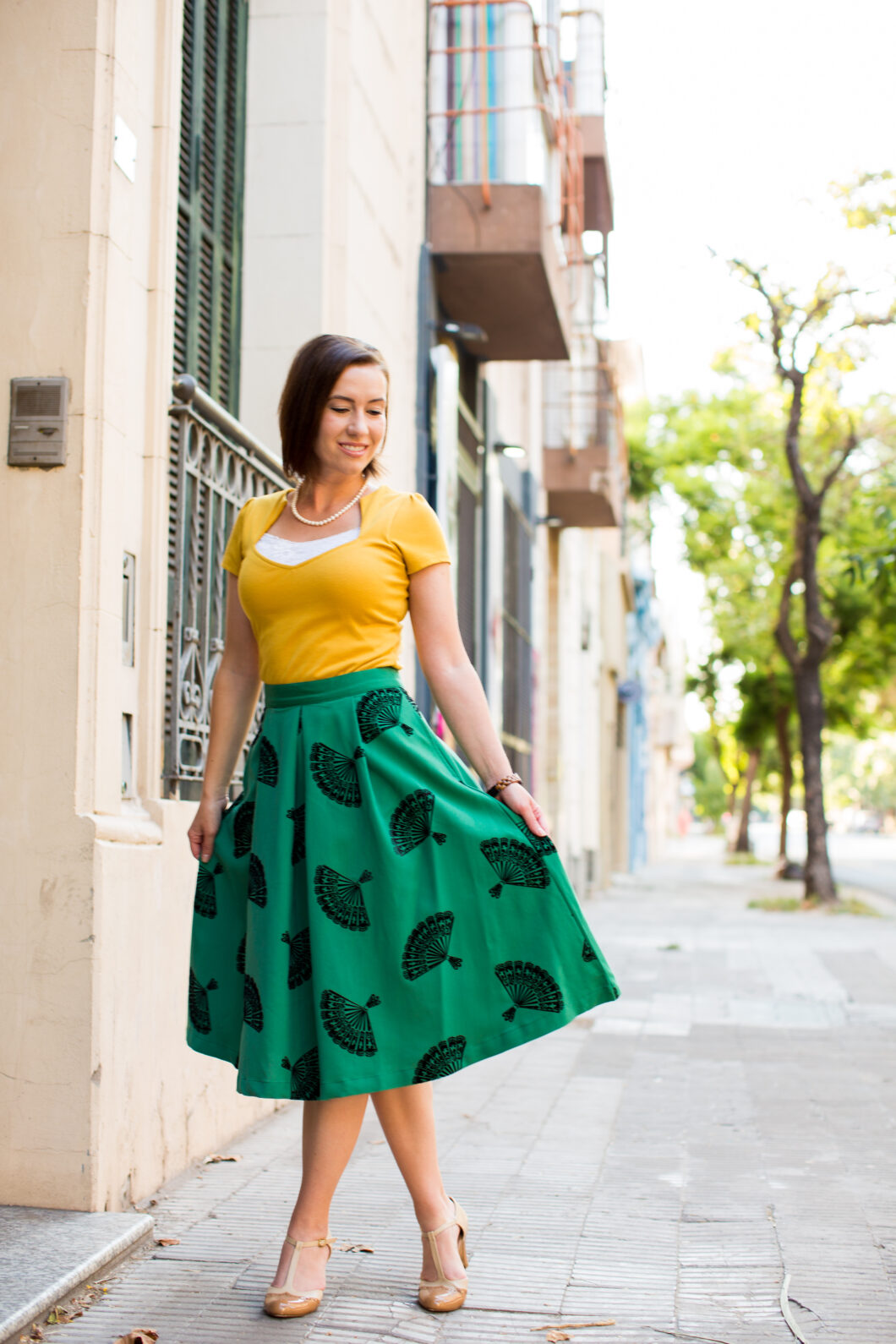 And you can see all of my posts featuring this skirt by clicking here!
What's the best skirt in your closet? Let me know in the comments!
*Regular readers: These photos were taken when I was still living in Rosario – it is NOT this warm in Wisconsin. Haha. And I have still absolutely no idea what's going on next for moving. However, it sounds like we should have some idea by next week. Stay tuned!
Where to find it:
Skirt: ModCloth (Similar here)
Heels: Chelsea Crew
Top: Old (Similar here)
Cami: Maurices (on sale!!)
Watch: c/o* JORD
Necklace: Gift from my husband (Similar here)

*Disclosure: some of these links are affiliate links. Meaning, if you click a link and make a purchase, Have Clothes, Will Travel gets a very small commission at no extra cost to you. Thank you for supporting the brands that make this blog possible! I am also a participant in the Amazon Services LLC Associates Program, an affiliate advertising program designed to provide a means for us to earn fees by linking to Amazon.com and affiliated sites.
*c/o = courtesy of, meaning the company gave me the product to be used on my blog, and I did not pay for it. All opinions are my own, and I am not being compensated for a positive review.