What to Wear Under a Graduation Gown for Both Women and Men
Your graduation day is fast approaching, but what are you supposed to wear under your graduation gown? This is a question that many soon-to-be high school and college graduates have and you will find your answers right here. Should you wear something casual and comfortable, or do you need to be photo ready?
Not to worry, we are going to discuss what you should and should not wear underneath your graduation gown right here, and even give you some options of attire that will be perfect for photos and celebrations for guys and ladies. There are also outfit ideas at the end of the post you can easily shop online – including outfit ideas for what to wear as a guest at graduation.
What Should I Wear Under My Graduation Gown?
First, let's talk a little about the kind of attire you should wear under your cap and gown.
Dress for the Season
Make sure that the clothing under your cap and gown is seasonally appropriate. Graduation gowns can be quite warm, and many graduation ceremonies are held in the early summer.
You are probably not going to want to wear sweaters or long sleeves under your gown. You want to be cool and comfortable and not run the risk of overheating, excessively perspiring, or worse fainting.
Pick the Right Top
Because of the way that graduation gowns are cut, your top will show even with the hood (sash) so make sure that it is something appropriate.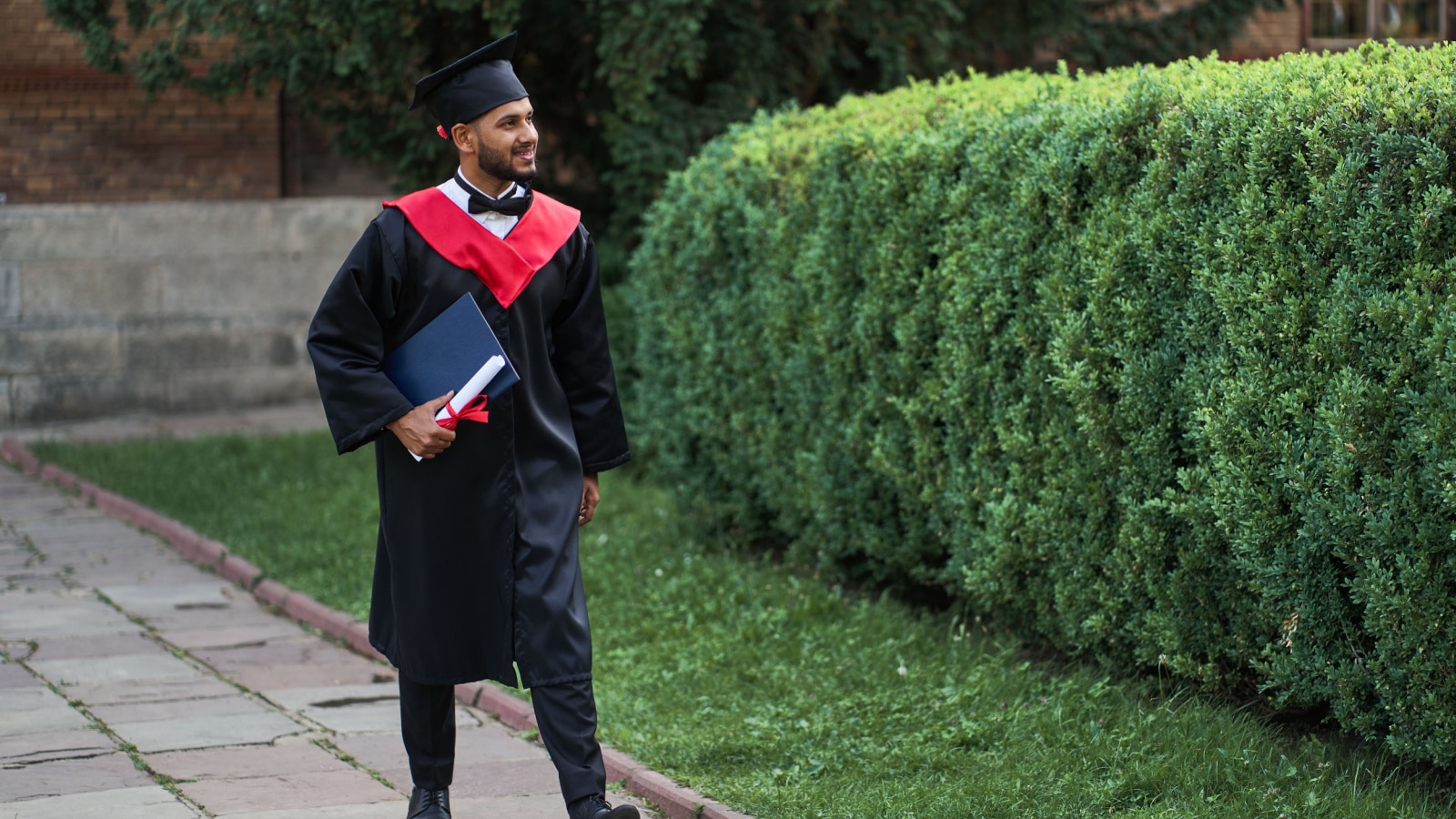 For men, the best option is usually a collared dress shirt and tie. Both the collar of the shirt and the tie will be visible above the neckline of the gown. Some schools require a certain color of dress shirt so make sure that you check your school's guidelines.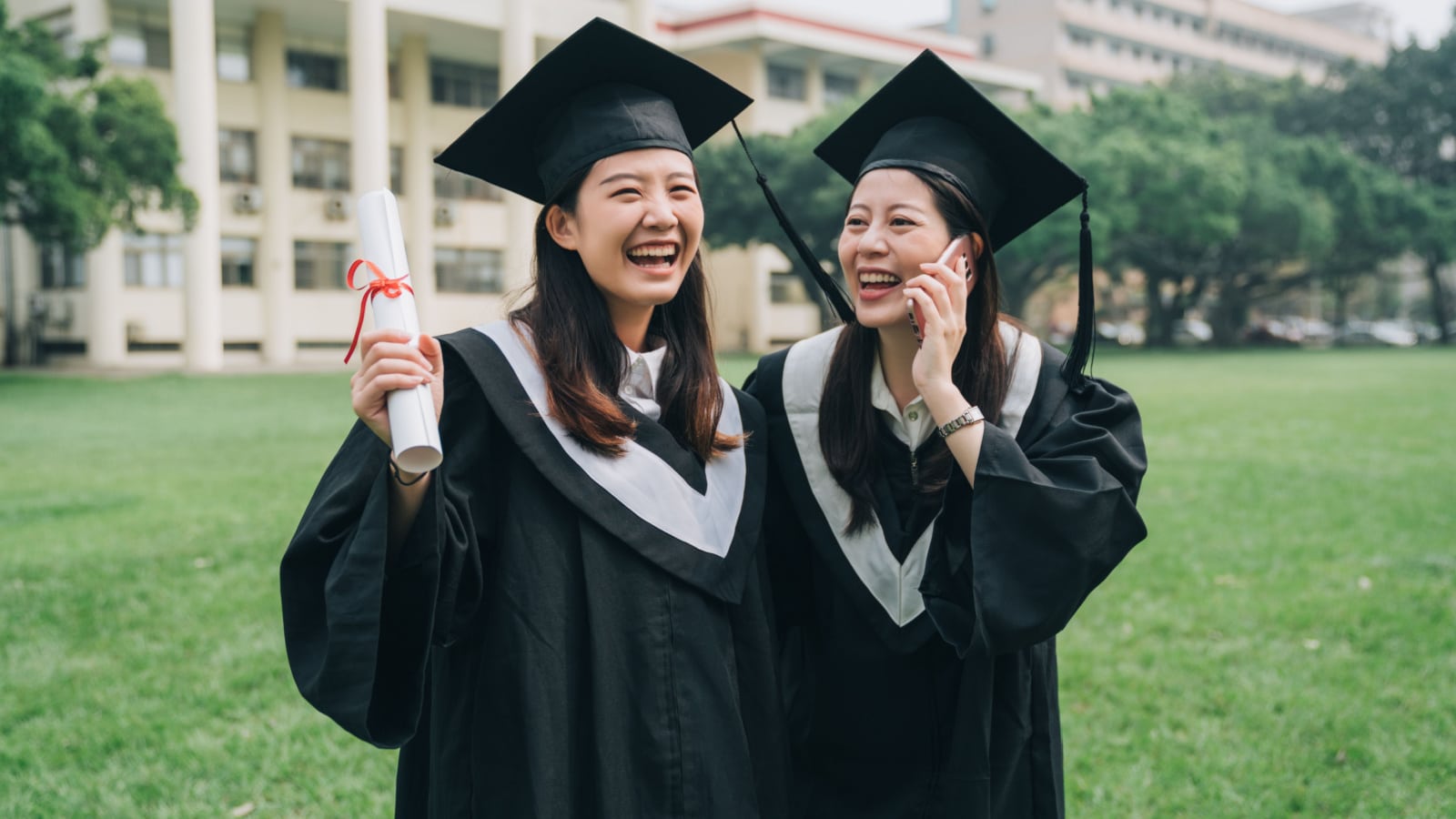 For ladies, you are going to want a scoop neck top with a modest cut or a collared shirt for your top, you may also choose to wear a dress which will be discussed below.
Choose Your Bottoms Carefully
You need to select your bottoms carefully as well because depending on your choice, they will show beneath the hem of the gown.
For men, you should choose khaki or dark-colored dress pants. Again, some schools have a dress code that is expected to be followed where they may specify the color of pants that you should wear.
For ladies, you can wear dress pants or a skirt underneath your gown. You should wear darker-colored pants, and if your skirt is long enough to be seen under the hem of the gown it should be a darker color as well.
If your skirt can't be seen under the gown, then you can feel free to wear a light or brightly colored one.
Dress Considerations
Some high schools and universities prefer for the ladies to wear dresses underneath their graduation gowns. Many of them also specify that the dress needs to be either white or light color so that it doesn't shine through the gown.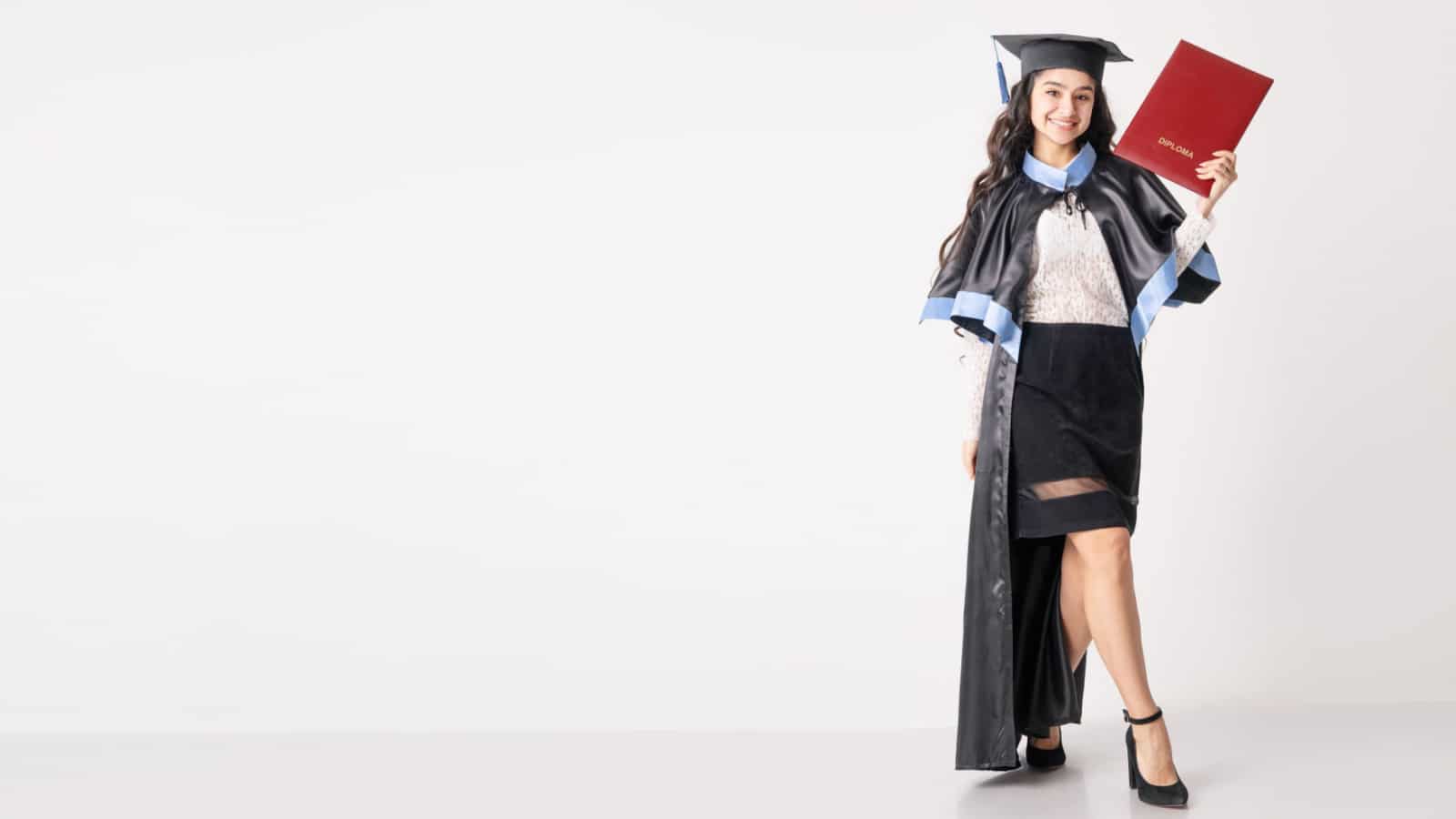 If your graduation gown is in a dark color like black, navy, maroon, or dark green then you can wear any color dress that you like, but choose one that will be flattering in your pictures after the ceremony.
If you are choosing a dress, pick one that won't show beneath the hem of your gown. A mini or midi dress length would be most appropriate as a maxi-length dress will likely show under your gown.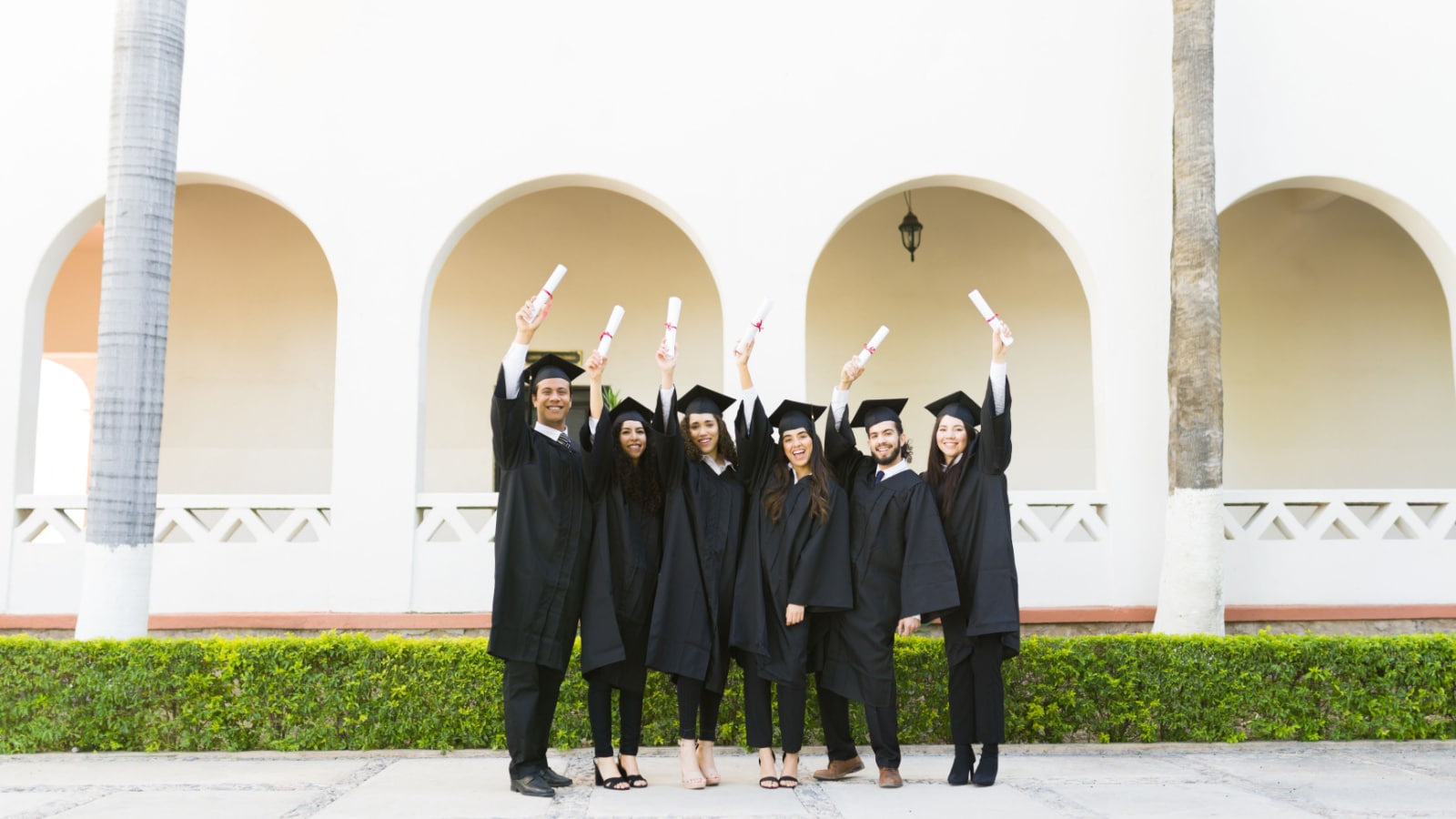 Shoes
For men, closed-toe dress shoes are what you should wear. For the ladies, you should also opt for a closed-toe dress shoe, and you may want to avoid high heels.
Heels can sink into the grass if your graduation ceremony is outdoors, and you also don't want to run the risk of tripping on the stage. Consider choosing wedges or platforms, especially if you are outdoors and worried about sinking into the soft ground.
Accessories
It is perfectly appropriate for both men and women to wear their class rings. Your earrings should be elegantly simple, and if you are wearing a necklace that accentuates your outfit, it should be tucked under the gown until after the ceremony is over.
Now that we've got all of that out of the way, check out these clothing options for graduation day!
Graduation Outfit Ideas for Men
Men's Pants
For the gentleman graduates a nice pair of dress pants like these in black would be suitable. If your school doesn't specify a color for the pants you could also wear a nice pair of khakis, although these also come in navy and black if you need dark bottoms.
Men's Shirts
If your school requires a white dress shirt underneath your graduation gown, then you might like this white button-down collared shirt. If they don't require white, the shirt also comes in several other colors like gray, navy, and light blue.
If you are trying to make sure that you don't overheat under the gown you might enjoy this collared linen button-down shirt. The shirt comes in white if that is a requirement but it also comes in navy, olive, green, light blue, and several other colors.
Sports Coat
If your graduation ceremony is on the formal side you might want to consider adding a sports coat to your outfit underneath your graduation gown. In most cases, it is not required but it will look great in pictures after the ceremony.
You might like this linen sports coat that is available in nine different colors including navy, red, and white. The linen material will keep you cool and wick away moisture even under your gown.
This lightweight sports jacket is another appropriate and fashionable option for what to wear under your cap and gown. It is available in sizes small to 3x and comes in 35 different colors so you are sure to find one to match your look.
Ties
For most high schools and university graduations, ties are optional for men, however, they can add a pop of color and pizzazz to your graduation pictures. Ties can pull together your look, just make sure your tie is knotted correctly if you wear one.
If you decide to wear a tie you can choose a solid color or one with a pattern, you just might want to avoid anything with a wild pattern that may clash with your cap and gown. A solid color tie like this one would be appropriate and there are 20 available colors for you to choose from. A patterned or striped tie like this one would also work just be sure that the colors you choose don't clash with your gown.
Men's Shoes
We've already mentioned that both men and women are expected to wear closed-toe shoes. Dress shoes like these in brown or black would work nicely, or perhaps you prefer this style in cognac or black.
Graduation Outfits Ideas for Ladies
Dresses
Reinette Midi Dress
This Reinette midi dress is a perfect choice for graduation with its mid-length that won't be seen under your gown with its princess-seamed bodice and spaghetti straps. The dress comes in white if that is a requirement of your alma mater, as well as emerald green, pink, black, and several other colors.
Sarin Matthews Off the Shoulder Skater Dress
This beautiful off-the-shoulder skater dress would also be a great choice to wear underneath your graduation gown. This dress comes in white if that is a requirement, but it also comes in a variety of other solid colors like yellow, and rose-red, as well as some floral prints.
Jumpsuits
One graduation outfit option that you might not have considered is a beautiful jumpsuit. A jumpsuit will look great for pictures after the ceremony and is perfectly appropriate for wearing under your gown.
Sleeveless Double Strap Jumpsuit
This sleeveless double-strap jumpsuit will stay comfortably on your shoulders, thanks to the double straps. This jumpsuit will carry you from the ceremony to the celebrations afterward with class! This one is available in black, birch leaf (tan), and boysenberry.
Two Piece Wide Leg Jumpsuit
Perhaps you would prefer this sleek and stylish two-piece jumpsuit to wear on your big day? This two-piece set comes in hot pink, red, black, and white. Pair it with some cute shoes and you are all set for the ceremony and whatever your plans are for afterward.
Skirts
Are you most comfortable in a nice skirt and blouse? That is a perfectly acceptable outfit to wear underneath your cap and gown, and your pictures will be amazing!
Tassel Hem Midi Skirt
You might like this midi skirt with a tassel hem. The mid-length skirt with tassels won't show beneath your gown but it will shine in the pictures afterward, and this one is available in cream, bright blue, green, black, and brown.
Above Knee Mini Side Split Pencil Skirt
This above-the-knee mini-side split pencil skirt can be a part of what you wear under your graduation gown. This skirt is comfortable, cool, and soft, and it comes in 27 different colors so that you can style your perfect graduation day look.
Blouses
Silk Wrap Blouse
A silk wrap blouse like this one can be perfectly paired with pants or a skirt underneath your cap and gown. This beautiful puff sleeve silk top is perfect for warm weather graduations and it comes in 30 different colors so that you can mix and match it with practically anything.
Ruffle Cold Shoulder Blouse
This ruffled cold shoulder blouse would also pair together with a skirt or dress pants underneath your cap and gown. The rounded neckline and cold shoulder sleeves will keep you comfortable and it comes in a variety of colors and prints for you to choose from.
Shoes
We've already mentioned that many schools require shoes to be closed-toe for graduation ceremonies. That doesn't mean you can't bring your favorite strappy sandals for after the ceremony though. In fact, you should bring an additional comfortable pair of shoes that compliments your outfit to wear after the ceremony, particularly if your graduation is on a field outdoors.
Ballet Flats
A pair of ballet flats like these can be perfectly appropriate for walking the field. You don't have to worry about sinking into the grass or tripping over your heels on the stage with these shoes.
Warner Pump
If you are comfortable wearing heels and your school doesn't require that they be closed-toe then you might like these slip-on pumps with a wedge heel. The heel is wide enough that even if you are walking on grass you won't have to worry about sinking in, and they come in a variety of colors.
What should a graduation guest wear?
Maybe you aren't the graduate yourself but have been invited to attend the ceremonies of a friend or family member's graduation. What do you wear then? Many of the suggestions above would be just as appropriate for graduation guests but here are a few other selections you might enjoy.
Ladies Graduation Guest
Maxi Dress
A flattering maxi dress like this one means that you will be comfortable throughout the ceremony, and look your best for the pictures afterward. This dress is available in several bright, beautiful colors too!
Strappy Sandals
Pair your dress with a cute pair of strappy shoes like these and show off your latest pedicure. They are available in a variety of sizes and come in black, gold, and nude.
Kenzi Floral Midi Dress
This cute floral midi dress would also be perfect for a graduation attendee, don't be surprised if you see a similar dress on a graduate. It would be completely appropriate underneath a cap and gown too!
Harper Ankle Strap Heels
These cute ankle strap heels would go with the dress, and lots of your other favorite outfits too. They come in a variety of colors and at this price, you can get a few pairs!
Men's Graduation Guest
Dress Pants
These comfortable dress pants can be dressed up or down depending on the occasion. You can pair these pants with a sports coat for a night out or business dinner or a polo or button-down shirt for a graduation ceremony.
Polo Shirt
As a guest at a graduation ceremony a nice polo shirt is perfectly acceptable attire. They come in so many great colors too so you can really personalize your style!
Chinos
If you are going for casual comfort, while still being appropriately dressed to attend a graduation ceremony you might consider a pair of chinos like these. These chinos won't wrinkle and don't require an iron…ever. They also come in a large selection of colors.
Button Down Shirt
A button-down shirt is an appropriate clothing choice to pair with chinos or dress pants if you are attending graduation as a guest. This button-down shirt comes in more than 20 different colors, and prints.
Now you know all about what is appropriate to wear to a graduation ceremony whether you are a graduate or a guest. Are you graduating or attending a ceremony this year? What do you plan to wear?