What to Wear in 40-Degree Weather: Clothing Tips & Outfit Ideas
Wondering what to wear in 40-degree weather? Whether you're heading out for a run or to a nice dinner, this post has you covered! We've finally started to hit the 40-degree weather mark in Wisconsin, so it seemed like a good time to break out this post and share the best tips for dressing for 40-degree weather.
Forty-degree temperatures can really vary in how they feel depending on where you are and what the weather outside is. For example, temperatures in the '40s are going to feel pretty cold if it is also raining, damp, cloudy, or windy.
If it's a beautiful sunny day out with little to no wind then 40-degree temperatures can be quite comfortable, and you may even feel warm, especially if you live somewhere where the temperatures and weather get much colder with snow and ice during the winter months. (And after the month we just had, 40 degrees in Wisconsin feels like shorts weather!)
Dressing for forty-degree temperatures can be a challenge because you want to be comfortable and not too hot or too cold. That's where dressing in layers comes in handy! You can always remove a layer if you become too hot, or add a layer if you get chilled.
If you are in colder climates, and/or if there is a chance of rain or any dampness to the air you will want several layers. Not only does the clothing act as a layer of warmth protection, but the air in between those layers helps to keep you comfortable as well.
Wearing layers when it's 40 degrees out means that you can always shed a layer if the sun comes out, or you start to get too warm. You can also add a layer or two if you start to get chilly. So what should your layers consist of? Keep reading to find out!
*Disclosure: Have Clothes, Will Travel uses affiliate links. Meaning, if you click a link and make a purchase, Have Clothes, Will Travel gets a very small commission at no extra cost to you. Thank you for supporting the brands that make this blog possible!
Dressing for 40-Degree Weather – What Should I Wear for My Layers?
Well, for the layer closest to your skin you are going to want to choose a long sleeve t-shirt or a tank top or cami. You can find long sleeve t-shirts, tanks, and cami's in a huge selection of colors so you can always find something to match or coordinate with what you are planning to wear.
The Layer Closest to Your Skin
Long Sleeved T-Shirts
Long-sleeved t-shirts are the perfect clothing piece for layering during 40-degree weather. Not only are they amazingly comfortable, but you can also get them in any color you want, so they can pair with literally anything! You can find some here on Amazon.
Tank tops
You might not necessarily think about wearing a tank top in 40-degree weather, but they can come in quite handy when you want to layer your look for these temperatures. You can find some great quality but affordable tank tops here or here. Just like long sleeve t-shirts, you can find them in an array of colors so you can pair them with anything in your closet.
Cami's
Camisole tops can also be worn for your base layer. Just like long-sleeve t-shirts, and tank tops, they come in a variety of colors so you can coordinate them with the rest of your outfit. These camisoles come in a four-pack with a ton of colors to choose from.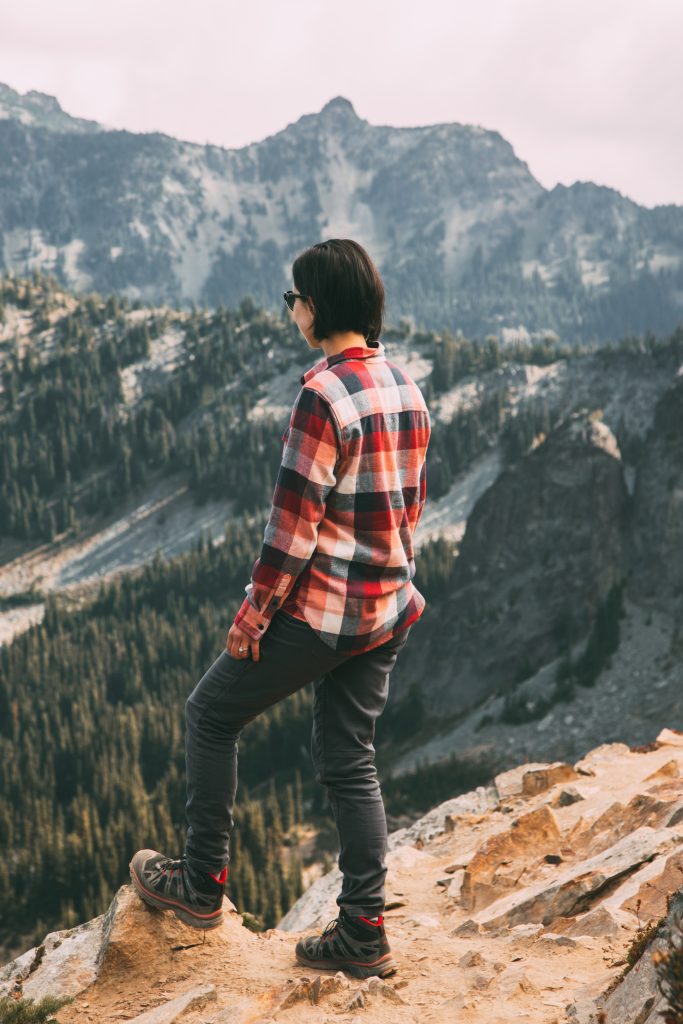 Middle Layers
Collared button-down long-sleeved shirts
A long-sleeve button-down shirt with a collar will pair perfectly with a base layer of a long-sleeve t-shirt, tank top, or camisole. Shirts like this one are perfect for creating a layered look in 40-degree weather.
If you are looking for something just a touch warmer than the classic button-down long-sleeved shirt check out this corduroy button-down shirt. It's soft and comfortable, perfect for temperatures in the 40s, and comes in a lot of beautiful colors.
Temperatures in the 40s may not be cool enough to warrant a leather jacket depending on where you live, but you could absolutely rock this vegan leather Abercrombie shirt. It comes in several colors including a mint green which would be beautiful for spring.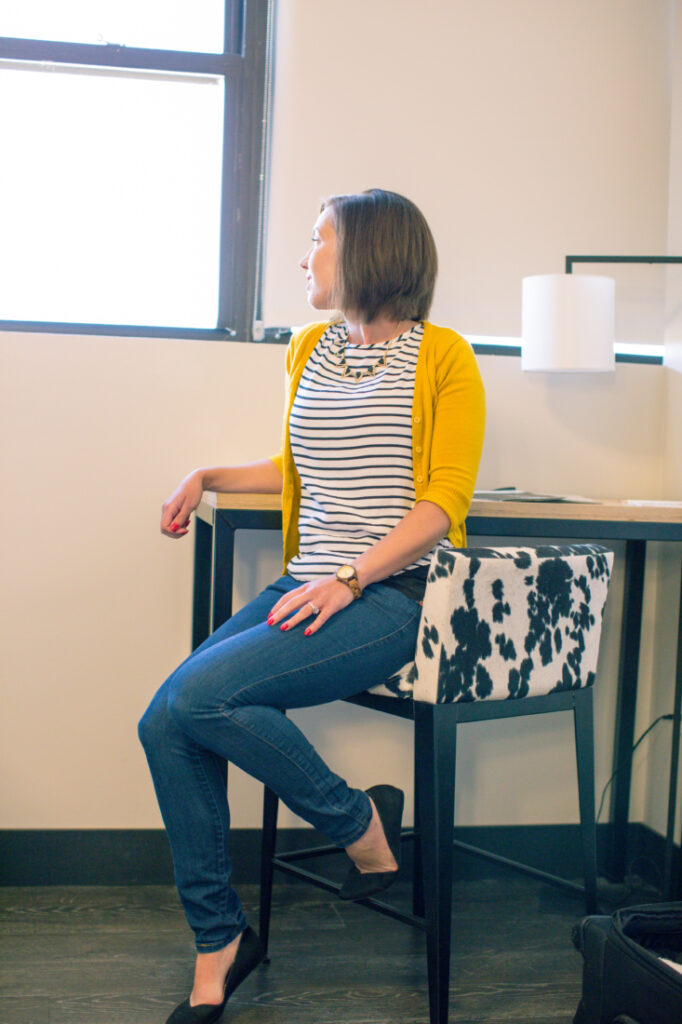 Cardigan
If you want something similar to a collared button-down shirt with long sleeves but want it to be a bit cozier then a nice cardigan might be the perfect choice!
You can get a nice long cardigan like this one and pair it with a long-sleeve t-shirt or tank and a pair of nice slacks or your favorite jeans.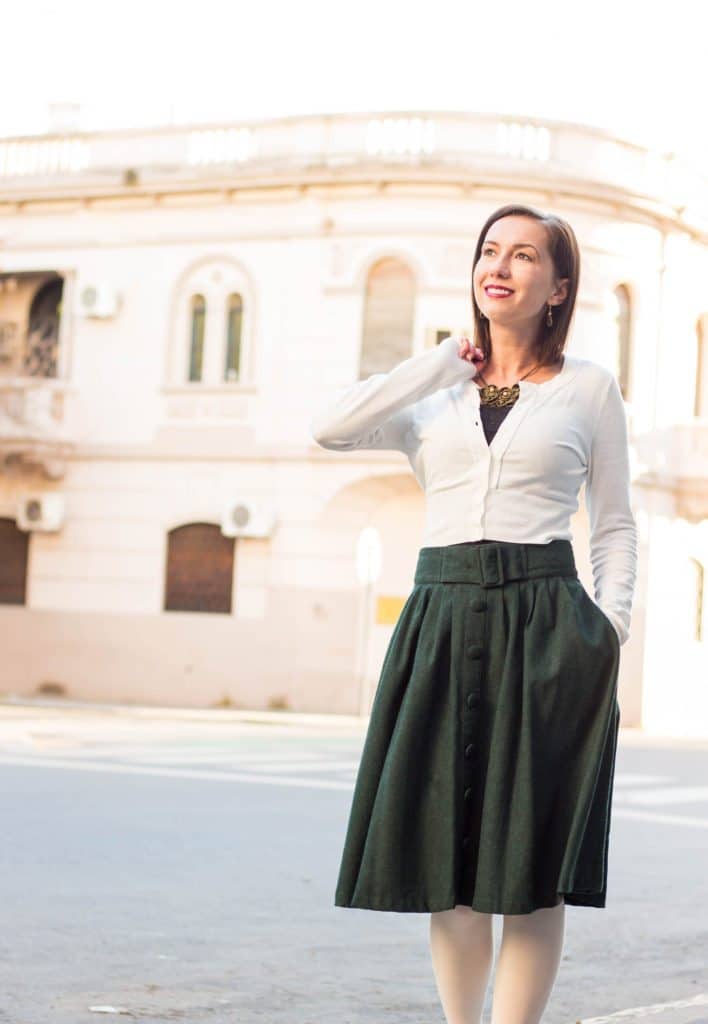 You could also get a shorter cardigan sweater if the long ones aren't really your style. These are called cropped cardigans and they are making a comeback in the fashion world right now. Wear them open or closed with your tank top or cami, and maybe pair them with a maxi skirt, a warm one of course!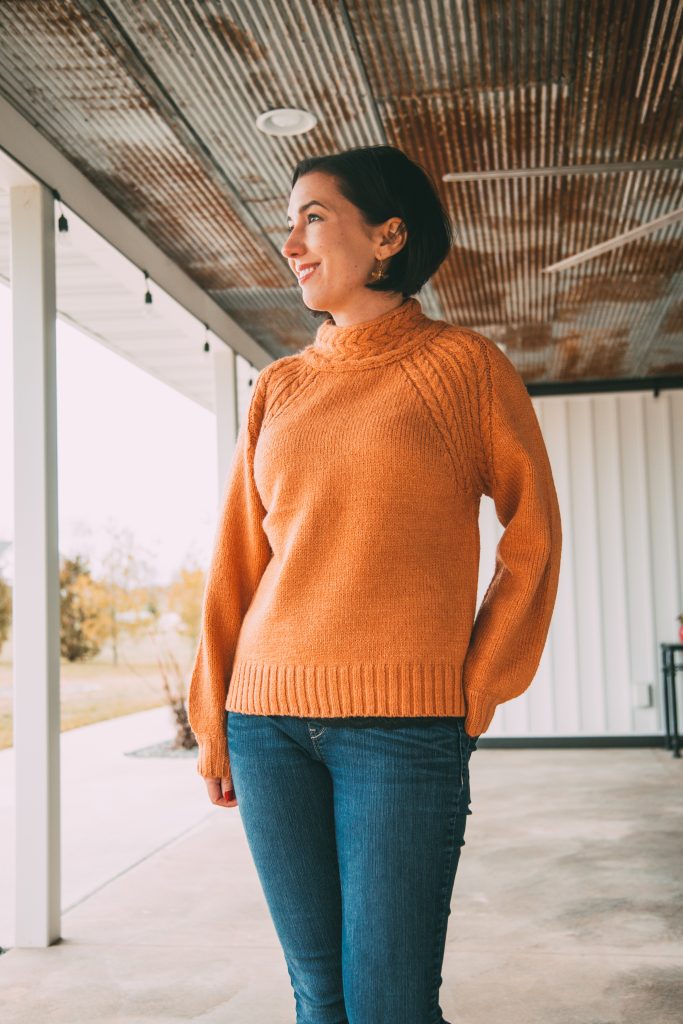 Sweaters
Temperatures in the 40s are the perfect time to show off some of your favorite sweaters.
Hazel Blues has the perfect sweaters for anything you feel like doing from lounging on the couch, heading to the gym, or for a day of shopping or sightseeing. (That's where my sweater, above, is from.)
You might also like this lightweight Amazon essentials V-neck sweater. This sweater is also soft, perfect for layering, and it comes in a lot of beautiful colors too.
Bottoms to Wear in 40-Degree Weather
Now you're probably wondering how to keep your legs from freezing in these 40-degree temperatures, not to worry there are so many amazing options to choose from.
Pants
Pants are perfect for when the temps are in the 40s and they are so versatile you can create any look or vibe that you want. These trouser pants from Express are perfect for work. They're comfortable and classy, and they come in a variety of beautiful colors. You can also pick up a matching blazer to complete a layered look.
Khaki pants are also a great and extremely versatile choice for these temperatures. You can pair them with sweaters, blouses, and your favorite layered looks. These straight-up khakis also come in several different shades for you to choose from.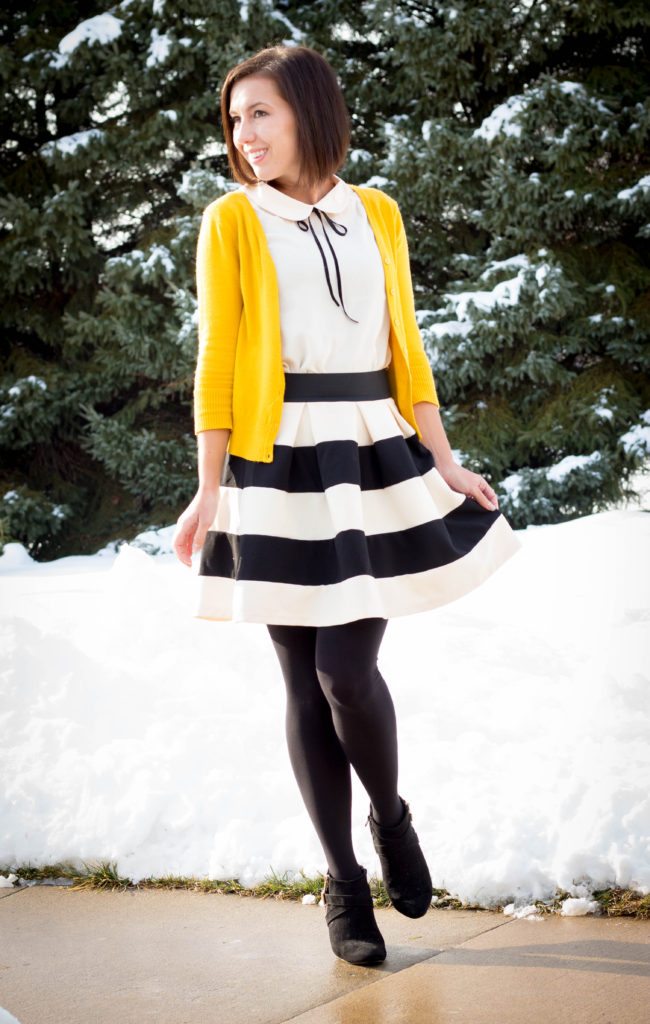 Skirts
Some women prefer not to wear skirts when the temperatures are still on the chilly side, and others love to wear skirts all through the year. If you like to wear skirts don't let the weather stop you, just add some tights or leggings underneath your skirt if it's going to be a chilly day.
This floral print tiered maxi skirt would look great with leggings or tights underneath and a tank with a cardigan for your top. You may also want to snag the matching floral top for when the temperatures warm up.
If you are looking for a shorter skirt that you can pair with leggings or tights and some amazing boots you might like this bias-cut plaid skirt. Pair it with a soft sweater or a tank and a cardigan and you will be looking amazing as you go about your day.
Leggings or Tights
You can wear leggings or tights underneath any skirts or dresses that you might want to wear, and if it's a particularly cold, damp, snowy, windy, or rainy day with temperatures in the 40-degree range you might even wear them under your pants.
These soft cotton leggings come in a variety of colors so that you can pair your leggings with your skirt.
You might also love these soft cashmere blend tights, that won't rip and come in a variety of neutral colors.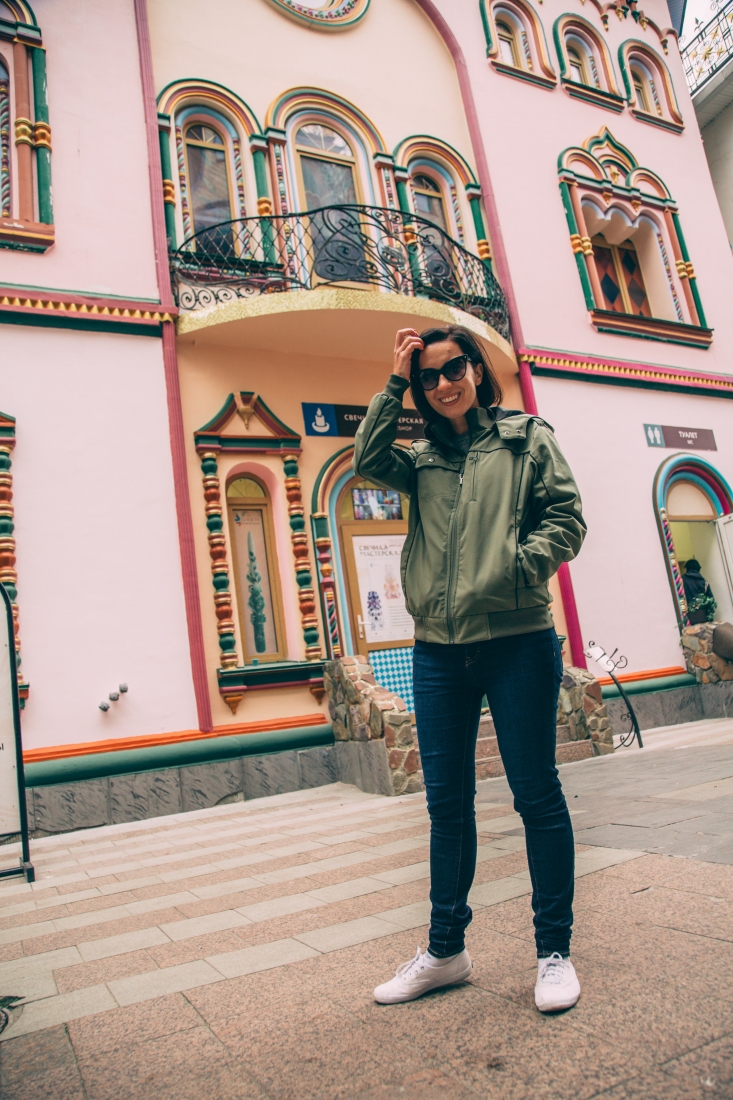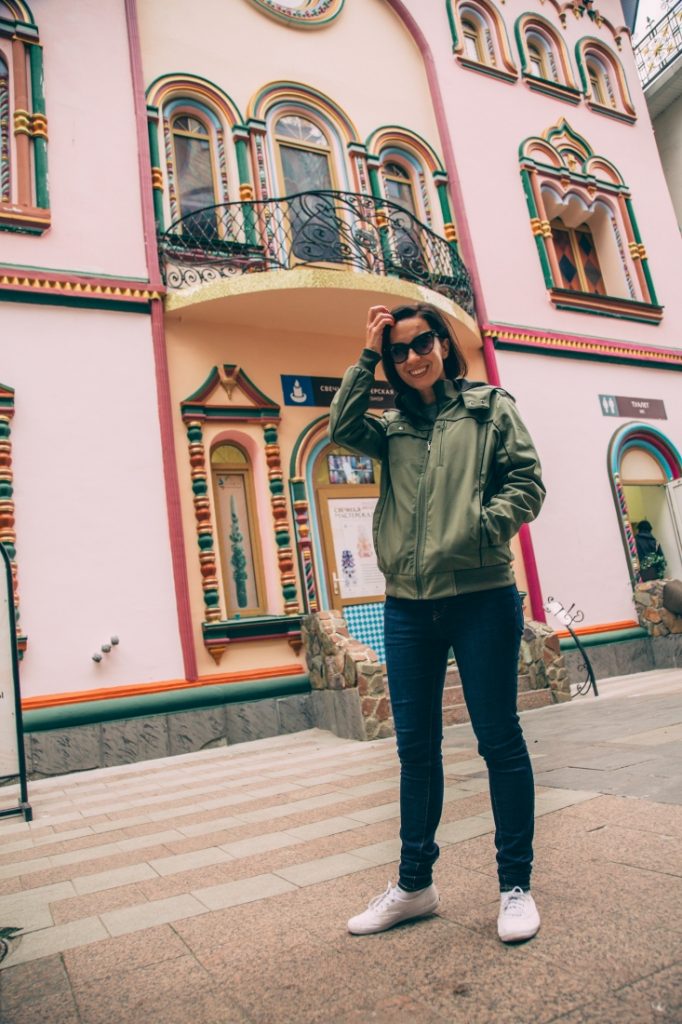 Denim
Your favorite pair of denim jeans are perfect for wearing in 40-degree temperatures. You won't be too hot or too cold and you are guaranteed to be comfortable, you might want to skip denim with holes in them until it warms up a little more though.
These slouchy wide-leg jeans come in six different colors and will keep you comfortable all day long. Plus coming from Reformation you know that they were sustainably made.
If leggings are a staple of your wardrobe when the weather cooperates you might like these American Eagle jeggings to wear with your layered tops. They are super comfortable but will keep your legs a little warmer than leggings might.
Accessories to Wear in 40-degree Weather
Temperatures in the 40s are the perfect time to show off some of your favorite accessories and they can help to keep you warm on a cooler day too!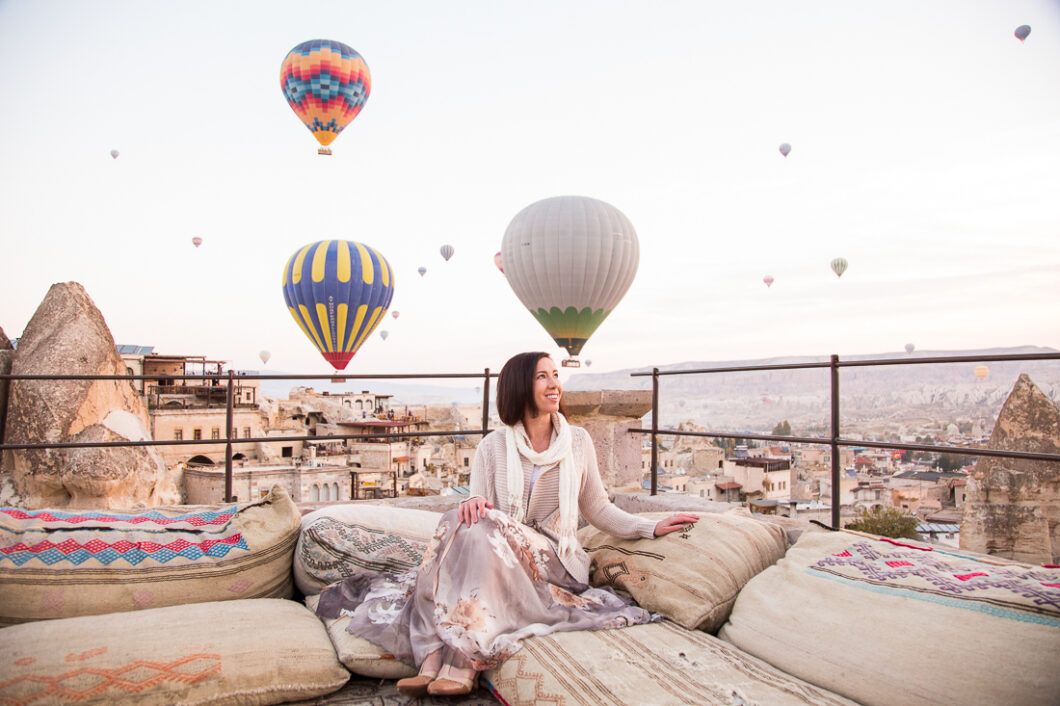 Scarfs
Scarfs are an amazing way to accessorize your outfit, and they can help to keep you warm on a windy or wet day too!
When temperatures are in the 40-degree range it's the perfect time to wear your favorite scarf like this cashmere scarf. This scarf is unique and sustainable because it is made of both new and recycled cashmere.
You might also like this beautiful floral print wool scarf to accessorize one of your favorite outfits.
Hats
Hats are a great way to keep from losing body heat from the top of your head and can even keep your ears warm and safe from the wind on a cool day. They are also a fun way to spice up your outfit.
You might like these beanies that come in sets of four with a lot of beautiful colors for you to choose from. They make it so easy to be warm and fashionable!
Perhaps a beret is more of your style? You might like this one and it comes in some gorgeous colors too so you can match it with any outfit.
Gloves
If it happens to be a cold and rainy day with forty-degree temperatures you will want to have a pair of gloves to keep your hands from getting chilled. My hands are always the first part to get cold!
These thin leather gloves are perfect for a day out shopping, going to lunch, or heading in for a day at the office. They are lined with wool so your hands stay warm and come in a variety of colors.
If you want to be able to use your phone without having to take off your gloves then you might like these touchscreen gloves instead. They come in a few different colors for you to choose from and at such a great price you could buy a pair in each color!
Outer Layers for 40-Degree Days
Forty-degree temps means you are definitely going to still need a coat of sorts. (Although, there are some Wisconsinites that disagree with this). The outwear you choose will depend on what you are doing and how many layers you have underneath and whether or not it is very windy or rainy.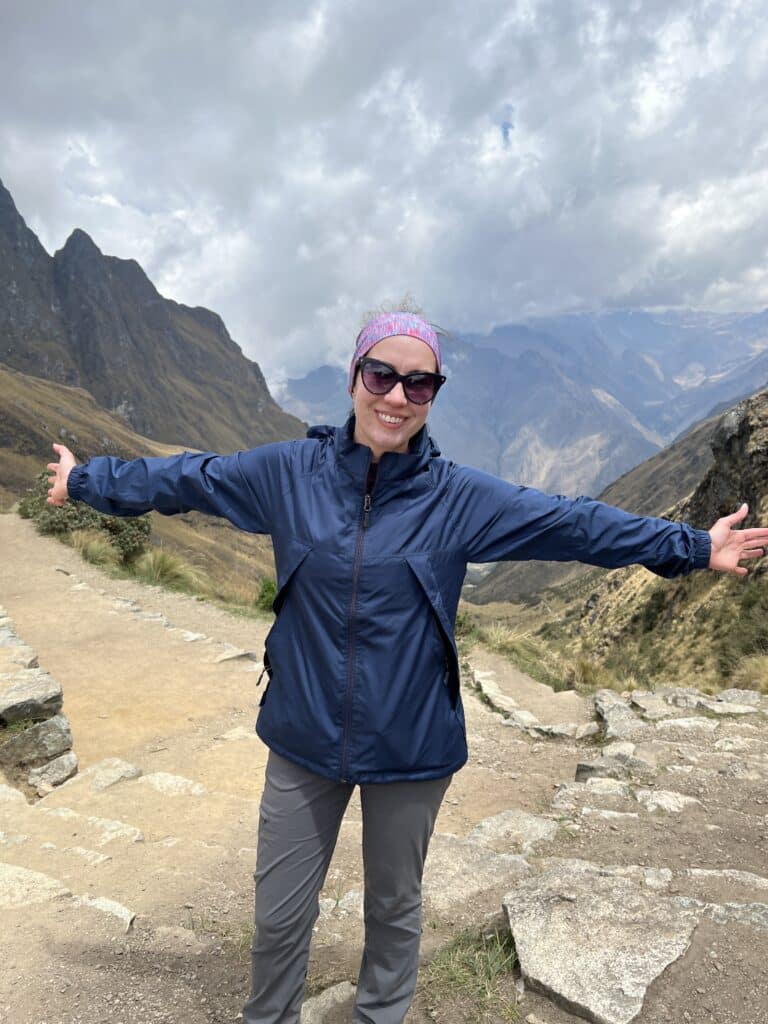 Light Jacket or Coat
A light jacket or coat is generally the most appropriate outerwear for 40-degree temperatures. If you know that there is a chance of rain you will probably want something that is waterproof to help keep you dry.
If there is no need to worry about rain, but you still want to keep the chill off you might like a nice lightweight coat like this one.
If it's a cold, damp, or very windy day in the lower forty-degree temperatures then you will want a jacket or coat that is a little bit warmer. This jacket is filled with recycled polyester, and the outside is wind and waterproof. It also packs down very small if the day warms up on you!
Footwear
Closed Toe Shoes
If the temps are in the 40s chances are you are going to want some closed-toe shoes to help keep your feet nice and warm. Boston Birks dupes with socks could be appropriate if it's not too cold, but I would recommend wearing boots or sneakers.
Boots, sneakers, or clogs with some nice thick socks are sure to keep your feet warm, dry, and comfortable! If you like to wear skirts or dresses even in 40-degree temperatures you might find that knee-high boots like these keep you looking fabulous while not allowing you to become too cold.
What to Wear in 40-degree Weather for Running or Walking
You might think that 40-degree temps are a little chilly for working out outdoors but they really aren't as long as you dress for the temperature. There are quite a lot of amazing workout clothes that make working out even if it's cooler outside very comfortable and energizing! Remember that it is better to dress as though it is at least 10-degrees warmer than it actually is because you are going to heat up during your run.
Read next: Running – Dressing For The Elements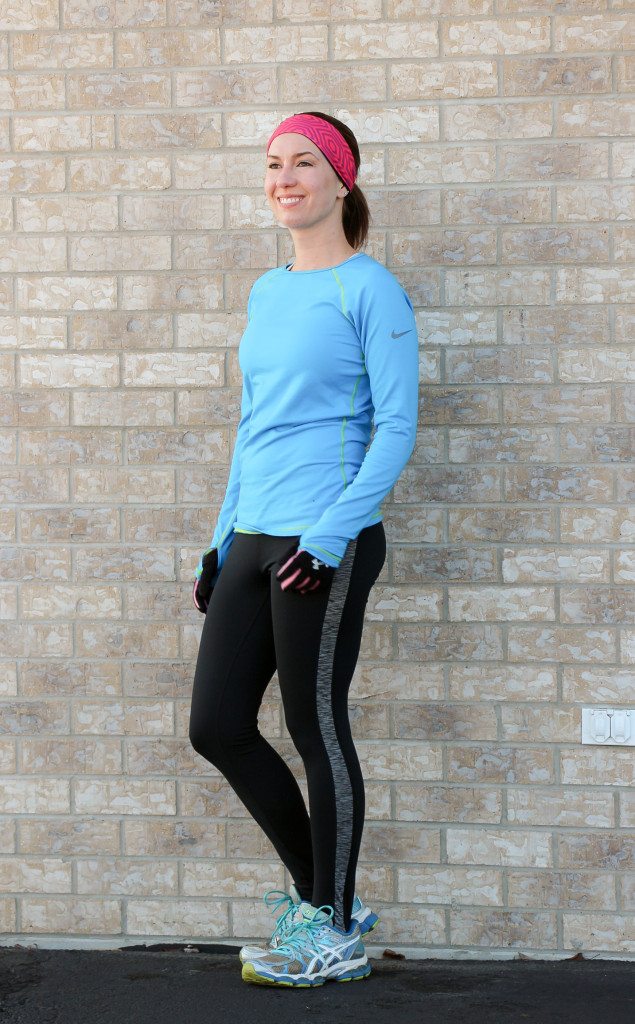 Running Tights
Running tights like these are comfortable for when temperatures are in the 40s. The material is designed to wick sweat away from your body and dries really quickly to help keep you from getting chilled.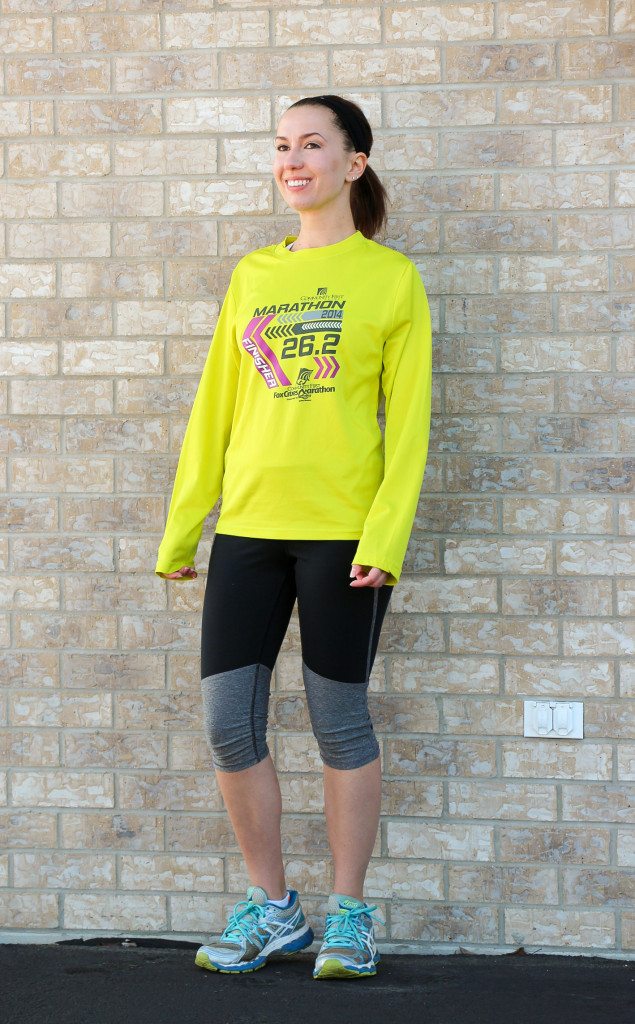 Capris
If the temperatures are on the higher end of the 40s and creeping toward 50 you might want to wear some capris running pants for your workout. These come with a pocket for your phone, quick dry material, and they come in some beautiful colors too.
Running Shirt
Running shirts like these can help to keep you comfortable while you are walking or running, not too hot or too cold. I have mentioned in the past how I prefer to buy the men's style of running shirts and just purchase a size down. The women's cuts just don't seem to fit me as well and are generally too short. I prefer my exercise clothing on the longer side.
I do however have and wear this women's running shirt with thumbholes to help keep my hands warm. They come in a lot of pretty colors too, who says you can't look great while you are out for your run or walk?
Headband
If you like to run or walk with a headband you might like the one that I use. They come in two packs and several different colors too. They keep my hair out of my face, keep sweat from dripping in my eyes, and can keep your head a little warmer too!
Hat
If it's windy or just barely making the forty-degree temperature mark you will almost certainly want to wear a hat on your walk or run. My favorite running beanie is currently unavailable on Amazon, but you might like this very similar hat for running here. It is lightweight, wicks away moisture, and it is reflective.
Gloves
If you want to keep your hands warm while you are out for a run or walk you might want to add some gloves to your workout gear. These Trailhead gloves wick away moisture and dry quickly, and the lining will keep your hands warm. They are also touch-screen compatible if you use your phone to track your workout or listen to your favorite playlist.
Running Shoes
Picking the right running or walking shoes is a highly personal decision because what works for one person may be a terrible fit for someone else. However, I will mention that I really love Asics running shoes. These Asics are some of my very favorite running shoes.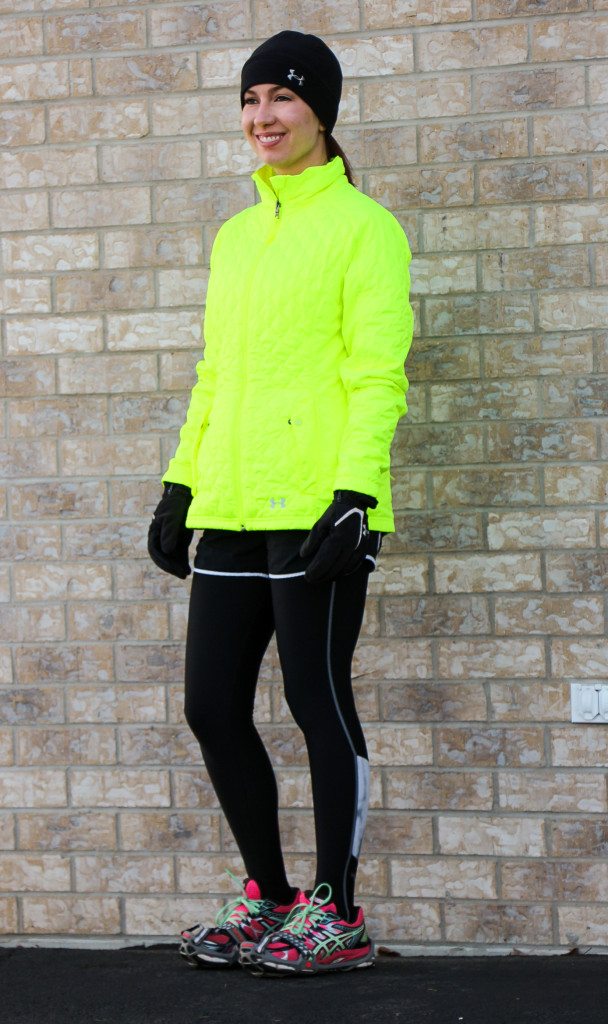 Running Jacket
If it is a really windy or rainy damp day you might want to add a running jacket to your outfit, if you end up being too warm you could always tie it around your waist.
I also wear my running jacket if I'm planning to walk and not run for the majority of workout.
Hopefully, I have taken some of the mystery out of what to wear to be the most comfortable when temperatures are in the 40s. They can be tricky, depending on which end of the 40s you are in, and whether or not wind or rain is expected.
By dressing in layers, you are increasing your odds of being as comfortable as possible no matter what you are doing out in these temperatures. So pick out your favorite layered outfits, or shop some of these and get out there and enjoy!