Running – Dressing For The Elements
Living in a state with interesting weather, like Wisconsin, and hating treadmills means you have to be prepared for a variety of weather conditions if you're a runner. One day it can be 50 degrees Fahrenheit and the next it's below freezing. This post is going to take a look at running outfits I've worn in a wide range of elements.
I've been wanting to do a post like this ever since I ran the Frostbite in Stevens Point, Wisconsin, which is a 5 or 10 mile race (I had opted for the 10). The weather was bitter cold, with an expected temp of -10 and wind chills making it feel like it was in the -30s. Preparing for this race was a bit frustrating, because of the lack of information on how to properly dress for such a race. Every article I came across basically said don't run in these conditions. Which, ok, fair enough. However, this race was not cancelled, and I am not one to back out of a race – ever.
So, I wanted to pass on this information of what has worked for me, to other die hard runners…who may have to run in some wonky, to dangerous weather conditions. Let me say, though, I am by no means a running expert. I have been running and training for races (ranging from 5 miles to full marathons) for around 8 years. Most of this information has been gathered from trial and error on my end. However, keep in mind…what may work for me, may not work for you!
Warm Weather – 55+ degrees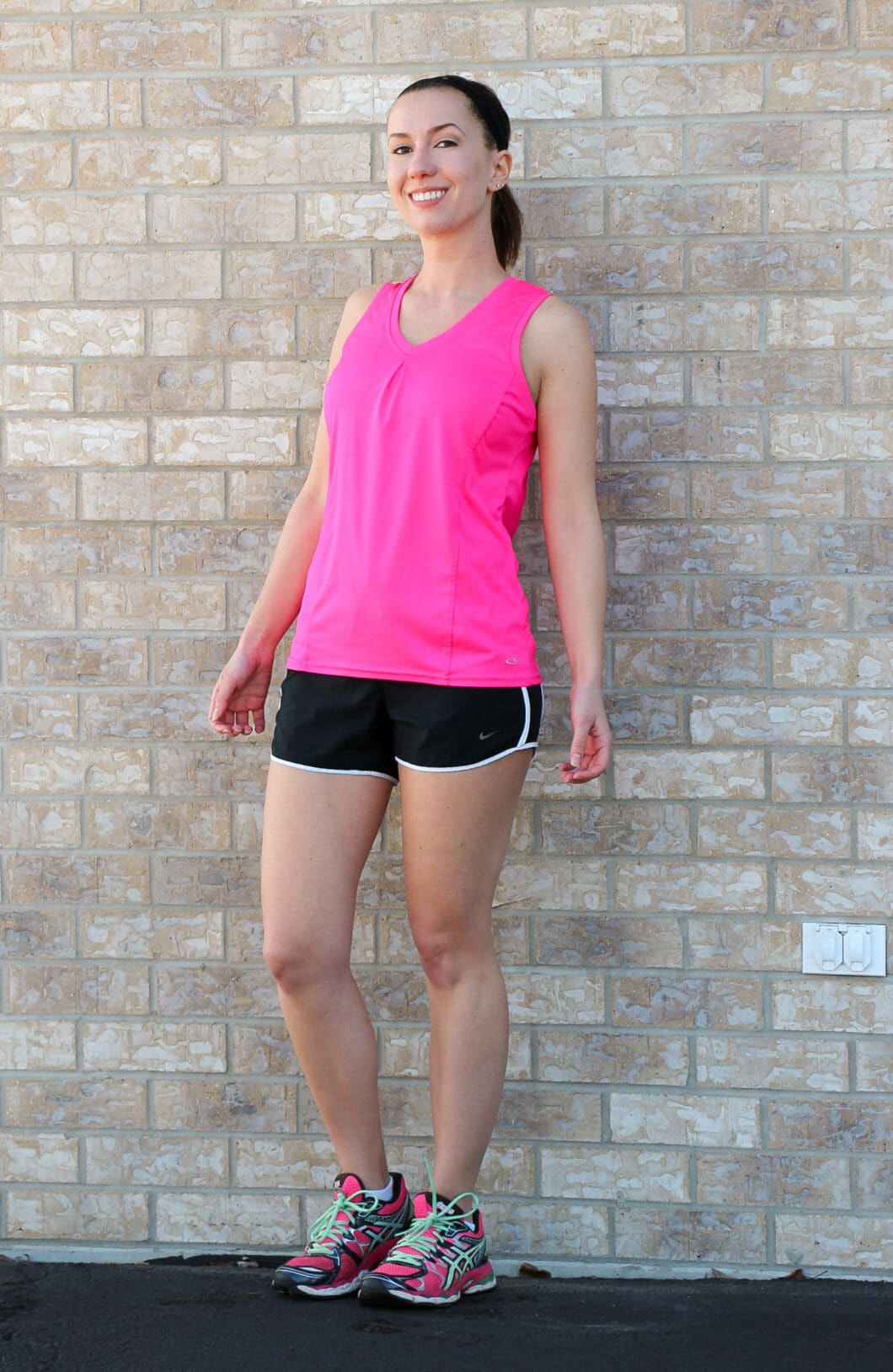 This running outfit is my absolute favorite. If it's not below freezing, and I'm not sure what I feel like wearing for my run…I'm going to opt for this one. In fact, I wore this for my first full marathon with weather in the 50s. (Click here to read more about that)
I know many runners swear by certain brands…and I get a rather picky about brands when we are dealing with below freezing temps. However, for anything above freezing, I am completely A-OK with inexpensive workout brands from TJ Maxx, Walmart, Target, etc. As long as it wicks away sweat (cotton does not wick!), then I am more than OK with them!
Shop the outfit:
Shoes | Top | Shorts | Sports Bra
Mild Weather – 40-55 degrees



As you can see, I am not above wearing race shirts if they are comfortable! I've also discovered that I'm not a big fan of women's cut race shirts, though. I always opt for the men's cuts and then go a size down. The key to running in a variety of elements is figuring out what you are comfortable wearing. Some days this outfit is fine for me. Other days, it's windy, or I'm just feeling chilled.. and I may throw in a hat or gloves.
And you may have noticed I'm a big fan of Asics for running shoes. Again, these work fantastic for me…but they may provide too much cushion for you. Running shoes are very, very personal…try to find a running store that will allow you to return your shoes after you've tried them out (like Fleet Feet) if they do not work for you.
Shop the outfit:
Cold Weather – 30-40 degrees

This Nike running top is about 5 years old and is my absolute favorite for running in chillier weather. All of the clothing in this entire post is at least a few years old, and is generally worn multiple times in one week…so, I am very happy with how all of these outfits have held up over the years!
Again, this outfit can be modified depending on wind, how I'm feeling etc. Some days when it's between 30-40 degrees, this works. Other days I will use the outfit pictured next. The running tights pictured here, are ones I like to use when it is cold…but not bitter cold. These are not fleeced-lined (like the ones pictured next), and therefore, are not as warm. Which can be a good thing, you usually want to under-dress, versus over-dress for a run. The rule of thumb is to dress as if it is 20 degrees warmer than what it actually is.
Shop the outfit:
Shirt | Tights | Shoes | Gloves | Headband
Cold Weather – 10-30 degrees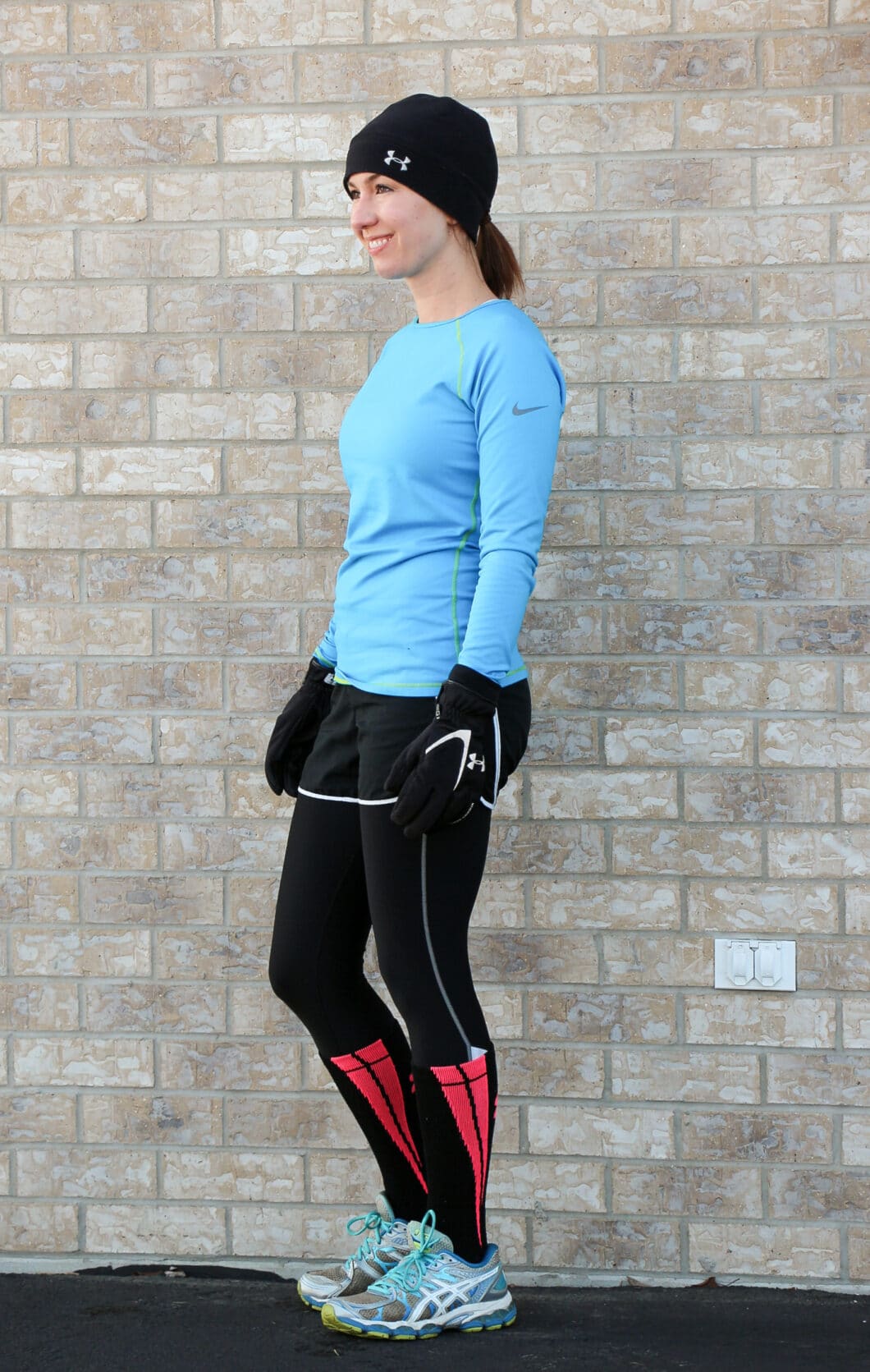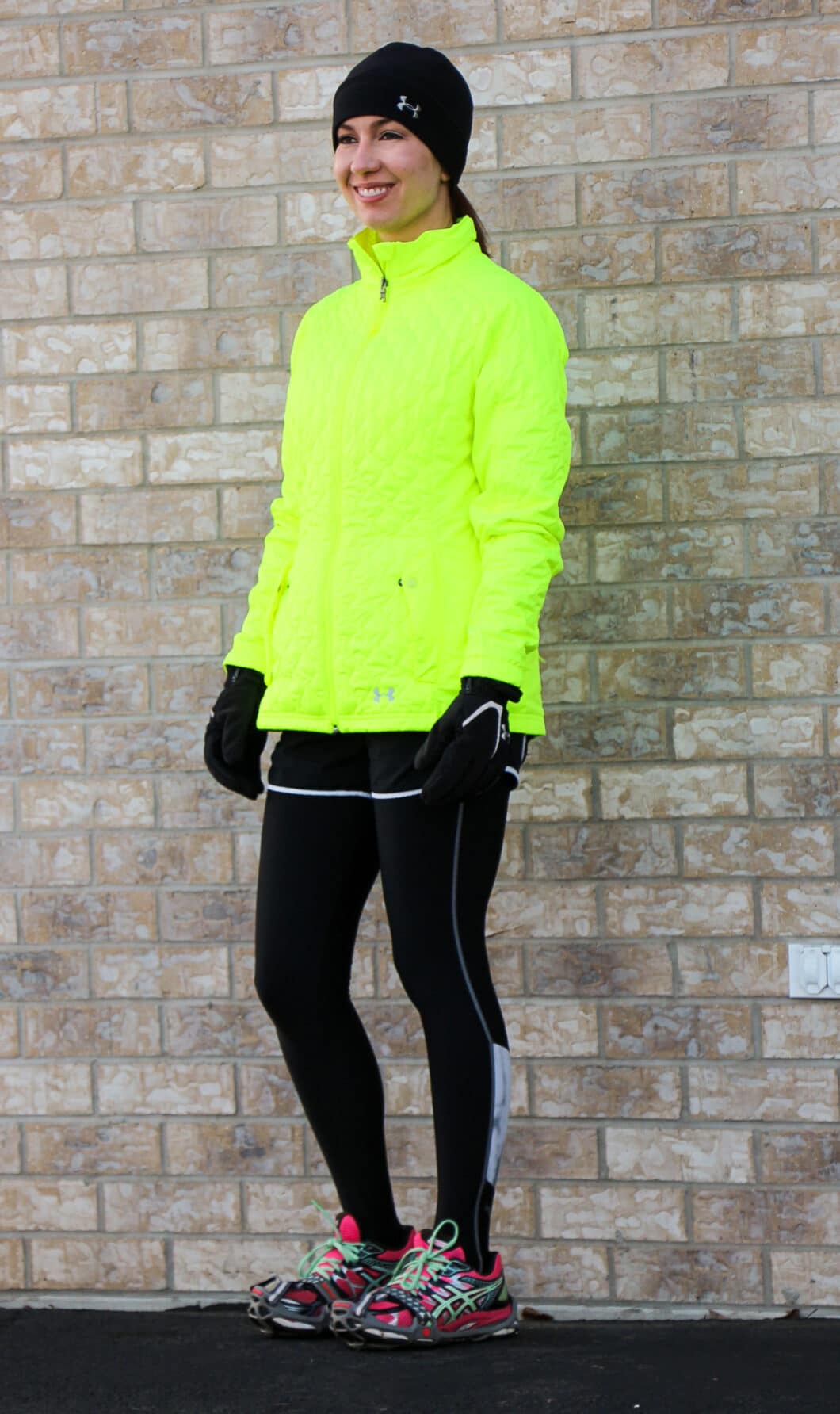 This is my go-to cold weather running outfit. My Nike top, Under Armour tights, a hat and gloves are my perfect cold weather running outfit (and if it's rather windy, I'll throw on my running jacket). Again, same thing applies with cold weather as it does with warm…you need clothing that is going to wick away sweat and keep you dry, but in this case, also keep you warm. Under Armour has been the brand I gravitate to the most for when the temps are below freezing. I have been incredibly happy with every single piece of cold weather clothing I've bought from them, and it has all held up remarkably well over the years.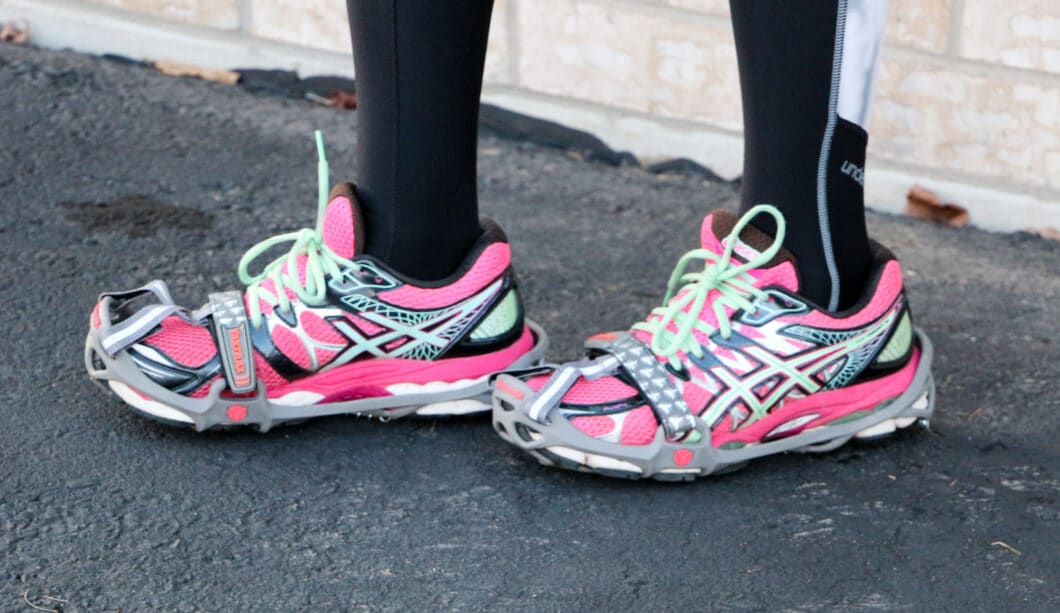 And, if the roads happen to be snow/ice covered… Yaktrax are awesome to get some traction! I'm not going to lie, they do take some getting used to, but it sure is better than trying to slip and slide on an icy road. If the road is not completely ice covered, you can run on these for short distances without snow and ice. It just kind of feels like you are running in sand. And these aren't too difficult to just slip over your normal running shoes.
Shop the outfit:
Jacket | Undershirt | Tights | Shorts | Gloves | Hat | YakTrax

REALLY Cold Weather – 10 degrees to Below Zero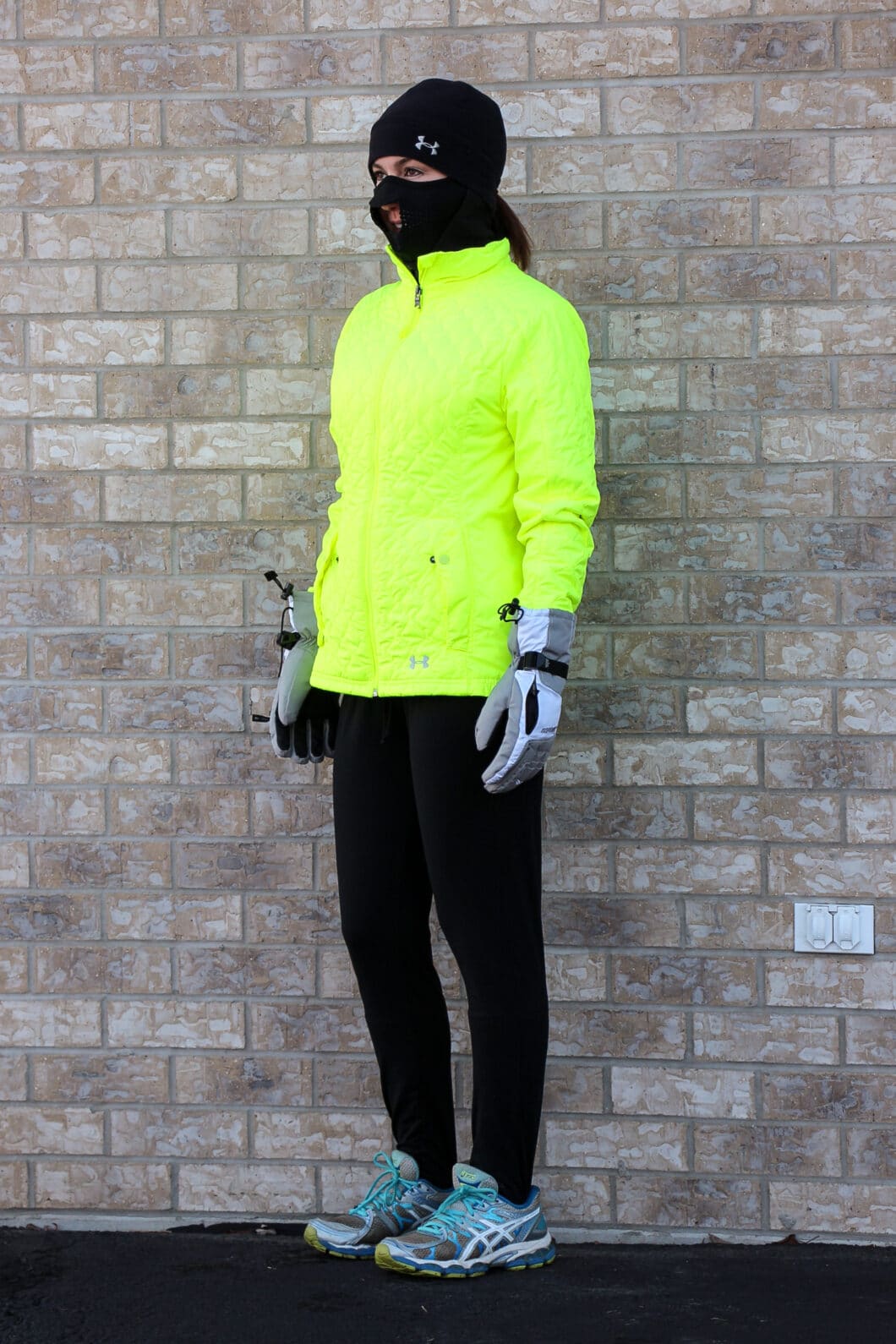 If there is one running outfit from this whole post that you should follow to a T, it's this one. When the temperatures dip below zero, you have to be dressed appropriately or you're risking frostbite. Speaking of which, this is the outfit I wore for the 10 mile Frostbite race when the temps were about -10, with wind chills that felt like -30 degrees. This kept me from getting frostbite, while I ran the Frostbite Race…how about that? The only thing that would have made this outfit better, would be if I had worn sunglasses. I can't explain it, but sunglasses make me claustrophobic when I'm running. However, you REALLY should wear sunglasses when running…not only to protect your eyes from the sun, but also to protect your eyes from the wind.
Another important factor to this outfit, is the multiple layers. I'll break them down in the photos below. This is to wick sweat, and also trap heat while you are running.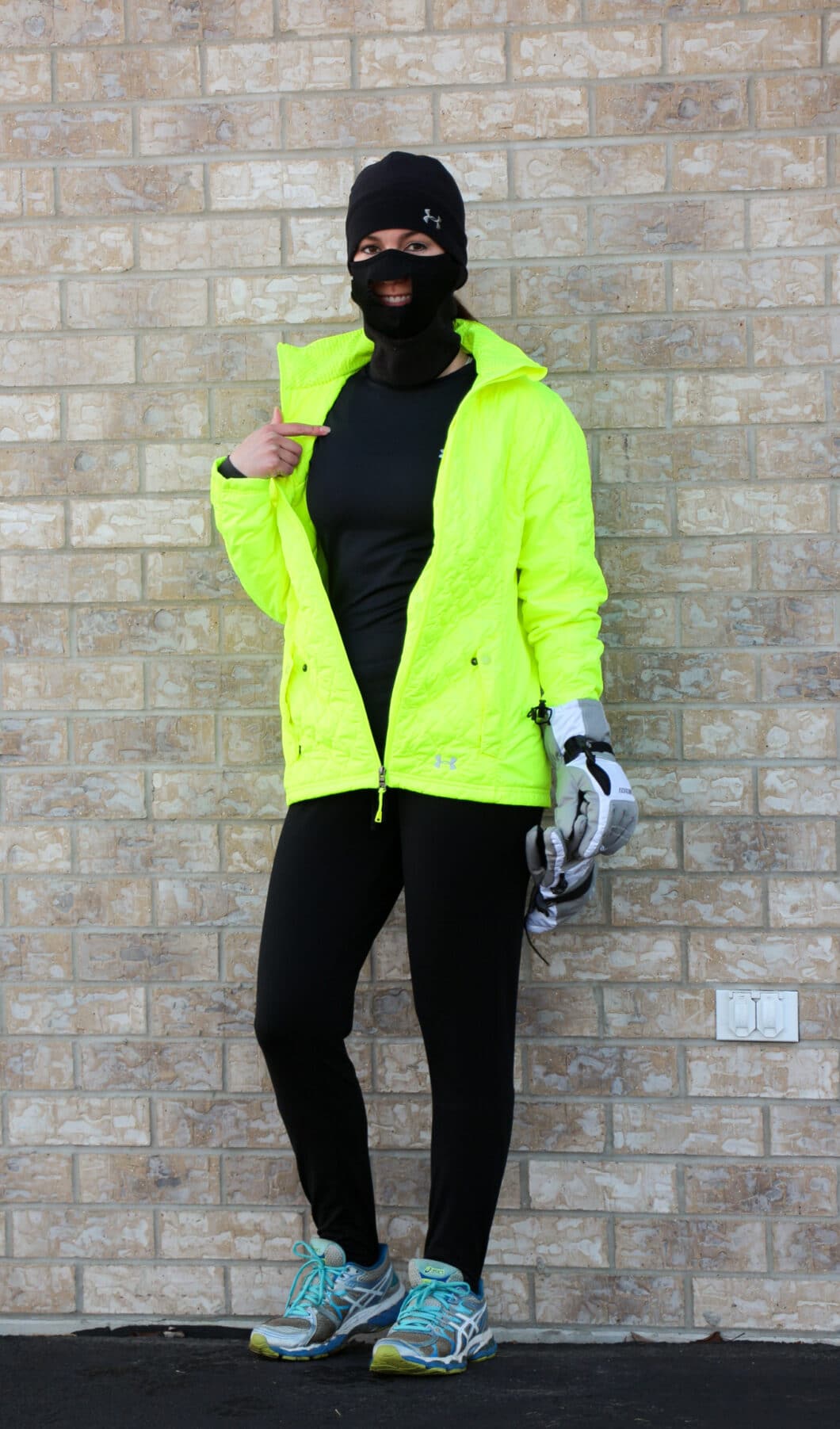 Also, I am wearing a thin running sock under my thick Under Armour socks (again, absolutely NO cotton). I am also wearing ski gloves for this. I made the mistake of wearing my lightweight running gloves from the 30-40 degree post for a test run with this outfit. They were definitely not warm enough because my hands started to swell from the cold and hurt so bad I was actually in tears. These ski gloves, however, did the trick and kept me warm for the race. And you will want another layer over your running tights. Typically I just wear my running tights, but when it's below zero…you definitely need one more layer over them! (I really like these particular pants because they are skinny on the bottom and keep the wind out.)
I should also note, that I cut a hole around the mouth part of my facemask…because I was too claustrophobic otherwise. This face mask does NOT come with a hole by the mouth.
You can check out each piece of the outfit below.
Shop the Outfit:
Coat | Base layer | Tights | Sweatpants | Hat | Facemask | Wool Socks | Ski gloves | Shoes
Has anyone else had to run in some extreme conditions? What are some tips you could share from that experience? Let me know in the comments! And let me know if you have any questions!
Still not a fan of running in extreme weather? Read this article on some of the best treadmills you can buy!
If you would like to read about my experience training for a full marathon, click here.