Born to Run? Not Even Close.
I have never been considered athletic or coordinated in my entire life. However, this past weekend I proved to everyone, and mainly myself, that with enough determination and hard work I could be an athlete. I successfully ran my first FULL marathon on Sunday. It still doesn't feel real… mostly because as I sit here writing this post (just days after the race), I'm really not that sore and am actually just about to leave for a run.
Who would've thought that the awkward girl in gym class, who was generally the last picked for a sport and was always one of the last ones to finish running the dreaded "mile" fitness test, would one day run a marathon? I sure as heck never did (and probably not my gym teacher either, haha).

I started running about six years ago, but I'm going to save all the details on how I started for another post… because it's a rather long story. So for this post, I will focus more on how Sunday's race went and what I did to prepare for it.
Click here to see my blog post with all of my tips for how to dress for a run in a variety of weather conditions!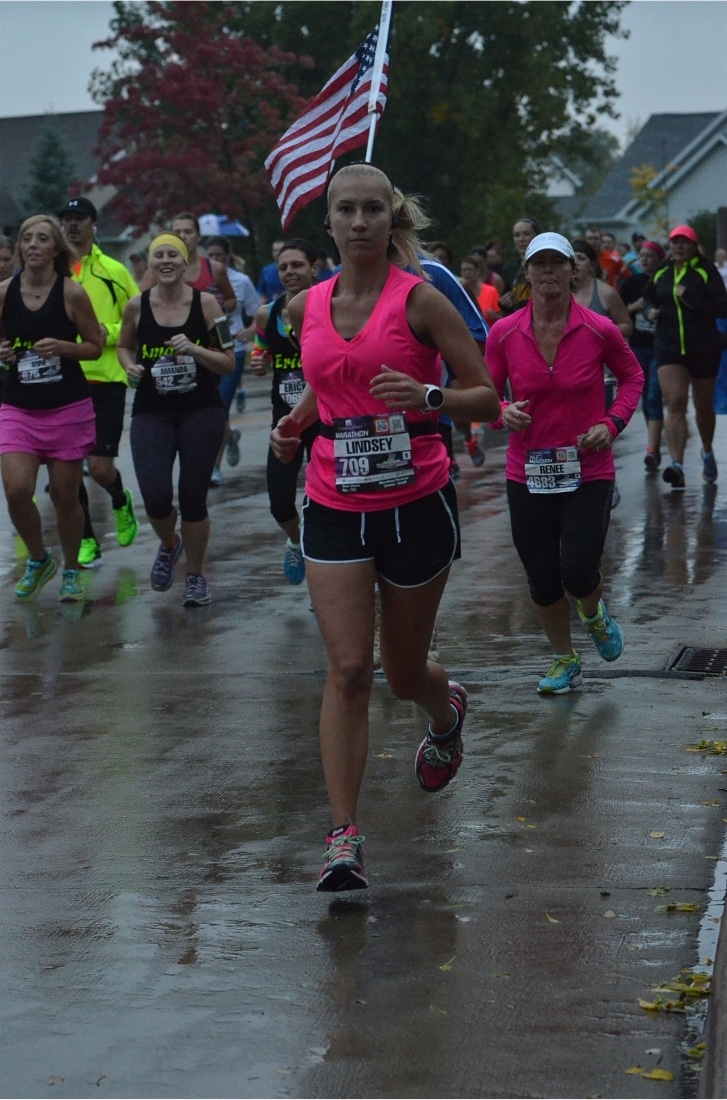 How Did I Train?
Saying I had to work hard to run a marathon is actually an understatement. It took countless hours of running, obviously, but also a lot of strength training, yoga, foam rolling and focusing on proper sleep, nutrition and hydration to get me to this point.
I was very injury prone coming into this training and had already failed numerous times due to some very nasty injuries. However, once I started taking a strength training group fitness class, my luck started to change. Not only was I getting faster, but injuries were becoming minor and far fewer. This particular group fitness class (at Flexible Fitness Solutions in Stevens Point, WI) is actually prepared with endurance athletes in mind. It focuses on strengthening muscles runners and triathletes use and are prone to injuring. It also built a great sense of community, that kept me motivated to keep coming back to classes day after day.
This class also taught me about the magic of foam rolling. I can't stress enough how important it is for runners to foam roll! I recovered from injuries so much faster and banished new ones from forming… all by using a little piece of foam. The foam roller I use is an 18″ SPRI Active Therapy High Density Foam Roller from Target. It has held up beautifully and I like that it's smaller, so I can always have it with me when we're traveling. I had originally ordered an 18″ Gaiam foam roller from Amazon, and that one was terrible. It was supposed to come with a DVD, which it didn't, and it only lasted a couple months before it became dilapidated.
Yoga has also been a great addition to my training. It has not only helped my tired, sore muscles but it has also taught me how to breath better and calm my mind. This has really come in handy on some of those 18+ mile runs. I'm very fortunate to have a teacher (at Point Yoga in Stevens Point) who works with me on proper form, because coordination and flexibility are not something I naturally have and yoga has been quite challenging (but beneficial!) for me.
I was following the Hal Higdon Training Program for my marathon training. Everyone is different, and just because this plan worked for me doesn't necessarily mean it will work for you. However, this plan follows the 10 percent rule pretty well (meaning: increasing your mileage each week by only 10 percent) and there was only one time I had to modify it because I was getting over-training symptoms. And just in case you are wondering, over-training symptoms for me were not sleeping well for no reason at all and feeling lethargic all the time. It was like having a cold, but without the cold…if that makes sense.
And last but not least, nutrition and good sleep have been a key component to my training as well. It took a lot of willpower to not eat whatever I wanted because I had just run 20 miles, but to make sure I ate a balanced meal instead. I wasn't on any specific diet. I just made sure to eat tons of fresh fruits and veggies, lean protein, avoided as much processed food as I could, and only had sugars and unrefined carbs in moderation. I also made sure to get a good night's rest before long runs.
Race Day – What Was My Experience?
Despite the fact I had run 4 half marathons prior to running this full marathon and had a pretty good idea of what to expect, I was still beyond nervous for running the Fox Cities Marathon. I had all kinds of weird dreams leading up to it. My reoccurring dream where I'm running and a tornado comes and sucks me up were getting rather irritating. And I hardly slept at all the night before because we had some really loud thunderstorms (perfect for the nightmares I was having, haha).
As long as you sleep well the two nights prior to race night, though, you should be just fine on race day. And I had slept, mercifully, like a rock those two nights. So I woke up Sunday morning bright-eyed and bushy-tailed, made my breakfast of whole wheat bagel, greek yogurt, banana and a cup of coffee. That breakfast might make some folks barf just thinking about it before a race, but it works for me. I also woke up several hours before the race so it would all be settled.
The weather was, unfortunately, less than perfect that morning. It was raining and windy, but at least it was in the 50s for temperature. I still wore shorts and a tank top despite the chilly weather, because it doesn't take long to warm up when you're running 26.2 miles. I also didn't want to change my wardrobe up too much from what I was wearing on all of my long runs. And I had literally worn the same Nike running shorts and tank top from Target for all of my training runs because they were super comfortable, and the tank top kept me from getting chafed when using my Camelbak (I used the Marathoner Vest by Camelbak on runs over 15 miles, and it worked fabulously).


Now that I think of it, I should also mention that I used Nuun (the orange flavor) on long runs and my husband also had a water bottle full of it for me at various places along the course. I used Nuun because it has a very light flavor and a very little bit of carbonation that is actually refreshing. It is also sugar-free, which is a big deal for me because the super sweetness of Gatorade makes me want to vomit when I'm running. I just can't handle Gatorade! So, it was Nuun to the rescue for training and the marathon itself.
I also used GU as my energy gel of choice (I preferred the strawberry banana flavor). GU is awesome. I had never used it in any of my previous half marathon training, and it isn't really necessary unless you're running long distances. However, for those long distances, it works wonders. You know that dizzy, light-headed, can't focus on anything but putting one foot in front of the other, and knowing this run will inevitably be followed by a migraine and horrible fatigue? Yeah, that doesn't happen quite as much if you're taking some GU on you're long runs. I wished I would've figured that out sooner!
For my marathon, I took one GU packet before we took off and then a total of four GUs throughout the race. I have no idea if this was an ideal number, but it worked for me! I had about three drinks of my Nuun and then just drank water for the rest of the race.
And now for the actual running part of the race! I had a pace in mind that I planned to stick with throughout the race (between 10 and 10:30-minute miles). I picked this time because it was close to the pace I had for my long runs. I didn't want to take the chance of running too fast for a better time and then tiring myself out. This race was all about finishing, not about breaking a speed record.
My friend was kind enough to lend me her Garmin Forerunner 620 watch for my marathon. I had been using the free Nike+ app on my phone, which works perfectly, but I didn't think my phone would stay charged for the entire race with the GPS going (darn old iPhone!). I liked using the Garmin because I always had my pace in front of my face. I have a tendency to get way too excited at the start of a race and then run too fast…and inevitably get tired. With always being able to easily look at my pace, I was able to keep a steady pace throughout the race.
With that being said, though, I don't think I would ever need that particular model of Garmin. It has a lot of cool features on it, that I would personally never use. I would just need something on my wrist to tell me how fast I'm running.
Now that I was able to avoid my usual explosion off the starting line, it made for a much more enjoyable run. I was able to leisurely run along, mile after mile, letting my training pay off. I didn't panic when the course split for the marathon and half marathon, and when I saw my family and friends around mile 9 I was able to have conversations with them while I was running.
The thing I found most difficult about this race wasn't the rain or wind, it was that I was too familiar with the area. I've spent enough time in the Fox Cities to know the majority of the area well, and this isn't a crazy huge race…so there were not spectators every foot cheering you on. There was a lot of time for me and my thoughts… and I wasn't distracted by looking at my surroundings, because I had seen it all before.
I would like to say I had some very deep thoughts during this 26.2-mile trek, but that wasn't really the case. I was mainly planning out when I was going to take my next GU, trying to remember which miles my friends and family were going to be cheering me on, thinking about how awesome Guardians of the Galaxy was and how excited I would get when a song from the soundtrack would come on, and trying to figure out how I was going to get less terrible at playing Destiny. So yeah, nothing ground-breaking there.
Having my wonderful friends and family stationed at various spots throughout the race was my saving grace. If I didn't have them cheering me on…I probably would've walked the last seven miles of this race. Mental toughness is a huge portion of long-distance running. This is something I like to think I have, but I really don't know if I would've been able to talk myself into running all of this race without my friends cheering me on.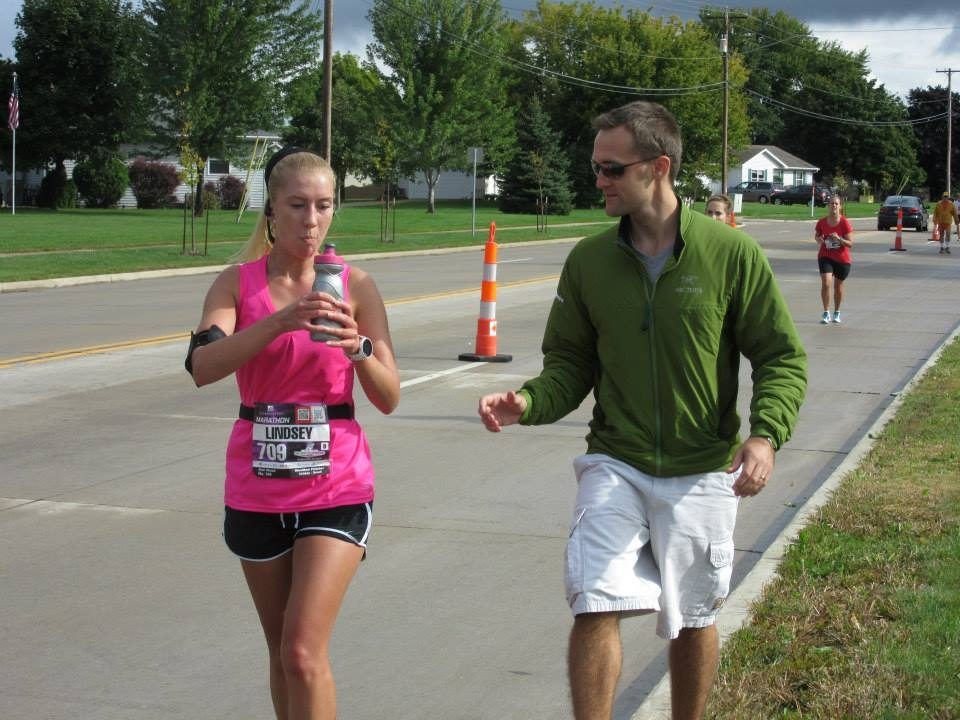 When the finish line was within my sight, something magical happened. I was actually able to find the energy to sprint until I crossed the finish line. I just wanted it to be over, and be in warm, fuzzy sweatpants with a pizza!
It felt wonderful to have completed such a feat, and I was so happy it was over. Everyone asked me at the finish if I would do it again. My first response was "Heck no!" However, now that I've had a few days to think about it, and bask in my glory…this will not be last my marathon.
So, was 4 hours and 28 minutes of running really worth it? Absolutely! Running a full marathon is just about every runner's dream. And now I can say I did it… I ran a marathon! That nonathletic, clumsy kiddo who couldn't even run a mile, has actually run a marathon. Dreams do come true!
Marathon Photo Gallery
Recap of What I Wore and Equipment:
Tank top: Target (similar)
Shorts: Nike from Dick's Sporting Goods (but they are very, very old.)
Sports Bra: Under Armour (I liked this particular one because it didn't chafe!)
Running socks: Target (These are my most favorite running socks of all time, love them!)
Shoes: Asics Gel-Nimbus 16
Headband: Under Armour (I like this one because it doesn't slip as much as every other headband.)
Back Fanny Pack for my GU: TJ Maxx (in store)
Wireless Headphones: Motorolla S10-HD Bluetooth Headphones (I like these, loved the S9 but hated the S11)
Armband: Belkin from Target (mine is about a 3-year-old version, but still works well, and I even throw it in the washer once a week.)
Camelbak for training runs: Marathoner Hydration Vest
Watch: Garmin Forerunner 620
"Training to Ride Dragons" shirt: LookHuman