What to Wear When You Work From Home – Comfortable Yet Stylish Outfit Ideas
For the last 4 years, I've been working exclusively from home. (If you want to learn more about what I do for a living, click here.) This used to be a rather novel concept. However, these last couple of weeks, A LOT of people all across the world are also working from home.
Some people have been curious about my at-home setup…which, that's still a work in progress. I recently upgraded from the couch/kitchen table to an ACTUAL office within my new(ish) house. So far, I only have a countertop (which is my desk), a laptop (an MSI Prestige), an office chair and a printer. Having a dedicated workspace, though, is a game-changer I'm here to tell you (even if it's nothing too crazy)!
Another question I've been seeing frequently is… but what do you wear when you work from home all week? And that's what this post is going to answer! Granted, the last couple of weeks have thrown off my normal "work-from-home" attire, as I've been in loungewear more often than not. However, you can still dress just as comfortably as if you are wearing loungewear, but still look professional enough to jump on a video call.
What to Wear When You Work From Home – Comfortable Yet Stylish Outfits
Outfit example #1 – Cardigan + Leggings + Slippers (For Cooler Weather)
Click to shop:
Leggings | Cardigan | Cami | Necklace | Earrings | Slippers
This is my go-to work-from-home outfit. The leggings are comfortable enough to wear all day long, as is the cardigan. However, if I had to jump on a last-minute call with a client, I could do so and not look unprofessional. A nice cardigan/blouse, necklace and earrings can be all that it takes to be "dressed up" for work… as no one is going to see my leggings or slippers!
As you can see in the photo below, nobody is seeing the bottom half of your body when you're taking a video call…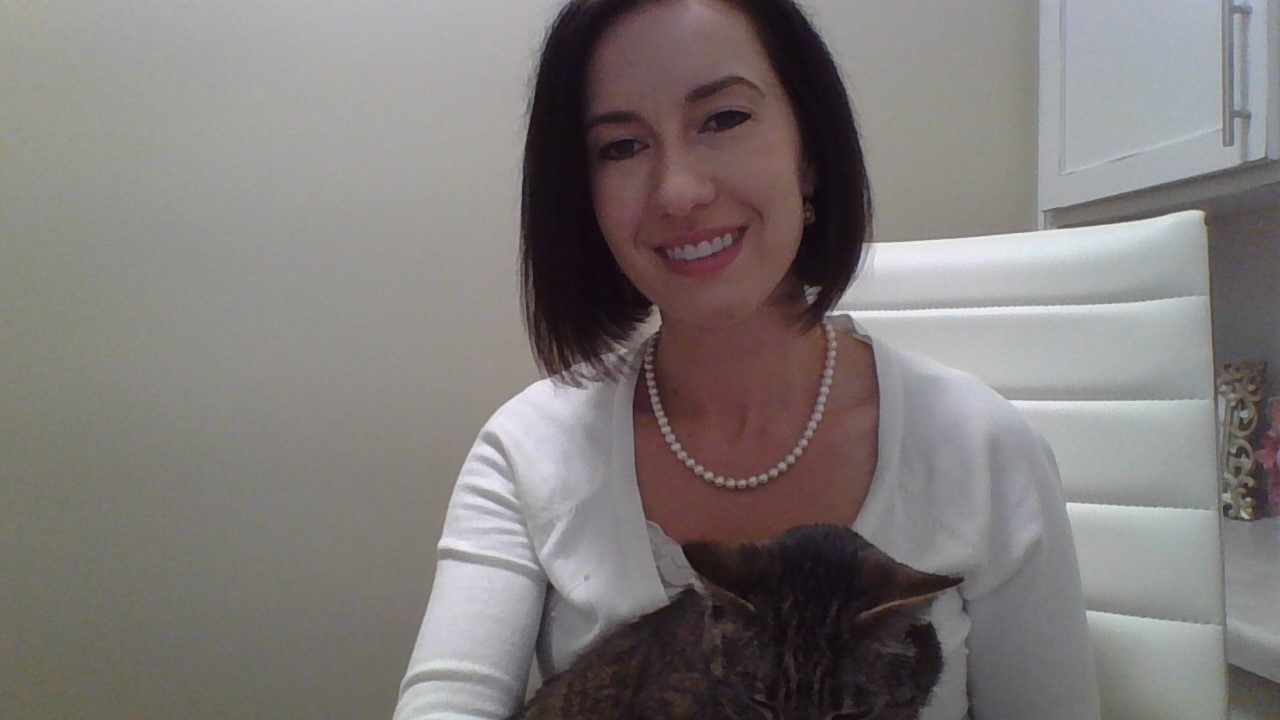 Don't worry I don't take calls with my cat. Haha. She does, however, work on my lap throughout the day pretty frequently. I have to say… it is nice having a coworker around now!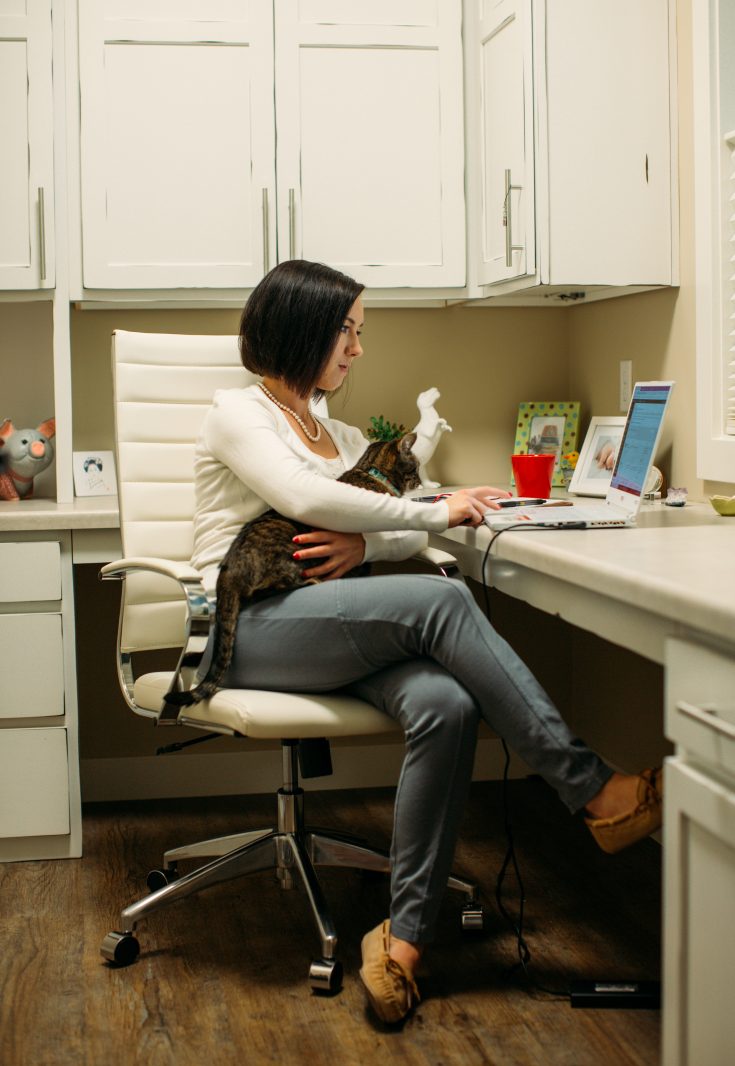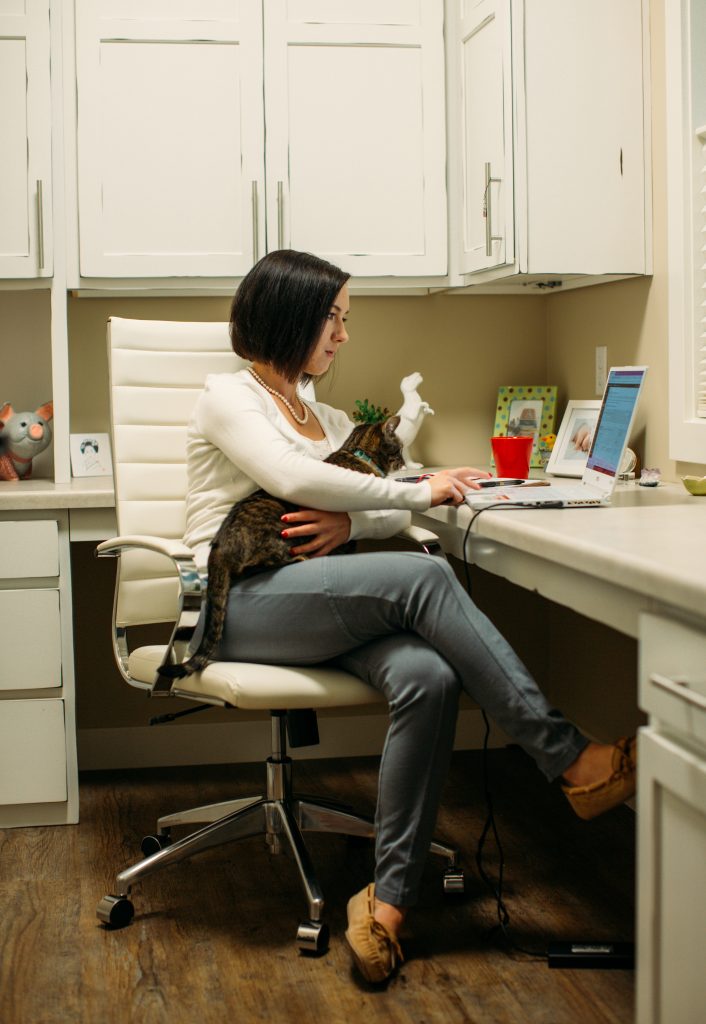 You're also going to see those slippers pictured above in almost all of the outfits in this post. They are SO comfy and the hard sole means I can leave the house in them too if I want. They come in wide – which is great for me, as most slippers are too narrow for my super wide feet. My mom had surprised me with this pair for Christmas, and I've been wearing them nonstop since then! Click here to shop them.
Outfit example #2 – Button-up + Leggings + Loafers (Warmer weather)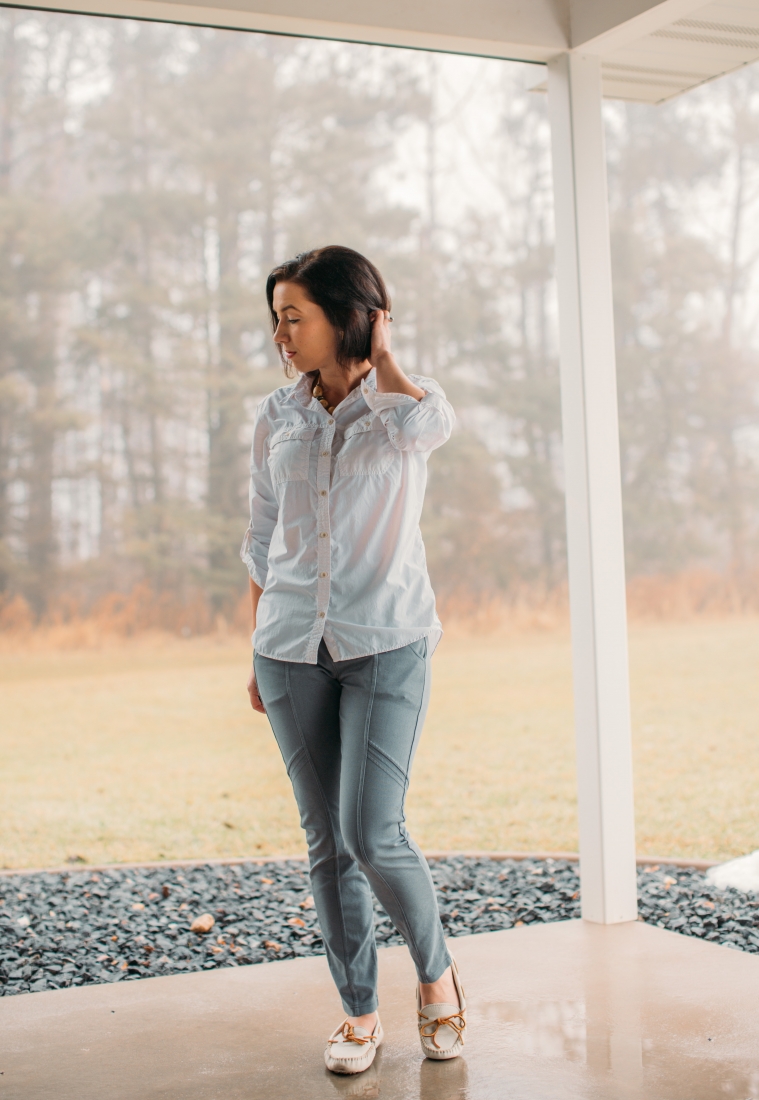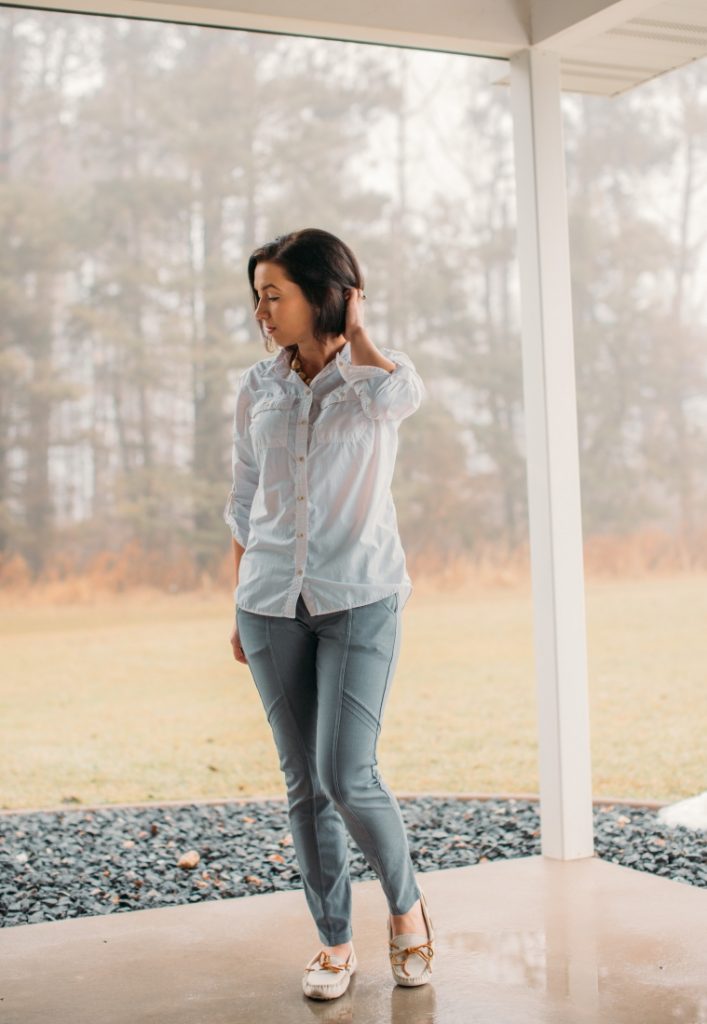 Click to shop:
Leggings | Button-up | Earrings | Loafers
This is essentially the same outfit as the one above. However, I swapped out the cardigan for a breathable button-up and my slippers for some loafers. I'm comfortable working in this outfit when the temps start to rise, and this also doubles as a travel outfit for me too!
Again, these leggings are amazingly comfortable for working in all day or traveling on long international flights! I wrote a full review of them here. I'll also swap them out for a comfy pair of lightweight hiking pants, like these, as well.
Outfit example #3 – Dress (Any weather)
Click to shop:
This is my go-to outfit if I KNOW ahead of time that I will be having video calls that day. (Especially if they are with a new client.) Wearing a dress just makes me feel "ready" to interact with people. These dresses by Karina Dresses are also very comfortable and breathable. I can wear them all day long and just as easily take a nap in them at the end of the day… or slip on a cute pair of shoes and go out to eat! (Click here to read my full review of these dresses!)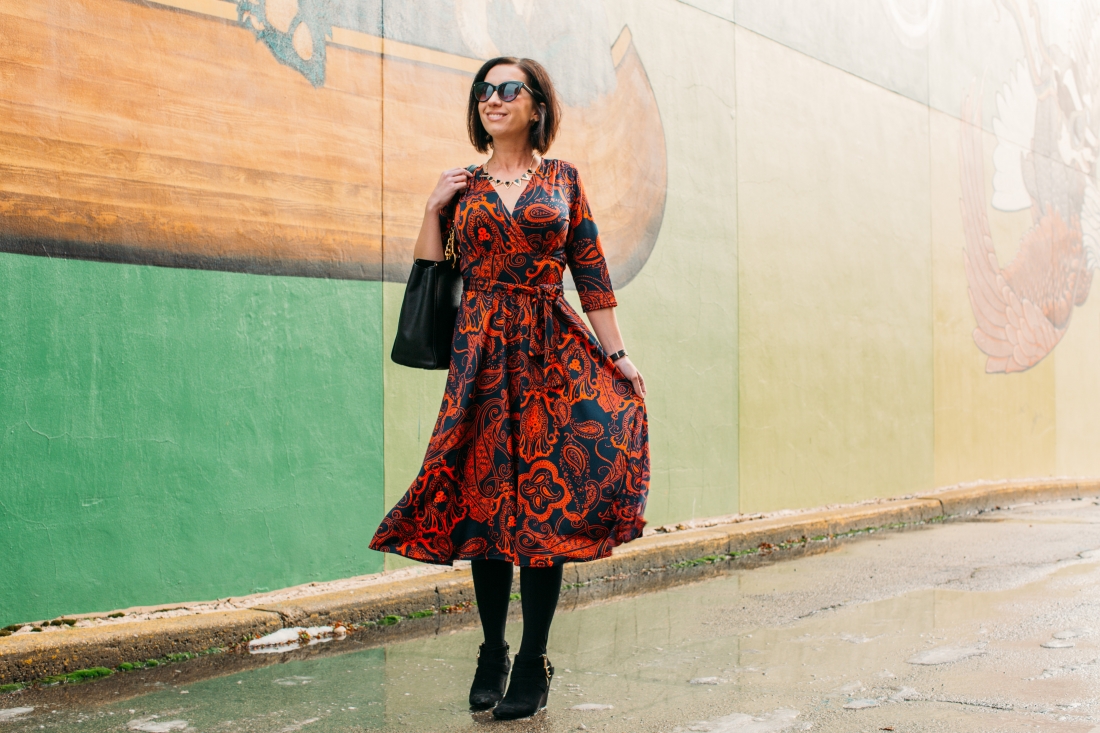 Because my office is mainly white and neutral colors, I like to wear a dress with a little color when I know I'm going to be on camera speaking with someone. It just looks better, in my opinion.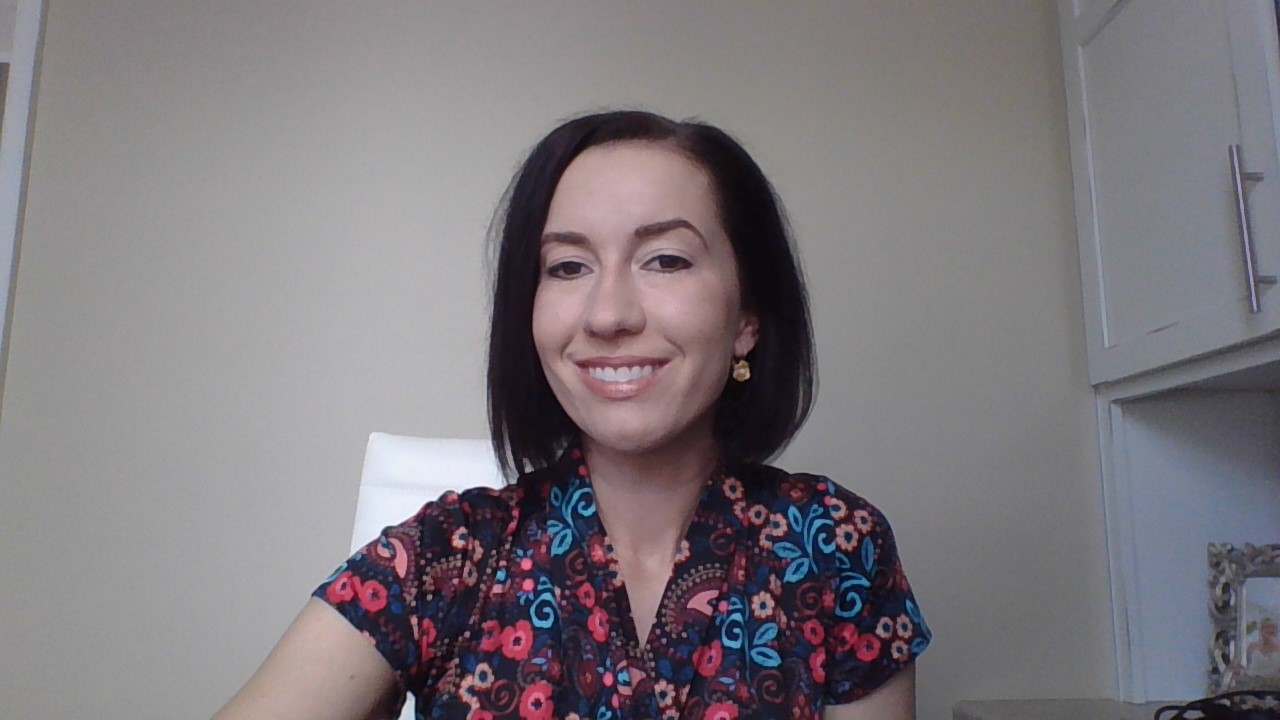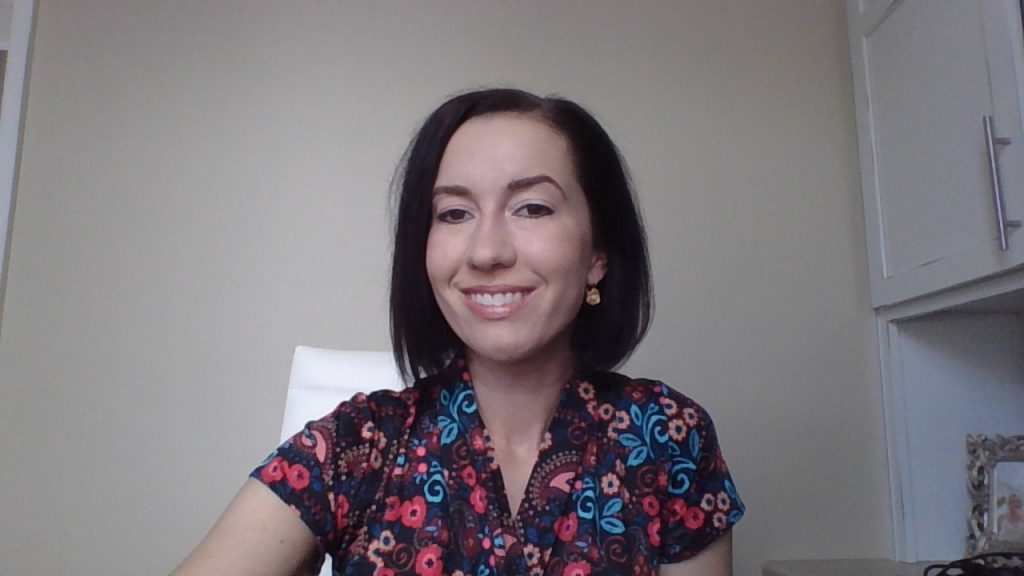 Now, no one can tell this is a dress of course. This is really going to come down to what you feel most comfortable wearing for these scenarios. A comfy blazer (like this one) or cardigan would work just as well with a pair of sweatpants!
I, personally, don't love having to speak on video calls, though. So, to get myself in the "right state of mind," I've found that wearing a comfy yet cute dress (that I can sweat profusely in) helps me feel more ready for these interactions. (Especially if I'm pitching a new client or company to work with me!)
I do still wear slippers for these days, though! It's one of the many perks of working from home. I am sure as heck not wearing heels if no one is going to see them but my cat and me…
Outfit example #4 – Cardigan + COMFY Jeans (Cold weather)
Click to shop:
Cardigan | Jeans | Cami | Slippers | Necklace (similar)
On days when it's especially chilly, I do like to wear certain pairs of jeans when I'm working from home. They have to be SUPER comfy jeans, though. There is nothing worse than working all day in a pair of jeans that is cutting off circulation to your lower half!
I have a couple of old pairs of jeggings from Target that I love (jeggings are just leggings with a jean material… so there are no buttons or zippers – ideal for MANY situations, not just working from home). And I also have a couple of pairs of travel jeans from Aviator (pictured above) that are specifically designed for traveling. That also means they are designed specifically for sitting for long periods of time and still being comfortable! They're stretchy and the waist/butt area isn't cutting off circulation or riding up while you sit on your rear end for 8+ hours at a time… whether that be in your office or on an airplane. Click here to read my full review of these jeans.
I could also easily throw a scarf on with this type of outfit, too, and it would look nice for a video call. However, I've discovered that I HATE wearing scarves when I'm working. I'll wear them for any other occasion, but for some reason when I'm sitting at my computer… scarves make me absolutely bonkers. So, I prefer to wear a cozy cardigan I can wrap up without a scarf.
I've also discovered that I don't like having anything on my wrists or fingers when I'm working… so, no rings, watches or bracelets.
Outfit example #5 – Loungewear (ALL types of weather)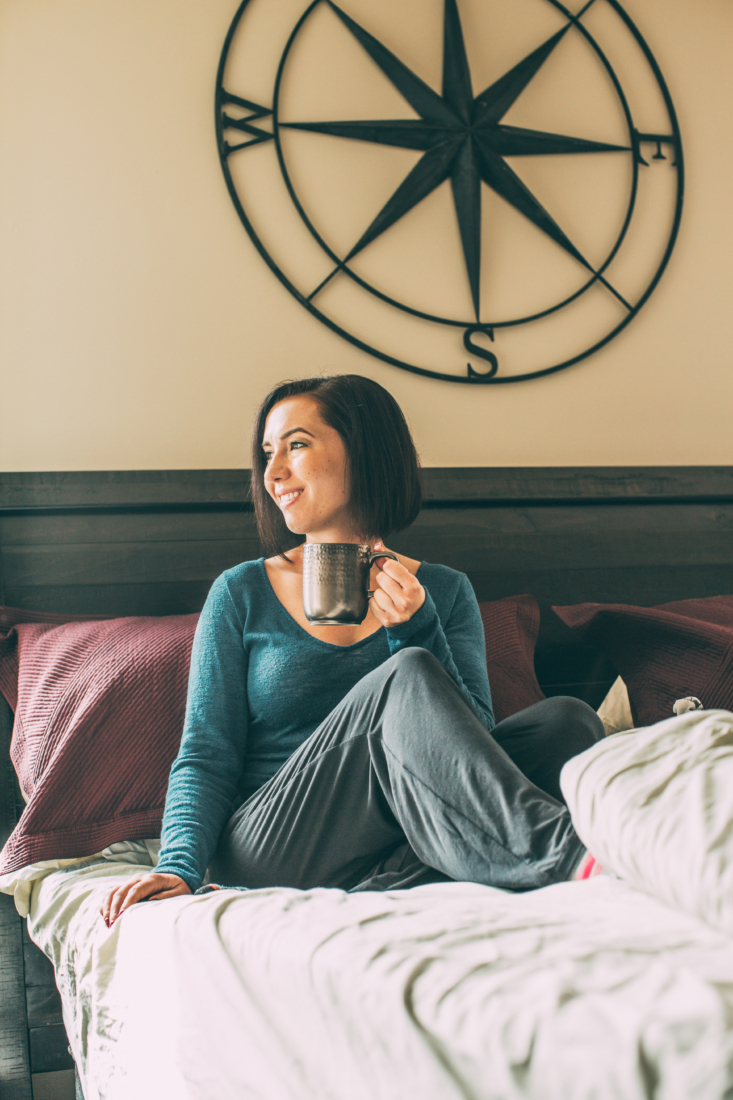 Click to shop:
Ah, but the most popular work-from-home outfit is by far loungewear! If I know there is no chance of me being on a call with anyone that day, and I'm not feeling especially motivated to get dressed… I will absolutely wear PJs to work.
With everything that has been happening these last couple weeks I have had a total of one video call with a prospective client… so, the rest of the days I have been working in my PJs!
Now, wearing cute PJs can be empowering for some folks. (I put together a whole blog post featuring cute PJs, here.) However, I know for me, my mood is impacted after I wear PJs or loungewear as my work clothes for a couple of days in a row. A day here and there can be AMAZING. But constantly wearing them gets a little depressing and makes me question whether or not I'm a professional. So, I try to wear this "work outfit" sparingly.
I'm happy to answer any questions anyone has about this post in the comments section at the end! And I'm curious, what do you like to wear when working from home? And have you just started working from home this week? Let me know in the comments!
*Sorry, my dinosaur planter is sold out, but you can click here for a similar one.
If you liked it – Pin it!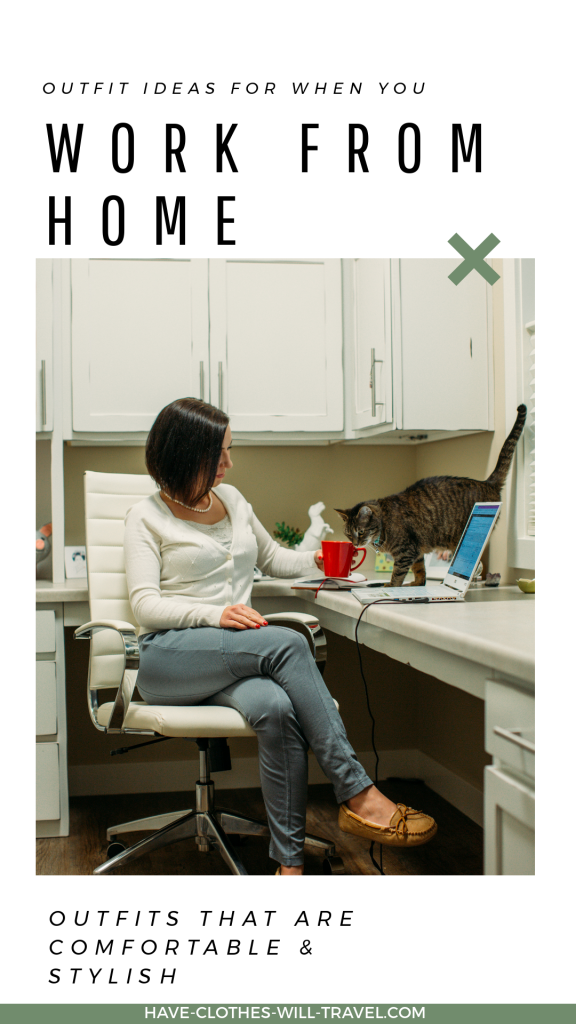 *Disclosure: some of these links are affiliate links. Meaning, if you click a link and make a purchase, Have Clothes, Will Travel gets a very small commission at no extra cost to you. Thank you for supporting the brands that make this blog possible! I am also a participant in the Amazon Services LLC Associates Program, an affiliate advertising program designed to provide a means for us to earn fees by linking to Amazon.com and affiliated sites.