10 Cute Loungewear Sets & Bottoms for Women That Are Available Online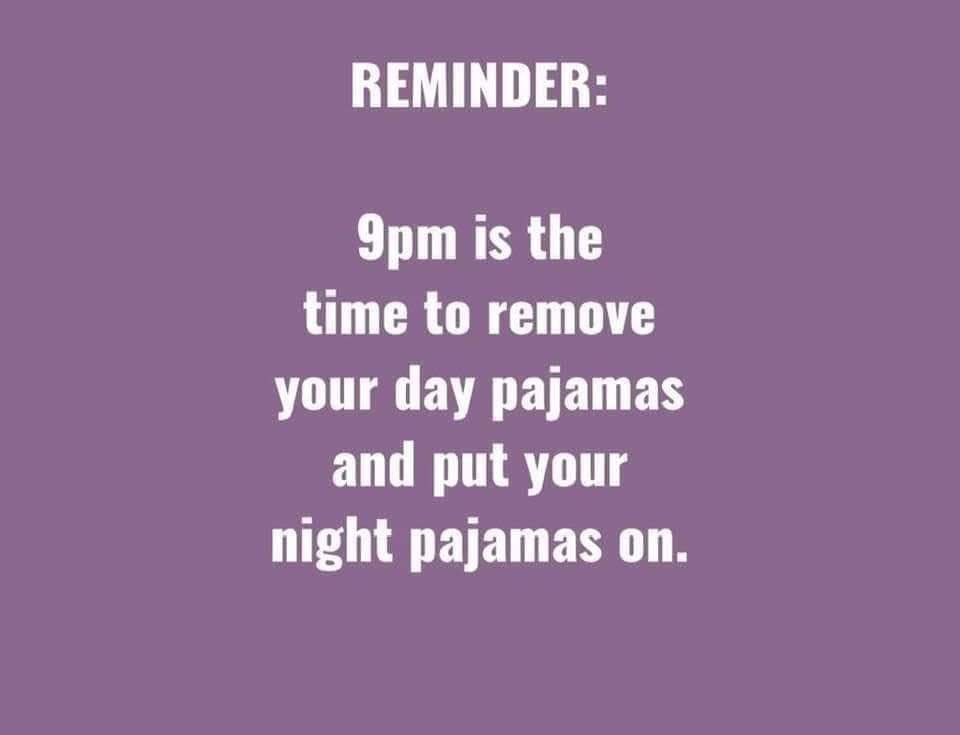 Since we have been practicing social distancing for more than a week, now, I have a confession to make. I have been wearing PJs and loungewear for all but 2 days of this. (Update as of 4/18 – still wearing PJs most days around here. Help!)
I usually work from home, so this really hasn't been that big of a change in my day-to-day life. However, this has just feels… different. I don't know if anyone else is in the same boat? I just have been having the hardest time wearing *real* clothes and bothering with my hair or makeup in the midst of this all.
The meme above by Tyler Feder is so accurate, it hurts! Haha. While I have loads of cute dresses and skirts…I am so bad about updating my loungewear for at home. I've slowly incorporated a couple of new pieces, but as this last week has shown me, there is some room for improvement.
So, for today's post, I thought it would be fun to share some cute loungewear bottoms and sets that are all available online (don't be going into stores unless you absolutely have to, please follow the CDC for all guidelines)! A couple of these I do own, and some are ones I'm looking to get myself. I hope you enjoy this post, and let me know where you've found some of your favorite loungewear pieces over the years in the comments at the end of the post!
*Disclosure: some of these links are affiliate links. Meaning, if you click a link and make a purchase, Have Clothes, Will Travel gets a very small commission at no extra cost to you. Thank you for supporting the brands that make this blog possible!
10 Cute Loungewear Sets & Bottoms for Women That Are Available Online
1.) LazyOne Loungewear Sets
So, I am completely guilty of hanging onto loungewear sets that should have been thrown away years ago… simply because the pants are actually nice and long. (As the meme above illustrated so beautifully!) I really love my loungewear from LazyOne because the pants are actually long enough, and they come in quite a few cute and funny prints! I am 5'5″ tall with "normal" length legs, so it always baffles me that the majority of PJs are so short on me! Fortunately, that's not the case with LazyOne.
2.) Tommy John Second Skin Loungewear Pants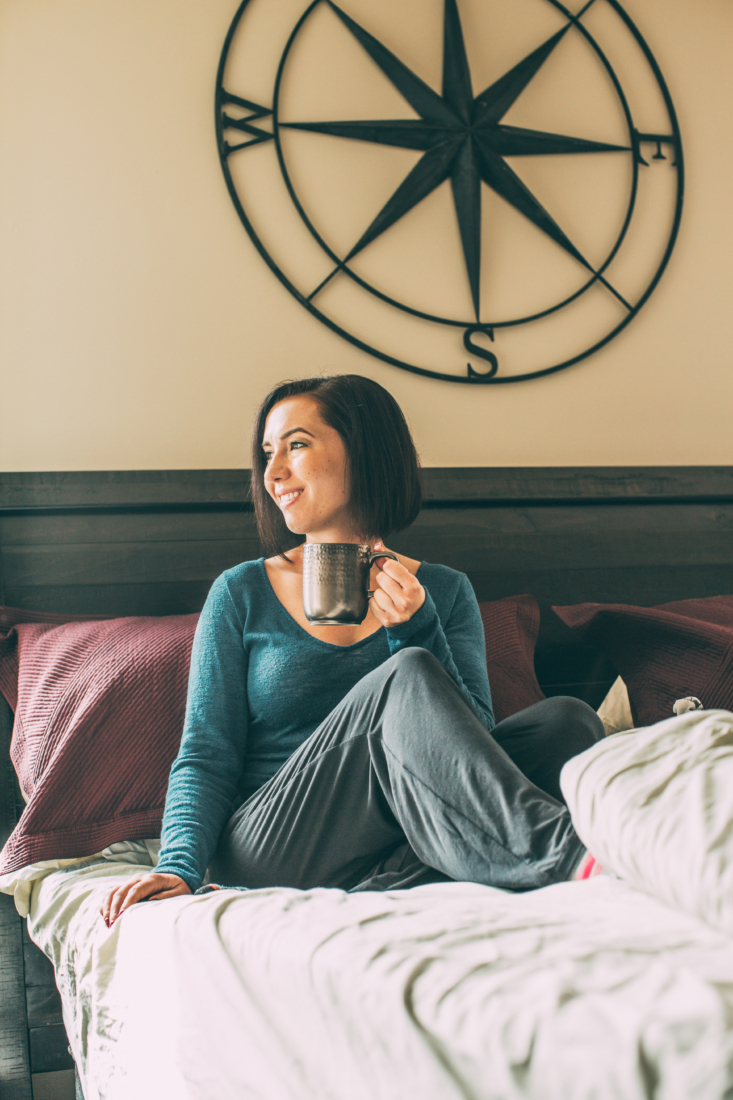 While we're on the topic of loungewear that is actually long enough… I'm also a big fan of Tommy John's second skin pants for this reason. They're also really breathable, and the plain black ones that I have are totally acceptable to wear outside the house as athleisure too,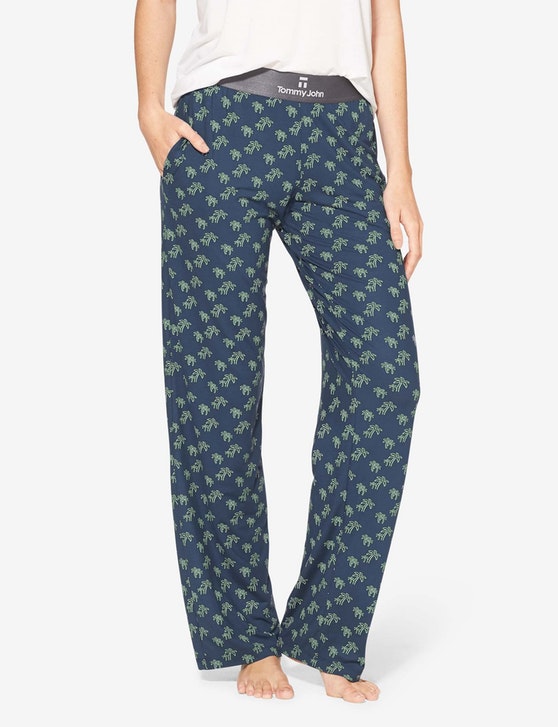 But if you would rather have some cute printed PJ bottoms – these do come in tons of different prints and colors! (Such as the palm tree ones pictured above.)
The price is steep on these pants, and I recommend when washing them with care. Such as, wash on cold and gentle cycle and NOT drying them in the dryer. This will help keep them looking good for years to come.
3.) Sleep All Day Satin Pajamas
This loungewear set looks super comfy and luxurious! The pocket has cute embroidery designs on it that says "sleep all day," and the pants have an adjustable drawstring waist.
4.) Ekouaer Long Sleeve Button-Down Lounge Sets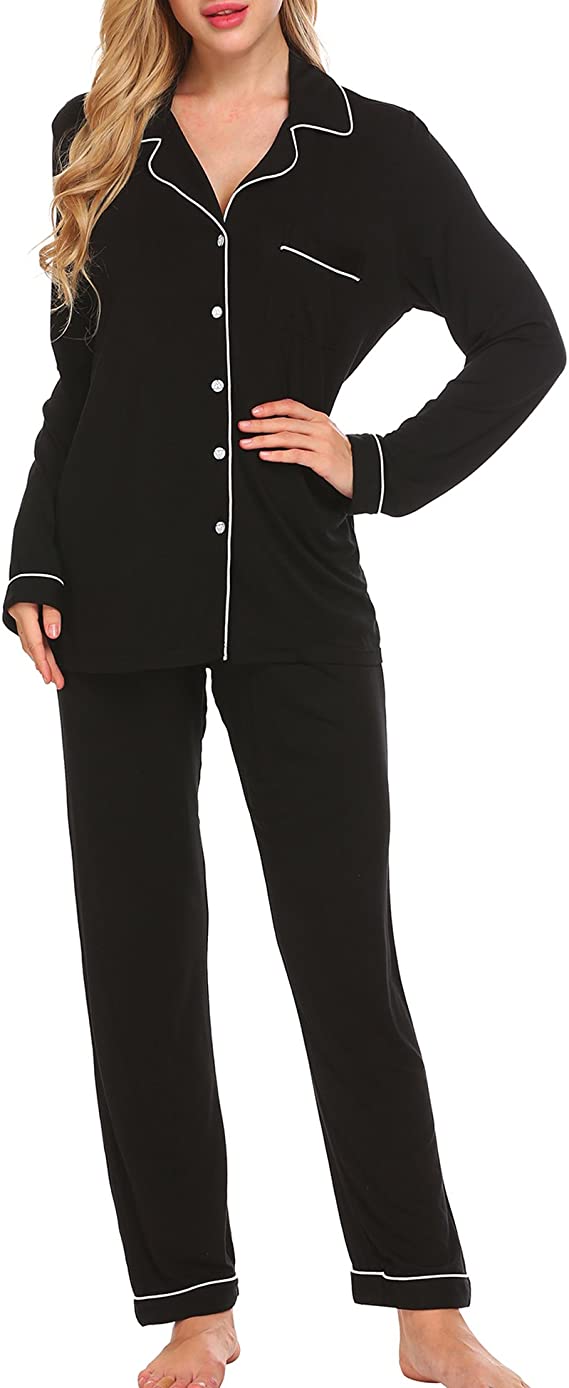 How classy and cute is this loungewear set? I really could use something that looks this nice for lounging around in! And if you're not a fan of just plain ole black and white, these PJs also come in 42 other colors/prints! Talk about variety!
5.) AMiERY Comfy Casual Lounge Pants in Floral Print
When the time comes, these are lounge pants that you would also be able to leave your house while wearing! They are lightweight and super comfy to wear all day. And if florals aren't your jam, they come in 35 other colors and prints.
6.) Viola Sleep Set

This is my favorite set on this whole list! I love how feminine and chic this loungewear is. This might have to be my present to myself… (because with the current state of things… I think a present to ourselves is warranted).
7.) ASOS DESIGN robot print tee & legging pajama set

I am all about quirky prints and love this robot print so much! (This set is also available in ASOS curve sizes.) ASOS has fantastic shipping policies, and if you've never shopped with them… use code ASOSNEW15 for 15% off your first order!
8.) HUE Women's Sueded Fleece Long Sleeve Tee and Pant 2 Piece Pajama Set

Quarantine rules are airport rules. Have a drink at 9 am if you want… while wearing your mimosa PJs no less. 😉
9.) Luxe Shangri-La Pajamas
How exquisite are these PJs? I love the lace details. This is the kind of PJ set you wouldn't feel bad wearing to a Zoom meeting! (Plus, they're 55% off for a limited time!)
10.) Elsa Woven Pajama Pants
Talk about a unique a lively print for your PJs. And these lightweight pants are made from EcoVero viscose, which is a sustainably produced fiber using pulp made from renewable wood sources.
Bonus: Christmas PJs The Scotch On The Rocks
I believe it was the great Ron Burgundy who said "I love scotch. Scotchy, scotch, scotch. Here it goes down, down into my belly…" while wearing a killer Christmas pajama from the Channel 4 VIP wardrobe room.
Whether or not you love scotch like the great Ron Burgundy, you can still look like super classy while you're rocking these holiday plaid Christmas wonders all the way home from the Pants Store.
My husband and I actually own a matching set of these PJs and we freaking love them. They're so soft and comfortable!
Bonus: Shark Sleep Shirt
And if none of these loungewear sets brought a smile to your face… then hopefully this sleep shirt will! I mean, who could be unhappy all day in their home while dressed in a shark shirt? I'm sure your roommates will love it too!
**Slippers – Pile Lined Hardsole by Minnetonka
I wanted to end this post by mentioning the BEST pair of slippers I have ever owned. My mom surprised me with these for Christmas, and I have not taken them off these last few months. The inside is super soft. Plus, they are durable enough to be worn outside of the house as well. I have a hard time finding slippers because I have such wide feet. Fortunately, these come in wide sizes options!
Now, I'm curious, where do you find your favorite loungewear? And which of these featured sets or bottoms were your favorite? Let me know in the comments!
I am a participant in the Amazon Services LLC Associates Program, an affiliate advertising program designed to provide a means for us to earn fees by linking to Amazon.com and affiliated sites.