7 Ways to "Travel" When You Can't Leave Home
With nearly everything being shutdown and travel coming to a screeching halt – I thought today's post should be a fun one to help us stay upbeat while we are at home waiting this out. So, I'm sharing 7 ways I'm keeping the travel bug alive in our house… while we're stuck on our couch! I would love to hear what everyone else is doing as well in the comments at the end of the post.
7 Ways to "Travel" When You Can't Leave Home
*Disclosure: some of these links are affiliate links. Meaning, if you click a link and make a purchase, Have Clothes, Will Travel gets a very small commission at no extra cost to you. Thank you for supporting the brands that make this blog possible!
1.) Learn a New Language!
I'm most excited about this one, as it's something I've kept putting off with the excuse of – "I don't have time." But now, that I'm at home for a while, there's no reason I can't start practicing Spanish again!
I had taken Spanish courses when I was living in Argentina, but it's been a couple of years, and I've gotten quite rusty. I'm going to begin taking Spanish courses through Rosetta Stone to get back at practicing again, as I really hope to return to Argentina once this all clears up.
And, if Spanish isn't a language you're interested in learning – don't worry! Rosetta Stone has over 30 languages for you to choose from, including several endangered languages.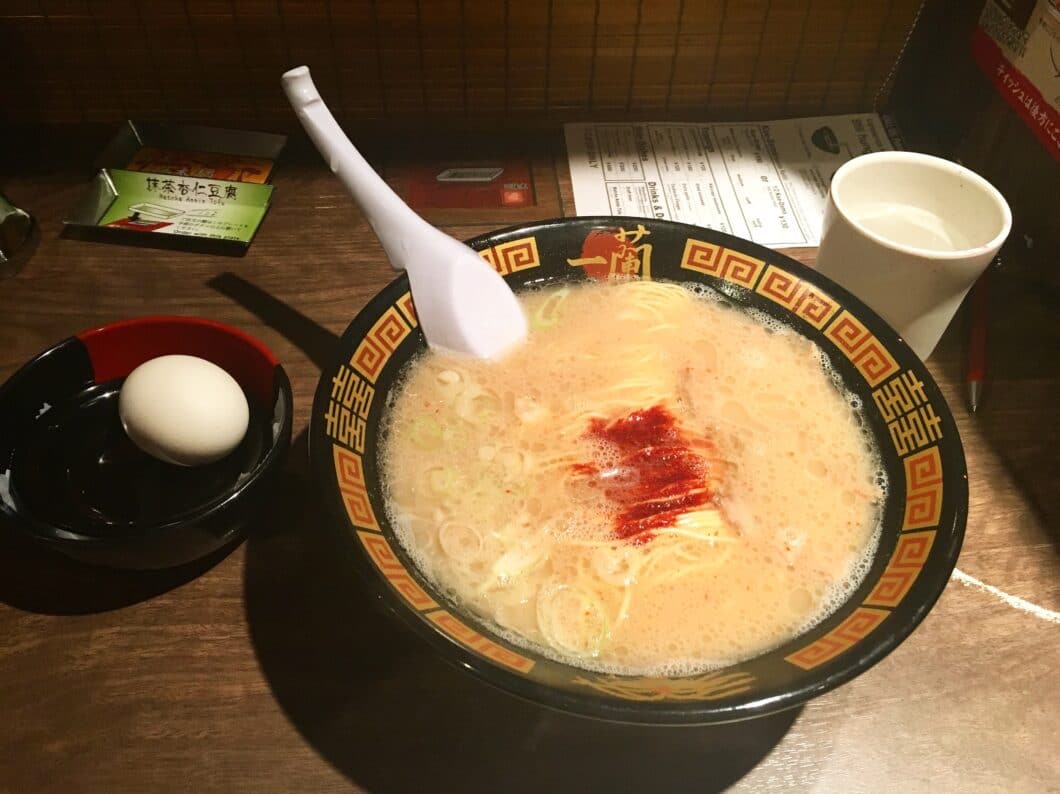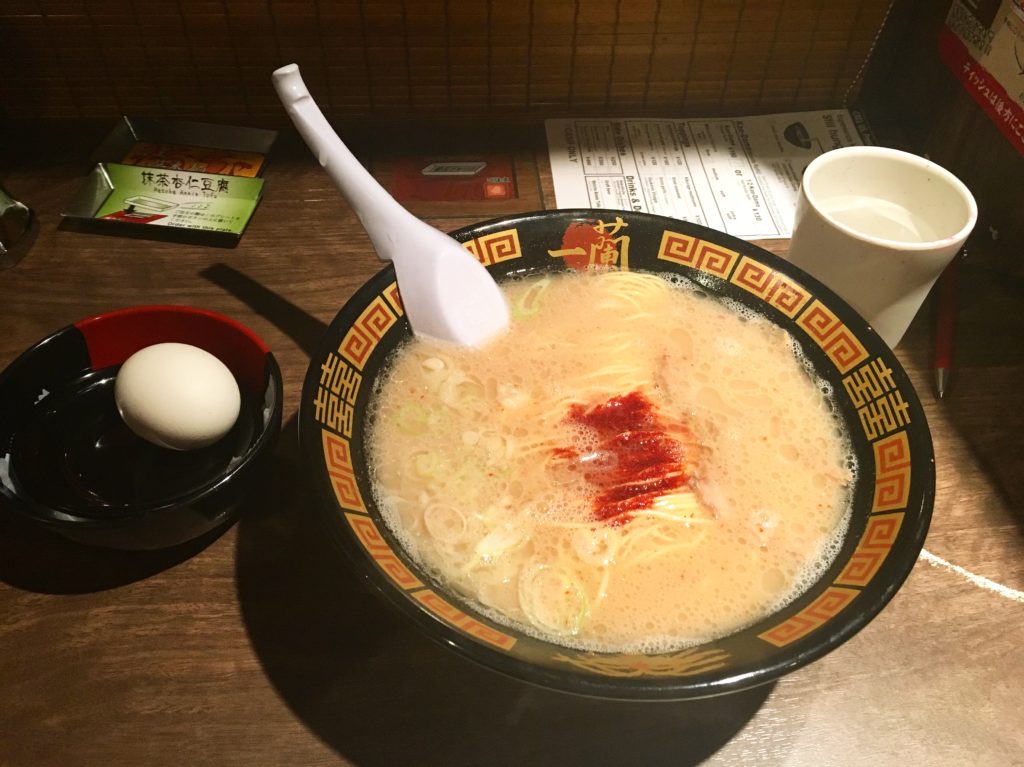 2.) Make or Order an Authentic Dish From Your Favorite Country
Are you dying for some authentic Japanese ramen or Argentine empanadas? Try making them at home! This can be a fun way to kill some time and learn a new dish to make. Plus, cookbooks are just a click away now and can be downloaded right to your Kindle.
Another option is to order delivery or takeout from a local ethnic restaurant. Now is a great time to be supporting your local restaurants – as many people are no longer going out to eat. (Please be careful with this, though, and wash hands thoroughly when you're out and about!)
Or you can do a meal prep delivery service that will get delivered to your door with minimal human interaction. Try the World has some fun international cooking options! It requires minimal prep too, which is great for people like me, who aren't all that patient when it comes to cooking!
3.) Watch a Fun Travel Movie
Travel from the comfort of your couch by a watching good travel movie or even just a movie with beautiful scenery! Here are a few of my favorite travel-related movies to watch to inspire a little wanderlust:
Midnight in Paris
The Mummy (1999)
Indiana Jones (any of them!)
Lost in Translation
Murder on the Orient Express (2017)
Under the Tuscan Sun
Roman Holiday
Doctor Zhivago
The Talented Mr. Ripley
Catch Me If You Can (2002)
The Best Exotic Marigold Hotel
The Grand Budapest Hotel
4.) Read a Cool Travel Guide or Book
Sometimes there is nothing better than curling up with a good book. I'm obviously a big fan of reading blog posts, but especially at night before I go to sleep, I love to read a physical book (with no backlight and zero technology). It's comforting to do just before bedtime.
Lonely Planet has tons of fantastic travel guides that come with everything from maps to budgets and itineraries. I'm also a big fan of Rick Steves travel books… and own entirely too many…
If you'd rather just read some great travel-related stories (or books that take place in cool spots of the world), these are few of my favorites:
5.) Do a Virtual Museum Tour
If you can't physically tour a museum – try a virtual tour! Google Arts and Culture has partnered with over 2,500 museums and galleries around the world to bring these museums right to your fingertips.
Click here to see all of the available collections.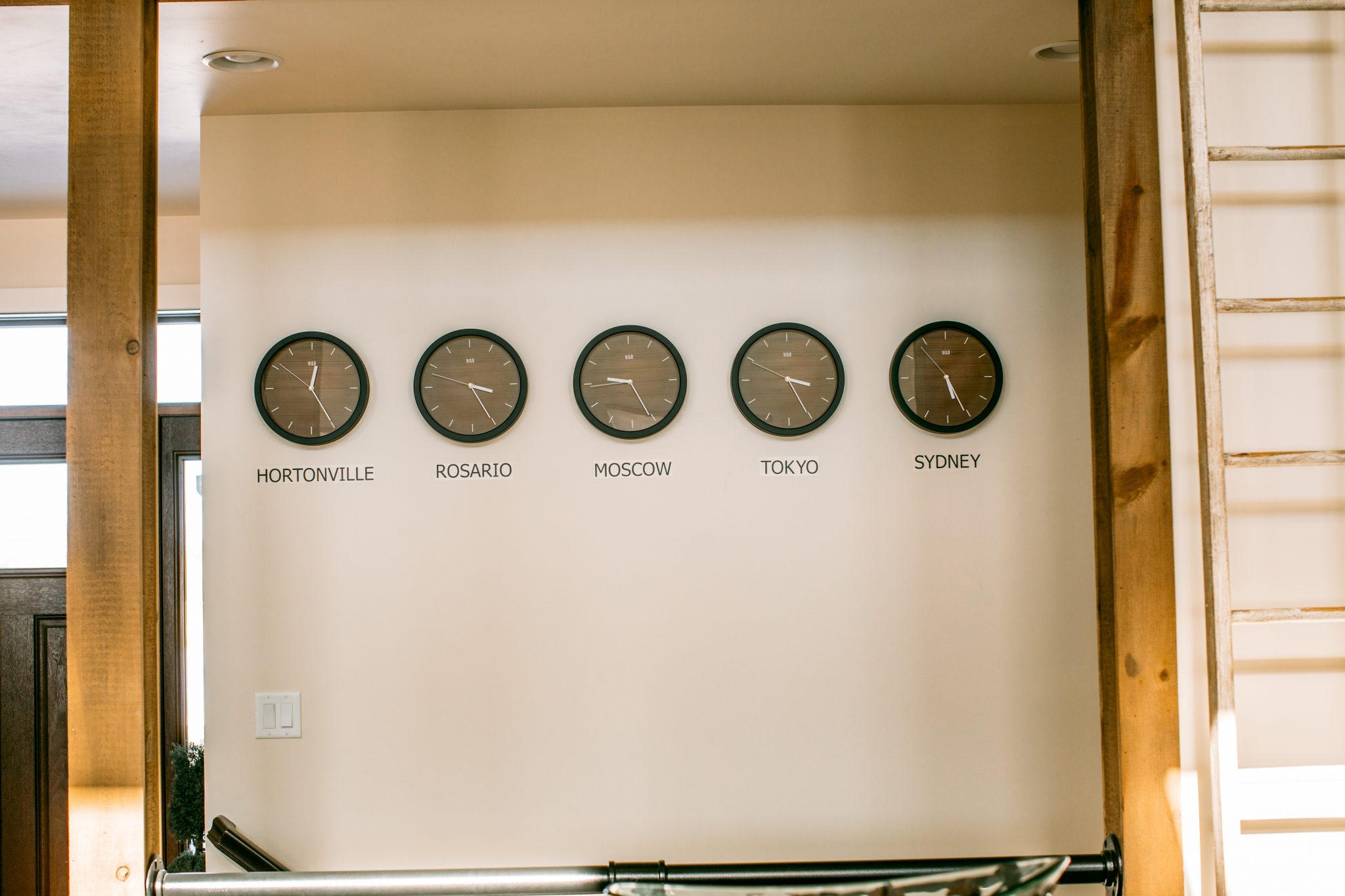 6.) Decorate Your Home With Travel Projects
Add a little travel to your home with a fun DIY project! I use the term DIY loosely, though, as I am not the least bit crafty…
The photo above is a little project that my husband and I just did. We ordered clocks from Amazon and stickers from Etsy of each city we've lived in around the world. This is our little "time zones" wall to remind us of our adventures.
Another project I'm working on is going through my favorite photos from our travels and getting them developed. I'm planning to frame a handful of the photos and then hang them around this metal world map I just bought!
I also think making a shadow box with tickets from our travels might be a fun way to pass some time as well! There are some great YouTube tutorials out there to make your own. (Such as this one.) Then, every time you find a plane ticket in your pocket or an old museum pass, you can stick it in your travel shadow box.
The tutorial below is a good one if you want to showcase your tickets in a more organized fashion. Or you can always buy one if you're not crafty like me!
7.) Research Your Next Trip
This is something I like to do right after I get back from a trip to help combat "the post-trip blues." And this week, I ended up having to cancel my trip to Ireland for St. Patrick's Day. Needless to say, I'm a bit bummed out.
I am hoping to reschedule this fall, though. So, I'm starting to do more research on what to see and do at that time of year… it's giving me even more time to prepare, and reading through the various articles and blog posts is starting to get me excited all over again! (I have SO many more breweries and distilleries I want to visit now, haha.)
Need some travel inspiration? Check out a couple of my popular travel posts below.
What are some ways you're keeping the travel bug alive in your home right now? Let me know in the comments!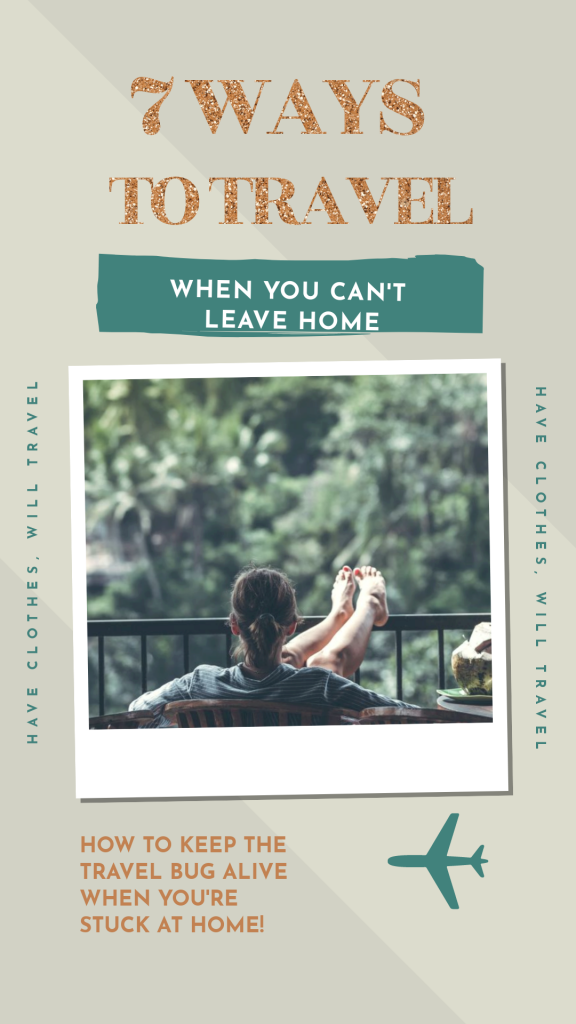 I am a participant in the Amazon Services LLC Associates Program, an affiliate advertising program designed to provide a means for us to earn fees by linking to Amazon.com and affiliated sites.