My Top 10 Favorite Things I Did in Japan
"What was your favorite experience in Japan?" I've been getting this question quite frequently recently. Which really isn't very easy to answer. There are a million things I loved about Japan…so, I figured it would be a bit easier to break it down into tours and places I visited.
I also can't even begin to tell you how excited I am that readers are reaching out to tell me my blog has inspired them to visit Japan! And some are even starting to plan trips to this magnificent country! That means the world to me! And a couple friends and readers have also lodged requests that I do a blog post about what my favorite tours and must-see sights were. (Thank you specifically to Ashley for getting me started on this!) So, here we go!
1.) Climbing Mount Fuji
I waffled a bit on what I wanted to include in my "Top 10 List," but I can say without a doubt that climbing Mount Fuji was my #1 favorite experience. I met so many incredible people who were just as excited as me to be climbing Mount Fuji.
The views were amazing, our guide was wonderful and staying in a mountain hut is an experience I will never forget. Waking up before dawn without proper caffeine was a bit rough, but it was so worth it to see the amazing sunrise from the top of Mount Fuji. And ending the weekend with ramen and a stop at an onsen was pure perfection. Everything about this experience was incredible!

However, this is a summer activity. Mount Fuji is only open to climb from July – early September! Click here to read my full post on climbing Mount Fuji.
2.) Spending an Evening with a Geisha (Kyoto)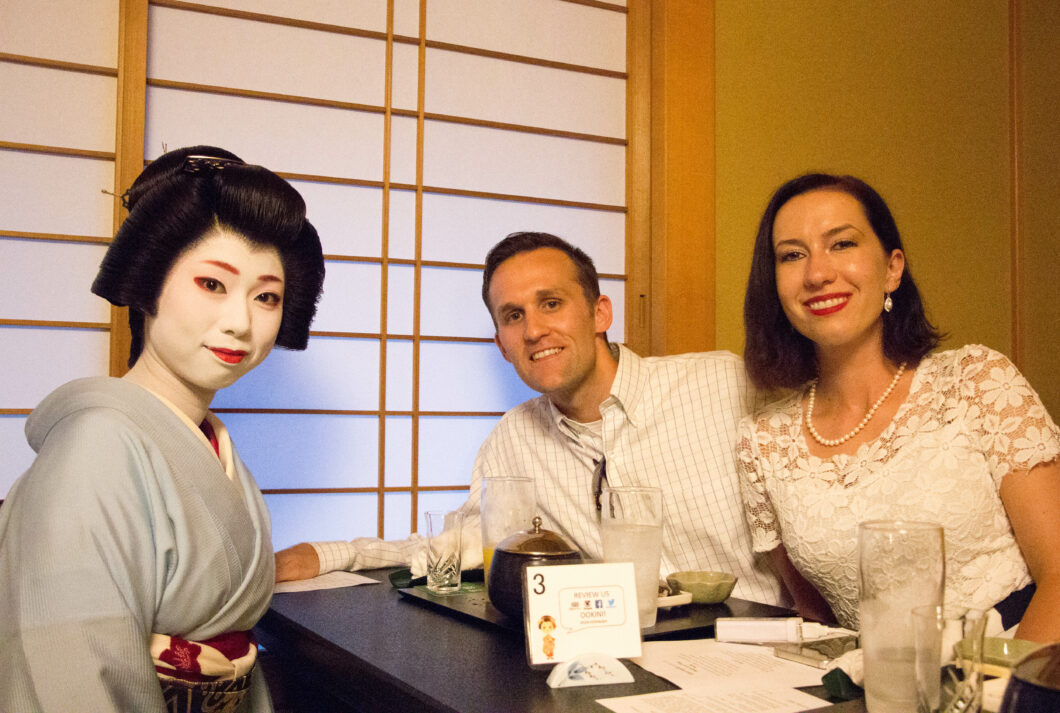 I know I said Mount Fuji was my favorite…but spending an evening with a Geisha was a very, very close 2nd. I have been fascinated by Geisha since I was a little girl and never thought I would actually get to experience an evening of performances and games with a Geisha & apprentice Geisha! It was really incredible – and fun.
My only complaints about the evening were the food we were served that night was a bit subpar…and one of the translators we had, so, we could ask the ladies questions about their professions, was a bit hard to understand. But other than that – this was a magical night in Kyoto!
Click here to read more about my evening with a Geisha.
3.) A Japanese Baseball Game (Tokyo)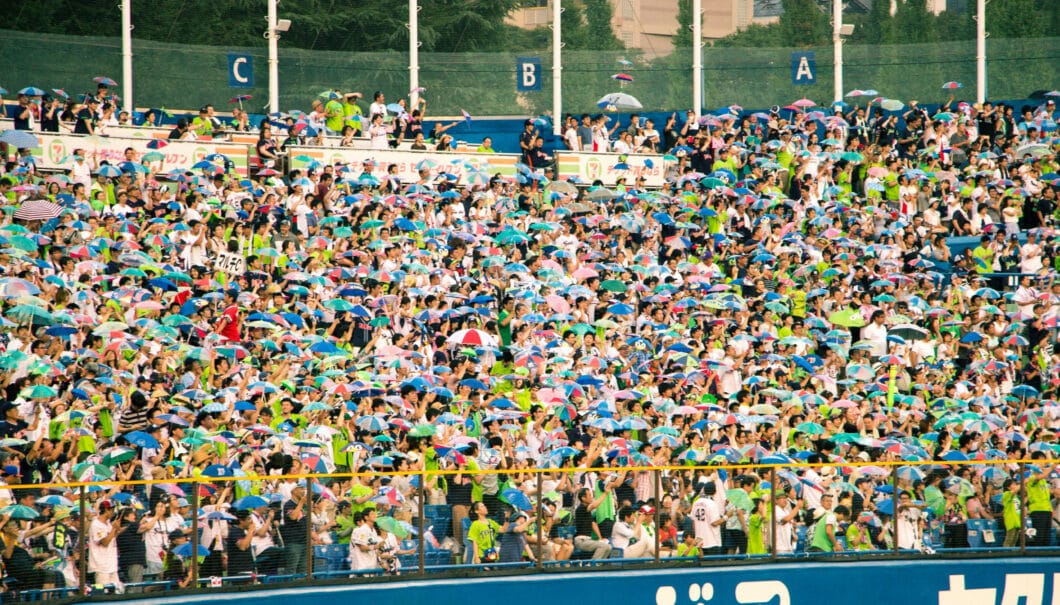 I'm not a diehard baseball fan by any means, but it's hard to not have a good time at a Japanese baseball game! The level of excitement and fan participation is just phenomenal – and contagious! Also, the beer girls carry around kegs, instead of cans, which I thought was amazing (those ladies are strong)!
The food was really good at the games too. Sure, it was the usual hot dogs and deep-fried food…but I'm here to tell you, Japanese hot dogs and deep-fried food are better than our American versions, haha. The hot dogs have rice and teriyaki sauce too..I'm already craving one again. Haha! Overall, this was an experience like no other baseball game I had previously been to.

Click here to read my full post on the Japanese baseball game experience.
4.) Ueno Park (Tokyo)
Ok, this one might be a hard one to do if you have limited time in Japan…but, Ueno Park in Tokyo has A LOT going on. It was one of our favorite places to visit on Saturday nights because they would have festivals going on with really yummy street food…and the Pokemon catching was really good there, haha.
Ueno Park has a zoo, several incredible museums, ancient temples and shrines and lovely cafes and areas to walk. Some of our favorite nights in Japan were spent in this park.
Click here to read my post on the Ueno Park Zoo, and click here to read my post on the museums in Ueno Park.
5.) Exploring Asakusa (Tokyo)
Asakusa is a district in Tokyo that also has a lot going on! It had a very unique feeling to it…I think this is because it has more buildings from the 50s and 60s than the rest of Tokyo, which made it feel older than the rest of Tokyo.
There are incredible festivals here in the summer, too. We were lucky to attend the fireworks festival that happens at the end of July – it was really something!
Sensō-ji temple is also here and is a must-see when in Tokyo. There are also quite a lot of touristy things to do here. You can rent kimonos for the day and get your photo taken at the shrines and temples. And there are a ton of souvenir shops. This also an area of Tokyo that still has working Geisha!
Click here to read my full post on Asakusa.
6.) Wearing a Kimono (Kyoto)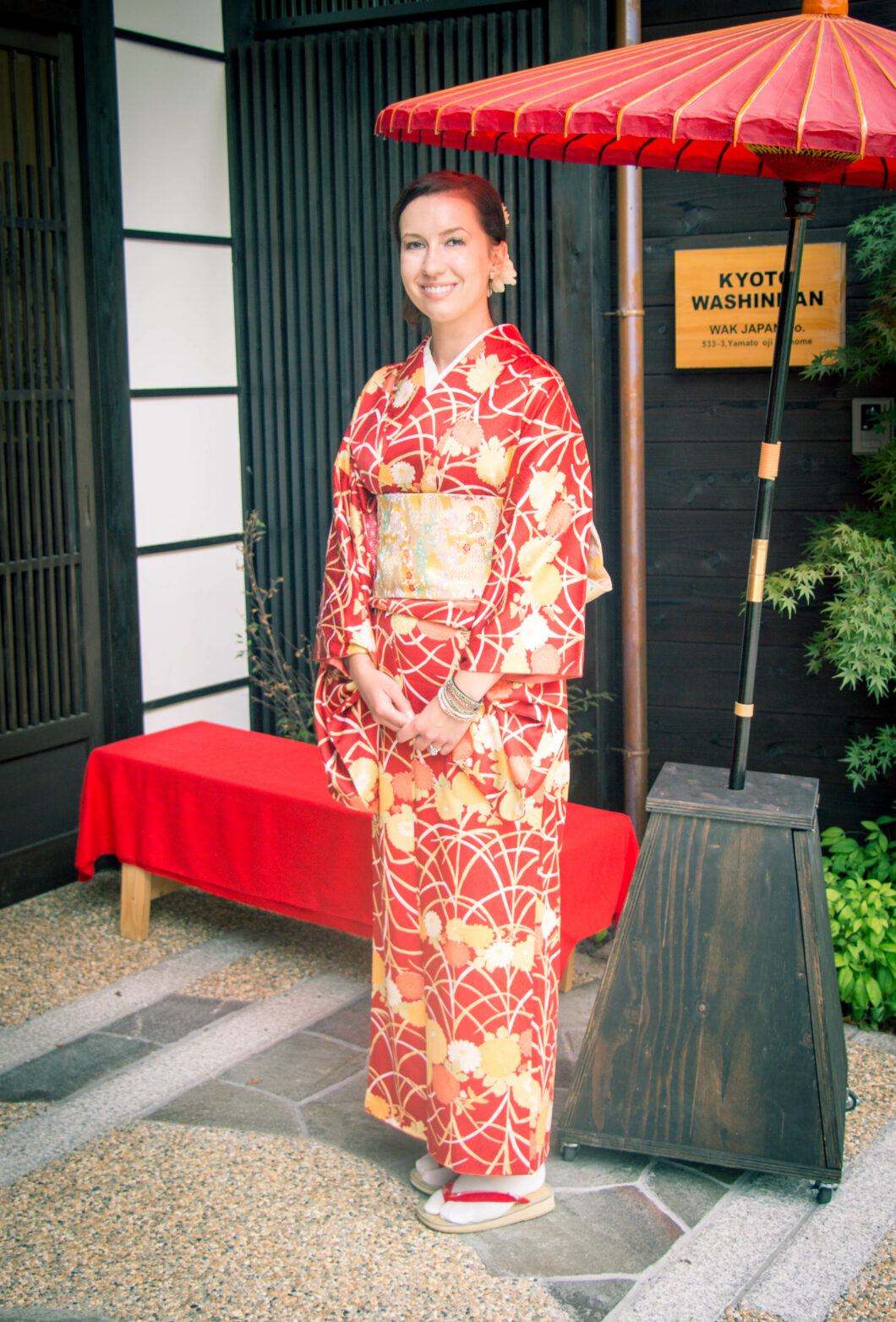 Speaking of renting kimonos, that was also one of my favorite memories from Japan. Getting to wear an actual kimono made me feel like a real-life princess! It was also a wee bit uncomfortable and incredibly warm. Haha. But gosh, was it beautiful! I had worn a kimono in Kyoto for a tea ceremony, but again, you can just as easily rent them in Asakusa. (Tokyo).
Click here to read my full post on wearing a kimono.
7.) Fushimi Inari Shrine (Kyoto)
Fushimi Inari Shrine is in Kyoto and has over 10 thousand torii gates that lead up the side of sacred Mount Inari. It was one of the most highly recommended spots to visit in Kyoto – and I can say that I am incredibly glad we did so!
The photos I have from Fushimi Inari are some of my favorites from Japan. But a fair warning, holy moly was there a lot of people there! Even in the heat of summer, this place was packed. But if you're set on getting some decent photos (like I was), be prepared to walk through the gates for about 15 minutes before you get a chance to snap photos. Even in the incredible heat – it was worth it!

Click here to read my full post on Fushimi Inari Shrine.
8.) Iwatayama Monkey Park (Kyoto)
What can I say, I like monkeys! So, getting to see them doing their thing at the Iwatayama Monkey Park was really exciting for me. They are wild monkeys that do get fed by park employees at scheduled times, so therefore, they always hang out around the park.
This was also a bit of a hike to get to (roughly 20 minutes up the side of a mountain), but getting close to monkeys and getting spectacular views of Kyoto was completely worth the effort!
Click here to read my full post on Iwatayama Monkey Park.
9.) Themed Cafes and Restaurants (Tokyo)
There are an incredible amount of themed restaurants in Japan…Tokyo specifically. But my 2 favorites were Robot Restaurant and Fukuro No Mise owl cafe. Robot Restaurant was more of a crazy, trippy show than it was a restaurant…but seriously one of my favorite experiences. Fukuro No Mise was also more of a chance to get close to owls than it was to sit down and have a coffee. But, when in Japan…themed cafes and restaurants are taken to the next level!
Click here to read my post on Robot Restaurant, and click here to read my post on Fukuro No Mise.
10.) DMM.Planets Art Tokyo's "Crystal Universe" (Tokyo)
DMM.Planets Art was an interactive display that ranged from having an exhibit made up of millions of LED lights to frolicking through a cushy "Blackhole" to wading in knee-deep water in a "Koi Pond." It was so unique and beautiful.
It was located in Odaiba, Tokyo when we visited. However, I do not believe it is there any longer. I heard it would potentially be moving to another area of Tokyo, but I am unsure if this is true or not. I do hope it is still up and running somewhere, though!
Click here to read my full post on DMM.Planets Art "Tokyo's Crystal Universe."
To see all my posts from Kyoto, click here. To see all my posts from Tokyo, click here. And to just see all my posts from Japan, click here.
Would you try any of these things if you visited Japan? Let me know in the comments!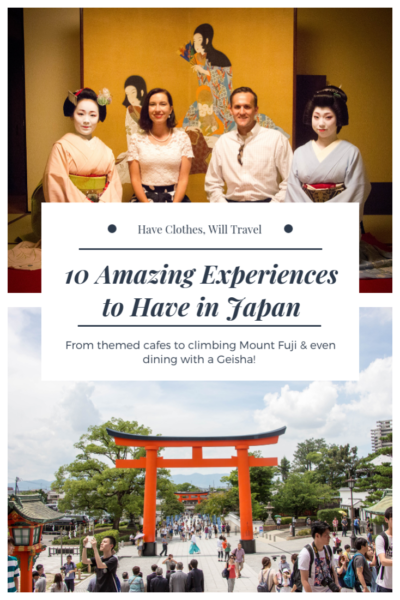 Side note: For regular readers, I swear I'll be writing about Australia starting next week! This will be my last Japan post. I promise! I'll get into it a bit more in depth why it's taking me a bit to write about Australia, but I can assure you it will be happening next week! I'm attending Sydney Fashion Weekend this weekend. And Monday is a holiday here, so, my husband and I are going hiking through the Blue Mountains! (So, all kinds of fun stuff to talk about and share photos from.) I hope everyone has a great weekend too! 🙂