How to Spend an Evening with a Geisha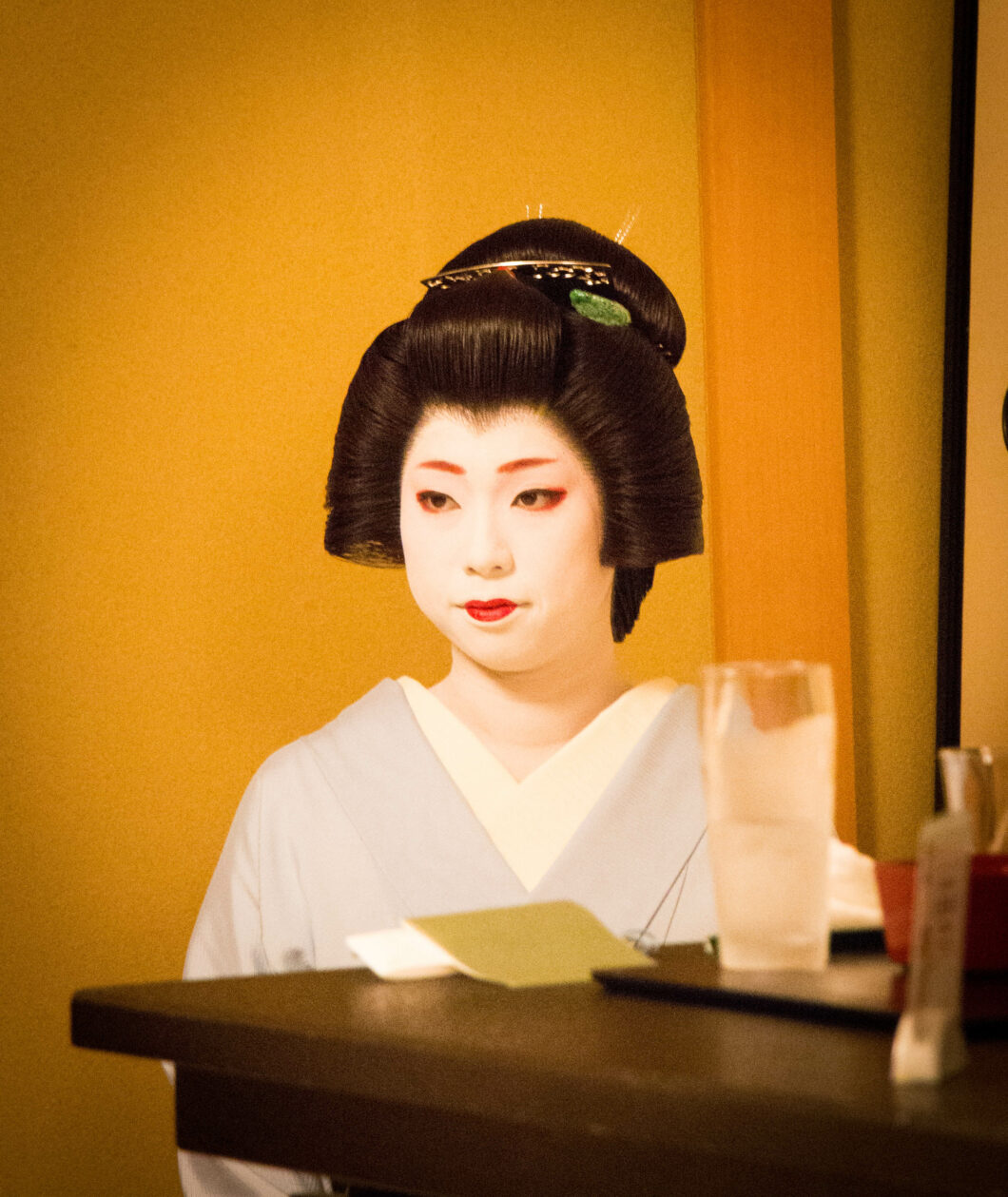 I'm still a bit in shock that I was not only able to meet a Geisha, who has trained for more than 10 years, but I was able to spend an evening being entertained by her and an apprentice Geisha! It was incredible and a dream come true.
They performed traditional songs and dances, and we were able to talk with them and ask questions (via a translator), I even played a drinking game with them! Haha. But before I get too far into our evening, I'm going to briefly explain what a Geisha is and why this was so exciting for me. (But if you already know what a Geisha is and would rather just read about the evening, skip to the next photo.)
What is a Geisha?
I have been fascinated by Geisha ever since I was a little girl. It all started with a porcelain Geisha doll my grandma had in a glass case. I used to stare at it in awe every time I spent the night at my grandparents' house. I wanted to know more about the lady this doll was inspired by and the culture surrounding her. And ever since, I've been reading as much as I can about Geisha. (My favorite book is "Geisha: A Life" by Mineko Iwasaki, but more on that later.)
I now like to think I have a pretty good grasp of what being a Geisha means and how a young girl becomes one. A geisha is a Japanese female entertainer who is very skilled in many different artistic areas. She has spent at least 5 years training and is very talented at dancing, singing, conversing, painting, flower arranging, tea ceremony, calligraphy, poetry..the list goes on.
Technically, Geisha are called Geiko in Kyoto. (The most prominent area in Japan for Geisha.) Geiko have completed their training, whereas Maiko are girls who are still in training to become Geiko (a.k.a Geisha). Many girls start their training at the age of 15 and become Geiko when they are 20. Geiko and Maiko live together in Okiya (special houses for Geisha, sort of like a boarding school).
Once a Maiko becomes a Geiko, she can remain a Geiko for life and stay in the Okiya. (I think the oldest one is in her 80s?) However, once a Geiko marries, she must retire from this profession. There are only estimated to be about 60 Geiko now in Kyoto.
A common misconception about Geisha is that they are only meant to entertain men…and are essentially high-paid prostitutes. Females can be entertained by Geisha, and there is absolutely nothing about what they do that equates to prostitution. A Geisha would actually fall on the opposite end of that spectrum. In Japan, they are regarded much the same as Hollywood celebrities are in America.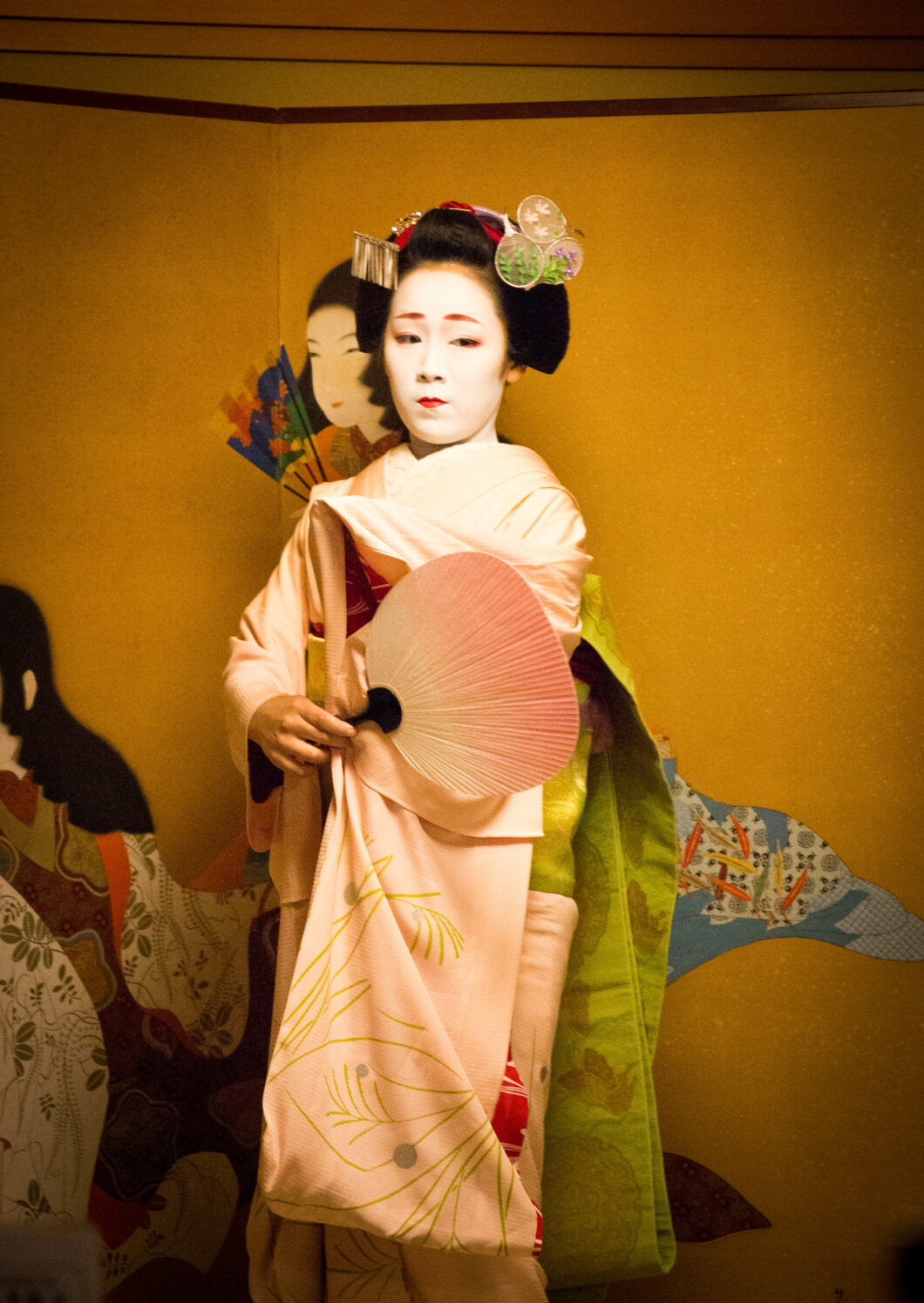 Traditional Geisha (Geiko) and Maiko Performances
The photo above is of the lovely Maiko, named Koyoshi, who also entertained us for our evening. She performed a couple of beautiful, traditional dances for us while we ate our dinner. My husband recorded a video of her performing below. And traditional Japanese dances are unlike the dancing we are used to in Western culture. Geisha's dances are much slower (but equally graceful) and are about the relationship of their feet to the ground (versus, say, the quick movements of a leaping ballerina).
It was so beautiful! But not like the kind of dancing we're used to, right? And the instrument the Geisha is playing in the background is called a shamisen.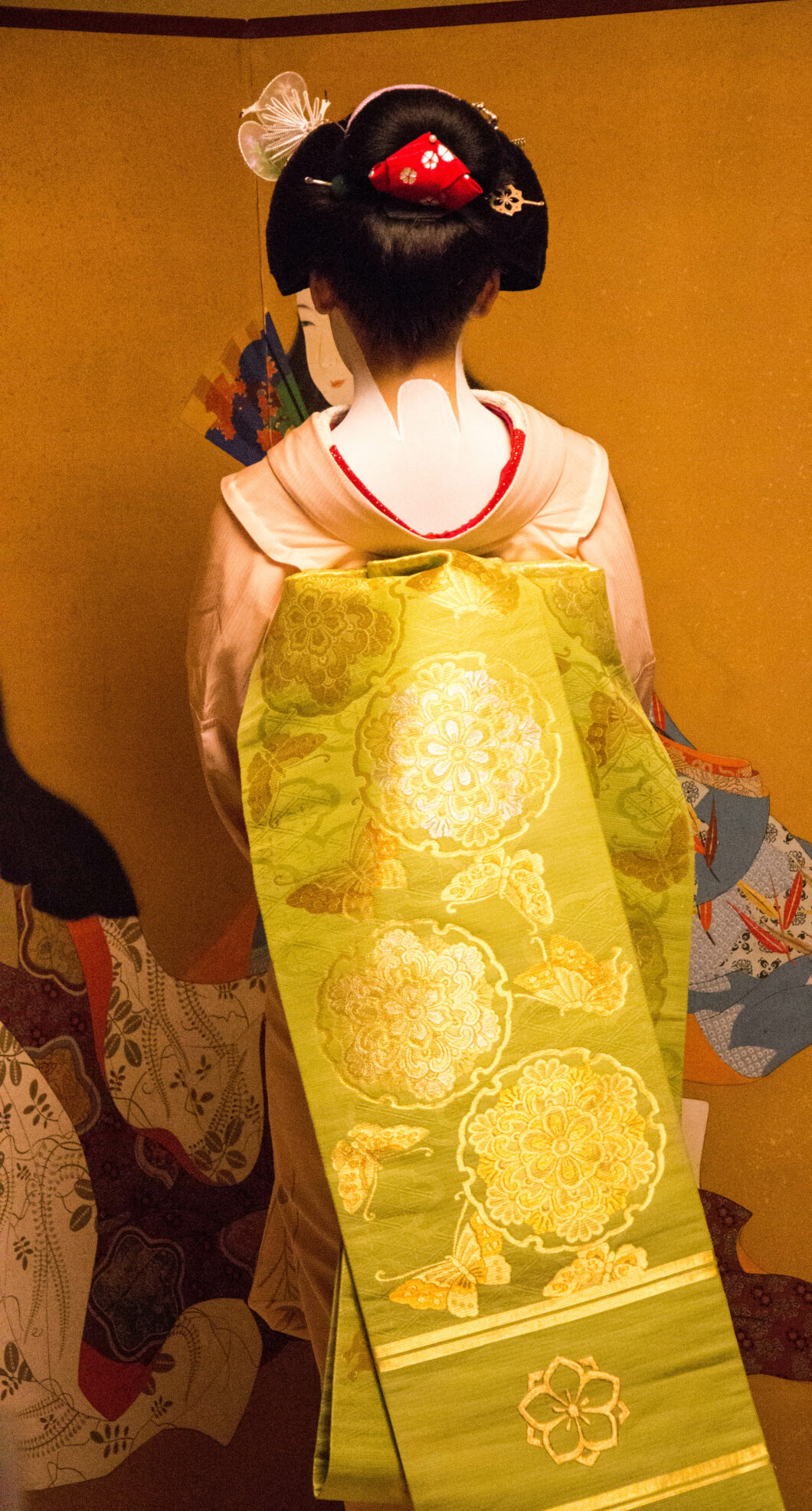 What Geishas Wear: A Traditional Kimono
And how can we be talking about Geishas and not talk about kimonos! Haha. The main difference between a Geisha kimono and a regular kimono is the neckline. The Geisha kimono exposes the neckline, which is considered the most sensual part of a woman in Japan.
It takes Geisha hours to have their hair, makeup and kimonos draped. And Kimonos are rather pricey…they generally cost thousands of dollars. Even just for the obi (the sash), it can cost upwards of $5,000!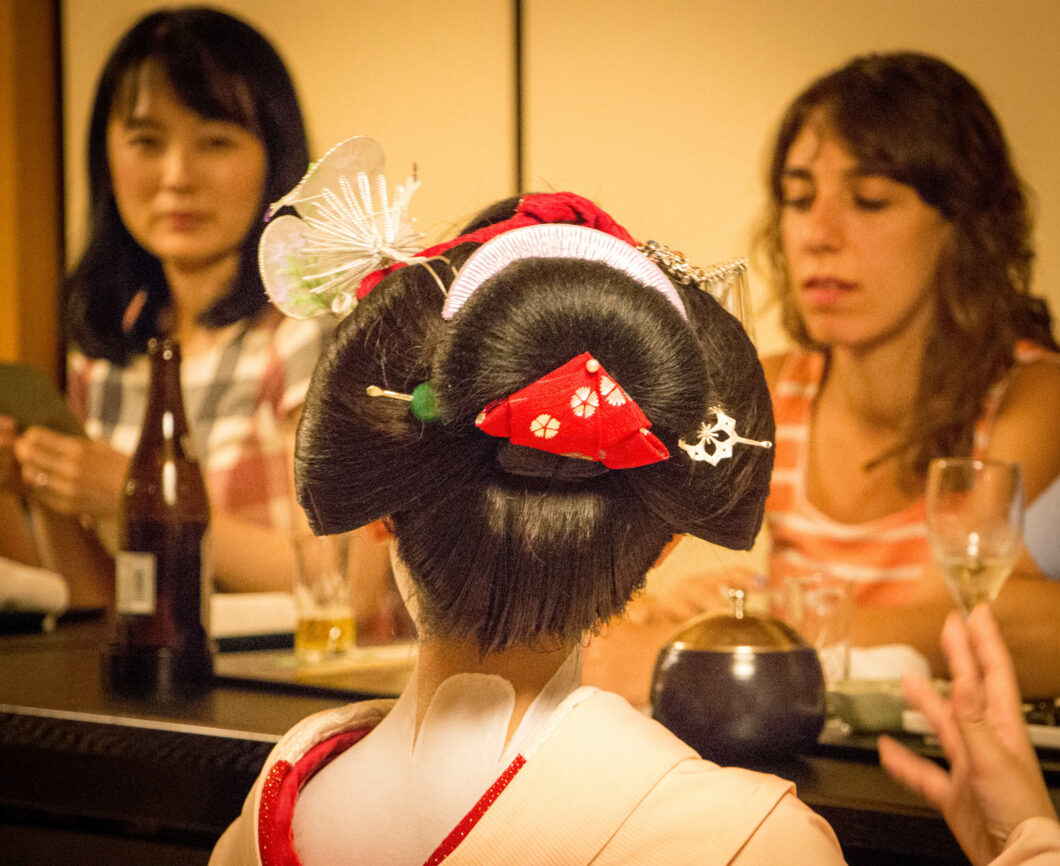 How Do You Spend an Evening with a Geisha in Kyoto, Japan?
I think we've covered all the basics of what it means to be a Geisha now! Haha. You're probably wondering how we were actually able to spend an evening with a Geisha. Generally, you have to know someone who knows the Geisha in order to be entertained by a Geisha.
However, the ryokan "Gion Hatanaka" can be booked by foreign tourists through hotels or online booking sites. I used Viator to book (although GetYourGuide has similar options).
The prices are still expensive, but not as expensive as what it would typically cost to be privately entertained by a Geisha (thousands of US dollars and not exactly possible unless you knew someone).
You have to make a reservation ahead of time to have this experience, as it will only take place if more than 10 people book for the evening, but no more than 15.
My Experience Dining with a Geisha for an Evening in Kyoto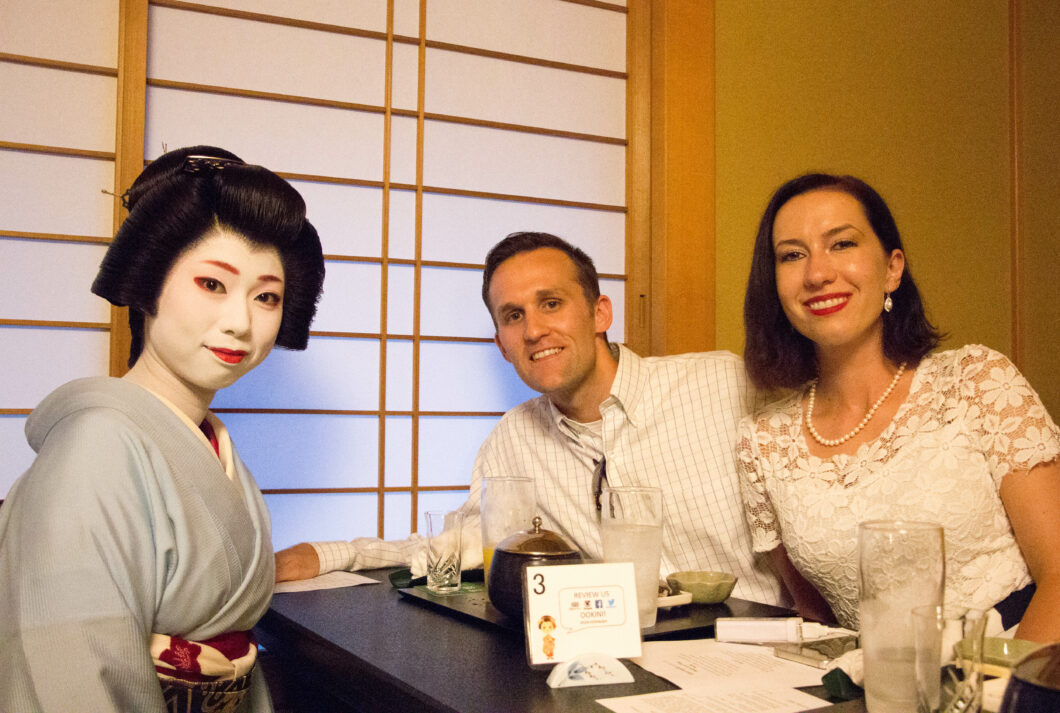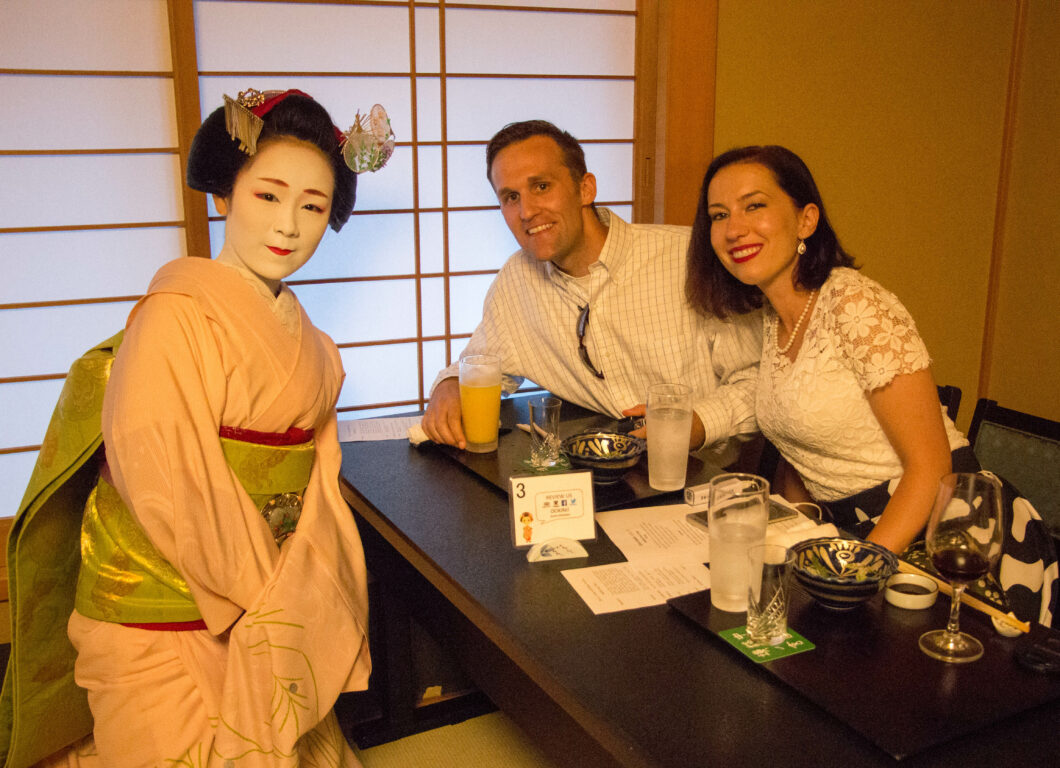 Q&A with the Geisha
I thought it was really awesome that we were able to sit and talk with both girls. They were really friendly and willing to answer all of our questions. (They said they just wouldn't answer how much they weighed. Haha.)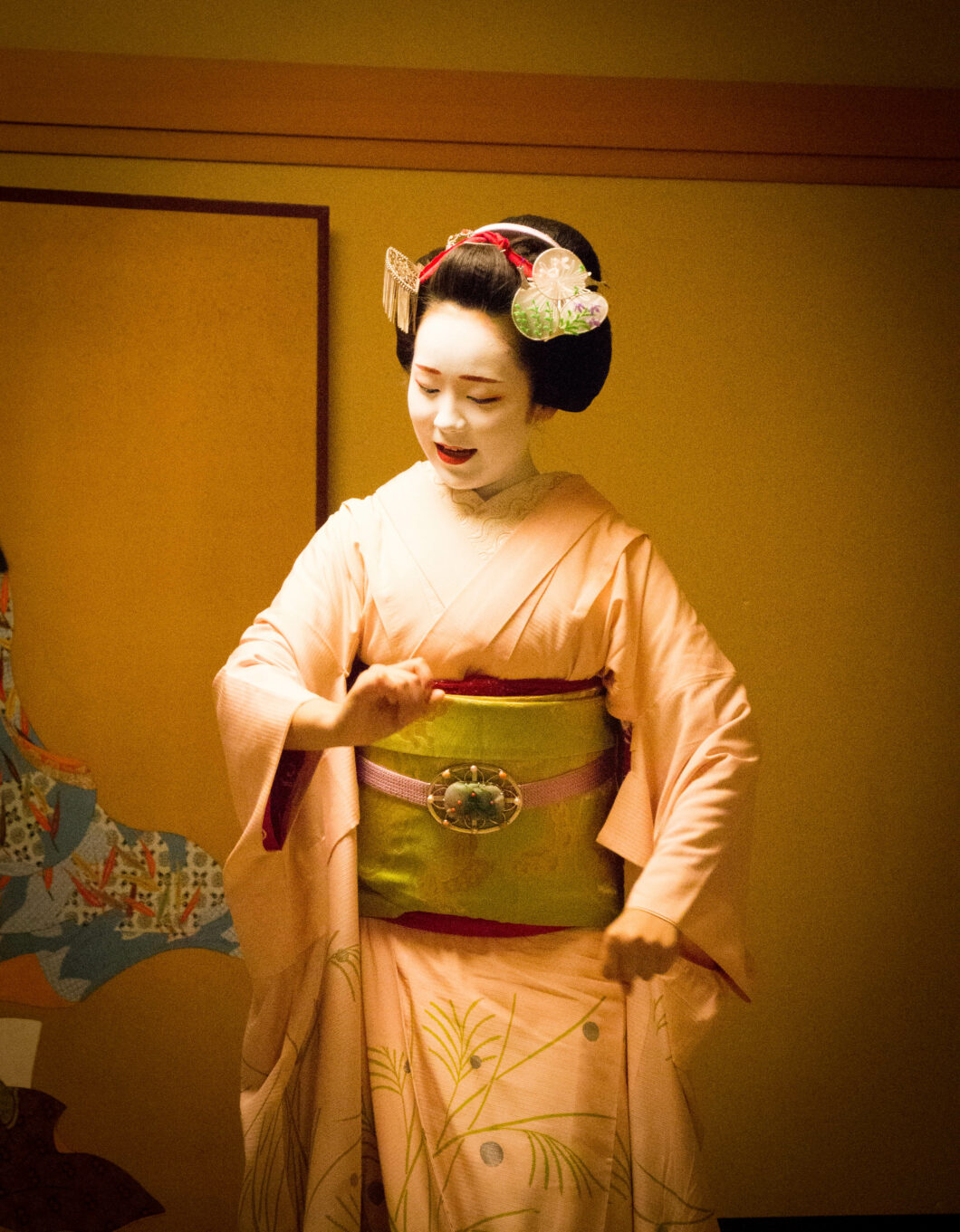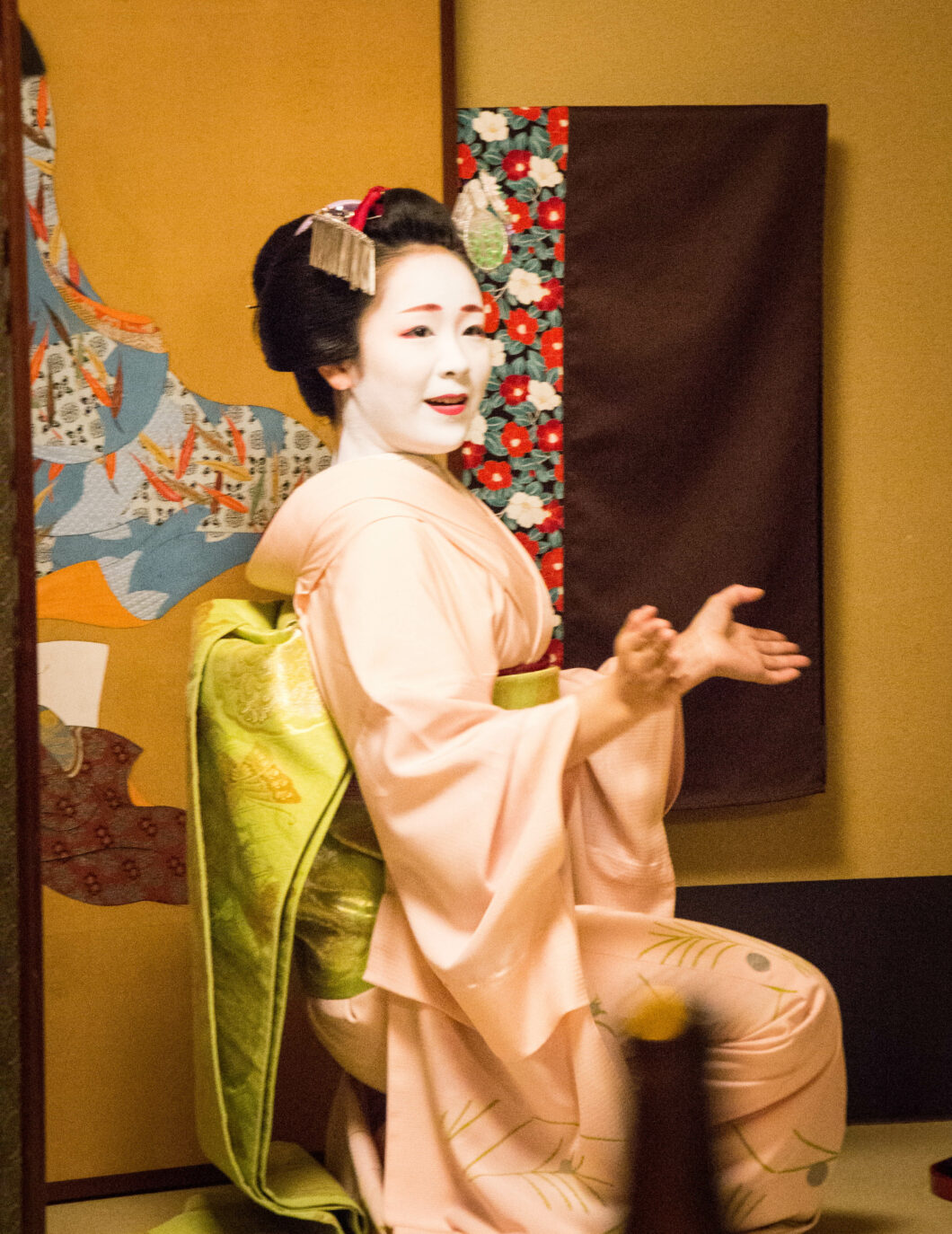 Playing Traditional Japanese Games with the Geishas
I also really enjoyed playing games after dinner! The photos above are of the game "Tora Tora Tora." It's basically the equivalent to rock, paper, scissors…except a bit more involved and it's "The Old Woman, the Tiger and the Samurai." And you had to act each one out as you come out from behind a curtain.
I, unfortunately, failed miserably at getting a video of this. However, my husband was able to get a video of me playing "Konpira Fune Fune." It's a drinking game where the players take turns taking away the bowl set out in front of them. If the bowl isn't on the table when it's your turn, you make a fist, and if the bowl is on the table, you keep your hand flat. If you mess up, you lose! Check out how it works below!
So, I didn't win Konipira Fune Fune…and therefore, I had to drink a beer! But my husband did win Tora Tora Tora, and he won some lovely painted coasters!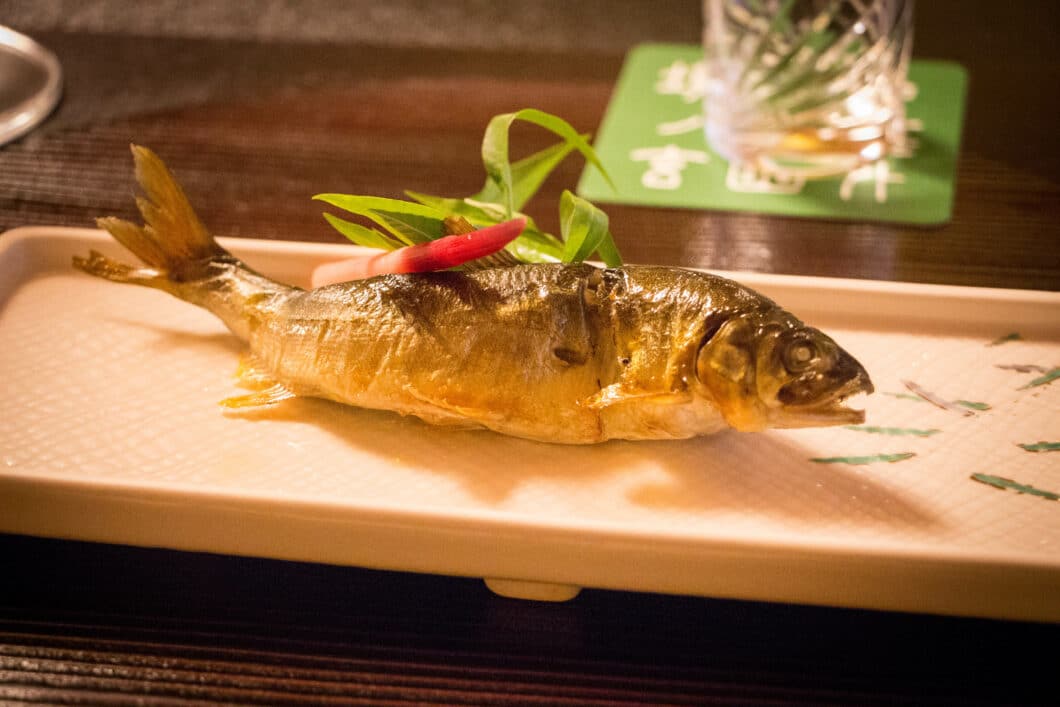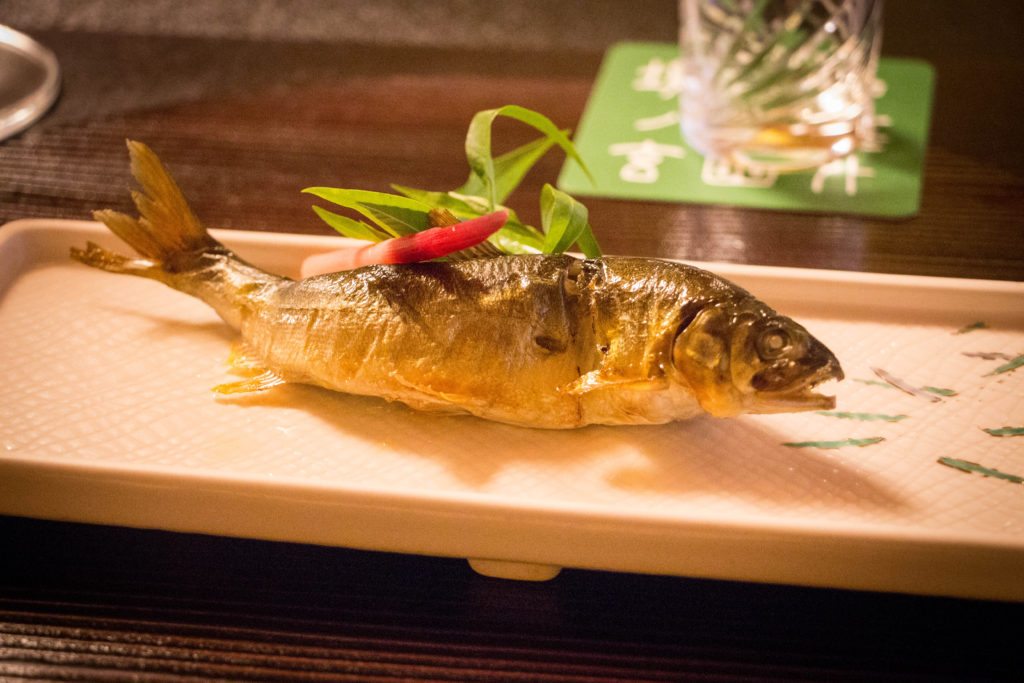 What We Had for Dinner with a Geisha
The gallery above is what we had for dinner while we were watching the dances. It honestly was not terribly impressive…I'm all for traditional Kaiseki dinners, but this just wasn't that impressive tasting.
You're definitely coming for the experience, not the food! (And if you don't like fish, you are S.O.L! They can't make accommodations, sorry!) But it was an open bar the whole time you were there!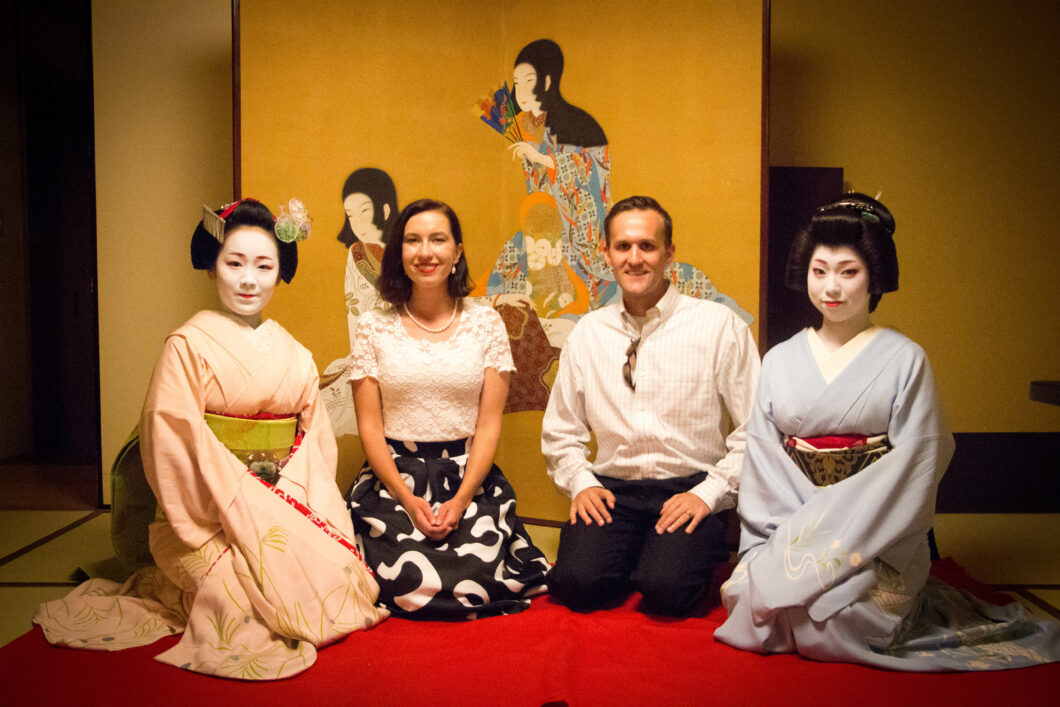 With that being said, this was an experience I will never forget! It's honestly one of the coolest things I have ever experienced! If you find yourself in Kyoto and are interested in Geisha, I can't recommend it enough.
However, if it is too pricey or you can't get a reservation…you can also go to Gion Corner to watch Maiko perform in a theater. This is every night and is on a first-come, first-serve basis. (This was what I was going to do if Gion Hatanaka didn't work out.) I also highly recommend reading "Geisha: A Life"! It's a really interesting look at the business aspect of being a Geisha.
Is anyone else as interested in Geisha as I am? Let me know in the comments!
You can find the package I booked for an evening with a Geisha through Viator here. You can also book a similar less-expensive package through GetYouGuide. You can also read all about my outfit for the evening here!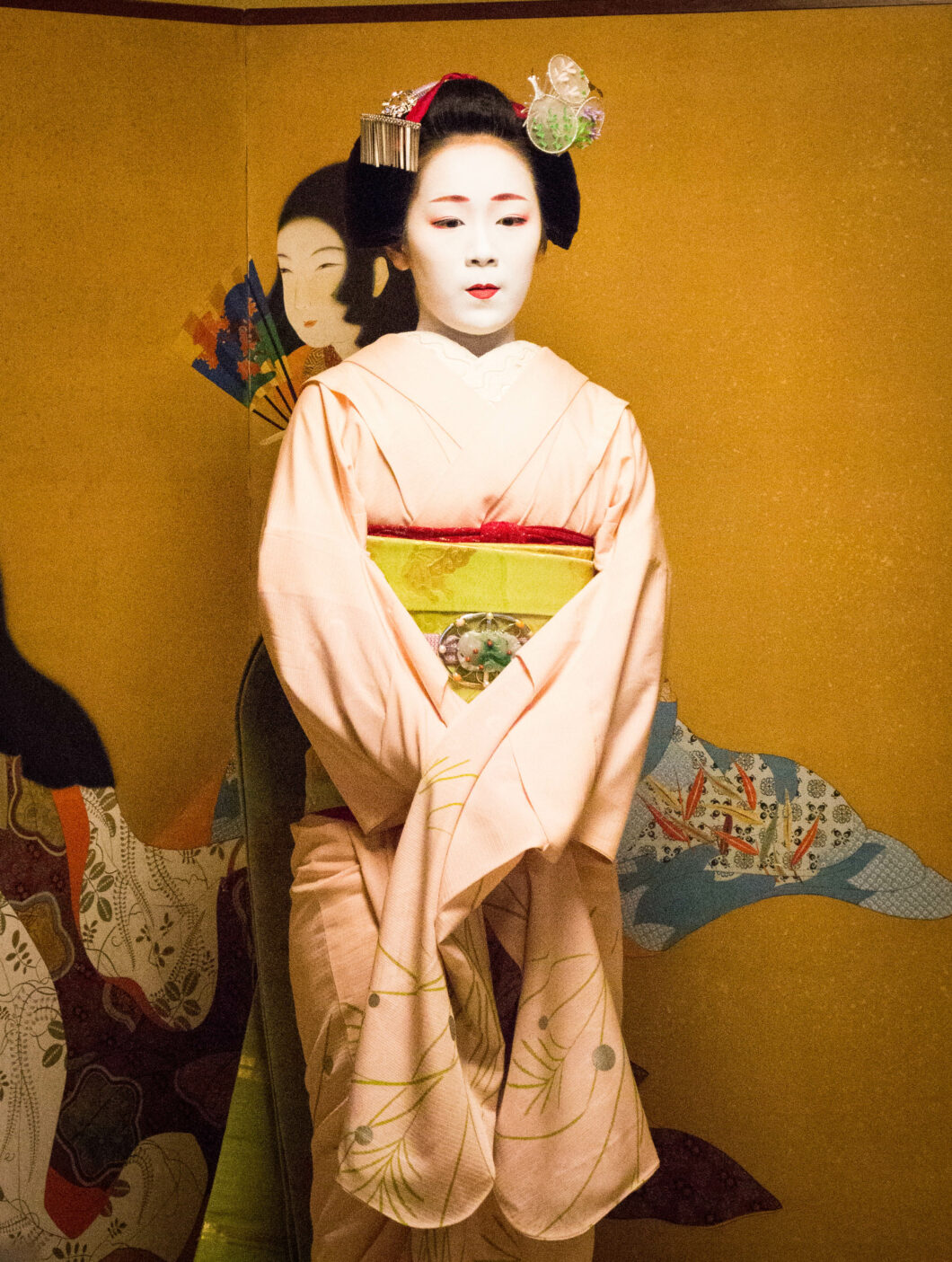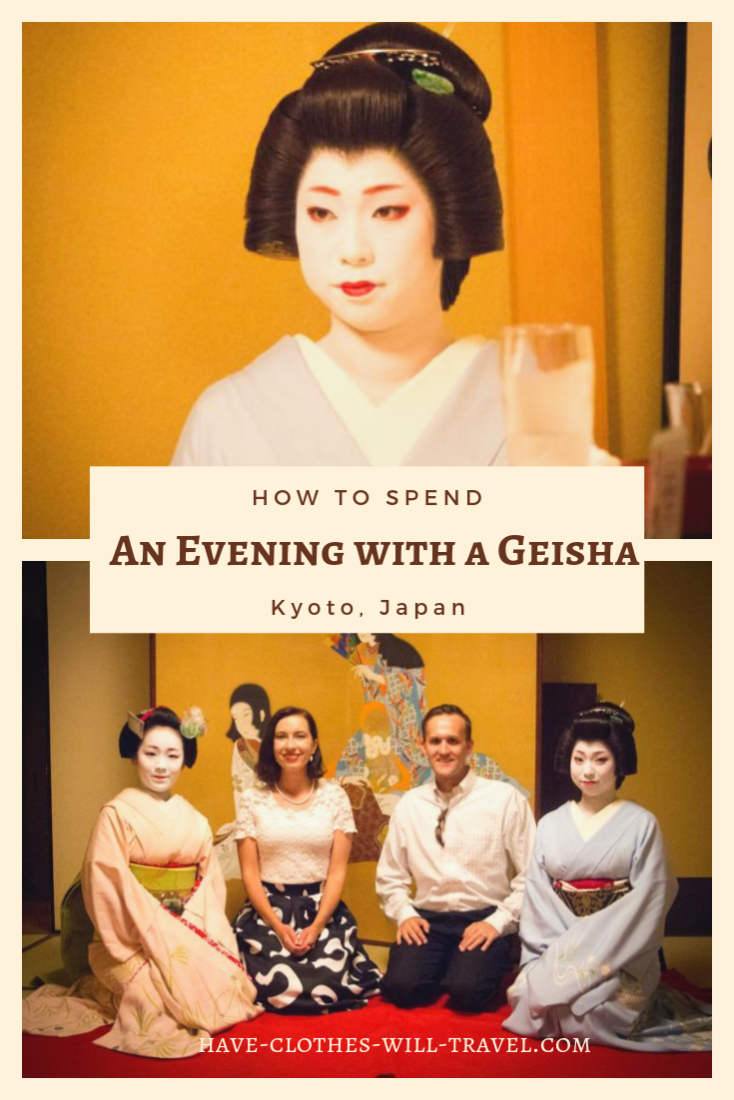 *Disclosure: some of these links are affiliate links. Meaning, if you click a link and make a purchase, Have Clothes, Will Travel gets a very small commission at no extra cost to you. Thank you for supporting the brands that make this blog possible! I am also a participant in the Amazon Services LLC Associates Program, an affiliate advertising program designed to provide a means for us to earn fees by linking to Amazon.com and affiliated sites.