What I Wore for an Evening with a Geisha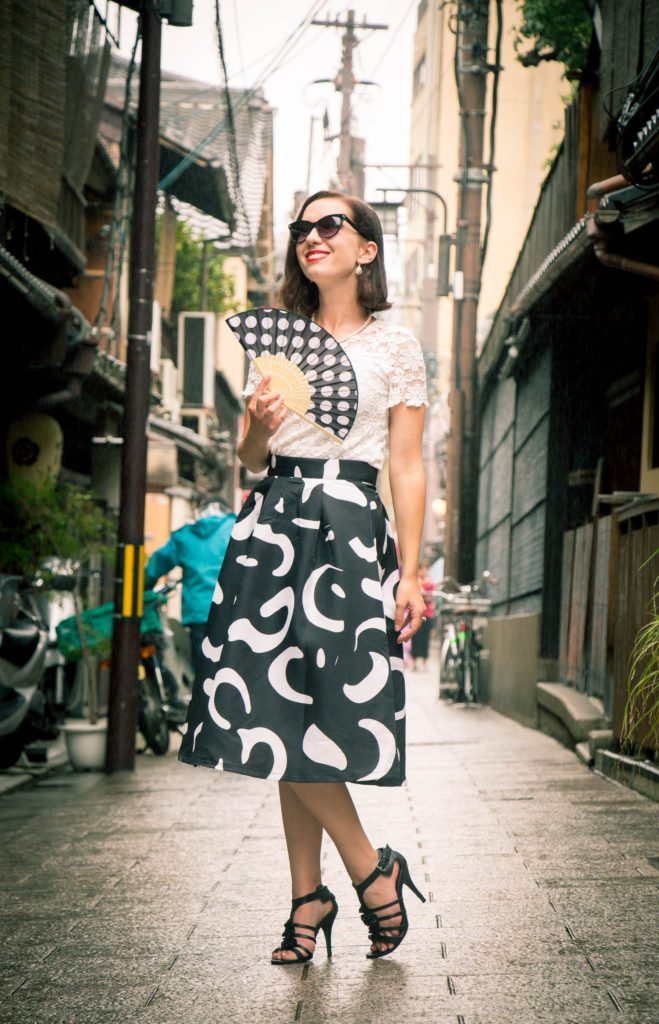 Planning an outfit for an evening with a geisha is something I never thought in a million years I would have to think about. The only way you can even spend an evening with a geisha is if you know someone who knows the geisha and they introduce you. (And I know a total of zero people who are friends with a geisha.)
However, I did a little digging and found a way to get around that this weekend while I was in Kyoto! So, what does one wear for an evening with geisha in Kyoto? See the photo above, haha! (Click here for more info on spending an evening with a geisha.)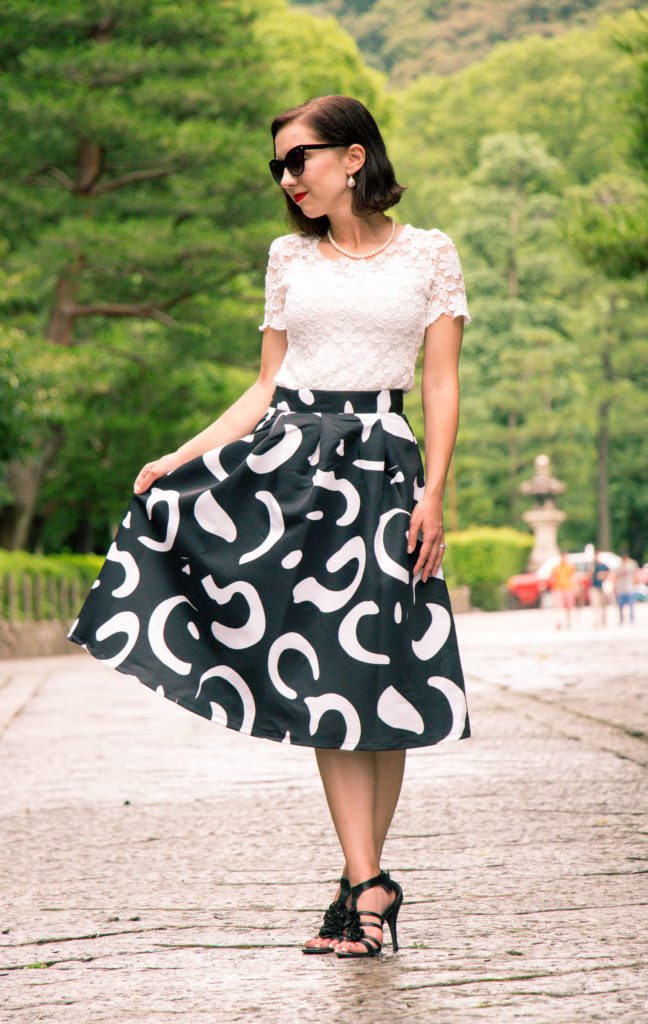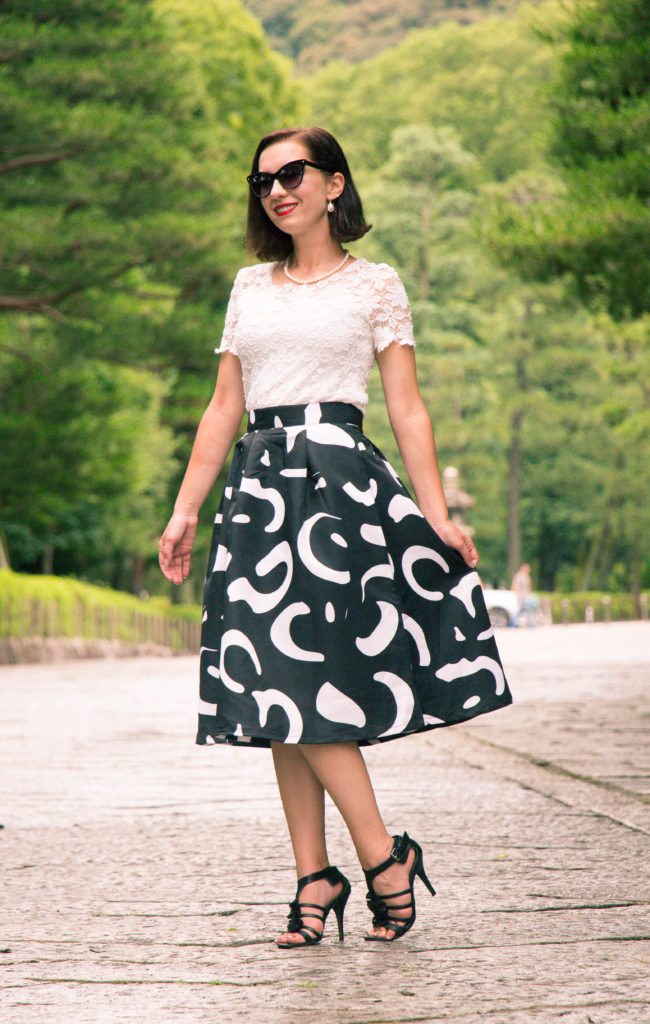 I had been waiting for a special occasion to wear my new midi skirt from MakeMeChic and this seemed to be as special of an occasion as it gets! And guess how much this skirt is…it's just under $25! Isn't that awesome? I love the design on it, and the full shape is fabulous. Another bonus, I can throw it in the wash at the end of the day and not have to dry clean it… and it still holds its shape!
However, the material doesn't have a lot of give to it, so be sure to size up. I'm typically a medium, but I went with a large for this skirt, and it fits perfectly. (Also, a big thanks to MakemeChic for still shipping this skirt to me, even though I moved to Japan!)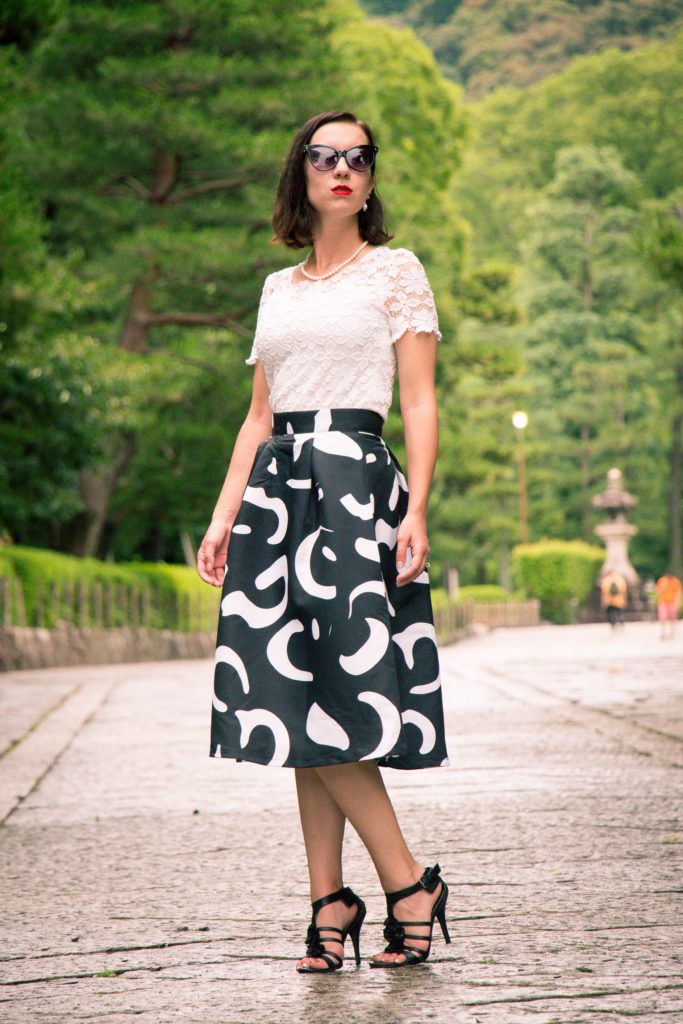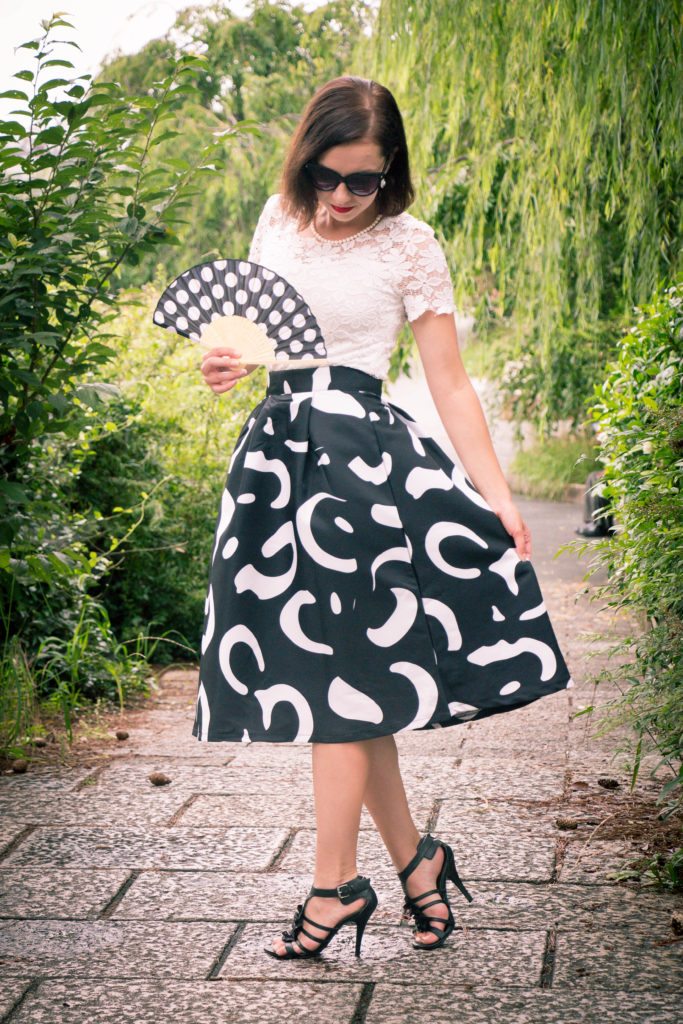 And special occasions call for wearing heels! It's been quite a while since I featured a pair of heels on here! Haha. My husband was so not impressed that I wore heels, as we had quite a long way to walk from where we were staying to Gion. (That's where the geisha are!) But I was determined to wear heels!
And they looked lovely in the photos I thought…but silly me, I'm in Japan! The chances of me actually wearing my shoes at the place I was having a traditional dinner were rather slim. And low and behold, my lovely heels were left at the door, and I was barefoot the rest of the night! And my husband was right, I really should've just worn comfy shoes. (There that's in writing now, hun.) 😉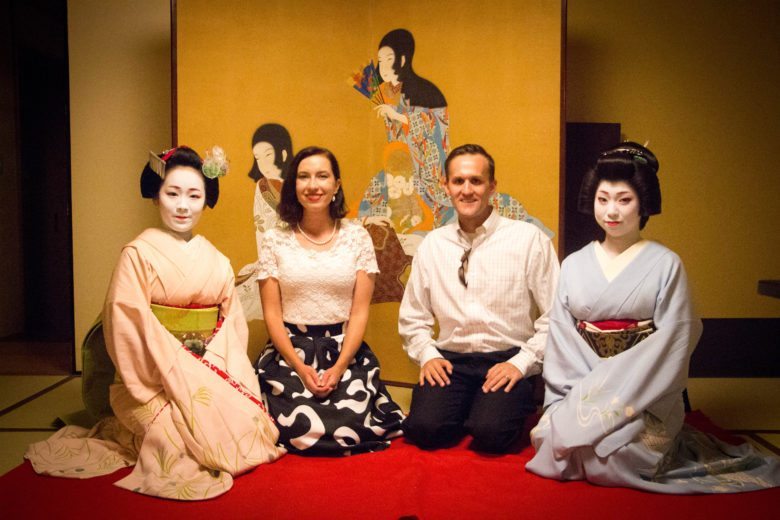 There's the photographic proof that I did indeed get to spend the night with not one, but two lovely geisha! (A geiko and a maiko.) I'll get into all the details of the evening and give a little history lesson on geisha in this post. (As many folks seem to think that geisha are basically high-paid prostitutes, and that could not be further from the truth!) I'll even be sharing a video of me playing drinking games with them, haha. (Spoiler alert: I lose. Wisconsin, I have failed you, haha.)
What would you wear to spend a night with a geisha? Let me know in the comments!
Click here for more info on spending an evening with a geisha.
Where to find it:
Skirt: c/o* MakeMeChic (Similar here & here)
Top: c/o* NewChic (Similar here)
Heels: Old (Similar here)
Sunglasses: c/o* Polette
Lipstick: Stila Stay All Day Liquid Lipstick
Fan: A 100 yen store. 😉 (Yep, the equivalent to the American Dollar Store, haha.)

*c/o = courtesy of, meaning the company gave me the product to be used on my blog, and I did not pay for it. All opinions are my own, and I am not being compensated for a positive review.