Nijo Castle + The Gold Pavilion – Cool Places to Visit in Kyoto, Japan
Looking for some cool places to visit in Kyoto, Japan? This post explains!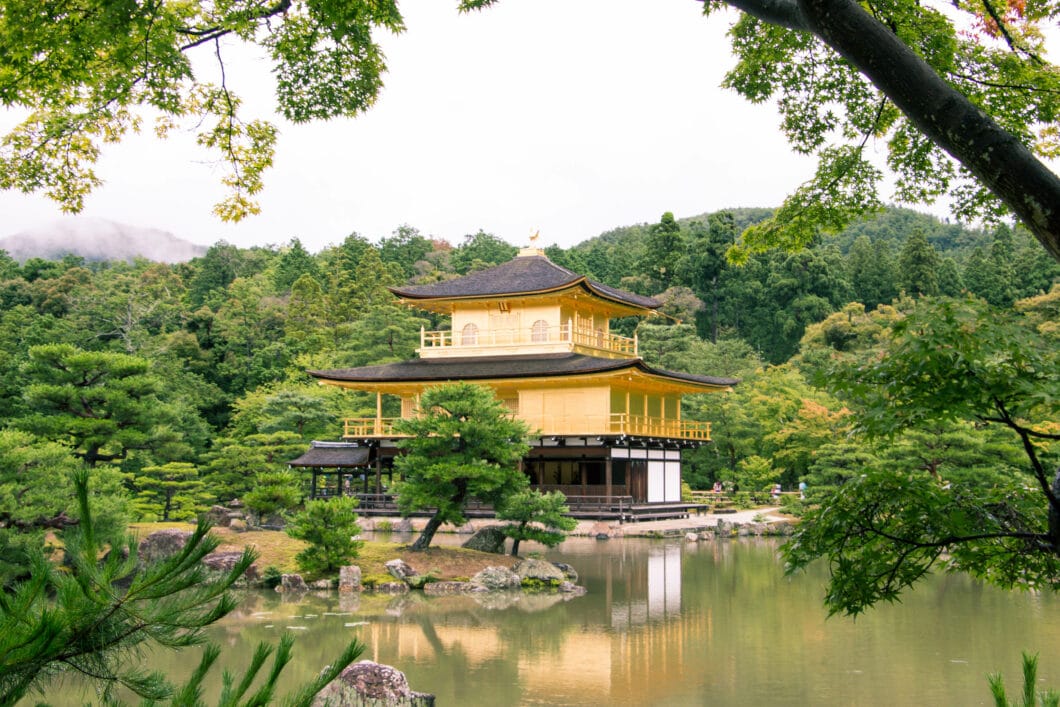 Did you know there is a temple in Kyoto covered in pure, gold leaf? (Well, the first two floors of the temple, that is.) Or that there's a castle with floors that squeak and creak every time someone walks on them…so, no one could ever sneak in? Pretty cool stuff, in my opinion! This post will be sharing a bit about these historic buildings in Kyoto and why you should absolutely visit them.
The Gold Pavilion
The photos above and below are of Kinkakuji, a.k.a. The Gold Pavilion. Kinkakuji's was built in 1397 but was burned down by an unhappy monk in 1950. It was rebuilt in 1955. It was originally used as a villa for a court noble, then Shogun Ashikaga Yoshimitsu converted it to his retirement home and finally, the Shogun's son converted the building into a Zen temple.
This is one of the most visited sights in Kyoto. And I can see why! Needless to say, a building coated in pure, gold leaf is quite an impressive sight to behold! You can't get too close to it, but it's still beautiful from a distance!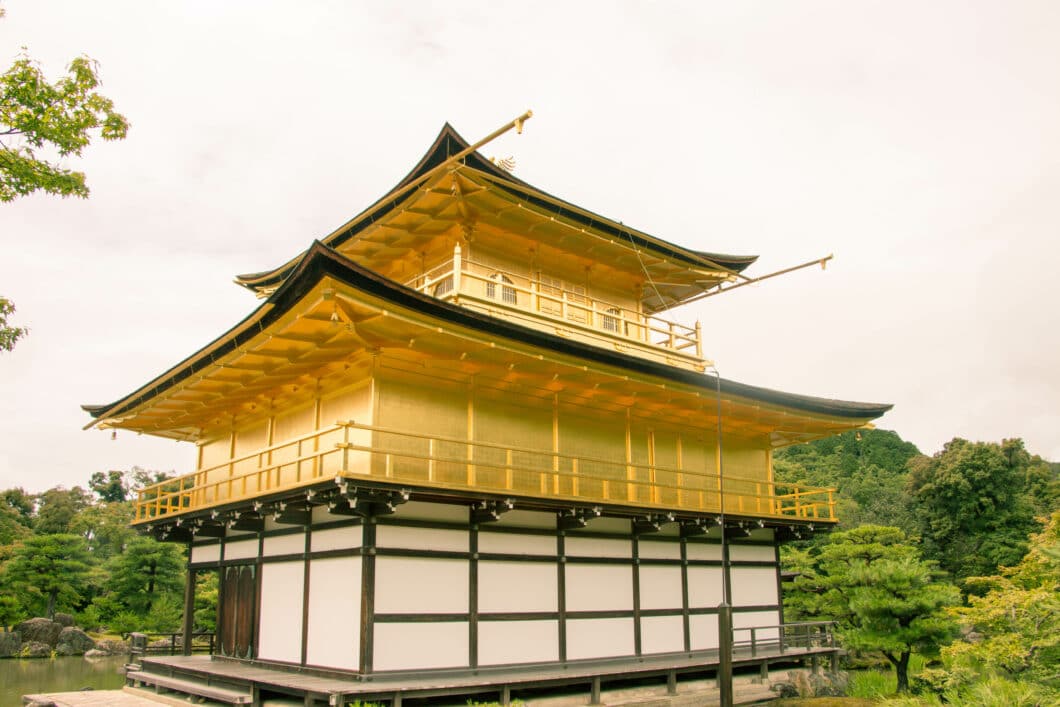 Nijo Castle
One of my favorites sights from Kyoto, though, was Nijo Castle (pictured below). This is the castle with the "nightingale floors." (The squeaky floors.) The entire time we were walking around the inside of the castle, the floors were squeaking! It is said, however, that ninjas were able to move across the floor without making it squeak. (I loved that!)
Nijo Castle was built in 1603 as the Kyoto residence of Tokugawa Ieyasu, the first shogun of the Edo Period (1603-1867). Shoguns were the top military leaders of Japan from 1185 to 1868.
This castle was also where the beginning of the end for samurai took place. In a room inside this castle, Emperor Meiji abolished the samurai's right to be the only armed forces. He wanted a more modern, western-style army. (Sound like The Last Samurai? Haha.)
Unfortunately, you are not allowed to take photos of the inside of Nijo castle. But there are mannequins set up to depict these various scenes in history, and it was incredibly interesting! We had a tour guide who did a wonderful job explaining this all to us.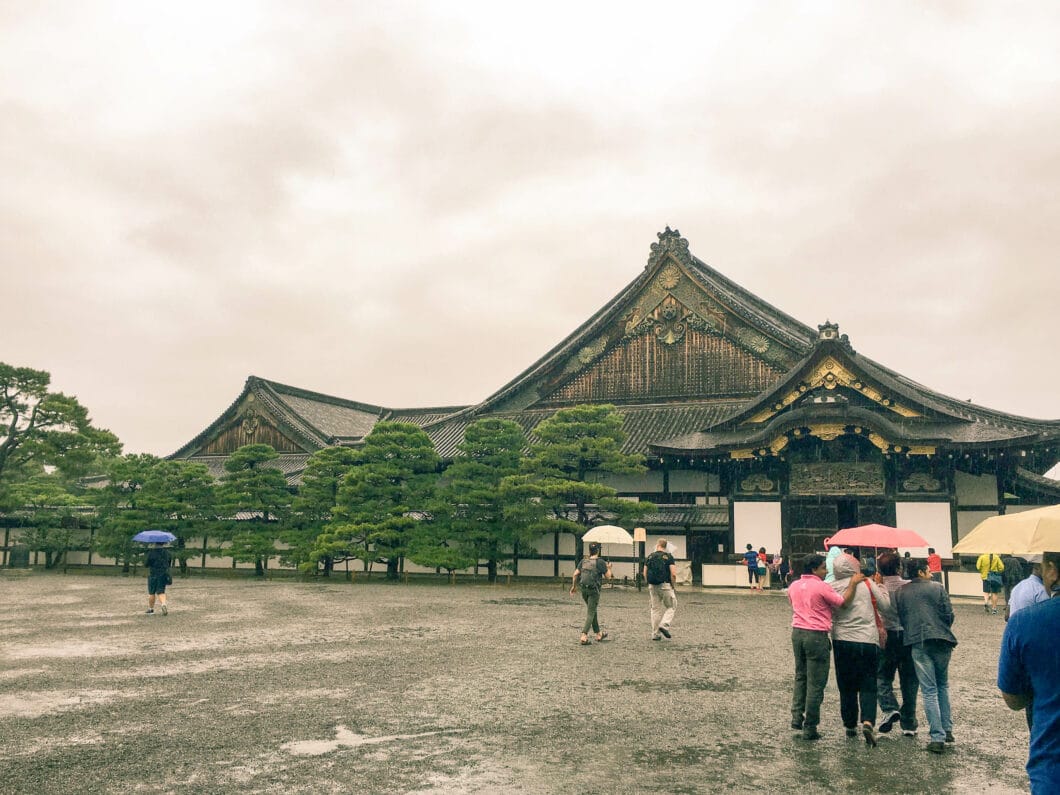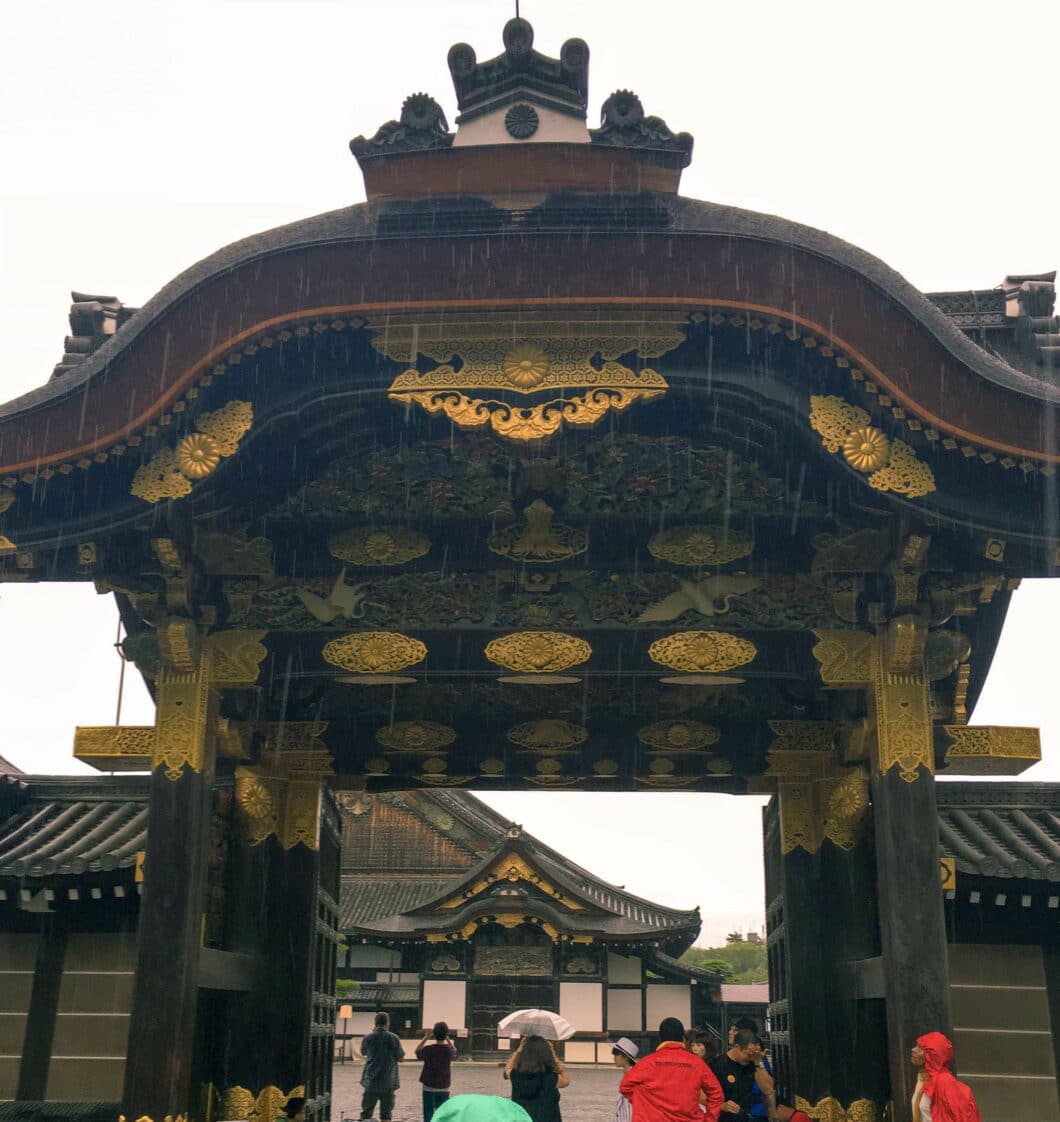 Taking a Tour of These Cool Places in Kyoto
We had taken a bus tour to see all of these sights, as they are rather spread out over Kyoto. It was very convenient and our guide was wonderful! (Click here for more information on the tour.)
This tour was also supposed to take us to Kyoto's Imperial Palace, but unfortunately, we had taken this tour on a Saturday. And The Imperial Palace is not open on Saturdays.
We instead visited Kitano Tenmangu shrine. It is very popular with students, who go there to pray to pass their exams. Rubbing one of the stone, cow statues is said to bring you good luck on your exams! We were also visiting at the time of the Tanabata festival. The pieces of paper tied to the bamboo trees are from that festival, and they have little wishes written on them. (They're called tanzaku.)
Kitano Tenmangu Shrine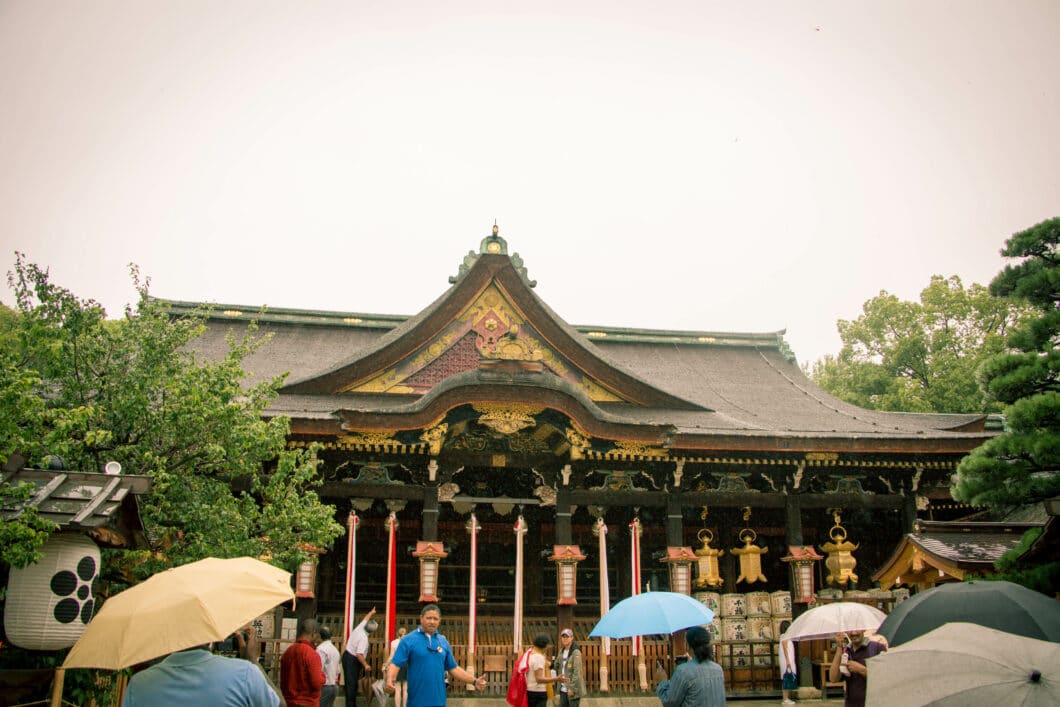 Another interesting thing about Kitano Tenmangu shrine that we learned, these barrels of sake (pictured below) are actually empty. The sake used to be offered to the gods because it is considered purifying, however, these days, the gods prefer cash.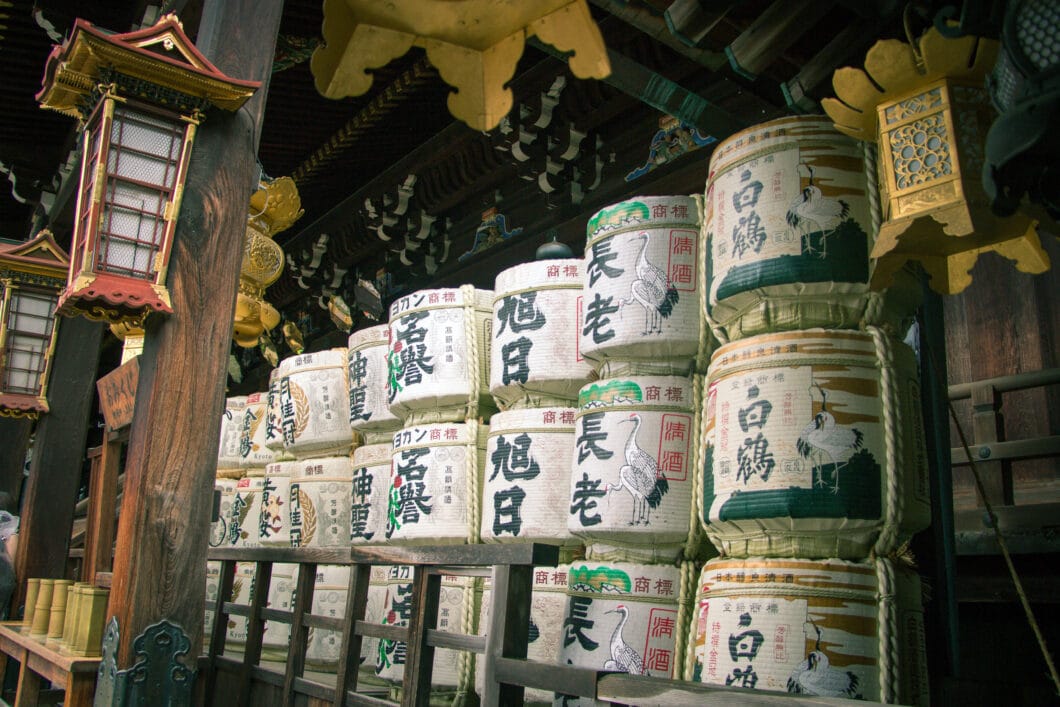 Dango
And before I let you go, I wanted to briefly mention "dango." It is a Japanese dumpling that is popular in Kyoto…it is sweet and made from mochiko. There are different varieties of it. The one pictured below had a soy sauce on it, and I also tried a green tea version while I was at The Gold Pavilion. I, personally, wasn't a fan of the green tea one..but the one pictured below was tasty! (My husband disliked all forms of dango, though!)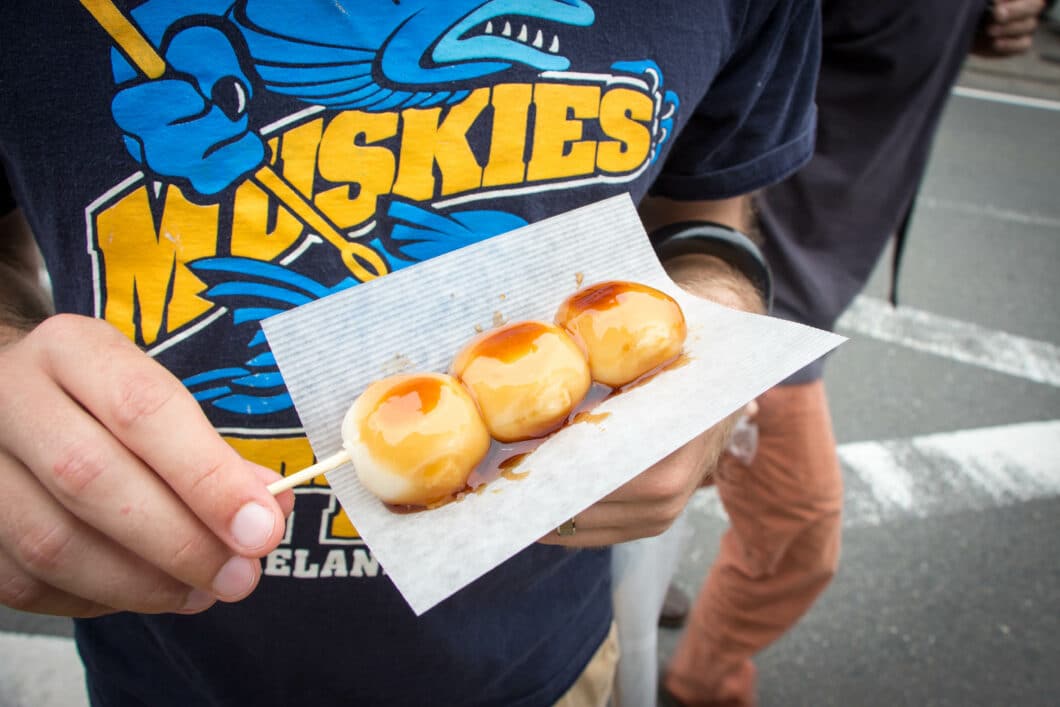 So, if you are visiting Kyoto, seeing The Gold Pavilion and Nijo Castle are a must! And try all the different kinds of dango you come across! 🙂
*Click here to see the tour we took.
Which spot was the most interesting to you? Let me know in the comments!
*Click here to see my outfit post from this day of touring.
*Click here to see all of my posts from Kyoto.
If you liked this post, Pin it!