Wearing a Kimono in Japan for a Traditional Tea Ceremony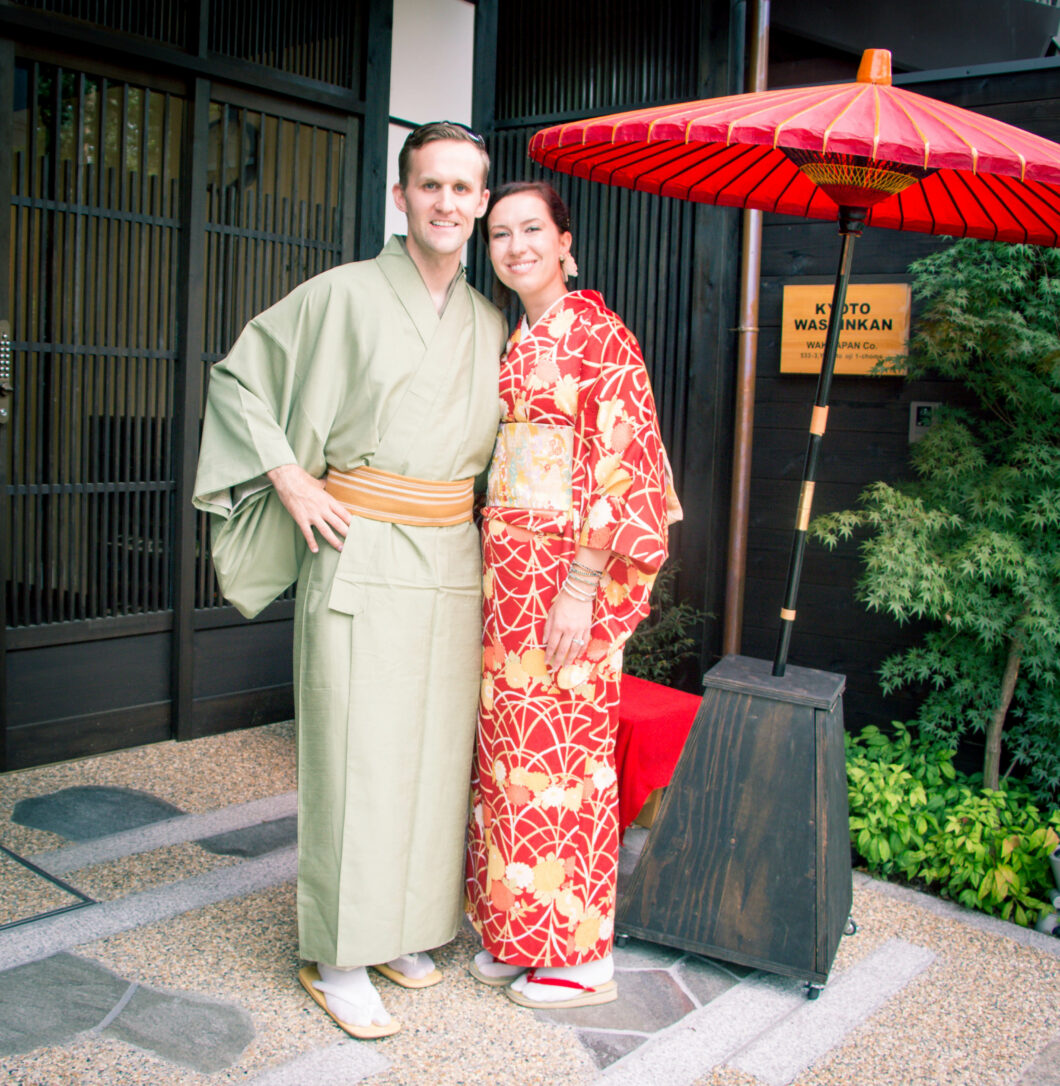 I've always wanted to try wearing a kimono and was very excited to have the opportunity to wear one in Kyoto. I felt like a real-life princess wearing it! I'm not going to lie, though, I don't think wearing a kimono on a regular basis is something I would want to do. It wasn't the most comfortable garment in the world (mainly because the obi was pretty tight around my midsection, I'll blame that on all the green tea ice cream I ate over the weekend). But gosh, I felt so glamorous!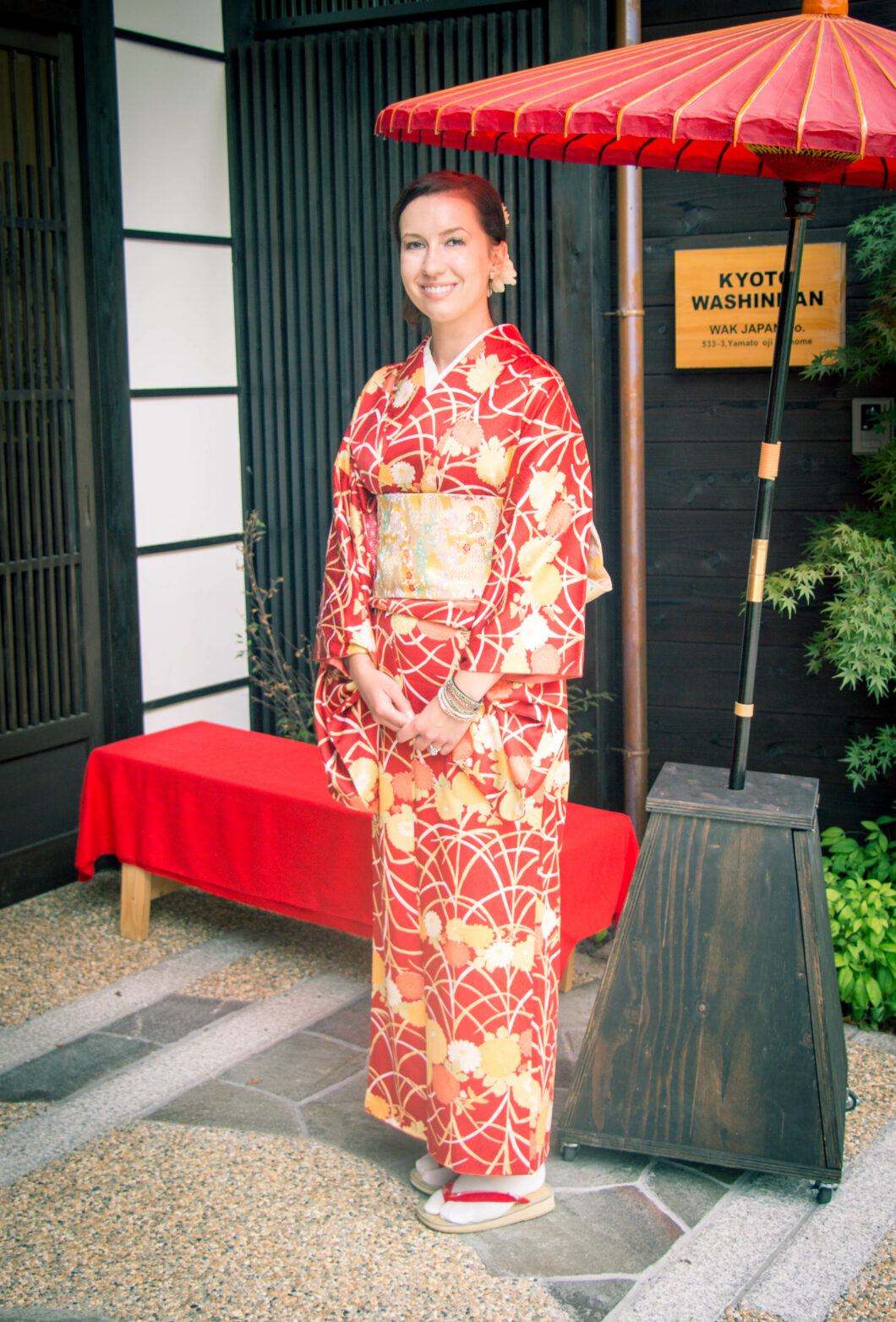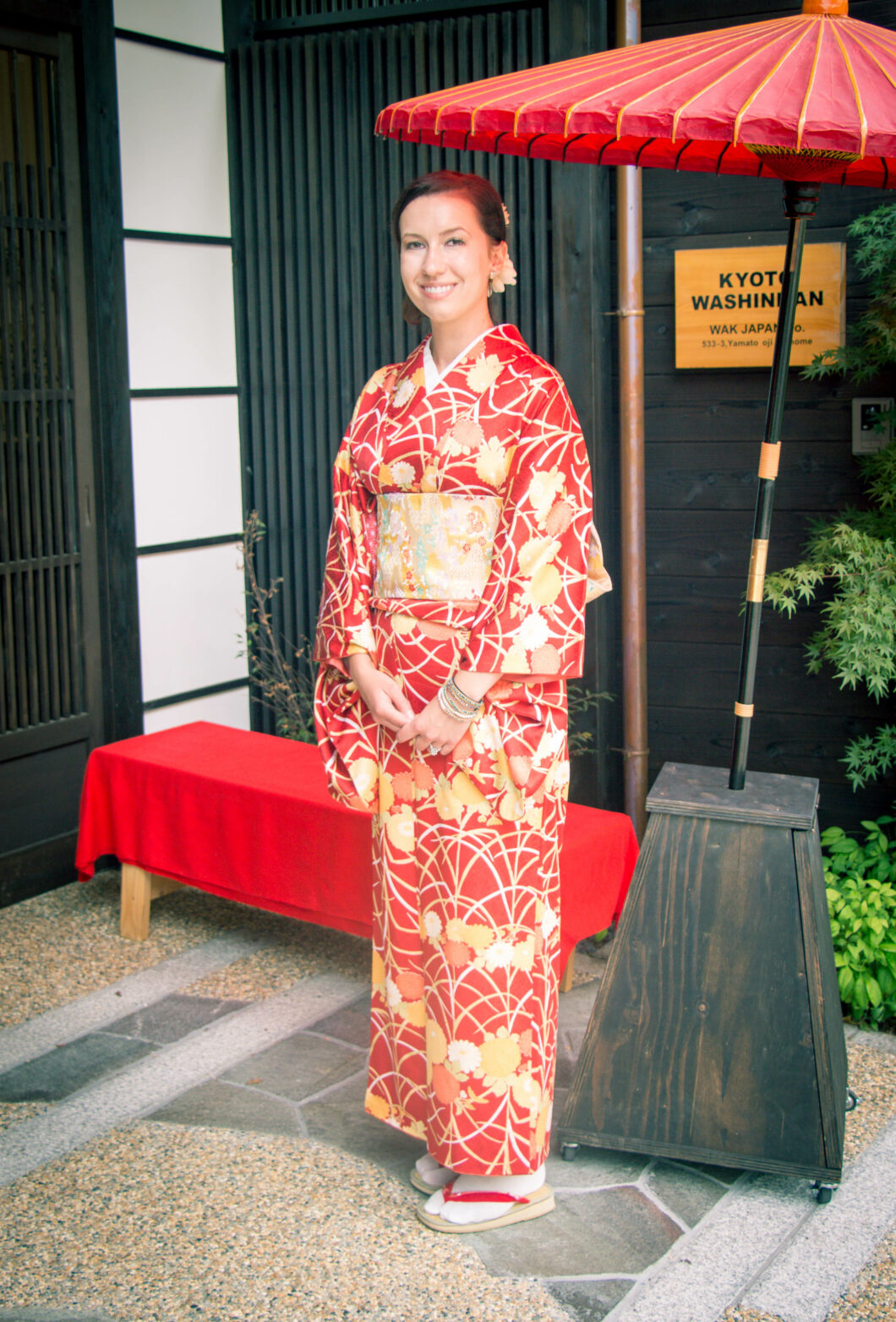 Wearing a Kimono for a Traditional Tea Ceremony in Kyoto
The reason my husband and I were wearing kimono was for a traditional tea ceremony we attended. (The kimonos were just for the tea ceremony, we didn't get to keep them.) It was very interesting to learn how to behave at a tea ceremony and to actually have the opportunity to participate in one while wearing a kimono!
We learned various Japanese phrases to say to the person sitting next to us before we drank our tea and then after we drank our tea. We watched the tea preparation (powdered green tea is used) and had the chance to make it ourselves. We also learned that slurping the last sip of tea is a sign to your host that you enjoyed the tea. (I need to work on my slurping!) We also learned the proper way to bow. It was a very neat experience!
I, unfortunately, only have one photo from the ceremony (of some of the utensils used), as I didn't want to be distracting while our lovely teacher was educating us.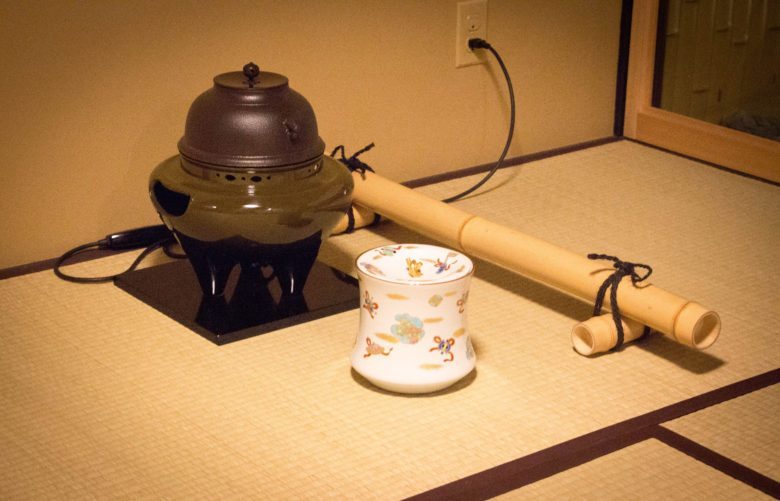 My husband had a good idea to get a photo with our instructor, though, before we left! She was such a nice lady, and so patient as we tried to learn the various phases of the ritual.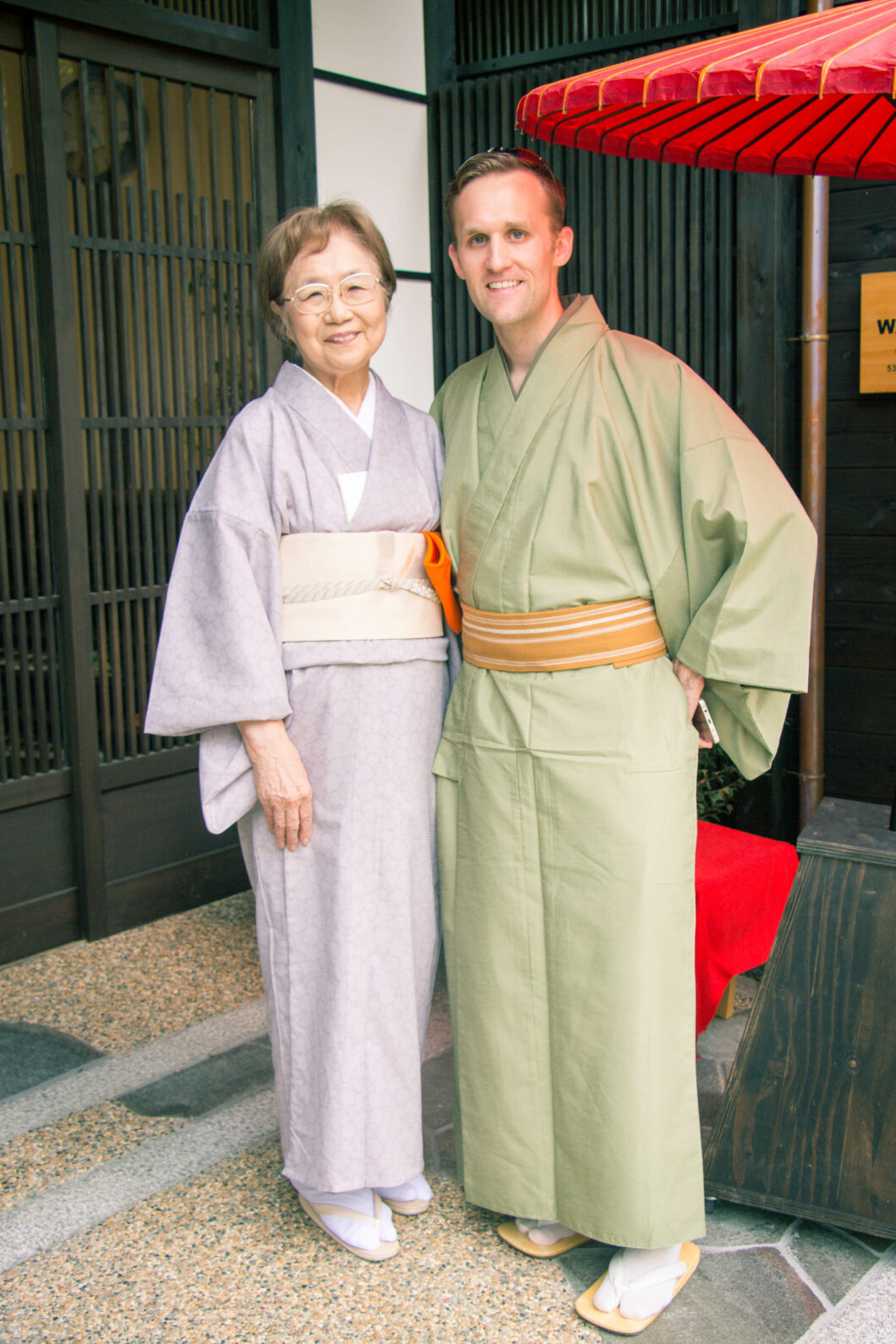 Wak Japan (Wakwak-kan)
I had booked our tea ceremony through Wak Japan, and would highly recommend them for a tea ceremony and kimono experience in Kyoto. Again, our instructor was wonderful. And they let us pick out the kimono we would wear and one of the ladies even styled my hair with flowers. Which I REALLY appreciated, because it was previously a sweaty rats nest, as I was out and about in the Kyoto heat and had no hair straightener in Kyoto. (Scary stuff, haha.)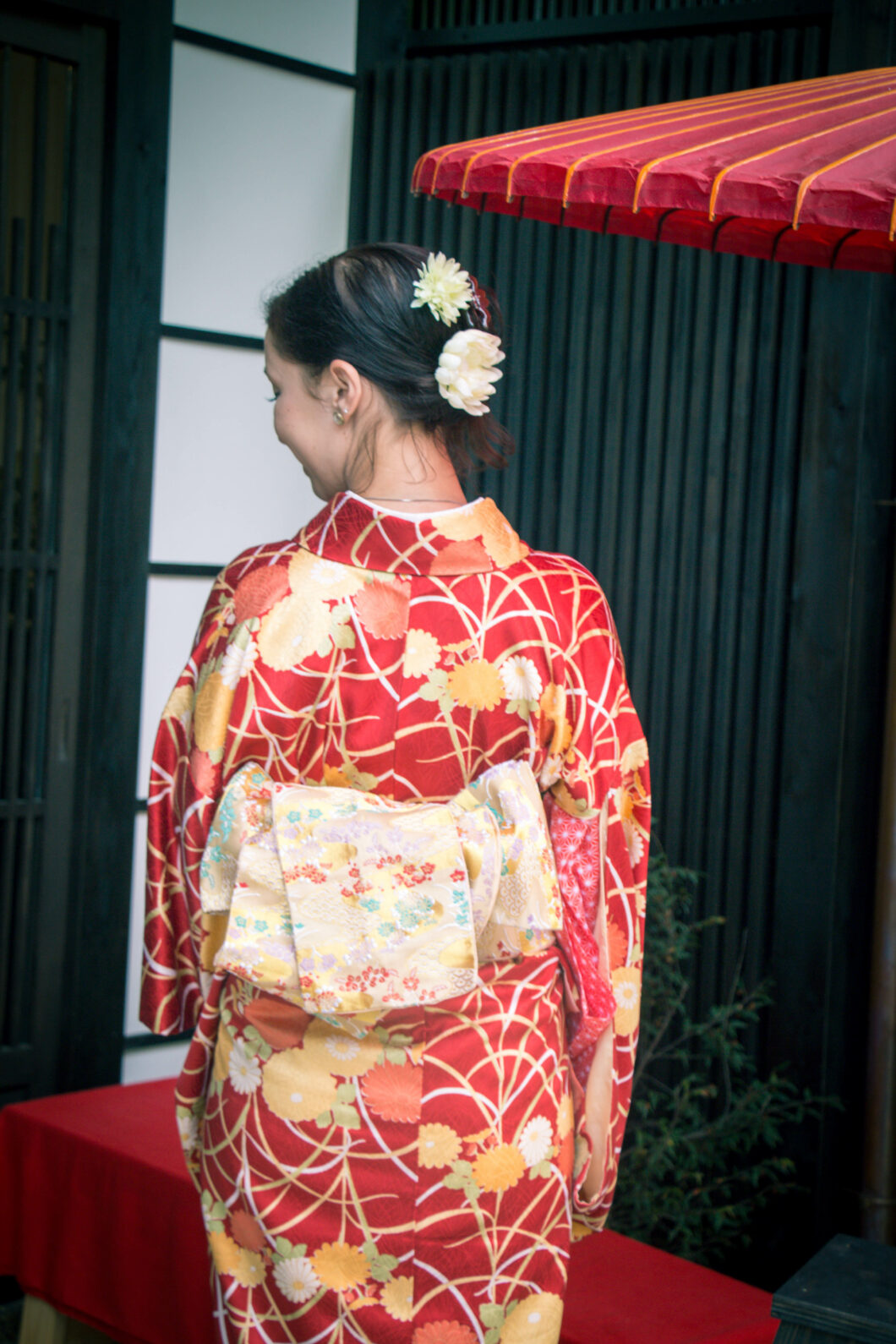 And I would never have been able to tie the obi on my own. Look how complicated that gets! Haha.
The tabi socks were fun to wear too! These are socks that have a split in between your big toe and the rest of your toes, so you can wear your sandals comfortably. (Check out my husband's, below.)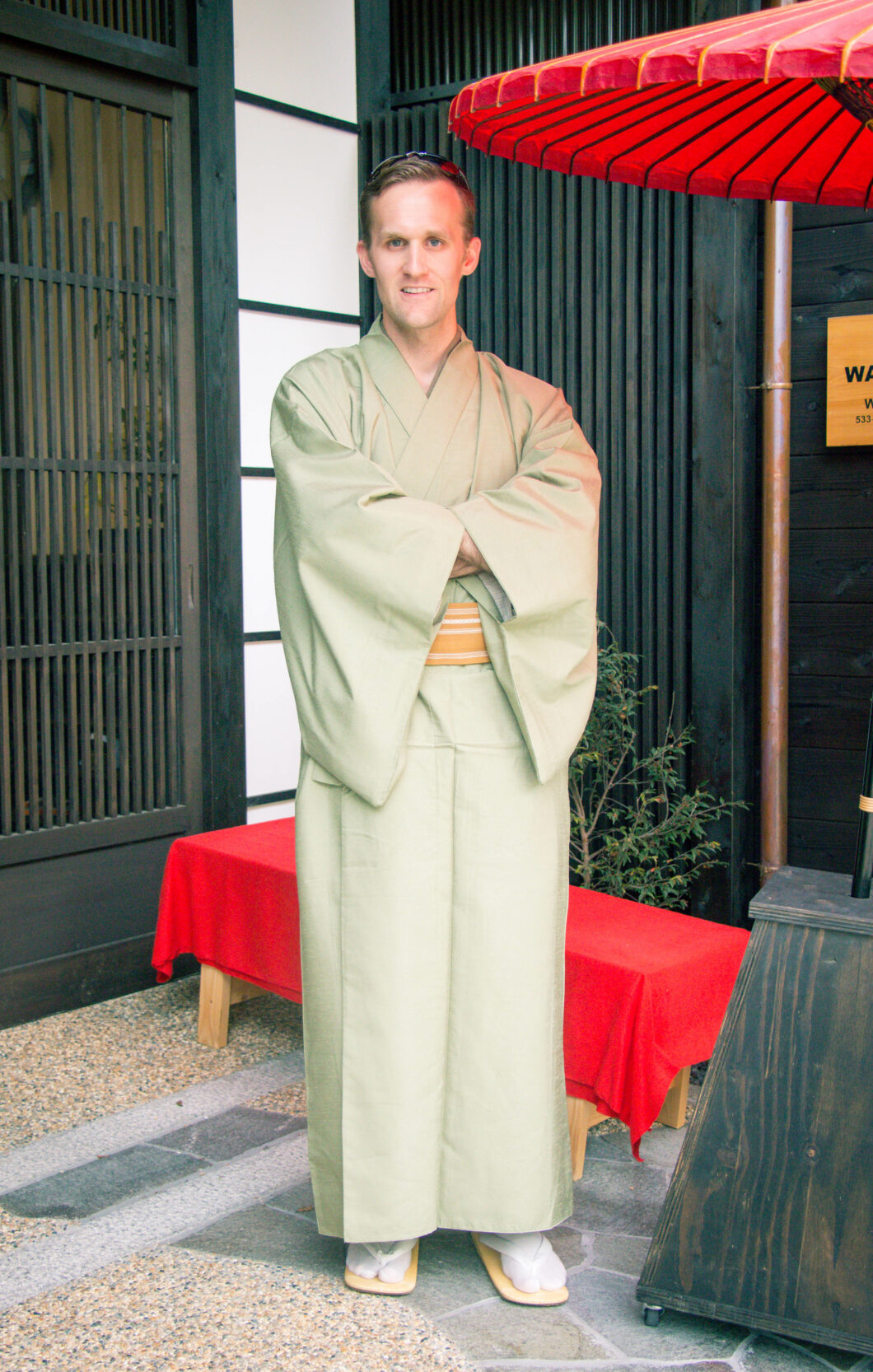 I'm still debating buying myself a yukata, which is a casual summer kimono usually made out of cotton, before I leave Japan. I have a couple saris from my trip to India in storage (click here to see that post), and am looking forward to having them in a home of my own one day. A kimono (or yukata) would be a wonderful memento too, I think, but we'll see what I find. 🙂
Has anyone else tried wearing a kimono? Let me know in the comments! And to see the tea ceremony I booked, click here.

Bracelet I am wearing c/o* WesternLeatherCo.
*Click here to read "My Top 10 Favorite Things I Did in Japan."
*Click here to read "22 Things That Surprised Me About Japan (as an American)."
*Click here to read "How I Spent My Last Weekend in Tokyo: Ichiran Ramen + Shinjuku Gyoen."
*Click here to read "DMM.Planets Art: Tokyo's "Crystal Universe"."
*Click here to read "Exploring Tokyo's Magnificent Museums."
*Click here to read "Adventures in Asakusa."
*Click here to read "Fushimi Inari Shrine Photo Gallery."
*Click here to read "Nijo Castle + The Gold Pavilion in Kyoto."
*Click here to see all my posts from Japan.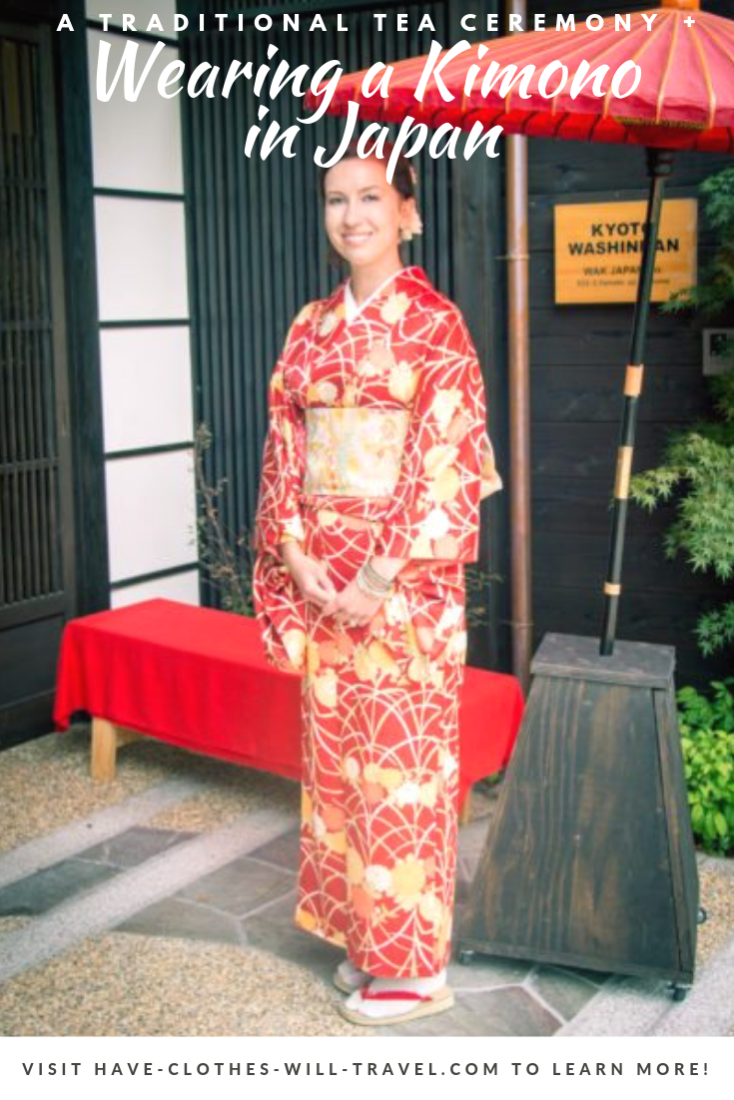 *Disclosure: some of these links are affiliate links. Meaning, if you click a link and make a purchase, Have Clothes, Will Travel gets a very small commission at no extra cost to you. Thank you for supporting the brands that make this blog possible! I am also a participant in the Amazon Services LLC Associates Program, an affiliate advertising program designed to provide a means for us to earn fees by linking to Amazon.com and affiliated sites.
*c/o = courtesy of, meaning the company gave me the product to be used on my blog, and I did not pay for it. All opinions are my own, and I am not being compensated for a positive review.