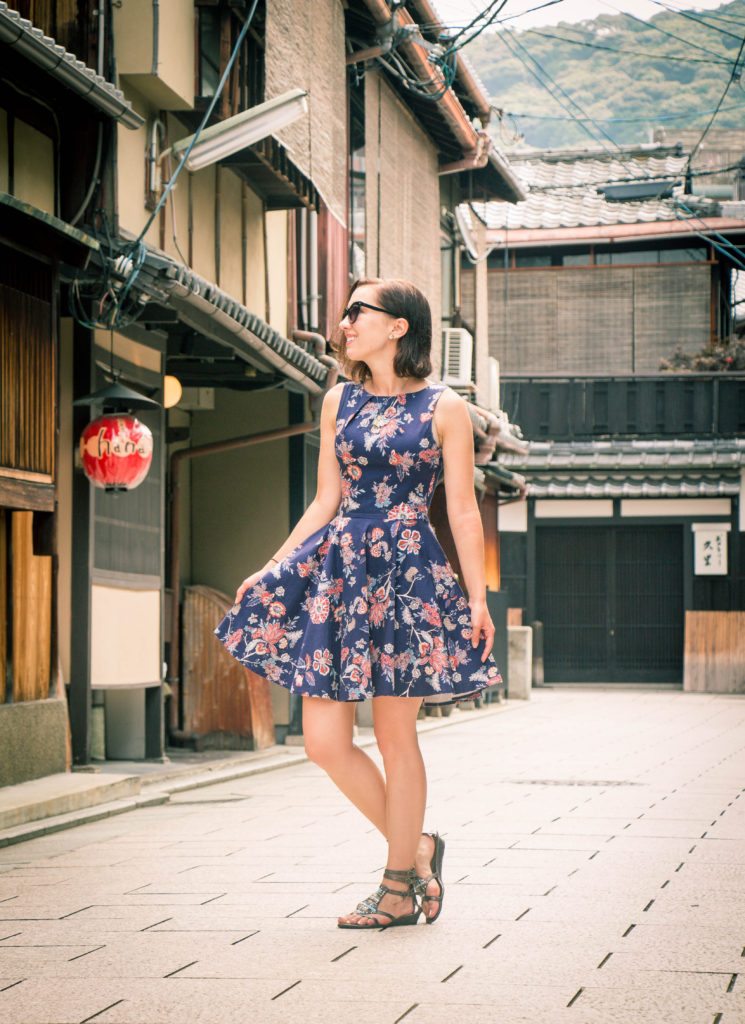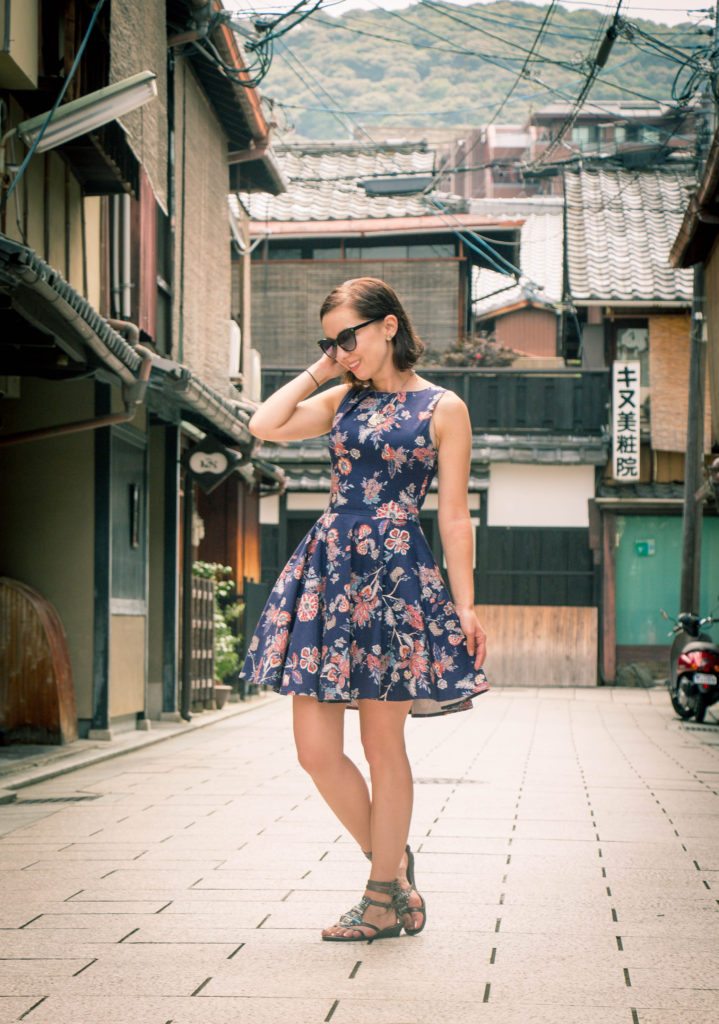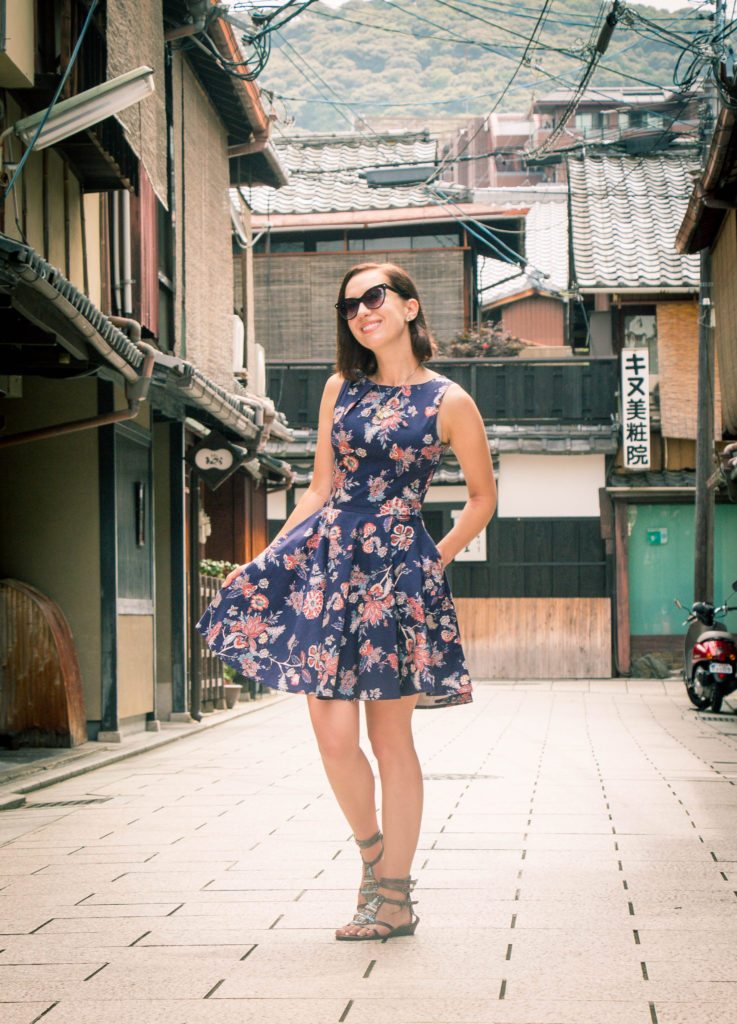 Dress | Sandals (similar) | Sunglasses
Pockets, floral print, comfortable, fit & flare, versatile…these are the words I would use to describe the perfect dress (for me, at least). So, it's no wonder this little number from Closet London gets more use than any other dress in my wardrobe! (Sorry, the streak of experimenting with new styles was just broken…but don't worry! I have more new styles coming up!)
Closet London's skater dresses (a.k.a. ModCloth's Luck be a Lady dresses) are my absolute favorite dresses! (I currently own 3 but would like them all, please.) They are so well-made and come in so many lovely prints….and did I mention they have pockets?!? They seriously have made the perfect dress. My only complaint about them is my bra will peek out at times…on just one side of the dress. It's really annoying, but it's generally not an issue because I'm usually wearing a cardigan with them. (So, I guess nothing is always perfect, right?) But it was SO hot the day these photos were taken, I couldn't even be bothered to wear a belt with the dress because I felt too sweaty and uncomfortable. Haha. (It does look better with a belt admittedly, but sometimes you just have to give in to comfort!)
I had worn this dress to visit Fushimi Inari Taisha…a shrine in Kyoto that has thousands of Torii gates. But I'll be sharing more photos and explaining it a little better in tomorrow's post.
Also, this will be my last set of outfit photos from Kyoto. I had been sprinkling them in with my posts over the past few weeks…because I had worn basically the same style of dress with sandals the entire time I was on that trip. (It's comfy! But I didn't want to be too redundant on the blog.) And speaking of sandals, these particular sandals are actually being held together with glue, haha. They had fallen apart when I was walking up a mountain to visit some wild monkeys (click here for more on that), but I just wasn't ready to say goodbye to them! (And so far the glue is keeping them together!)
And sorry I was a bit late posting today. I got home a little later than I expected and didn't have this post scheduled. I was meeting my husband and his coworkers for a dinner this evening. I managed to come out the wrong exit at the subway station and stumbled on the premiere of "The Jungle Book" in Tokyo. Haha. I snapped a photo of Jon Favreau doing interviews on the red carpet before I realized I wasn't supposed to take photos. So, this post not making it to print on time gave me a chance to show off the only movie premiere I'll probably ever come across. Haha.
What words would you use to describe your perfect dress? And has anyone seen The Jungle Book? Let me know in the comments!
Where to find it:
Dress: Closet London (This exact print is no longer available, but ModCloth has a similar one in stock.)
Sandals: Older than dirt (Similar here)
Sunglasses: Old (Similar here)
*Disclosure: some of these links are affiliate links. Meaning, if you click a link and make a purchase, Have Clothes, Will Travel gets a very small commission at no extra cost to you. Thank you for supporting the brands that make this blog possible! I am also a participant in the Amazon Services LLC Associates Program, an affiliate advertising program designed to provide a means for us to earn fees by linking to Amazon.com and affiliated sites.
*c/o = courtesy of, meaning the company gave me the product to be used on my blog, and I did not pay for it. All opinions are my own, and I am not being compensated for a positive review.