Exploring Fushimi Inari Shrine in Kyoto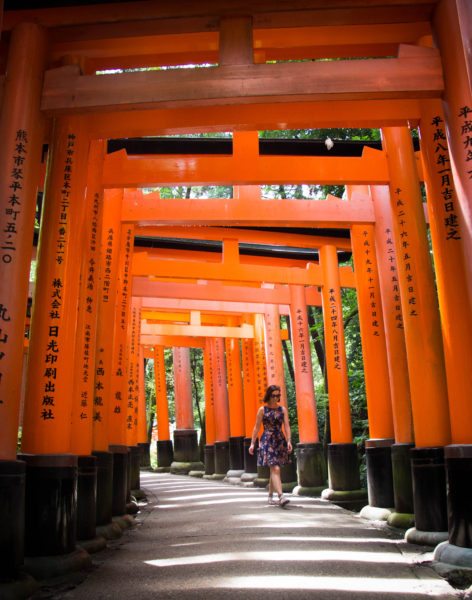 Out of all the things to see in Kyoto, Fushimi Inari Shrine was by far the most recommended sight to me in Kyoto. Everyone said to I had to see it…and I mean everyone! From random folks I met at the gym in Tokyo, to the person whose apartment I was renting through Airbnb..there were a wide variety of people saying it was a must-see.
And Fushimi Inari Shrine did not disappoint! Fushimi Inari has more than 10,000 torii gates on trails that head through a forest up sacred Mount Inari. It is incredible to see! You can spend hours hiking up these beautiful trails.
Quick Facts About Fushimi Inari
*The torii gates are actually donated by individuals and businesses, the cost to donate one goes anywhere from 400,000 yen to 1 million yen.
*Fushimi Inari is dedicated to the Shinto god of rice.
*Foxes are thought to be Inari's messengers….so, there are many fox statues throughout this shrine.
*Fushimi Inari Shrine was founded all the way back in 711 AD!
Photo Tip!
Many people (myself included) tried to get photos with the gates right away – don't bother! There are so many people it's impossible to get a decent photo. But if you walk up the trails another 15 minutes, the crowds disperse…and photos become much easier to take.
Getting to Fushimi Inari
Fushimi Inari Shrine is quite easy to get to using the train. It's just outside the JR station and is the second stop if you're coming from Kyoto Station. (About a 5-minute train ride.)
This is what we did and explored on our own. However, there are a variety of tours that will take you there as well. Many people also combine touring Fushimi Inari with touring local sake breweries. You can click here for more information on those tours. (Sorry my husband and I are not sake drinkers, so we didn't do this tour.)
You can see more photos of Fushimi Inari in the photo gallery below. Just click on the photos to make them full size.
Fushimi Inari Shrine Photo Gallery
I also have a few random photos to share that I had taken from that morning in Gion (Kyoto's most famous Geisha district). It seems crazy that they need a sign that says not to touch the Geisha!
*To see my outfit post from Gion/Fushimi Inari, click here. And click here to see my post from spending an evening with Geisha in Kyoto.