Monkeying Around Attire for Monkey Park in Kyoto
Shop the look:


One day I'm planning what to wear to hang out with Geisha, and the next it's what to wear to monkey around with monkeys on the side of a mountain. Haha. Needless to say, we had quite the jampacked weekend in Kyoto!
The photos above are of me are on Bamboo Forest Street, and the rest are at Monkey Park Iwatayama. The monkey park was so fun! All the monkeys are wild, and one of the monkeys even had the teeniest, tiniest little baby! I'll be sharing more monkey and bamboo photos in this post, though.
For hiking up the side of a mountain (it's about a 20-minute walk up a mountain to get to the monkeys), comfort was key. It was so unbelievably humid it had looked like I had taken a shower by the time I reached the monkeys! And sundresses are always the best bet for staying cool. This one is my go-to for comfortable and has been featured on my blog at least a thousand times now. (Sorry!)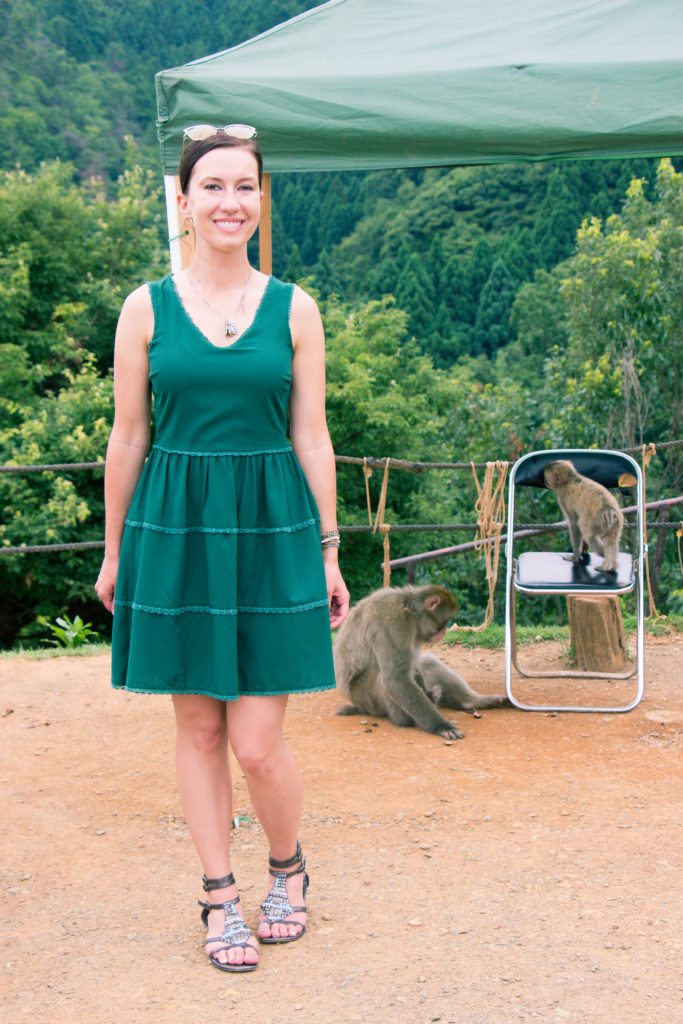 But hey – at least I'm wearing different sandals! Haha. These sandals are some of the oldest shoes I think I own. I've had them for at least 10 years…I think they were honestly my first online purchase that I ever made. (They are Coconuts by Matisse and came from Zappos, I think?) Unfortunately, you probably won't be seeing them again. This is because just as I was getting ready to hike back down the mountain…one of the straps broke on my sandal. I suppose for as much use as they have gotten over the last decade, it was time. I'm debating repairing them with super glue, or ordering a similar pair from Amazon. Decisions, decisions!
The jewelry pictured above is all of my new favorite pieces to wear. I've hardly taken them off this summer – they just all go so well together! I even wore the necklace and earrings while I hiked up (and down) Mount Fuji!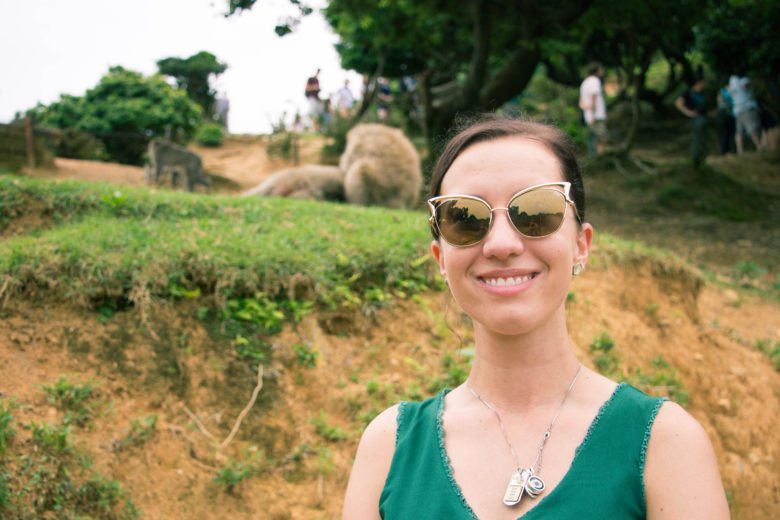 What are some of your go-to jewelry pieces? And who else would walk up the side of a mountain to see monkeys? Haha. Let me know in the comments!
Where to find it:
Dress: ModCloth Stylish Surprise (Similar here & here)
Sandals: REALLY Old (Similar here)
Sunglasses: Old (Similar here)
Charm Necklace: Gift from Trina 🙂
Map Earrings: Etsy
Bracelet: c/o* WestRiverLeatherCo
*c/o = courtesy of, meaning the company gave me the product to be used on my blog, and I did not pay for it. All opinions are my own, and I am not being compensated for a positive review.