The Museum of Cosmonautics – Is it Worth Adding to Your Moscow Itinerary?
When it comes to must-visit places in Moscow, Russia, the Museum of Cosmonautics generally doesn't make the same lists as The Kremlin, St. Basil's Cathedral or the Bolshoi Theatre…however, does that mean it's not worth adding to your Moscow itinerary? This post will explain!
What is the Museum of Cosmonautics?
The Museum of Cosmonautics is a museum dedicated to space exploration. It charts the history of the Russian space race and famous Russian astronauts and has an impressive variety of space equipment, suits…and even some famous taxidermied dogs (more on that in a second). The museum itself is actually located at the base of the monument "To the Conquerors of Space," which is a 100-meter titanium obelisk erected in 1964 to celebrate the achievements of the Soviet people in space exploration. (Pictured below.)
Note: The Museum of Cosmonautics is not the same as "Star City," which is the Russian space training facility. Star City is where cosmonauts still train today, and it's home to the world's largest centrifuge! You can tour it, click here for more info, but you have to apply for a visitor permit at least 45 days before you intend to go. (We did this before my brother-in-law visited and were denied because the cosmonauts didn't want to work over their holiday break. Can't blame them!)
Take a Look Inside The Museum of Cosmonautics!
There are a lot of interesting things to see in the Museum of Cosmonautics – even if you aren't that big of space exploration buff. Likely the first exhibits you'll notice when walking in will feature two taxidermied dogs. These are "Strelka" & "Belka' and they are the first dogs to ever go to space and return. Strelka went on to have 6 puppies, one of which was given to President John F. Kennedy. This dog ended up having puppies with the Kennedy's dog, Charlie. JFK jokingly called the pups "pupniks." (I thought that was funny, personally!)
Strelka & Belka
There are a lot of space suits in the museum! I personally found this interesting. Some are replicas and some are originals. The two I found most interesting (that were original) were the first space suit used to exit a spacecraft into outer space and the suit worn by Michael Collins during the Apollo 11 mission (the moon landing)! I couldn't really find any info on how Collins' suit ended up in Moscow, but hey, it's here! Also, the space suit of Russian Cosmonaut Yuri Gagarin (the first person to go into outer space!)…I believe is in Washington, D.C. at the Smithsonian? Not at this museum in Moscow (although, there appears to be a replica). I do apologize if this is incorrect…however, I couldn't find any information on this and there were no signs indicating the suit was actually Yuri Gagarin's.
Space suits!
I also like seeing the various equipment that the cosmonauts used to train before launching as well as the bicycle they would get to use to stay fit once they were in space!
Space training equipment
You can also see the original descent module that the Soyuz 37 crew used to get back to earth with! Soyuz 37 was a 1980 Soviet manned space flight to the Salyut 6 space station.
Soyuz 37 Descent Module
You Can Buy Space Food
You can buy the same stuff the cosmonauts eat at a vending machine near the entrance of the museum, haha. It costs 400 rubles. I couldn't resist buying a tube of "space food." I have yet to taste it as I'm waiting to do this when we're home with family – so, everyone will get a taste!
So, Is It Worth Visiting The Museum of Cosmonautics?
Honestly, I really enjoyed my time at the Museum of Cosmonautics. I'm grateful I was able to see it! However, if I was on an incredible time constraint visiting Moscow, such as, maybe only 1 or 2 days…I wouldn't say you have to kill yourself trying to visit it. (You can't leave Moscow without seeing the Armoury, though!)
However, you only need about 2 hours to see the highlights of the museum. It is also quite easy to get to using the metro (and it's right next to the VDNKH metro station). Or, it's about a 600 ruble cab ride from the Red Square area. So, if you have a couple extra hours to spare while in Moscow, you won't regret visiting even if you're not into space exploration! (I mean – you can buy space food!)
Also, if you don't do a tour, I suggest paying for an audio guide (only 150 rubles). This is because not all of the signs throughout the museum are translated to the English. If you plan to take photographs as well, there is a 250 ruble fee for this too!
Click here for more information from the official website. And click here to book a tour of the Museum of Cosmonautics.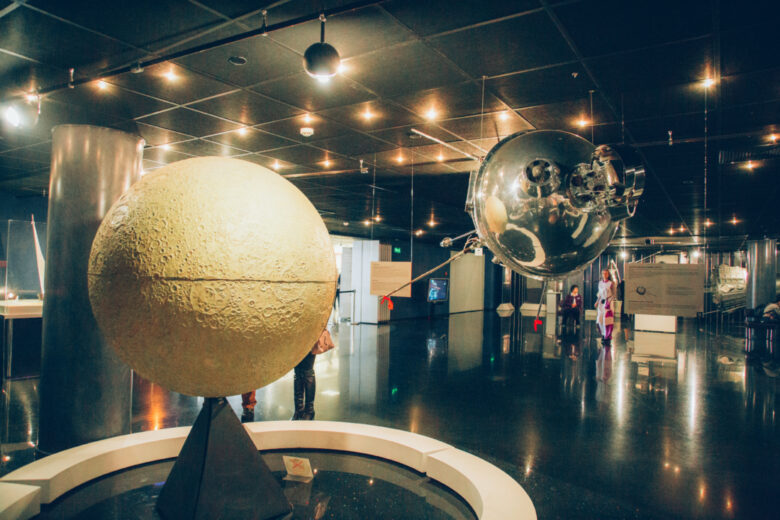 *Click here to see my outfit post from the Museum of Cosmonautics – it's the awesome galaxy dress pictured below!
Travel Insurance
It's a good idea, no matter where your adventure takes you, to have travel insurance. You never know what might happen! Whether you get sick before your trip and can't go, or you become sick or injured while on your adventure – being covered with travel insurance is a must. Some credit card companies do provide this service (check with yours), or you can get a quote from companies such as Squaremouth to find the best plan for you and your adventure. (This is the company I, personally, use. They are even recommended by Forbes!) To get a free quote, click here.
This article is now available as a mobile app. Go to GPSmyCity to download the app for GPS-assisted travel directions to the attractions featured in this article.
Would you be interested in visiting the Museum of Cosmonautics if you were in Moscow? Let me know in the comments!
*Feel free to click on the photos below to make them full-sized and to read any captions.
Disclosure: some of the links in this post are affiliate links. Meaning, if you click a link and make a purchase, Have Clothes, Will Travel gets a very small commission. Thank you for supporting the brands that make this blog possible!